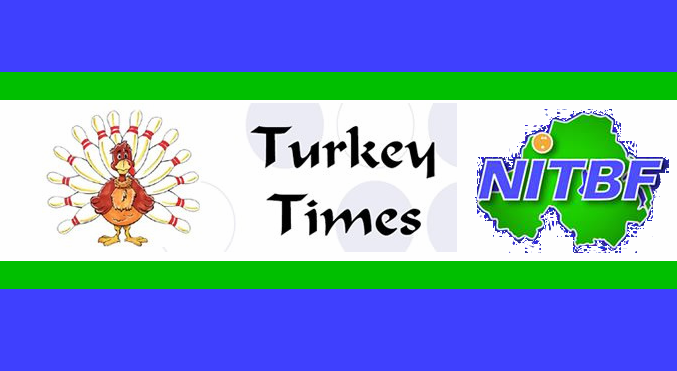 Home Nations Round Up December/January – Northern Ireland
By Lauren Dugan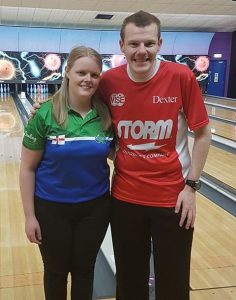 NITBF Ranking Tour
Ranking Event 4 of the 2016/2017 Season took place in Dundonald International Ice Bowl on 8th January and it was a déjà vu of ranking event 4 from the 2015/2017 season with David Seay and Lauren Dugan claiming the wins again.
It was David's first win of the season (and fourth different male winner of the season) with his 1857 (232.13 ave) enough to see him take the win over Paul Murray in 2nd (1776, 222 ave) and Tony O'Hare in 3rd (1704, 213 ave). Lauren's 1590 (198 ave) seen her take her 3rd win of the season ahead of Caroline Horan (1502, 187.75 ave) in 2nd and Isobel Smith in 3rd (1311, 163.88 ave). Tony and Isobel won the Senior section of the ranking event.
In the handicap knockout semi finals it was David Seay vs Sam Hull and Lauren Dugan vs Paul Murray. Sam and Lauren advanced to the final with Lauren emerging as the overall winner.
The next ranking event will take place in Brunswick Moviebowl on 12th February.  Registration 9-9.20am.
---
2016 NITBF Highlights Video
You can check out the NITBF Highlights of 2016 here: https://www.facebook.com/NITBF/
---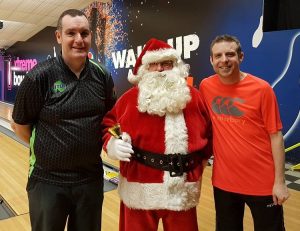 Evolve Bowling
Inception Event 4
Inception Event 4 took place on the 11th December in Dundonald International Ice Bowl on Kegel's Highway to Hell.
In the Scratch Semi Finals it was Lauren Dugan versus Alan Smith, and Billy Nimick versus David Seay. The semi-final between Alan and Lauren went all the way to the deciding 5th leg with Lauren taking the win to advance to the Scratch final. In the other Semi-Final Billy defeated David 3 legs to 0. In the Scratch Final Billy took the win defeating Lauren 3 legs to 1.
Advancing to the Handicap Finals were Grant Dugan, Trevor McKinney, Tony O'Hare and Ryan Press. Trevor defeated Ryan 3 legs to 1 to advance to meet Grant in the Final who beat Tony 3 legs to 1. In the Handicap Final Trevor emerged as the champion by defeating Grant 3 legs to 1.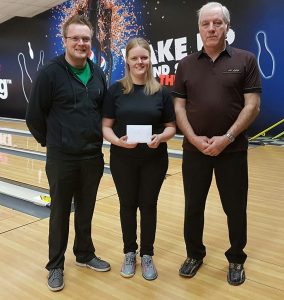 Inception Event 5
Inception Event 5 took place on Kegel's Boardwalk on the 29th January in Dundonald International Ice Bowl. A change to format only seen the top 2 bowlers based on handicap totals progress to the final which would be scratch. Advancing to the final was Lauren Dugan and Sam Hull. The Final went all the way to the 5th Leg where both bowlers then tied on pinfall and a sudden 1 ball roll off was played. Lauren emerged as the winner by obtaining a 9 count in the one ball roll off to Sam's 6 count.
Inception Event 6 will take place on the 26th February 2017 in Dundonald International Ice Bowl. Registration 9-9.20am!
Highlights Video
You can check out Evolve Bowling's Highlight Video here and a teaser of what is to come in 2017: https://www.facebook.com/evolvebowling/
Keep up to-date by following Evolve Bowling on Facebook, Twitter and Instagram and also check out the website www.evolvebowling.com
---
Dundonald International Ice Bowl
Premier Division
Sitting atop the scratch section is David Seay with 84 points ahead of Robert Walkingshaw on 76 points and Peter Lilburn in 3rd on 73 points.
Leading the handicap section is Robert Walkingshaw with 74 points, while David Seay is in 2nd with 67 points and Alan Smith 3rd with 59 points.
High Average so far is Peter Lilburn with 234, while David Seay has the high game of 290 and Billy Nimick high series with 806. Congratulations as well to Isobel Smith for shooting her personal best series of 736 during the league season!
A Division
Mark White leads both the scratch and handicap section with 83 points in the scratch section and 78 points in the handicap section. Second in the scratch section is Eduardo Gomez with 70 points and Malcolm Lilburn is 3rd with 67 points. Second in the handicap section is George Mullan with 68 points and Malcolm Lilburn is 3rd with 63 points.
Mark also has the high game of 235 and series of 616, while Eduardo has the high average of 183.
B Division
David McKeown is leading the way in the B Division Scratch Section with 87 points, 5 more than 2nd place Bob McHenry and Judy Ganacias is 3rd with 71. In the Handicap Section its Bob who is leading with 84 points, with Judy in 2nd on 71 points and David in 3rd with 64 points.
David McKeown holds the high game of 214 and average of 158 while Bob McHenry has the high series of 531.
---
BRUNSWICK MOVIEBOWL
The league in Brunswick Moviebowl has now recommenced and we'll have the up to-date standings in February's news round up.
---
Turkey Times
If you have any articles, photos, personal bests etc you wish to include in the next edition of the 'Turkey Times' please send them to Lauren Dugan at media@nitbf.org.uk by the 3rd March!
---
Facebook 
Why not follow the news via our Facebook Page, all the very latest news posted.
https://www.facebook.com/NITBF/
---
NITBF TWITTER
The NITBF is now on Twitter, follow us: @NITBF1