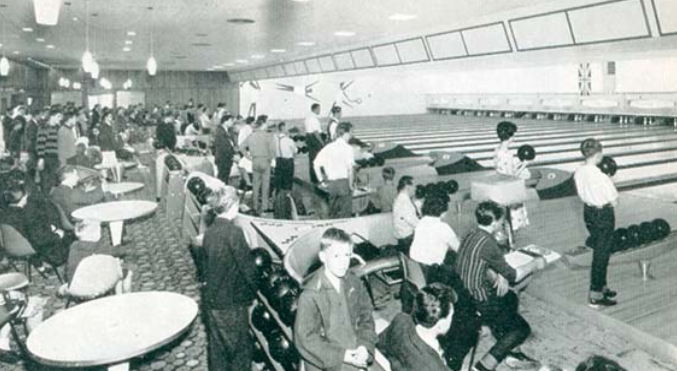 UPDATED with viewer comments – Blast from the Past
List of British Bowling Alleys in the 1960's
Bowling may have arrived in the UK at Stamford Hill in 1960 but by 1964-65 the centre list had grown to 114 and the first bowling boom had well and truly begun. The biggest chains at the time were Top Rank and Excel but many other smaller chains were beginning to appear. Outside of London it was Birmingham with the most centres with seven but in the northern region it was popular in Leeds and Manchester also.
Looking down the list you can see a few of the centres are still around today with some reaching the grand old age of 50 this year.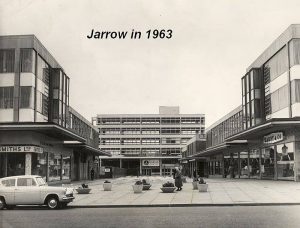 Having looked around the web, there is no record of all the bowling "alleys" from the beginning so thanks to Keith Hale and a book called Tenpin Bowling by John Moyes we have been able to find a list at last.
John Moyes was an Editor and Journalist and became a well known figure on the UK bowling scene, He was also the managing director of Tenpin Publications LTD who were the publishers of The Tenpin Pictorial bowling magazine.
Did you bowl in any of the centres below that are no longer with us?, We would love to hear your stories and publish any photos you may have from what some say were the golden years of bowling. Send your stories and photos to editor@talktenpin.net
The list in full
| | | |
| --- | --- | --- |
| City | Name | Address |
|  Aberdeen |  ABC Bowl |  George Street |
|  Aberdeen |  The Granite Bowl |  Loch Street |
|  Acton |  ABC Bowl |  Westway, East Acton |
|  Airport |  Airport Bowl |  Bath Road, Harlington |
|  Barnsley |  Magnet Bowl |  Queens Road |
|  Basildon |  Ambassadors Lanes |  Basildon |
|  Bedford |  Lee West Lanes |  London Road |
|  Bexleyheath |  ABC Cine Bowl |  Broadway |
|  Billingham |  Brunswick Bowl |  The Causeway |
|  Birmingham |  Blackheath Bowling |  Long Lane Bowl |
|  Birmingham |  ABC Cine-Bowl |  Pershore Road |
|  Birmingham |  Warwick Road |  Acocks Green |
|  Birmingham |  Top Rank Bowl |  Hagley Road, West Warley |
|  Birmingham |  Top Rank Bowl |  Pershore Street |
|  Birmingham |  Villa Park, Fairlanes |  Trent Road, Aston |
|  Birmingham |  Fairlane, Hawthorns |  Birmingham Road, West Bromwich |
|  Blackpool |  Top Rank Savoy Bowl |  Promenade |
|  Blackpool |  Top Rank Bowl |  Central Drive |
|  Bournmouth |  Top Rank Bowl |  Bounmouth, Hants |
|  Bradford |  Excel bowl |  Park Avenue |
|  Bristol |  Top Rank Bowl |  Regent Street, Kingswood |
|  Burnley |  Fairlanes |  Finsley Gate Road |
|  Burton on Trent |  Top Rank Bowl |  Bargate |
|  Cambridge |  Magnet Bowl |  Mill Road |
|  Chatham |  Top Rank Bowl |  Watling Street |
|  Chester |  Top Rank Bowl |  Brook Street |
|  Cleethorpes |  Excel Bowl |  Grant Street |
|  Cliftonville |  Excel Bowl |  Ethelburth Cresent |
|  Corby |  Corby Bowl |  George Street |
|  Coventry |  Fairlanes Savoy |  Radford Road |
|  Coventry |  Fairlanes |  Wallsgrave Road |
|  Coventry |  Top Rank Bowl |  Queen Vicoria Road |
|  Croydon |  Top Rank Bowl |  Tamworth Road |
|  Dagenham |  ABC Princess Bowl |  New Road |
|  Derby |  Top Rank Bowl |  Colyear Street |
|  Doncaster |  Excel Bowl |  East Laith Gate |
|  Doncaster |  Top Rank Bowl |  Silver Street |
|  Dublin |  Stillorgan Bowl |  Stillorgan |
|  Dundee |  Skyline Bowl |  North Tay Street |
|  Edgeware |  Ambassador Lanes |  High Street |
|  Exmouth |  DEB Bowling, Regal Bowl |  St Andrews Road |
|  Gateshead |  Top Rank Bowl |  Gladstone Terrace |
|  Glasgow |  Briggs Bowl |  Colston Road |
|  Glasgow |  Brunswick, Hampden Bowl |  Sommerville Drive |
|  Glenrothes |  Fraser Bowl |  Central Way |
|  Golders Green |  Top Rank Bowl |  Finchley Road |
|  Grays |  New Regal Bowl |  New Road |
|  Halifax |  Brunswick, Halifax Bowl |  Orange Street |
|  Harlow |  Ambassadors Lanes |  West gate, The High |
|  Harrow |  ABC Bowl |  Pinner Road |
|  Havant |  Excel Bowl |  Somborne Drive |
|  Hemel Hempstead |  Ambassador Lanes |  King Harry Street |
|  High Wycombe |  Needham Bowl |  Desborough Road |
|  Hounslow |  Ambassador Bowling |  Stains Road |
|  Hove |  King Alfred Lanes |  Kingsway |
|  Hove |  Top Rank Bowl |  Denmark Villas adj Hove Station |
|  Hull |  Humber Lanes |  Beverley Road |
|  Hull |  Fairlanes Bowl |  Harrow Street |
|  Ipswich |  Ambassador Lanes |  London Road |
|  Jarrow |  Excel Bowl |  Viking Precinct |
|  Leeds |  Excel Bowl |  Merrion Street |
|  Leeds |  Excel Bowl |  Otley Road |
|  Leeds |  Top Rank Bowl |  Kirkstall Road |
|  Leeds |  Universal Bowl |  Seacroft |
|  Leicester |  Top Rank Bowl |  Lee Circle |
|  Leigh |  Universal Bowl |  King Street |
|  Leytonstowe |  ABC Bowl |  High Road |
|  Liverpool |  Ambassador Lanes |  Overton Street, Wavertree Road |
|  Liverpool |  ABC Green Lanes |  Tuebrook |
|  Liverpool |  ABC Bowl |  Church Road |
|  Llanelly |  Scotlanes, Llanelly Bowl |  Llanelly, Glam |
|  Luton |  Lee West Lanes |  Hitchin Road |
|  Manchester |  Granada Belle Vue Bowl |  Belle Vue, Gorten |
|  Manchester |  Top Rank Bowl |  Cheetham Hill |
|  Manchester |  ABC Bowl |  Stockport Road |
|  Manchester |  Top Rank Bowl |  Old Trafford |
|  Middleborough |  Excel Bowl |  Linthorpe Road |
|  Morecombe |  Universal Bowl |  Marine Road |
|  Newcastle |  Excel Bowl |  Westgate Road |
|  Northampton |  Fairlanes Bowl |  Franklins Gardens |
|  Norwich |  Brunswick Norwich Bowl |  Magdalen Street |
|  Nottingham |  Excel Bowl |  Barker Gate |
|  Oldham |  Top Rank Bowl |  King Street |
|  Preston |  Winsor Lanes |  Vernon Street, Moor Lane |
|  Portsmouth |  Ambassador Lanes |  Arundel Street |
|  Plymouth |  Wyvern Bowl |  Mayflower Street |
|  Reading |  Excel Bowl |  Brigham Road |
|  Rotherham |  Universal Bowl |  Main Street |
|  Scunthorpe |  Arrow Bowl |  Doncaster Road |
|  Sheffield |  Fairlanes |  Sicey Avenue, Firth Park |
|  Sheffield |  CBC Bowl |  Birleyvale, Frenchville |
|  Slough |  Windsor Lanes |  Burnham Road |
|  Southall |  Top Rank Bowl |  High Street |
|  Southampton |  Excel Bowl |  Bitterne Road |
|  Southampton |  Top Rank Bowl |  Banister Road |
|  Southend on Sea |  Excel Pavillion Lanes |  The Pier |
|  Stamford Hill |  ABC Tenpin Lanes |  Stamford Hill |
|  Stevenage |  Ambassador Lanes |  Danestrete |
|  Stoke on Trent |  ABC Cine Bowl |  Broad Street |
|  Stoke on Trent |  Magnet Bowl |  Kings Cross House, Longton |
|  Streatham |  Top Rank Bowl |  Streatham Hill |
|  Sunderland |  Excel Bowl |  Newcastle Road |
|  Swindon |  Fairlanes |  Cheney Manor Road |
|  Torquay |  Excel Bowl |  Union Street |
|  Wakefield |  Fairlanes |  Denby Dale Road |
|  Wakefield |  Savoy Bowl |  Horbury Road |
|  Walkden |  Excel Bowl |  Walkden Nr Bolton |
|  Wallasey |  Fairlanes |  Marine Promenade, New Brighton |
|  Walton on Naze |  Walton Pier Bowl |  Walton on Naze |
|  Wanstead |  Play Bowl |  Wanstead High Street |
|  Wembley |  Wembley Stadium Bowl |  Wembley |
|  Whitstable |  Excel Bowl |  Lower Parade |
|  Wolverhampton |  Ambassador Lanes |  Birmingham Road |
|  Wylde Green, Warwick |  The Pavilion Bowl |  Wylde Green |
|  Yarmouth |  The Regent Bowl |  Regent Road |
Replies from viewers
Rich Poncheri
Just came across the list and brings back great memories. I was a United States Air Force son. Dad was stationed at RAF South Ruislip from 1968 to 1972. Originally bowled at Harrow, before moving to the Wembley team. Our team was Roger and Malcom Bass, Chris Kier, Nigel Thompson and Rich Poncheri.
Great competitors during those days including Paul Carpenter, Dave Field, Trevor Timberlake (RIP) and Phil Smith.
Remember practice one Saturday morning to look up and see Rod Laver, the great tennis player watching us! He was in a tournament at the Empire Pool. Great times,
Brian Langford 
I was the first member of the public to bowl on lane six, when the  ABC Bexleyheath Bowling centre opened in the early sixties and when I closed the bowl in 1987 I kept the #6 pin as a keep sake.
Keith Clark
Hi just found your site,I bowled on the first day in coventry when the ally opened in Queens Road. My friend and I went in at about 10am to play and found we had to book a lane ,we were told to return at 4pm which we did.Sorry I do not have pictures just a good memory. Great site.
John Cooper
There is one possibly two centres missing from the list.
Certainly there was a bowl in south Manchester in Wythenshawe circa 1966/7 which had a discotheque in the rear of the building. I cannot remember how the centre was named. It eventually closed and became The Golden Garter cabaret club and is now a bingo centre.
Also, I seem to recall there was a centre in Walkden (North west Manchester) which may have been an Excel centre.
Maybe other bowlers can verify.
Stuart Robinson
I first entered the old Sunderland Bowl as an 8 year old in 1962.The sport hooked me from day one and joined the YBC the following year.My interest in the game has continued since I left the YBC and continued bowling into my adult years.However,it was my belief that I owed the YBC a debt of thanks.Due to this I became a coach and official of the YBC.When I left Sunderland in my 30's I became involved at Acocks Green YBC and Tamworth YBC.I am now 60 years of age and cannot believe how much enjoyment I have had since that first day over 50 years ago.
Nicholas Taylor, Harlow
I first entered Harlow Bowl on my way home from school in 1966 aged 13 and was quickly hooked on what was a booming sport. Harlow Bowl had been open for about three years then and at one time was open 24 hours a day. A young Dave Pond was the centre's star and when an advert went out that a YBC was being set up on 1 April 1967 I was one of many youngsters who signed up. Celia and Tony Merryweather were the main adults who set up the club with help from Ian Dabbs and Fred Mathews. I went on to join a couple of adult leagues and on the 31 August 1972 turned up on a Thursday night for the last week of the season, only to find that the bowl had closed down that morning. We tried to get the manager Vaughn Clarke to let us see the season out but without success.
The Thursday league spent a couple of seasons travelling to Dagenham bowl by hiring a double decker bus on Sunday evenings before spending many years at Hoddesdon Bowl until that burnt down ( I was the last person to bowl a 200 game there, just hours before the bowls demise), then the town centre bowl in Stevenage, where I first met Andy and Shirley Penny. Bowlers have come and gone, the league moved to Enfield, Becton, Tottenham, back to Harlow in 1999 when a new bowl opened and is now at Chelmsford on a Thursday evening.
Barry Croucher
Without doubt one of the draws of tenpin bowling, despite it's competitive nature, is the long lasting friendships which so many people over the years have enjoyed.
Hi there, I spent a lot of time in the early 1970's bowling at The ambassador in Hounslow but have been unable to find any photographs
I remember there was an amazing atmosphere there
Malcolm Riddall
I started bowling at the playbowl Wanstead in 62.  I was in a team called the flying pins, we won the evening news team trophy at Streatham Playbowl.  Did well that year as we had mens and womens singles finalist. Playbowl was like a club just 6 lanes.  I later joined direct of smithfield. The team included smokey clarke, ben benmore, pete fountain chris fleetwood and myself malcolm riddall. We won a good finals at leytonstone against brunswick jets. l did well there as I won the london and south east jerry butler singles. Tony Samuals was good enough to take me to manchester for the finals, sadly I was runner up to Sam Taylor.
Lol Ellis
Started bowling at Wylde green in 1960 with my mom and dad. Bowled in the Junior league and in the adult league from age 14. Ray Adams was the manager and also a good bowler. There were some great players in those days. Quite a few played for Great Britain. Gill Hunt now Gill Holt played there, one of the top lady bowlers in those days. I also played at fairlanes next door to the Baggies ground. Used to bowl in a moonlight league with my parents on a friday night. League started at midnight bowled with the lights out. Proper moonlight bowling.
Bowled at Top rank Warley in the Woburn Abbey league sponsored league. Bowled with Gregg Turvey and my dad in a big 5 man team league. Quite a few American servicemen played. Larry Lalone was one i remember. Those were great days i played in all those Birmingham centres mentioned. We travelled ever where to bowl. They say people remember where they were when Kennedy was killed well i was travelling to bowl at Wylde green we heard it on the radio nobody could believe it when we told them at the bowl.
I will try to find some photos. I know i have one of my late Dad bowling for his works team Savory Hawks bowling in the old style bowling shirts.
Lol
Ronnie Gibb
There was a 10-pin bowling alley in East Kilbride, near Glasgow.
In the Olympia Centre, called Olympia Bowl.
Found a photo here,  but probably others elsewhere.
https://www.flickr.com/photos/joe90bem/8265874031/
It was originally a 5-pin bowing centre, but became 10-pin about 1964-6?
Richard  Owen
The Ambassador Bowl Hounslow was the first UK  venue to hold the European Youth Games in May 1972. The first GB Youth Team was selected and I had the great honour to be the first Captain. The event was a great success and the UK Team did well against some much more experienced teams i.e. Germany, Sweden, Norway, Denmark, Finland. The GB Team was:-
Paul Carpenter Hounslow
David Field Crawley
Colin Peplar  Bexleyheath
Paul Scottow  Walton Pier Bowl
Nigel Thompson Wembley
Myself Hounslow
Youth bowling was booming back in 1972  and a number of young bowlers went on to do very well in senior events i.e. Pauline Bowry  (Pauline Smith/Buck) Paul Carpenter, Ralston Reid  to name just a few. Great times and very happy memories.
Two Centres missing from the list were Humber Bowl Crawley and Magnet Bowl Peterborough.
Happy days!!!!!!!!!!!!!!!!!!
Arthur Thynne
We bowled at Birmingham Villa bowl in the sixties. Our team was called the Peerless Pirates!.. We were Arthur Thynne, Terry Thynne, Tony Shrimpton, Gordon Adams. We bowled in the midnight league and then in the 2.30 pm league. Saturday night thru till Sunday morning. Good times. One night Douglas Fairbanks jnr came and presented prizes. World Cup 1966. all sorts of foreign football teams in there. Wonderful times
Dave Steiner
First time I played, Harlow on the way back from a folk festival.
Two o'clock in the morning has a lot to answer for.
Chris Hodgson
Hi, just a quickie. From memory the Bradford Bowl was in Canterbury Avenue, not Park Avenue. I and many others bowled there in the 1960's. We had a team in the Yorkshire Supreme League, sponsored by Ben Shaws. We played matches all over Yorkshire and managed to win the league one year. I cannot recall the year, it would be mid 1960's. We were photographed receiving the trophy for the local paper, but the photo has long ago disappeared.
Several of us schoolboys also worked (unofficially as I recall!) on the shoe counter and also behind the lanes, clearing pin jams etc. No training, no health and safety, but such fun! No pay, but free games depending on how long we worked.
Many happy memories, including the visit one evening from the West Indies cricket team. Huge men, the fast bowlers in particular, who I recall handling the heaviest bowling balls like tennis balls, and demolishing the tenpins with such power.
It all came to an end very suddenly when I arrived one day and the Manager said "we're closing!". The place was being rapidly emptied of all fittings etc, and I never went back. My souvenirs were one battered tenpin. my league shirt and badges (all long since mislaid) and memories of one of the best times of my young life.
Ronald Johnson
Found this on a South Tyneside blog. Download news clipping here
It is a cutting from the Shields Gazette about a new bowling centre opening at the greyhound track in South Shields; the rather aptly named Dog's Bowl closed in the late sixties I believe or possibly very early seventies.  By then the area had already lost bowls at Jarrow and Gateshead so a couple of the leagues transferred to the Excel Bowl at Sunderland.  I never had the pleasure of bowling at the Dog's Bowl but I vaguely remember going there with my family, possibly shortly after it opened.  Several relatives and my father bowled league there and then moved to Sunderland.  I understand that both the Wouldhave League and the Stanhope League both relocated; I am informed by my brother who still bowls in Sunderland that they are still in existence.
John Moor
One missing from your list is the short-lived Fairlanes Bowl, Harrow Street, Hessle Road, Hull.  It was opened on Saturday 11 May 1963 by Douglas Fairbanks Jnr.  On this Saturday there was free bowling all day and as I only lived 10 minutes away I took advantage of this offer.  One of the main reasons for this offer, apart from the obvious, was to recruit league bowlers and after spending quite a while in the bowl I came away with a leaflet about league bowling.  The next week I attended a meeting along with many others and was persuaded to join a league.  I chose Thursday night as it was the most convenient for me and within a fortnight I was bowling in a 5-man team on a Thursday night.  At this stage it was only 5-man teams as the bowl had organised all the leagues.  I seem to remember there were 14 teams in the league.  Obviously, from the date, I am now celebrating 50 years as a league bowler although I had an enforced rest when the original Hull Bowl on Beverley Road burned down.
I don't know exactly when Fairlanes closed but it was only open approximately two years.  When it closed, the team I was bowling with moved to the Hull Bowl on Beverley Road and we continued bowling there.  There were several rumours at the time why Fairlanes Bowl was so short-lived but I still don't know the true reason for its demise.  The Fairlanes Bowl was in the old Langham Cinema on Hessle Road which closed after a fire in 1961.  It was on the upper floor with a supermarket underneath.  The site has now been taken over by Tradex.  The Bowl was accessed from Harrow Street and at the top of the stairs 14 lanes were visible in front of you and further to the right another 10 lanes at right angles.  There was also a bar, again accessed by stairs, which overlooked the 14 lanes.
The first team I bowled for was sponsored by Ken Blakey, motor cycle dealer, a Honda agent on Walton Street, Hull.  The reason for this sponsorship was one of our team, Don Ellis, worked at Ken Blakey's motor cycle shop.  In the first year the Bowl encouraged local traders to advertise their businesses in the Bowl and I've attached a photo of our team with our sponsor and display.
The people in the photo are from L to R:  Don Ellis, Dave Wilson, Gordon Parker, Ken Blakey, Stan Jenkinson and myself.  The team was called 'Whondas'.  Many present bowlers of a 'certain age' may remember Don Ellis and Stan Jenkinson as they are the only two, apart from myself, who bowled at the recently closed Hull Bowl on Sutton Fields.  I sometimes wonder how rich I would be if I had not gone to that free session on that Saturday morning.  Fifty years of league bowling, my wife who bowled for 30 years, our two sons in the YBC and numerous tournaments throughout the country involving all the family, not to mention the cost of equipment, would have probably bought the original Fairlanes Bowl with money to spare!
Eric Lane
Now having read the article on the Blast from the past on bowling centres  there were two which keith hale did not put down and they were the first to open in scotland.  One was in the town of Saltcoats and the other was in Troon they were only small centres both with 8 lanes and it was there where one of Scotland's well known bowlers started and that was Tommy marshall.
Now the reason why I know about this is that I started working at Stamford Hill as a mechanic and was there when Keith Hale started in bowling along with other well known bowlers such as Jim Brewer and Ron "Smokey" Clarke, I myself was a member of the Brunswick Jets that started at Stamford Hill when the team was D.Meil capt  Harold King, Neil Osborn, J.Rose, M. Wade, Toni Samuels, Bobby Mansfield and Stan Thompson and there were other good teams even the Spurs footballers came a bowled there on a thursday night as a team. When AMF handed stamford hill over to ABC I went with AMF and did the work on those two centres in Scotland and many more around the UK and even in Europe and to this day I still love bowling.
Steve Black
How"s about Corkwood Bowl Hoddesdon Herts,Managed by Bill Randall? Second bowling alley I went into opened 1967.