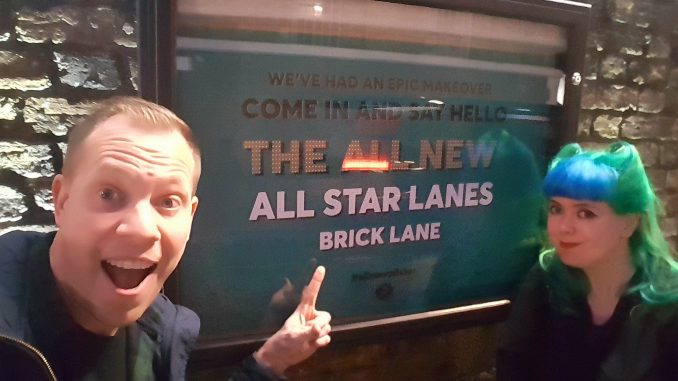 Popular boutique bowling venue, All Star Lanes in Brick Lane, London, reopened on February 9th following an extensive £700,000 refit, including a new cocktail lounge and restaurant layout.  With Lee Chatfield on hand to provide expert tuition to guests, Helen Tamblyn went along to attend the launch party at the All New All Star Lanes…
The Venue
Aiming to encompass the feel of the fifties, All Star Lanes, Brick Lane, now boasts a transformed restaurant, 6 lanes downstairs, a stylish new cocktail lounge and a 3 lane private space known as "The Penthouse", drawing inspiration from the terraces of Manhattan. However, the local community is important and All Star have been able to draw on inspiration from artsy East London, including two bespoke murals from local street artist, Zabou and a vintage bowling display in the lounge bar. Regular and seasoned bowlers may even recognise one or two of the balls on display, including the Roto Grip Globe bowling ball. Behind the lanes, a stunning art installation of disused bowling pins dangles overhead.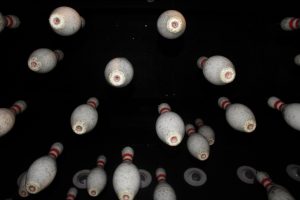 Unlike many boutique centres, All Star Lanes still uses pin setters as opposed to strings. Many centres are now making the move to string pins and All Star Lanes Group Technical Manager, Stuart Groombridge (formerly Newbury Bowl back in the day), believes it won't be long until this is the mainstream. "It costs less for centres as they require less maintenance," he told us. "The BTBA may need to consider that string bowling needs to be sanctionable." For now, All Stars has no plans to convert, but it'll be interesting to see what happens with string bowling in future.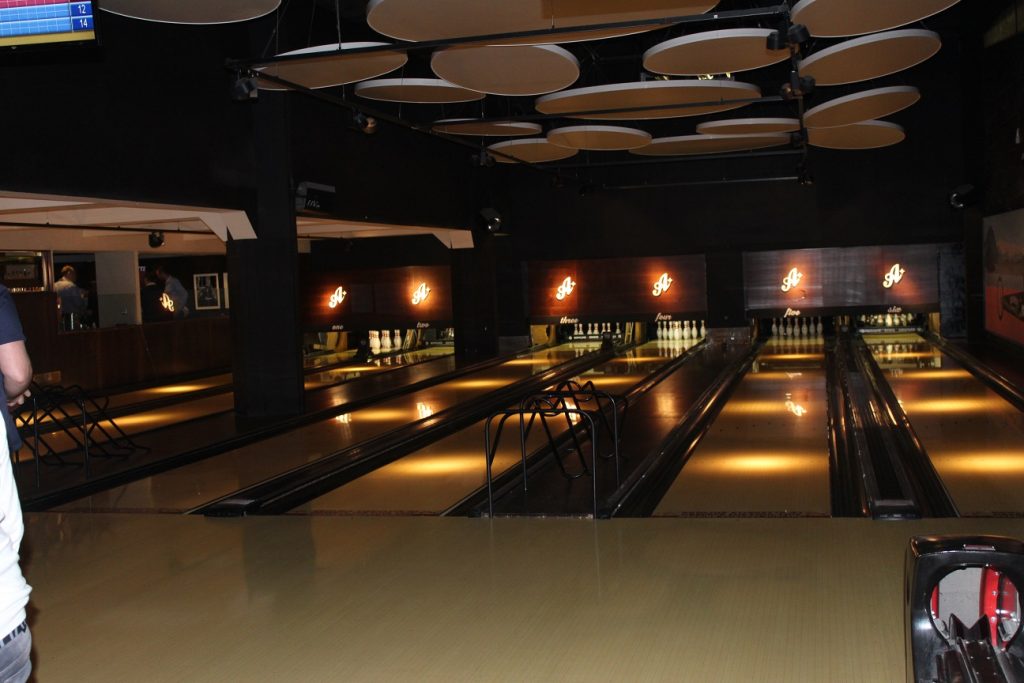 Bowled Over
Christian Rose, Managing Director of All Star Lanes, commented: "We're so excited about the refurbishment of our Brick Lane venue, which reflects our ongoing investment in the All Star Lanes brand experience. Each customer touchpoint – from first visiting our new website, to sipping cocktails in our Brick Lane lounge – must convey the quirky, premium and glorious nature of the brand. Our aim was to create a space where All Star Lanes guess can make great memories." With two weddings previously held at All Star Lanes, we're sure it won't be long before further occasions are celebrated on the lanes.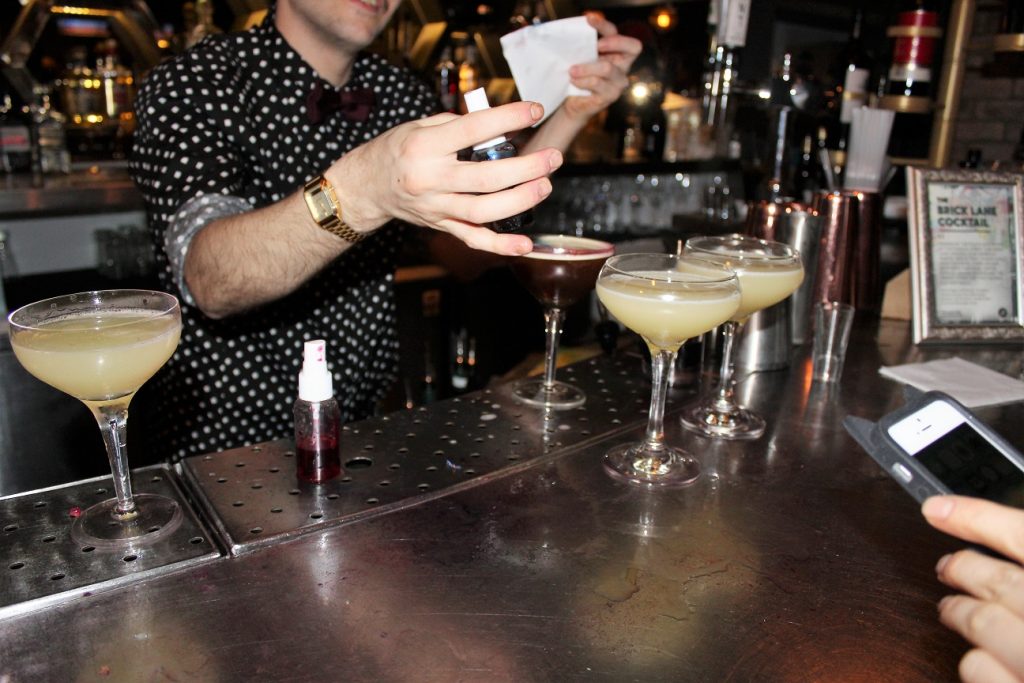 The Penthouse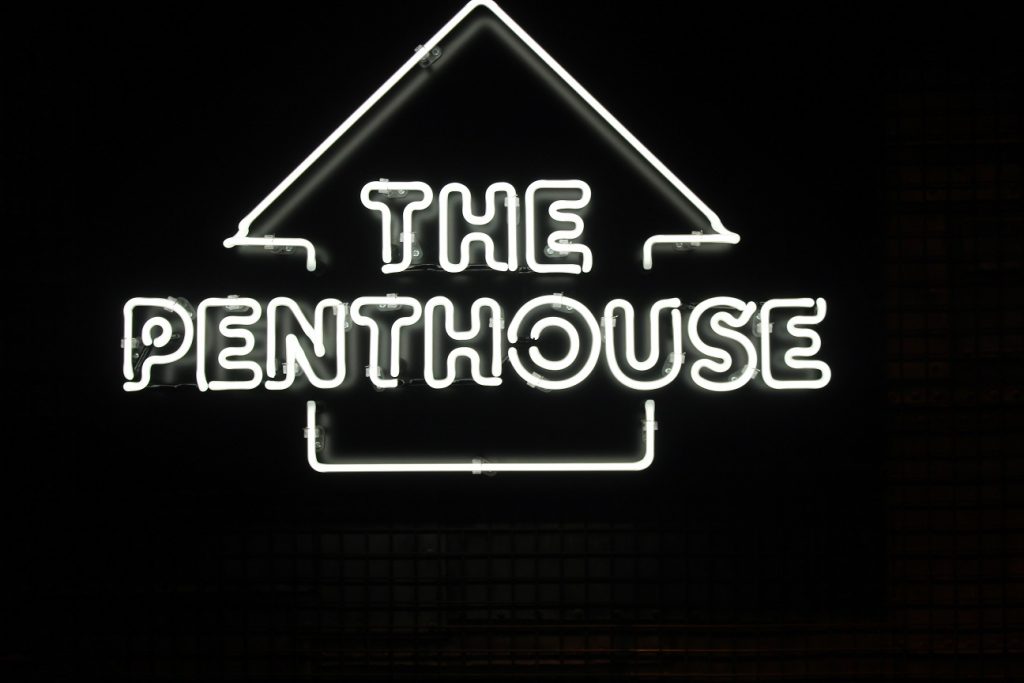 Our home for the evening was The Penthouse, the upstairs function room complete with a cocktail bar and three private bowling lanes, with the overall look inspired by the rooftop terraces of Manhattan. A television screen behind the lanes showed clips of classic tenpin bowling from eras gone by whilst we enjoyed cocktails mixed by one of the in-house mixologists. When hiring The Penthouse, as well as access to the bowling lanes and lounge area, All Star can also provide a dedicated mixologist for the night. Breakfast of 'The Dude' anyone? Food options are also good, with the duck sliders going down a treat, especially chased down by the mini Oreo milkshakes, complete with a shot of liqueur. With catering, private bowling lanes, cocktails and even karaoke available if you want it, this is a great space to hire out for events or even corporate team building sessions.
Party Time
All Star Lanes were keen to throw a good party to celebrate their launch and who better to offer tutorials to the corporate and press guests than our very own media celebrity, Lee Chatfield?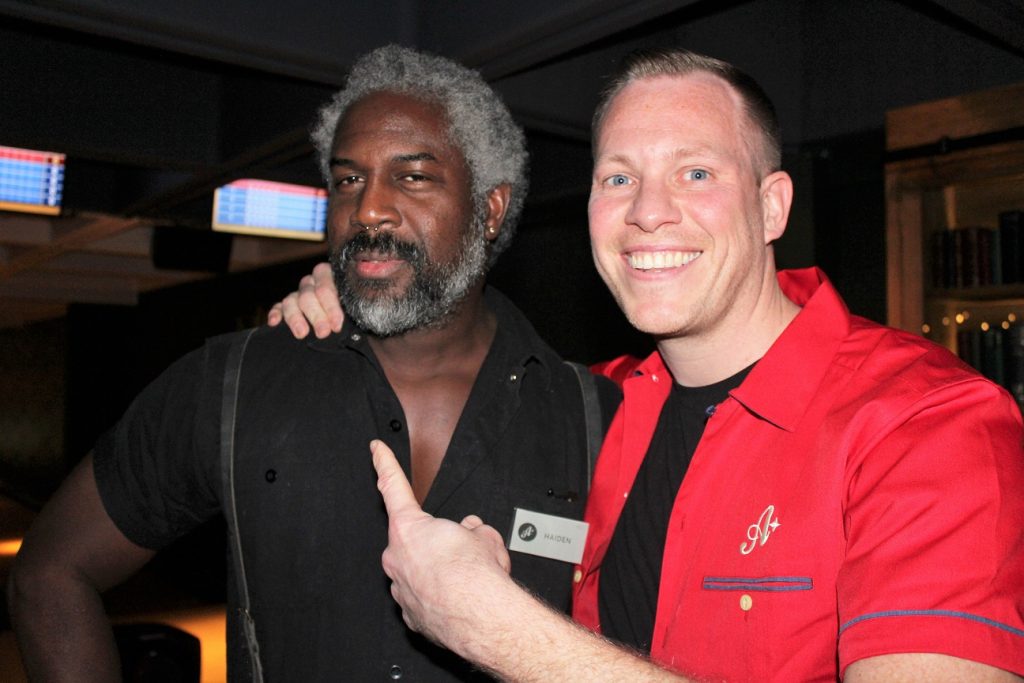 Guests were allocated a team for the night and teams took it in turns to take to the lanes, where each bowler got to bowl half a game. At the end of the night, the team with the highest score won the golden ticket – free bowling for life, for all members of the team. It was awesome to see the enthusiasm with which Chatters' coaching was received, but from behind the lanes, we couldn't help routing for the Blue Team who were throwing themselves into high fives, screaming with excitement over the strikes and almost fighting themselves in order to get to Chatters for instruction. And at the end of the night, it was the Blue team who reigned triumphant with a score of 713, with Leonard, founder of Flavourmag winning Bowler Of The Night.
While All Star Lanes is a boutique centre and most people were there to enjoy their night out, we took the opportunity to have a chat with the guests, many of whom hadn't realised just how much thought and effort goes into bowling and how it is a sport. Check out our Facebook page for a live chat with Tilly from Flavourmag, who gave us our thoughts from the night. With drinks flowing, we all took to the lanes to enjoy the last of the cocktails and several guests expressed their enjoyment and how they hadn't realised that bowling was a "thing." Perhaps there's a call for light-hearted corporate league in trendy East London? It's certainly one way to introduce people to the sport, cocktails optional.
All Star Lanes have locations in London Bayswater, London Brick Lane, London Holborn, Westfield Stratford City, and Manchester. All venues are available for private hire, or just as a good night out with friends. Cost from £6.95 per game, various deals and packages available.