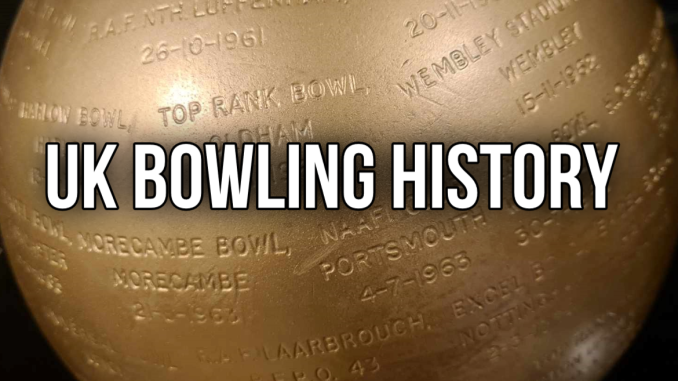 How about this for a bit of UK bowling History, We have the AMF Golden Ball from 1960.
Les Anscombe contacted us recently with news about where the ball that opened all the new AMF centres ended up after it was retired in the late 60's. Les was the Financial Director at AMF Bowling, worked at the Forum Bowl for 18 years upto 1999 and for AMF during the time of Jock Caie, Brian North and John Ashbridge. Somehow Les seemed to acquire the Golden Ball and kept for over 30 years.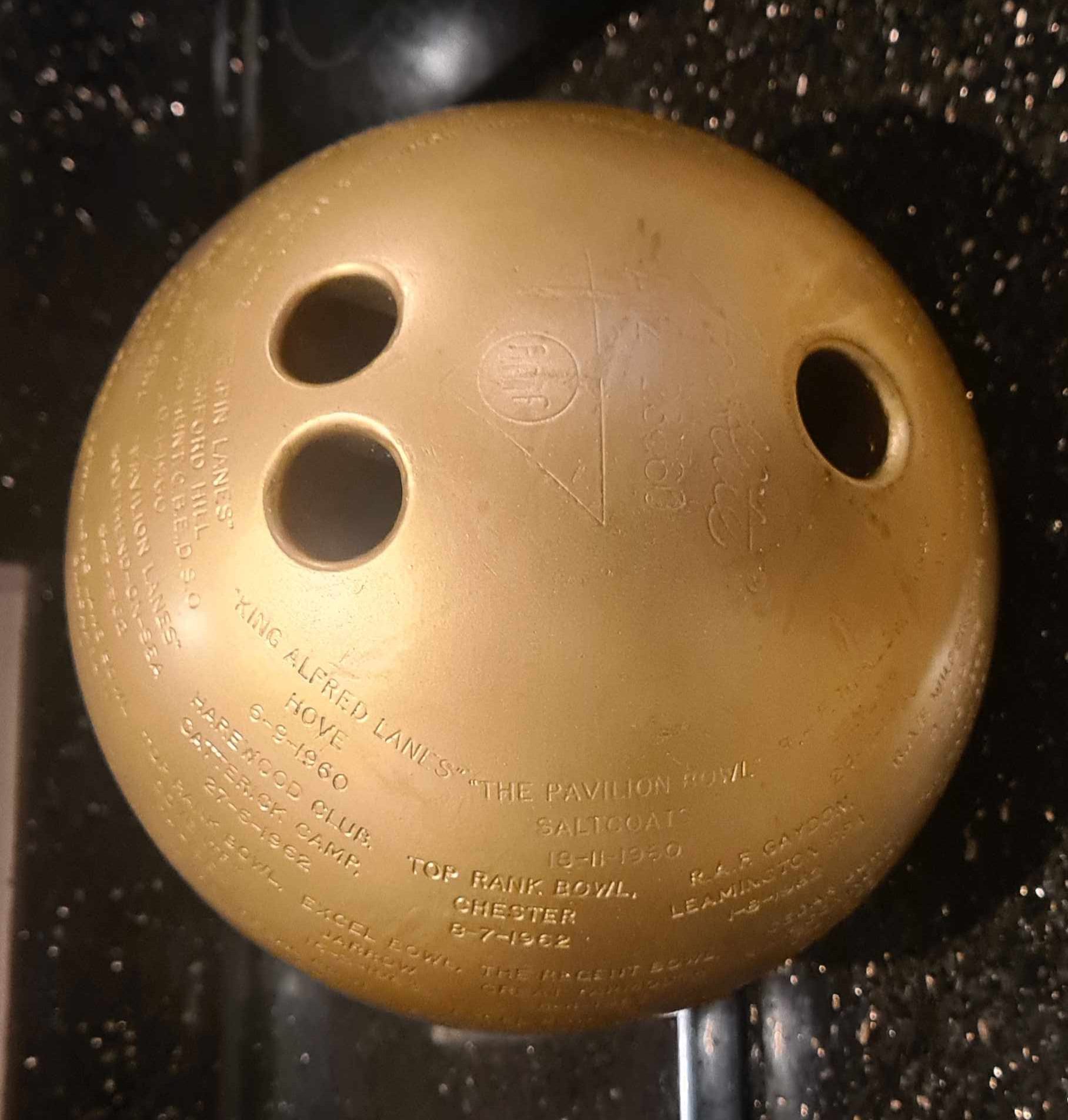 The ball was used over 80 times and the following centres are all engraved on the ball.
Tenpin Lanes Stamford Hill 20/1/1960
King Alfred Lanes Hove 6/9/1960
The Pavillion Bowl Saltcoats 18/11/1960
RAF Henlow, Henlow 24/11/1960
The Playbowl Wanstead 4/4/1961
RAF Weeton, Weeton 14/9/1961
RAF NTH Luffenham 26/10/1961
Hull Bowl, Hull 20/11/1961
Ambassador Lanes Ipswich, 201/1/1962
Basildon Bowl, Basildon 1/2/1962
Pavillion Lanes Southend on Sea 8/6/1962
Harewood Club, Catterick Camp 27/6/1962
Top Rank Bowl Chester 8/7/1962
RAF Gaydon, Leamington Spa 1/8/1962
RAF Wildenrath, B.F.P.O 15/8/1962
Ambassador Lanes Stevenage 15/9/1962
Harlow Bowl, Harlow 13/11/1962
Top Rank Bowl Oldham 15/11/1962
Wembley Stadium Bowl, Wembley 15/11/1962
H.Q Royal Airforce, Rheindalen B.F.P.O 16/11/1962
Corby Bowl, Corby 20/11/1962
Longland Bowl Blackheath 10/12/1962
Top Rank Bowl Coventry 17/1/1963
Excel Bowl Jarrow 15/3/1963
The Regent Bowl Great Yarmouth 5/4/1963
Cedar Bowl RAF Conningaby 10/4/1963
Top Rank Bowl Leicester 18/4/1963
Hemel Hempstead Bowl, Hemel Hempstead 20/4/1963
Excel Bowl Doncaster 5/6/1963
Morecambe Bowl, Morecambe 21/6/1963
NAAFI Club Portsmouth 4/7/1963
Excel Bowl Whitstable 30/7/1963
Excel Bowl Havant 13/8/1963
Excel Bowl Torquay 28/8/1963
Excel Bowl Reading 24/9/1963
CBC Bowl Sheffield 27/9/1963
Ambassador Lanes Wavertee Liverpool 30/9/1963
Regal Bowl Exmouth 11/10/1963
Excel Bowl Newcastle upon Tyne 26/11/1963
Excel Bowl Bradford 10/12/1963
Stillorgan Bowl, Stillorgan 16/12/1963
Bowling Club Whyton, RAF Whyton 1/1/1964
Excel Bowl Plymouth 15/1/1964
Universal Bowl Leigh 17/1/1964
RAF Laarborough B.F.P.O 43 17/1/1964
Excel Bowl Nottingham 2/3/1964
Top Rank Bowl Burton on Trent 20/3/1964
Excel Bowl Leeds 25/3/1964
Ambassador Lanes Portsmouth 6/4/1964
Top Rank Bowl Birmingham 21/4/1964
Lynham Lanes Lynham 11/5/1964
Excel Bowl Cliftonville 13/5/1964
Top Rank Bowl Bournemouth 15/5/1964
Excel Bowl Sunderland 30/6/1964
Fraser Bowl Glenrothes 6/8/1964
RAF Scampton 4/9/1964
Ambassador Lanes Hounslow 19/10/1964
Magnet Bowl Barnsley 17/11/1964
Magnet Bowl Longton 30/11/1964
Ambassador Lanes Wolverhampton 30/11/1964
Ambassador Lanes Edgeware 8/2/1965
Excel Bowl Bitterne 4/3/1965
Top Rank Bowl Gateshead 19/3/1965
Belle Vue Granada Bowl, Manchester 23/3/1965
Magnet Bowl Cambridge 8/4/1965
Universal bowl Rotherham 14/4/1965
Universal Bowl Seacroft, Leeds 27/5/1965
HMS Lochinvar 27/5/1965
Magnet Bowl Bristol 16/6/1965
Excel Bowl Tolworth 21/6/1965
Universal Bowl Crawley 23/6/1965
Excel Bowl Piccadilly 30/7/1965
RAF Wittering 29/9/1965
Barrow Bowl, Barrow 29/9/1965
Redcar Bowl, Redcar 14/10/1965
Magnet Bowl Peterborough 27/1/1966
Acorn Bowl Wokingham 6/4/1966
RAF Cottesmore 2/5/1966
R.N.A.S Lossimouth 6/5/1966
Corkwood Bowl Weston Super Mare 25/5/1966
Magnet Bowl Poole 1/4/1966
Magnet Bowl Darlington 11/5/1966
Airport Bowl, Wythenshawe 18/6/1966
Consett Bowl, Consett 27/10/1966
Princes Bowl Greenock 11/1/1967
RAF Lindholme 11/1/1967
Corkwood Bowl Barrhead 8/2/1967