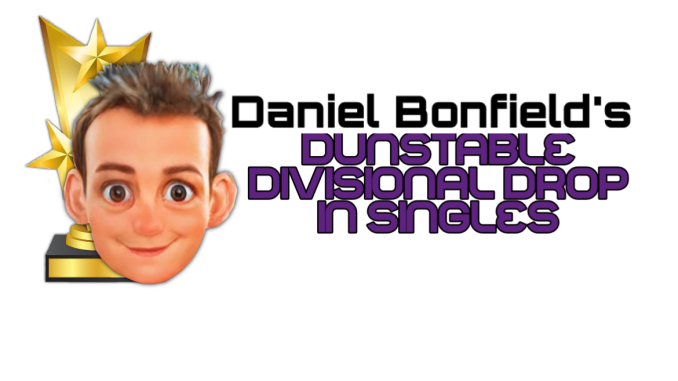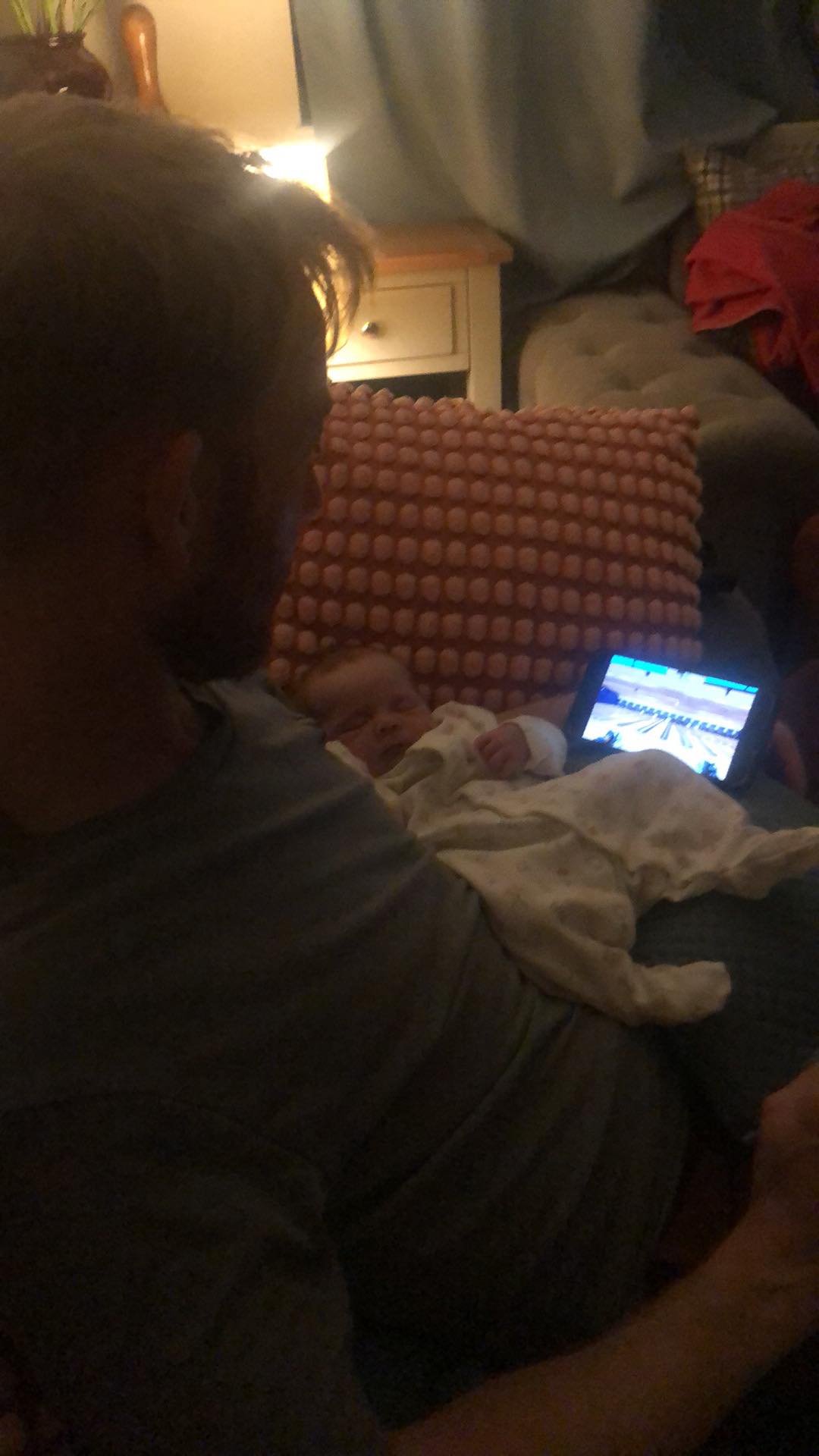 Week 2 of season 12 – firstly massive congratulations to Lee Miller and his partner Lizzie Love Puff on the arrival of baby Annabelle. Lee taking his fatherly duties seriously by getting bubba to sleep whilst watching last nights stream… lets face it our bowling will send anyone to sleep.
In other news… Rob Yandell might still be trying to park his car… which is the longest car in the world… imagine a stretched hearse ! we pulled up alongside each other last night… I went in to the bowl, chatted, done the times crossword, then went back out to the carpark and Rob was still trying to get into the parking space – he reckons his new car has too many sensors and camera's on and he gets confused.
Championship
Basically the night belonged to Ben Hollywood Holkham. Ben's had a tough couple of seasons but it seems he's coming through the other side and started to score well again. Ben won the high game pot with a 253 and took the high series pot as well with a 857.
Overall
Ben's top and with a 206 average… with Roger Hurst still breathing and alive (just) in 2nd.
Premiership
18 bowlers in the premiership meant it was hard to win decent points, with any game short of 200 not scoring any points. Steve Allardyce said he felt a big one inside him…… he also thought he would bowl well. And he was right shooting a 921 series to take the high series pot. But the high game went to Jack Stone who shot a 279 in game 2
Overall
Matt Trotter in the early lead, with Allardyce in 2nd – but will Steve get his 6 weeks in. Jack Stone in 3rd but again will Jack play 6 weeks… he likes to disappear for a couple of weeks every season for random "fishing" trips with other men…
I'm moving "funky pattern" week forward to next Monday – as I want to lay a pattern I MAY use for the Bedfordshire Mixed Trios tournament the following weekend…
If you want to enter that tournament we have 4 spaces on the Saturday and 2 on the Sunday – entry form is here – https://events.btba.org.uk/tournament-details?recordId=recJGEPGuOJGt8gXd
Clips of the week….
Ross sends the head pin on a journey
https://clips.twitch.tv/VastMagnificentUdonBabyRage-lE9ss45voUklp9vi
POWER CUT
https://clips.twitch.tv/DifficultMiniatureBunnyPMSTwin-tdNE0wSHNJb3vMn_
Stone cold
https://clips.twitch.tv/CrowdedOriginalBaboonBibleThump-AeS5F4dbW2MW_whS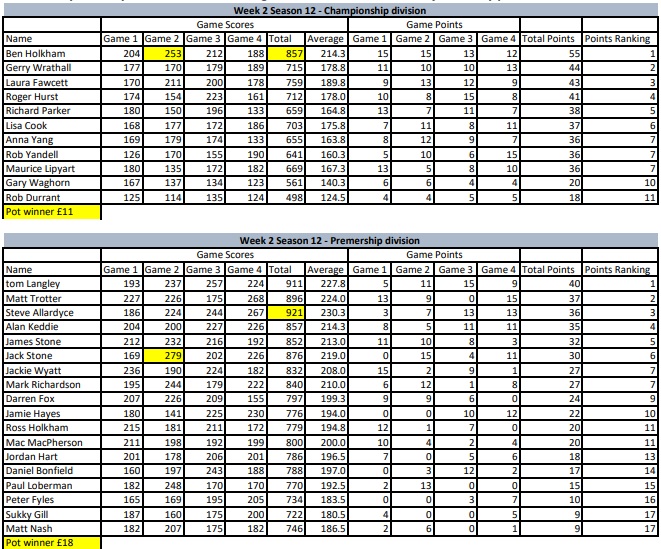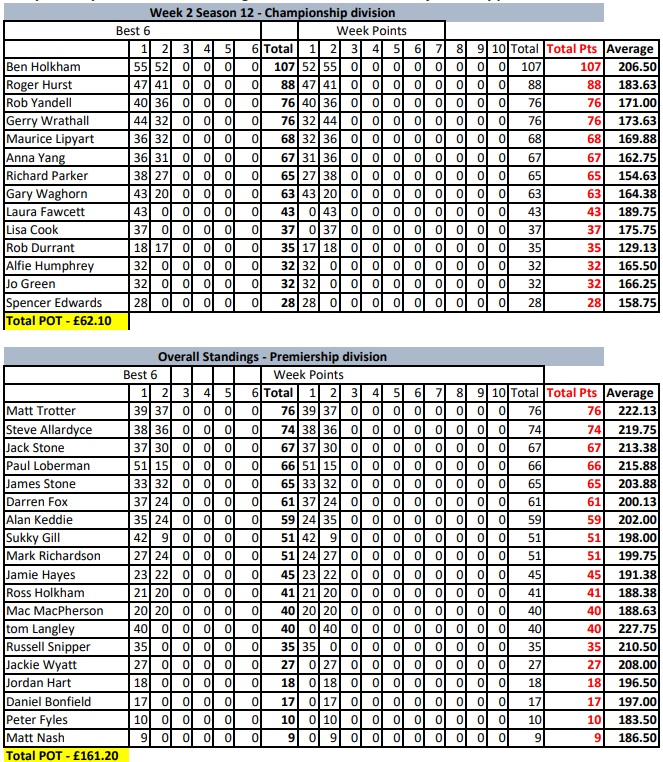 ---
Week 1 of a brand new season in the drop in singles league. We're now in season 12.  This week Sukky and Bat Hulk Russell Snipper dropped in and joined the regulars for a bowl.
Championship
Rob Yandell, once won a Tenpin Tour event, but doesn't like to talk about it – well Rob started off stroking it up there… I think one of Rob's main strengths is his hair ! – he has great hair… TV hair… I think he is the Kilroy Silk of senior bowling. Anyway… strike 9 / six in a row and he's looking to have his highest ever game… then …. Open Open in frames 9 and 10 for a 225. The high score kinda fizzled out, but Rob had the consolation of winning the high game pot and £12 in his back burner. Ben Hollywood Holkham opened with a 205,205,205 – that's not a copy and paste error he really did have 3 205's in a row ! he finished of his set with a 180 and his 795 set gave him the high series pot.
Premiership
I gave big mac the choice of any lane to bowl to… he chooses the pair that had Mark slo mo Richardson and Lobbers on… as a consequence they are probably still bowling their 4 game block. Poor Alfie was on their lane as well… it was commented that he be starting university before he finished the 4-game block.  He was a fresh-faced adolescent when he started bowling … by the time he finished he had a full beard and was a divorced dad of two. Anyway.. Lobbers did manage to finish 4 games and he shot a 957 which gave him the series pot.. he also thought he had won the high game pot with a 266.. and I took great delight in saying that Sukky had beaten him with a 268 ! UnnnnnnLucky….
Clips of the WEEK !!!!
Finesse from Bat Hulk – https://clips.twitch.tv/WiseEntertainingMangoSaltBae-LAWT_fwAvnca6Nqh
Check out the spare on lane 9 from Dickie Parker – https://clips.twitch.tv/AltruisticJollyHornetCmonBruh-rO9jkr5CX-UTHOyG
I want to make you are of a BTBA Championship Tour I'm running at Dunstable on September 30th and October 1st – it's got a handicap and scratch prize fund, pot games, money shots… all the usual nonsense
You can enter here https://events.btba.org.uk/tournament-details?recordId=recJGEPGuOJGt8gXd