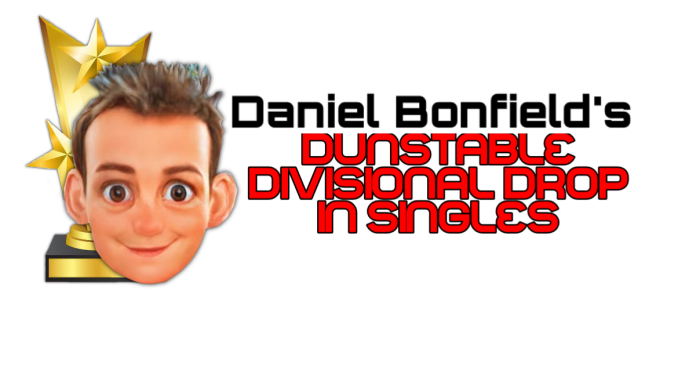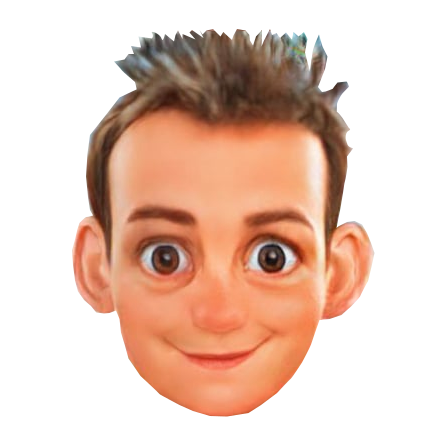 Final Week of Season 7.
Lots to play for in the championship – With Anna Yang, Gerry Wrathall and Ray Lay all battling it out at the top. I stuck them all on the same lanes to really rack up the tension and pressure.
None of the leading trio had a particular great night on the lanes. Ray Lay had a shocker, Gerry started well and then faded, whereas Anna finished stronger – but of course you never really know how many points you've scored until all the bowlers in the divisions had registered their scores and they've been crunched in the number churner…. I'll come to the result later.
Garry Waghorn… finished his set strongly with a 244 for a 785 which won him both pots on the night. Ben Holkham had a decent night on the lanes with games 188,151,204,222 for a 765 and was unlucky not to win a pot.
Overall…
So back to the tussle at the top – basher lobbed the scores into the super computer, pressed the magic button….. AND……….. winner by 1 point was ANNA YANG ! with Gerry Wrathall in 2nd and moving up to take 3rd was Gary Waghorn, with Ray Lay slipping to 4th. Leaving me to say Goed gedaan geweldig bowlen… geen damebonus voor jou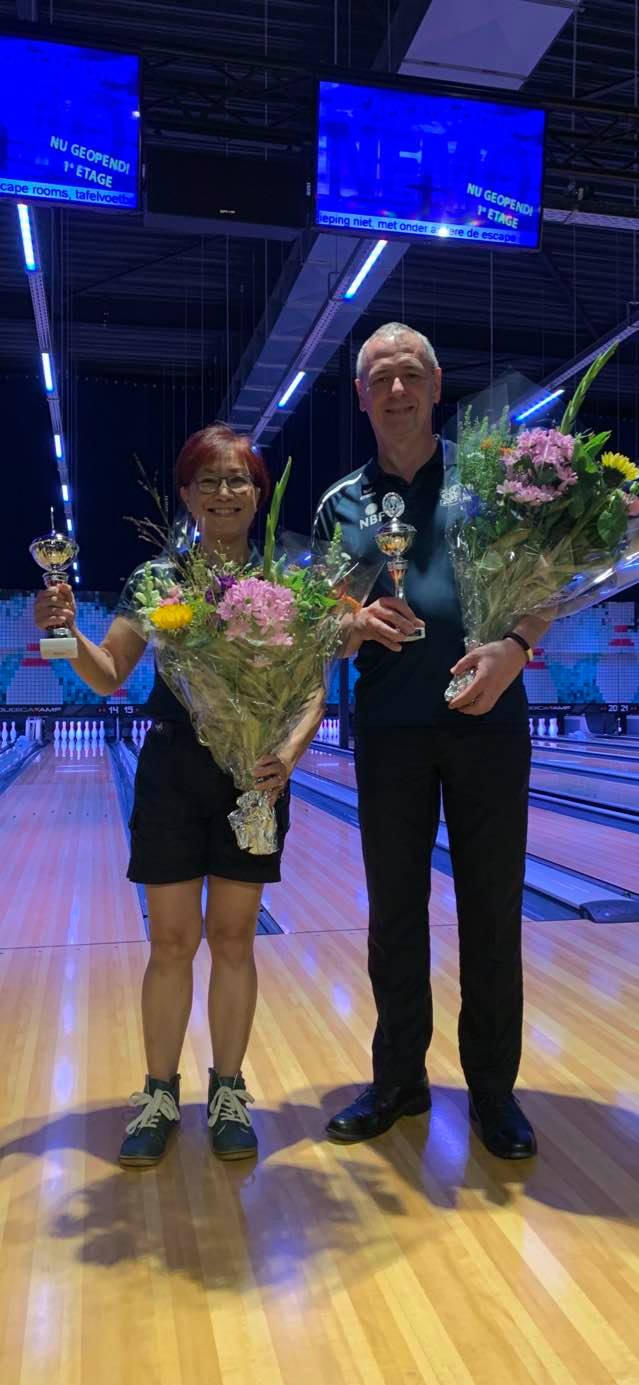 Premiership
The title and top 3 all ready decided…. Confirmation then… Matt Trotter in 3rd, Lee Miller 2nd, and this years Champ with a 227 average over 40 game (played all 10 weeks) was ALAN KEDDIE !
On the night there was some good scoring as always in the prem… Lee Miller 933 set, Big Mac Macpherson put together his highest set with a 938 and that tied the high series pot with Matt Trotter who finished off his 938 with 11 in a row 5 COUNT ! for a 295 !!
Another season in the books ! next week we go straight into Season 8 ! anyone can come down and bowl, registration for the league is 7.30pm and we bowl at 8pm. We play 4 games… its £17.50 if you bowl in the championship and £20 if you're in the prem. And that includes entry to both the high series and high set pots !
If you want to know more about the league then carry on reading….
Dunstable Divisional Drop in Singles…
4 games – cost £20 / Week or £17.50 / week – depending on what division you're in.
This is going to be a brand new way of looking at league bowling.. and I will explain it best I can.. .
So there are two divisions – a Premiership for the 185+ bowlers and a Championship <184 bowlers.
Leagues are 10 weeks long – BUT you don't have to bowl 10 weeks. You can if you want, but your best 6 weeks will count to your final league position. The plan is to have promotions and relegations based on your average at the end of each league cycle.
And you have to bowl a minimum of 6 weeks to be eligible to win an end of season cash prize. But don't worry there are weekly pots to win so you can drop in every now and then and play for the weekly pots.
Another unique aspect to this league is you don't play an opponent… how can you if people are dropping in and dropping out. Instead you will get points on your individual games scores…
So here is an example of how it works:
Game 1
Highest game Score – 15pts
2nd highest game – 13pts
3rd highest game – 12pts
4th highest game – 11pts
5th highest game – 10pts
6th highest game – 9pts
and so on till ya get to zero points.
Tied games will get the same points.
There will be weekly individual high game and high series pots.
And a prize fund for the end of season payout based on league position.
But a bowler must have completed at least 6 out of the 10 weeks.
You will be allocated a lane when you pay… and championship and premiership bowlers will be put together on the same lanes.
This is a new idea.. and I'm feeling my way as I go along. But hopefully it will grow and evolve and will have a third division and more challenging patterns for the higher divisions.
Breakdown of costs:
They are different based on which division you're in
Premiership 185+ average = £20
Championship 184- average = £17.50
Having your 6 best out of 10 means bowlers don't have to bowl every week, and having weekly pots means bowlers can drop in every now and then and still win something. There's something for everyone, you can bowl as often or as little as you like and still get something out of this league. If you get home from work and fancy a bowl, which sometimes happens… then you can drop in and have a chuck.
The Football league system of promotions and relegations is something we are all familiar with, especially for me as I support Watford. It's something I really like from bowling in the midland scratch league. It makes you strive to be better in the hope of getting to the top division, and keeps the season alive as you try and avoid relegation if you happen to be down the bottom.
So we got two divisions and they will all share the lanes, so you have bowlers of all abilities on the lanes together. Because I want bowlers in the lower division to see how the higher average bowlers play and how they play the lanes. Perhaps it will break down the opinion that it can sometime be elitist and that the better average players aren't approachable, and you can ask them about your own bowling and pick up some tips. Just don't approach me, especially if I have just had an open !
I've also reduced the cost for the lower division, because I think these bowlers are perhaps a more social bowler and perhaps prize fund and winning money isn't such a priority for these guys.
Long term it would be great to have 3 average weighted divisions, where the bottom leagues plays on recreational patterns, then you step up through the divisions who play on challenger patterns and then the top divisions play on true sports patterns. Also, a league where you can play brackets and win some extra cash.
This league if every Monday at Dunstable – we bowl at 8.00, but I need bowlers to be there from 7.30 for registration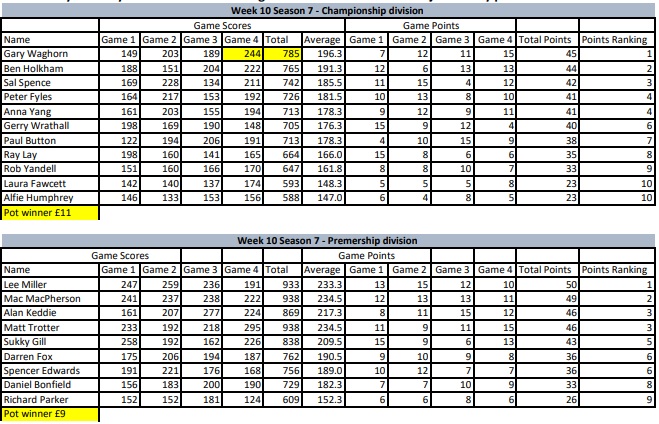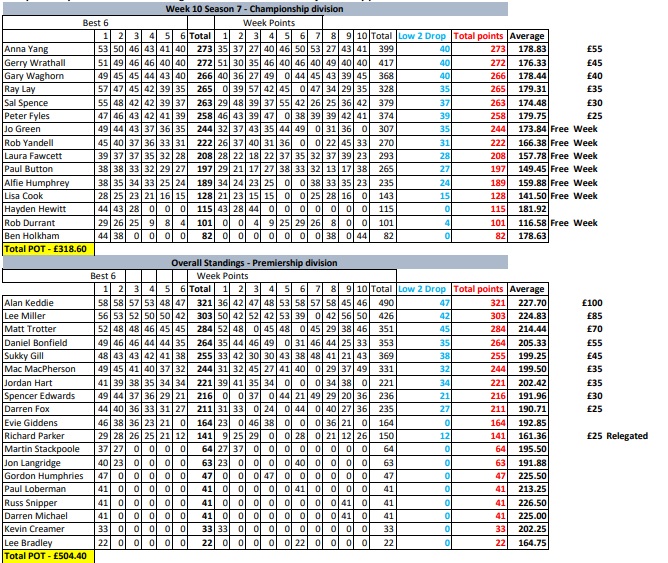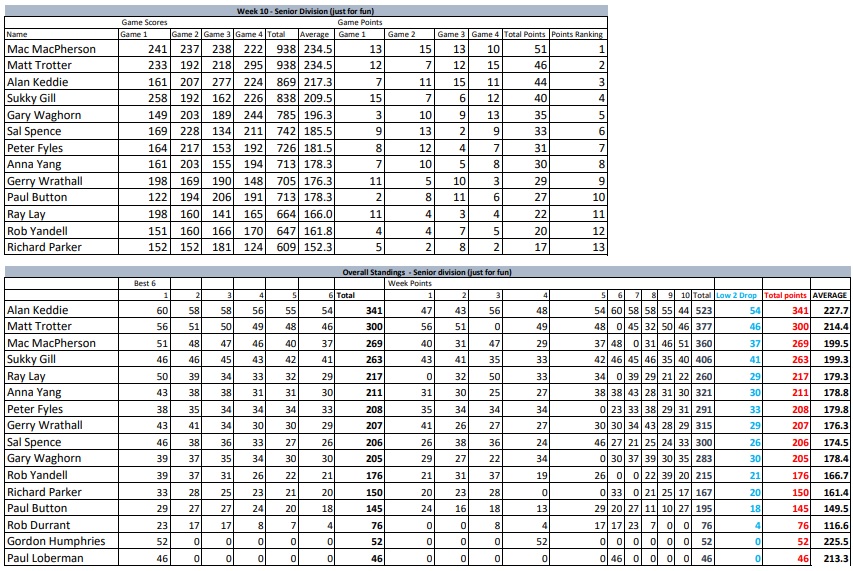 ---
Week 9 the penultimate week of season 7 – New bowler this week. We welcome the hairy Darren Michael  AKA cousin IT, who came along to have a bowl. We also saw the return of BAT HULK … Russ Snipper coming to have a bowl after a couple of months away.
Championship
It was a YANDELL night. Rob notched up a 235 opening game which won him the first pot of the evening, and even though he shot a 149 last game he still managed a 769 series the highest of the evening and it was a clean sweep of the pots for ROB – £24 in his back burner.
Overall
It's all set up for a tense final week – Gerry Wrathall is the current league leader on 272 pts, then Anna Yang on 269pts and in 3rd on 264 is Ray Lay – so 8 points separating the top 3 – Ray has the lowest dropper on 34 and then Anna on 37 and Gerry has a 40pt dropper – it's real close.
Premiership
A decent turn out in the prem this evening with 13 bowlers. And you can tell we were back on the house pattern with 6 of the 13 shooting 900 series. One of them was new boy, sorry "chimp" Darren Michael who shot a 900 set dead. Alan Keddie shot a 927, and Snipper shot a 906 block on his return. But there was little weasel (Lee Miller) down on lanes 5&6 who stole both pots with a 267 last game and 990 set.
Overall
I think the top 3 positions are done and dusted. I don't think anyone can touch Keddie at the top, likewise with Lee Securing 2nd and Matt tying up 3rd place – maybe, just maybe Basher can catch Trotter but that's if Trotter has a shocker and Basher has a blinder – and both things are unlikely to happen.. especially the Basher bowling well part.
As we go to print – we are bowling next week. There is an England World Cup game on next Monday afternoon. I've had a brief conversation with the bowl and they weren't planning on being over busy with people coming in to watch the football. And they are confident the approaches and players area won't be affected. I've emailed the General Manager just seeking further re-assurance.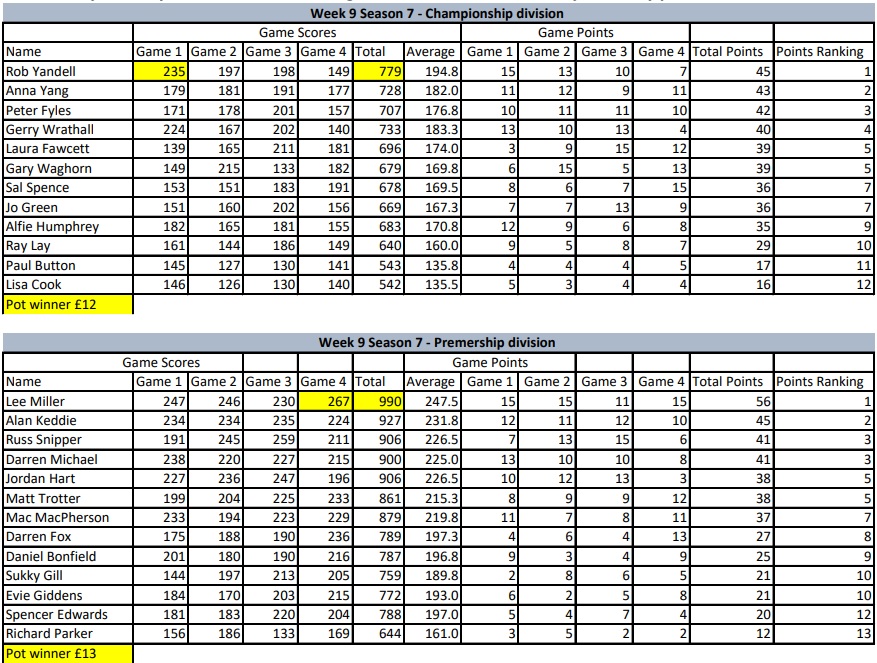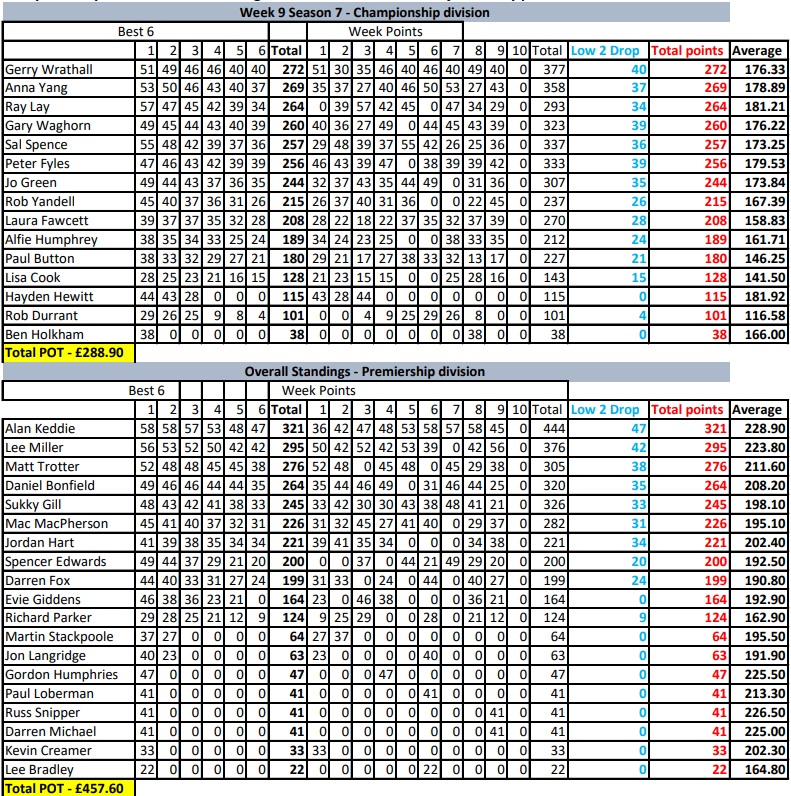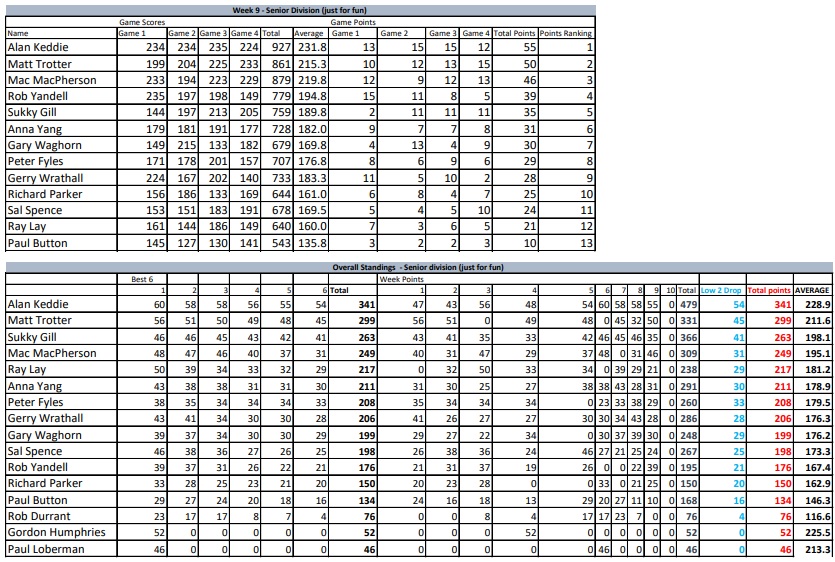 ---
So week 8 of Season 7 – and it was pattern change up week with the Pro's choice of pattern. Andy Penny resident pro chose "Abbey Road" pattern. It's 40ft and more volume of oil and a tighter a ratio then the house pattern. So our house pattern is probably 6.5+ish : 1 and Abbey Road is 3.7 : 1. Abbey Road is where the world famous music studio's are in London and that's where the Beatles recorded some of their best albums… you know the one where they are walking over the zebra crossing looking like a bunch eco protesters…now you know this, it will help understand my crappy puns.
We welcomed a new bowler Ben Holkham, used to play Aylesbury, getting back into bowling and also plays a league over at High Wycombe – Welcome Ben.
After two weeks of low turnouts, it was good to see a lot of people hitting the lanes to play the Pro's choice – but did their bowling make sweet music, or were they the bowling equivalent of the "Jedward"
Championship
Only 2 200+ games in the championship this week and 200 dead by Ray Lay and a 215 by Gary Waghorn, in the final game to take home the £14 pot for high game. Gerry Wrathall was the highest point scorer with a 700 series. But by just 1 pin Gary completed the clean sweep, with 701 set winning him another £14. New guy Ben had a decent first week scoring 38pts and coming 4th.
Overall
The championship is close this season. Gerry Wrathall moved back the top on 272 pts with Ray Lay in 2nd on 264 and Anna Yang in 3rd on 261 – but both Anna and Ray have a lower dropper then Gerry and can still easily catch him up. The only bowler who looks like they may reach the qualifying average for promotion to the premiership is Ray Lay sitting on a 184.75
Premiership
I don't know about recording any greatest hits on Abbey road… but there were plenty of bum notes played. Surprisingly the tougher pattern hit the premiership players hard. Only one decent 800+ series rolled and that was by Alan Keddie. Ked's shot a 871 with games of 188,243,233,207 for a colossal 58pts – that's the 4th week in a row that Keds has scored over 50points. In fact the last 4 weeks Ked's has averaged 56.5 points a week !  A 871 and 243 of course game him a clean sweep of both the high game and series pots.
There were some shockers out there… I've never seen Matter Trotter miss a single pin in my life ! – last night he missed 3 – in a row !! – he needs to re-calibrate his radar… I reckon it's the Russian interfering with the signal !
Overall
Alan Keddie has a massive lead at the top now – 40pts from Lee Miller in 2nd and Matt Trotter sits in 3rd on 54pts behind Keddie.
Back to the house pattern next week and a much needed boost to some of our ego's !!!
So registration from 7.30 and we bowl at 8pm – 4 games – anyone in the whole wide world can come and bowl at any point in the season.
Email if you want more details drwbonfield@yahoo.co.uk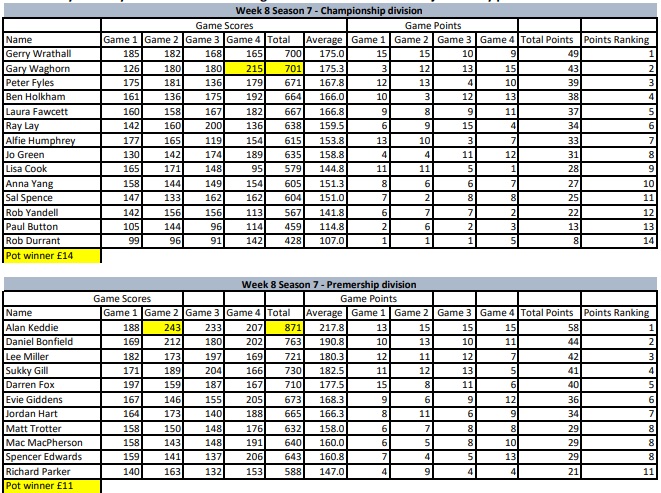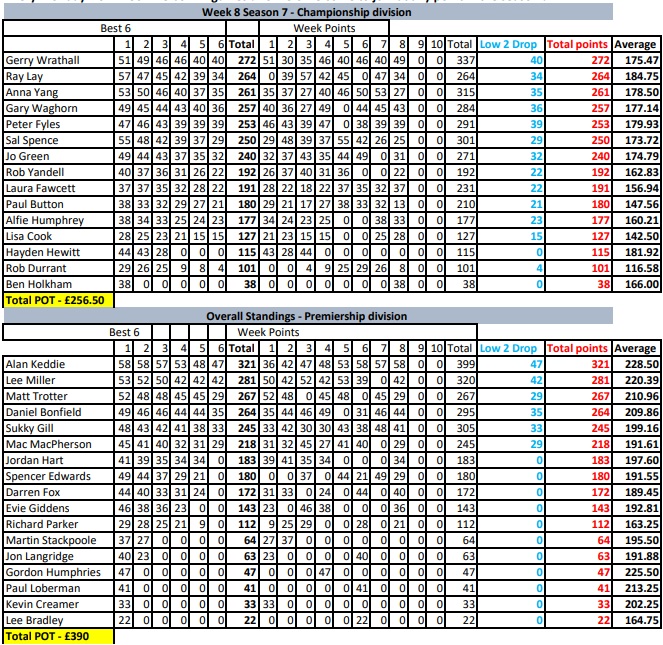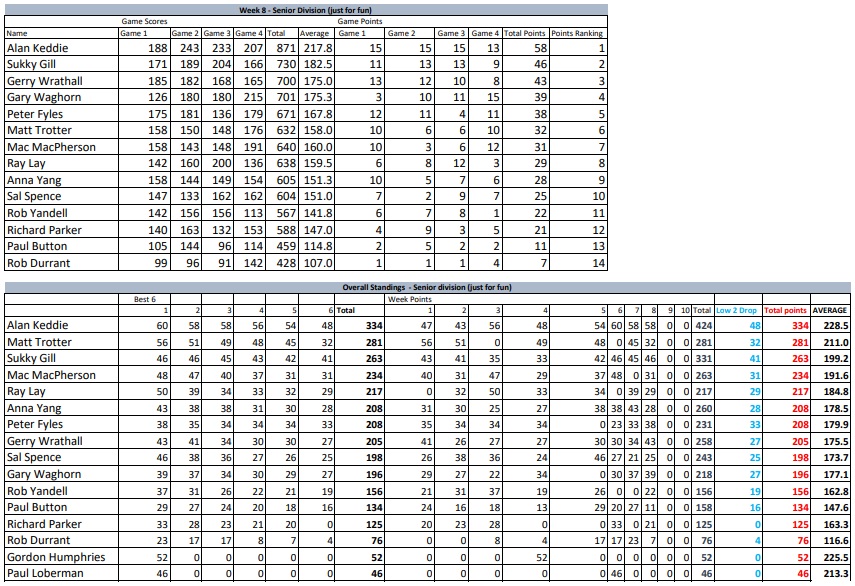 ---
Week 7 of season 7 coincided with Halloween Night. A one bowler in particular had a spook-tacular night on the lanes…
Championship
Peter Fyles had a frightening night on the lanes, with a high game 258, but a low game of 137 – but that 258 won Peter the high game pot. High series Pot went to Anna Yang with a fang-tastic 801 series
Elsewhere Laura Fawcett who came dressed up looking like mumm-ra from the Thundercats shot her first 200+ game in 26years. Rob Durrant gets better every week. Each week he either gets his high league series or high game.. this week it was his high game with a 176.
Overall – Anna Yang is now top with Gerry Wrathall in 2nd and Pete Fyles in 3rd it really close in the championship this year and even Ray Lay down in 7th still has a chance of winning the title.
Premiership
A small field this week with only 5 bowlers, which meant easy points for those that turned up. The night was started off amazingly for Spencer Edwards who opened up with 255,257 and finished off his set with two 190's for a 896 set. But the pots belonged to Alan Keddie who shot what I think is a league record – a 1035 set, games of 242,258,277,257 – another week for Ked's where he scored 50+ points. I mean I bowled ok having a 825 but even if I had bowled an extra game I still wouldn't have beaten Alan's series.
Overall – No Surprise that Ked's has opened up a lead at the top, in the last 3 weeks he has scored 53,58 and 57 points and over the 28 games he has played this season he is averaging 230. Lee Miller had a night off as he is on holiday, but he remains 2nd with the truly magnificent Basher Bonfield in 3rd.
Anyone can come along and bowl in this league at any point in the season – we bowl every Monday, Registration is open from 7.30 and we bowl at 8. We play 4 games and you're put in either the championship or the premiership depending on your entering average.
Week 6 of season 7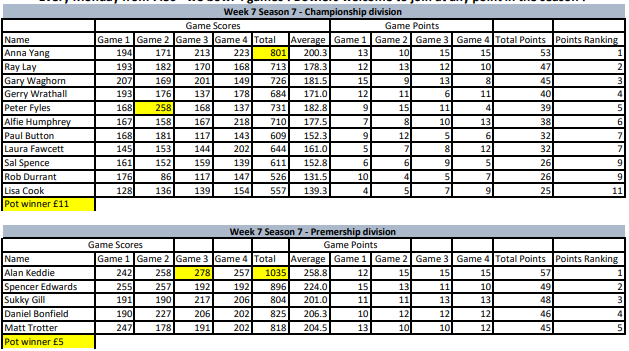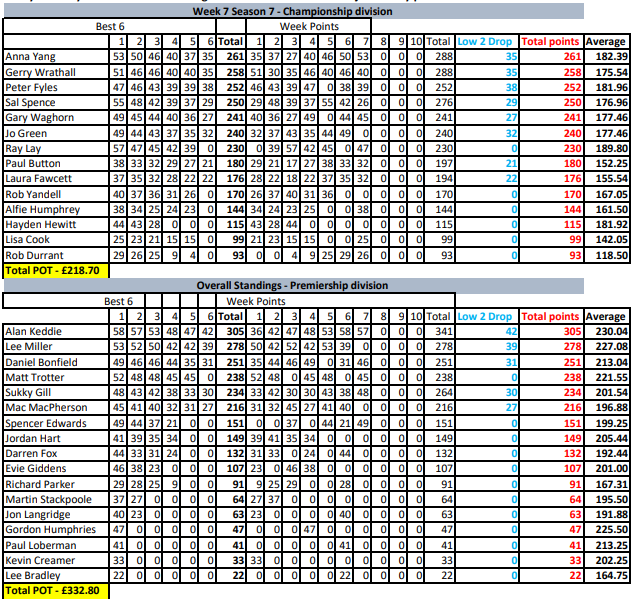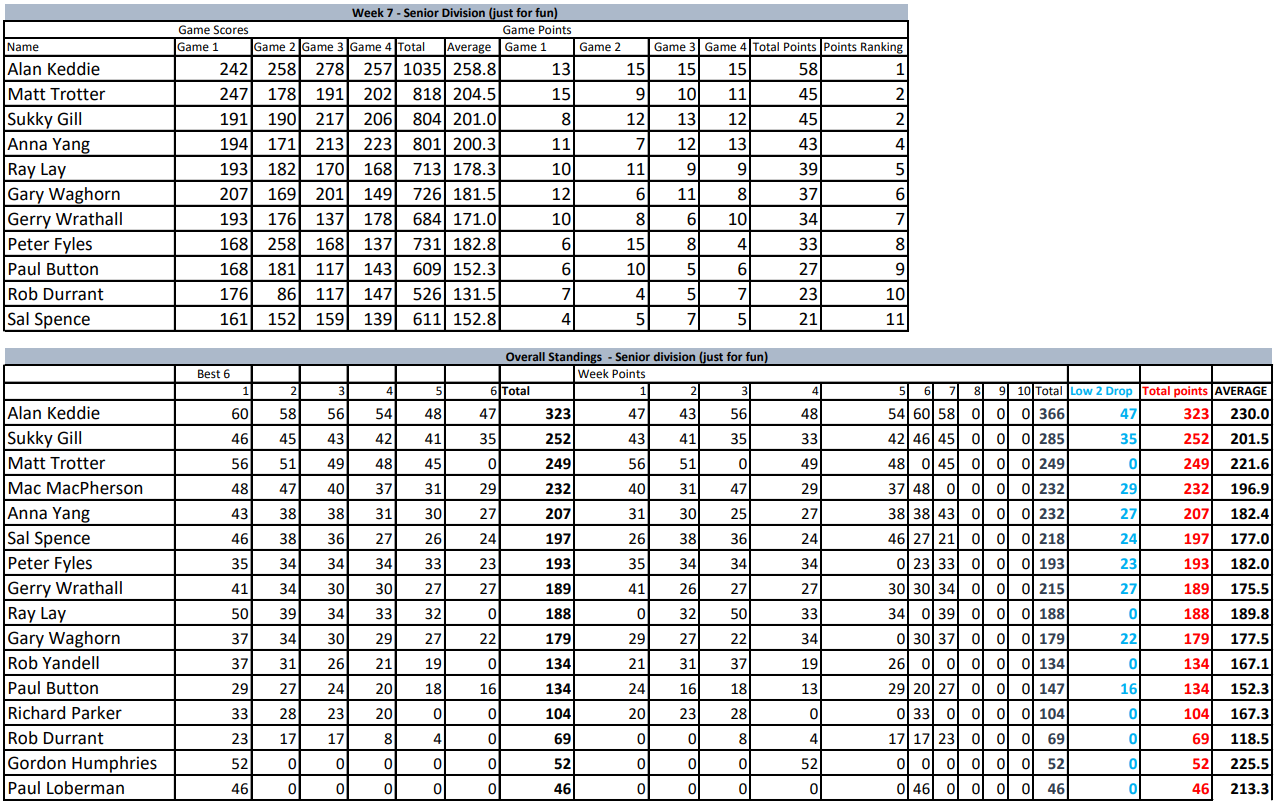 ---
No newbies this week, but a couple of old faces returning for a bowl… welcome back Lobbers and Bradders.
The evening started off with chocolates bought by our resident Sikh, Sukky to celebrate Diwali !
Half Term week… lanes always play a little different during the school holidays
Championship
The bowlers in the championship really struggled this week. There was only bowler who broke 700 and only one to have over a 200 game. Stand up ANNA YANG –  the star or the week, starting with 210, 200 and finishing with 736 which meant a clean sweep of the pots !
Overall
Sal Spence had a bad week by her recent high standards, but stays top, with Gerry Wrathall in 2nd and Jo Green in 3rd
Premiership
Alan Keddie was the stand out bowler. Keds was 103 pins ahead of his nearest competitor and scored a massive 58 points. A 247, 247, 227,236 for a 957 set gave Keds a clean sweep of the high game and high series pots
Overall
Ked's surging to the top of the league with Lee Miller in 2nd Sukky Gill and Big Mac Macpherson in joint 3rd
So week 6 is over and from here on things get HOT, as bowlers catch up on their weeks and others start drop their lowest point scoring weeks.
I want to draw all your attention to the services of one our bowlers Robert Durrant who specialises in sports massage and can visit your homes and offers massage therapy, recovery, and relaxation – cure all those aches and pains. Contact Rob if you think he might be able to help you.
See you all next week for a Halloween special !!!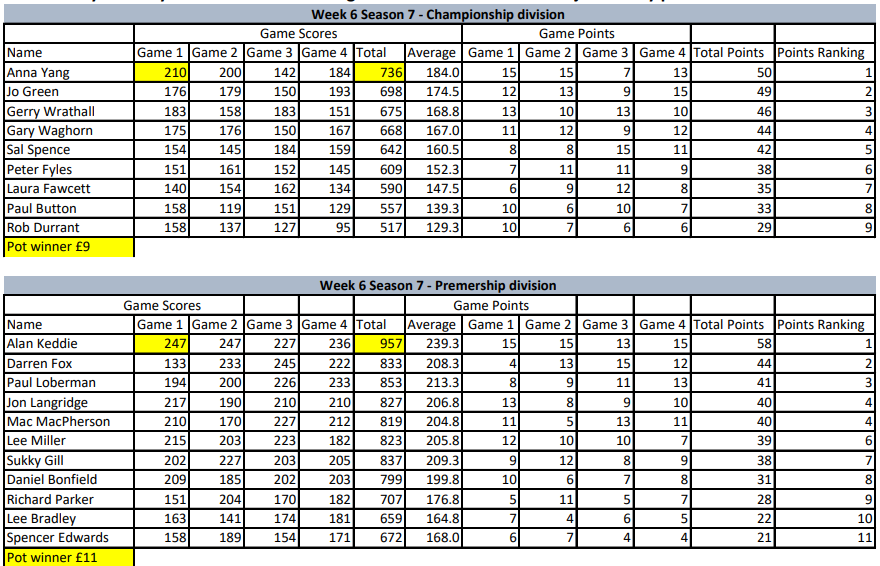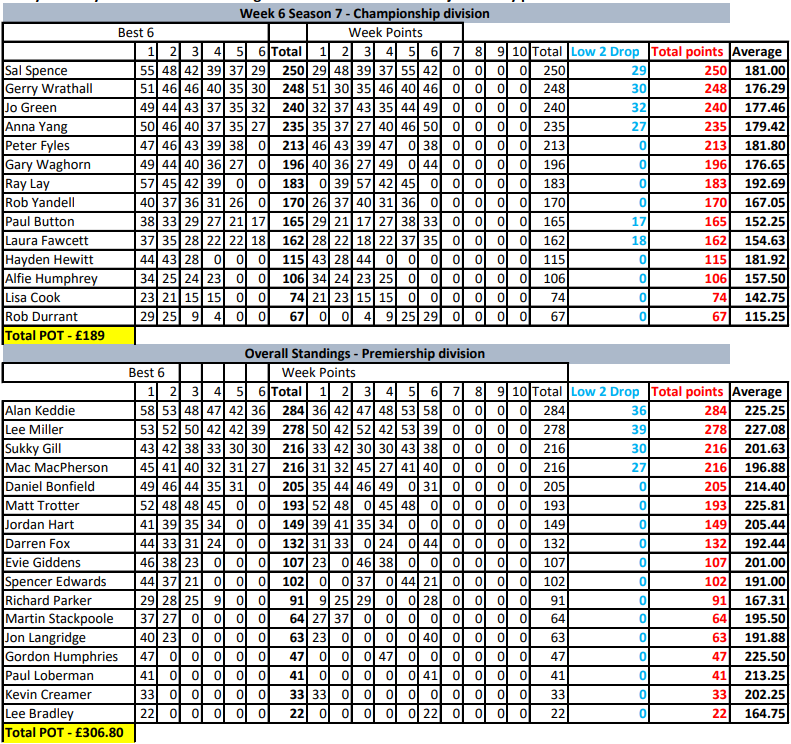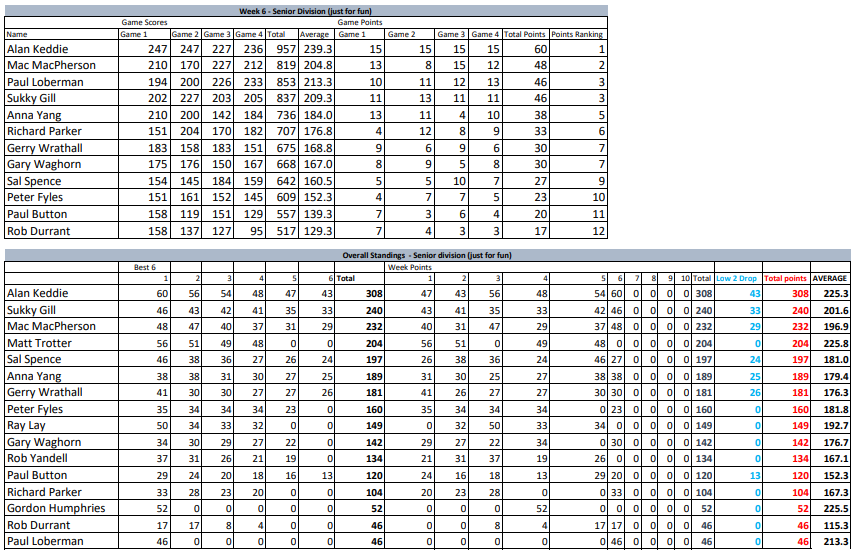 ---
Week 5 of the drop in Singles – low numbers this week, but that's good easy points for those that played.
Championship
Sal Spence started strongly with a 215 and 213 and that helped her to an 807 set that won the high series pot. But she didn't claim all the money as in game 3 Anna Yang threw in a 237 game to take the high game money.
Overall
With Peter Fyles missing a week with the covid it meant changes up at the top. Sal Spence now moves into 1st with Gerry Wrathall in 2nd and Anna Yang 3rd and with Jo Green 4th it means Gezza is surrounded by women, which takes him back to his "swinging" days !
Premiership
It was a day for highs and lows…. High's – Spencer Edwards shot his highest game, a 268 to win the high game pot. Low's – Matt Trotter shot a 166 !! he had back to back opens ! can you believe that.
Alan Keddie shot a 923, but was pipped to the high series pot by the little ferret Lee Miller who shot a 926
Overall
Miller the Pin Killer is top, with Keddie in 2nd then Matt Trotter in 3rd – All these bowlers averaging over 220, with Miller averaging 231.
Don't forget to watch back all the action on the twitch channel
https://www.twitch.tv/basherback2back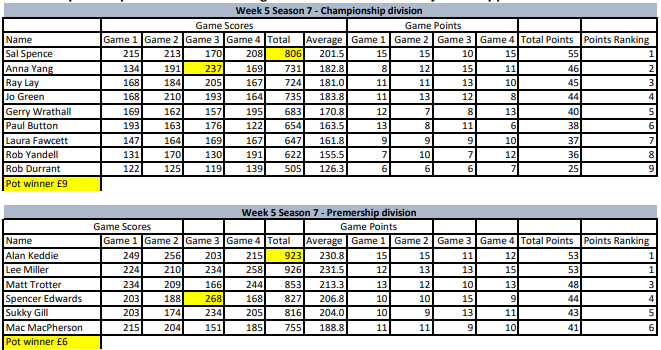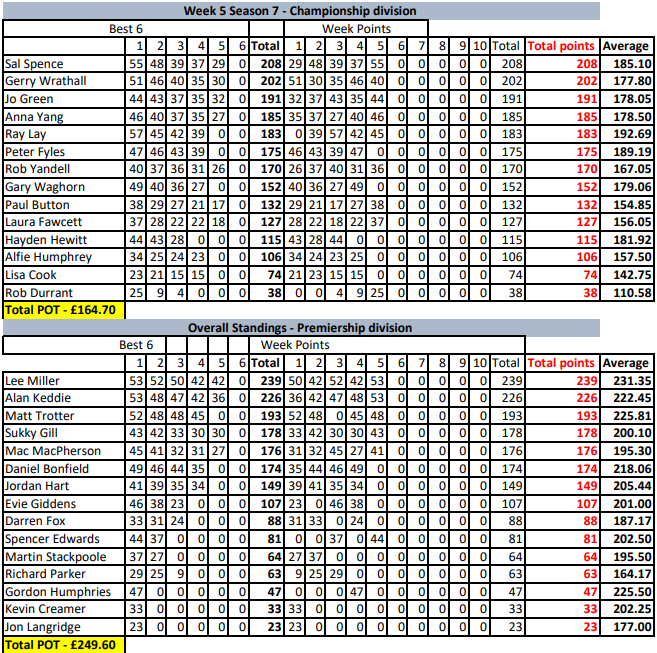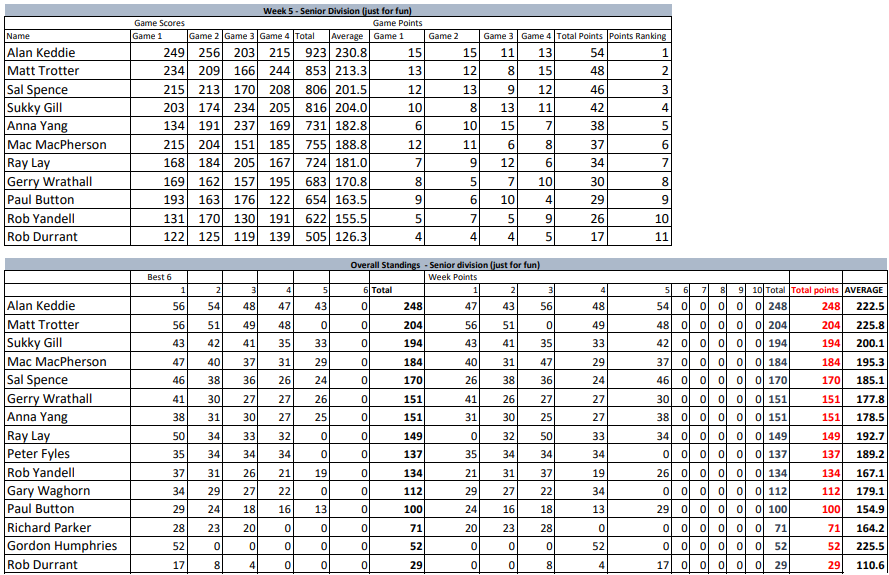 ---
Week 4 in season 7 of the drop in singles league – and this week the lane pattern was the PRO's CHOICE. Resident Pro at Dunstable is of course Andy Penny, and Andy chose the "BEATEN PATH" lane pattern – next pattern mix up will be week 8 !
Welcome's to new players – Welcome to Senior Team England bowler Gordon Humphries who is slowly making his way home to Plymouth (I think) from having played the Scottish Senior Open.. and on his way home he thought he would stop at Dunstable visit all the tourist attractions and 5 minutes later head to the bowl for a bit of drop in action.
Championship
Ray Lay started strongly again with a 202,221 start, but crashed and burned with a 138 in game 3. Peter Fyles left it late finishing off his 784 4 game block with a 236 to clean sweep the points. But he wasn't top point scorer. Sometimes slow and steady wins the race, and a nice consistent set by Gary Waghorn saw him take 49points.
Overall
Peter Fyles continues to lead the championship 13pts ahead of Gerry Wrathall in 2nd with Sal Spence in 3rd.
Premiership
The pattern switch up didn't affect the big guns ! with 4 bowlers in the prem shooting 900+ sets. Gordon opened with a 259 and ended with a 902 block, Matter Trotter shot a 906 set but was only the 4th highest point winner. Basher shot a 905 and was the highest point scorer of the evening with 49pts. But with a 262 in game 3 and a 920 set it was Alan Keddie who clean swept both pots.
Overall
Lee Miller is top by 12pts from Basher in 2nd and Keddie is in 3rd.. lurking though is Matt Trotter who is a week behind the top 3
BIG NEWS !!! – the stream hit 8 viewers last night ! unprecedented levels of boredom must have been prevailing throughout the land last night.. the 8 viewers didn't hang around for long as Darren Fox kept tapping Jo green on the head using "special effects"
If you want to watch the stream back and see these really cool special effects – click on this link https://www.twitch.tv/basherback2back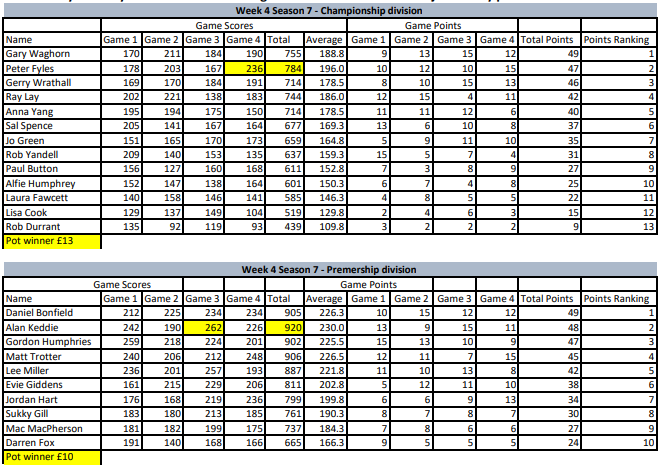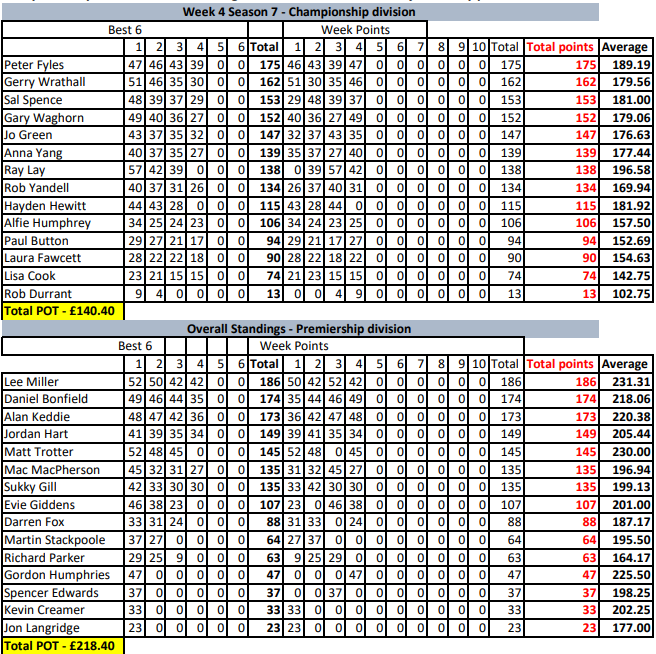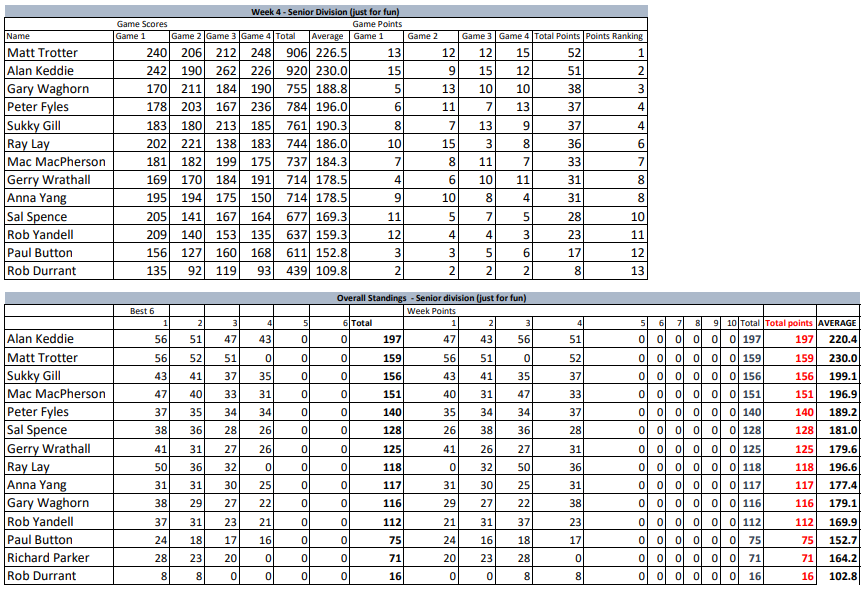 ---
Week 3 of the Dunstable Drop in singles league – first welcome to the newest bowler Robert Durrant. Welcome – hope you enjoyed your evening skittles… got to see someone have a 300 !
Championship
The night belonged to Ray Lay who just like last week threw a 240+ final game, this gave him a very decent 860 series – Rays hit some form ! – could he be returning back to the premiership ?
So high series and high game to Ray – £28 in his back burner and a whopping 57pts to his total. Some decent bowling in the Championship – Rob Yandell, Jo Green and Hayden Hewitt all averaging over 190.
Overall
Peter Fyles continues up at the top with Gerry in 2nd and Sal Spence in 3rd.
Premiership
Evie Giddens started well with a 243, that was beaten in game 2 by Alan Keddie who shot a 257 – but then in game 3 Lee Miller shot the leagues 3rd 300 game. There was a lucky strike in the middle but it was a good 300. Obviously that game him the high game pot and he rounded out his set with a 245 for a 980 for the high series pot as well. Keddie shot a 914, Basher a 894 and Evie a 887 were the other high scorers.
Overall
Lee Miller is top, with Basher and Keddie in joint 2nd – still early days though.
Next week I'm mixing it up .. for week 4 and 8 of the league I'm going to put down a different pattern. For these 2 weeks it's the PRO's choice – the PRO in question is the Dunstable residence pro – ANDY PENNY. It's not going to be housey and its not going to be Sporty, but somewhere in the middle –  as soon as Andy has made his decision I will announce it in our group chat on social media.
I just thought it would get a bit same old, same old playing on the same pattern each week…. Let mix it up and see if that shakes up the standings.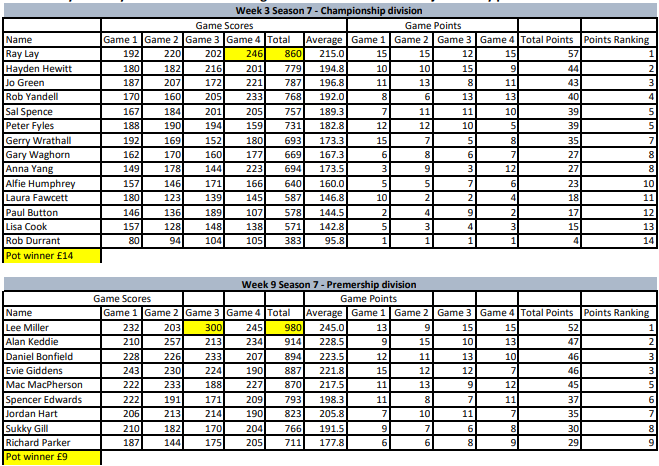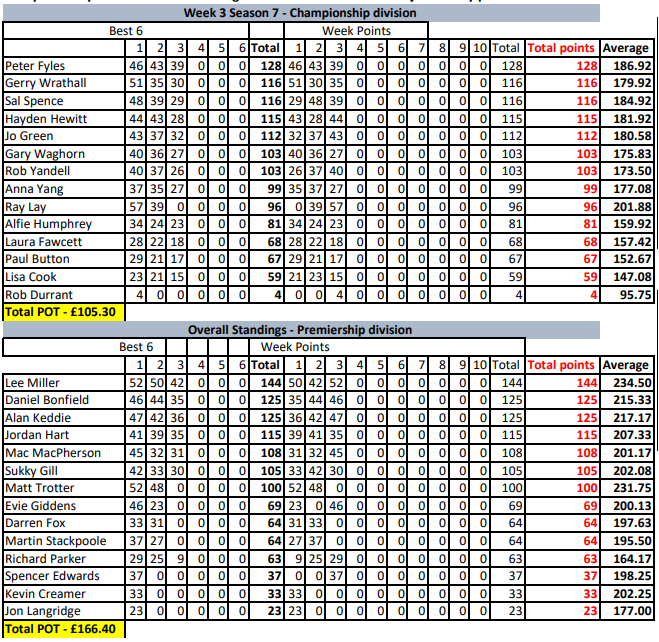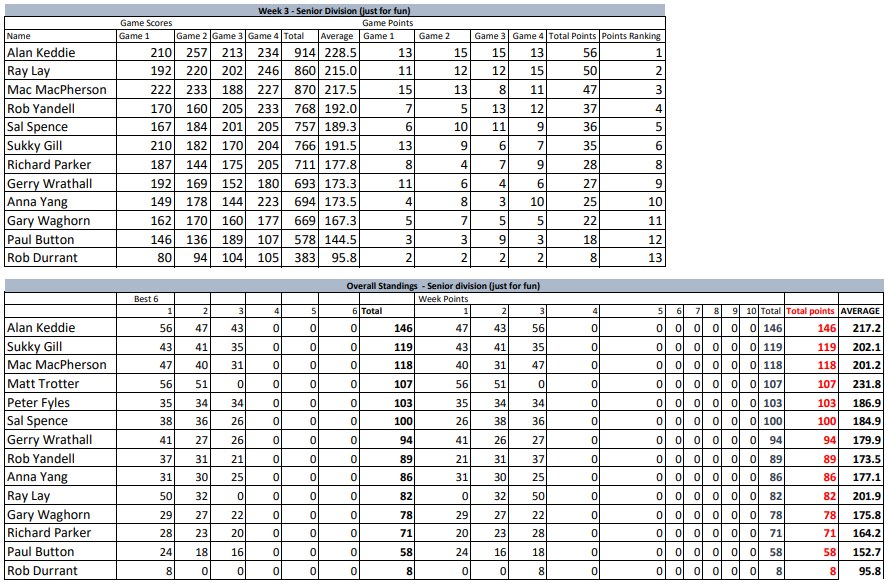 ---
Week 2 of season 7 – firstly congratulations to Alfie Humphrey who celebrated his 14th birthday – and was stuck on lane 14 with the coffin dodgers ROB and RAY… lovely selection of cakes ! I personally destroyed the Rocky Road… my poo looked a bit like rocky road this morning as well
Championship
Rob Yandell was determined to show Alfie that despite his coffin dodger status he could still bowl a bit and he had a 239 in game 2.. of course he followed that with a 130 game… but that's not the point. He looked to have won the pot, but sneaky Ray Lay went and had a 246 last game to win the money. High series went to Sal Spence who put a great set together 213,191,216,199 for a 819 and 48pts.
Overall
Peter Fyles is top with the spritely Gerry Wrathall who was part of the building project on the great pyramids in 2nd, and Sal Spence in 3rd.
Premiership
High game went to the shaven headed Jordan Hit Man Hart with a 279, and high series went to Matt Trotter with a 941, with Basher also notching a 900 series (915) – no pot win from Mr. Lee Miller – which was refreshing.
Overall
Trotter is leading, with Lee in 2nd and Hit Man Hart in 3rd… top 2 having opened a gap all ready to the rest of the pack.
I don't think the stream worked very well last night… it captured the first 15 minutes and there were some lovely deliveries thrown by ME mainly.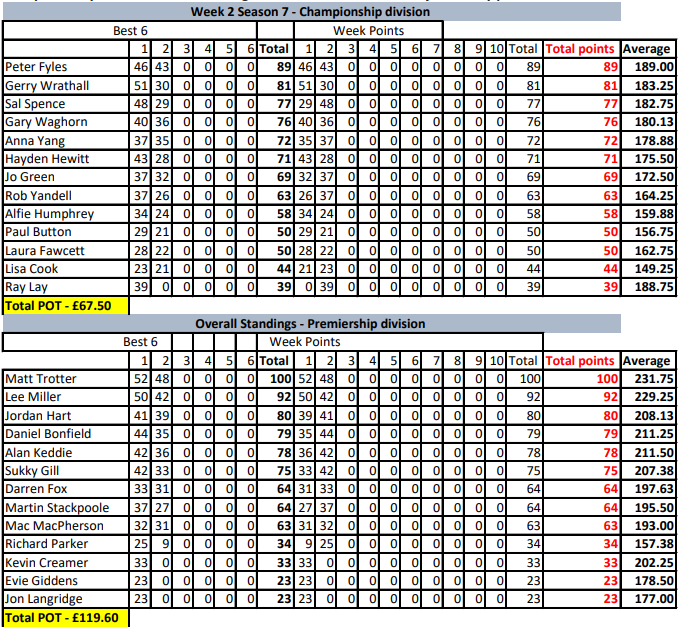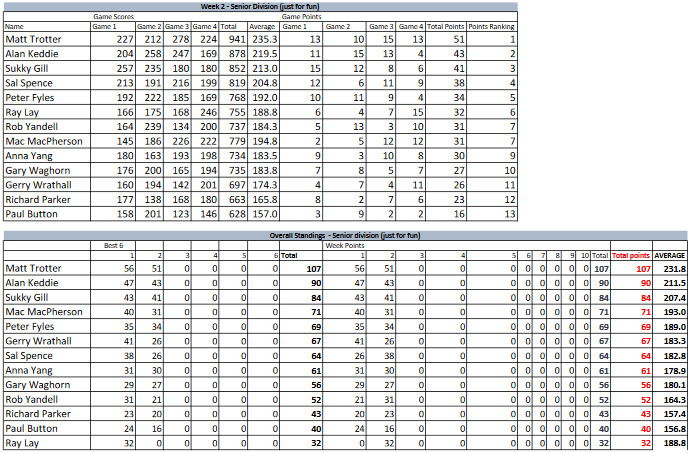 ---
New league New season
And let's start off by raising a virtual toast to Queen Elizabeth II – which we were helped in doing by the complimentary drink Go Bowling owner sent us.
Next lets acknowledge that next Monday 19th is a unique day in history, one that I doubt (apart from Gerry who was pall bearer at Henry VIII's funeral) any of us have experienced before – the Funeral of Queen Elizabeth. The bowl are going to shut – so that means NO BOWLING next Monday. And to be honest even if the bowl was to open I would've cancelled the league anyway..
Championship
Anna Yang shot the high game with a 222 – and she wants bonus on top of that ! – the sauce !! High Series with a 769 was the ever green Gerry Wrathall – should be a good year in the championship, and very competitive. Peter Fyles came and had a bowl and he had a decent 744 and Hayden Hewitt who missed 48,000 singles pins shot a 728 set.
Premiership
There were two bowlers who really bowled anything decent – both a couple of Ace flyers. Lee Miller shot a 289 for the high game and 965 for a clean sweep of the pots. But he wasn't top point scorer – that went to Matt Trotter who scored 52 points from a 913 set. It's up to the rest of the premiership to try and keep up with these boys this season. We need to up our game, every single frame is a killer, every sub 200 game is another cut… like a paper cut… them bastards hurt.
If you want to catch up last nights bowling action you can view it on the twitch channel https://www.twitch.tv/basherback2back