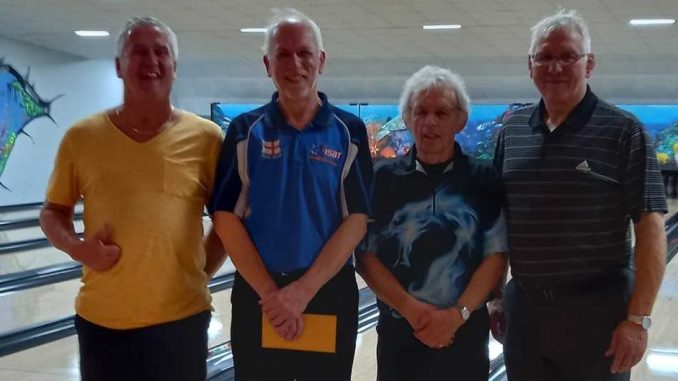 Gary Barlow beats Nev Robinson in the final to be crowned the Resdev BigBearBolts Masters champion 2022.

For the first time since 2019 the Resdev Senior Tour Masters was held again at Mansfield Superbowl.
The 28 qualifying bowlers took to the lanes to try and win a share of the £2000 prize fund on offer.
The usual 6 game qualifier would see the top 16 going through to round 2.
Out of the blocks fast was Shipley September champ Paul Hewitt with games of 259,236 and 265 scr, ending up on 1401 inc bonus to establish an early lead close behind would be Team England star Colin Grose with an excellent 6 game block of 1387 scr and no bonus. Not far behind comes Shipley May winner Gary Barlow 1337 inc bonus just behind Gary come Two time winner Cliff Dew on1332 tied with Martin Clements.
Round 2 and the scores are carried forward from the first round to determine the top 8 for a seeded matchplay round. Gary would now be top of the tree on 2022 inc bonus, Colin in 2nd 1978, 3rd after a solid block Geoff Brown1968, 4th early leader Paul Hewitt 1966, Matin a further pin behind in 5th Rounding out the top 8, Cliff 1936, Nev robinson1921 and Kevin Lamb 1911, going out Bromborough champ Mike (Frosty) Halliwell, Welsh team member Suren Johanssen, Funtime Frank Lindsay, Scotland star Andy Gillespie, Keith Hodge, team England lady Carole Orange, Ian Hollands and Steve Coates.
Round 3 and the matchplay round saw only one close game with Paul just edging out Martin 441 to 425, other winners Gary over Kevin 436 to 384, Cliff with a brace of 255 games beating Geoff 520 to 400 and last finalist Nev finding a great line and overcoming Colin 504 to 423. The final would see all bowlers play a game and the low man would be eliminated and scores would carry forward for each game first to go would be Cliff on 193, then Paul on 395, this left Gary and Nev to play the final game with only a 3 pin difference in favour of Gary, a burst of five in a row to start the last game was enough for Gary to ease home despite a late charge from Nev to win with 717 to Nev's 695.
So our first champion for three years is Yorkshire's Gary Barlow.
As ever my thanks to Mansfield bowl and all the staff who looked after us all so well, especially Jack who i pressganged into presenting the prizes. On a personal note I would like to thank all the bowlers who have played this year, we can't have a tour without you and I wouldn't have all the fun that I have had this year back on a full tour.
Next year we have co-sponsors Resdev and Big Bear Bolts, so hopefully next year will be even better and we also have 2 new venues in a return to Barnsley and a new one in Altrincham. The response for next year has already been overwhelming so it should be a great tour.
Also my thanks to Dom at Talktenpin, Dan at badassbowling and especially Al Turner for his website and for taking all the pictures for me it is very much appreciated.
So onto next year and I hope to see as many of you as this year.
Jack G Smith
Results
Final Step 3

Final step 2

Final Step 1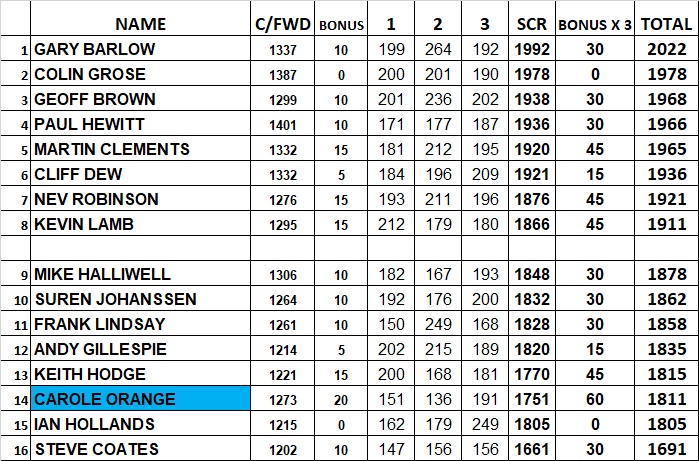 Qualifying