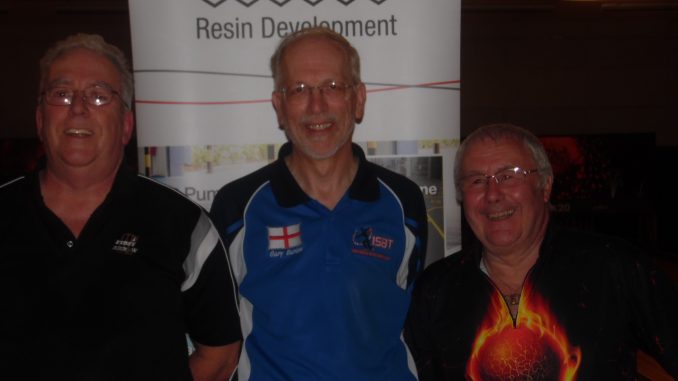 Sunday 27th May saw the Resdev Senior Tour stop at a new venue, the lovely Lincoln Bowl. Always popular with bowlers it saw a record equalling field of 50 bowlers take to the lanes, due to the increased number the first cut being increased to 19 with the added incentive that the top 3 bowlers would be directly into the final, although this has been a curse in the past, would it be this year? more of that later.
On a tough scoring pattern set by centre manager Andi Turner proved that good scores were possible but any lack of concentration would be punished and so it proved to be. Leading the qualifying would be a new bowler to the tour Steve (Carnage)Carnall with 1356 inc bonus helped by a 255 last game. In 2nd and 3rd and staright through to the final would be 2 bowlers showing a welcome return to form. 2nd Nev Robinson 1320 and 3rd Pat Byrne 1308 just edging out Mr senior bowling Ron Oldfield.
Notable games from those in the top 19 being Pete Sampson 276 in game 3, Paul (Porky)Maddock 245, Trevor Green 255 and Kevin Lamb 257 elevating them all comfortably into the top 10. The cut for 19th place was eagerly anticipated with a lot of bowlers nervously awaiting the outcome, and it was to be as close as you could get as Frank (Funtime)Lindsay with 1215 inc bonus scraping through by a pin from another new bowler to the tour Andrew Sinclair and Gary Christopher both on 1214 with Trevor Lamprell 1213 and Mark Loughborough 1208 with all those last 3 having a nightmare 1st game of 143 "spooky"?.
Round 2 saw bowlers from 4 to 19 play a further 4 games for a top 6 place in round 3. Out of the blocks quickly in thisround were Gary Barlow firing 954 inc bonus closely followed by Dave Rawding recovering from 1 179 first game to have 717 in the next 3 and a total of 936 also making the most of just scraping in Funtime Frank Lindsay 902 aided by the best game of the day 279. rounding out the top 6 Ron Oldfield 885 Kevin Lamb 871 and Porky Maddock just edging out Ken Burton with 870.
Round 3 would see these 6 play 3 more games from scratch to decide the top 3 who will be joined by the top 3 from qualifying for the final. Frank still firing well took top spot with 702 inc bonus, in 2nd Porky 678 aided by a 247 last game and Gary Barlow 660. the unlucky bowlers this round were Kevin Lamb 638, Ron Oldfield 629 and Dave Rawding 615.
So to the final and after a long wait the top 3 qualifiers would try to overcome the curse unfortunately for the top 2 qualifiers Steve Carnall and Nev Robinson the curse would come true and they would suffer on the drier lanes and would finish Nev in 5th and Steve in 6th. Porky would also struggle and finish 4th.
There would be a big gap to the top 3 and this proved to be very exciting as the outcome would be in the balance for all 3 bowlers with 2 frames to go but just edging the win and becoming stop winner would be Yorkshire stalwart Gary Barlow with 670 inc bonus, 2nd would be Pat Byrne surprising even himself with 657 just in front of Frank on 653. So another stop done and as ever my thanks to Andi and all his staff providing excellent service and fantastic food which the bowlers made full use of.
Next stop and we go to Mansfield on the 24th June
Round 4
| | | | | | | | |
| --- | --- | --- | --- | --- | --- | --- | --- |
| NAME | BONUS | 1 | 2 | 3 | BONUS X 3 | TOTAL | |
| GARY BARLOW | 5 | 224 | 226 | 205 | 15 | 670 | 1st |
| PAT BYRNE | 15 | 180 | 236 | 196 | 45 | 657 | 2nd |
| FRANK LINDSAY | 10 | 238 | 187 | 198 | 30 | 653 | 3rd |
| PAUL MADDOCK | 10 | 176 | 191 | 181 | 30 | 578 | 4th |
| NEV ROBINSON | 10 | 190 | 163 | 173 | 30 | 556 | 5th |
| STEVE CARNALL | 5 | 170 | 153 | 215 | 15 | 553 | 6th |
Round 3
| | | | | | | | | |
| --- | --- | --- | --- | --- | --- | --- | --- | --- |
| | NAME | BONUS | 1 | 2 | 3 | BONUS X 3 | TOTAL | |
| 1 | FRANK LINDSAY | 10 | 236 | 219 | 217 | 30 | 702 | |
| 2 | PAUL MADDOCK | 10 | 189 | 212 | 247 | 30 | 678 | |
| 3 | GARY BARLOW | 5 | 231 | 224 | 190 | 15 | 660 | |
| | | | | | | | | |
| 4 | KEVIN LAMB | 10 | 246 | 154 | 208 | 30 | 638 | 7th |
| 5 | RON OLDFIELD | 10 | 191 | 213 | 195 | 30 | 629 | 8th |
| 6 | DAVE RAWDING | 10 | 177 | 186 | 222 | 30 | 615 | 9th |
Round 2
| | | | | | | | | | |
| --- | --- | --- | --- | --- | --- | --- | --- | --- | --- |
| | NAME | BONUS | 1 | 2 | 3 | 4 | BONUS X 4 | TOTAL | |
| 1 | GARY BARLOW | 5 | 244 | 254 | 215 | 221 | 20 | 954 | |
| 2 | DAVE RAWDING | 10 | 179 | 257 | 235 | 225 | 40 | 936 | |
| 3 | FRANK LINDSAY | 10 | 188 | 279 | 205 | 190 | 40 | 902 | |
| 4 | RON OLDFIELD | 10 | 247 | 204 | 194 | 200 | 40 | 885 | |
| 5 | KEVIN LAMB | 10 | 215 | 189 | 223 | 204 | 40 | 871 | |
| 6 | PAUL MADDOCK | 10 | 233 | 225 | 202 | 170 | 40 | 870 | |
| | | | | | | | | | |
| 7 | KEN BURTON | 15 | 191 | 180 | 210 | 222 | 60 | 863 | 10th |
| 8 | TONY IMREN | 10 | 194 | 207 | 181 | 224 | 40 | 846 | 11th |
| 9 | KEITH HODGE | 10 | 210 | 185 | 221 | 181 | 40 | 837 | 12th |
| 10 | JEFF TAYLOR | 5 | 209 | 178 | 215 | 214 | 20 | 836 | 13th |
| 11 | TREVOR GREEN | 10 | 222 | 171 | 202 | 200 | 40 | 835 | 14th |
| 12 | BRIAN SEMPERS | 10 | 215 | 192 | 211 | 172 | 40 | 830 | 15th |
| 13 | JAN HODGE | 25 | 180 | 145 | 138 | 189 | 100 | 752 | 16th |
| 14 | MO SINGLETON | 10 | 165 | 210 | 147 | 169 | 40 | 731 | 17th |
| 15 | IAN KENNEDY | 15 | 152 | 212 | 138 | 151 | 60 | 713 | 18th |
| 16 | PETE SAMPSON | 10 | 146 | 179 | 124 | 216 | 40 | 705 | 19th |
Round 1
| | | | | | | | | | | | |
| --- | --- | --- | --- | --- | --- | --- | --- | --- | --- | --- | --- |
| | NAME | BONUS | 1 | 2 | 3 | 4 | 5 | 6 | SCR TOTAL | BONUS X6 | TOTAL |
| 1 | STEVE CARNALL | 5 | 223 | 220 | 209 | 235 | 184 | 255 | 1326 | 30 | 1356 |
| 2 | NEV ROBINSON | 10 | 223 | 214 | 193 | 214 | 181 | 235 | 1260 | 60 | 1320 |
| 3 | PAT BYRNE | 15 | 184 | 201 | 212 | 203 | 204 | 214 | 1218 | 90 | 1308 |
| 4 | RON OLDFIELD | 10 | 167 | 213 | 226 | 186 | 215 | 234 | 1241 | 60 | 1301 |
| 5 | DAVE RAWDING | 10 | 205 | 224 | 197 | 196 | 187 | 219 | 1228 | 60 | 1288 |
| 6 | PETE SAMPSON | 10 | 214 | 195 | 276 | 215 | 173 | 152 | 1225 | 60 | 1285 |
| 7 | PAUL MADDOCK | 10 | 245 | 207 | 201 | 188 | 197 | 176 | 1214 | 60 | 1274 |
| 8 | KEVIN LAMB | 10 | 224 | 196 | 166 | 257 | 185 | 182 | 1210 | 60 | 1270 |
| 9 | TREVOR GREEN | 10 | 200 | 255 | 191 | 178 | 198 | 182 | 1204 | 60 | 1264 |
| 10 | BRIAN SEMPERS | 10 | 218 | 221 | 205 | 221 | 158 | 178 | 1201 | 60 | 1261 |
| 11 | JAN HODGE | 25 | 205 | 170 | 214 | 163 | 190 | 164 | 1106 | 150 | 1256 |
| 12 | KEITH HODGE | 10 | 157 | 214 | 169 | 184 | 225 | 245 | 1194 | 60 | 1254 |
| 13 | TONY IMREN | 10 | 202 | 199 | 177 | 191 | 187 | 228 | 1184 | 60 | 1244 |
| 14 | IAN KENNEDY | 15 | 230 | 188 | 198 | 205 | 161 | 164 | 1146 | 90 | 1236 |
| 15 | JEFF TAYLOR | 5 | 168 | 219 | 223 | 201 | 216 | 178 | 1205 | 30 | 1235 |
| 16 | GARY BARLOW | 5 | 197 | 196 | 191 | 241 | 177 | 194 | 1196 | 30 | 1226 |
| 17 | KEN BURTON | 15 | 171 | 183 | 214 | 182 | 170 | 213 | 1133 | 90 | 1223 |
| 18 | MO SINGLETON | 10 | 222 | 181 | 190 | 201 | 183 | 184 | 1161 | 60 | 1221 |
| 19 | FRANK LINDSAY | 10 | 163 | 201 | 206 | 204 | 195 | 186 | 1155 | 60 | 1215 |
| 20 | ANDREW SINCLAIR | 5 | 160 | 227 | 192 | 194 | 179 | 232 | 1184 | 30 | 1214 |
| 21 | GARY CHRISTOPHER | 0 | 143 | 195 | 183 | 245 | 220 | 228 | 1214 | 0 | 1214 |
| 22 | TREVOR LAMPRELL | 15 | 143 | 177 | 170 | 226 | 213 | 194 | 1123 | 90 | 1213 |
| 23 | MARK LOUGHBOROUGH | 0 | 143 | 237 | 205 | 216 | 191 | 216 | 1208 | 0 | 1208 |
| 24 | PHILLIP IVES | 15 | 191 | 178 | 178 | 205 | 162 | 194 | 1108 | 90 | 1198 |
| 25 | MARK S SMITH | 5 | 203 | 257 | 157 | 186 | 172 | 186 | 1161 | 30 | 1191 |
| 26 | JOHN BROADHURST | 20 | 175 | 167 | 203 | 134 | 184 | 191 | 1054 | 120 | 1174 |
| 27 | MIKE HALLIWELL | 5 | 196 | 202 | 233 | 176 | 168 | 164 | 1139 | 30 | 1169 |
| 28 | PAUL NEWTON | 15 | 174 | 177 | 183 | 178 | 213 | 148 | 1073 | 90 | 1163 |
| 29 | DAVE BIRDSALL | 15 | 182 | 174 | 226 | 125 | 180 | 186 | 1073 | 90 | 1163 |
| 30 | MARTIN GREEN | 10 | 182 | 156 | 209 | 190 | 189 | 173 | 1099 | 60 | 1159 |
| 31 | LES GRANT | 15 | 177 | 193 | 184 | 130 | 212 | 165 | 1061 | 90 | 1151 |
| 32 | GEOFF BROWN | 5 | 184 | 164 | 200 | 174 | 194 | 205 | 1121 | 30 | 1151 |
| 33 | AL JENKINS | 10 | 188 | 184 | 184 | 142 | 194 | 193 | 1085 | 60 | 1145 |
| 34 | AL TURNER | 15 | 206 | 159 | 196 | 132 | 173 | 180 | 1046 | 90 | 1136 |
| 35 | NICK WRIGHT | 5 | 137 | 198 | 168 | 205 | 243 | 155 | 1106 | 30 | 1136 |
| 36 | STEVE COATES | 10 | 205 | 197 | 175 | 167 | 177 | 153 | 1074 | 60 | 1134 |
| 37 | BARRY WALKER | 0 | 169 | 208 | 166 | 195 | 240 | 155 | 1133 | 0 | 1133 |
| 38 | ROBIN TOMPKINS | 10 | 209 | 162 | 173 | 166 | 215 | 147 | 1072 | 60 | 1132 |
| 39 | CAROLE ORANGE | 20 | 193 | 182 | 136 | 174 | 163 | 162 | 1010 | 120 | 1130 |
| 40 | MARK FULLBROOK | 5 | 189 | 160 | 182 | 189 | 191 | 184 | 1095 | 30 | 1125 |
| 41 | MIKE TAYLOR | 15 | 192 | 184 | 155 | 139 | 157 | 185 | 1012 | 90 | 1102 |
| 42 | DAVE BROOMFIELD | 0 | 129 | 157 | 174 | 199 | 190 | 245 | 1094 | 0 | 1094 |
| 43 | DOUG SINCLAIR | 20 | 148 | 150 | 156 | 164 | 207 | 145 | 970 | 120 | 1090 |
| 44 | MIKE BERGQUIST | 15 | 171 | 163 | 190 | 164 | 149 | 162 | 999 | 90 | 1089 |
| 45 | MICK INCE | 15 | 210 | 172 | 116 | 139 | 158 | 177 | 972 | 90 | 1062 |
| 46 | LES TAYLOR | 20 | 115 | 159 | 157 | 208 | 150 | 151 | 940 | 120 | 1060 |
| 47 | SIMON HOGG | 10 | 159 | 162 | 179 | 179 | 174 | 141 | 994 | 60 | 1054 |
| 48 | SUREN JOHANSSEN | 5 | 156 | 147 | 195 | 181 | 164 | 173 | 1016 | 30 | 1046 |
| 49 | RUTH RATHBONE | 20 | 150 | 142 | 156 | 129 | 144 | 191 | 912 | 120 | 1032 |
| 50 | STEVE SKILLICORN | 10 | 166 | 138 | 161 | 158 | 180 | 143 | 946 | 60 | 1006 |