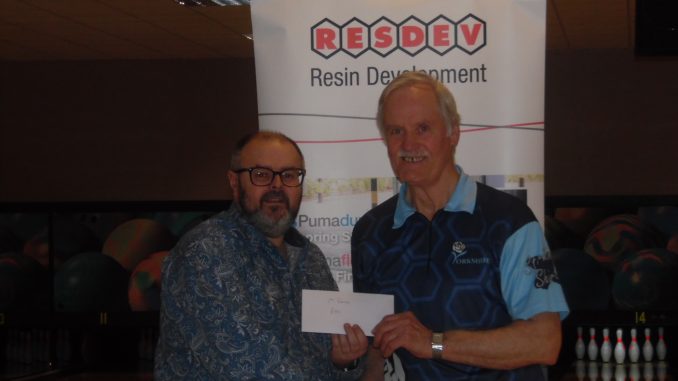 Report by Jack Smith
Sunday 29th April saw the start of this years Resdev Senior Tour at Bromborough, this was also Stop 2 on the BTBA Senior Tour. An excellent turnout of 47 bowlers in 2 squads took to the lanes to try and make a top 13 place for round 2.
The leading bowler after qualifying would be straight through to round 4. On a challenging condition where good shot making was crucial, high scoring was at a premium leading the way in squad 1 would be Mike (Frosty)Halliwell with a 246 game and a leading scatch score of 1215, this would place 3rd with bonus behind joint leaders Pete Sampson and Trevor lamprell both with 1251 with bonus, other notable scores were Ken Burton 1228, Mike Taylor 1220, John Strettle 1219 and a new bowler on the tour Paul Maddock 1213.
These scores would all make the second round. Squad 2 took to the lanes knowing what they had to do but could they do it?. Leading the way and helped by the best game of the day 267 in game 4 (Funtime) Frank Lindsay would become top qualifier and through to round 4 with 1311 with bonus just eclipsing lady bowler Carole Orange from Shipley on 1311, sitting in 3rd and with a 256 in game 4 would be recent winner of ISBT Masters Mr Senior bowler Ron Oldfield with 1304, also showing well from this squad another newbie Andy Preece on 1259, next would be our generous sponsor Nick Wright MD of Resdev on 1211, this a welcome return to form following illness, next Pat Byrne 1203 despite a 139 last game but due to fatigue had to pull out of next round and his place taken by next highest qualifier Dave Rawding on 1197. 
Round 2 would consist of 12 bowlers playing a 2 game matchplay decided by random lane draw. With the tough conditions this would see some really close matches Andy Preece edging out Paul Maddock 363/360, and Mike Halliwell just staving off a 2nd game fightback By Nick Wright 387/376, other winners Dave Rawding beating Pete Sampson 438/404, Carole Orange over John Strettle 466/410, Trevor Lamprell over Ken Burton 360/307 And Ron Oldfield from Mike Taylor 427/347.
Round 3 and the 6 winners from round 2 would do the same again decided by lane draw. All 3 matches in the end being comfortable wins for Dave Rawding against Mike Halliwell 393/326, Ron Oldfield over Andy Preece 420/356 and Trevor Lamprell ousting Carole Orange  400/370. 
Round 4 would see the winners joined by leading qualifier Frank Lindsay for the semi-final once again by lane draw. First semi would see Ron with 2 steady games overcome Trevor 416/374, second semi would see Dave defeat Frank 471/422. Onto the final and could Dave who had got in as lucky loser defeat Ron?. The answer would be No as Ron consistently making the pocket in the 1st game and leaving 6 10pins in a row and sparing proved crucial as Dave struggled with a couple of splits. Ron would run out a worth winner 420/370. So our first stop over and yet another win for perennial winner Ron Oldfield.
It was nice to see a lot of new faces to the tour as this can only help to promote and encourage more participation. As ever my thanks to Trevor Green and Stuart Japp and their staff for all their efforts during the day. The next Stop will be at the lovely bowl in Lincoln, there are a few spaces left in 9.30am squad.
Anyone interested please contact me either at jgs833@outlook.com or on 07905 163353.
Final
| | | | | | | |
| --- | --- | --- | --- | --- | --- | --- |
| LANE | NAME | 1 | 2 | BONUS X 2 | TOTAL |   |
| 13 | RON OLDFIELD | 205 | 195 | 20 | 420 | 1st |
| 14 | DAVE RAWDING | 169 | 181 | 20 | 370 | 2nd |
| | | | | | 0 | |
Round 3
| | | | | | | |
| --- | --- | --- | --- | --- | --- | --- |
| LANE | NAME | 1 | 2 | BONUS X 2 | TOTAL |   |
| 11 | TREVOR LAMPRELL | 166 | 178 | 30 | 374 | 4th |
| 12 | RON OLDFIELD | 196 | 200 | 20 | 416 | |
| | | | | | 0 | |
| 15 | FRANK LINDSAY | 159 | 243 | 20 | 422 | 3rd |
| 16 | DAVE RAWDING | 219 | 232 | 20 | 471 | |
| | | | | | 0 | |
Round 2
| | | | | | | |
| --- | --- | --- | --- | --- | --- | --- |
| LANE | NAME | 1 | 2 | BONUS X 2 | TOTAL |   |
| 11 | MIKE HALLIWELL | 171 | 145 | 10 | 326 | 7th |
| 12 | DAVE RAWDING | 174 | 199 | 20 | 393 | |
| | | | | | 0 | |
| 13 | ANDY PREECE | 167 | 169 | 20 | 356 | 6th |
| 14 | RON OLDFIELD | 166 | 234 | 20 | 420 | |
| 14 | | | | | 0 | |
| 15 | CAROLE ORANGE | 150 | 180 | 40 | 370 | 5th |
| 16 | TREVOR LAMPRELL | 167 | 203 | 30 | 400 | |
| | | | | | 0 | |
Round 1
| | | | | | | |
| --- | --- | --- | --- | --- | --- | --- |
| LANE | NAME | 1 | 2 | BONUS X 2 | TOTAL |   |
| 5 | PETE SAMPSON | 200 | 184 | 20 | 404 | 9th |
| 6 | DAVE RAWDING | 216 | 202 | 20 | 438 | |
| | | | | | 0 | |
| 7 | CAROLE ORANGE | 215 | 211 | 40 | 466 | |
| 8 | JOHN STRETTLE | 191 | 189 | 30 | 410 | 8th |
| | | | | | 0 | |
| 9 | NICK WRIGHT | 163 | 203 | 10 | 376 | 10th |
| 10 | MIKE HALLIWELL | 187 | 190 | 10 | 387 | |
| | | | | | 0 | |
| 11 | KEN BURTON | 147 | 130 | 30 | 307 | 13th |
| 12 | TREVOR LAMPRELL | 162 | 168 | 30 | 360 | |
| | | | | | 0 | |
| 13 | ANDY PREECE | 163 | 180 | 20 | 363 | |
| 14 | PAUL MADDOCK | 178 | 162 | 20 | 360 | 11th |
| | | | | | 0 | |
| 15 | RON OLDFIELD | 218 | 189 | 20 | 427 | |
| 16 | MIKE TAYLOR | 145 | 172 | 30 | 347 | 12th |
| | | | | | 0 | |
Qualifying
| | | | | | | | | | | |
| --- | --- | --- | --- | --- | --- | --- | --- | --- | --- | --- |
| | NAME | BONUS | 1 | 2 | 3 | 4 | 5 | 6 | BONUS X 6 | TOTAL |
| 1 | FRANK LINDSAY | 10 | 184 | 183 | 214 | 267 | 212 | 193 | 60 | 1313 |
| 2 | CAROLE ORANGE | 20 | 247 | 168 | 176 | 225 | 191 | 184 | 120 | 1311 |
| 3 | RON OLDFIELD | 10 | 210 | 170 | 186 | 256 | 207 | 215 | 60 | 1304 |
| 4 | ANDY PREECE | 10 | 177 | 177 | 199 | 219 | 225 | 202 | 60 | 1259 |
| 5 | PETE SAMPSON | 10 | 185 | 221 | 181 | 214 | 187 | 203 | 60 | 1251 |
| 6 | TREVOR LAMPRELL | 15 | 192 | 191 | 217 | 182 | 199 | 180 | 90 | 1251 |
| 7 | MIKE HALLIWELL | 5 | 192 | 246 | 186 | 200 | 198 | 193 | 30 | 1245 |
| 8 | KEN BURTON | 15 | 214 | 203 | 170 | 194 | 179 | 178 | 90 | 1228 |
| 9 | MIKE TAYLOR | 15 | 159 | 156 | 197 | 217 | 191 | 210 | 90 | 1220 |
| 10 | JOHN STRETTLE | 15 | 158 | 215 | 179 | 183 | 179 | 215 | 90 | 1219 |
| 11 | PAUL MADDOCK | 10 | 180 | 225 | 204 | 203 | 157 | 184 | 60 | 1213 |
| 12 | NICK WRIGHT | 5 | 244 | 183 | 165 | 192 | 205 | 192 | 30 | 1211 |
| 13 | PAT BYRNE | 15 | 193 | 200 | 189 | 180 | 212 | 139 | 90 | 1203 |
| 14 | DAVE RAWDING | 10 | 180 | 189 | 189 | 149 | 205 | 225 | 60 | 1197 |
| 15 | MARK S SMITH | 5 | 173 | 210 | 215 | 179 | 207 | 176 | 30 | 1190 |
| 16 | KEVIN LAMB | 10 | 203 | 215 | 182 | 192 | 160 | 173 | 60 | 1185 |
| 17 | JULIE JOHANSSEN | 25 | 180 | 155 | 178 | 173 | 165 | 183 | 150 | 1184 |
| 18 | MARK FULLBROOK | 5 | 233 | 208 | 167 | 166 | 205 | 174 | 30 | 1183 |
| 19 | BRIAN SEMPERS | 10 | 193 | 183 | 213 | 198 | 147 | 182 | 60 | 1176 |
| 20 | ANDY CLOUGH | 10 | 200 | 181 | 207 | 189 | 162 | 173 | 60 | 1172 |
| 21 | NEV ROBINSON | 10 | 155 | 172 | 227 | 200 | 176 | 176 | 60 | 1166 |
| 22 | ROD FRANCIS | 10 | 173 | 192 | 174 | 212 | 178 | 174 | 60 | 1163 |
| 23 | AL BENNETT | 15 | 180 | 184 | 175 | 166 | 156 | 211 | 90 | 1162 |
| 24 | ROBIN TOMPKINS | 10 | 156 | 159 | 187 | 186 | 233 | 178 | 60 | 1159 |
| 25 | GARY BARLOW | 5 | 213 | 226 | 203 | 171 | 130 | 185 | 30 | 1158 |
| 26 | DOUG SINCLAIR | 20 | 138 | 170 | 221 | 194 | 143 | 167 | 120 | 1153 |
| 27 | JEFF TAYLOR | 5 | 200 | 149 | 139 | 238 | 170 | 223 | 30 | 1149 |
| 28 | JOHN BROADHURST | 20 | 148 | 144 | 183 | 161 | 167 | 224 | 120 | 1147 |
| 29 | STEVE SKILLICORN | 10 | 181 | 148 | 201 | 183 | 189 | 178 | 60 | 1140 |
| 30 | TREVOR GREEN | 10 | 183 | 192 | 141 | 169 | 226 | 168 | 60 | 1139 |
| 31 | JAN HODGE | 25 | 158 | 179 | 176 | 146 | 172 | 155 | 150 | 1136 |
| 32 | DAVE BROOMFIELD | 0 | 166 | 222 | 180 | 184 | 188 | 193 | 0 | 1133 |
| 33 | KEITH HODGE | 10 | 229 | 149 | 173 | 139 | 177 | 200 | 60 | 1127 |
| 34 | AL JENKINS | 10 | 168 | 171 | 190 | 190 | 176 | 162 | 60 | 1117 |
| 35 | AL TURNER | 15 | 171 | 161 | 176 | 172 | 172 | 171 | 90 | 1113 |
| 36 | GREG BELTON | 0 | 191 | 185 | 191 | 157 | 178 | 204 | 0 | 1106 |
| 37 | GARY CHRISTOPHER | 0 | 180 | 198 | 177 | 189 | 171 | 189 | 0 | 1104 |
| 38 | MO SINGLETON | 10 | 172 | 166 | 158 | 167 | 209 | 170 | 60 | 1102 |
| 39 | SUREN JOHANSSEN | 5 | 187 | 215 | 174 | 165 | 166 | 158 | 30 | 1095 |
| 40 | IAN KENNEDY | 15 | 178 | 162 | 191 | 152 | 155 | 162 | 90 | 1090 |
| 41 | PAUL NEWTON | 15 | 131 | 177 | 175 | 185 | 187 | 144 | 90 | 1089 |
| 42 | LES TAYLOR | 20 | 181 | 164 | 153 | 155 | 152 | 162 | 120 | 1087 |
| 43 | LES GRANT | 15 | 169 | 200 | 151 | 180 | 144 | 146 | 90 | 1080 |
| 44 | STEVE COATES | 10 | 169 | 149 | 170 | 145 | 156 | 182 | 60 | 1031 |
| 45 | SIMON HOGG | 10 | 163 | 153 | 142 | 184 | 177 | 140 | 60 | 1019 |
| 46 | PHILLIP IVES | 15 | 170 | 125 | 168 | 112 | 180 | 148 | 90 | 993 |
| 47 | CARL TAYLOR | 0 | 215 | 159 | 188 | 102 | 163 | 164 | 0 | 991 |