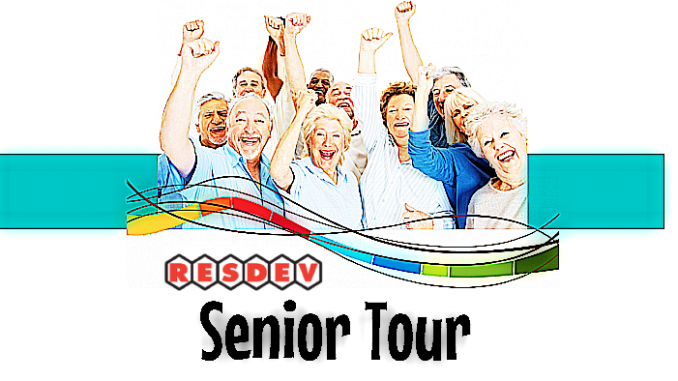 For the first time in a Resdev stop 50 bowlers took to the Chesterfield lanes and it was Brian Semper who came out on top at the end with Mick Ince in second and Geoff Brown in third.
The stop at the ever popular Chesterfield bowl took place and yet another first for the Resdev Senior Tour, our first time to hit 50 entries, so I must thank all the regular and new bowlers to the tour for achieving a personal goal of mine when we started the tour 4 years ago.
Some people will point out we had 56 entries at Barnsley last year but that was a combined stop with the BTBA tour. On to the scoring and initially this would as ever be a 6 game block with the top 16 qualifying for round 2. Last year's winner Gary Barlow showed his intentions once again with an opening 3 games of 248, 269 and 289 for 806 scr eclipsing his score of last year by 1 pin adding 227,235 and 217 for a massive 1515 with bonus.
Over 100 behind in 2nd thanks to a 279 last game and a welcome return to form after a long time out with an injury was ' big' Mick Ince on 1413, closely followed by Mr senior bowling Ron Oldfield on 1397 just in front of Lincolnshire's Brian Sempers with six solid games for 1384 who in turn was a pin in front of Geoff Brown 1383, closely followed by another lefty returning from injury problems Yorkshire's Al Turner 1375 and another Yorkshire Senior stalwart Al Jenkins 1346, special mention for Alan 'Fin' Hanafin in his first Resdev stop on 1328.
Also a special mention for one of our lady bowlers Gloria Carney with an excellent 1276  The second squad stepped to see if they could catch Gary or at the very least make the top 16 with such high scoring in the first squad this would prove a tough task.
Making a bold bid to catch Gary would be 2 bowlers from Bromborough Nev Robinson with opening games of 234, 265 and 269 rolling back the years and still showing what a fierce competitor he is and Bromborough bowl owner Trevor Green 217, 235 and 258 to start, however both could not keep that level of scoring but still finished well for Nev to place 2nd on 1440 and Trevor 5th on 1394, also bowling well and qualifying for round 2 would be Mike ' Frosty' Halliwell 1371, Mansfield winner Alan Keddie 1331 and Shipley winner Mo 'fingers' Singleton 1310, these would be the only ones to beat the final cut of 1299.
On to the second round and a further 4 games for the 16 bowlers with their scores carried forward to try and make a top 6 spot for the round robin and lots of high scoring would take place and with leader Gary struggling for the first 2 games all the bowlers behind soon closed up and 2 would overtake him into the lead these would be Mick Ince 899 scr including a 276 for a 2372 total and the lead going into the round robin followed closely by Ron Oldfield 923scr and 2360, Gary returning to his ealier scoring form with a 245scr last game and 2328 total, solid bowling from both Geoff Brown 906scr 2309 in 4th, Brian Sempers 882scr 2306 to place 5th and Al Jenkins 885scr 2291 rounding out the top 6. Due to the large entry I managed to pay 13 places at this stop.
Unfortunately just missing out on the cash would be Alan Hanafin, Mark Fullbrook and Al Bennett. The top 6 would now contest the round robin and with 30 pins for a win and only 81 pins between 1st and 6th anyone could win this stop. Winners in game 1 would be Mick, Geoff and AL, game 2 and Mick would consolidate his lead with another victory Al also winning to move to 2nd and Brian would move up to 3rd . Brian would now win his next 2 games to take the lead of Mick going into the final game but it was close and any one of Mick, Geoff or Brian could win, an exciting last game with Mick winning meant Brian or Geoff would need to do the same.
Geoff unfortunately losing by a single pin to what can best be described as a ropey strike on his last ball by Gary. Brian bowling solidly as he had done all day spared his way to victory in the final game for his first win on the tour. Mick would finish an excellent 2nd and Geoff in 3rd. Al 4th , Gary 5th and Ron in 6th.
So a momentous stop was finally over and many congratulations to Brian on his victory. As always my thanks to Liz, Donna and all the staff at Chesterfield for providing an excellent tournament. And I am sure we will be back next year. Once again on a personal note thanks to all 50 bowlers for a wonderful turnout, hopefully we will have more stops of this many bowlers.
The final stop for this year will be the Resdev/BTBA combined stop at Bromborough Bowl on the 10th September. There are still spaces left, so if you are  interested in playing please contact me on either jgs833@outlook.com or mobile 07905163353 to let me know.  Jack G Smith.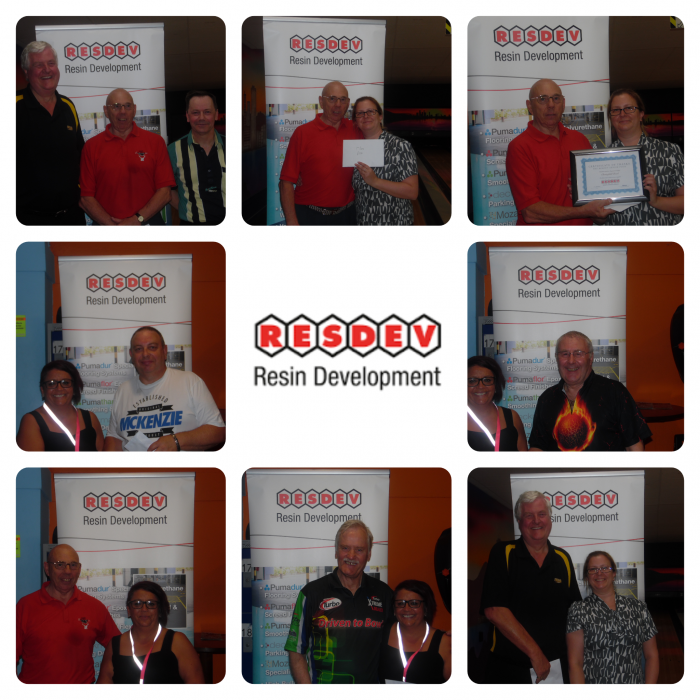 Results
Final

round 2
| | | | | | | | | | | | |
| --- | --- | --- | --- | --- | --- | --- | --- | --- | --- | --- | --- |
| | NAME | BONUS | 1 | 2 | 3 | 4 | SCR TOTAL | BONUS X 4 | TOTAL | B/F | TOTAL |
| 1 | MICK INCE | 15 | 193 | 206 | 276 | 224 | | 60 | 959 | 1413 | 2372 |
| 2 | RON OLDFIELD | 10 | 226 | 215 | 257 | 225 | | 40 | 963 | 1397 | 2360 |
| 3 | GARY BARLOW | 5 | 151 | 183 | 214 | 245 | | 20 | 813 | 1515 | 2328 |
| 4 | GEOFF BROWN | 5 | 237 | 235 | 252 | 182 | | 20 | 926 | 1383 | 2309 |
| 5 | BRIAN SEMPERS | 10 | 213 | 237 | 206 | 226 | | 40 | 922 | 1384 | 2306 |
| 6 | AL JENKINS | 15 | 252 | 171 | 226 | 236 | | 60 | 945 | 1346 | 2291 |
| | | | | | | | | | | | |
| 7 | TREVOR GREEN | 10 | 195 | 237 | 197 | 204 | | 40 | 873 | 1394 | 2267 |
| 8 | NEV ROBINSON | 10 | 191 | 184 | 198 | 191 | | 40 | 804 | 1440 | 2244 |
| 9 | MO SINGLETON | 10 | 221 | 217 | 236 | 193 | | 40 | 907 | 1310 | 2217 |
| 10 | ALAN KEDDIE | 0 | 227 | 245 | 161 | 249 | | 0 | 882 | 1331 | 2213 |
| 11 | MIKE HALLIWELL | 10 | 193 | 177 | 215 | 192 | | 40 | 817 | 1371 | 2188 |
| 12 | KEVIN LAMB | 10 | 186 | 190 | 232 | 225 | | 40 | 873 | 1300 | 2173 |
| 13 | AL TURNER | 20 | 214 | 154 | 192 | 139 | | 80 | 779 | 1375 | 2154 |
| 14 | ALAN HANAFIN | 10 | 194 | 170 | 166 | 237 | | 40 | 807 | 1328 | 2135 |
| 15 | MARK FULLBROOK | 5 | 209 | 179 | 183 | 218 | | 20 | 809 | 1297 | 2106 |
| 16 | AL BENNETT | 15 | 171 | 152 | 198 | 179 | | 60 | 760 | 1315 | 2075 |
Qualifying
| | | | | | | | | | | | |
| --- | --- | --- | --- | --- | --- | --- | --- | --- | --- | --- | --- |
| | NAME | BONUS | 1 | 2 | 3 | 4 | 5 | 6 | SCR TOTAL | BONUS X6 | TOTAL |
| 1 | GARY BARLOW | 5 | 248 | 269 | 289 | 227 | 235 | 217 | 1485 | 30 | 1515 |
| 2 | NEV ROBINSON | 10 | 234 | 265 | 269 | 222 | 198 | 192 | 1380 | 60 | 1440 |
| 3 | MICK INCE | 15 | 201 | 211 | 226 | 221 | 185 | 279 | 1323 | 90 | 1413 |
| 4 | RON OLDFIELD | 10 | 213 | 202 | 256 | 195 | 270 | 201 | 1337 | 60 | 1397 |
| 5 | TREVOR GREEN | 10 | 217 | 235 | 258 | 218 | 172 | 234 | 1334 | 60 | 1394 |
| 6 | BRIAN SEMPERS | 10 | 235 | 235 | 212 | 210 | 239 | 193 | 1324 | 60 | 1384 |
| 7 | GEOFF BROWN | 5 | 224 | 215 | 234 | 198 | 225 | 257 | 1353 | 30 | 1383 |
| 8 | AL TURNER | 20 | 189 | 256 | 205 | 221 | 191 | 193 | 1255 | 120 | 1375 |
| 9 | MIKE HALLIWELL | 10 | 210 | 180 | 226 | 214 | 224 | 257 | 1311 | 60 | 1371 |
| 10 | AL JENKINS | 15 | 215 | 191 | 227 | 221 | 196 | 206 | 1256 | 90 | 1346 |
| 11 | ALAN KEDDIE | 0 | 171 | 224 | 246 | 224 | 225 | 241 | 1331 | 0 | 1331 |
| 12 | ALAN HANAFIN | 10 | 233 | 192 | 223 | 215 | 182 | 223 | 1268 | 60 | 1328 |
| 13 | AL BENNETT | 15 | 197 | 188 | 247 | 206 | 174 | 213 | 1225 | 90 | 1315 |
| 14 | MO SINGLETON | 10 | 180 | 259 | 203 | 235 | 189 | 184 | 1250 | 60 | 1310 |
| 15 | KEVIN LAMB | 10 | 181 | 168 | 243 | 213 | 203 | 232 | 1240 | 60 | 1300 |
| 16 | DAVE BIRDSALL | 15 | 197 | 214 | 227 | 181 | 193 | 197 | 1209 | 90 | 1299 |
| | | | | | | | | | | | |
| 17 | MARK FULLBROOK | 5 | 246 | 204 | 192 | 190 | 222 | 213 | 1267 | 30 | 1297 |
| 18 | FRANK LINDSAY | 10 | 159 | 218 | 205 | 204 | 239 | 193 | 1218 | 60 | 1278 |
| 19 | GLORIA CARNEY | 25 | 187 | 167 | 202 | 234 | 180 | 156 | 1126 | 150 | 1276 |
| 20 | DAVE BROOMFIELD | 5 | 246 | 224 | 147 | 214 | 224 | 191 | 1246 | 30 | 1276 |
| 21 | JEFF TAYLOR | 5 | 183 | 219 | 181 | 225 | 236 | 196 | 1240 | 30 | 1270 |
| 22 | MARK S SMITH | 10 | 200 | 188 | 179 | 227 | 165 | 250 | 1209 | 60 | 1269 |
| 23 | GARY COOPER | 5 | 163 | 203 | 269 | 192 | 221 | 190 | 1238 | 30 | 1268 |
| 24 | ANDY GILLESPIE | 5 | 225 | 190 | 180 | 194 | 239 | 204 | 1232 | 30 | 1262 |
| 25 | PAUL NELLIGAN | 15 | 232 | 173 | 211 | 180 | 226 | 147 | 1169 | 90 | 1259 |
| 26 | ANDY CLOUGH | 10 | 254 | 224 | 166 | 182 | 167 | 197 | 1190 | 60 | 1250 |
| 27 | PAUL NEWTON | 15 | 183 | 157 | 205 | 214 | 174 | 222 | 1155 | 90 | 1245 |
| 28 | TONY IMREN | 10 | 180 | 184 | 173 | 206 | 248 | 192 | 1183 | 60 | 1243 |
| 29 | JULIE JOHANNSEN | 25 | 144 | 149 | 210 | 170 | 180 | 234 | 1087 | 150 | 1237 |
| 30 | RAY LAY | 10 | 196 | 205 | 226 | 166 | 195 | 173 | 1161 | 60 | 1221 |
| 31 | MIKE BERGQUIST | 10 | 206 | 176 | 191 | 180 | 200 | 201 | 1154 | 60 | 1214 |
| 32 | RON DEACON | 15 | 161 | 246 | 201 | 159 | 174 | 181 | 1122 | 90 | 1212 |
| 33 | KEN BURTON | 15 | 171 | 206 | 202 | 232 | 160 | 144 | 1115 | 90 | 1205 |
| 34 | JOHN STRETTLE | 15 | 194 | 193 | 169 | 171 | 193 | 189 | 1109 | 90 | 1199 |
| 35 | CAROLE ORANGE | 25 | 163 | 133 | 163 | 192 | 209 | 176 | 1036 | 150 | 1186 |
| 36 | PAULINE MCDONALD | 30 | 190 | 144 | 158 | 161 | 188 | 165 | 1006 | 180 | 1186 |
| 37 | SUREN JOHANNSEN | 5 | 177 | 225 | 201 | 212 | 144 | 194 | 1153 | 30 | 1183 |
| 38 | STEVE BOSE | 0 | 168 | 185 | 222 | 213 | 177 | 214 | 1179 | 0 | 1179 |
| 39 | IAN MCDONALD | 20 | 192 | 147 | 183 | 147 | 185 | 200 | 1054 | 120 | 1174 |
| 40 | TREVOR LAMPRELL | 10 | 157 | 161 | 234 | 152 | 163 | 233 | 1100 | 60 | 1160 |
| 41 | LES GRANT | 15 | 162 | 194 | 184 | 167 | 169 | 181 | 1057 | 90 | 1147 |
| 42 | RUTH RATHBONE | 20 | 154 | 172 | 118 | 180 | 222 | 177 | 1023 | 120 | 1143 |
| 43 | DOUG SINCLAIR | 15 | 166 | 144 | 211 | 182 | 179 | 168 | 1050 | 90 | 1140 |
| 44 | JOHN BROADHURST | 20 | 143 | 168 | 191 | 187 | 174 | 152 | 1015 | 120 | 1135 |
| 45 | STEVE COATES | 5 | 199 | 192 | 189 | 139 | 191 | 185 | 1095 | 30 | 1125 |
| 46 | STEVE SKILLICORN | 10 | 152 | 175 | 179 | 185 | 198 | 166 | 1055 | 60 | 1115 |
| 47 | LES TAYLOR | 20 | 170 | 166 | 170 | 144 | 140 | 193 | 983 | 120 | 1103 |
| 48 | MIKE TAYLOR | 10 | 136 | 179 | 162 | 169 | 183 | 186 | 1015 | 60 | 1075 |
| 49 | PHILLIPE IVES | 15 | 187 | 137 | 136 | 161 | 134 | 169 | 924 | 90 | 1014 |
| 50 | IAN KENNEDY | 15 | 136 | 186 | 142 | 161 | 149 | 149 | 923 | 90 | 1013 |
jfjfjfjfjf