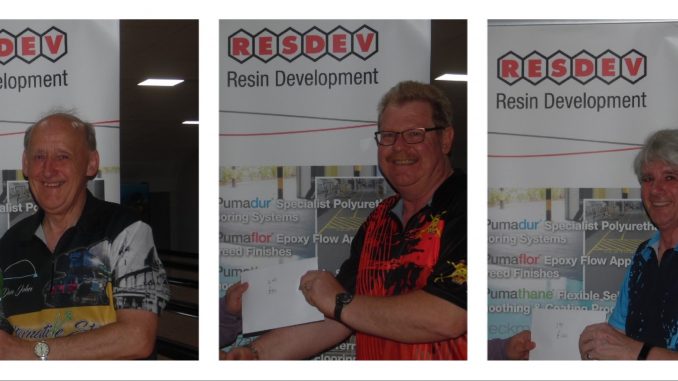 Sunday 24th June and the third stop of the Resdev Senior Tour took place at the ever popular Mansfield Superbowl. The format for this event would be the popular double Round Robin where the top 12 bowlers after qualifying would play in 2 6 person round robins with final positions being decided by 2 game matchplay following the conclusion of the round robins.
Due to a clash with over events 39 bowlers took to the lanes to get one of the 12 spots for the round robins. Setting the pace from the start was Lincolnshire county bowler Mark Fullbrook with a splendid 1423 inc bonus including the high game of the day of 289 scr.
There were many games of 250 plus in qualifying, taking 2nd was Peterborough's Geoff Brown 1396 inc bonus, 3rd Scunthorpe's Brian Sempers 1375, 4th top lady at Lincoln and now repeating the top lady spot Jan Hodge 1370, 5th Nottingham bowler Mark S Smith 1342, 6th Mr senior bowling Ron Oldfield 1333, 7th Gary Christopher 1311, 8th Les Grant 1311 , 9th Trevor Lamprell 1306, 10th Mick Ince 1304 , 11th Dave Birdsall 1299 and the final spot for the round robins being taken by John Strettle 1298.
These 12 would now contest the 2 round robins decided by their finishing positions, odd numbers in one and even numbers in the other. Round Robin 1 and this soon became a one man show, with some outstanding scoring by John Strettle with 1164 scratch for the 5 games and winning every game gave him a massive winning margin over Les Grant with a 222 last game and a win just edging out Geoff Brown into 3rd, these 3 were well clear of Jan Hodge in 4th these 4 would go into the matchplay round.
Finishing 5th and 6th in RR1 were Ron Oldfield and Mick Ince. Round Robin 2 would prove to be a nailbiter for the top 3 spots who once again would be a long way clear of 4th. With a splendid last game of 259scr and a win would see top qualifier Mark Fullbrook edge out county team mate Brian Sempers by a mere 2 pins, a further 2 pins back was Dave Birdall as stated they were a long way clear of Trevor Lamprell in 4th, the last 2 places in RR2 were Gary Christopher and Mark S Smith.
The top 4 from each RR would now play a 2 game matchplay to decide the top 8 places. The top bowler in each RR playing for first and second place and so on for the other placings.
Carrying on his excellent bowling would be John Strettle who won from Mark Fullbrook 426-339 and thus securing his first Resdev tour win and yet another new winner.
Les Grant beat Brian Sempers 433-380 for an excellent 3rd place and a welcome return to form. 5th place would be Geoff Brown who easily overcame Dave Birdsall 488-379 and the final places of 7th and 8th would be taken by Jan Hodge from Trevor Lamprell 376-350.
So a massive congratulations to John Strettle on his maiden win. Also a massive thanks to Mansfield Bowl for all the help and excellent staff.
The Tour now moves to Chesterfield Bowl on 29th July. This is already looking like a big entry and at this time there are only a few spaces left in 9.30am squad, any one interested please contact myself at jgs833@outlook.com
Round 3
| | | | | | | |
| --- | --- | --- | --- | --- | --- | --- |
| NAME | BONUS | 1 | 2 | BONUS X 2 | TOTAL | |
| JOHN STRETTLE | 15 | 208 | 188 | 30 | 426 | 1ST |
| MARK FULLBROOK | 5 | 144 | 185 | 10 | 339 | 2ND |
| | | | | | | |
| LES GRANT | 15 | 224 | 179 | 30 | 433 | 3RD |
| BRIAN SEMPERS | 10 | 182 | 178 | 20 | 380 | 4TH |
| | | | | | | |
| GEOFF BROWN | 5 | 212 | 266 | 10 | 488 | 5TH |
| DAVE BIRDSALL | 15 | 182 | 167 | 30 | 379 | 6TH |
| | | | | | | |
| JAN HODGE | 25 | 169 | 157 | 50 | 376 | 7TH |
| TREVOR LAMPRELL | 15 | 163 | 157 | 30 | 350 | 8TH |
Round Robin 2
| | | | | | | | | | | | | | |
| --- | --- | --- | --- | --- | --- | --- | --- | --- | --- | --- | --- | --- | --- |
| | NAME | BONUS | 1 | BONUS + W/L | 2 | BONUS + W/L | 3 | BONUS + W/L | 4 | BONUS + W/L | 5 | BONUS + W/L | TOTAL |
| | JOHN STRETTLE | 15 | 231 | 30 | 273 | 30 | 229 | 30 | 293 | 30 | 213 | 30 | 1389 |
| | LES GRANT | 15 | 226 | 0 | 211 | 30 | 199 | 0 | 230 | 30 | 237 | 30 | 1193 |
| | GEOFF BROWN | 5 | 201 | 0 | 273 | 30 | 205 | 30 | 216 | 0 | 184 | 30 | 1169 |
| | JAN HODGE | 25 | 282 | 30 | 189 | 0 | 168 | 0 | 197 | 30 | 177 | 0 | 1073 |
| | RON OLDFIELD | 10 | 245 | 30 | 183 | 0 | 194 | 0 | 183 | 0 | 232 | 0 | 1067 |
| | MICK INCE | 15 | 212 | 0 | 195 | 0 | 258 | 30 | 191 | 0 | 174 | 0 | 1060 |
Round Robin 1
| | | | | | | | | | | | | | |
| --- | --- | --- | --- | --- | --- | --- | --- | --- | --- | --- | --- | --- | --- |
|   | NAME | BONUS | 1 | BONUS + W/L | 2 | BONUS + W/L | 3 | BONUS + W/L | 4 | BONUS + W/L | 5 | BONUS + W/L | TOTAL |
| | MARK FULLBROOK | 5 | 252 | 30 | 215 | 0 | 195 | 30 | 170 | 0 | 264 | 30 | 1186 |
| | BRIAN SEMPERS | 10 | 235 | 30 | 224 | 30 | 198 | 0 | 213 | 30 | 224 | 0 | 1184 |
| | DAVE BIRDSALL | 15 | 237 | 30 | 204 | 0 | 197 | 30 | 239 | 30 | 185 | 30 | 1182 |
| | TREVOR LAMPRELL | 15 | 193 | 0 | 196 | 30 | 237 | 30 | 193 | 30 | 175 | 0 | 1084 |
| | GARY CHRISTOPHER | 0 | 179 | 0 | 235 | 30 | 161 | 0 | 182 | 0 | 202 | 0 | 989 |
| | MARK S SMITH | 5 | 185 | 0 | 172 | 0 | 177 | 0 | 197 | 0 | 219 | 30 | 980 |
Qualifying
| | | | | | | | | | | | |
| --- | --- | --- | --- | --- | --- | --- | --- | --- | --- | --- | --- |
|   | NAME | BONUS | 1 | 2 | 3 | 4 | 5 | 6 | SCR TOTAL | BONUS X6 | TOTAL |
| 1 | MARK FULLBROOK | 5 | 202 | 289 | 246 | 223 | 206 | 227 | 1393 | 30 | 1423 |
| 2 | GEOFF BROWN | 5 | 216 | 267 | 210 | 178 | 248 | 247 | 1366 | 30 | 1396 |
| 3 | BRIAN SEMPERS | 10 | 205 | 221 | 276 | 226 | 201 | 186 | 1315 | 60 | 1375 |
| 4 | JAN HODGE | 25 | 212 | 170 | 238 | 201 | 199 | 200 | 1220 | 150 | 1370 |
| 5 | MARK S SMITH | 5 | 177 | 201 | 248 | 223 | 232 | 231 | 1312 | 30 | 1342 |
| 6 | RON OLDFIELD | 10 | 234 | 213 | 210 | 248 | 211 | 157 | 1273 | 60 | 1333 |
| 7 | GARY CHRISTOPHER | 0 | 221 | 246 | 212 | 183 | 190 | 259 | 1311 | 0 | 1311 |
| 8 | LES GRANT | 15 | 205 | 256 | 177 | 197 | 166 | 220 | 1221 | 90 | 1311 |
| 9 | TREVOR LAMPRELL | 15 | 175 | 210 | 256 | 194 | 189 | 192 | 1216 | 90 | 1306 |
| 10 | MICK INCE | 15 | 227 | 182 | 178 | 212 | 172 | 243 | 1214 | 90 | 1304 |
| 11 | DAVE BIRDSALL | 15 | 189 | 226 | 181 | 212 | 184 | 217 | 1209 | 90 | 1299 |
| 12 | JOHN STRETTLE | 15 | 225 | 224 | 163 | 206 | 185 | 205 | 1208 | 90 | 1298 |
| 13 | AL TURNER | 15 | 169 | 231 | 171 | 214 | 213 | 188 | 1186 | 90 | 1276 |
| 14 | PAT BYRNE | 15 | 187 | 186 | 200 | 217 | 185 | 190 | 1165 | 90 | 1255 |
| 15 | KEITH HODGE | 10 | 202 | 172 | 211 | 194 | 156 | 257 | 1192 | 60 | 1252 |
| 16 | AL JENKINS | 10 | 229 | 233 | 200 | 192 | 166 | 170 | 1190 | 60 | 1250 |
| 17 | MIKE HALLIWELL | 5 | 162 | 180 | 181 | 225 | 243 | 216 | 1207 | 30 | 1237 |
| 18 | BARRY WALKER | 0 | 227 | 226 | 224 | 176 | 186 | 190 | 1229 | 0 | 1229 |
| 19 | FRANK LINDSAY | 10 | 235 | 189 | 191 | 163 | 207 | 184 | 1169 | 60 | 1229 |
| 20 | MARTIN GREEN | 10 | 173 | 231 | 207 | 194 | 177 | 178 | 1160 | 60 | 1220 |
| 21 | GARY BARLOW | 5 | 193 | 213 | 172 | 197 | 215 | 182 | 1172 | 30 | 1202 |
| 22 | NEV ROBINSON | 10 | 166 | 244 | 170 | 194 | 227 | 140 | 1141 | 60 | 1201 |
| 23 | CARL TAYLOR | 0 | 253 | 250 | 163 | 174 | 158 | 195 | 1193 | 0 | 1193 |
| 24 | ANDY PREECE | 10 | 204 | 162 | 171 | 183 | 197 | 209 | 1126 | 60 | 1186 |
| 25 | RUTH RATHBONE | 20 | 236 | 181 | 167 | 171 | 155 | 152 | 1062 | 120 | 1182 |
| 26 | LES TAYLOR | 20 | 132 | 199 | 225 | 163 | 178 | 160 | 1057 | 120 | 1177 |
| 27 | PHILLIP IVES | 15 | 164 | 160 | 146 | 202 | 231 | 173 | 1076 | 90 | 1166 |
| 28 | KEN WRAY | 15 | 160 | 155 | 209 | 167 | 143 | 226 | 1060 | 90 | 1150 |
| 29 | ROBIN TOMPKINS | 10 | 200 | 175 | 174 | 208 | 199 | 127 | 1083 | 60 | 1143 |
| 30 | JOHN BROADHURST | 20 | 191 | 148 | 148 | 167 | 173 | 188 | 1015 | 120 | 1135 |
| 31 | SIMON HOGG | 10 | 162 | 170 | 222 | 175 | 174 | 141 | 1044 | 60 | 1104 |
| 32 | MO SINGLETON | 10 | 131 | 178 | 176 | 181 | 161 | 203 | 1030 | 60 | 1090 |
| 33 | DOUG SINCLAIR | 20 | 154 | 158 | 163 | 153 | 155 | 178 | 961 | 120 | 1081 |
| 34 | STEVE COATES | 10 | 198 | 170 | 211 | 172 | 124 | 134 | 1009 | 60 | 1069 |
| 35 | DAVE BROOMFIELD | 0 | 180 | 174 | 152 | 200 | 166 | 192 | 1064 | 0 | 1064 |
| 36 | GREG BELTON | 0 | 178 | 171 | 172 | 172 | 147 | 214 | 1054 | 0 | 1054 |
| 37 | TREVOR GREEN | 10 | 141 | 155 | 159 | 186 | 158 | 186 | 985 | 60 | 1045 |
| 38 | NICK WRIGHT | 5 | 155 | 171 | 132 | 194 | 171 | 181 | 1004 | 30 | 1034 |
| 39 | JEFF TAYLOR | 5 | 201 | 139 | 0 | 0 | 0 | 0 | 340 | 30 | 370 |