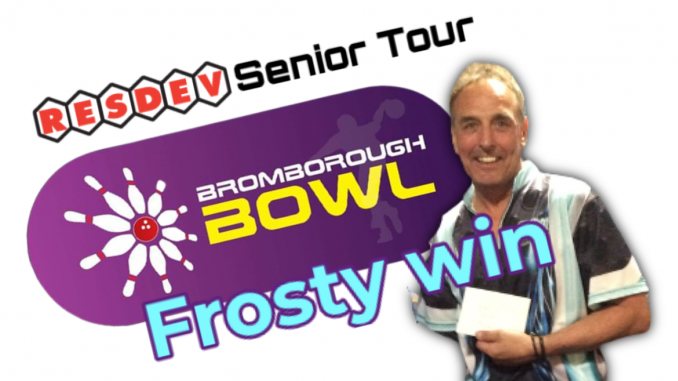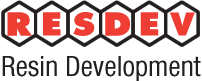 Easter Sunday 17th April saw the resumption of hopefully a full Tour this year and a Masters event. It was nice to see some old faces and new ones after the problems of the last 2 years.
The morning squad started and on a 44foot challenge pattern,  high scoring would be possible but any slight errors would be costly, Straight away the scoring was going to be high and so it proved with England Triple Crown multi medallist Colin Grose finding a groove and posting a fantastic 1458 scr with zero bonus to lead the squad including games of 280 and 268, followed by co-owner of Bromborough and another multi medallist at the Triple Crown Trevor Green with 1412 inc bonus, ahead of Garet Roberts 1328, Kevvin Lamb 1315, another Triple Crown medallist Andy Gillespie 1314 and Louise Roberts 1303.
With scoring being so high would these scores be enough to make the top 16 for round 2. The second squad set off in pursuit and leading the charge was last years leader Selwyn Morgan once again showing a liking for Bromborough with 1458 inc bonus to tie with Colin for top spot to get a bye to final, but as Colin had zero bonus he would get the bye, Selwyn closely followed by Mark A Smith with 1410 inc a 278 game.
Just behind would be the legend that is Ron Oldfield with 1379 showing age is just a number, just in front of yet another Triple Crown medallist in Carole Orange on 1372, including a brilliant last game 278, next was Dutch senior champion Scotland's Alan Keddie 1347, these would all qualify comfortably but behind them would be Yorkshire senior stalwart Alan Jenkins 1291, Cliff Dew 1283 and Frank (Funtime) Lindsay 1282, would this be enough well the answer was yes as the cut fell at 1282.
The bowlers placed 2 to 16 would now play another 3 games from Scr for a top ten place to progress to round 3. Gareth Roberts led the way with an excellent 1428 inc bonus followed by Mike (Frosty) Halliwell 678, Selwyn Morgan 673 local bowler John Cook 658 ans Alan Keddie 653, the cut fell at 609 (Ron Oldfield) just missing out on 602 were Mark A Smith and Carole Orange on 602, This meant that Carole ended up being top lady and a nice prize of £110.
Onto round 3 and once again 3 more games would determine the top 5 for the final. Selwyn rolling a magnificent 765 inc bonus to cruise into the final closely followed by Cliff 713, Mike 702, Alan 691 and Kevin Lamb 657, just missing out Gareth 640 and Andy unable to recover from 170+ first games, also out Funtime, Ron O and John Cook.
The final saw these top 5 being joined by qualifying leader Colin Grose for 3 more games to decide the final 6 placings. This would prove to be an exciting affair with the Champion not being decided until the last frame of the last game, Selwyn taking an early lead with 247, Cliff 234 and Mike 224, leader Colin with a 170 would this be the curse of the leader from qualifying as it has been previously, following up with a 257 in game 2 gave him some hope but the 3 leaders Selwyn 224, Mike 234 and Cliff 208 were determined not to let it slip, onto game 3 and Colin starts with the first 6 strikes and is suddenly breathing down the necks of the leaders, but a chop in in the 7 frame seemed to end his chance  but he just started striking again and finished with 263 and 690, would this be enough? it proved not to be as Mike found a turkey in frames 8/9/10 to ease to being Champion with 707, Cliff with 3 solid games 3rd 681.
Selwyn with a disappointing 176 last game to end 4th 662, Alan 648 and Kevin 609 rounded out the top 6. An excellent finish to the tournament, my thanks to Stuart, Trevor and all his staff for the excellent day we had. Definitely one of the best run centres in the country. My thanks to all the bowlers for attending and making it a great day for myself. The tour now rolls on to the next stop at Go Bowling Shipley on the 28th and 29th May. I hope to see as many if not more bowlers then for another exciting tournament.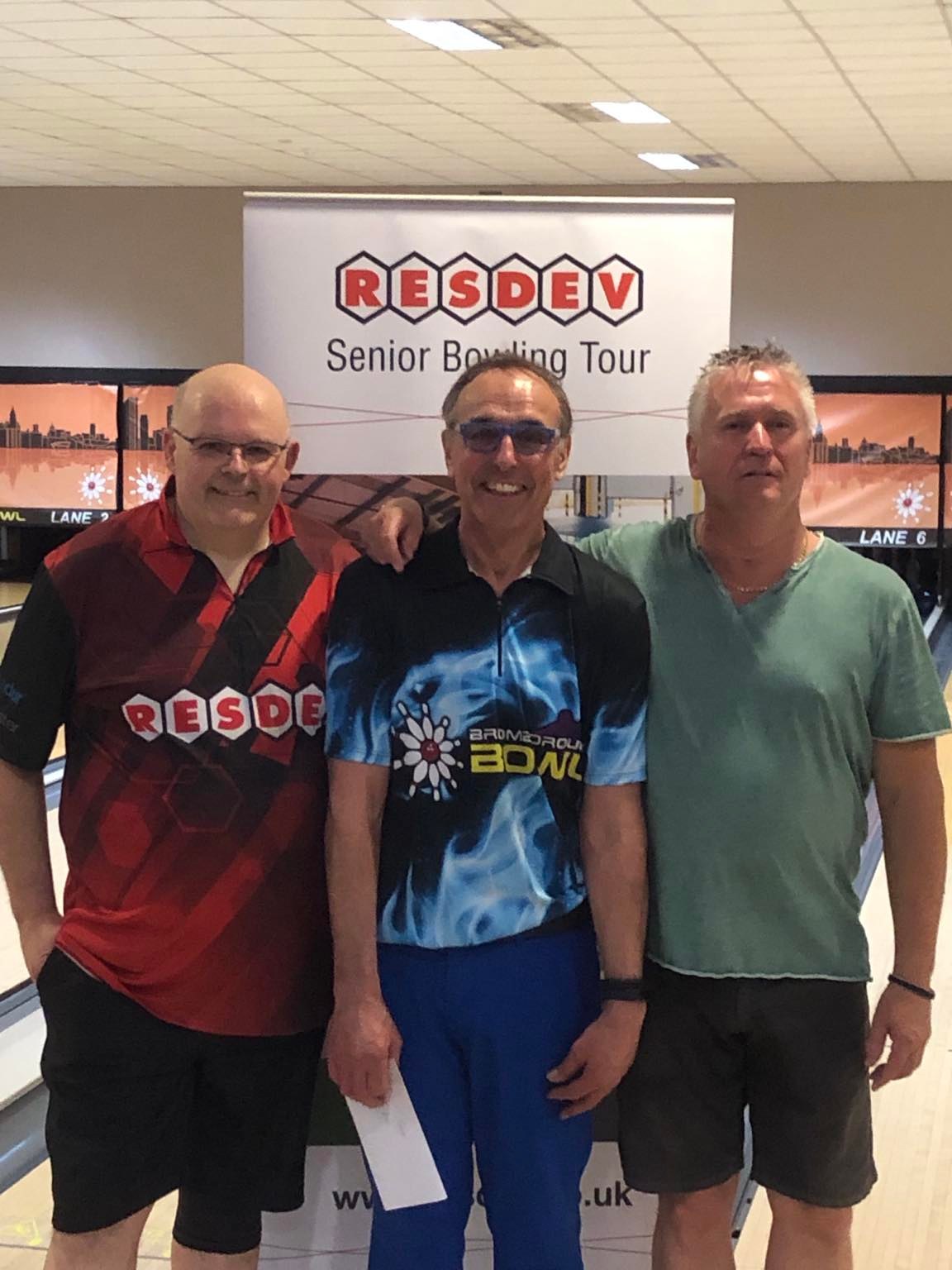 Photo thanks to Al Turner
Results
Final

Round 3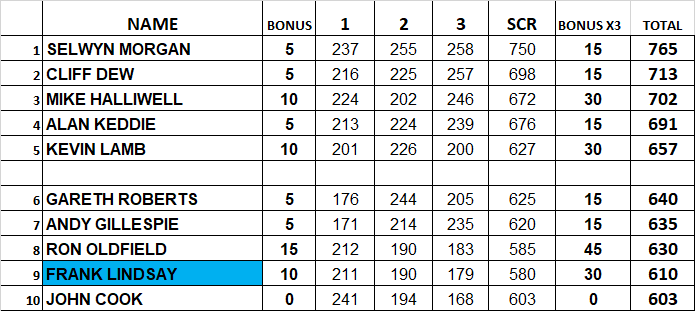 Round 2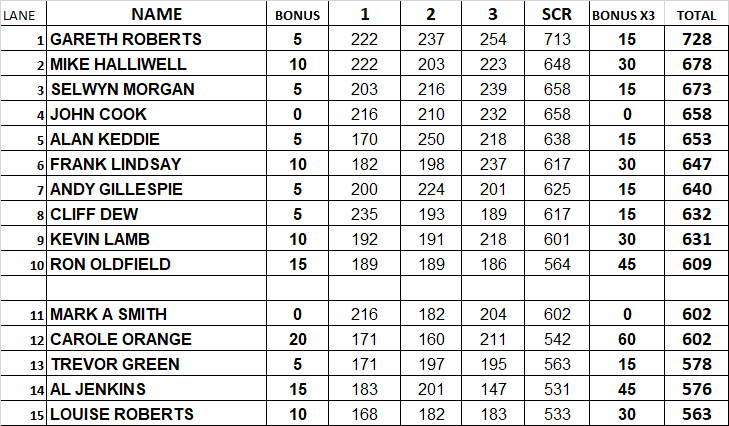 Qualifying