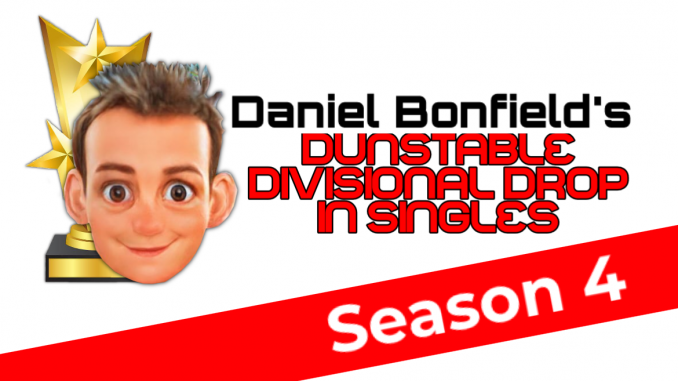 The final week of Season 4 – and we had good attendance numbers for a bank holiday Monday, and new bowler – Welcome Martin Townshend
Championship – It was Jordan Hart and Mark Richardson battling it out for the championship title. But Mark opening up with a 277 kinda ruined Jordan's chances. That game gave mark the High game pot and he followed it up with games of 212,207,187 for a 883 set which also gave him the high series pot. Other worthy mentions – Gary Waghorn with a 845 set which was also the top point scorer on the night, and Ray Lay with a 815.  Mark took the title by 6 points from Jordan. These two bowlers are promoted into the Prem for season 5. Also promoted are Russell Snipper who finished on a 195 average and Jo Green who finished on 190 average. Mark only returned to bowling after a lengthy lay off 11 weeks ago and that first week back he averaged 157 – fast forward 11 weeks later his now hitting a 200 average pretty consistently.
Premiership – Matt Trotter's main rival for the title was Basher, but Basher had to sit out the final week out with a dodgy cilla (black = Back). Paul Loberman and Alan Keddie if they had amazing weeks could still catch Matt and take the title. But their challenge for the title kinda fizzled out when both them had low point scoring first games. And the title was clinched for Matt in game 2 when he shot a 279 which took the pot and a 956 set gave him a clean sweep of the pots. Worthy mention to Martin Townshend who in his league debut shot a 860 and was 2nd highest point scorer.
Matt won the league by 13pts from Basher with Alan Keddie in 3rd – Matt's winning average was 221 over  36 games and that's his first league title.
Well done to the league champions Matt and Mark.
Season 4 in Numbers – 43 different bowlers (Championship – 21 / Premiership 22) – slightly up from last season
Total prize money paid out £1217 – again slightly up from season
Next Monday we head straight into season 5  ! so come down and have a bowl and give this league a try for one season – each season only lasts 10 weeks and your not committed to bowl every week.
But what's the league all about …. He is a refresh…
Dunstable Divisional Drop in Singles…
4 games – cost £20 / Week or £17.50 / week – depending on what division you're in.
This is going to be a brand new way of looking at league bowling.. and I will explain it best I can.. .
So there are two divisions – a Premiership for the 185+ bowlers and a Championship <184 bowlers.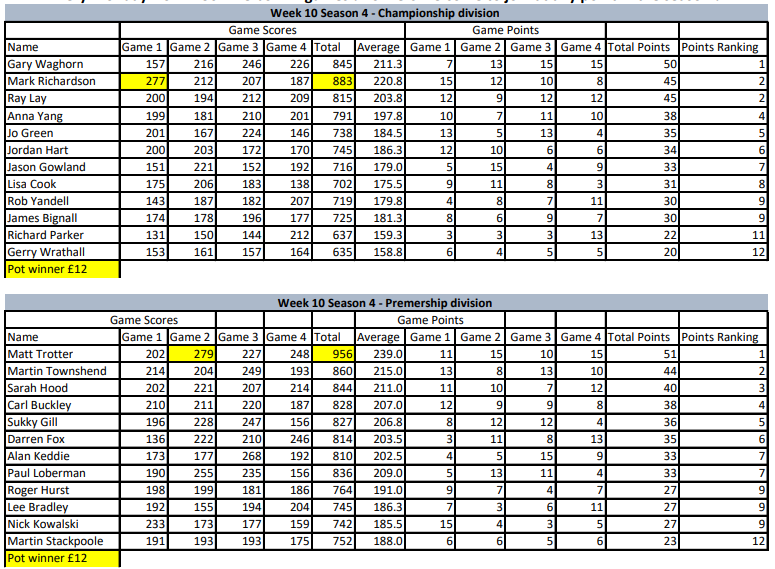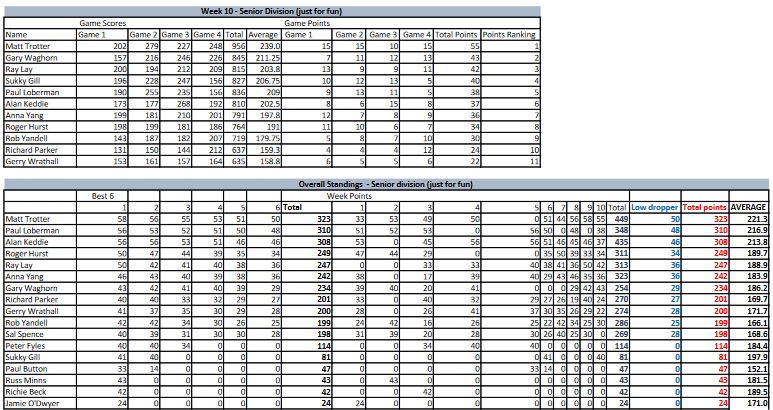 ---
Week 9 of season 4 – the penultimate week. And bowlers made moves ! – Two new bowlers this week as we welcomed Sarah Hood and Carl Buckley who popped in for a little bowl.
Championship – Some good performances this week with 4 bowlers hitting over 800. Top bowler was Jordan "Hit man" Hart with a 880 that won him high series and he also won the high game with a 236. Special Mention to Ray Lay who was unlucky not to win a pot with games of 214,227,210,224 for an 875 set. The other 2 800's were hit by Jo Green and Mark Richardson
Overall – Jordan scoring 54 points this week has given him a real shot of winning the league now. He now trails Mark Richardson by just 4 points – Jordan has a 42pt week to drop and Mark a 43pt week… so all to play for in that final week
Premiership – All the high scores came in the middle of the house. Darren Fox and Matt Trotter battling out for the high series and high game. Darren shot 212,235,237,264 for a 948 set, and Matt shot 212,245,216,268 for a 952 – so Matt won high game and high series by 4 pins in each. Lee Metcalfe also had a decent block with a 923
Overall – Matt scoring 53pts and Basher not having a scoring week meant that Trotter now leads the league by 4 pts from Basher. Alan Keddie is 12pts back in 3rd and Paul Loberman is in 4th 13pts behind… it's not beyond the realms of possibility that both Keds and Lobbers could have a blinding last week and score 50+ points and still win the league.
So next Monday is a BANK HOLIDAY – but guess what… this league don't stop … we march on ! So there is bowling next week the final week of season 4 ! If your at a loose end and bored then come and bowl. The every now and then bowler really shakes up the league when they come and play as they steal points off the regulars.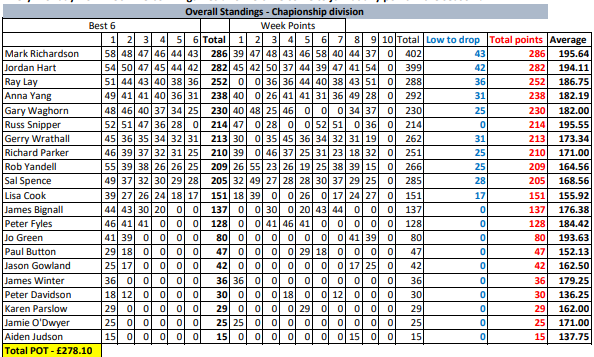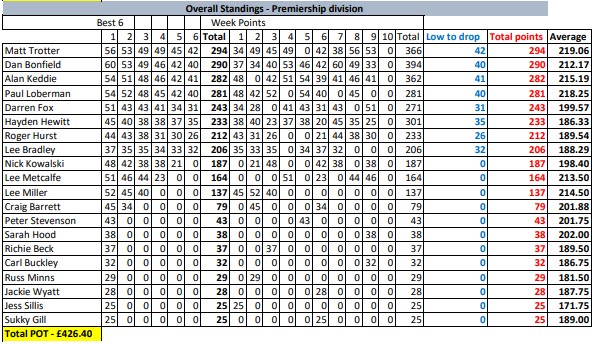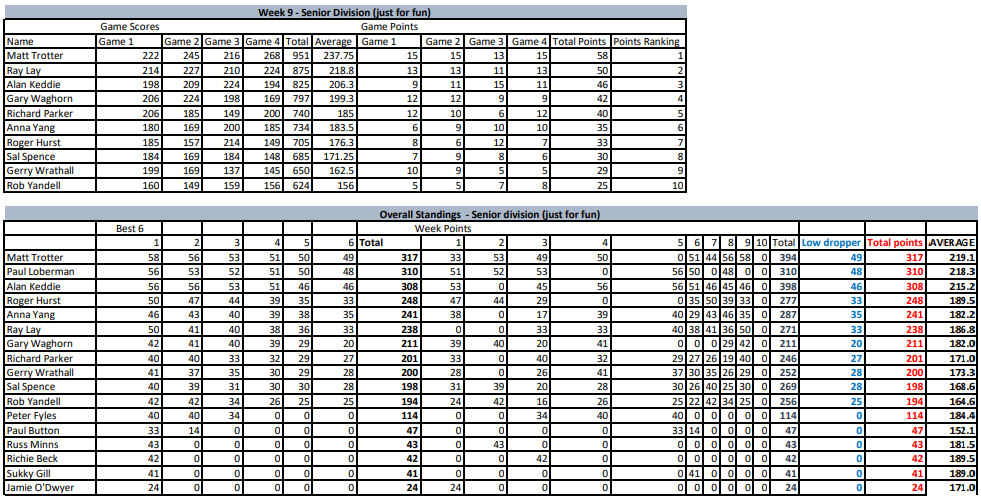 ---
Week 8 or Season – two new bowlers this week. Aiden Judson, from Shipley who was down working to save freefall bowling, not all heroes wear capes ! and Jason Gowland – welcome guys.
Championship – On the whole for whatever reason, the scoring was down across the division, but there was one stand out performance… Anna Yang swapped her clogs for bowling shoes and put in a brilliant performance. Shooting her highest ever game in game 2 – having the front 9 and ending up with a 276. Anna finished with a 856 series and won the high game and series pot.
Overall – Mark Richardson extended his lead to 17points over Jordan Hart in 2nd and Anna is in third.
Premierships – Scoring was really high, some great performances, a 216 average across the division. Matt Trotter the ace flyer shot a 279 in game 3 and a 998 series for a clean sweep of the pots. But Basher had another good week with a 929, Alan Keddie had 892 and Paul Loberman a 901.
Overall – Basher continues to lead the division by 8 pts from Keddie in 2nd and Lobbers in 3 and Trotter is 4th – but just 11pts separates the top 4… going to be tight finish to the league.
Note – we are intending to bowl on Easter Monday 18th April… And that will be the final week of the current season.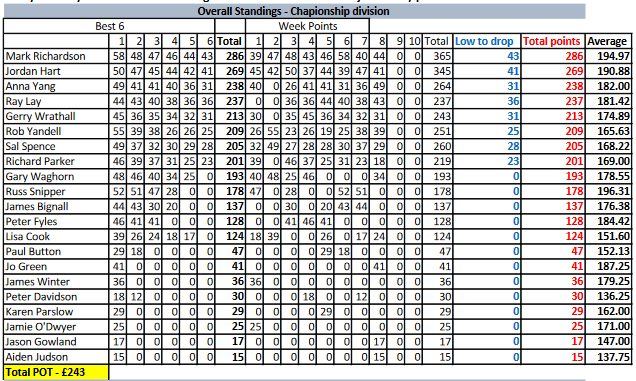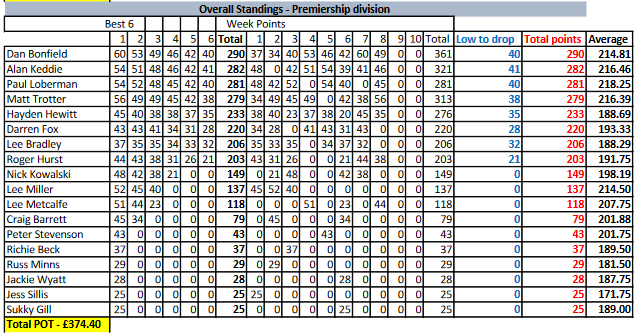 ---
Week 7 and the league starts hotting up with the people who've missed some weeks catching up.
Championship – there was some good bowling in this division this week. Sal Spence held the high game pot with a 232 in game 2, but then Jordan the Hit Man Hart somehow managed to have a 243 in game 3 and then a 254 in game 4 with a collection of some of most dubious strikes I've ever seen. This gave the Hit Man a 868 set and a clean sweep of the pots. But the top points scorer was Russ Snipper with 51pts and a 843 set.
Overall – Mark Richardson is still top on 282pts with Hit Man in 2nd on 267pts and Anna Yang in 3rd – with 3 weeks left the following bowlers look set for promotion Mark, Russ and the Hitman.
Premiership – Nick Kowalski had a 257 in game 1, Basher saw this and knew he had to strike out, which of course he did and pipped Nick with a 258 enough to win the high game pot. Basher then put together a great block with games of 224,256,256 for a 994 set to give him a clean sweep of the pots and the maximum points – the full 60 !
Overall – Them 60pts for Basher has put him right in the mix for the league title now. Basher leads on 278pts, with Alan Keddie on 275 and Matt Trotter on 257 – but Loberman is lurking in 4th and still has a week to catch up.
Everyone can come and bowl in this league at any point in the season… The occasional bowler who comes along can really have a big impact on the final league standings in these final weeks by stealing points.
I'm running a series of tournaments through the summer at Dunstable – King of the Hill style events – I've set up a facebook group where I be posting all the tournament first. So if your interested in these events I implore to join this group
https://www.facebook.com/groups/1123770395141402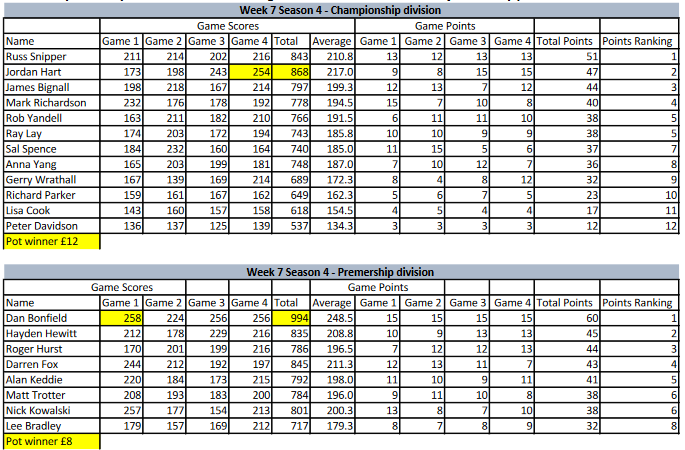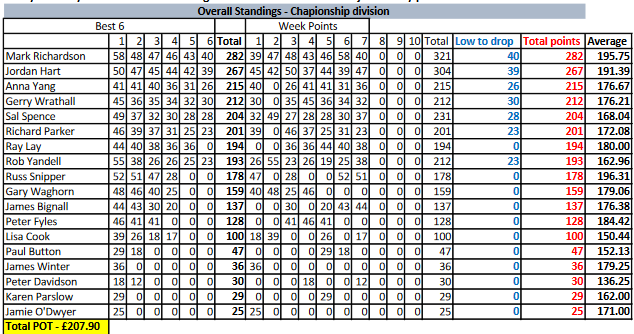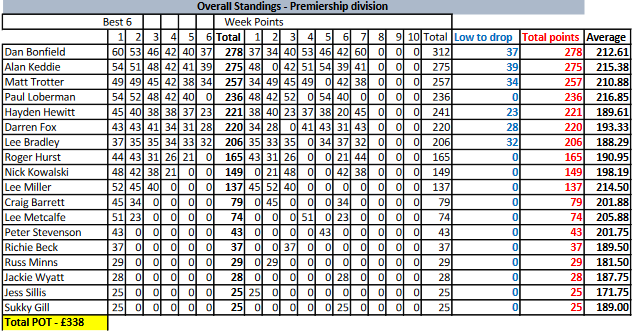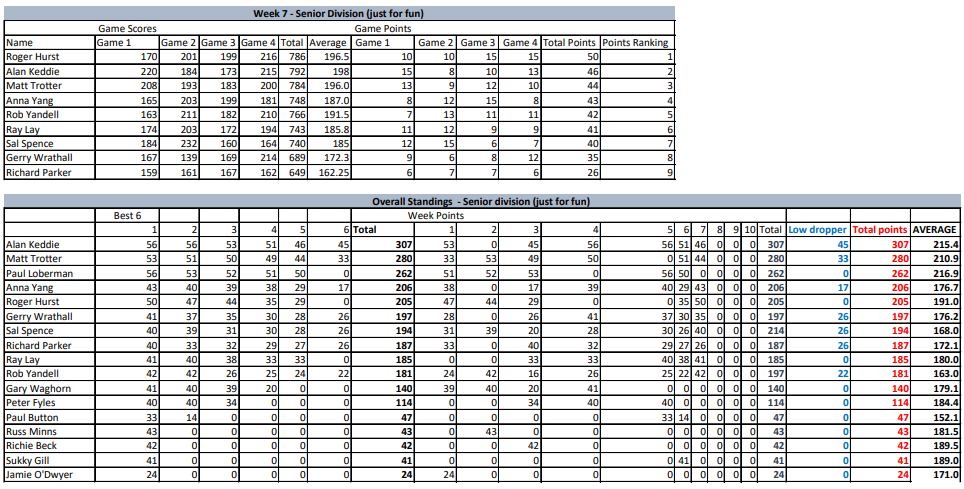 ---
Week 6 of season 4 – and the 2nd week of bowling on the BTBA Nationals Pattern "Gateway Arch" – no new bowlers this week, but a few returning for the first time in a while, Sexy Jackie Wyatt and Sukky Gill.
Championship – this guy is definitely getting promoted to the Prem next season – Mark Richardson smashed it, winning the high game pot with a 257 game a high series pot with a 919 – a series that would have also won the pot in the Premiership and it gave Mark 58pts out of a possible 60 !. Elsewhere BatHulk Russ Snipper had a 849 set that's worth a mention.
Overall Mark is top of the league with Jordan the Hit Man Hart in 2nd and Sal Spence in 3rd – Mark has a 24pt lead at the top
Premiership – Matt Trotter banged in a 280 game in game 2 and that set him up for a 895 set that gave him both high game and high series pots. But there was a 3 way tie for leading point scorer, Matt, Basher and Nick Kowalski who all scored 42 points. With 13 bowlers in the Prem this week it bunched the field up and made it harder to score good points. Which is what we like to see.
Overall Basher leads the pack but has played a week more then those below him.
Week 7 will see the league really heat up… those that have played 6 weeks get the opportunity to drop their lowest scoring week, and those on 5 weeks get the chance to catch up on the league leaders.
Next week we revert back to the house pattern for a while – Anyone can come and bowl and in this league any point in the season… doesn't matter if it's the first week or the last week. Every Monday 7.30 registration for a 8.00pm start.
Also MAY 15th – this is happening. I have secured 6 sponsors… really boosting the prize fund and making it able for me to keep the entry fee low. Going to be scratch and handicap sections and some great fun ways to win some money !
Entry form will be out in a couple of weeks !!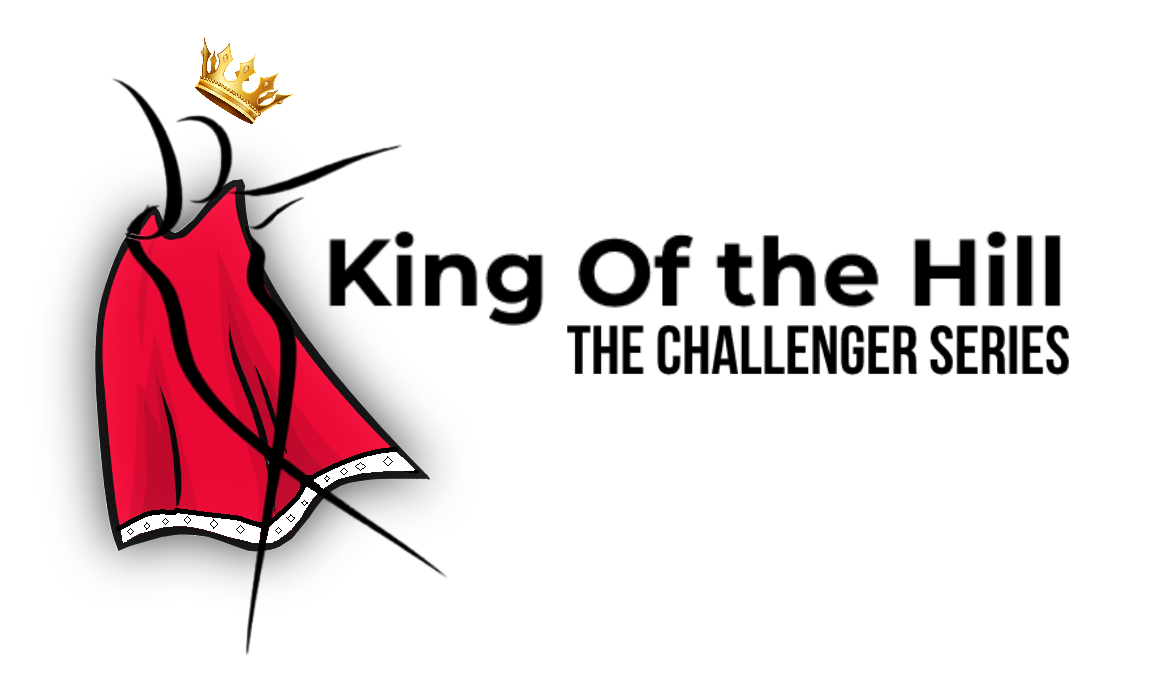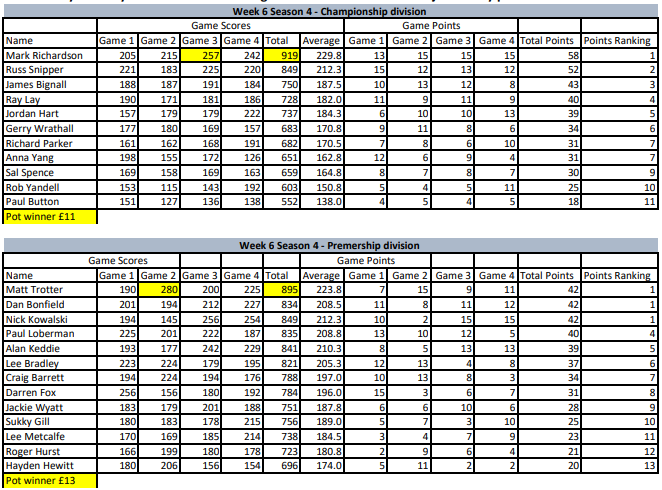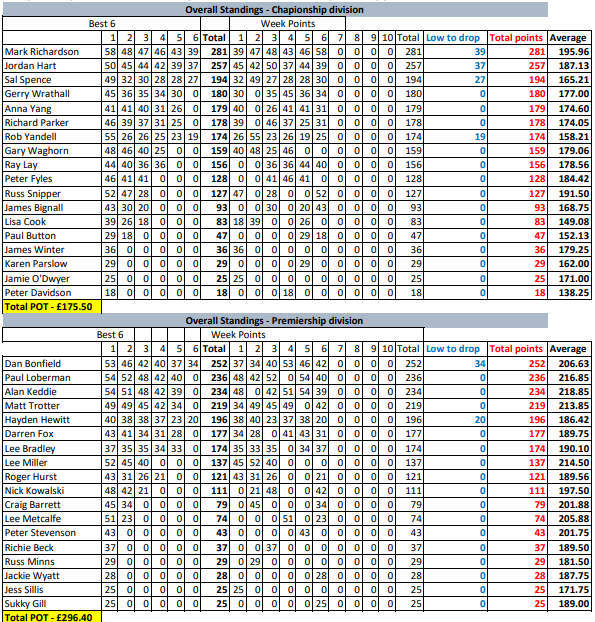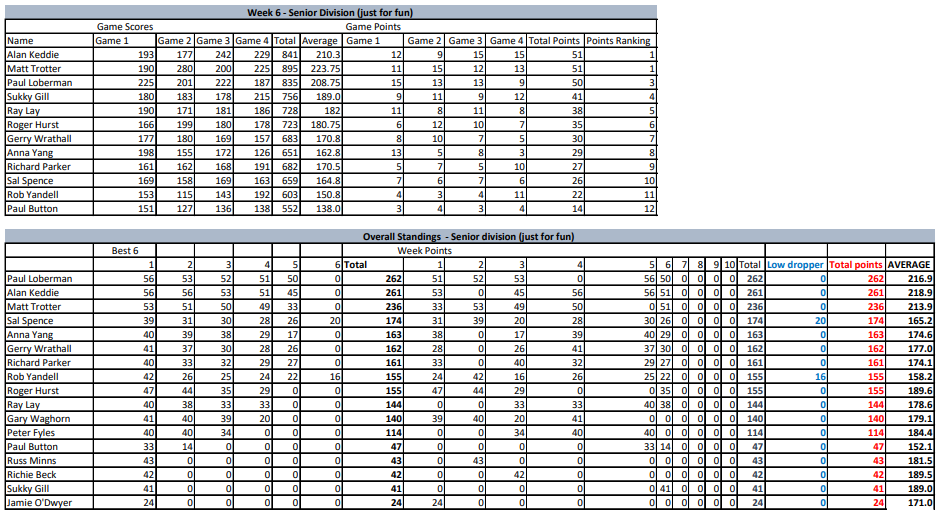 ---
Week 5 and this week I thought it was be interesting to lay the lane pattern that bowlers are playing on in this year's BTBA's Nationals – Gateway Arch. We had 1 new face, the BTBA Director of Sport Peter Stevenson, who happened to be in the area learning how to drive forks around.
Championship – Mark Richardson despite feeling as if he was bowling rubbish finished off a decent set of 784 with a 244 last game, and that gave him a clean sweep of the pots. Overall Mark leads the league on 223 pts from Jordan Hit Man Hart on 218 pts, then there's a big gap to Sal Spence who is in third.
Premiership – Two stand out performances. Paul Loberman with games of 208,242.243 and 232 for 925 set, but that couldn't him win a pot as Alan Keddie shot a 929 with a final game of 248 to win both high game and high series pots. Overall Basher Bonfield now leads of the league but has played a week more then rest of the pack. In 2nd in Lobbers, and 3rd in Alan Keddie.
Next week will be another week of Gateway Arch lane pattern and then we revert back to the house pattern.
If you fancy coming for something competitive practice on the Nationals pattern all bowlers are welcome to come and bowl next Monday – registration is open from 7.30 and we bowl at 8 and we bowl 4 games.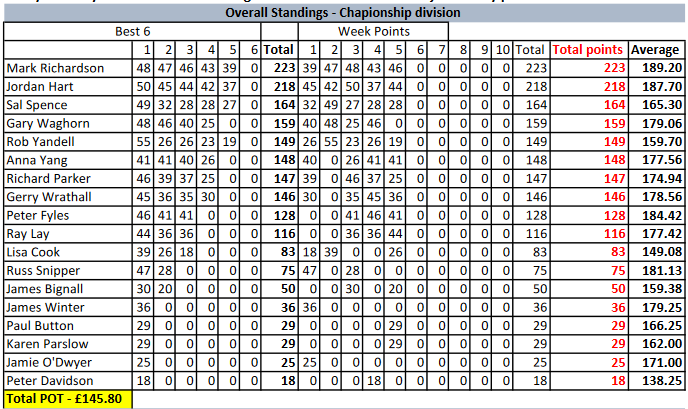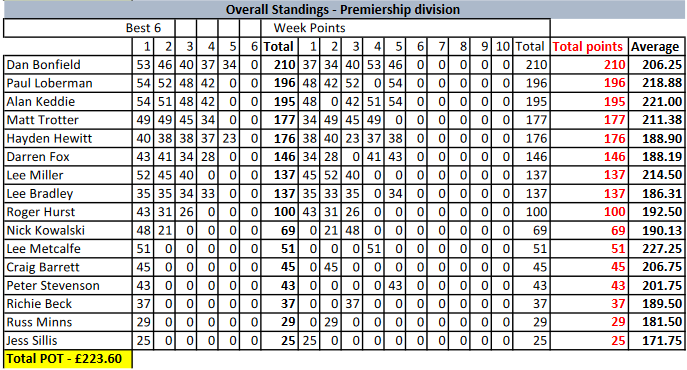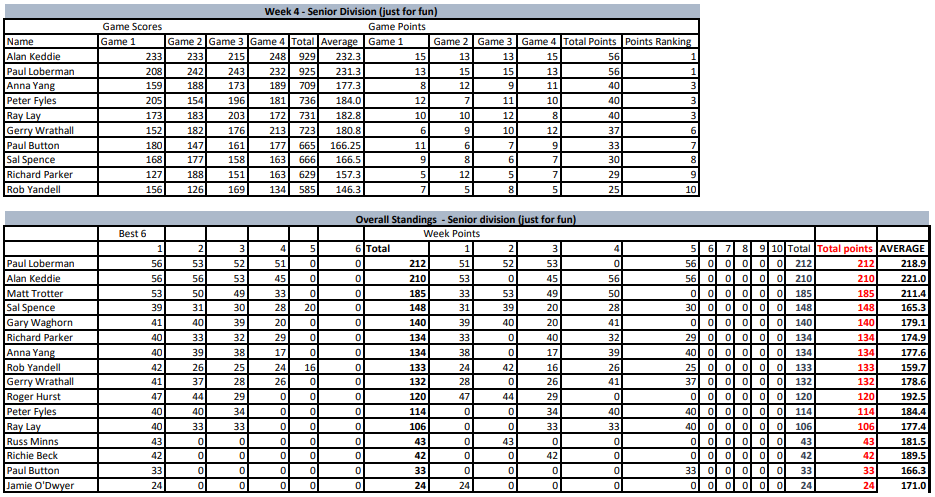 ---
Week 4 of season 4 of the Dunstable Drop in singles – two new players this week Lee Metcalfe from Go Bowling (Northern branch) and Peter Davidson. A lot of bowlers cried off as they were tired from their weekend exertions – PATHETIC !! (wishing Roger Hurst a speedy recovery  from the dreaded covid)
Championship – Anna Yang opened up with a 245 game, and no one was beating that ! Boom first pot of the night won. High series went to Gary Waghorn who put 4 solid games together for a 786 set. Overall Mark Richardson is top on 177pts with Jordan Hit man Hart on 174pt, but bad news for the Hit Man as he popped his knee in the last game… I hope the injury doesn't keep out for too long.
Into the Prem. Matt Trotter shot a 272 in game 2 – a weird score, but it was the high game pot winner. High series, there we some good sets thrown – Alan Keddie 898, Matt Trotter 899, Lee Metcalfe 909 – but the best of the lot was the supremely gifted young gun Basher Bonfield who shot a 919 with games of 236,211,235,237. Overall standings – Matt Trotter is top on 177pts, with Basher 2nd on 164 and having played a week less in 3rd is  Paul Loberman on 142pts
This League bowls every Monday with registration from 7.30 and we start bowling at 8pm – anyone can join the league at any point in the season and there is NO commitment to bowl every week. You can bowl as little or as often as you like. Msg drwbonfield@yahoo.co.uk if you want more details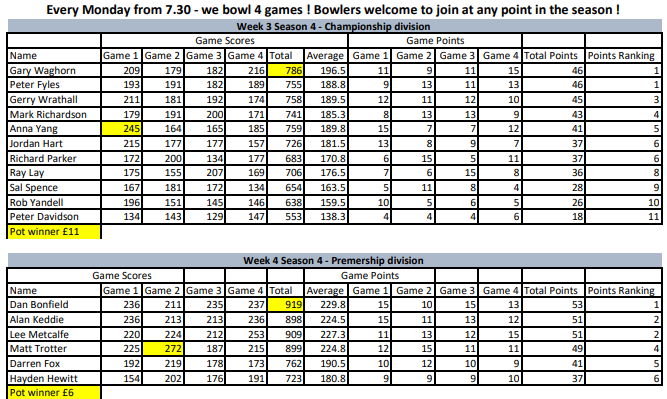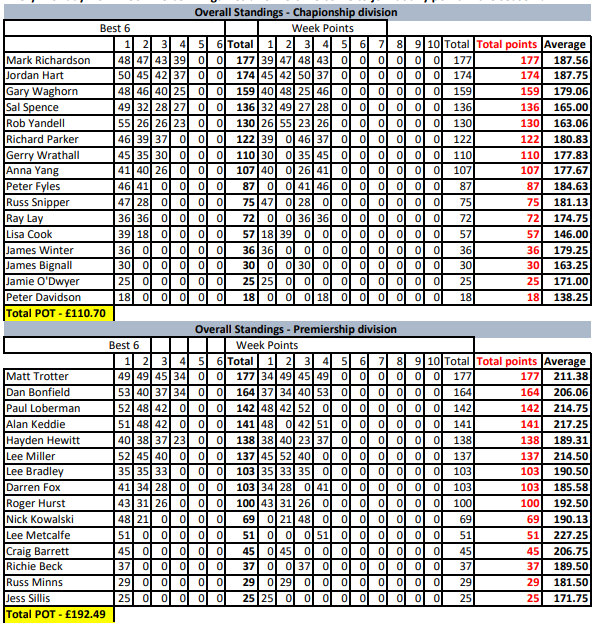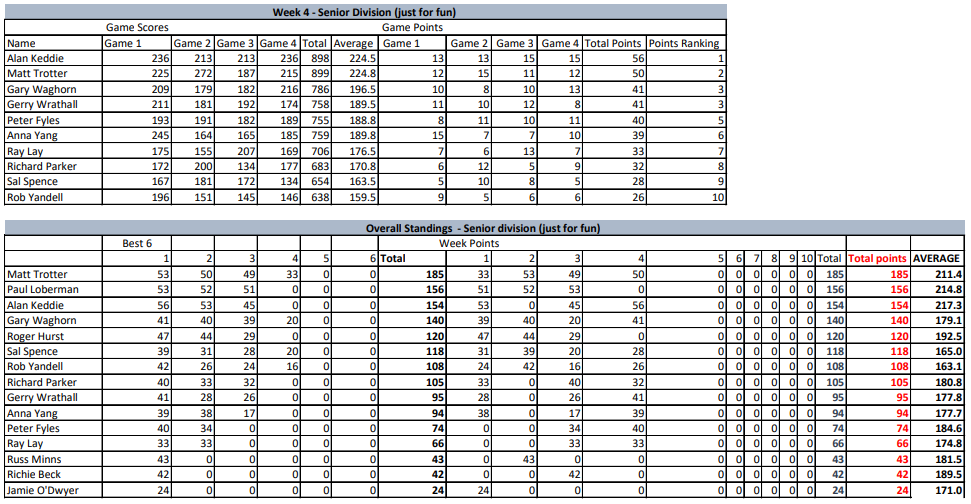 ---
Week 3 of the drop in singles… Another new bowler this week – Welcome Richie Beck. Pattern played tighter then usual, but that's not a bad thing, its good to stay alert and play what you see and come out of your comfort zone occasionally.
Championship.  Jordan Hit man Hart shot a 227 game in game 3 and took the H/G pot. Jordan finished with a 783 and was top point scorer on the night. But for Mark Richardson the come back is almost complete. He came back to bowling after a long lay off and he has steadily gotten better and this week he hit a 795 to win the high series pot.
Overall the league is not taking shape. Jordan is top on 137pts with Mark in 2nd on 134pts and Gary Waghorn who had a bad week still in 3rd place.
Premiership. Nick Kowalski in only his 2nd come back week shot a 252 in game 2 for the H/G pot and also a 869 series almost gave Nick a clean sweep of the pots… but that Pesky Paul Loberman also went and shot a 869 set to share the pot.
Overall league standings, Lobbers leads on 142pts from Lee Miller in 2nd on 137pts and Matt Trotter in 3rd on 128.
Come and join the league at any point in the season, and you can bowl as often or as little as you like. Email drwbonfield@yahoo.com for more details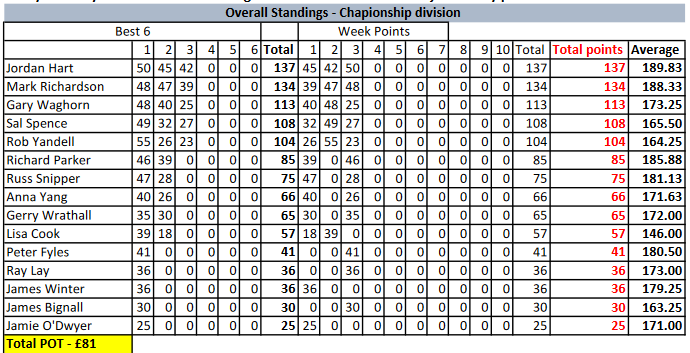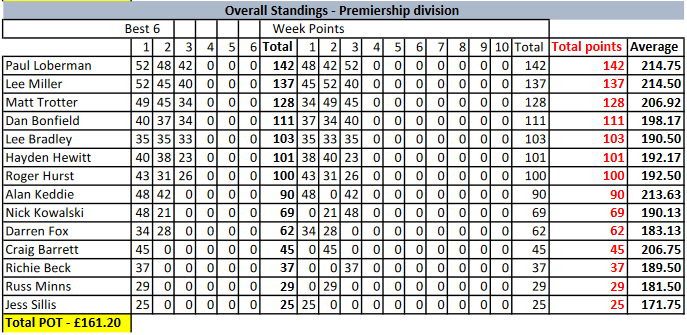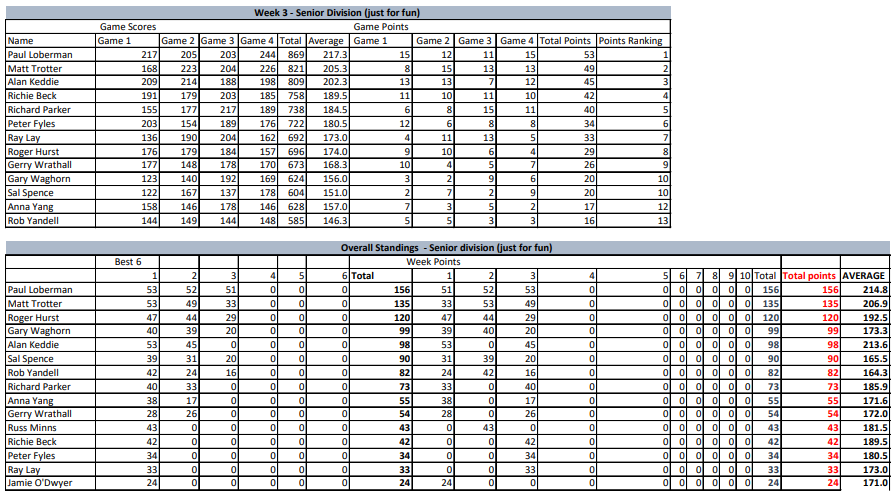 ---
Week 2 of Season 4 – One new bowler this week Nick Kowalski back after a break and getting some practice in ahead of the county trials. I quite meanly put him in the prem… sorry Nick. But it won't be long till he's back hitting his pre covid average. Also a few players who have been missing for a while, came and had a bowl.. Russ Minns, and Craig Barrett.
Championship – only 6 players in the champ this week, so a good week to pick up some easy points. Despite starting with a poor 124 game, Gary Waghorn settled down and in the third game banged in a 223 and that was enough to win the pot. In fact it was the only 200+ in the whole division. Which I think proves that lanes were playing a bit tighter then usual. High series went to Rob Yandell who shot a very consistent set 184,184,189,188 for a 745
Overall the early league leader is Gary Waghon, but only 3 points separate the top 3, with Jordan Hart in 2nd and Mark Richardson in 3rd.
Premiership – A decent turnout for the prem with 11 players – High game went to Matt Trotter with a 266 in game 4 for an 893 set. But taking the high series pot with games of 231,229,224,215 for a 899 set was Lee Miller. Overall the early league leader is Lee Miller, with Paul Loberman is 2nd and Matt Trotter in 3rd
League happens Every Monday with registration from 7.30 and bowling starts at 8 – you can turn up and bowl at any point in the season and as often or as little as you like.
Don't forget if your a bowler that lives in the counties of Herts, Beds and Bucks or were born in these counties – then have a go at trying out for the county teams – roll offs are fast approaching. First squad is 6th March and the online entry form is here https://form.jotform.com/220045357055348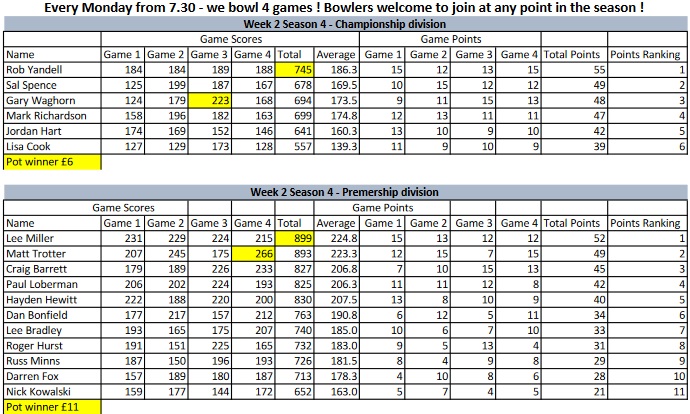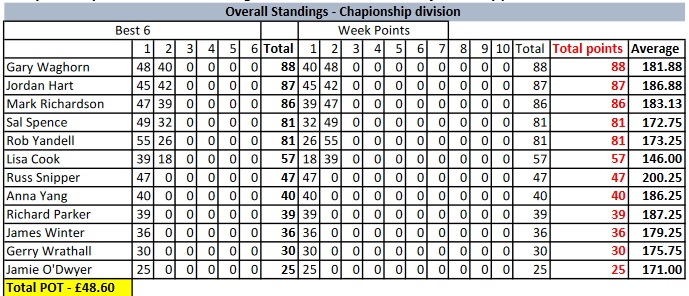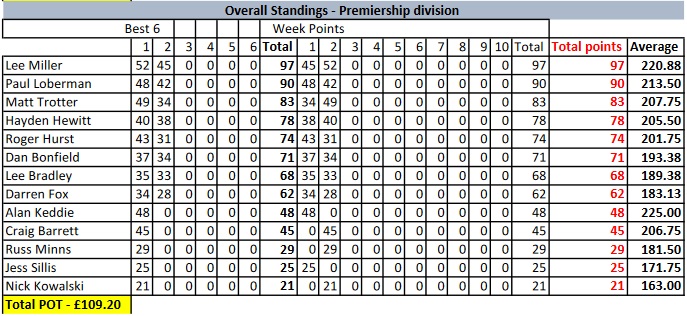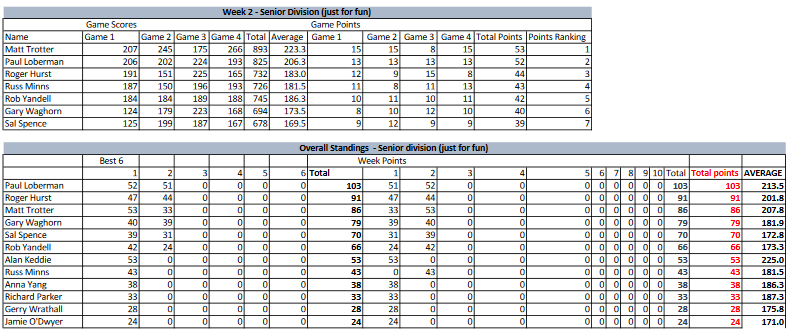 ---
Into the New season – season 4, week 1
We welcomed a new bowler – James Winter. Usually a resident of Southampton, but was up on business and wanted to chuck at some "real" pins and not them silly string ones.
Championship – Jordan the hit man Hart finally showed the sort of bowling that would have kept him in the prem division. Hit Man opened up with a 246, then a 214 (where he opened frames 9 and 10) then a 244. Even a 150 last game didn't stop Hit Man having a clean sweep of the pots. Russell Snipper was the top point scorer with a 801 set.
Premiership – New promoted Roger Hurst started his first campaign in the top division strongly hitting the front 10 then a 6spare for a 286 and the high game pot. Roger scoring good points on the night. The High series pot went to Alan Keddie – Ked's had games of 203,258,225,214 for a 900 set.
A good first week with 22 bowlers attending – any bowler can join the league and take part at any point in the season – your best 6 weeks outta the 10 count for your final league position. But you can even just bowl the odd week here and there if you want and play for the high series and high series pot.
Bowlers don't forget the country rolls offs for Hertfordshire, Bedfordshire, and Buckinghamshire are fast approaching – if you want to get involved in county bowling, then enter the trials – the entry form is here  https://form.jotform.com/220045357055348