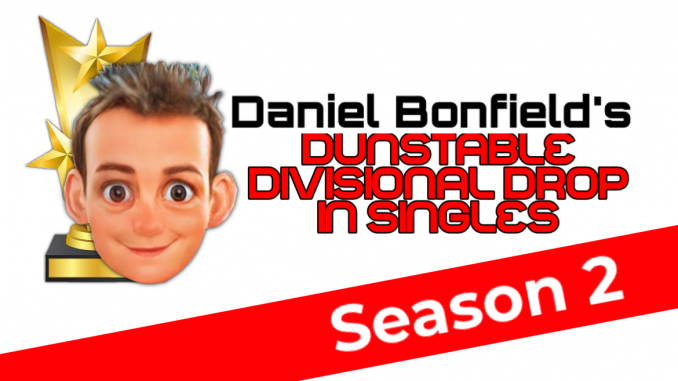 The final week of season 2
Championship – Mark Secker was looking good for a pot with a decent 841 set, but a 245 last game from Jordan the hit man Hart saw him finish with a 860 set and he snatched both pots. In the overall championship Hayden Hewitt and Roger Hurst were chasing down Darren Fox for the league title. Hayden opened up strongly with a 240, but faded and Roger finished strongly with a 203,233 finish. Darren was having a solid week but not hitting any real big numbers. So how did that all wash out after I hit the "magic" button on the spreadsheet – In 3rd on 245pts was Roger Hurst, then in 2nd on 254pts was Hayden – which meant Season 2 winner was DARREN FOX on 261pts.
Premiership – Craig Barret open up strongly with a 244, 258 and finished off with a 923 set to win both pots on the night. In the overall league standings Alan Keddie, Paul Loberman, and Kevin Creamer all missed the final week, but they had enough points in the bank that their 1,2,3 positions in the league were secure.
So it's back to back league wins for Alan Keddie..
Congratulations to our season 2 winners – Darren Fox and Alan Keddie – next week we go straight into season 3 week 1. And with 4 relegations from the Premiership and 5 promoted bowlers from the Championship it should mix things up a bit
For those that aren't aware – each season we play is 10 weeks long, bowlers can join the league at any point in the season. You're not obliged or committed to bowl every week, you can bowl as often or as little as you like. We take the bowlers best 6 weeks out the 10, and you have to bowl at least 6 weeks to be eligible for an end of season cash prize. But if you just want to turn up every now and then that's fine, we also have a high game and high series pot we pay out each night, so you can still go home with some cash if you have a good week.
We bowl 4 games and registration is open from 7.30pm and we bowl at 8pm.
Season in Numbers
The League grows season on season.. why not become part of it ?  
We had 38 different bowlers in season 2 vs 28 bowlers in season 1
We paid out £759 in end of season prize money and £416 in pot money. A total of £1175 vs £852 in season 1
The league is worth over £4,000 to the bowl over the 20 weeks we've been running.
Total attendees in season 2 was 208 bowlers vs 140 in season 1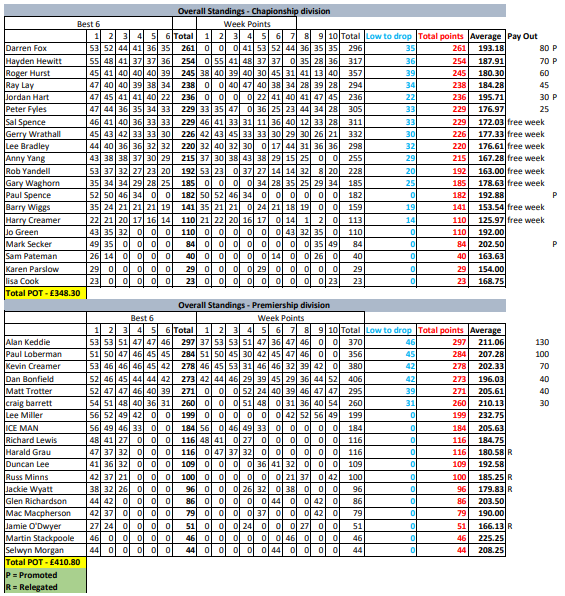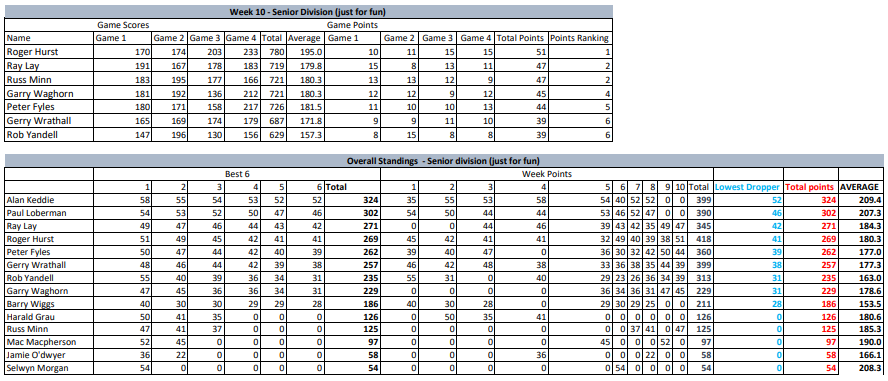 ---
Week 9 of Season 2 – Week 9 of 10 in the drop in singles – 22 bowlers this week and a new face to the league – Mark Secker-Bag making a welcomed return to bowling.
Championships – Ray Lay opened up with a 267 game and that won the high game pot, despite good efforts from Darren Fox 247 and 235 from Jo Green and 231 from Secker Bag.  Ray finished off with a 840 but that was beaten by Jordan the Hit Man Hart who had a 851 and won the high series pot.
In the overall standings it's quite close going into the last week. Darren Fox is 1st on 261pts and Hayden Hewitt is 2nd on 253pts – both have a low dropper of 35 and the title hinges on each of the bowlers performance in the final week.
Premiership – the week belong to house pro Lee Miller, another brilliant display of skittling from the little ferret – games of 267,213,270 and 248 for a 998 (still waiting for our first 1000 set). With bowling like that he naturally won both the high game and high series pots and basically the rest of us didn't have a chance.
In the overall standings the top 2 of Alan Keddie and Paul Loberman had a week off, which gave the pack a chance to catch up. Keddie leads on 297, Lobbers in 2nd on 284 and in 3rd is Kev Creamer on 278
It was a top night of bowling – the average in the championship in week 9 was 184 and in the premiership the average was 215, some elite level skittling.
Next week is the final week of season 2 – then we go straight into season 3. So if your thinking about playing season 3 why not bowl next week and getting a feel of the league and bit of practicing.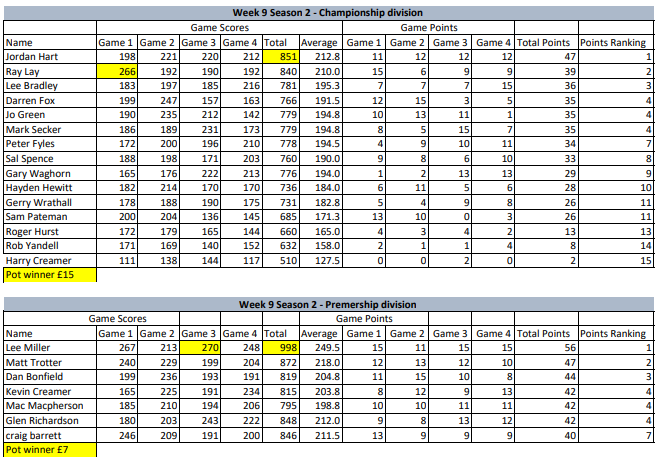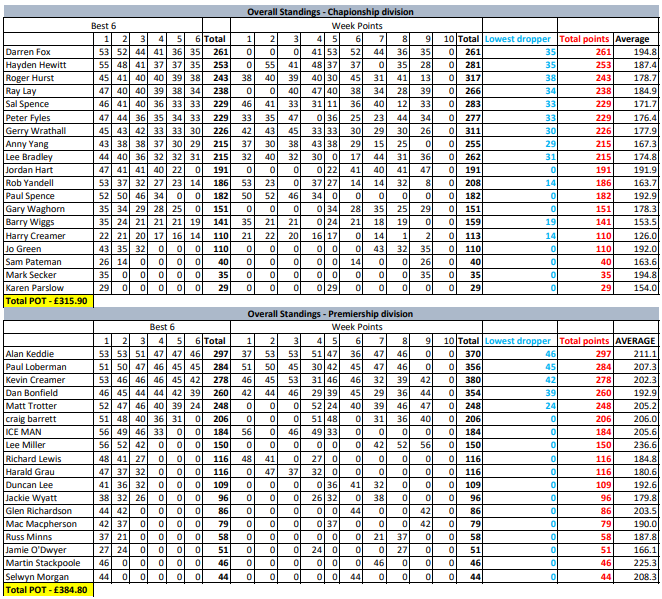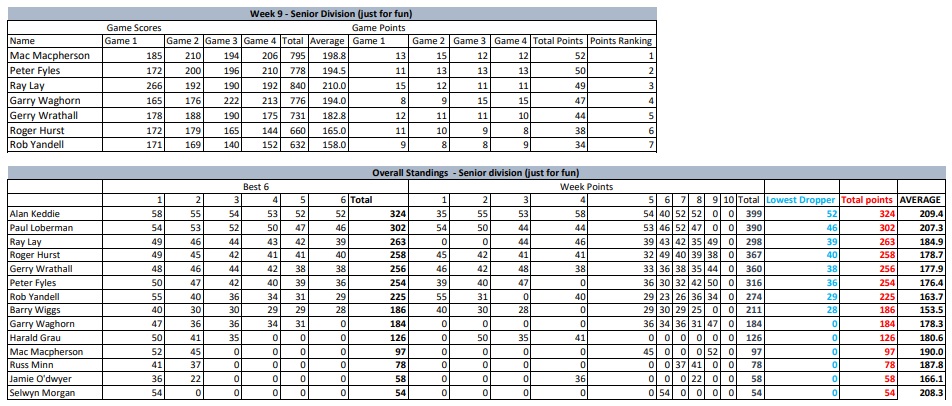 ---
Week 8 of Season 2 – we had 24 bowlers this week, but no new faces.
Championship – Darren Fox's run of pot wins came to an end when he finished limply with a 144 last game, but Jo Green bagged herself a 2nd pot win in a row winning the high game pot with a 235 game. Winning the high set pot was Roger Hurst with a 816, but the highest point scorer of the evening was Peter Fyles who shot a 779 and bagged himself 44pts.
In the overall standings – Hayden Hewitt has now completed 6 weeks and surges to the top on 253pts with Roger Hurst in 2nd on 243pts and Sal Spence in 3rd on 227pts… But Darren fox is a week behind and once he plays his 6th week, he will be right in the mix at the top of the league.
Premiership – Paul Loberman secured the high game pot in game 1 with a 279, but he also finished limply with a 140 last games. But house pro is the ferretie looking Lee Miller who banged in an impressive 971 set (239,257,269,206) and he was top point scorer and also high series pot winner.
In the overall standings the top 3 remain the same – Alan Keddie 297pts, Paul Loberman 284pts and Kevin Creamer 275pts
League happens every Monday – registration from 7.30 and we bowl at 8pm. We bowl 4 games and your put in a division based on your average. You don't have to bowl every week, you can bowl as much or as little as you like. Why not come down to Dunstable and give it a try.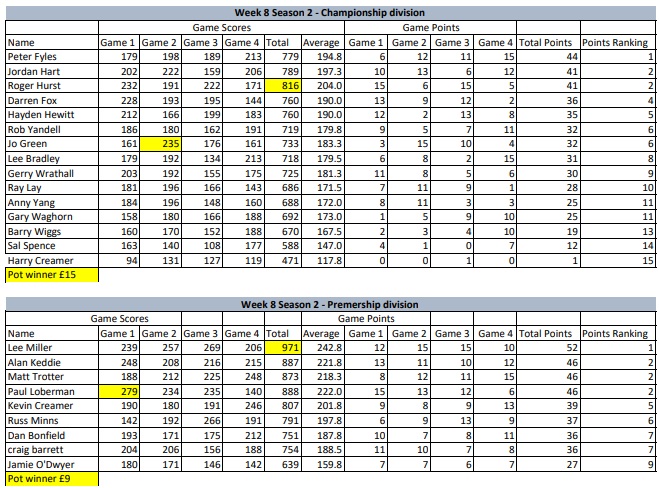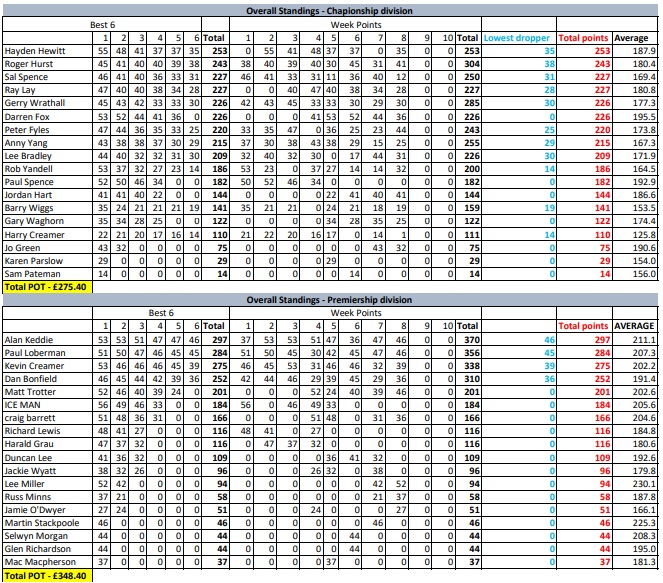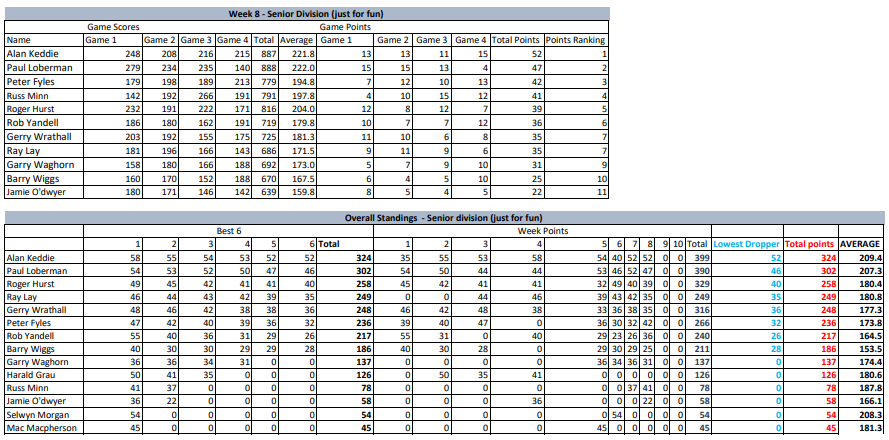 ---
Week 7 of Season 2 – Best ever attendance again… 25 bowlers ! bowlers are catching on to the unique way this league runs, and liking the fact its commitment free and if you fancy a bowl you can drop in have a chuck, and it's no hassle.
We welcomed some new bowlers… it was good to see Jo Green and Martin Stackpoole back at the bowl, and Ferret boy Lee Miller came and had a bowl and we also welcomed Russ Minn
Championship
Joint top point scores this week were Lee Bradley and Darren Fox, but Darren's 810 series just pipped Bradder's 808 and Foxy took to the pot (again – 3 weeks in a row he has won the pot now)
High game pot was won by newbie Jo Green with a 234 just pipping the unlucky Gary Waghorn who had a 233 and a 230 game.
Overall league standings, Roger Hurst leads from Sal Spence who moved up to 2nd overtaking Gerry Wrathall who slipped to 3rd – but just 7pts separate these top 3
Honourable mention to Harry Creamer – who was denied his first ever 200 with an open in the 10th for a 198 game !
Premiership
Alan Keddie straight out the traps with a 287 game, winning him the pot – then it got quite close for the high series pot. Paul Loberman with a 932 was stalking Keddie knowing that Ked's needed a strike in the 10th… which he delivered to finish with a 936 set and another clean sweep of the points… he's good at sweeping apparently.
Overall league standings, Alan Keddie is on 288pts, 8 pts ahead of Paul Loberman in 2nd and Kev Creamer is in 3rd.
A good scoring week for the premiership division with a 209 average across the 44 games bowled.
Next Monday is week 8 of the league – registration from 7.30 for a 8.00pm prompt start – anyone can join the league at any point in the season and you not obliged to bowl every week.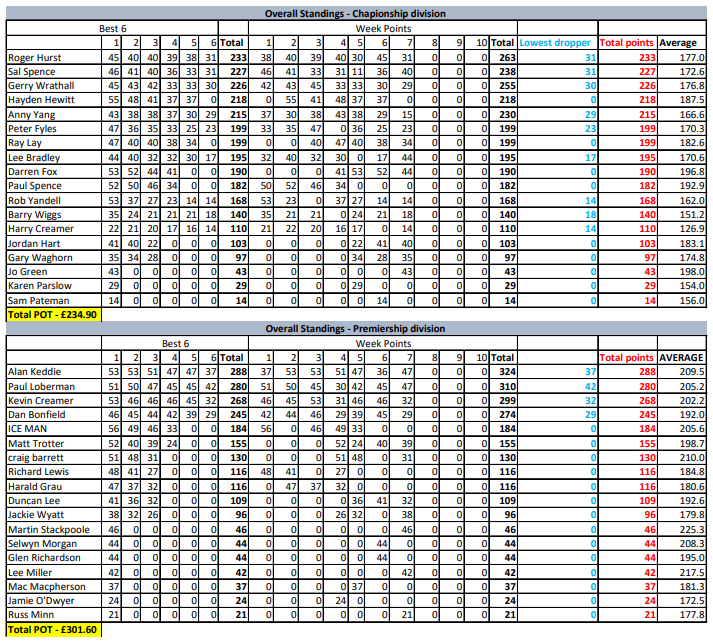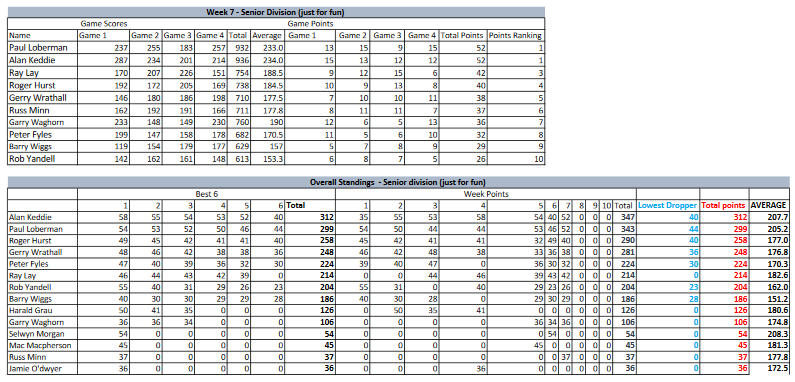 ---
Week 6 of Season 2 –Week 6 of the drop in Singles league and we welcomed 3 new bowlers all "south of the river" King Gobbler Selwyn Morgan, Glen Richardson and Sam Pateman (Glenda and Samantha)
Another decent turnout with 23 bowlers this week.
Championships – Jordan the Hitman Hart opened strongly going 237, 279 but faded away for a 852 series, but still won the high game pot with that 2nd game. Also opening with a big game was Darren Fox with a 254 but faltered in the 2nd shooting a 169, then recovered with games of 255 and 228 for a 906 series and another pot win !  – The championship high game and high series would have also won the pots in the premiership division.
There's a change at top of the league as well, with Roger Hurst taking over from Gerry Wrathall, with 6pts separating them. Hayden Hewitt is in 3rd a further 24 points back, but has played a week less then the top 2.
On to the premiership – Kevin Creamer is having a good season and he opened up with a 268 that game, giving him the high game pot. Kevin usually sneaks in a 150 game into his set, but this season he's cut out the bad games and is putting together some good blocks. Kev shot a 880 that also won him the high set pot – a 2nd week in a row that Kev's won both pots.
Alan Keddie had a bad week and the gap at the top narrowed. Ked's is still top on 277pts, with Kev in 2nd on 267, and Paul Loberman in 3rd on 263pts.
As we head into week 7 things start getting interesting as bowlers start dropping their lowest scoring weeks and that can really mix things up.
The league is really starting to grow now, and its open to any bowler to join in any week. Bowlers don't have to bowl every week, they can bowl as little or as often as they like.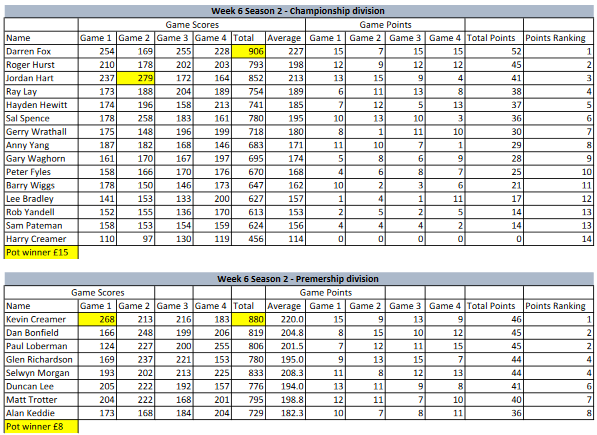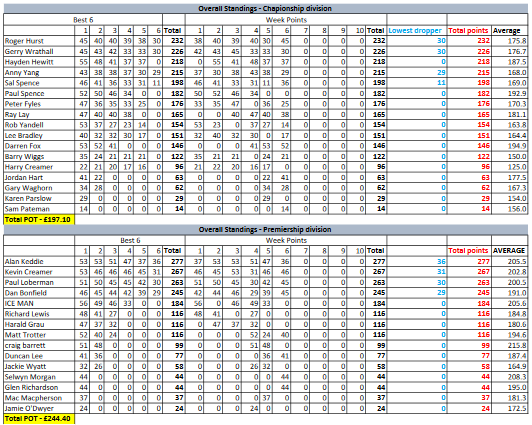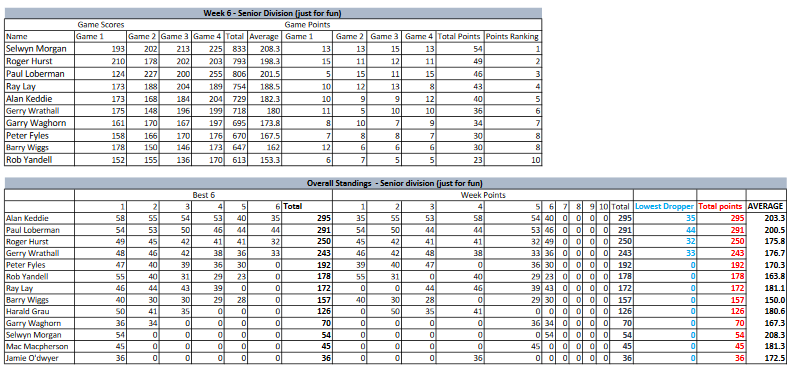 ---
Week 5 of Season 2 – Week 5 of the drop singles was the best ever attended week again… this week 24 bowlers played. Unfortunately we didn't get the playing conditions we are used to. The approaches were sticky and the oil pattern certainly wasn't the usual league pattern. But I've all ready spoke to the Chief tech, he agreed about that both the issues needed to be looked at urgently. They are going to try a new "approach" on the approaches, and with regards to the oiling machine James will have a look at the configuration and strip it down and make sure its working as it should for next week. In my opinion it's good and heartening to know that if we, as bowlers and a league have a problem we can voice our concerns and that they are actually listened to and acted on. We've all bowled at centres where if we complained about sticky approaches it would fall on death ears, whereas if we reported it a "tech" is straight out with the spray and towel.
Anyway onto the bowling.
A couple of new bowlers this week… Karen Parslow, Big Mac, Jordan the hit man Hart, Duncan Lee, and Gazza Waghorn.
Championship
High game… there weren't many of them. Karen Parslow finally found her feet, and they were at the end of her legs where she left them.. but after a shaky start Karen finished off her block with a 203, and Ray Lay opened the 10th to give him a 203 as well.. so they shared the high game pot. The High series pot went to Darren Fox, who bowled less rubbish then everyone else and shot a 714 for the high series pot. Top of the league is now Gerry Wrathall 9pts ahead of Roger Hurst in 2nd and 10pts ahead of Anna Yang in 3rd.
Premiership
High game went to Kevin Creamer with a 246, but he had to share the high series pot with Craig Barrett with both bowlers hitting a 795 series. Not an 800 in the house. Alan Keddie is top of the shop with 241pts with Kev Creamer in 2nd on 221 and Paul Loberman in 3rd with 218.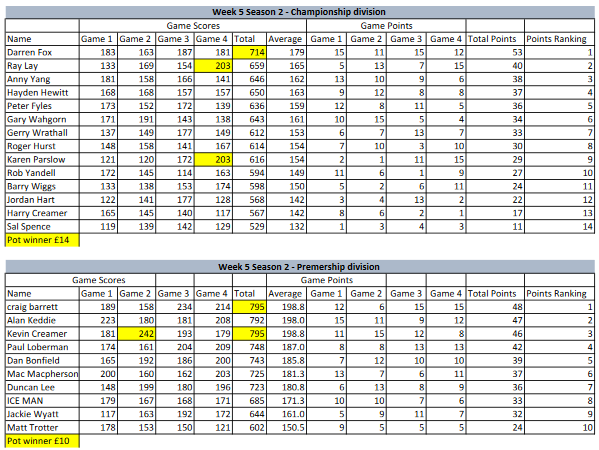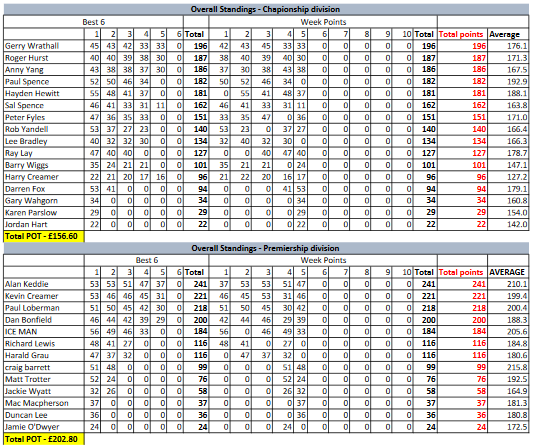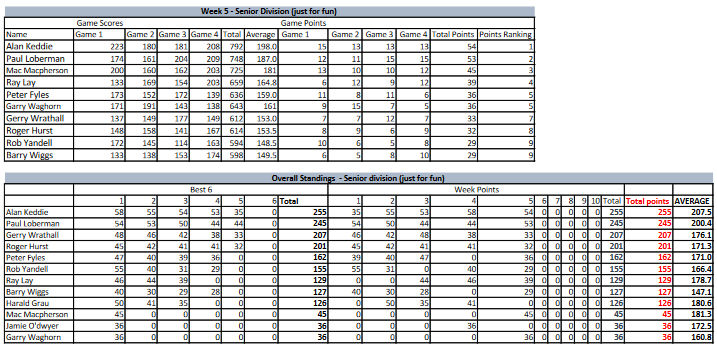 ---
Week 4 of Season 2 – and it the highest attendance yet, with 22 bowlers taking part. New bowlers joining this week were the Aylesbury Ace Fliers Matt Trotter and Darren Fox
Championship – top point scorer on the night was Hayden Hewitt, but he didn't win a pot as both the high game and high series pot was won by former Senior Bowler of the year Ray Lay. Ray had a 226 high game and 796 series to win £22. Ray's not long back from Hip Surgery, but signs are starting show then he could be in line for promotion to the premiership next season. In the overall lead is still Paul Spence with a 19pt game to Gerry Wrathall in 2nd
In the premiership. When Matt trotter said he hadn't bowled for 18 months, I think everyone knew that was really going to be a problem and he proved it by scoring the most points and hitting a 938 series. But pipping him by 1 pin to win the high series pot was Alan Keddie. Ked's also won the high game pot with a 266, which means it's the 3rd week in a row he has clean swept both pots. Craig Barrett also had a 931 series. Keddie is now top of the league and is 18pts ahead of Paul Loberman in 2nd and Kev Creamer in 3rd.
So onto week 5 – anyone can come and join the league at any stage. Registration is from 7.30 and we start bowling at 8pm.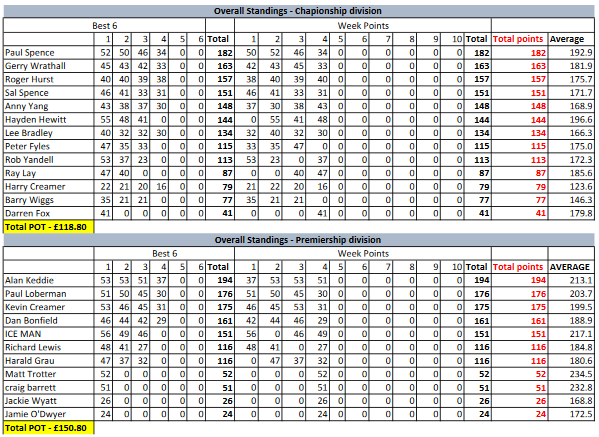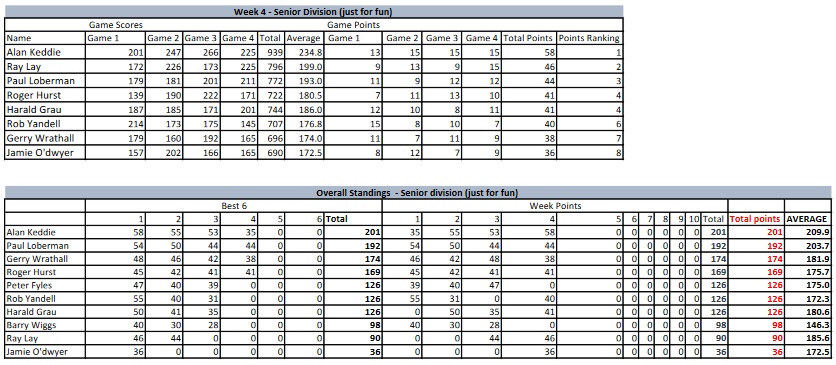 Week 3 of Season 2 – This week was a tester. Lane machine wasn't stripping the lane off… which meant a longer oil pattern and oil on the pin decks. But the lanes were far from unplayable as you will see from some of the scores. Its just meant you had to be clean off the hand, maybe slow your pace down and make sure you made your spares and you concentrated… if any of these things slipped you got found out. Sometimes high scores aren't a "given" they have to be earnt.
In the championship Paul Spence opened up with a 223, but then like I said if you got lazy you got punished and he had a 2nd game of just 103, but he refocused for a 198 and 229 – and that 229 won him the high game pot. Gerry Wrathall had the right idea. He kept it simple hitting the head pin and sparing everything and he had a 783 set which won him the series pot. Paul continues to lead the league, with Gerry in 2nd and Sal Spence in 3rd.
In the Premiership it was another dominating display by Alan Keddie, Keds shot the front 9 and ended up with a 279 for the high game pot and ended up with a 882 set for the high series pots as well. Kevin Creamer continued his good start to this season with a 839.
Though not his greatest night on the lanes Paul Loberman leads the league by 2pts from Kev in 2nd and Ked's in 3rd.
Hopefully the lanes will be back to "normal" and we can all throw it from coast to coast.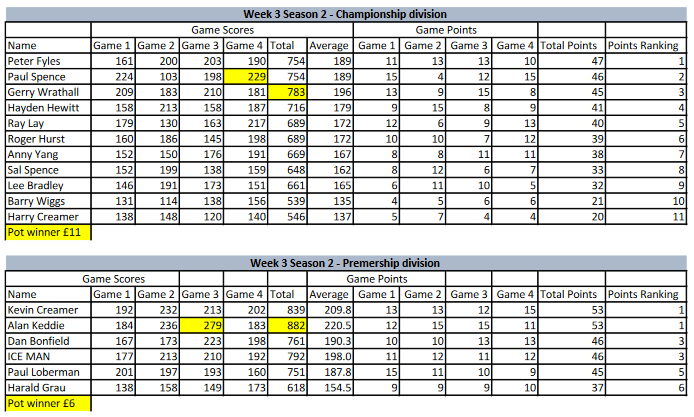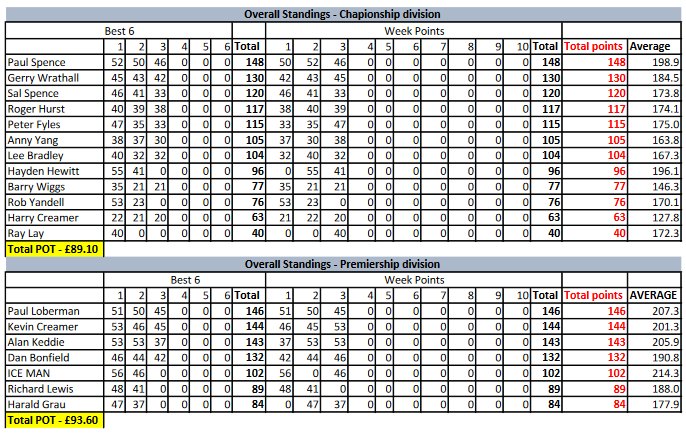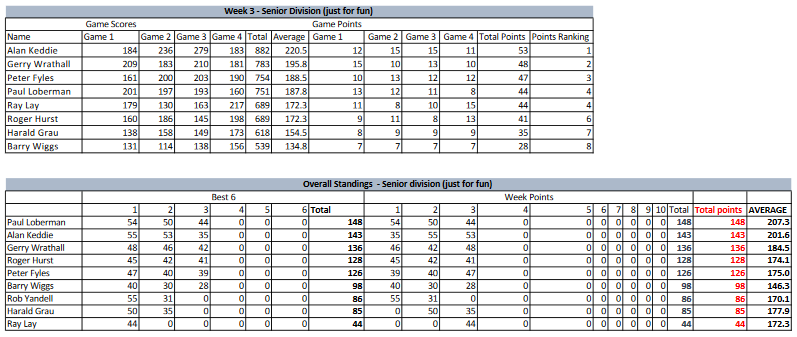 ---
Week 2 of Season 2 – 17 bowlers this week… we welcomed a new bowler Harald Grau who played in the premiership. There was some high scores this week.
Championship – Hayden Hewitt put his recent tournament nightmares behind him to bang in a big 853 set with a high game of 244 – which won him both pots £22. Paul Spence continued his good form and has a commanding lead at the top of the division, with his Mum Sal Spence in 2nd but she's already 15points behind Paul.
Premiership – Alan Keddie stayed upright for 4 games and smacked in a 954 set that included a 279 and 276. That won Ked's both pots £12.. Paul Loberman had a 278 for a 932 set and Kev Creamer also had a 278, some good scoring and some high games, but we still await our first 1000 set and our first 300. Lobbers is leading the league with Kev in 2nd and Alan in 3rd
The league happens every Monday at Dunstable – registration is from 7.30 and we bowl at 8.00 and you can join the league at any point.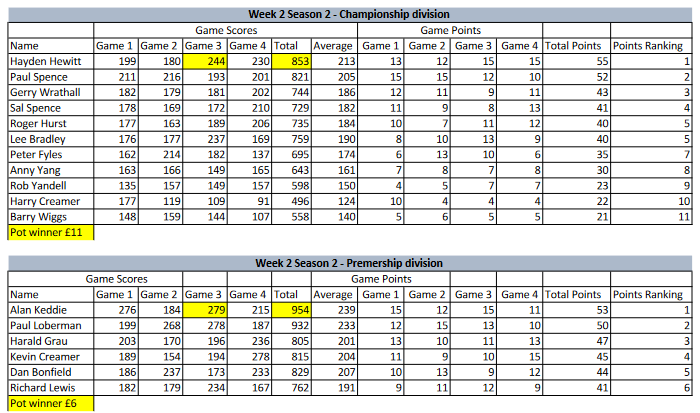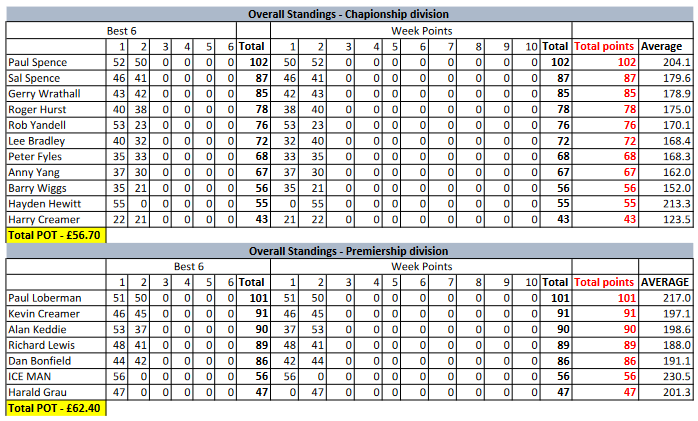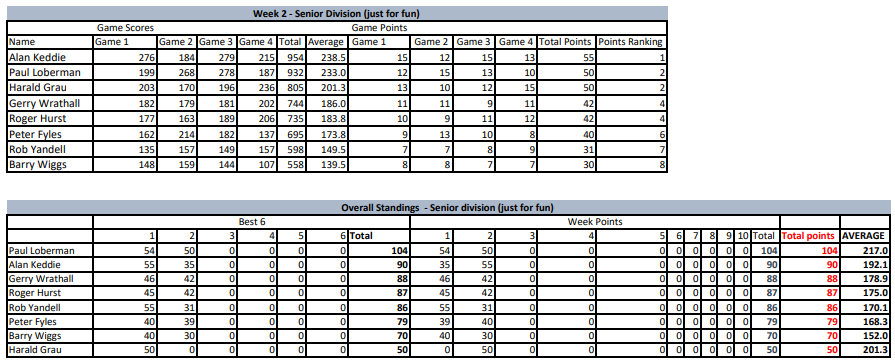 ---
A new season in the drop in Singles League – a couple of new bowlers Roger Hurst and making his long awaited return to the game of skittles was Lee Bradley (bradders)
In was a strange night… a lot of people found the lanes tricky, but then there were a couple of bowlers who found them the opposite and put in some great performances.
In the Championship – Rob Yandell with freshly de-waxed ears put in a great performance shooting 763 to be the early league leader. But the pot money went to Paul Spence who finished off his set using Ice Man's bowling balls and shooting a 233, 246 for a 812 set and winning both the high game and high series pot and £20
In the Premiership – Alan Keddie took a tumble in game 2 and had to withdraw, but Ice Man's balls were on fire ! – Ice Man, the general Duke shot a 922 set with a high game of 268 to win both the high game and high series pot.
This league needs more bowlers ! – The championship looks healthy, but the premiership needs more of you elite stone chuckers to show up and get out there.