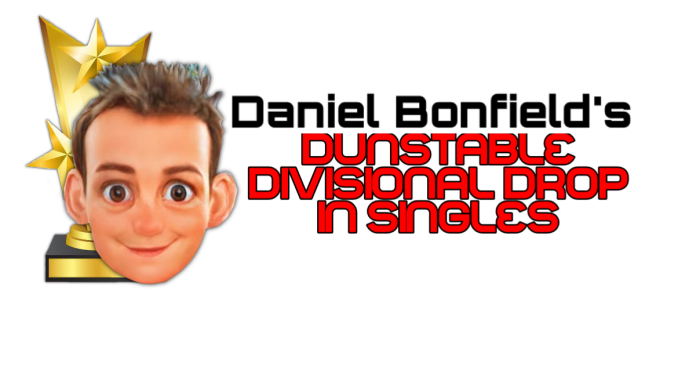 So the final week of season 9 – And we had two new bowlers this week…. Bus enthusiast Cam Faye, there's nothing he doesn't know about MK1 bus, and Harrison Krpoelnicki… Harrison is not just new to the league, but totally new to any league… a total newbie. Welcome guys.
So the championship title is wrapped up, with Ben Holkham taking the title and a mile ahead of the rest of the field. The Premiership title was closer and there were 3 in the hunt, Basher, Matt Trotter and Alan Keddie.
Championship
Garry Waghorn has had a tough couple of weeks bowling wise, so it was nice to see him bang in a 238 and win himself a pot. Jamie Hayes put together a decent block of 792, but winning the high series point in his first week was Cam who slipped in a 797. The thing with Jamie and Cam… these guys are capable of hitting a good number… but when its not happening it tends to be a train wreck of 4 games. So it'll be interesting to see next season if these guys can turn it on consistently across the 10 weeks and get themselves promoted.
Overall
Like I said at the top of the report – Ben Holkham is the champion by a whopping 39pts and is now promoted to the BIG league the premiership. In 2nd was Ray Lay on 241pts and on 240pts was Jamie Hayes
Premiership
3 bowlers in the hunt.. Keddie was struggling with carry and opened up with a 202 and Trotter was struggling with old age and he only shot a 202, whereas the youthful sprightly Basher was suffering non of these and opened up with a 219.  2nd game and it was looking good for basher, another high scoring game 245.. But then the 3rd game came along. Trotter banged in a 268 which was a pot winning game and Keddie a 235 – basher could only manage a 199. Now into the 4th game basher opened up with 7 in a row… 7 of the worse strikes you will ever see, Keddie was on the floor in disbelief at some of them. Basher shot a 250, Keddie a 247 but Trotter trumped the lot of us with a 262 for a 954 set to clean sweep the pots. The beauty of this league is bowlers further down the table can make a big difference on who gets the points and Jack Stone shooting a 919 stole points from those challenging at the top. You never really know how you've done in comparison to everyone until the numbers are in the spreadsheet and Basher's hit the magic button.
Overall
So once the big button was hit the champion was announced. In 3rd place on 258pts was Keddie and in 2nd was the Basher on 265 which means our champion for season 9 was Matt Trotter on 269pts and a 219 league average over 40 games.
League numbers – its been the BEST 10 week cycle we've had – accruing £1,775.50 in pot money and prize fund.
Next week we go straight into league 10 … anyone is welcome to come and have a bowl the more the merrier.
Before I sign off – a clip taken from the league twitch channel
https://clips.twitch.tv/UglyLachrymoseVampireThisIsSparta-FRFcGlBrGAMEaw7M
Some Mark Richardson banter… Jesus bash don't put mark on the stream you'll run out battery and he would have only thrown 1 shot… people will think you've filmed it in extra slow mo.
Ross had a centre parting and curtains before he started bowling tonight with mark … now look at the state of him.
Here is an explanation on how the league works
Dunstable Divisional Drop in Singles…
4 games – cost £20 / Week or £17.50 / week – depending on what division you're in.
This is going to be a brand new way of looking at league bowling.. and I will explain it best I can.. .
So there are two divisions – a Premiership for the 185+ bowlers and a Championship <184 bowlers.
Leagues are 10 weeks long – BUT you don't have to bowl 10 weeks. You can if you want, but your best 6 weeks will count to your final league position. The plan is to have promotions and relegations based on your average at the end of each league cycle.
And you have to bowl a minimum of 6 weeks to be eligible to win an end of season cash prize. But don't worry there are weekly pots to win so you can drop in every now and then and play for the weekly pots.
Another unique aspect to this league is you don't play an opponent… how can you if people are dropping in and dropping out. Instead you will get points on your individual games scores…
So here is an example of how it works:
Game 1
Highest game Score – 15pts
2nd highest game – 13pts
3rd highest game – 12pts
4th highest game – 11pts
5th highest game – 10pts
6th highest game – 9pts
and so on till ya get to zero points.
Tied games will get the same points.
There will be weekly individual high game and high series pots.
And a prize fund for the end of season payout based on league position.
But a bowler must have completed at least 6 out of the 10 weeks.
You will be allocated a lane when you pay… and championship and premiership bowlers will be put together on the same lanes.
This is a new idea.. and I'm feeling my way as I go along. But hopefully it will grow and evolve and will have a third division and more challenging patterns for the higher divisions.
Breakdown of costs:
They are different based on which division you're in
Premiership 185+ average = £20
Championship 184- average = £17.50
Having your 6 best out of 10 means bowlers don't have to bowl every week, and having weekly pots means bowlers can drop in every now and then and still win something. There's something for everyone, you can bowl as often or as little as you like and still get something out of this league. If you get home from work and fancy a bowl, which sometimes happens… then you can drop in and have a chuck.
The Football league system of promotions and relegations is something we are all familiar with, especially for me as I support Watford. It's something I really like from bowling in the midland scratch league. It makes you strive to be better in the hope of getting to the top division, and keeps the season alive as you try and avoid relegation if you happen to be down the bottom.
So we got two divisions and they will all share the lanes, so you have bowlers of all abilities on the lanes together. Because I want bowlers in the lower division to see how the higher average bowlers play and how they play the lanes. Perhaps it will break down the opinion that it can sometime be elitist and that the better average players aren't approachable, and you can ask them about your own bowling and pick up some tips. Just don't approach me, especially if I have just had an open !
I've also reduced the cost for the lower division, because I think these bowlers are perhaps a more social bowler and perhaps prize fund and winning money isn't such a priority for these guys.
Long term it would be great to have 3 average weighted divisions, where the bottom leagues plays on recreational patterns, then you step up through the divisions who play on challenger patterns and then the top divisions play on true sports patterns. Also, a league where you can play brackets and win some extra cash.
This league if every Monday at Dunstable – we bowl at 8.00, but I need bowlers to be there from 7.30 for registration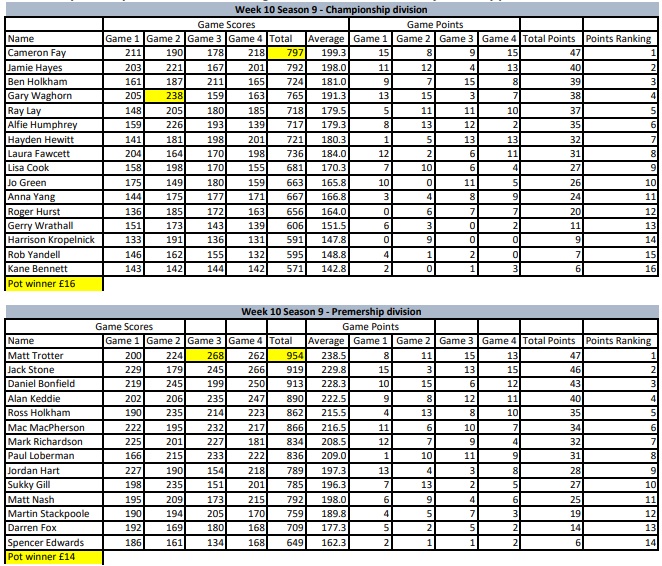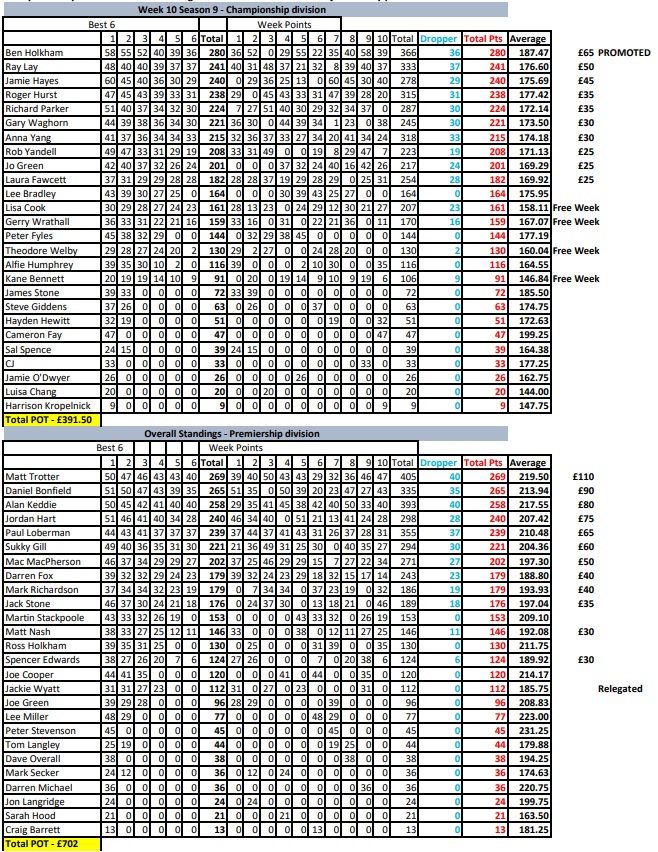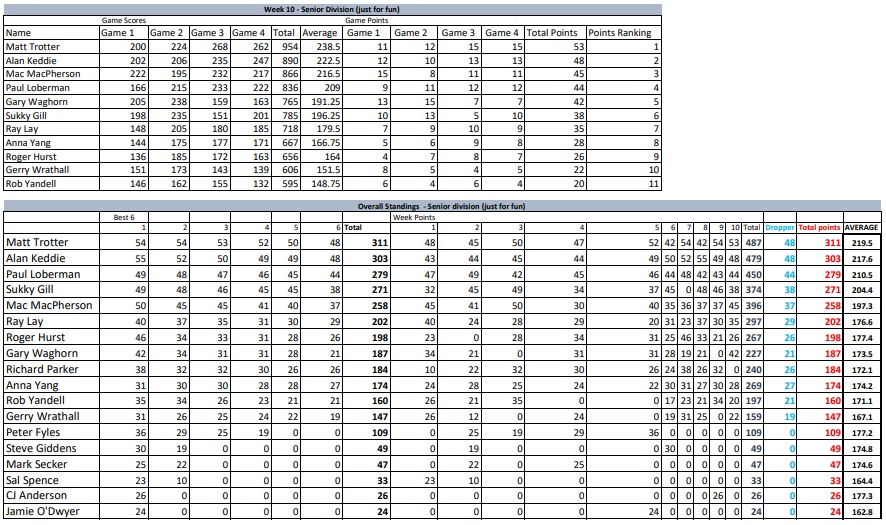 ---
Week 9 of the drop in singles league on a EASTER Monday – so its easter pun time ! EGG-cellent I hear you all say…. But don't get "cross" they will be "cracking" good "buns" I mean puns
No new bowlers this week, but like Jesus a couple came back from the dead… CJ and the incredibly hairy Darren the ewok Michael – I mean who has two first names !
Easter fact ! – Hot cross buns we're invented in St.Albans… other St.Alban facts… Mrs Mangle from Neighbours, she left Ramsay street to live in St. Albans.. I'm not sure if bouncer the dog went with her. Golf's Ryder Cup was invented in St.Albans. And Paul Loberman lives in St.Albans… which is another good reason to avoid the place !
Championship
Ben Holkham "hopped" on the strike train and showed he wasn't in the mood to "yolk" around opening up with a 257 game and Ben went and completed the clean sweep of the pots with a 825 set – also claiming a massive 58pts, even claiming top game with a 175 in game 3.
Overall
That "cracking" (oh I've all ready used that one) performance from Ben meant he's wrapped up Championship title and can't be caught as he's out in front on 276pts. In 2nd is Roger Hurst – who like Jesus has died several times and come back to life – well kinda. It's a shame Gerry didn't bowl… we could have asked him what the actually crucifixion was like, as he was around when it happened, probably banged in the nails. In 3rd two points behind Roger is Ray Lay
Premiership
Some good decent scoring across the board in the premiership. But both pots went to Matt Trotter, who strung 11 in a row in the final game but was left "hot & cross" after leaving a 4 pin for a 299 game, which gave him a 963 set.
Overall
With that performance Matt goes back to the top with Alan Keddie down in 2nd and Basher in 3rd – but Basher has a low dropper, which is why the all the girls like him so much…. He also has a 27pt point week to drop which is 10 less then the top 2 and that may make a difference in the final week. Personally I think Matt is "nailed" on to win !
Don't forget to enter the May King of the Hill – there are only a couple of space remaining now – entry form is here https://form.jotform.com/222003199961354
Look at Trotter "scrambling" the pins https://clips.twitch.tv/ArborealFitHamsterKreygasm-fR7gy7VvLur4h2MU
Lips readers among us – what do you think Laura was saying here – https://clips.twitch.tv/TemperedBoredMacaroniRaccAttack-EziHj6PkmwnVHfub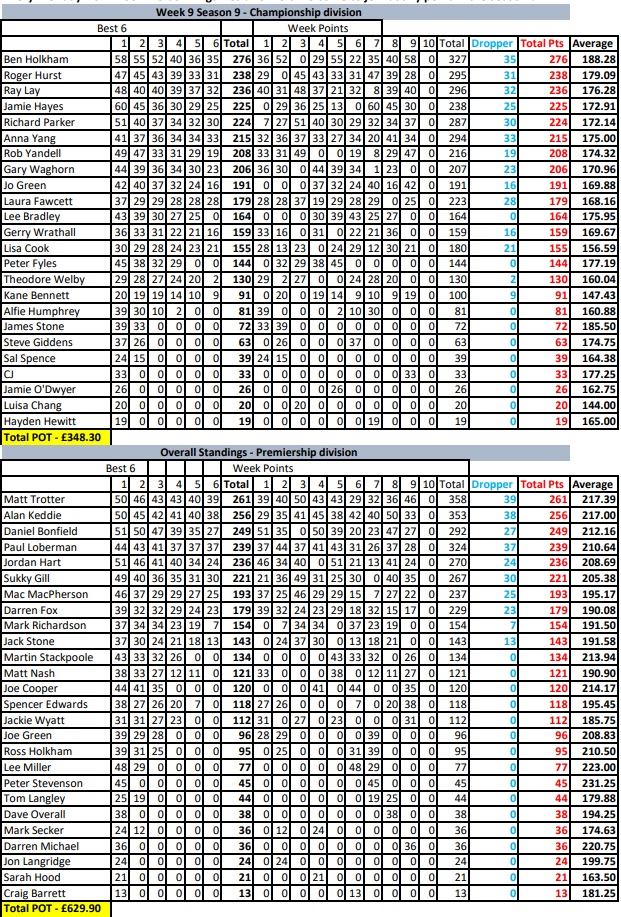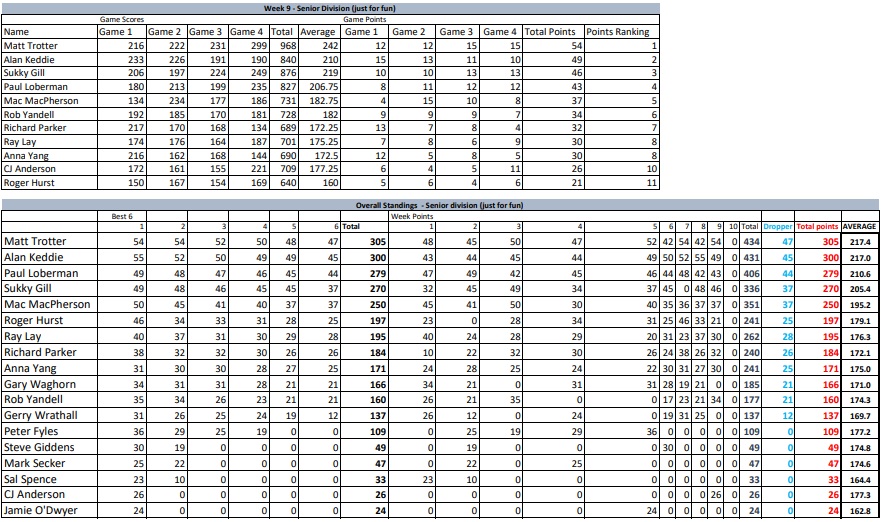 ---
Week 8 – its funky pattern week. We went for Abbey Road as that's the pattern the Southern Scratch league will be using when they visit Dunstable later in the month. Abbey Road plays quite hard at Dunny for some reason. I've bowled on it elsewhere and it's been a bit soft. This week we had a newbie !! the D to the O – David Overall the Tolworth Ginger Ninja popped in for a chuck.
Championship
After last weeks 917, Jamie Hayes again hit some form. A last game of 265 from Jamie gave him a 808 set for another clean sweep of the pots. If he carries on with that sort of form for the final two weeks of the league he will find himself promoted to the prem. Elsewhere Roger Hunter hit a 734, and Ben Holkham a 740 – a decent block on Scabby Road
Overall
Ben Is still top on 247 pts from Roger in 2nd on 238 and Ray Lay in 3rd on 227.
Premiership
Boom Boom Shake the room – Basher banged in a 255 first game which held up to win the high game pot. Alan Keddie won the high series pot with 888, beating Bashers 877. Jordon Hart 808 and Sukky Gill the only other bowlers to break 800.
Overall
A change at the top ! Its been a good few weeks for Keddie and that has seen him overtake Matt Trotter at the top. Alan on 256pts and Matt on 251 with Basher in 3rd 245 – but beware of the Bash ! he has a lower dropper then the top 2 !
Don't forget to watch the "action" back on the twitch stream – https://www.twitch.tv/basherback2back
And MAY 7th  – it's the first King of the Hill tournament at Dunstable – you can enter online via this link. https://form.jotform.com/222003199961354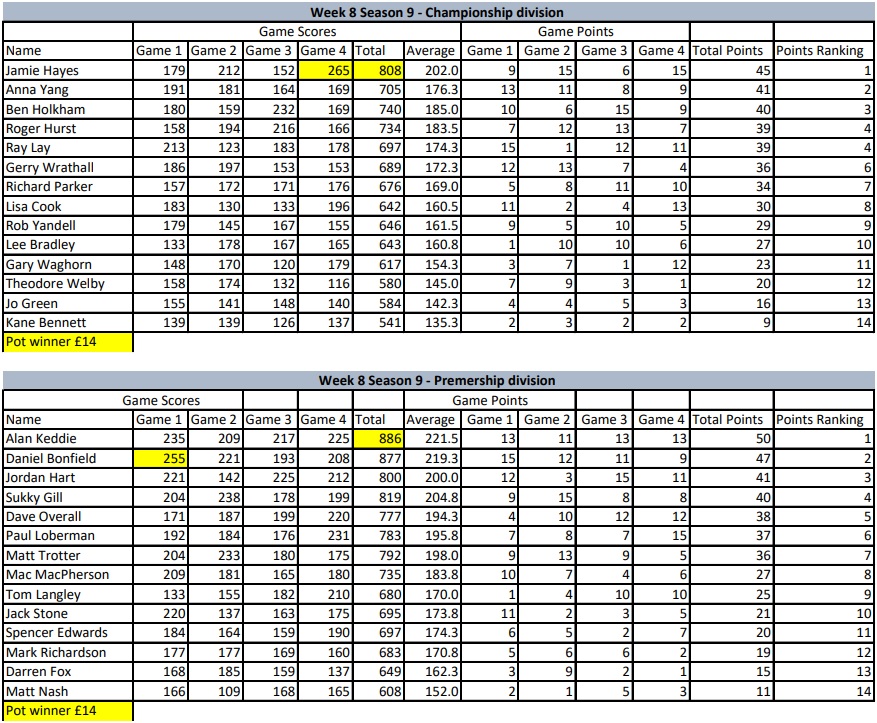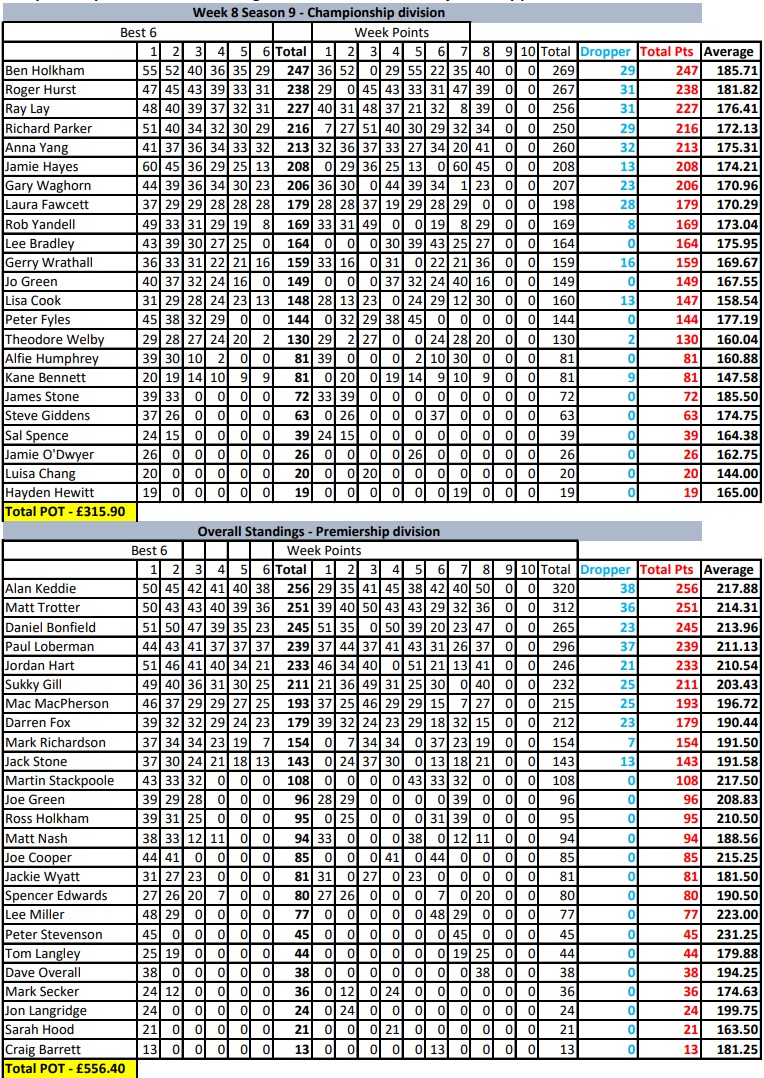 ---
Week 7 – – another great turnout with bowlers on every lane. The more that play the harder it is to win good points, and the bigger the pots and the end of season payout. Two returning players – Peter Stevenson and Tom Langley dropped in and had a bowl.
Championship – It was a perfect week for Jamie Hayes. A perfect 60 pts ! Jamie shot a 917 set, which was the 2nd highest set of the evening across both divisions. I endured watching Jamie last week when he shot 527 set. It was a painful watch ! I honestly thought he would throw himself off a motorway gantry on the way home, but this week was a different story and he finally hit a big number and won both the high game and high series pots.
Overall
Ben Holkham caught up his missing week and is now top on 229pts with Roger Hurst on 228pts and Ray Lay and Richard Parker both tied in 3rd on 209pts
Premiership
Alan Keddie opened his 4 game set with a 259 which won him the high game pot. But winning the high series pot with a 925 was visiting Peter Stevenson – Pete goes off back to Birmingham with £17 in his pocket which is enough to put a deposit on a house up there – so a good night for him.
Overall
Matt Trotter still leads, but Alan Keddie has had two good weeks when points have been harder to come by because of more bowlers, so Alan has really put himself in contention now and is just 6pts off first. Paul Loberman is 3rd
Some good "Mark Richardson" banter … I literally saw a pin bio-degrade into dust waiting for Mark to bowl. I'm not bowling on Marks lane, I've got a flight to catch on Wednesday. And my favourite… When we left this evening my house was a new build, by the time we'll get home it will be a listed building.
New Week is Pro's choice "funky Pattern" Week – I can tell you now the plan is to put down "abbey road" https://www.bowlneba.com/files/cranston-non-champs-lane-pattern/
Why Abbey Road ?? – Because that's the pattern then are using for the Southern Scratch League that's coming to Dunstable on 23rd April – so it would be good to get some practice on it. We've played on it before and from Memory it was very hard with only 1 bowler breaking 800… I think it was 652 Matter Trotter week !!
Don't forget to catch up on the action on the twitch channel – https://www.twitch.tv/basherback2back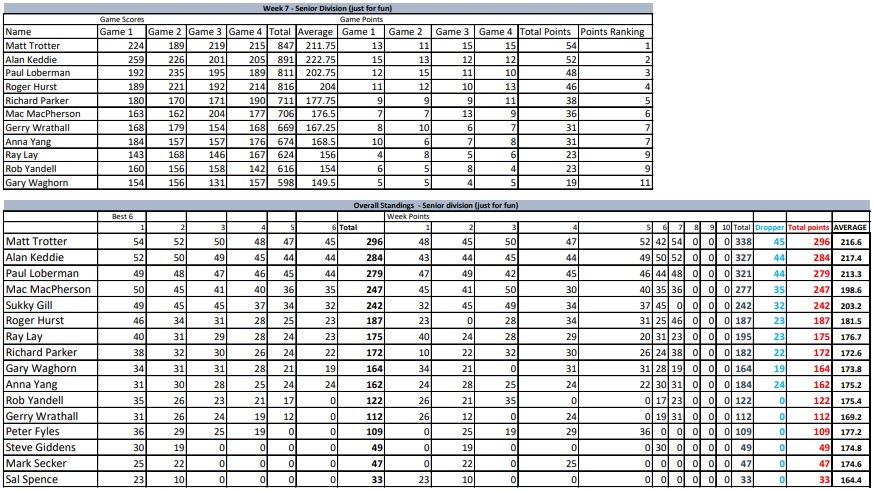 ---
Week 6 of season 9 – record turnout ! Lee Miller the pin Killer was back rinsing it up. The more people that play the harder it is to win good points, but the bigger the pots are. This really is the most competitive league at Dunstable. Every game counts, you can't hide behind teams mates or handicap.
Championship
Lee Bradley finding his level in the championship after an unsuccessful stint in the premiership cleaned up the pots. Bradders had a 247 in game 2 and shot a 782 series.
Overall
From week 6 onwards is when the league really takes shape. A bad week by Ben saw Ray Lay climb to the top on 209pts with Anna Yang in 2nd on 199pts and Ben Holkham in 3rd on 194pts – but Ben is a week behind, and once he's caught up he should be top of the league.
Premiership
I think this is a first… Martin Fishpoole winning a pot. A slippery little 278 in game shot Martin take the high game pot. High Series – Mark Richardson slowly shot a 892 down on 1 & 2, Joe cooper shot a decent 903 set but winning the high series pot was Lee Miller with a 938 set
Overall
Matt Trotter still leads on 244pts with a Paul Loberman on 233pts and Keddie on 230pts – but there's a whole host of players just behind who have a week to catch up.
Come down next Monday and have a go in this league. You have to be on your game from frame 1 and have to keep it going to the last frame of game 4.
Registration from 7.30pm and we bowl at 8
Matt Trotters greatest hits !
Scout it Trotter
https://clips.twitch.tv/BraveSuspiciousChickenDatSheffy-MbjV9hwDNGpFrTOF
Spawny Trotter
https://clips.twitch.tv/SilkySmoothGarlicBrainSlug-2ioEMcCrhR1iW0dd
Head pin sent on a trip
https://clips.twitch.tv/AdorableDistinctQuailBudBlast-pWuG7NwD1YFqjPNq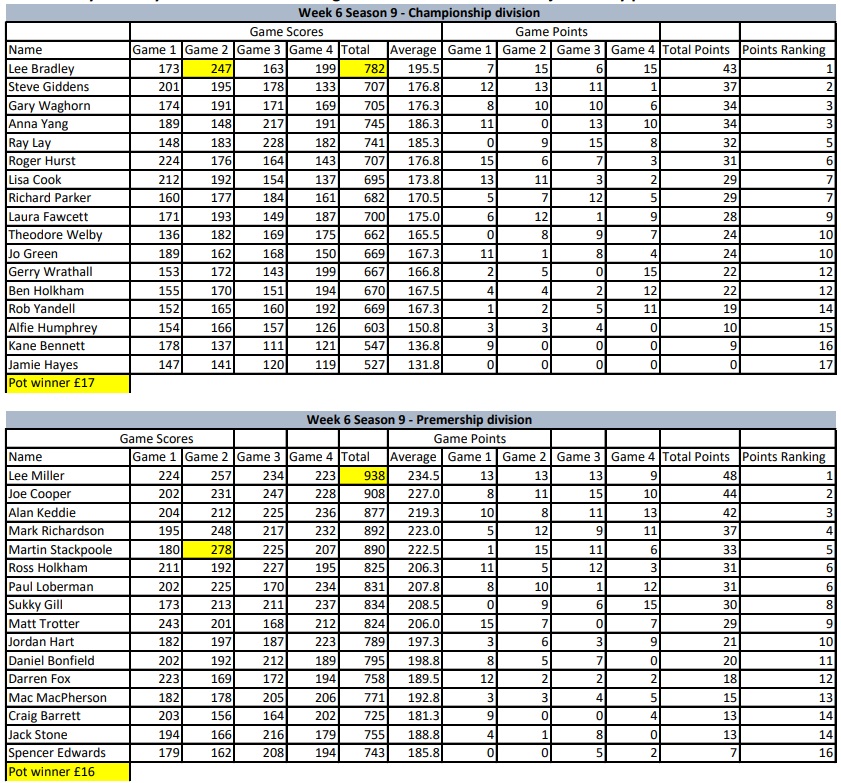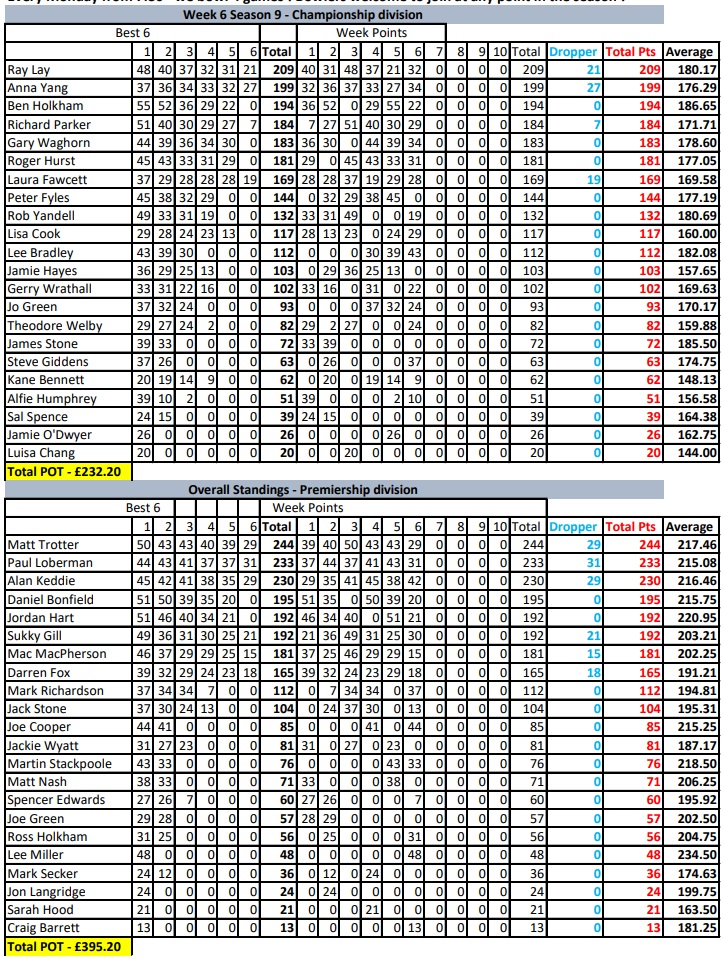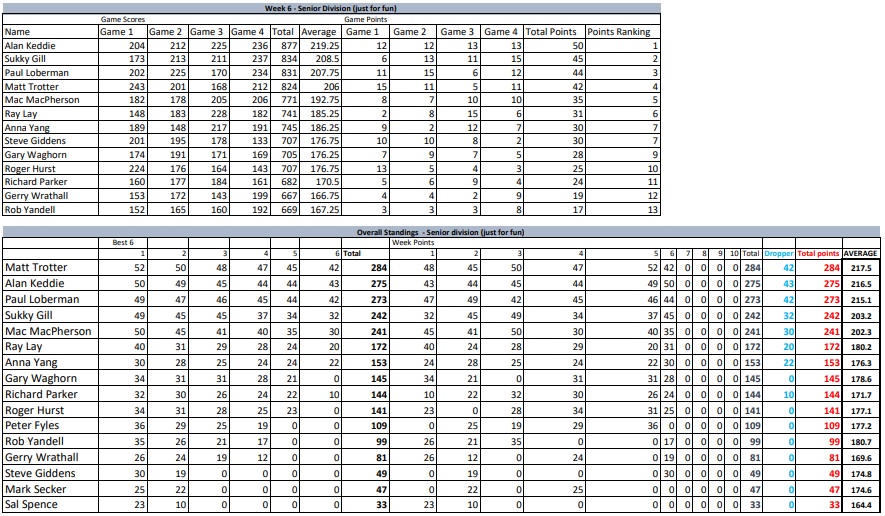 ---
Week 5 and after last weeks funky pattern pro's choice week we reverted back to the house pattern. No newbie's but a few returners … Martin Stackpoole, finally found his testicles and decided and to have a bowl, and Jamie O'Dwyer whose had his testi's cut off also turned up.
Championship
Two bowlers were going along nicely Ben Holkham and Pete Fyles – but Ben slipped in a 259 last game and that gave him a 847 set for a clean sweep of the high game and high series pot and £30 in his back burner.
Overall
At the halfway point in the season now. Ray Lay leads on 177pts from Ben who's on 172pts, but has played a week less, so effectively is leading, with Anna Yang in 3rd
Premiership
What a night for Jordan the hit man Hart who shot the highest series of the night with games of 199,257,247,246 for a 947 series and a massive 51pts. High game pot went to Paul Loberman who down on 1 & 2 shot a 267 game in the last game of his 4 game block.
Overall
Matt Trotter leads on 215 pts with Lobbers in 2nd 202 and Alan Keddie in 3rd on 188pts – Jordan is having a good season currently sitting 5th in the league having strategically missed the funky pattern week averaging 226 for his 16 games.
This league is the most competitive league at Dunstable and your bowling will improve playing in this league – because you don't bowl against 1 person you bowl against everyone, every week. You can't afford a bad game, and there's no hiding behind teammates or handicap.
If you fancy dropping in, come along next Monday – 7.30 registration for an 8pm start.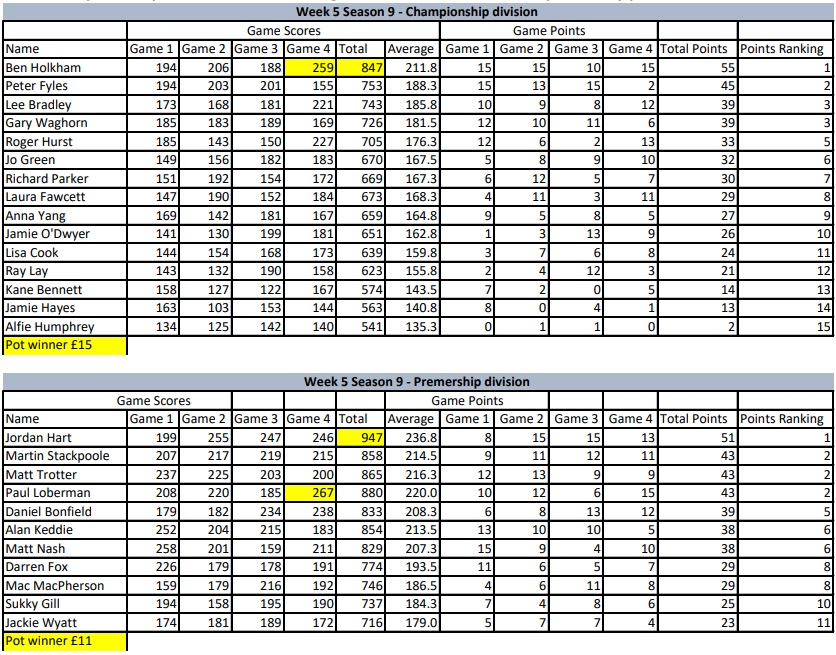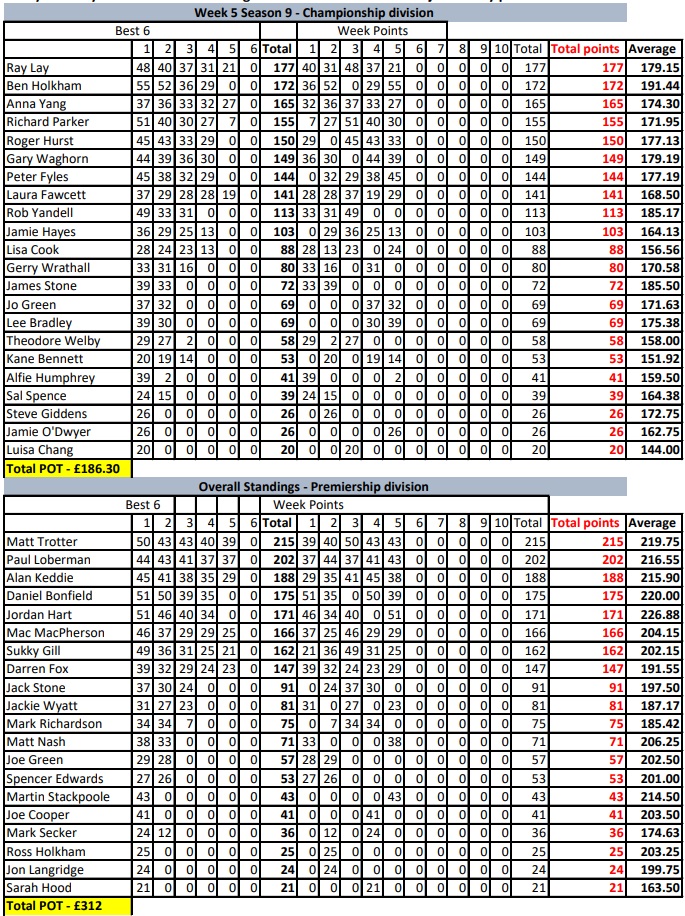 ---
Week 4 – and the 4th week of the 10 week league cycle is "pro's choice / funky pattern week" – We went with the 43ft 2.8:1 pattern the Senior's recently played on in their European Championships in Denmark.
Pattern is here https://esc2023.etbfchampionships.eu/information/oil-pattern/
The aim for the bowlers was to average over 195 for the men and 178 for the ladies – which is what you needed to of averaged in the European Championships to get into the masters.
No newbie's this week – but we welcomed back Sarah Hood who came to say goodbye before she heads to her new life in America. And it was great to see Jo Green back on the lanes after a lengthy spell out recovery from Surgery. Oh and we're less pleased to see the return of Lee Bradley, who just about mustered up enough botheredness to get out of his pit and come bowling.
Championship
It was one of them nights where the top point scorers didn't win any pots. Gary Waghorn scored the most points with a consistent 727 series. But winning the high series pot was Roger Hurst with a 752. High game went to Richard Parker with a 215.
Overall
Ray Lay is in the lead on 156pts, with Anna Yang in 2nd on 138 and Richard Parker in 3rd on 125pts.
Premiership
Again the top point scorer didn't win a pot ! Basher was imperious shooting a 860 and notching up 50pts. Alan Keddie came straight out with a string of strikes and finished the game one with a 268 for the pot. And he also took the high series pot with a 864. Matt Trotter, Paul Loberman and Joe Green also shot over the 195 average. Which means we're all amazing !
Overall
Matt Trotter leads on 172pts with a 220 average, with Lobbers in 2nd on 159pts and in 3rd now is Alan Keddie.
I've created a couple of clips of some of the best shots from last night.
https://clips.twitch.tv/FrailPiercingAlfalfaTBTacoLeft–6HmXOfP5AqEFoEh
https://clips.twitch.tv/DeadHonestBatteryPeoplesChamp-a0xzKwAGNNIM6sip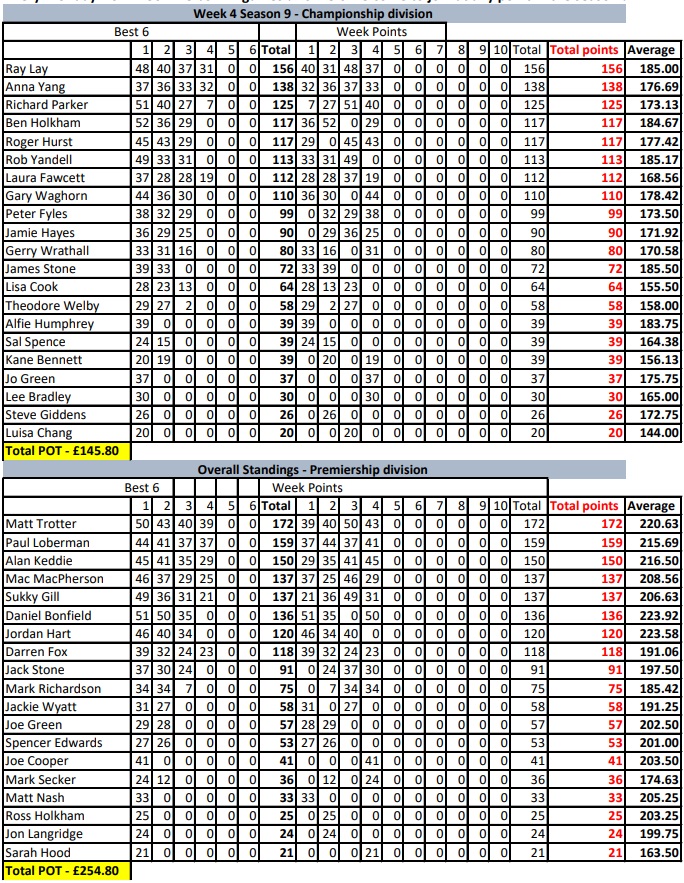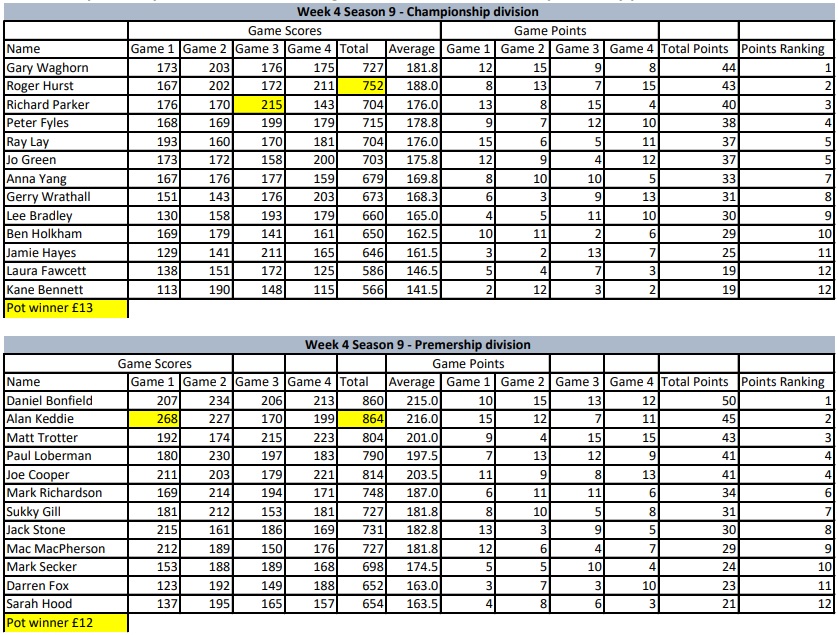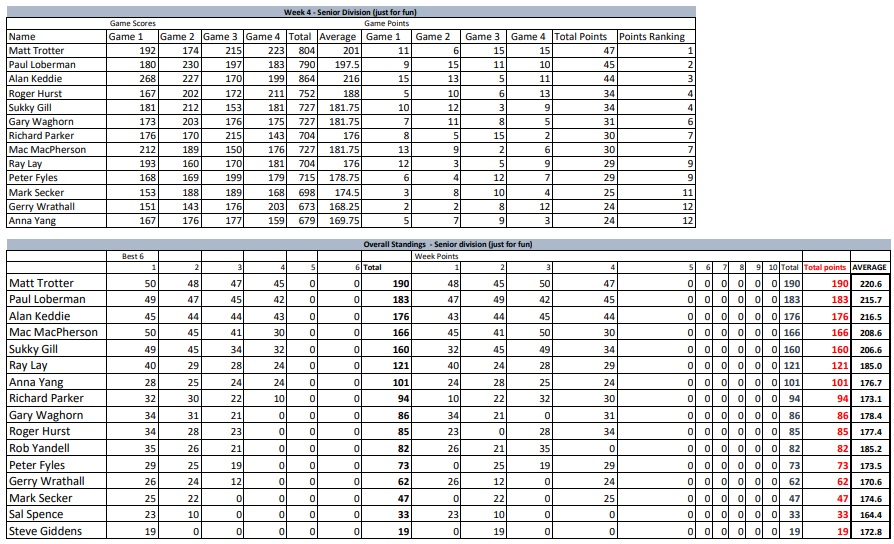 ---
Week 3 of the drop in singles – welcome a new bowler all the way from Aruba is Luisa Chang…. I know nothing of Aurba, I thought it was what John Fashanu used to shout out on ITV's Gladiators in 90's ! Anyway… Aurba is a little island in Caribbean Sea and is actually part of the kingdom of Netherlands … well there you go. Also it looks lovely and has a great climate with average temps always in the 30's … so why Luisa wants to bowl in Dank Cold Dreary Dunstable on a Monday is a total Mystery… Anyway I'm glad she did. Welcome Luisa
Championship
Two Standout performances – One by Richard Parker and the other by Rob Yandell. Richard shot an 808 set and was top scorer on 51pts. But taking a clean sweep of the high game and high series pots was Rob Yandell who shot a high game of 224 and high series of 812. Another worthy mention is our other Dutch National Anna Yang who just missed out on the high game again shooting a 216
Overall
The League is kinda taking shape now. Top is Ray Lay on 119pts, with Rob in 2nd on 113pts. Also starting this league cycle well is Laura Fawcett sitting in 4th with a 175 average.
Premiership
Sukky Gill boom shake the room, opened with a 262 first game… and took the high game pot. There were 3 series over 900 last night. Sukky Shot a 922, Big Mac McPherson shot a 933, but taking the high series pot with a 944 was Matt Trotter.
Overall
Matt Trotter now top, with Jordan the Hit Man Hart in 2nd and Paul Lobbers Loberman in 3rd. Some great bowling this season so far.. .the league average is 206.. and that's despite Mark Secker bowling in it ! The average for the top 6 who have all bowled 12 games is 220.
Next week is funky pattern week… and the plan is to play on the tough pattern the Seniors recently bowled on in their European Championships…For rough idea the pattern is 42ft with a ratio of about 2.5:1
So lets see if we can beat the best wrinklies in Europe – to get into the men's masters you needed to average 195… And the ladies you needed to of averaged 178
Lets go !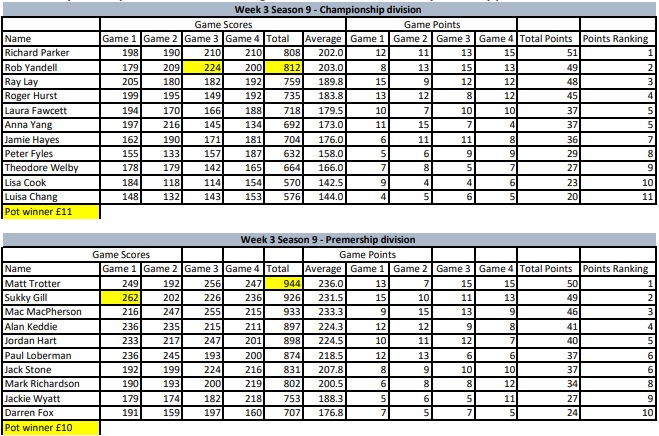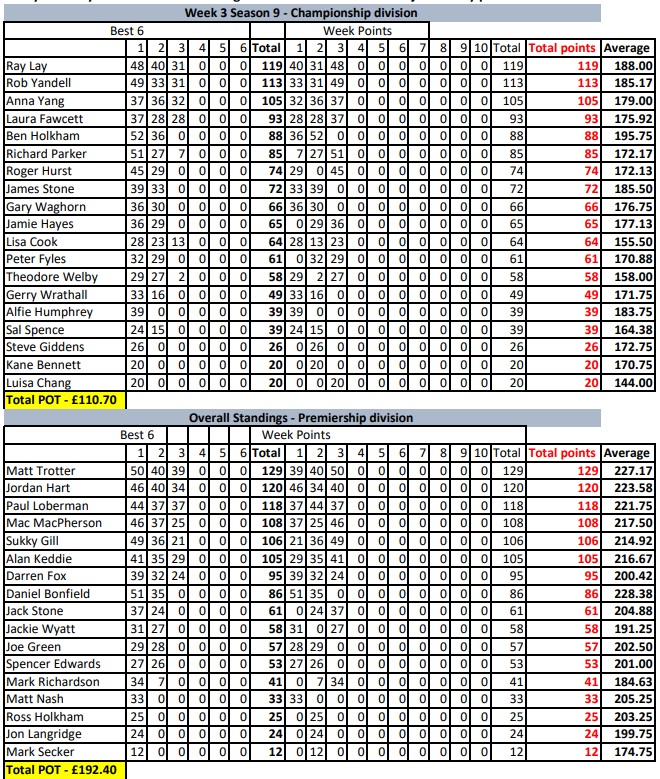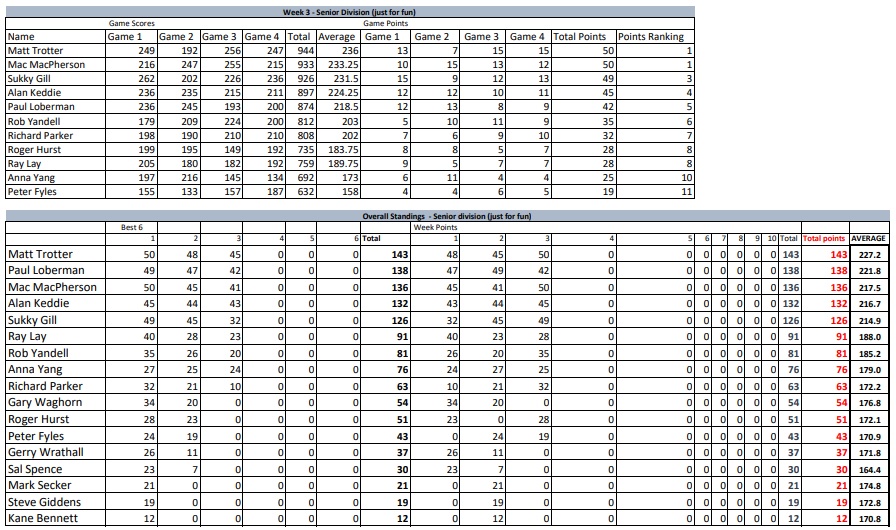 ---
Week 2 – and with the Herts,Beds and Bucks county trials coming up many dropped in to get some practice. We welcomed back Mark Secker Back, Jon Langridge, Mark Richardson who all came and had a sneaky bowl. We had some new comers as well – Jamie Hayes, who puts a ridiculous amounts of rev's on his ball, both left handed and right handed – sickening ! Kane Bennett an ex Aylesbury bowler came along and had a bowl.  And also dropping in for the first time was Jack Stone – last time I saw him he had a sharp haircut, was clean shaven, white gleaming teeth… now's he looks like a big grizzly gay bear. He actually reminded me of a lighthouse keeper, who has gone off grid and sings sea shanty's to keep himself entertained.
Championship.
Anna was there again trying to grab the high game with a 244 – but Ben Holkham swept in with a 245 to steal the pot from Anna. High series, the level of bowling was really good. Anna Yang with a 762, and James Sone with a 776 – but rounding out a clean sweep of both pots was Ben who shot a 842 and scored 52 massive points. The 2nd highest point scorer was James on 39, so a big week for Ben.
Premiership
Some brilliant bowling – the league average for the prem last night was 208 but if you get rid of Secker Bag, and Mark who dragged the whole league down with their rubbishness the league averaged 214. High series was won by Paul Loberman with a 929 set. High game two bowlers shot a 268 – Sukky and Big Mac, but stealing the pot on his debut in the Prem after last seasons promotion was Ross Holkham.
This league is becoming a Aylesbury Jardines Re-union league. We only need Ben Hayes, Kevin Taylor, Jane Curling and that kid called Dodge and we would have a full set of ace fliers !
Remember you can catch up on the all the bowling action via the twitch channel https://www.twitch.tv/basherback2back
And if you want to enter the county trials for Herts, Beds or Bucks – entry form is here https://form.jotform.com/220045357055348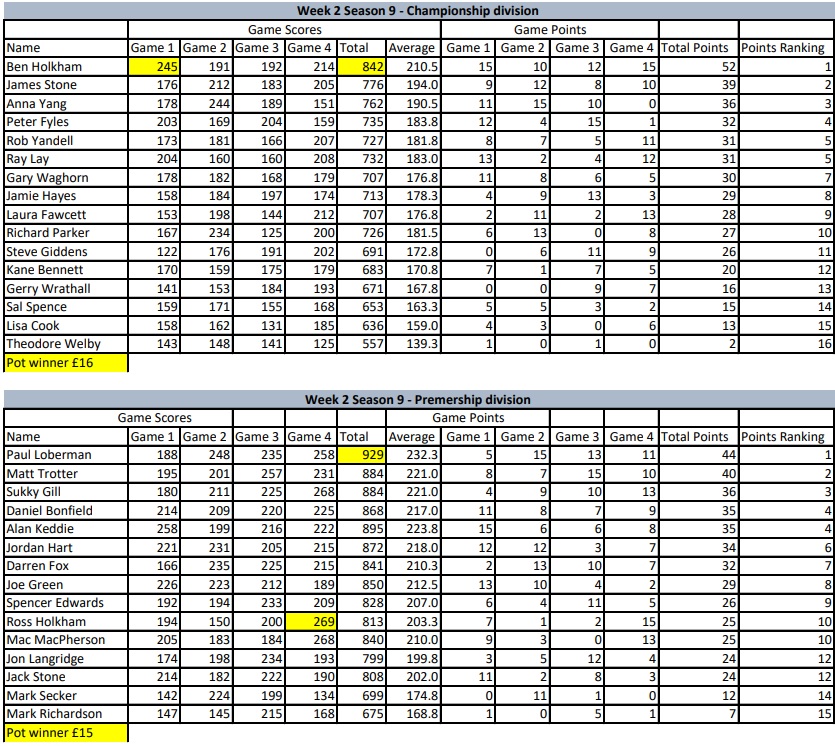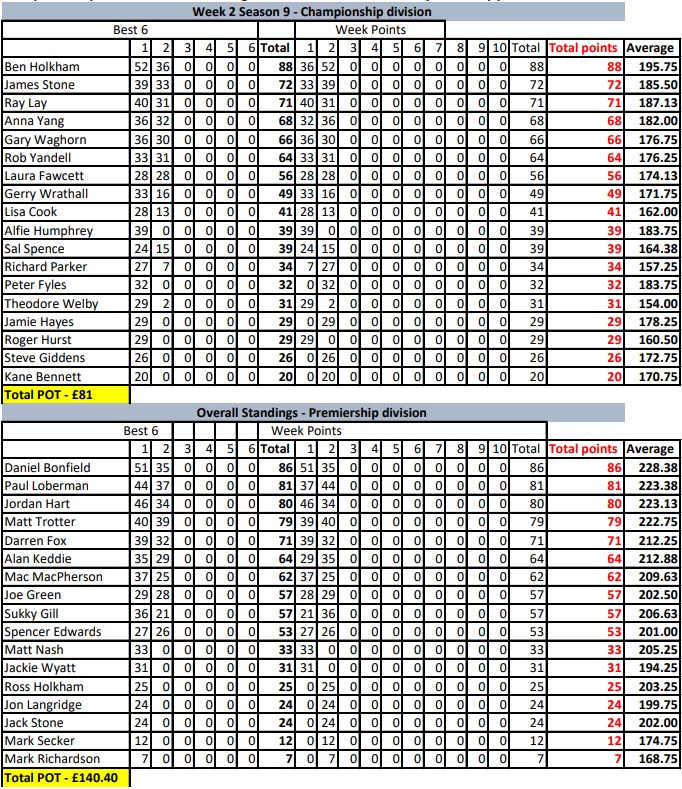 ---
Here we go again… week 1 of a new season, season 9 !
And we must first start off on a sombre note… we've been informed of the sad passing of Brenda the Tortoise. Brenda was Laura's therapy Tortoise that she got on prescription from the NHS. Brenda was taken young, only 7 years of age. Laura said she was "shell shocked" by Brenda's sudden passing. There will be a small service at the bottom of Laura's garden… they tried flushing him down the bog, but it caused a blockage. Laura's requested that no flowers be sent, but if you want to mark Brenda's passing in a floral way, then please send lettuce leaf's as they will be launching a Chinese candle lantern with a lettuce leaf attached to celebrate Brenda's life… the American military have been notified of the Chinese lanterns and jets are on stand by to shoot them down should they enter US airspace.
Enough of Brenda
Championship.
A couple of decent games, Ray Lay 225, James Stone 227 – but winning the pot in her final game was Anna Yang who rolled a 232.  High Set went to Ray Lay with a 765, but shout out to the leagues youngest member Alfie Humphrey who had the 2nd highest set and a good 39pts with a 735
Premiership
3 260 games knocking about… Basher with a 262, Jordan the hit man Hart with a 266, but winning the pot with a 267 was season 8 winner Matt Trotter. High series… well the Hit the Man had a 913, but the majestic Basher Bonfield, his left arm acting as a wand cast his spell over lanes 15&16 as he shot a 959
Right we've got less then 2 weeks until the start of the Herts, beds and Bucks county trials – so make sure you've entered – click on this link. https://form.jotform.com/220045357055348
And don't forget to catch up on all the action via the Twitch channel https://www.twitch.tv/basherback2back