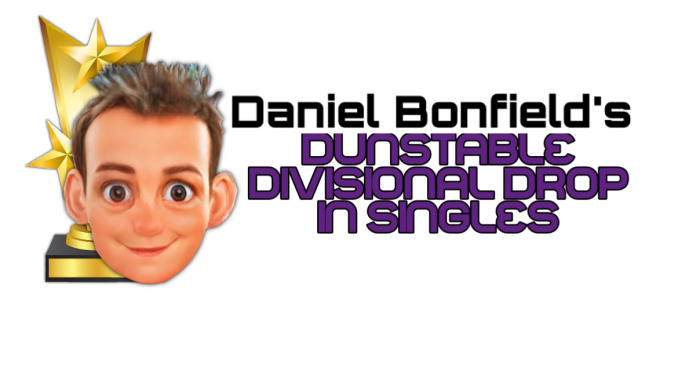 So here it is… the final week of season 8 … all to play for. The first obstacle of the night was finding a parking space ! – psychic sally was on at the Grove Theatre, not to be confused with Psycho Sal who was on lanes 5 and 6.
Creative parking award goes to Rob Yandall for parking horizontally across the motorbike bay out side the front !
We had some returning players drop in… Roger Hurst back after an enforced break due to a dodgey todger.. I mean ticker ! and CJ came along and dropped in – very glad to see both of them.
Championship
There were three bowlers in with a chance of winning the title – brothers Ben and Ross Holkham and Peter Fyles. Ross was away for the final week, and it was down to Ben and Peter to battle it out. Ben scored 42pts and Peter 40pts but Peter had the lowest dropper from previous weeks, and that proved decisive. Peter rose to the top on 264pts with Ross in 2nd on 260 and Ben on 259pts. Ben may have lost out on the league title but won a massive pot ! – the high game and high series was worth £16 each – and Ben with a 226 and a 773 set took home £32
Shout outs to Laura Fawcett for shooting her highest ever game –169 ! – no no I'm joking she shot a 223 ! Well Done Flaners ! and Also to Roger who hasn't bowled in a while and didn't die and actually was joint point scorer with 42pts on the night.
Premiership
Two bowlers battled it out for the title, just 2pts separating them. Lee Miller and Matt Trotter – both bowlers matched each other through the first 3 games. But Lee had to pull out on game 4, he has to be very careful with his blood sugars and careful with what he eats and how much he pushes himself, and he wasn't feeling great so it was for the best he pulled out. So at the end of 4 games it was as you were – Trotter top and Miller 2nd with the 2pt gap remaining.
The star of the evening was Paul Loberman who threw games of 278, 243,192 and 280 for a 993 for a clean sweep of the pots and 57pts !
So that's the end of season 8 – NEXT WEEK, we go straight into season 9 !
The bowlers marked for relegation – you don't have to be relegated you can continue in the premiership if you want – PS the same DOES NOT apply for those championship bowlers who have been promoted !
Don't forget to watch all the action back via the twitch channel – https://www.twitch.tv/basherback2back
And finally congratulations to our winners Matt Trotter and Peter Fyles !
If you want to know more about the league then carry on reading….
Dunstable Divisional Drop in Singles…
4 games – cost £20 / Week or £17.50 / week – depending on what division you're in.
This is going to be a brand new way of looking at league bowling.. and I will explain it best I can.. .
So there are two divisions – a Premiership for the 185+ bowlers and a Championship <184 bowlers.
Leagues are 10 weeks long – BUT you don't have to bowl 10 weeks. You can if you want, but your best 6 weeks will count to your final league position. The plan is to have promotions and relegations based on your average at the end of each league cycle.
And you have to bowl a minimum of 6 weeks to be eligible to win an end of season cash prize. But don't worry there are weekly pots to win so you can drop in every now and then and play for the weekly pots.
Another unique aspect to this league is you don't play an opponent… how can you if people are dropping in and dropping out. Instead you will get points on your individual games scores…
So here is an example of how it works:
Game 1
Highest game Score – 15pts
2nd highest game – 13pts
3rd highest game – 12pts
4th highest game – 11pts
5th highest game – 10pts
6th highest game – 9pts
and so on till ya get to zero points.
Tied games will get the same points.
There will be weekly individual high game and high series pots.
And a prize fund for the end of season payout based on league position.
But a bowler must have completed at least 6 out of the 10 weeks.
You will be allocated a lane when you pay… and championship and premiership bowlers will be put together on the same lanes.
This is a new idea.. and I'm feeling my way as I go along. But hopefully it will grow and evolve and will have a third division and more challenging patterns for the higher divisions.
Breakdown of costs:
They are different based on which division you're in
Premiership 185+ average = £20
Championship 184- average = £17.50
Having your 6 best out of 10 means bowlers don't have to bowl every week, and having weekly pots means bowlers can drop in every now and then and still win something. There's something for everyone, you can bowl as often or as little as you like and still get something out of this league. If you get home from work and fancy a bowl, which sometimes happens… then you can drop in and have a chuck.
The Football league system of promotions and relegations is something we are all familiar with, especially for me as I support Watford. It's something I really like from bowling in the midland scratch league. It makes you strive to be better in the hope of getting to the top division, and keeps the season alive as you try and avoid relegation if you happen to be down the bottom.
So we got two divisions and they will all share the lanes, so you have bowlers of all abilities on the lanes together. Because I want bowlers in the lower division to see how the higher average bowlers play and how they play the lanes. Perhaps it will break down the opinion that it can sometime be elitist and that the better average players aren't approachable, and you can ask them about your own bowling and pick up some tips. Just don't approach me, especially if I have just had an open !
I've also reduced the cost for the lower division, because I think these bowlers are perhaps a more social bowler and perhaps prize fund and winning money isn't such a priority for these guys.
Long term it would be great to have 3 average weighted divisions, where the bottom leagues plays on recreational patterns, then you step up through the divisions who play on challenger patterns and then the top divisions play on true sports patterns. Also, a league where you can play brackets and win some extra cash.
This league if every Monday at Dunstable – we bowl at 8.00, but I need bowlers to be there from 7.30 for registration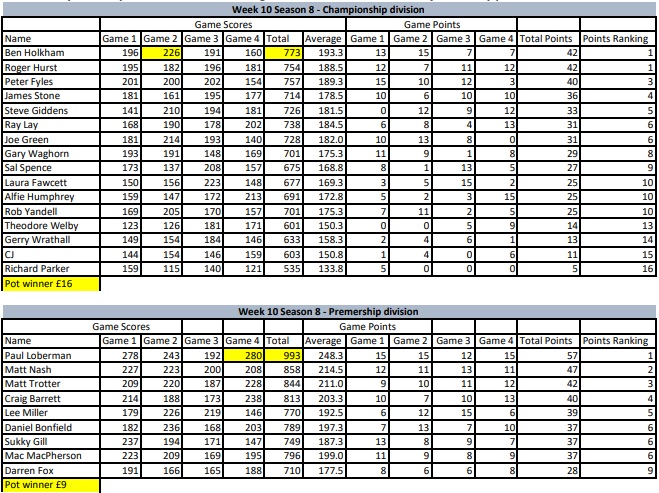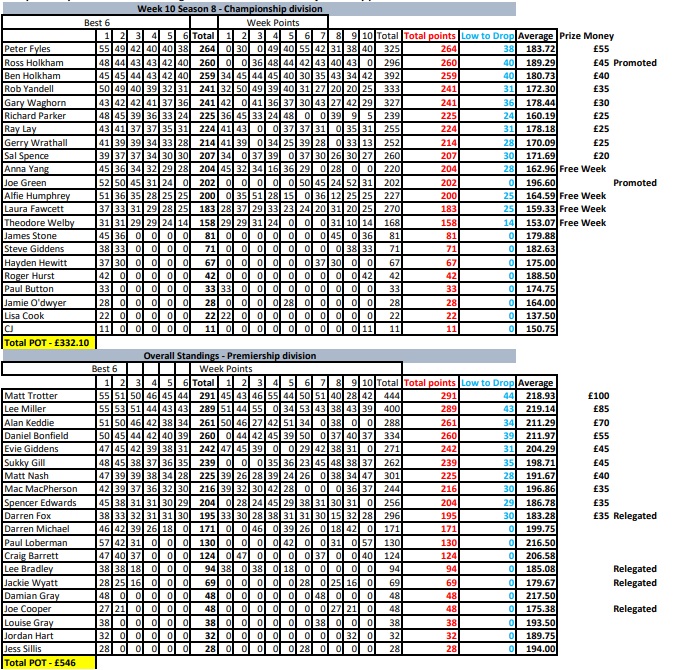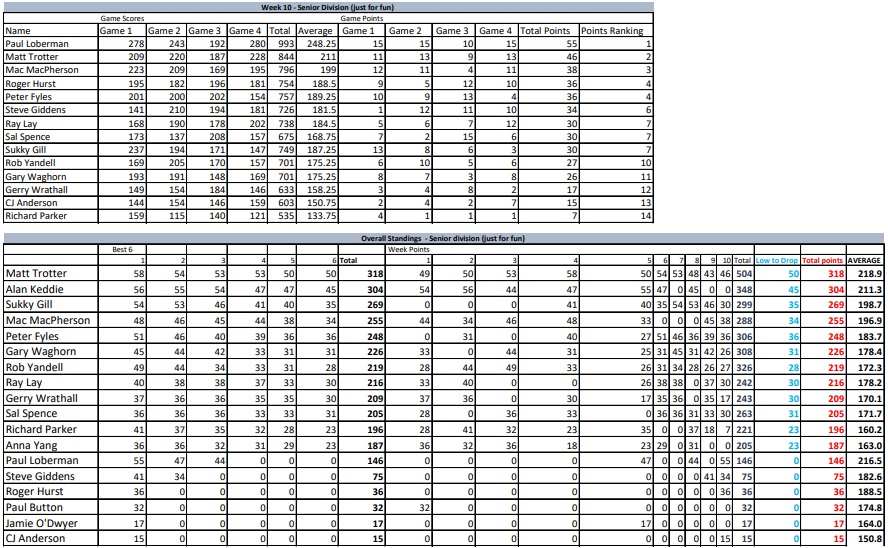 ---
The Penultimate week of season 8, another good turnout and we were graced with the prescence of the tallest senior on the planet Steve the Aceflier Giddens. And for those that didn't notice the bowl had put brand new ins in just for us ! and not a string in sight – and wow what a difference they made – firstly in the noise, that lovely crisp sound with you hit the pocket, and secondly them corner pins were harder to winkle out.
Championship
High game was shot by Ross Holkham with a 246, but Joe Green won the high series with a great 854 set – both players look to be on course for promotion based on their averages.
Overall
Its going to be a tense last week – Ross is leading the league, and can't make the last week as he's in Vegas (remember what goes on in Vegas stays in Vegas unless get herpes – that's coming home with you)
In 2nd is Peter Fyles, 5 points behind but has a much lower dropper then Ross so can easily make up the points. And 8pts off the lead is Ben Holkham again he has a lower dropper and can make up the points.
Premiership
Winning his first ever pot was Matty Nash with a 280 !! – its been a tough season for Matt, but he's showing signs that he's getting back to a being a 200 average bowler. No 900's this week – the Ewok Darren Michael 851, Basher with a 848 but the high series pot winner was that Rodent Ferret Lee Miller the 10 pin Killer with a 862.
Overall
Tight at the top of the prem as well. Matt Trotter is the league leader on 291pts with Miller on 289pts… the title could go either way ! Alan Keddie is in 3rd on 261 with Basher a point behind in 4th. Can basher steal 4th from Ked's ?
SO come and join the fun next Monday – 7.30pm registration for a 8pm start. The occasional bowler really makes a difference in week 10 as they steal the points from league regulars.
Don't forget to catch up on the action via the twitch channel – https://www.twitch.tv/basherback2back – two video's this week – the first 20 minutes, then the rest.
We got 4 weeks till the Herts, Beds and Bucks County trials – make sure you get your entry in via this link https://form.jotform.com/220045357055348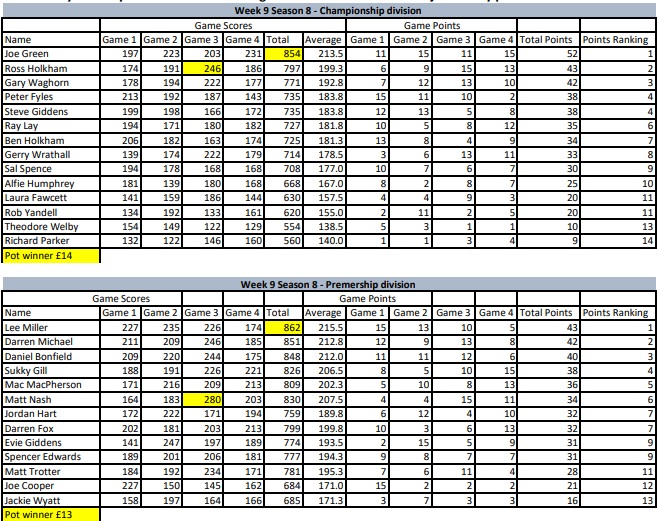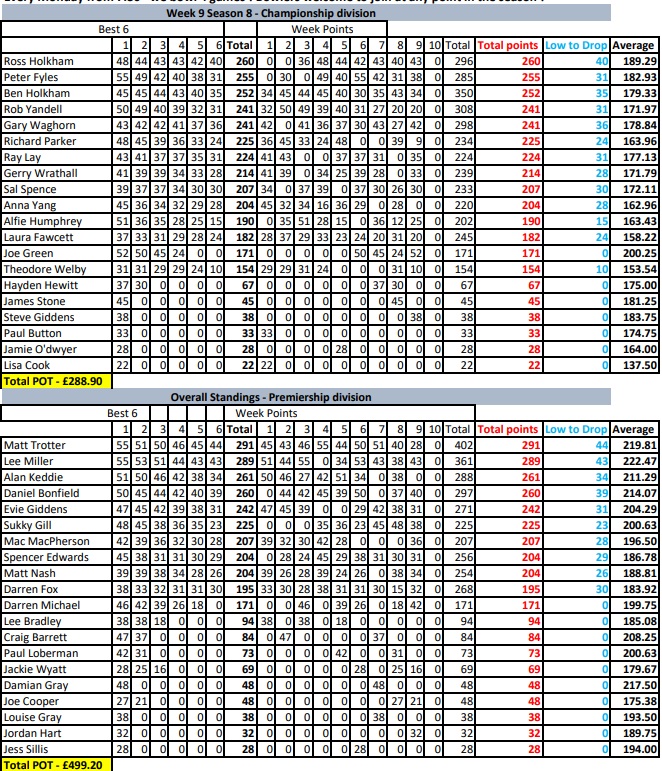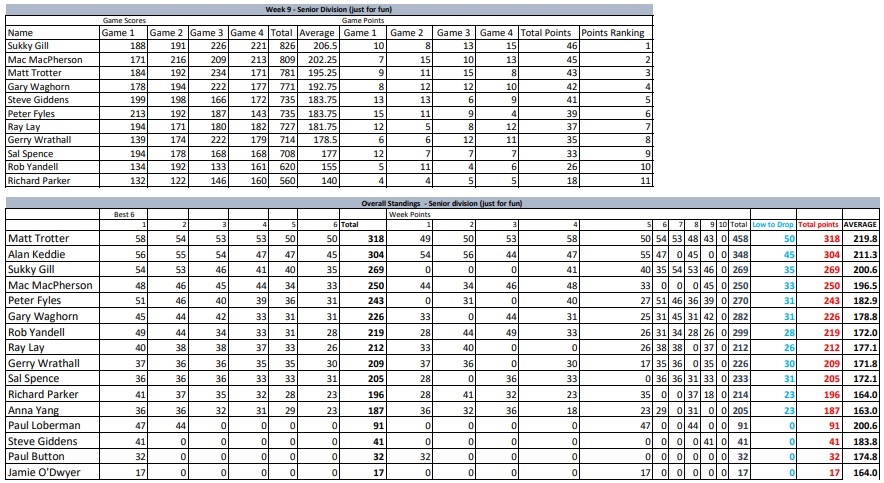 ---
So week 8 of the drop in singles league and it was pattern change up week. I thought it would be interesting to play on the South of England Open junior tournament pattern, that was held at Dunstable at the weekend. The idea was to see if we could beat the kids !
We had two new bowlers – Romford roller Joe Cooper, and Aylesbury Acer Flier James Stone… brother of the famous carp tickler Jack Stone.
Championship
Well despite using someone else's ball and wearing a pair of house boots the highest point scorer in the Championship was actually James Stone on 45pts, but sadly for James he didn't mark his debut with a pot win. High game pot was tied as brothers Ben and Ross Holkham both started the evening with 223 games. Ben went on to have the highest set in Championship to claim the high set pot with a 756 set.
Overall
Its close with 2 weeks to go ! – Ross is now top with 1 more point then his brother Ben, then Peter Fyles is just a few more points back in 3rd, and has a lower point dropper then Ross and Ben – so its heading for an exciting finale
Premiership
It's fair to say the big guns in the prem found the pattern tough and there was only one set over 800 – and that was Sukky Gill who shot an 849 ! Well played Suk's. High game pot in the Prem went to Lee Miller who shot a 248 in game 3 – then followed it with a 145!
Overall
Matt Trotter leads by 7 pts from Miller, with Alan Keddie in 3rd – but Lee has a lower dropper then Matt, and Alan is away for the last 2 weeks of the league, leaving 3rd spot open for those in the chasing pack.
And on that note, I'm sure we would like to wish Alan Keddie the best of luck as he flies out to Denmark to represent Scotland in the European Senior Championships.
So how did we do ? – did we beat the kids ?? – Well Sukky averaged 212 the same the best kid, and Evie managed a 193 average, the same and best junior girl – but lets not be too hard on ourselves. The two kids who bowled them scores had practiced for couple of weeks of the pattern – and they have 48 million bowling balls and youth on their side. Whereas we had 7 minutes worth of practice on the pattern and we're all old and festering.
You want to catch up on the action last night you can do via the stream – https://www.twitch.tv/basherback2back
And don't forget the Herts, Beds, and Buck county trials are coming up and you can enter them via this link _ https://form.jotform.com/220045357055348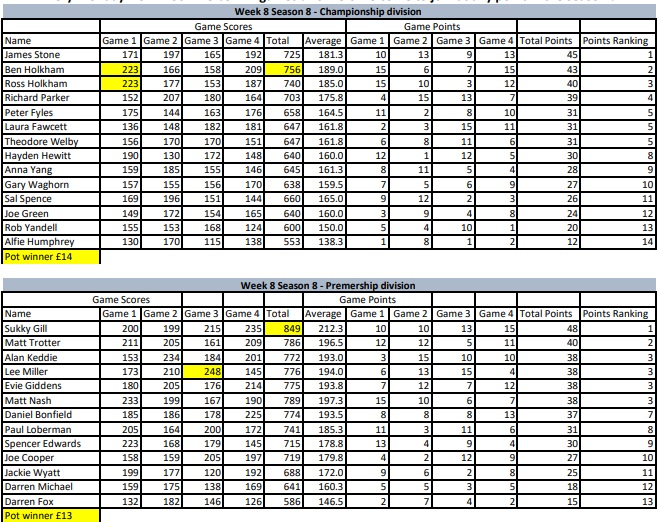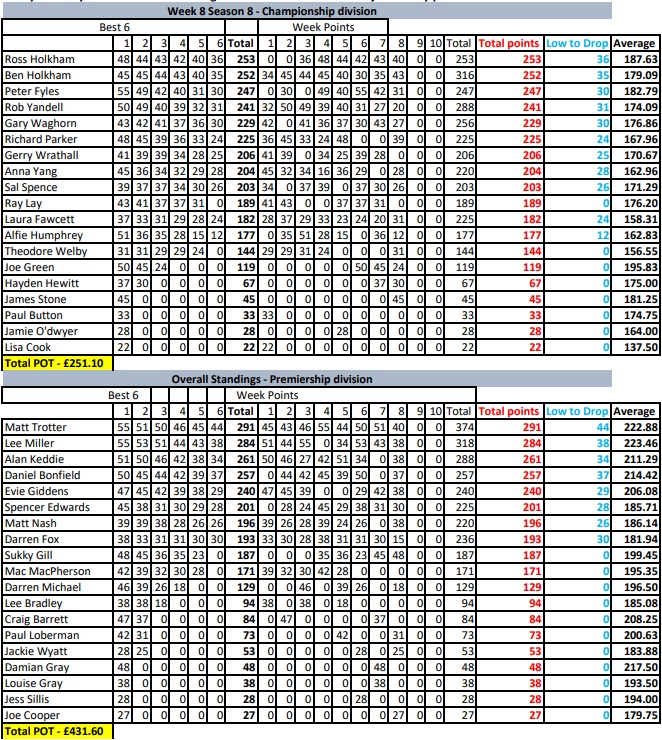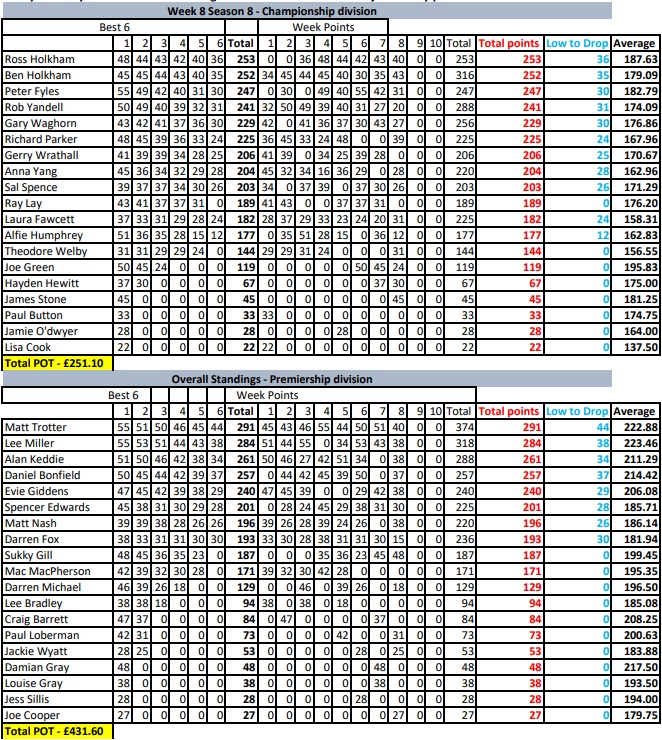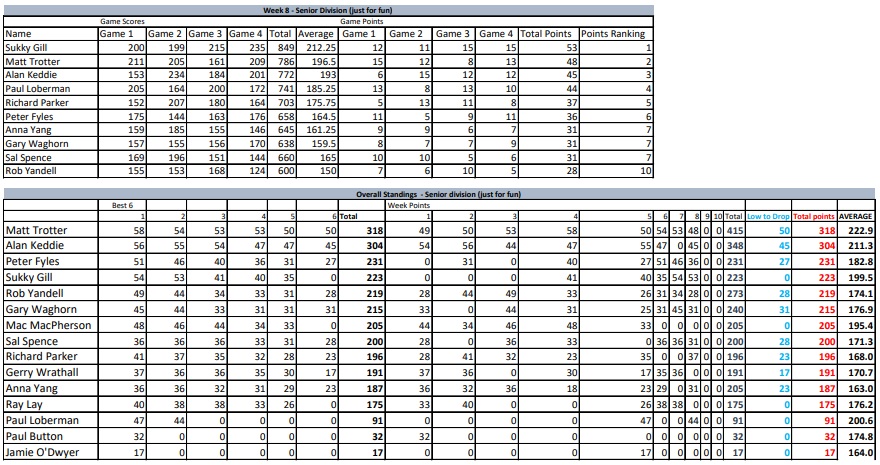 ---
Week 7 of Season 8 – and we delighted to see two new bowlers ! – Damian "white socks" Gray and his good lady wife Louise. They dropped in as their usual league on the American airbase was cancelled as it was a National Holiday in America so the bowl was shut. Also welcome back to Hayden Hewitt !
Also great achievement, keep it going to Matt Trotter who was celebrating his birthday and treated us to some inexpensive sugary treats, whilst his "partner" Darren Fox treated him to lovely side of venison – I hope it wasn't too "deer"
Championship
The bandit Joe Green shot a 717 for the first three and then crashed with a 146 in game 4 for a 863 – but his 253 in game 3 and his 863 clean swept both pots in the championship. Another worthy mention was Ross Holkham who shot an 802 set.
Overall
Ben Holkham has replaced Rob Yandell at the top of the table with Rob slipping to 2nd – but only 2 pts separate them, and they are pretty much averaging the same. In 3rd is Gary Waghorn
Premiership
Scores seemed a little lower then usual. Sukky Gill threw a nice 863 set. High game pot went to the man on debut Damian Gray with a 248 – a really low game to win a pot. And the high set pot winner was birthday boy Matt Trotter with a 880.
Overall
Trotter leads by 11 pts from Lee Miller, with Alan Keddie in 3rd.
Back next week – week 8 ! and its funky pattern week – with resident pro Andy Penny choosing the pattern… I think it will be fun if Andy chooses one of the two patterns the juniors are playing on this weekend at the Junior South England Tournament – let's see if we can beat the kids !
Don't forget to support your county by taking part in the county trials tournament – entry form is here https://form.jotform.com/220045357055348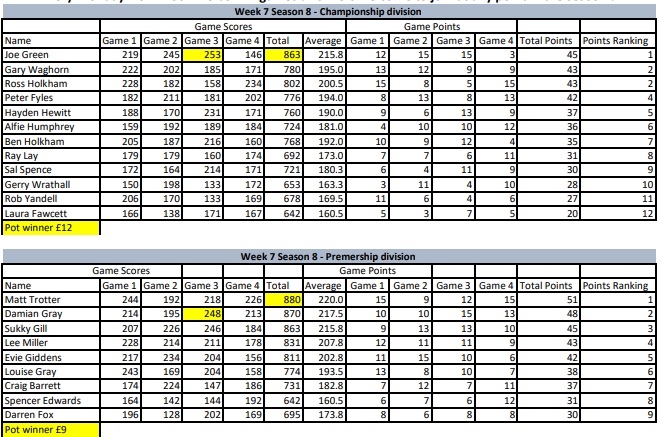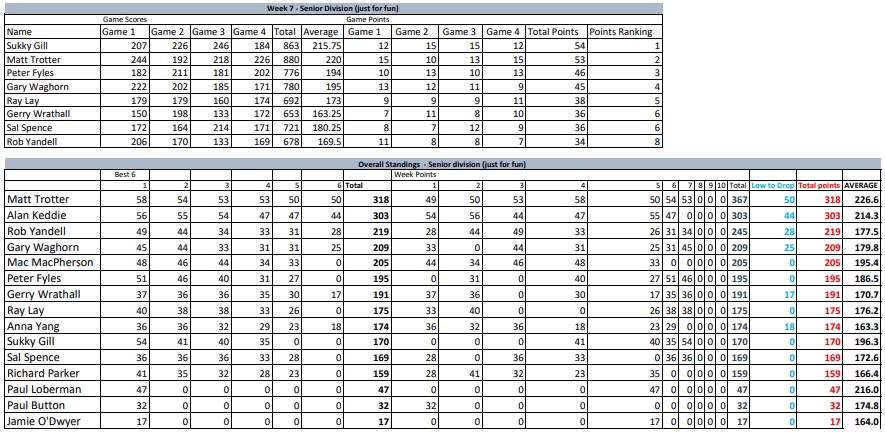 ---
Week 6 of season 8 – and we welcomed back Youth Team England Bowler Jessica Sillis and Sexy J – Jackie Wyatt. We also had a new bowler Joe Green – Joe gave it the usual… I don't have an average as I haven't bowled for 9 years, so I put him the Championship, and he goes and has the front 6 in game 1 ! – total Bandit, hahahaha.
Championship
So as I mentioned Joe came flying out, striking all over the place for an opening game of 231 – which normally would win a high game POT in the championship. But Peter Fyles had a fantastic evening on the lanes shooting a high game of 247 and won the first pot of the evening. High Series – well Joe had 4 games over a deuce for a 847 set, again normally a POT winning score. But Pete shot a 874 – 183,209,247,235 for a clean sweep of the pots.
Overall
We've hit 6 weeks – so from here on in it gets interesting as bowlers start catching up their missing weeks and others start dropping their lowest scoring weeks. Leading the way is still Rob Yandall on 241pts with Ben Holkham in 2nd on 238 and Anna Yang in 3rd
Premiership
There was a big gulf in the top 3 and the rest…point wise it was a weird night. So 3 players scored 50+ pts and then no one scored any points in the 40's – the next highest point score had 38pts. High game went to the old feeble Basher Bonfield who threw a 267 in game 3. High series – so there were 3 bowlers who shot over 900… Basher with a 923, Matt Trotter with a 928 but winning the high series pot was Lee Miller with a 958 – so another pot to the Miller the pin Killer.
Overall
In 3rd we have Lee Miller, but he's only played 5 weeks, then in 2nd is Alan Keddie, but top of the shop averaging 227 for 24 games is Matt Trotter.
Don't forget you can catch up on the "action" – 4 games of high octane skittles on the Twitch Channel https://www.twitch.tv/basherback2back
And calling all bowlers whether they were BORN or LIVE in Herts, Beds, or Bucks… County team Try outs !! – please support your county by entering the Trails – entry form is here https://form.jotform.com/220045357055348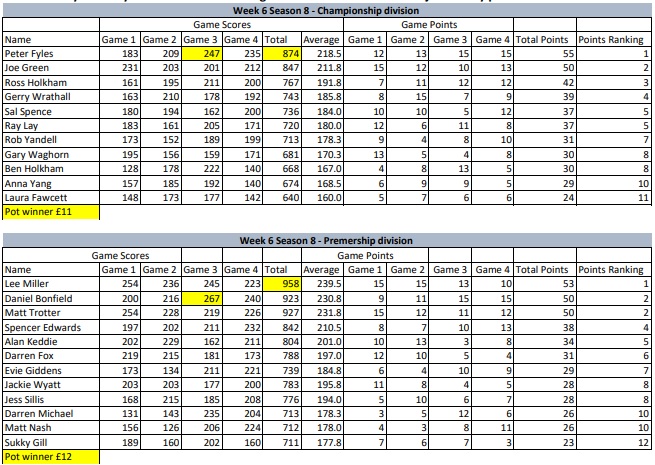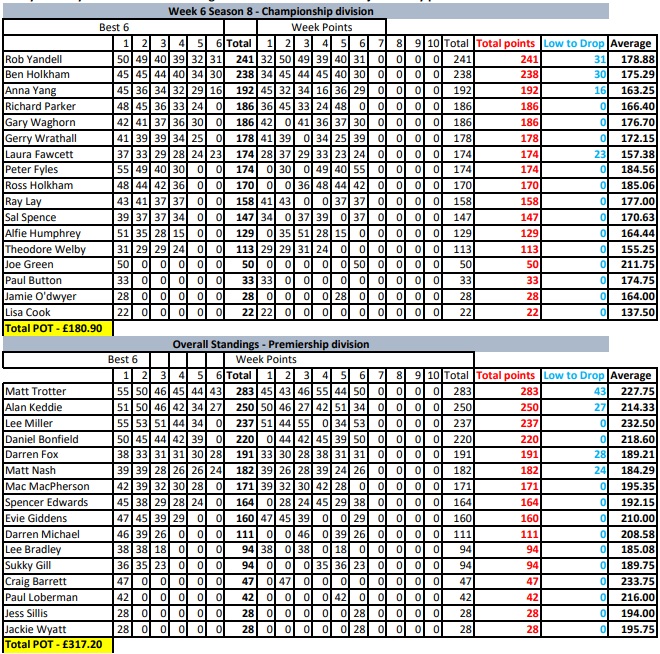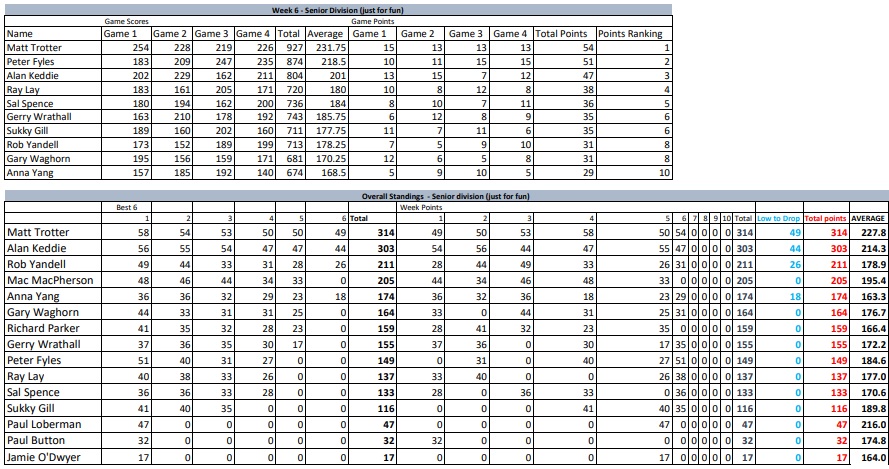 ---
Week 5 of season 8 … and it's a new year ! Christmas is over… and though it was a "bank holiday" this league will always run, as long as the bowl is open. As it happens Bank holiday Mondays always sees the most people drop in for a bowl… I suppose with a "forced" day with the family, people are desperate to get away from them and come and have a bowl.
Championship
Ross Holkham left it late to make his move, throwing a 269 in game 4 for a 769set which saw him nab both pots. But one game doesn't butter no parsnips or any other types of nips, as overall point winner on the night with 48 pts was Richard Parker.
Overall
The league starting to take shape now. Top is Rob Yandell on 210pts with Ben Holkham in 2nd on 208, then in 3rd is Richard Parker… but Richard's showing some signs of recapturing his form and could soon start challenging the top 2.
Premiership
First off its time to acknowledge Darren Michaels new shoes !! Santa wiggled down his chimney and delivered a lovely new pair of bowling boots… shame he didn't also deliver a strimmer and he could've shaved some that back, sack and crack hair.
High game – there were a few decent knocks… Alan Keddie 267, Darren Michaels 256 and Sukky Gill with a 264, but taking the pot with a 278 was Matt Trotter. But he didn't scoop the highest series pot as that was won by Alan Keddie with a 969.
Overall.
Matt Trotter leads the league, then Alan Keddie – who had a couple of rough weeks before xmas. In 3rd but having played a week less is Lee Miller.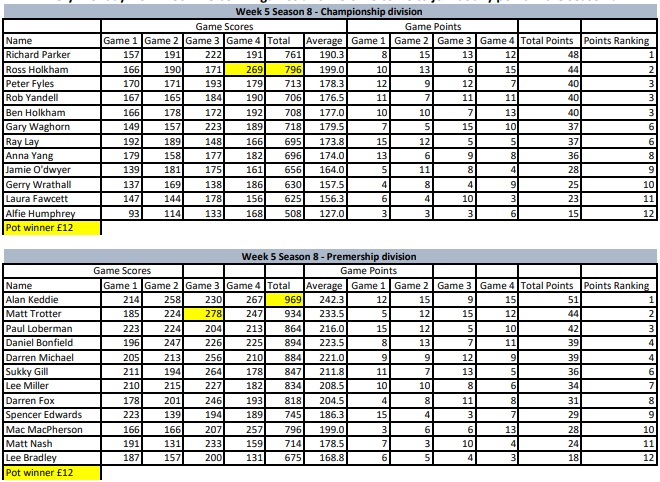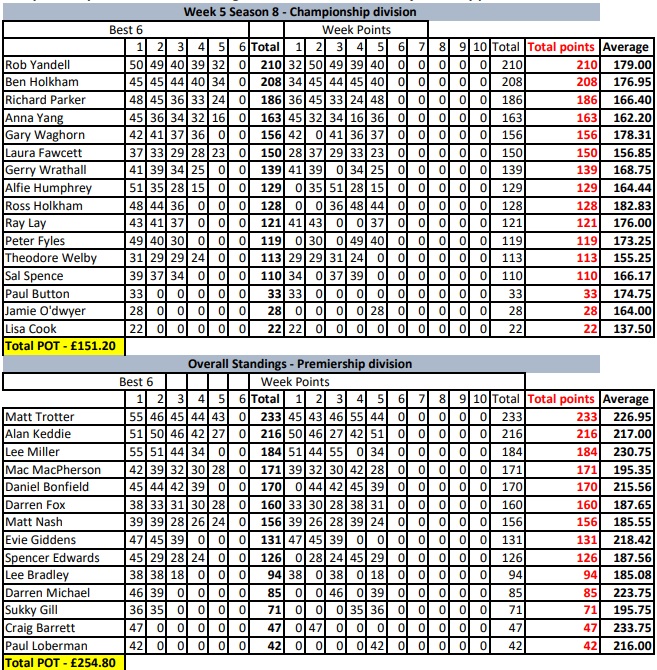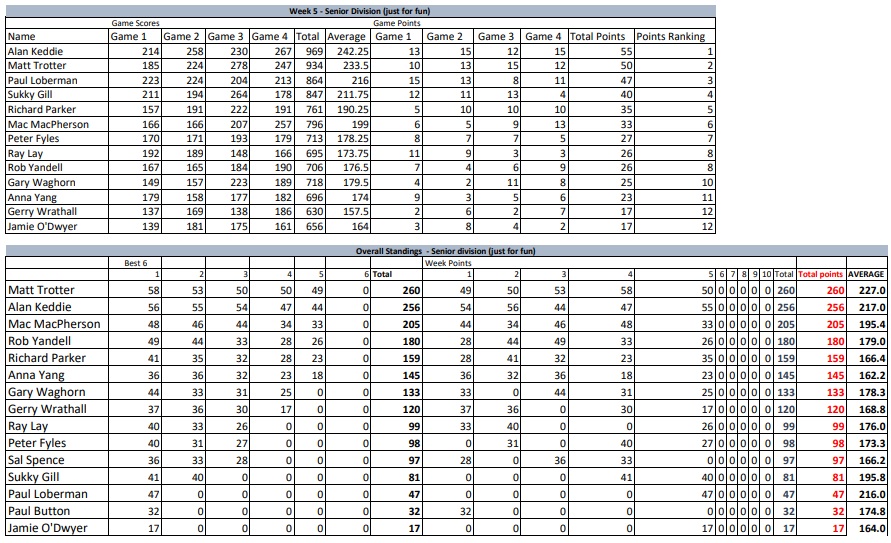 ---
The last league night of 2022… was celebrated by mince pie's and chocolates bought by Ebenezer Bonfield, after he was visited by 3 spirts… vodka, rum, and gin !
The last league night also coincided with "funky pattern week" – where resident pro Andy Penny chooses the lane pattern we play on… Andy created a special pattern which he called "Andy's Christmas challenge" – it was 43ft in length, with a ratio of 4.4:1
Championship
Ben Holkham shot a 205, but just pipping him to the high game pot was Peter Fyles with a 214, and Peter completed the clean sweep of pots by winning the high series pot as well with a 751 set.
Overall
Rob Yandell continues to lead the championship with Ben Holkham in 2nd 2pts behind. Then in 3rd is Richard Parker.
Premiership
Not many good scores this week.. Only one bowler really managed to get anything together. That was Matt Trotter who threw a 948 set which gave him 55pts. He was denied a clean sweep of both pots, as Basher sneaked in with a 279 in the middle of a mediocre 833 set to win the high game set.
Overall
Them 55pts moved Matt Trotter to the top of the league, Alan Keddie is lying in 2nd with Lee Miller in 3rd.
So that's it for 2022… we should hopefully be back on January 2nd
I've managed to resolve the issue where the stream wasn't saving… so its now saved on my channel for you all to look back on and analyse your performance
https://www.twitch.tv/basherback2back
Have a great Christmas and I'll see you in the new year.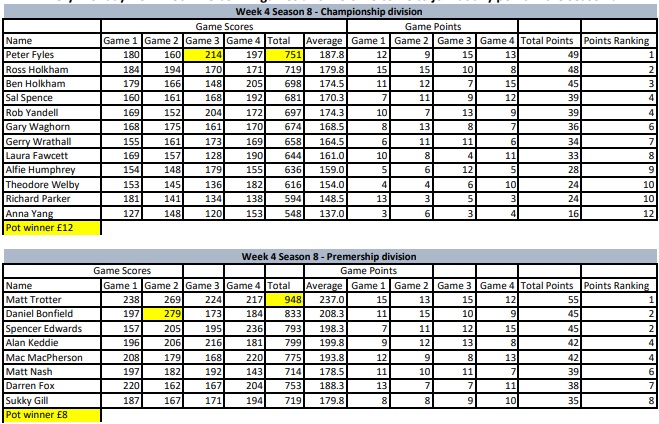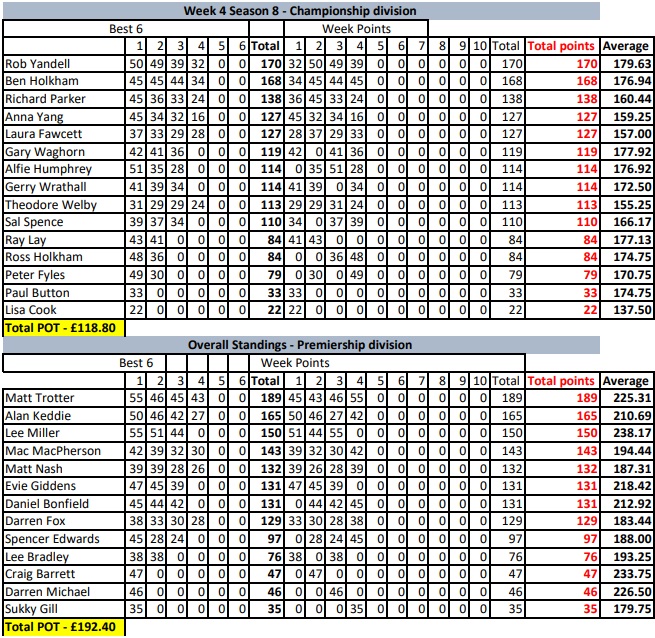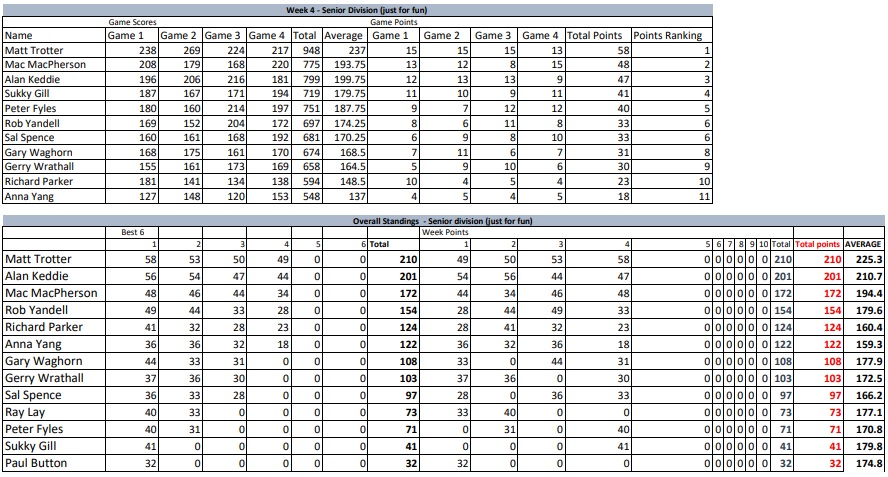 Touch and go for a little while as to whether the league would run because of frost on the pitch. But the bowl confirmed they would be open… and league bowlers are the most loyal of customers to any bowl so of course if the bowl is open, we bowl.
A decent turn out considering, and we welcomed a new bowler Ross Holkham
Championship
When someone has their highest game EVER, then they deserve to win the pot – and that honour went to Ben Holkham who in his last game shot a 268. Well done Ben. High series pot went to Rob Yandell, who bowling really well at the moment – Rob shot a 796 series. But the top point scorer of the week on 51pts was Alfie Humphrey with a 792 series.
Overall
Rob Yandell leads the divisions, with Ben Holkham in 2nd and Richard Parker in 3rd.
Premiership
What a block of 4 put together from the ferret Lee Miller opened up with a 277, then two open frames saw him only shoot a 212, but then game 3 was a 300 and he finished off with a 267 for a 1059 set – needless to stay Lee took both the high game and high series pot with that score.
Overall
Miller the pin killer leads the division, with Matt Trotter in 2nd and Evie Giddens in 3rd…  the scoring is high so far in the prem… with the league average being 209 over 116 games.
Next week is the last league night of 2022 – and its only "funky pattern" week with Resident Pro Andy Penny choosing a different pattern to play on.
If you want to get involved then turn up next Monday 7.30pm registration and we bowl at 8 !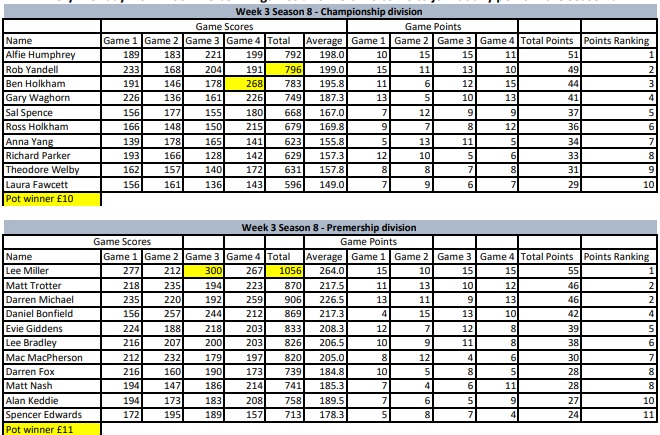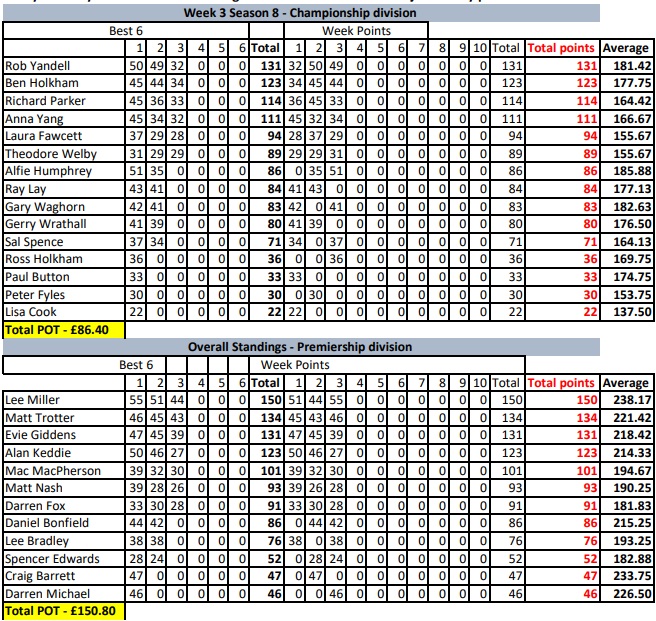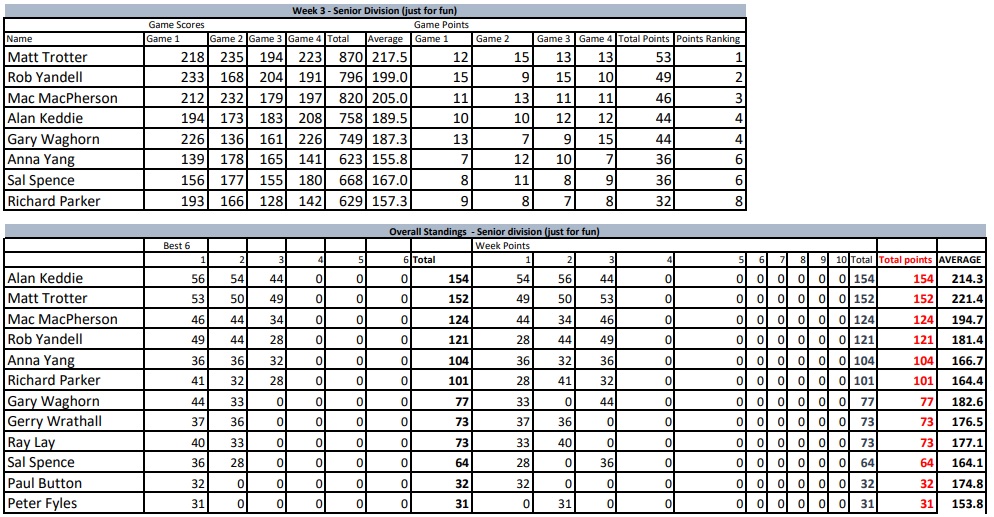 ---
Week 2 of season – we welcomed back Gimli from the mines of Moria – or Craig Barrett as he prefers to be called.
Championship
High game pot went to Young Alfie Humphrey who shot a 222 last game – well done Alfie, another £10 to stick on your GoHenry Card. High series pot went to Rob Yandell who put together a solid block to end up with a 745 series.
Overall.
Obviously still early days, but Ray Lay leads from Rob Yandell in 2nd and Richard Parker in 3rd.
Premiership
Craig back bowling in the league shot a 267 2nd game, but that was trumped by Matt Trotters 276 3rd game which won him the pot. Craig had the consolation of winning the high series pot with a 935. Other mentions – Evie Giddens with a 925 set, Keddie, Miller and Trotter all shooting high 800's as well.
Overall
Alan Keddie leads, With Lee Miller in 2nd and Evie in 3rd.
Round 3 next Monday – registration as always from 7.30pm and we start bowling at 8pm
Don't forget the entry form is out for the Herts Bed's and Bucks 2023 County Team try outs… enter via this link – https://form.jotform.com/220045357055348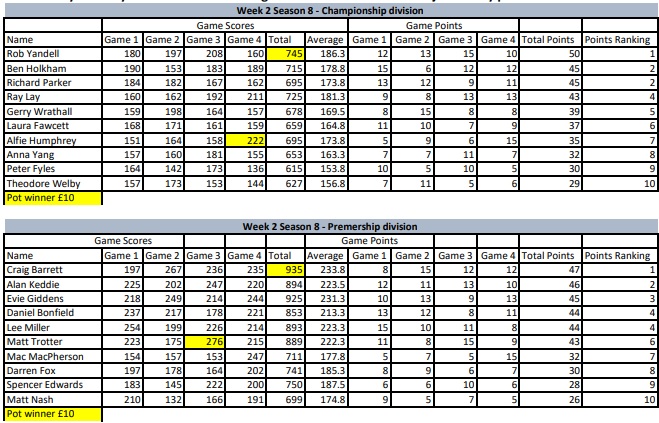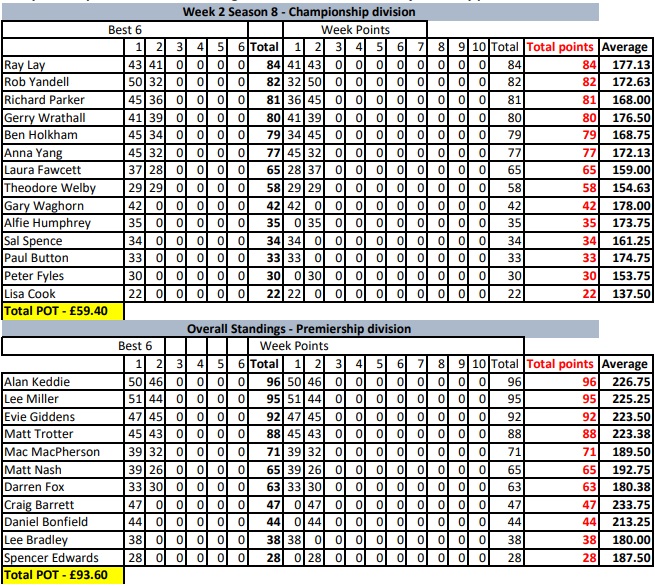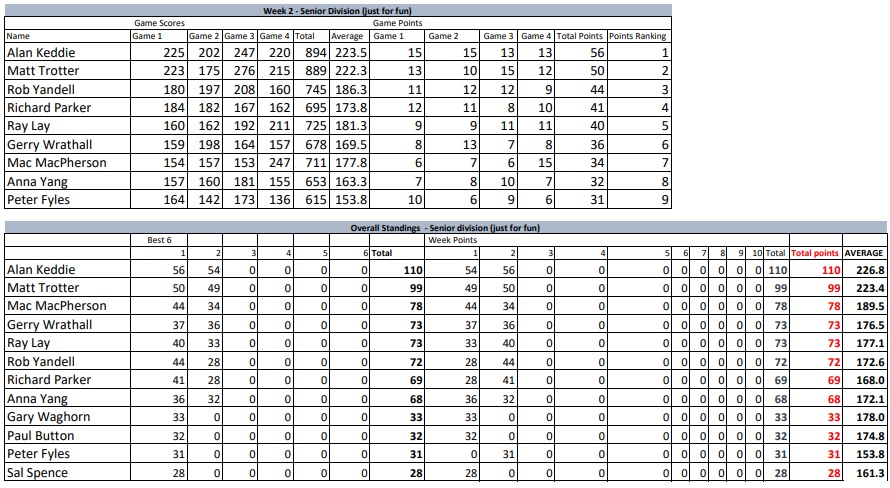 ---
Here we go again .. start of another 10 week cycle in the Dunstable Drop in Singles league. New face this week, we welcome Theodore Welby to the league, and a returning bowler Matty Nash came and had a chuck, along with the lesser spotted Lee Bradbury (as he is now known) – not bowling but showing his face was the leg-end ICE MAN – the General Duke who popped in to remind himself why he prefers golf !
Championship
Lets give it up for Paul Button… in game 2 he looked like he was on for a 278… but a spare in the 10th gave him a 254 and that won him the high game POT ! – well done Paul !
Gerry Wrathall shot a 237 in game 1 then hit some mid block turbulence but finished with a 204 for a 731 set which took the high set pot.
Overall
Obviously very early days, but top point scorer in week 1 was last season's winner Anna Yang on 45pts, with Gary Waghorn in 2nd and Gerry in 3rd.
Premiership
Lee Miller opened up the new season with a 264 and 909 set. But Alan Keddie swopped in with a 268 last game for a 920 set to win both the high series and high game pot.
Overall
Miller was top scorer on 51pts, with Ked's 2nd and 3rd highest point scorer was Evie Giddens on 47pts.
So the Herts, Beds and Buck 2023 county roll off's are happening – February 26th and the entry form is out !!! you can enter via this link https://eu.jotform.com/build/220045357055348