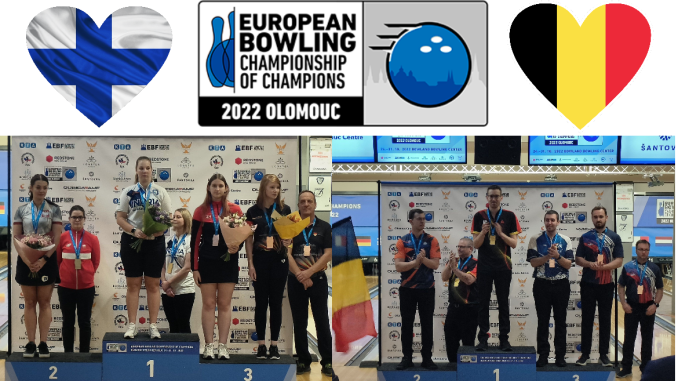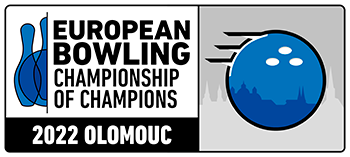 The European Champions Cup started in 1979 in s'Hertogenbosch, The Netherlands with 14 men and 12 women. Each EBF member federation may enter the reigning national woman and man champion, or no. 2 or no. 3 etc. in case of excuses. In addition the ECC champions of last year are automatically qualified for participation. Current champions are Sue Abela from Malta and Mike Bergmann from The Netherlands who won in Chania, Greece in 2021.
The 2022 edition is being held in Olomouc, Czech Republic 24-30 October 2022
Please visit the official website here for all the very latest results and information
Livestreaming will be available during the event here
---

Reports
Forty Three editions so far and Finland have won the most Gold medals with 15 and Sweden the most medals with 48. Germany and England with good records in the event followed by The Netherland's Italy, Denmark and France. But other countries have mined Gold at ECC over the years including The Czech Republic, Ukraine, South Africa the little island of Malta with Two Gold's and Two Bronze and the reigning Womens champion, Sue Abela. The Dutch have the reigning men's champion Mike Bergmann.
Teams arrived by Monday and Tuesday saw official practice and a chance for the players to get used to the lanes for the championships.

Women's Block 1
The Women were first up on Wednesday and at the halfway point it was Finland's Essi Pakarinen leading with 924 followed by Ukraine's Olha Pokotylo with 867. Norway's Jenny Mathiesen third with 852 and Anastasia Rovithaki 4th with 842. Also going well, Scotland's Alison Williamson, Wales Mel Oates and Poland's Daria Pajak. Four games later the leader was the same but a few changes in the order as Essi Pakarinen continued to lead with 1837 but Poland's Daria Pajak up to second with 1766, Wales Mel Oates in third with 1639 and Belgium's Catherine Durieux fourth with 1626. Hovering close by were Scotland, Greece and France.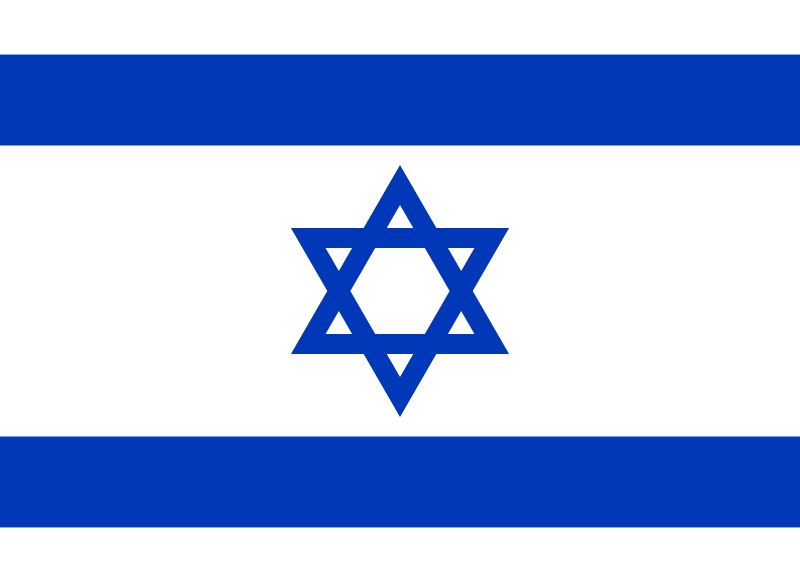 Men's A Block 1
The men were up next in the afternoon for their first 8 games and halfway through it was the Netherlands defending champion leading with Mike Bergman firing 247,244,247 and 245 for 983 as Israel's Oron Cohen was second with 974 and Sweden's Peter Hellstrom third with 936.
Game six we saw our first 300 game from Romania's Marius Piticariu and pushing him up to third as we closed in on the end of the block.
At the end it was Oren Cohen from Israel out on top with 1910 with Mike Bergman of the Netherlands in second with 1843, then it was Romania's 300 man Marius Piticariu with 1796 and Sweden's Peter Hellstorm in fourth with 1778.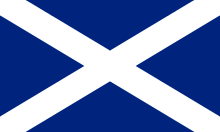 Men's B Block 1
Another seventeen bowlers took to the lanes in the Men's B squad and a higher pace saw Iceland's Arnar David Jonsson out on top after four games with 992 including a 279 and 277. Second was Belgium's Mats Maggi with 990 also with a 279. Third going to the home nation's Lukáš Jelínek with 989 and fourth to Norway's Kenneth Hermansen on 983.
With a game to go Steven Gill from Scotland had added 255,227 and another massive 279 and was now top with 1736 and a good lead over second placed Arnar David Jonsson with 1681. At the end The flying Scotsman held top after a 249 and 248 average 1985. Up to second place went the Czech Republic's Lukáš Jelínek with 1925 and into third was Iceland's Arnar David Jonsson with 1917 just seven pins ahead of Squad A leader Oren Cohen from Israel with 1910.

Women's Block 2
There were no changes to the top two after four games of the Womens block 2 and Finland still leading with Poland second but Belgium's Catherine Durieux was up to third place and Wales down to fourth. Going well in the block was Cecilie Jeanette Dam Mortensen from Denmark with 185,253,225 and 234, pushing her into 5th place.Excitement on the cut line with Defending champion Sue Abela in 16th with Cyprus and Bulgaria still in with a shot.
As we closed in at the end, Ukraine were on the cut line with a game to go but Sweden dropping out and Bulgaria and now Israel hovering.
All three failed to make the cut and Ukraine's Olha Pokotylo was the number with 3040. At the top it was Finland's Essi Pakarinen with 3644 (227) followed by Poland's Daria Pajak with 3499 (218) then Belgium's Catherine Durieux with 3333 (208).
Also inside the top 16 cut were Denmark, Germany, Scotland, Italy, Malta with two through, France, Norway,Wales,Greece,Austria and Cyprus.

Men's A Block 2
Denmark's Tim Stampe was on a mission to race up the standings and make sure of a top 16 place and after four games it was mission accomplished as he hit the events second 300 in game one then added 225,265 and 259 for 1049 and averaging 262 for the day. Defending champion Mike Bergmann in second with 951 and Cypriot Iraklis Kyriakou third with 912.
Topping the A squad after 16 games was Israel's Oron Cohen who hit 300 on the way to 3825 (239). In second was defending champ Mike Bergmann of the Netherland's with 3689 and up to third was the other 3oo man Tim Stampe from Denmark with 3598.

Men's B Block 2
Belgium's Mats Maggi made the early running in the first three games after 279,243 and 245 but chasing down and passing after four was Frenchman Thibaut Lanos with 279,226,216 and 279 for 1000. Maggi in second with 991 and Poland's Mikolaj Czarnecki third with 985 and Finland's Tomas Käyhkö fourth with 981.
222.258 and 279 and this third of the block saw Frenchman Thibaut Lanos back in the lead with a game to go and pacing a top five finish. Make that top three as he placed third with 1993 (3822) with Israel's Oron Cohen second with 3825 and Scotland's Steven Gill holding top with 3888.
The cut for the top 16 landed on Switzerland's Leroy Vontobel with 3510 and inside the cut were Poland, Belgium, Czech Republic, Greece, The Netherland's with two, Lithuania, Iceland, Finland, Denmark, Spain and norway.

Women's Final Step 1
Sixteen down to eight over eight games and a race for a place for the Women on Saturday morning. A shaky start for leader Essi Pakarinen with 173 but back on it with 235,205 and 279 to lead with four games still to go. Poland's Daria Pajak second and Germany's Saskia Malz into third. Others inside the cut were Denmark, France, Norway, Scotland and Belgium with Austria, Malta, Italy and Wales still in with a shot.
With two games to go there were no changes at the top but near the cut it was all excitement and Norway, Malta, Italy and Wales chasing Scotland, Belgium, France and Austria.
At the end of the block a new leader and it was Poland's PWBA star Daria Pajak who rolled the first womens 300 of the championships then added 244 for 5455 and just 10 pins ahead of second placed Essi Pakarinen with 5445. Third going to Denmark's Cecile Jeanette Dam Mortensen with 4961 and fourth was Germany's Saskia Malz with 4927. Others through included Catherine Durieux (Belgium), Solene Goron (France, Alison Williamson (Scotland) and the cut was Norway's Jennie Mathiesen with 4831 and Austria's Ivonne Gross missing out by 12 pins and Malta's Cynthia Frendo Duca by 25 pins. Out also was the defending champion Sue Abela in 15th.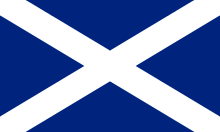 Men's Final Step 1
Describe the final step 1 in one word…. Amazing. The scoring was super super high all round and after four games a new top three.  Leader Steven Gill from Scotland with a low first game of just 214 well low by the standards of the block. 255 then 294 and 278 put the Scot on 4929 with home favourite Lukas Jelinek second with 4796 including a 289. Third and flying was Evangelos Krizinis with 4777. Also still inside the cut were Israel, France, Belgium, Poland and Lithuania on the cutline with 4690 and almost a 100 pin buffer to ninth place and defending champ Mike Bergmann with 4593.
With two games to go the only change was Mats Maggi up to third and Evangelos Krizinis and Oron Cohen slipping down the top eight and outside the cut Mike Bergmann just 46 pins away.
247 and 279 in the last two games saw The Czech Republic's Lukáš Jelínek catch and overtake lead Steven Gill to win the step by just one pin with 5785 and Steven with 5784. Up to third was Frenchman Thibaut Lanos with 5706 followed by Belgium's Mats Maggi with 5697.  At the cutline it was disaster for Lithuania's Laurynas Narusis with a 172 and Mike Bergmann ending with an amazing 275 as the Dutchman pushed into the top 8 in sixth. Other through were Poland, Greece and Israel on the cutline and Oren Cohen advancing.

Women's Final Step 2
A quick four game sprint to find the top four and after game one there was no changes to that top four and Poland (233), Finland (234) Denmark (200) and Germany (223) all help positions. Belgium, France, Scotland all below 200 and Norway on 204. -64 to -136pins the chasing pack needed.
Game 2 and now Finland top after a 269 and Poland second with a 247 and Germany up to third and Denmark to fourth with Norway and Belgium 50 or so pins away, France 71 down and Scotland 136 away from the cut. With a game to go, Germany and Denmark swapped places again and Belgium just 26 pins off the cut and Norway 53 pins.
So no changes at the end and Essi Pakarinen form Finland top with 6409, Poland's Daria Pajak in second with 6391, Denmark's Cecile Jeanette Dam Mortensen third with 5763 and Germany's Saskia Malz in fourth with 5753.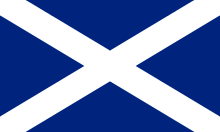 Men's Final Step 2
Fireworks in game one for the men as home star Lukáš Jelínek fired 299 to extend his lead over Steven Gill from Scotland with 258 and a 244 from Mats Maggi of Belgium. A massive 280 from Poland's Mikolaj Czarnecki put him just 51 pins outside the cut and Frenchman Thibaut Lanos (215). 268 from The Netherland's and 258 from Greece put them within 80 pins of the cut. 268 from Israel in 8th put Oron Cohen just over 100 pins away so all to play for with three to go.
A 182 in game 2 for the leader and another 258 from Steven Gill saw Scotland back in the lead and no other changes to the top 4 but defending champ Mike Bergmann with 257 now just 34 pins off the cut. Israel in 8th still only 109 pins off the cut with two to play.
All tied with a game to go at the top and Czech Republic and Scotland on 6513 with Belgium still third and France fourth. The Netherlands still 31 pins off the cut.
Wow, what a finishing the men's event as Scotland's Steven Gill rolls his second 300 of the Championships to win the step and second placed Lukáš Jelínek firing 288 in the final game also. both through to the semi finals together with Mats Maggi from Belgium and defending champion Mike Bergmann who finally caught and overtook Frenchman Thiabut Lanos with a final game of 248.
Men's Semi Finals
Down to the very last four and two best of three matches to find the finalist saw The Netherland's Mike Bergmann vs Scotland's Steven Gill and The Czech Republic's Lukáš Jelínek vs Belgium's Matts Maggi.
The home fans were cheering early on as their man went one up against Belgium with 259-246 and in the other semi final it was an early lead for the defending champion taking the first game against scotland 223-214.
It was not to be this year for Scotland as the defending champ Mike Megmann from the Netherlands made it 2-0 with a super close 218 to Steven Gills 216 and Bronze for Scotland.
In the other semi we would need to wait a little longer for the final score as Mats Maggi levelled the match at 1-1 and a 258-237 win. It was worth the wait too as Mats smashed in a 289-237 to take the match and advance.
Women's Semi Finals
Two fantastic matches to finish in the women's event and two players to find for the final saw Poland's PWBA star Daria Pajak up against Denmark's Cecile Jeanette Dam Mortensen and Finland's Essi Pakarinen verses Germany's Saskia Malz.
Finland were one up after game 1 with 227 to Germany's 205 as Poland's Daria Pajak fired 248 to 193 to go one up.
Daria Pajak was first through as she took the second game 225-187 and a 2-0 win but the other sem was going to the wire as Germany's Saskia Malz won the second game 198-193 and into a final decider game. That was won by Essi Pakarinen 214-193 and onto the final against Poland.
Men's and Women's Final
Belgium vs The Netherlands and Poland vs Finland to find out 2022 ECC champions and Belgium's Mats Maggi showed his intentions early with a 279-232 win against Mike Bergmann as Poland's Daria Pajak took the first game in the womens final 229-218.
Game two and Essi Pakarinen took the match to three games winning 236-222 as a titanic battle in the men's final saw neighbours Belgium and The Netherlands in a tense game as the Dutchman levelled the match 1-1, 227-206.
Tears and hugs at the end for Finland's Essi Pakarinen as she defeated Daria Pajok of Poland 225-219 and a 2-1 win for the Gold medal.
Cheers and hugs for Mats Maggi from Belgium as he won the final game 257-215 to win 2-1 and claim Gold.
---
Home Nations reports
A brief History of Success at ECC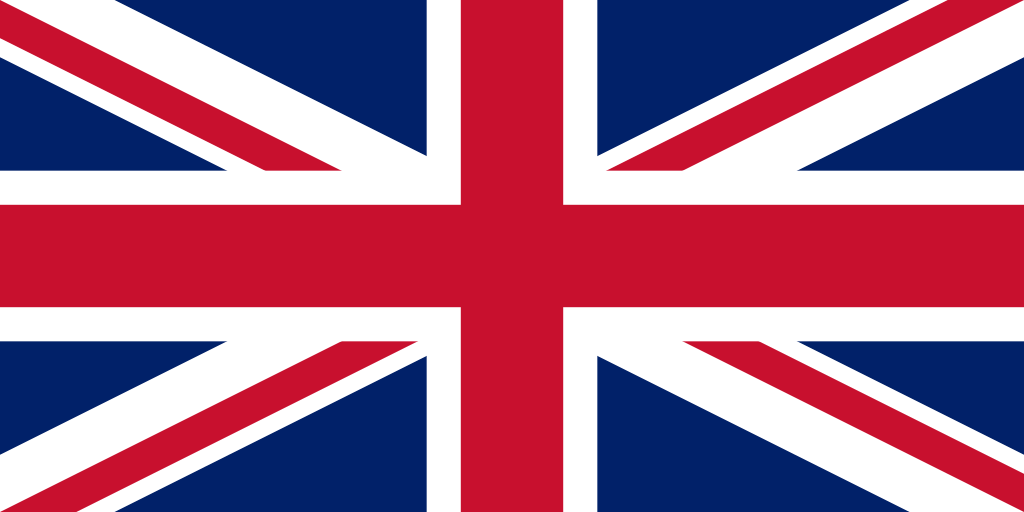 Great Britain
The European Champions Cup started in 1979 in s'Hertogenbosch, The Netherlands with 14 men and 12 women and no Great Britain. By the 80's this changed and we had a few players make attempts but no success. That was until UK Hall of Famer Shelagh Leonard took Gold in Boraas, Sweden in 1982 then returned in 85 and 88 to claim two Bronze with Del Delany winning our first mens medal with Bronze. Pauline Buck was next up for Gold in 1993 Silver in 94 and completing the set with Bronze in 95. As Great Britain then became separate Home Nations teams..

England
England started a run of successes in the event over the years with medals of all colours and Golds from Lisa John, Wayne Greenall who took our first male ECC medal as England, Zara Glover, Nick Froggatt and Kirsten Penny. To date we have Seven Gold, Six Silver and Twelve Bronze with the last medals won by Adam Cairns with Silver and Laura Marcham with Bronze in 2019 in Ankara, Turkey.
George Jagger is England's 2022 Athlete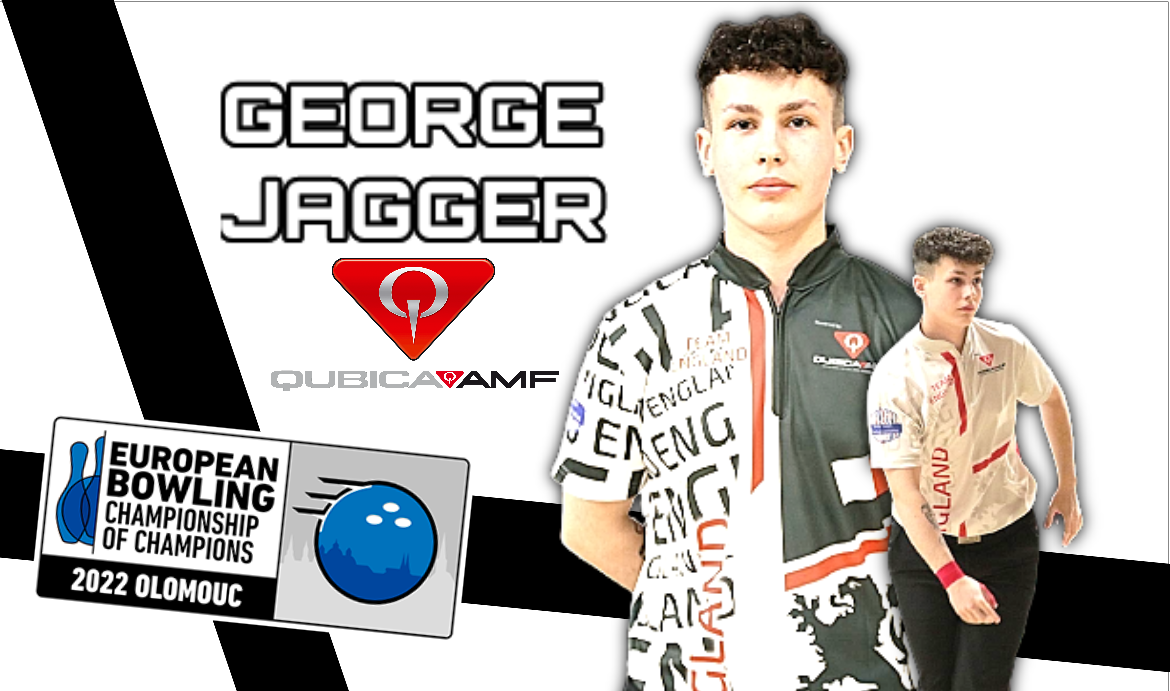 Men's A Block 1
England's only Athlete this year and a good start for George Jagger with 202,192 and 180 and stopped only by multiple single pin leaves for what maybe should have been strikeballs. So much in fact that George hit 27/33 pocket hits in those first three games then a 129. Some players might begin to fold after a low game but not Mr Jagger, back with games of 215, 220 and then a fine 266 as he raced back up the field. A 170 at the end and 1574 good enough for 10th place.
Men's B Block 2
A lot of work to do in this second block for the young Englishman and he responded right away with an opening game of 247 then 214 but as the transition hit he added 183 and 196 and still being tapped out.
Still in with a shot, George then rolled games of 235,187 and 215 but top 16 was slipping away and 157 at the end gave him 1634 (3208) and a 200 average which would be fair to say would have been so much higher without all the single pin pocket leaves.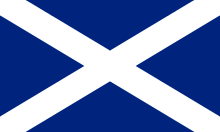 Scotland
While the Scottish can lay claim to joint won Great Britain medals, the truth was all the medals were won by English born players but as Great Britain was separated to Home nations, Scotland have won a medal at ECC. That came in 2002 in Schiedam, The Netherland's as Mhairi Shaw qualified after three rounds with a 199 average in 7th then defeating Finland's Krista Pollanen 613-565 (2-1) and England's Lisa John 369-350 (2-0) to reach the final against Tanya Petty from Germany. A close final and Petty taking the first game 235-211 but also taking the second game 222-202 to claim Gold and a first medal for Scotland at ECC.
Allison Williamson and Steven Gill fly the flag in 2022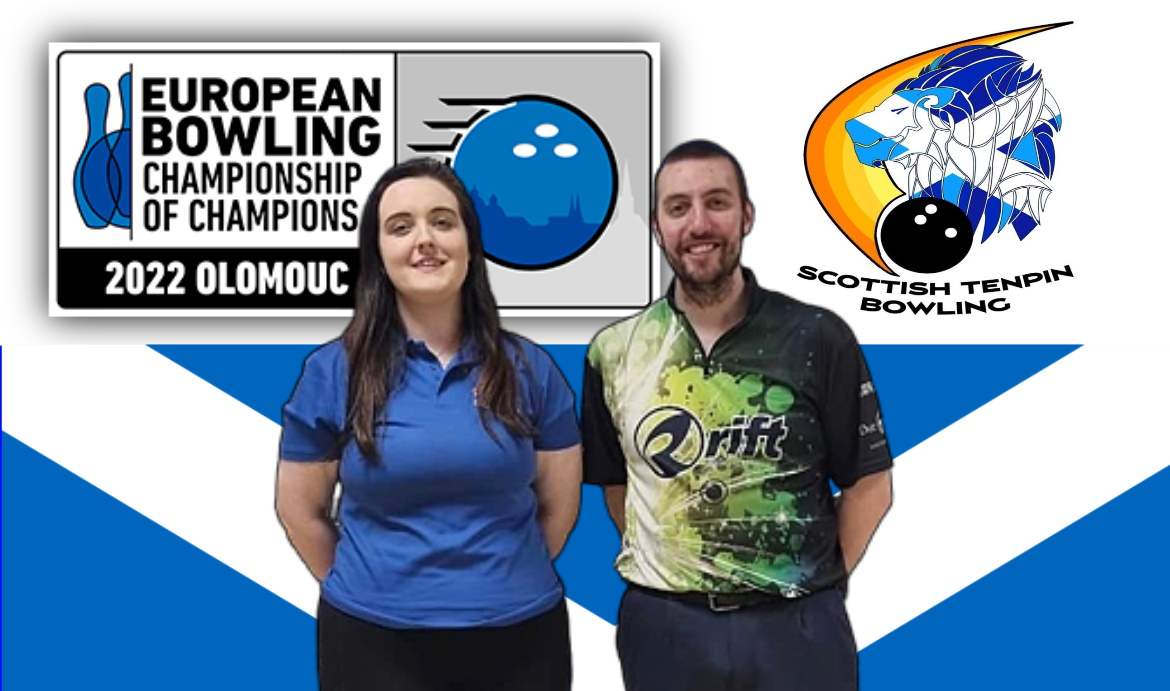 Womens Block 1
First up for Scotland was Alison Williamson in the Womens event and a good start saw her in 5th place after four games with 828 and games of 218,183,180 and 247. A drop with a 170 was more than enough covered with games of 204,205 and 212 for 1619 and fifth place.
Men's B Block 1
A higher paced Men's squad on Thursday morning saw Steven Gill enter the event and happy after four games of 225,279,257 and 214 for 975 and sitting in fifth place.
Maybe a touch early to get the bagpipes out but with a game to go Steven had added games of 255,227 and then another fine 279 and was now leading with 1736. one game later Steven was the combined leader after a 249 and total of 1985 and a massive 248 average.
Women's Block 2
Alison back on the lanes for the Women's block 2 and another 8 games saw the tall Scottish leftie starting with games of 215,210,219 and 179 and sitting nicely in sixth place with four games to go.
Alison then rounded out with further games of 230,169,218 and 156 to end with 3215 (200) in 6th place and well inside the top 16 for the next round.
Men's B Block 2
863 on most days is not a bad start in a squad and games of 216,247,204 and 196 for Steven Gill. That had him 15th in another high scoring squad. Nothing to worry about though as with four games to go Steven was already in 18th overall and even at this lower than his previous block pace would see him easily into the top 10 for the next round.
Then all of a sudden, it started to come together and 247 followed by a perfect game 300 and 236 and racing up to fifth in the squad and pacing the overall lead with a game to go. A final game of 257 and a string of strikes at the end and even a pocket five pin to finish gave Steven the overall top spot with 3888 despite a squad finish of fifth with 1903.
Women's Final Step 1
Maybe safe to say this is one of Scotland's best ever performances in the ECC with both players through to the final step and Alison Williamson first up on Saturday morning for eight more games and a shot at top 8. Joy all round at the end after games of 213,182,191,251,203,228,190 and 163 for 4836 and 7th place and onto the next round.
Men's Final Step 1
Another 8 games and a lower start than normal for Steven Gill with 214 but back on it with further games of 255 then 294 and 278 and flying at the top. 217,248 then a blip and 177 and being chased down by the home nation player Lukáš Jelínek. 213 to end with and second place overall but only by one pin. A great day commplete for Scotland with both players through to the next round.
Men's and Women's Final Step 2
Whatever happened now, Scotland could be proud of their bowlers both making the final step 2 of a major European Championships. Steven looked safe bar a disaster but Alison some work to do to go from 7th to inside the top 4. The top four all going strong after game one Saw Alison drop to 8th with 180 and 134 pins off the cut with three to go.
Steven with a 258 actually lost pins on the home nation leader with 299 but still well inside the top four cut with +121 and second place. Steven then back into the lead after another 258 then 213 and tied for the top spot with one to go.
Alison with 171 was struggling but bounced back with 213 and 153 off the cut and playing for position now. 169 to end with and 8th place with 5569.
Steven was not finished yet and fired his second perfect game of this ECC in the final game to top the step with 6616 and into the semi finals in an awesome display of bowling.
Men's Semi Finals
Best of three games to make it to the final and Steven Gill would need to keep the great form that saw him get here. A tense and tight first game going to his dutch opponent and defending champion 223-214 so one down and time to fight back in game 2. A super close second game saw Steven almost levelling the match but Bergmann just that touch better in the semi and a 2-0 loss in a close 218-216 win for the Dutchman and Bronze to Scotland.
---

Ireland
1987 was the year Ireland won their first ECC medal and by Philip Dunne with Silver. Third in qualifying early on with a 200 average, Phillip going on to make and ride the step ladder to the final, defeating Maddaloni of Italy 213-176 then Hedquist from Sweden 184-183 and into the final. Winning the first game against San Marino's Ercolani 216-191 but losing the second game 162-212 and Silver claimed. Phillip was then back in 1992 In Amsterdam, The Netherlands to do the exact same and win a silver medal.
Aoife Hall Chandler and Eoghain Lebioda will represent Ireland in 2022.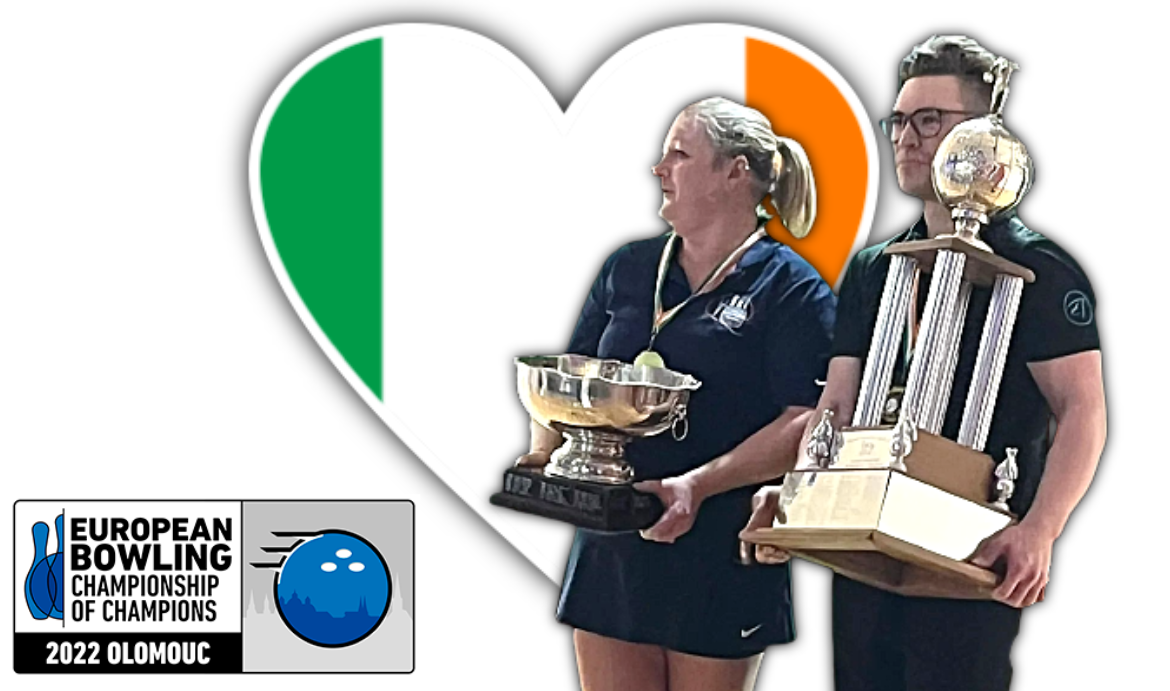 Womens Block 1
Aoife on the lanes on Wednesday morning for the first eight game block and steady but not amazing by her own high standards and games of 176,159,169 and 174 for 678 in 30th with four games to play. Better games came after a 157 then 200,178 and 214 for 1427 and up to 25th.
Mens A Block 1
A mixed bag of scores for Eoghain Lebioda in the first block and games of 203,161,166, 174, 174, 21 and 216 going into the last game and sitting in 15th despite playing well. A final game of 215 and 1510 put Eoghain in 14th with Men's block b to go.
Women's Block 2
Halfway through and Aoife had rolled games of 167,180,174 and 188 and another mixed block but still only 188 pins off the to 16 cut and four great games could maybe still make it.
Sadly not to be for Aoife and games of 210,169,192 and 192 gave her a total of 2899 (181) and 23rd place.
Men's A Block 2
Probably the worst of starts in the second block for Eoghain but showed a lot of heart by racing back with games of 224,237 and 226 for 10th in the squad after the first four games.
A good block overall for the Irishman with further games of 214,200,249 and finishing strong with 258 and 1757 for 5th in the squad and 10th overall with a squad still to go.
---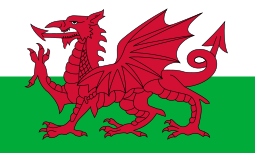 Wales
Wales have played the ECC right back to 1995 where Lauri Cork placed 21st and Jan Steiner in 13th. In 2000 Ron Chamberlain placed 9th and Susan Thomas 11th, giving Wales their best placings in the event. Matched only by Mel Isaac and an 11th in 2001.
Mel now Oates is back and joins Steve Dalton to represent Wales in 2022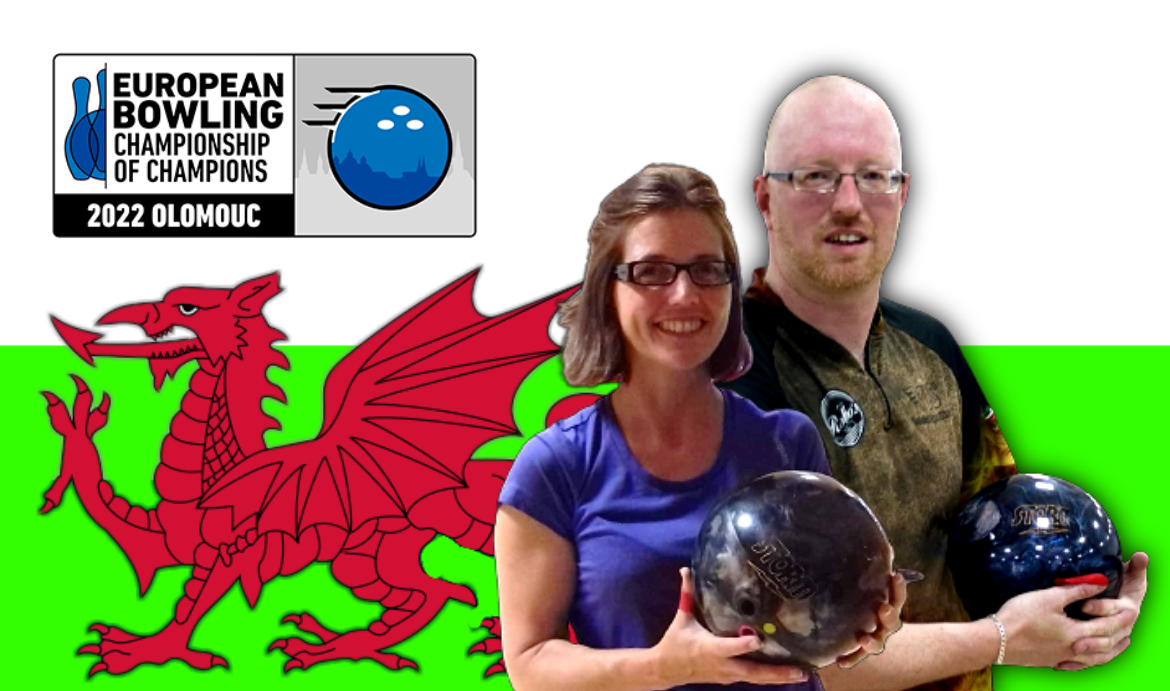 Womens Block 1
Mel Oates can bowl, like really bowl and is a former World Cup Champion. Four games in we started to see the class come through and placing 6th at the halfway stage of the first block with games of 189,213,201 and 223 for 826. Things got better still with games of 201,214,191 and 207 for 1639 and up to third place.
Mens A Block 1
Next up for Wales in the afternoon was Steve Dalton and a great start with 224 then a drop to 189 and back up to 224 but a 152 slowing things a little for 789 in 10th. The next four started to improve but only after a 149. A big jump up to 235 then 171 saw Steve sitting now in 12th with a game to go. 183 to end with and 1527 and sat in 13th place.
Women's Block 2
Mel sitting in third overnight dropped just one place in the first four games of the second block, starting with 202 but better with 224 then a pair of 201's and becoming a steady and potentially dangerous player in the top 16. The last four were not her best with 172,196,172 and 180 for a total of 3187 (199) and 11th but well inside the cut for the top 16 in 11th and advances.
Men's A Block 2
A 167 for Steve Dalton in game 9 but then much improved with 212 and 193 before dropping with a 131 and sitting 18th in the block after the first four games but still time go back up the field.
A good recovery from the low game saw Steve hit games of 180,212,220 and 203 for 1518 and 3045 overall.
Women's Final Step 1
The best Welsh result for some time and in fact since the last time Mel Oates played ECC in the early 2000's. A tough block and close to making the last 8, mel rolled cames of 202,182,192,209,204,226,182 and 192 for 4776 and just missing out by 55 pins and ending in 12th place.
---
Results
Results will appear here during the event
Livestreaming will be available during the event here
Men's Final

Women's Final

Men's Semi Finals
Women's Semi Finals

Men's Final Step 2

Women's Final Step 1

Men's Final Step 1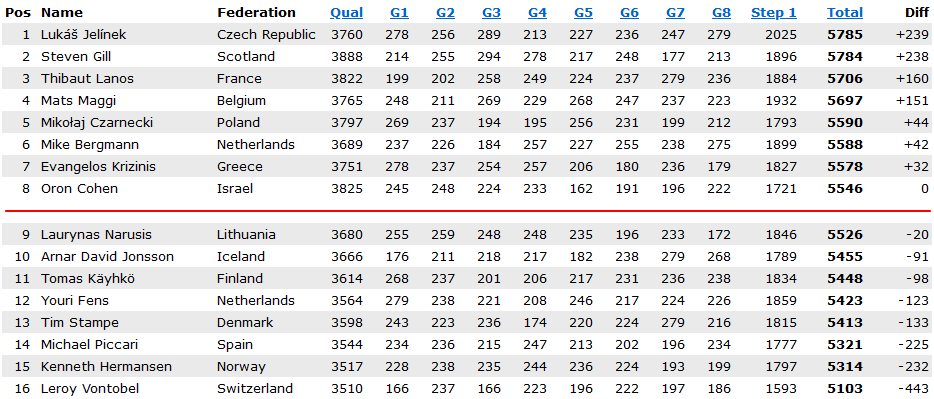 Women's Final Step 1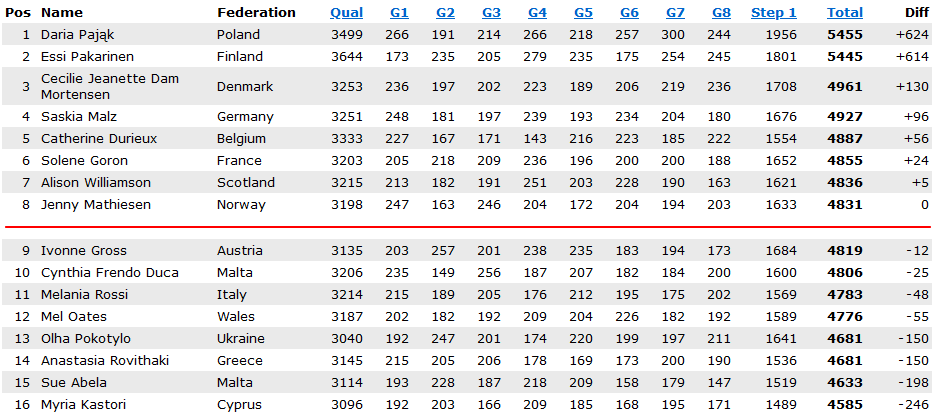 Mens Combined Qualifying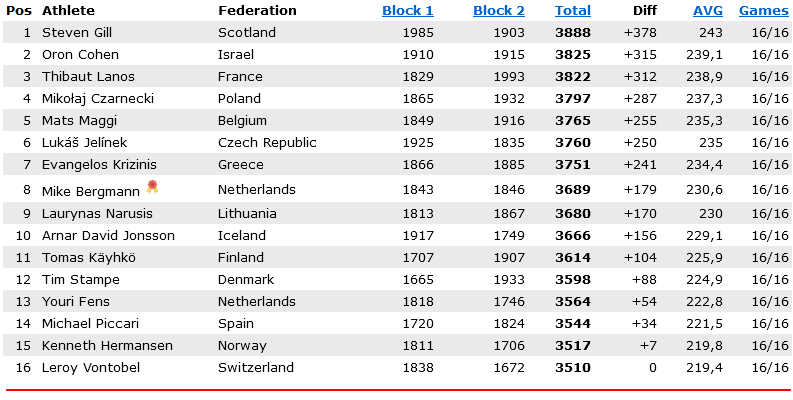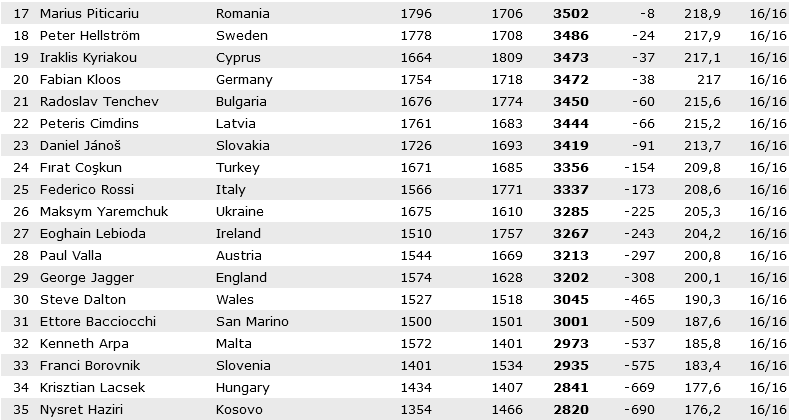 Womens Combined Qualifying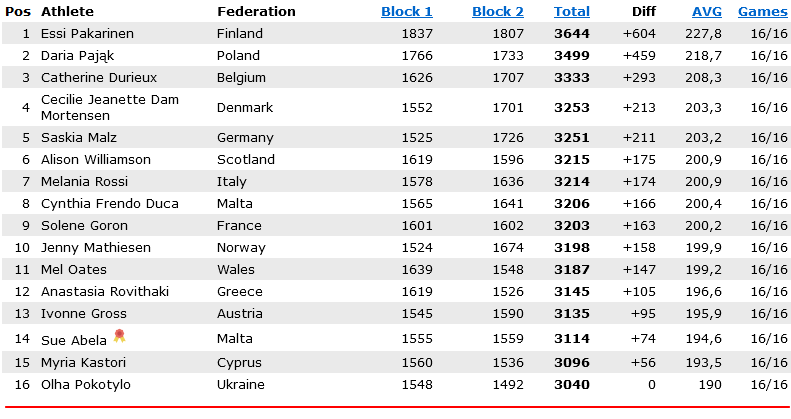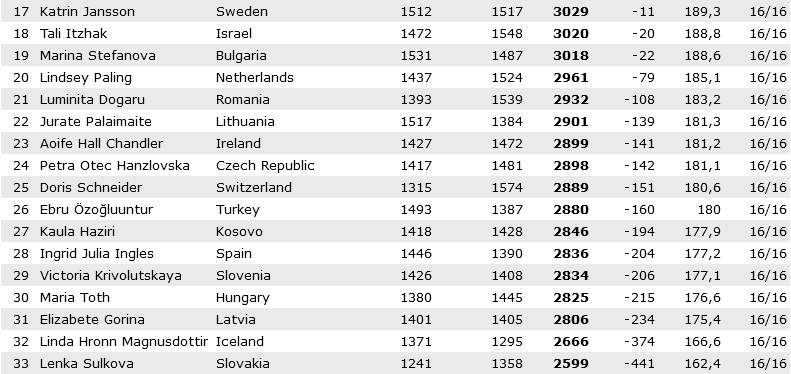 ---
Schedule
Weekday
Date
From
To
Activity
Monday
24.10.2022
–
–
Last day of team arrivals
–
–
Ball Registration
10.00
20.00
Unofficial practice
Weekday
Date
From
To
Activity
Tuesday
25.10.2022
09.00
10.00
Lane Maintenance
09.00
10.00
Team Managers meeting in the cinema opposite the bowling center
10.30
17.30
Ball Registration
10.30
12.00
Official Practice Squad 1
12.00
13.00
Lane Maintenance
13.00
14.30
Official Practice Squad 2
14.30
15.30
Lane Maintenance
15.30
17.00
Official Practice Squad 3
17.00
18.00
Break and line up
18.00
18.30
Opening Ceremony

Weekday
Date
From
To
Activity
Wednesday
26.10.2022
09.00
10.00
Lane Maintenance
10.00
14.30
Women Block 1
14.30
15.30
Lane Maintenance
15.30
19.00
Men – Group A – Block 1
Weekday
Date
From
To
Activity
Thursday
27.10.2022
09.00
10.00
Lane Maintenance
10.00
13.30
Men – Group B – Block 1
13.30
14.30
Lane Maintenance
14.30
19.00
Women Block 2
Weekday
Date
From
To
Activity
Friday
28.10.2022
09.00
10.00
Lane Maintenance
10.00
13.30
Men – Group A – Block 2
13.30
14.30
Lane Maintenance
14.30
18.00
Men – Group B – Block 2
Weekday
Date
From
To
Activity
Saturday
29.10.2022
09.00
10.00
Lane Maintenance
10.00
13.00
Women Top 16, 8 games
13.00
14.00
Lane Maintenance
14.00
17.00
Men Top 16, 8 games
Weekday
Date
From
To
Activity
Sunday
30.10.2022
08.00
09.00
Lane Maintenance
09.00
10.45
Men and Women Top 8, 4 games
10.45
11.30
Lane Maintenance
11.30
13.00
Men and Women Semi Finals, best of 3 games
13.00
14.30
Men and Women Final, best of 3 games
14.30
15.30
Medal Ceremonies and closing
20.00
–
Farewell Party
Weekday
Date
From
To
Activity
Monday
31.10.2022
–
–
Departures
Event History