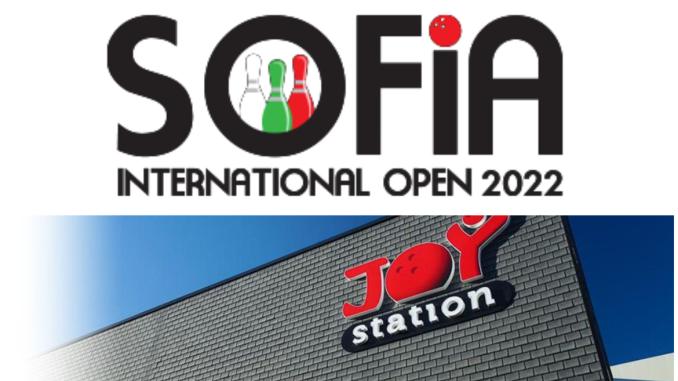 The Sofia International Open at the 20 lane Joy Centre in Sofia, Bulgaria runs from the 22nd October to the 30th October with a total prize fund of 55.000 Euro and top prize of 7000 Euro.

Reports
A fine 1510 and massive 251 average saw Italy's Nicola Pongolini head the Sofia field into the final rounds. Second was Sweden's Johnathan Hallberg with 1490 and third to England's Dan Harding with 1486. Inside the top 8 included Maxime Dubois (France), Teemu Putkisto (Finland), Jaroslav Lorenc (Czech Republic), Thomas Larsen (Denmark) and Carl Eklund (Sweden).
Final Step 1
Four game race to the next round saw England's Dominic Barrett out on top with games of 236,247,216 and 288 for 987 (246). Second was Romania's Victor Dumitrascu just a pin behind on 986 and Sweden's Kim Bolleby in third with 969. Fourth was Germany's Patrick Hehnen and fifth went to England's Lee Cocker. The cut fell on Mikkel Sorensen from Denmark with 877.
Final Step 2
Another short race to find the top 12 and leading the way was Meni Mizrahi with games of 277,256,224 and 239 for 996 as Sweden's William Svensson placed second with 979 and Italian Antonino Fiorentino thrd with 953 and a pin ahead of England's Dominic Barrett with 939. Also inside the cut were England's Charlie Upton, Sweden's Kim Bolleby, Ireland's Taylor Williams, and Jessie Kallio of Finland among others. The cut landing on Romania's Alexandru Arbanas with 896.
Final Step 3
Four more games and 20 down to just 10 for the final step 4. Kim Bolleby with 258,235,258 and 258 was top with 1009 (252) with Sweden's William Svensson second on 995 and third going to England's Dan Harding with 981. The cut for the top 10 landing on Finland's Teemu Putkisto with 927. Making it through included Alexandru Arbanas, Charlie Upton, Maxime Dubois, Carl Eklund, Jessie Kallio and Dominic Barrett.
Final Step 4
Just four games yet again and just four from ten would go through. Kim Bolleby with 258 and 289 was flying after two games with William Svensson close by. It was anyones guess who would be the final four at this point with two to go.
Into the top four went Dom Barrett after game three and a 258. Kim Bolleby slipping at the top a little with a 202 and Dan Harding with 228 in second. Frenchman Maxime Dubois also mounting a challenge with 2234 as we headed for the last game.
A 235 final game booked a place in the stepladder for Kim Bolleby with 1993 followed by Alexandru Arbanas from Romania with 1905 then Frenchman Maxime Dubois on 1904 after final game 260.Taking the last spot was Sweden's William Svensson with 1894 and 257 to end with.
Final Step 5
Stepladder finals time and first up we had Maxime Dubois from France vs William Svensson from Sweden. A high scoring match saw the Frenchman through 256-237.
Next up Maxime would have to go past Alexandru Arbanas from Romania. He did so with some ease shooting 246 to the Romanian's 187 and the next quest was could the Frenchman ride the ladder to the title? Next up would be top seed Kim Bolleby.
It was not looking good for the Frenchman after six frames as Kim Bolleby raced into a big lead with the front six and did not look in the mood to let this one slip. Maxime was fighting back though but Kim after a spare hit another double and looked odds on for the win despite the frenchman stringing the strikes.
Kim Bolleby rounded out with 258 to Maxime Dubois on 227 and wins the 2022 Sofia International.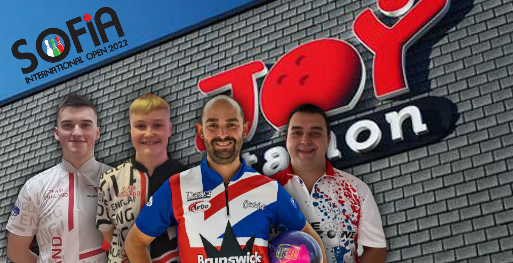 Home Nation reports
Joy in the Joy centre from England and Ireland as a few from the home nations made it through to the finals. Dan Harding was sitting pretty in third place in qualifying with 1486 and inside the top 16 was Ireland's Taylor Williams in 12th and England's Charlie Upton in 14th. In 26th and one of the most dangerous in the field was England's Dominic Barrett and in 35th and also advancing was Lee Cocker.
Onto the Final step and Dom Barrett and Lee Cocker through in step 1 with Dom in the top spot with 987 and Lee in fifth with 942. Step 2 and Dom through again and this time with Charlie Upton but sadly out went Lee Cocker.
Step 3 and three through as Dan Harding was 3rd, Charlie Upton 5th and Dom Barrett 9th and into a step four race to the top 4 stepladder finals. Step 4 and 241 and 224 for Dan had him still in the hunt, 248 and 227 saw Dom trying to claw pins back and a shaky 190 start from Charlie then adding a better 224 saw him 10th.
258 from Dom saw him into the top four with Dan still second after a 228, Charlie struggling now with 152 but such an amazing performance by the Youth Team England player that 10th place would be a massive achievement.
And just like that, all our guys were out as Dan hit 188 and dropped out of the top four to sixth and Dom in then out after a 193 in seventh. Charlie ending well with a 226 in tenth.
---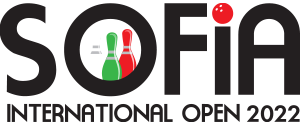 Results
Results will appear on the Official website here .
Livestreaming is available here
---
Final Step 5
Championship Match

Match 2

Match 1

Final Step 4

Final Step 3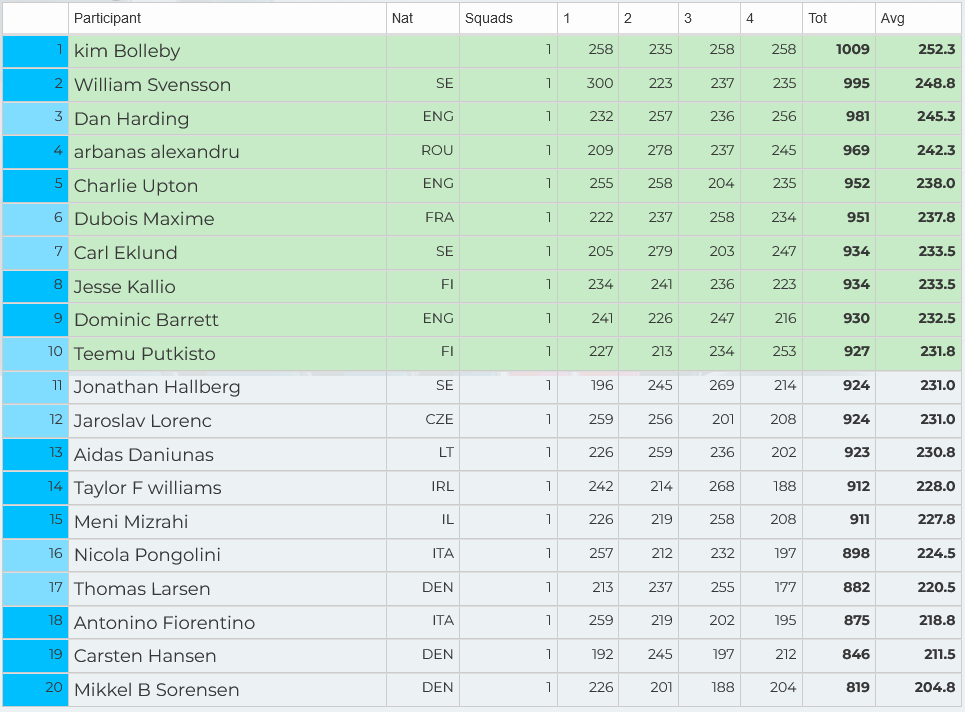 Final Step 2
Final Step 1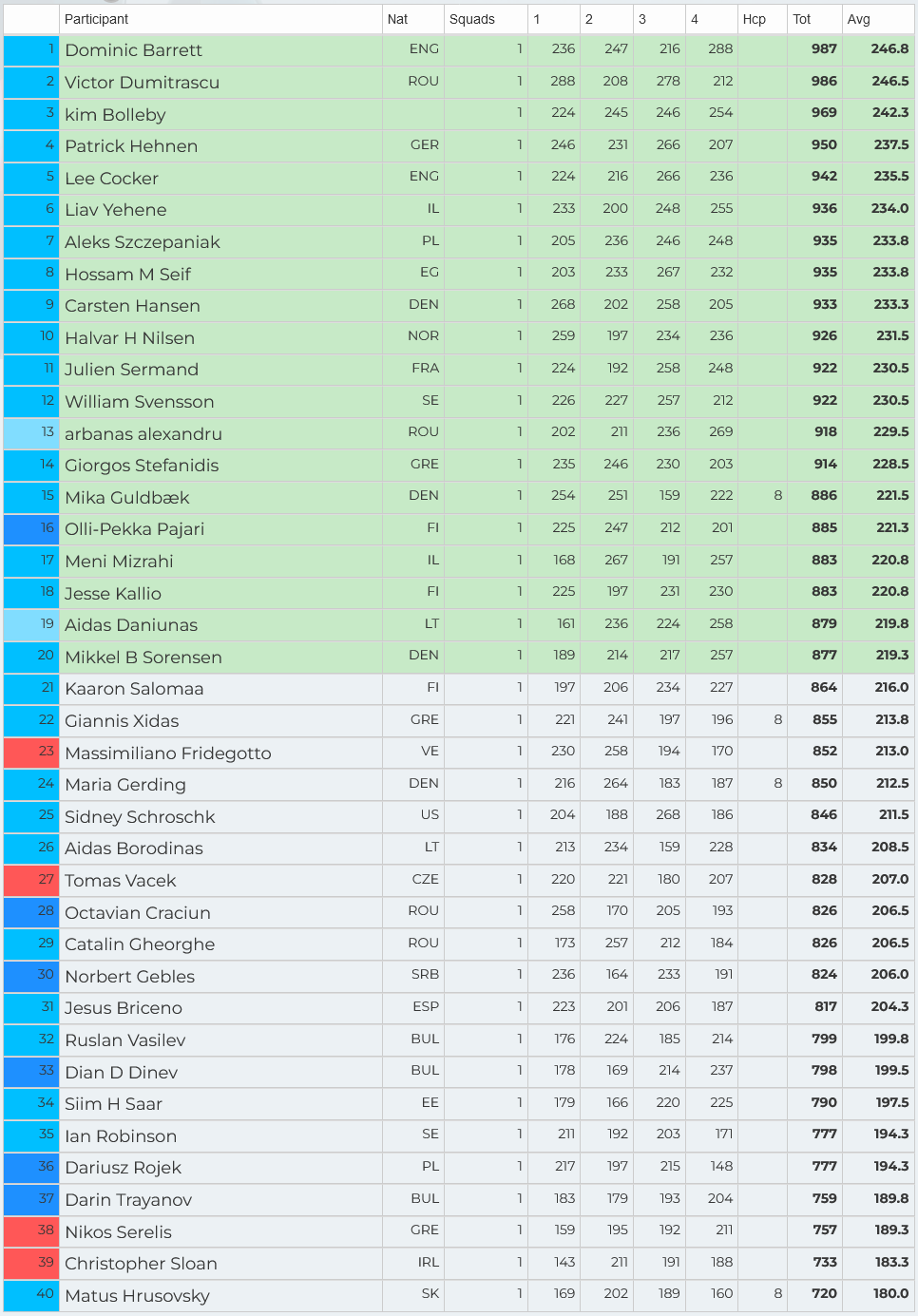 Qualifying

---