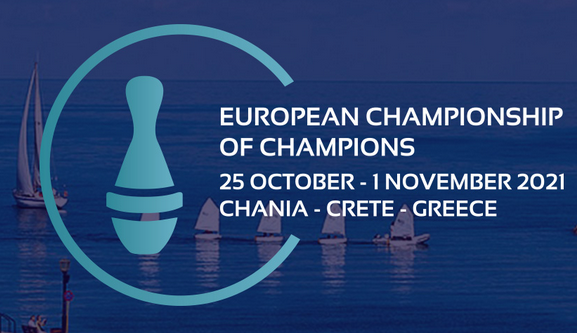 25 October 2021 – 1 November in Chania, Crete
The first edition of the ECC was conducted in 1979 in s-Hertogenbosch, The Netherlands and named the European Cup Individuals with 14 federations taking part. Finland have won the most Golds in the mens division with 9 and Sweden have won the most Golds in the womens with 8. The also have the most medals at 46 overall.
Each ETBF member federation may enter the reigning national woman and man champion, or no. 2 or no. 3 etc. In addition the ECC champions of previous year are automatically qualified for participation.
Chania, Crete host the 2021 edition and 30 European federations taking part.
Romeo's perfect start

We got underway on Wednesday with the first mens eight game block and right away Romanian Romeo Gagenoiu fired the first perfect 300 game in the very first game. It was a sign of the things to come as he continued on to lead by quite a bit at the end with 1915 and ahead of second placed Nicola Pongolini from Italy with 1829. Third was Dutchman Mike Bergmann with 1813 and a pin in front of fourth paced Gaetan Mouveroux from France with 1812.

The afternoon saw the women on the lanes and just two players breaking the 1700 barrier with Denmark's Mika Guldaek leading with 1758 and Dutch star Nicole Sanders in second with 1703. Taking up third was Norway's Andrea Hansen with 1696 and fourth was Sweden's Victoria Johansson with 1683.

Chasing pack close in

Day two and the second squad of men for block one and the race to the finals. New entries in the top four included Israel's Oren Cohen with 1893 and second overall behind Romania's Romeo Gagenoiu. Into third went Sweden's Mattias Wetterburg with 1834 and five pins ahead of Italy's Nicola Pongolini in fourth.

Danish Delight

Despite placing second in the second block for the women, Denmark's Mika Guldbaek held her lead at the top with 1755 for the block and 3513. Nicole Sanders from the Netherland's was the one to lead the squad with 1769 and held second place overall with 3472. Into third overall was Sweden's Victoria Johansson with 3275 and fourth was Norway's Andrea Jansen with 3259. Safe inside the cut included Malta, Czech Republic, Russia, Slovenia, France, Austria, SPain, Latvia, Greece, Finland, Romania and Poland..

Here comes Sweden

Onto the second block on Friday and the first of two squads saw Sweden rise to the top after 16 games as Mattias Wetterberg hit 1898 and 3732 posted for all to chase. Second was Norway's Jonas Dammen with 3595 and third going to Lithuania's Laurynas Narusis with 3591. One more squad later would decide the top 16 to advance.

300 time
The chasing pack in the second squad threw a few fire fireworks as they closed in on the lead after 16 games. Leading that chase was Norway's Glenn Morten Pedersen who fires a perfect game on the way to 2014 and up to 6th overall. Blasting in to win qualifying was Italian Nicola Pongolini who also rolled 300 and hit 3783 to push Swede Mattias Wetterberg into second on 3732 as Gaeton Mouveroux was third with 3684 and fourth was Dutchman Mike Bergman. Also inside the top 16 cut were Romania, Norway, Lithuania, Iceland, Isreal, Finland, Russia, Ukraine, Czech Republic, Germany and Denmark.

Final Step 1 – The Netherlands and Sweden head the fields
Finals time and the eight game race to the top 8 saw Dutch Star Nicole Sanders out in front with 1795 and 5267 overall. Second was Denmark's Mika Guldbaek with 5166 and third was Sweden's Victoria Johansson with 5027. Safely inside the cut were Malta, Norway, Russia, Austria and Slovenia.

For the men it was Mattias Wetterberg leading the way with 1891 and 5623 overall. Second was Italy's Nicola Pongolini with 5528 and third was The Netherlands Mike Bergmann with 5430. Inside the top 8 were Lithuania, Finland, Norway, Iceland and France.

Final Step 2 – Top fours almost found

No changes to the top four after another four games in the final step 2 as Nicole Sanders continued to lead as Denmark's Mika Guldbaelk was second, Victoria Johansson from Sweden third and taking the final spot was Malta's Sue Abela.
No major changes in the top four again in the mens and Swededn's Mattias Wetterberg tops with 6587 followed by The Netherlands Mike Bergmann in second, Italy's Nicola Pongolini in third and Norway's Glenn Moreten Pedersen in fourth.
Semi Finals
Down to the last fours and soone to be last two in each division and it was Malta and Denmark celebrating Sue Abela went past Nicole Sanders 2-1 and Mika Guldbaek brushed aside Victoria Johansson 2-0 including a 279.
For the men it was The Netherlands and Sweden celebrating as Mike Bergmann finally won out against Nicola Pongolini 2-1 with a tied last game and 10-7 rolloff win. Mattias Wetterberg joining Mike in the final beating Glenn Moreten Pedersen 2-1.
Finals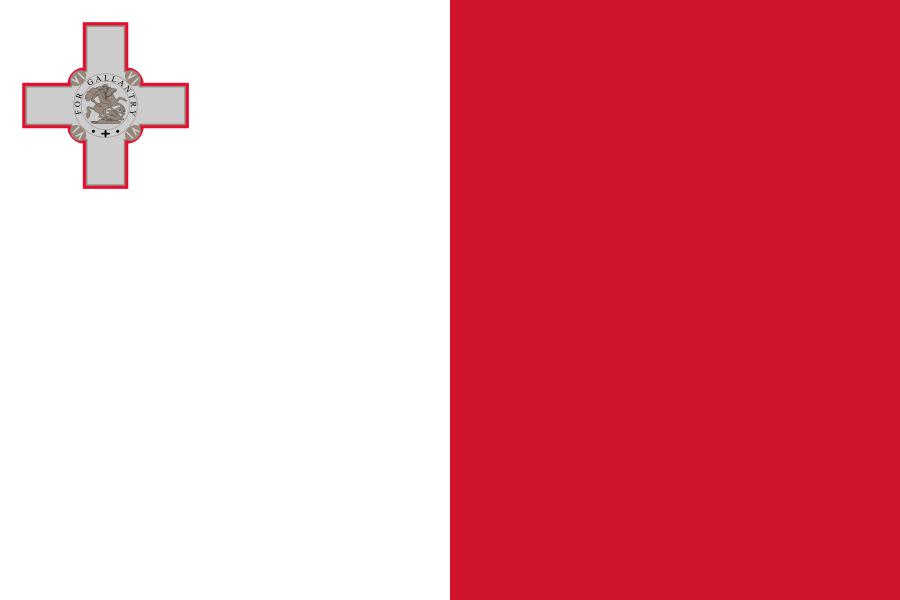 Malta is only a small island but boy can they produce good players, not just good but great in the case of Sue Abela. Going a game down to Denmark's Mika Gulbaek, the Queen of the Mediterranean as she is known fought back to level the match in a tight game 186-182 then dug deeper as both bowlers struggled to strike and recorded a famous win for the Island 182-169. She last won this went way back in 1999 and all these years later, just as good.

The men's final was equally as epic as it went one way then the other. This time Dutch Star Mike Bergmann won the first and lost the second in a tight fought match. Into the last game the Dutchman managed to pull away at the end for a 2-1 win and Gold to the Netherlands.
Results
Results will appear first on the Official website here
Women
Final
| | | | | | | | | | | |
| --- | --- | --- | --- | --- | --- | --- | --- | --- | --- | --- |
| Seeding | Lane | Name | Fed | G1 |   | G2 |   | G3 |   | Point |
| | | | | | | | | | | |
| --- | --- | --- | --- | --- | --- | --- | --- | --- | --- | --- |
| 2 | 9 | Mika Guldbaek | DEN | 225 |   | 182 |   | 169 |   | 1 |
| 4 | 10 | Sue Abela | MLT | 188 |   | 186 |   | 182 |   | 2 |
Smi Final
| | | | | | | | | | | |
| --- | --- | --- | --- | --- | --- | --- | --- | --- | --- | --- |
| Seeding | Lane | Name | Fed | G1 |   | G2 |   | G3 |   | Point |
| | | | | | | | | | | |
| --- | --- | --- | --- | --- | --- | --- | --- | --- | --- | --- |
| 2 | 11 | Mika Guldbaek | DEN | 279 |   | 230 |   | 0 |   | 2 |
| 3 | 12 | Victoria Johansson | SWE | 236 |   | 224 |   | 0 |   | 0 |
---
1

14

Nicole Sanders

NED

247

 

202

 

175

 

1

4

13

Sue Abela

MLT

197

 

248

 

225

 
Final Step 2
Pos 
Name
Federation
Qual
G1
G2
G3
G4
Step 2
Total
Diff

1 

Nicole Sanders

Netherlands

5267

280

203

234

269

986

6253

+460

2 

Mika Guldbaek

Denmark

5166

235

231

194

189

849

6015

+222

3 

Victoria Johansson

Sweden

5027

217

203

237

236

893

5920

+127

4 

Sue Abela

Malta

4992

210

197

170

224

801

5793

0

---

5 

Andrea E Hansen

Norway

4917

227

168

195

196

786

5703

-90

6 

Tamara Adler

Austria

4723

246

185

185

230

846

5569

-224

7 

Maria Koshel

Russia

4849

182

208

118

212

720

5569

-224

8 

Alja Bergauer

Slovenia

4719

154

150

182

197

683

5402

-391
Final Step 1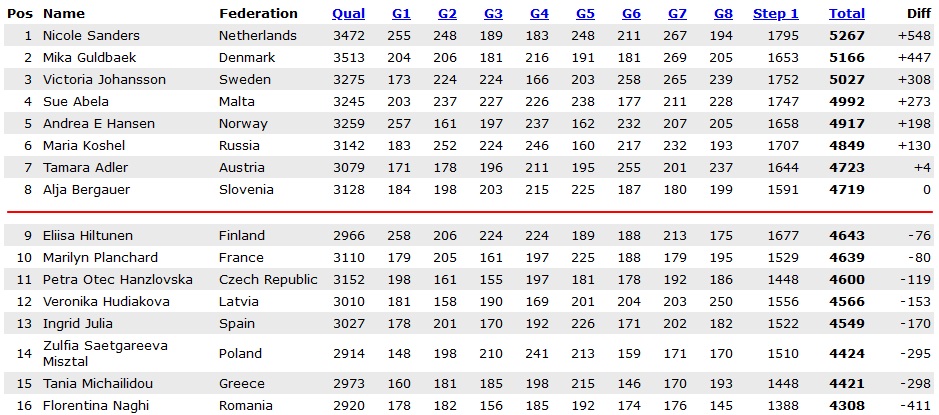 Qualifying
Pos 
Athlete
Federation
Block 1
Block 2
Total
Diff
AVG
Games

1 

Mika Guldbaek

Denmark

1758

1755

3513

+599

219,6

16/16

2 

Nicole Sanders

Netherlands

1703

1769

3472

+558

217

16/16

3 

Victoria Johansson

Sweden

1683

1592

3275

+361

204,7

16/16

4 

Andrea E Hansen

Norway

1696

1563

3259

+345

203,7

16/16

5 

Sue Abela

Malta

1583

1662

3245

+331

202,8

16/16

6 

Petra Otec Hanzlovska

Czech Republic

1524

1628

3152

+238

197

16/16

7 

Maria Koshel

Russia

1484

1658

3142

+228

196,4

16/16

8 

Alja Bergauer

Slovenia

1497

1631

3128

+214

195,5

16/16

9 

Marilyn Planchard

France

1529

1581

3110

+196

194,4

16/16

10 

Tamara Adler

Austria

1480

1599

3079

+165

192,4

16/16

11 

Ingrid Julia

Spain

1451

1576

3027

+113

189,2

16/16

12 

Veronika Hudiakova

Latvia

1644

1366

3010

+96

188,1

16/16

13 

Tania Michailidou

Greece

1525

1448

2973

+59

185,8

16/16

14 

Eliisa Hiltunen

Finland

1476

1490

2966

+52

185,4

16/16

15 

Florentina Naghi

Romania

1530

1390

2920

+6

182,5

16/16

16 

Zulfia Saetgareeva Misztal

Poland

1568

1346

2914

0

182,1

16/16

---

17 

Kristina Vlkovicova

Slovakia

1401

1506

2907

-7

181,7

16/16

18 

Monica Di Paolantonio

Italy

1407

1421

2828

-86

176,8

16/16

19 

Ebru Ozogluuntur

Turkey

1379

1443

2822

-92

176,4

16/16

20 

Daiva Perminiene

Lithuania

1422

1400

2822

-92

176,4

16/16

21 

Niki Schiza

Cyprus

1410

1410

2820

-94

176,2

16/16

22 

Oleksandra Levchuk

Ukraine

1436

1332

2768

-146

173

16/16

23 

Hana Duanis

Israel

1376

1318

2694

-220

168,4

16/16

24 

Marina Stefanova

Bulgaria

1413

1262

2675

-239

167,2

16/16

25 

Andrea Abrok

Hungary

1295

1346

2641

-273

165,1

16/16

26 

Ines Kuba

Germany

1335

1281

2616

-298

163,5

16/16
Men
Final
| | | | | | | | | | | |
| --- | --- | --- | --- | --- | --- | --- | --- | --- | --- | --- |
| Seeding | Lane | Name | Fed | G1 |   | G2 |   | G3 |   | Point |
| | | | | | | | | | | |
| --- | --- | --- | --- | --- | --- | --- | --- | --- | --- | --- |
| 1 | 7 | Mattias Wetterberg | SWE | 225 |   | 213 |   | 180 |   | 1 |
| 2 | 8 | Mike Bergmann | NED | 247 |   | 204 |   | 225 |   | 2 |
Semi Final
| | | | | | | | | | | |
| --- | --- | --- | --- | --- | --- | --- | --- | --- | --- | --- |
| Seeding | Lane | Name | Fed | G1 |   | G2 |   | G3 | G3 Tie | Point |
| | | | | | | | | | | |
| --- | --- | --- | --- | --- | --- | --- | --- | --- | --- | --- |
| 2 | 4 | Mike Bergmann | NED | 267 |   | 226 |   | 193 | 10 | 2 |
| 3 | 3 | Nicola Pongolini | ITA | 212 |   | 259 |   | 193 | 7 | 1 |
---
| | | | | | | | | | | |
| --- | --- | --- | --- | --- | --- | --- | --- | --- | --- | --- |
| 1 | 5 | Mattias Wetterberg | SWE | 227 |   | 238 |   | 236 |   | 2 |
| 4 | 6 | Glenn Morten Pedersen | NOR | 224 |   | 279 |   | 223 |   | 1 |
Final Step 2
Pos 
Name
Federation
Qual
G1
G2
G3
G4
Step 2
Total
Diff

1 

Mattias Wetterberg

Sweden

5623

227

248

222

267

964

6587

+227

2 

Mike Bergmann

Netherlands

5430

248

236

279

279

1042

6472

+112

3 

Nicola Pongolini

Italy

5528

212

235

236

236

919

6447

+87

4 

Glenn Morten Pedersen

Norway

5400

259

279

205

217

960

6360

0

---

5 

Gunnar Thor Asgeirsson

Iceland

5390

237

205

268

233

943

6333

-27

6 

Juho Rissanen

Finland

5424

215

244

237

213

909

6333

-27

7 

Gaetan Mouveroux

France

5360

235

235

258

216

944

6304

-56

8 

Laurynas Narusis

Lithuania

5427

195

201

220

204

820

6247

-113
Final Step 1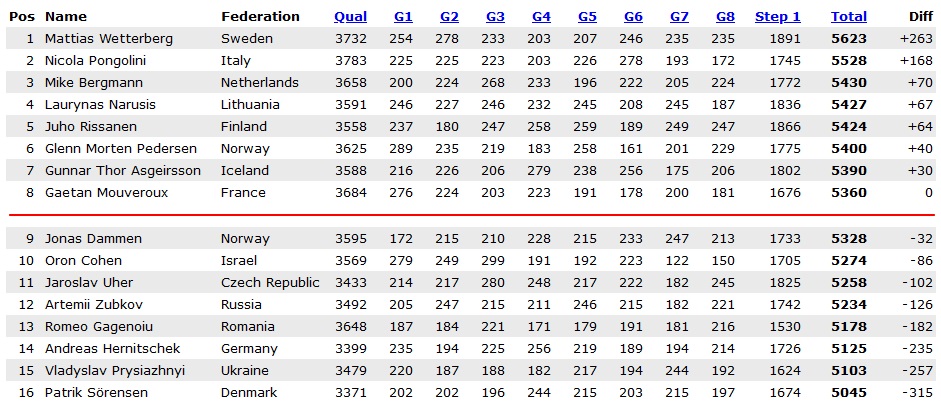 Qualifying
Pos 
Athlete
Federation
Block 1
Block 2
Total
Diff
AVG
Games

1 

Nicola Pongolini

Italy

1829

1954

3783

+412

236,4

16/16

2 

Mattias Wetterberg

Sweden

1834

1898

3732

+361

233,2

16/16

3 

Gaetan Mouveroux

France

1812

1872

3684

+313

230,2

16/16

4 

Mike Bergmann

Netherlands

1813

1845

3658

+287

228,6

16/16

5 

Romeo Gagenoiu

Romania

1915

1733

3648

+277

228

16/16

6 

Glenn Morten Pedersen 

Norway

1611

2014

3625

+254

226,6

16/16

7 

Jonas Dammen

Norway

1722

1873

3595

+224

224,7

16/16

8 

Laurynas Narusis

Lithuania

1775

1816

3591

+220

224,4

16/16

9 

Gunnar Thor Asgeirsson

Iceland

1754

1834

3588

+217

224,2

16/16

10 

Oron Cohen

Israel

1893

1676

3569

+198

223,1

16/16

11 

Juho Rissanen

Finland

1728

1830

3558

+187

222,4

16/16

12 

Artemii Zubkov

Russia

1701

1791

3492

+121

218,2

16/16

13 

Vladyslav Prysiazhnyi

Ukraine

1672

1807

3479

+108

217,4

16/16

14 

Jaroslav Uher

Czech Republic

1734

1699

3433

+62

214,6

16/16

15 

Andreas Hernitschek

Germany

1653

1746

3399

+28

212,4

16/16

16 

Patrik Sörensen

Denmark

1726

1645

3371

0

210,7

16/16

---

17 

Michal Jakobei

Slovakia

1630

1729

3359

-12

209,9

16/16

18 

Plamen Stanchev

Bulgaria

1658

1675

3333

-38

208,3

16/16

19 

Artemy Hudiakov

Latvia

1633

1694

3327

-44

207,9

16/16

20 

Vaggelis Krizinis

Greece

1574

1727

3301

-70

206,3

16/16

21 

Taygun Erkeskin

Turkey

1685

1604

3289

-82

205,6

16/16

22 

Mauro Anastasi

Malta

1639

1603

3242

-129

202,6

16/16

23 

Ettore Bacciocchi

San Marino

1511

1718

3229

-142

201,8

16/16

24 

Jakob Marcel Del Piero

Slovenia

1614

1599

3213

-158

200,8

16/16

25 

Raul Jimenez

Spain

1533

1630

3163

-208

197,7

16/16

26 

Kyriakos Konstantinou

Cyprus

1620

1512

3132

-239

195,8

16/16

27 

Pavel Sobolev

Belarus

1516

1514

3030

-341

189,4

16/16

28 

Janusz Pietraszek

Poland

1402

1469

2871

-500

179,4

16/16

29 

Alexander Rauscher

Austria

1428

1408

2836

-535

177,2

16/16

30 

Zsolt Radvanszki

Hungary

1358

1432

2790

-581

174,4

16/16