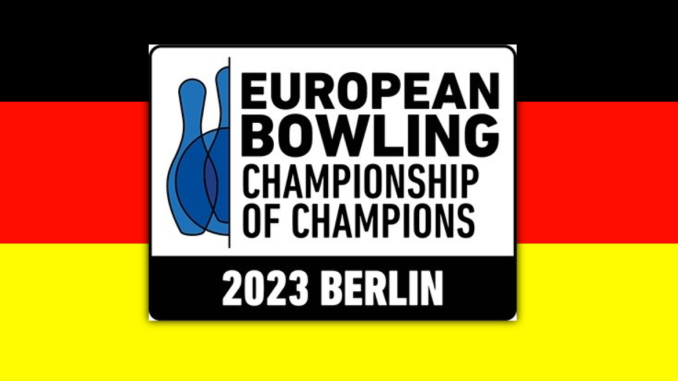 23-29 October 2023 in Berlin, Germany
ECC is the European Championship for national champions. Each federation, sending one female and one male to participate (mainly their national champion of singles event).
The one female and one male athlete who won the ECC the year before, is also invited as a defending champion.
As of 2023 the ECC also included the Mixed Double event, so there will be 24 games in total divided into three blocks of eight games. One block of eight games divided into Male and Female, then a Mixed event of eight games and last a new block of eight games divided into Male and Female.
Kegel and EBF Technical Delegate, Chris Hillman has decided that the pattern for the ECC 2023 will be 43 feet.
The final length can be +/- 1 feet of the published length. Final pattern will be released at the team managers meeting
---
Online Scoring – Livestreaming – Results
---
Reports
Such a hard event to predict as most if not all send their national champions and the field every year is super strong. Finland, Sweden not many bet against but Lithuania, England, Germany and France won't be there to just make up the numbers. Do not be shocked to see a mix of medals from European nations.

Men's Block 1 – Maggi Marvel
The defending champion, Matts Maggi from Belgium sent out a clear message in the first block of 8 games by opening with back to back 278's. He would have three in total on the way to a fine 240 average 1921 and leading the field. Second went to Sweden's Carl Eklund who started slow but raced back to end with 1856. Third going to Belgium's Clement Dubus with 1831.

Women's Block 1 – Fine Finns

Next up in the afternoon it was the Women on the lanes for the first 8 game block and no shocks to see Finland on top as Roosa Luden fired 1724 to lead by a good margin from Catherine Durieux in second with 1653. Third was the defending champion from Finland, Essi Pakarinen with 1647.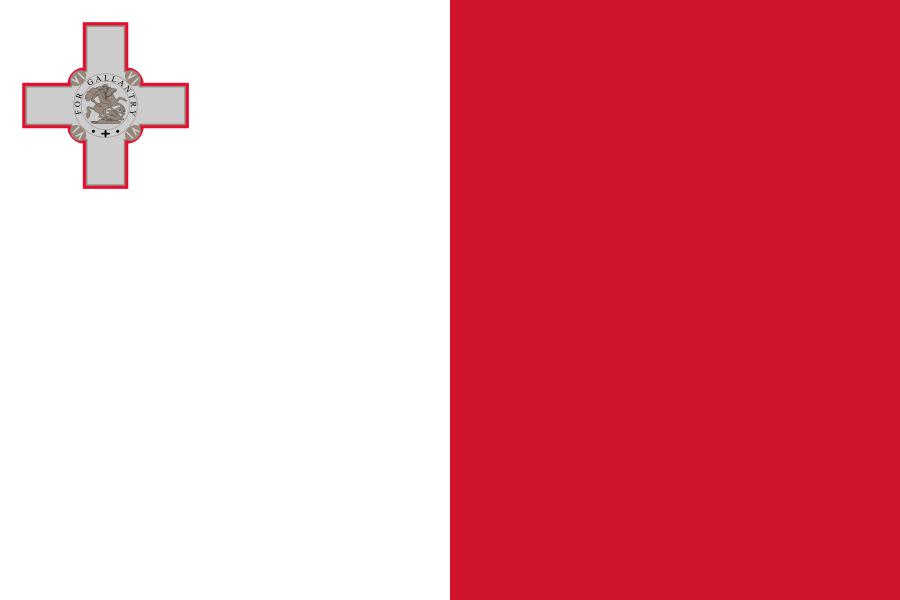 Mixed Doubles Squad A – Maltese Marvels
The first of two squads of doubles started with Group A and it was Malta making the early running and topping the field after the 8 game shootout with 3326. Wales in second place with 3260 and Latvia in third with 3236.

Mixed Doubles Squad B – England roar back to claim the Gold
The second squad took to the Berlin lanes in the afternoon and at the end it was England's Verity Crawley and Hadley Morgan who rose through the field to claim the gold at the end with 3464 including a fine 299 from Hadley. Silver went to Greece with 3465 and the Czech Republic taking the Bronze with 3361.

Women's Block 3 – Fine Finnish
The women were first up on Thursday to complete the 24 games of qualifying and at the end it was Finland'd Roosa Lunden just holding off England's Verity Crawley for the top spot by just two pins. Roosa with 4936 and Verity with 4934. Third was Georgia Sagona from Greece with 4824 and fouth to Sweden's Joline Persson-Planefors with 4743. Also inside the top 16 cut were Defeding champ Essi Pakarinen from Finland as well as Germany, Wales, Scotland, Denmark, Belgium, Austria, Ireland, The Netherland's Malta, France and Bulgaria.

Men's Block 3
The final block for the men and some great games were flying in as Belgium's Clement Dubus hit a 299, defending champ Mats Maggi with a 289, and England's Hadley Morgan and Czech Republic's Ondrej Prekop both with a 290. It was Maggi on top after 24 games with a massive 5643 and 235 average. Second was The Czech Republic's Prekop with 5548 and third to Finland's Thomas Kayhko with 5511. Inside the top 16 cut were Sweden, Belgium, England, Greece, Ireland, Lithuania, France, Slovenia, The Netherlands, Austria, Germany, Denmark and Slovakia.
Masters

Mens Round of 16
Eight would advance and eight would go out in the round of 16 which started on Friday morning. No change at the very top as Mats Maggi from Belgium lead with 7443 ahead of Sweden's Carl Eklund in second with 7381 and England's Hadley Morgan up to 3rd with 7327. Others through included Belgium, Czech Republic, Finland, Greece and Lituania.

Women's Round of 16
Friday afternoon saw the women complete another 8 games and a cut to the top 8 from 16. England's Verity Crawley having a fantastic block with 1774 including the first 300 game this year despite a few close calls. 6708 lead the way with Finland's Roosa Lunden in second with 6689 and Sweden's Joline Persson Planefors up to third with 6392. Others through including Germany, Scotland, Greece, Finland and the Netherlands.

Men's Round of 8
Four more games and not much room for error saw Belgium's long time leader and defending champion Mats Maggi from Belgium top seed for the semi finals with 8446 as England Hadley Morgan moved into second with 8263 and Sweden's Carl Eklund taking the third spot with 8251. Finland's Thomas Kayhko grabbing the final place with 8129.

Women's Round of 8
Four more games for the Women too and the lead changed hands from finland to England and back to England as Verity Crawley took the top seed for the finals by just one pin. Verity with 7554 and Roosa Lunden with 7553. Germany's Nadine Meier taking third with 7275 and Greece Georgia Sagona fourth with 7184.
Semi Finals
Finland vs Germany and England vs Greece in the women's semis with Belgium vs Finland and England vs Sweden in the mens. Through to the final were Finland and Sweden in the mens event as Tomas Kayhko took out the defending champ Mats Maggi 2-0 as Sweden's Eklund defeated the Englishman Morgan 2-0.
For the Women it was England and Germany through as Nadine Meier beat Roosa Lunden 2-0 but England's Verity Crawley had to go to three games to beat Greece' Georgia Sagona 2-1.
Finals
Germany vs England in the Womens final and Sweden vs Finland in the mens.
It was Finland taking the first game in the men 236-193 as Germany took the womens first game in a close 182-175. Into game two and Finland's Tomas Kayhko and Carl Eklund were neck and neck as Germany had a small lead in the Women's final going into the final frames.
Sweden's Eklund fired three strikes in the 10th to force Kayhko to do the same but came up short 227-235 and the men were going to a decider. Same for the Women as Verity Crawley took the second game 219-214.
Game three and Finland's Kaykho on a 290 pace gave Sweden's Eklund no chance and Gold for Finland 269 vs 221 and 2-1. Gold for England's Verity Crawley 2-1 and 222 vs 188.
---
Home Nations Reports
The home nation sides do not seem to be messing about in 2023 with England, Scotland and Wales sending some pretty special athletes. England will be confident with Hadley Morgan and Verity Crawley. Scotland will be delighted with Brian Gillespie and Tania Yusaf and Wales will be over the moon with Glenn Robson and Mel Oates. Ireland sending Taylor Williams and Hannah Masterson and will be excited to see two of their Youth talents in Berlin. Of those eight, at least one you would bet on making the medals.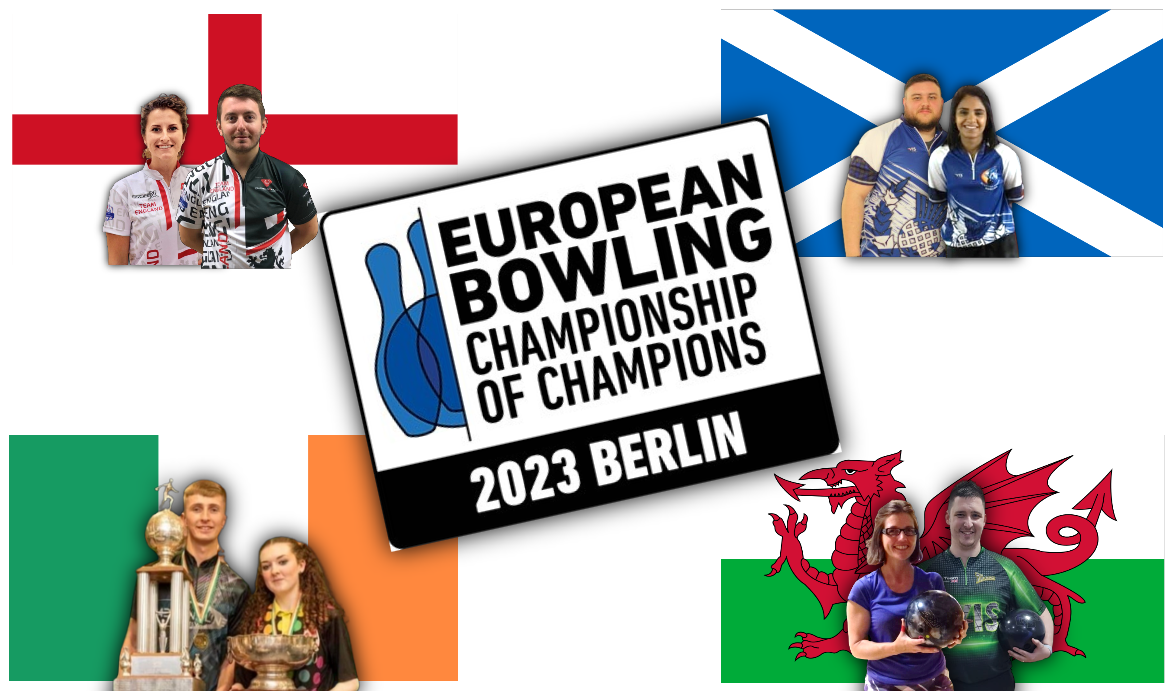 Men's Block 1 – A good start for the Home Nations
The Home nations will be generally happy with the start of the Men's event with two inside the cut and the others not too far away. Taylor Williams for Ireland the MVP for Tuesday in 4th place with 1800 (225). England's Hadley Morgan in 8th with 1773 then Scotland's Brian Gillespie just outside the top 16 in 20th with 1632 and Wales Glenn Robson in 28th with 1559.
Women's Block 1 – More good bowling

It was the Women's turn next in the afternoon and another good block for the Home Nations as England's Verity Crawley placed 7th with 1583 followed by Mel Oates from Wales in 9th with 1563. Hannah Masterson from Ireland in 11th with 1552 and Scotland's Tania Yusaf in 13th with 1515.
Mixed Doubles
Wales were first up in Group A and a good block saw Mel Oates with 1588 and Glenn Robson with 1672 and 3260 placing them in second with a squad to go.
What a day for England's Verity Crawley and Hadley Morgan, a good start and a stutter but a string of good games and a massive 299 from Hadley saw the pair claim the Gold medal with 3479. Wales Mel Oates and Glenn Robson in 13th with 3260 and Scotland's Tania Yusaf and Brian Gillespie in 14th with 3243.
Women's Block 3
A great day at the office for our home nations women as all four nations made it into the top 16 for Friday's masters. Verity Crawley from England in 2nd place with 4934, Wales Mel Oates in 7th with 4681, Scotland's Tania Yusaf in 8th with 4648 and Ireland's Hannah Masterson in 12th with 4587.
Men's Block 3
Joy for England and Ireland but sadness for Scotland and Wales after the final 8 game block for the men. England's Hadley Morgan in 6th with 5433 and Ireland's Taylor Williams in 8th would advance but going out were Scotland's Brian Gillespie in 19th by just 23 pins wirt 5017. Wales Glenn Robson in 25th with 4812.
Masters
Men's Round of 16
Joy and pain the the last 16 as one Home Nation went through and the other just missed out. Advancing was England's Hadley Morgan with a fantastic block that saw him go from 6th to 3rd and ending with 7327.
Sadly though out went Ireland's Taylor Forde Williams who battled well only to miss out by just 7 pins with 7016.
Women's Round of 16
Two out of three ain't bad they say, nicer with all three advancing but good to see Verity Crawley and Tania Yusaf go through but a sad goodbye to Wales Mel Oates. Verity rolling a perfect game in the block to lead overall with 6708, Scotland's Tania Yusaf in 5th with 6378 but Mel Oates out with 6249 and just 15 pins.
Men's Round of 8
Just England's Hadley Morgan left for the men's Home Nations and a great block from the Englishman up to second place for the finals with a block of 936 and total of 8263.
Women's Round of 8
England's Verity Crawley advanced as the top seed in the womens event with a block of 846 and total of 7554 to lead by just one pin. Sadly we said godbye to Scotland's Tania Yusaf who placed 6th with 763 and overall of 7141.
Semi Finals
One in and one out for England in the semi finals as Hadley Morgan lost to Sweden's Carl Eklund 0-2 but Verity Crawley advanced to the final beating Georgia Sagona 2-1.
Final
Joy for England as Verity Crawley claimed Gold. It was not plain sailing as she lost the first game 175-182 but fought back to win the second 219-214 then completed the job by taking the third 222-188.
---
Results
Results will appear first on the official website here
Masters
Final


Semi Finals


Men's Round of 8

Women's Round of 8

Women's Round of 16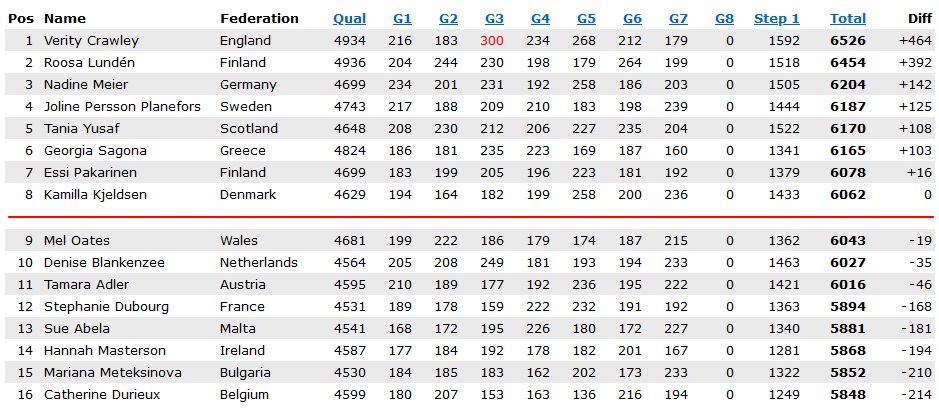 Men's Round of 16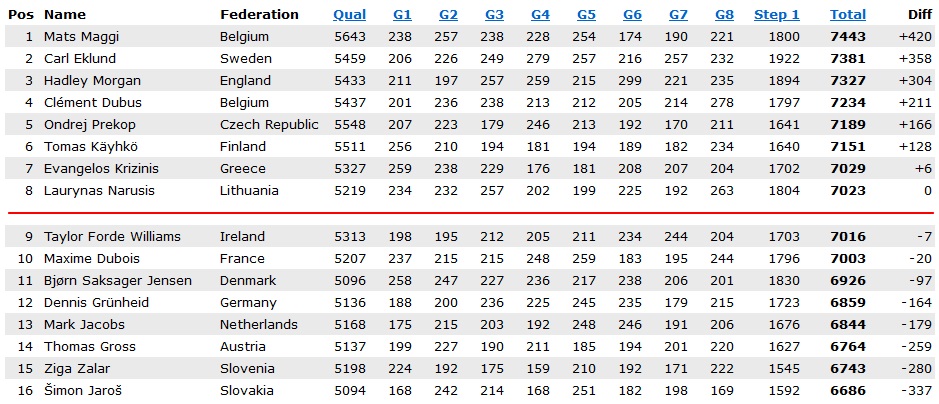 Men's Block 3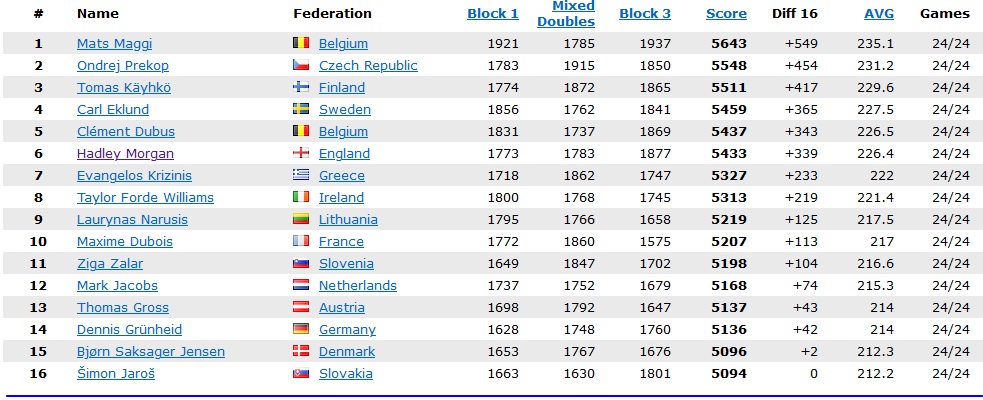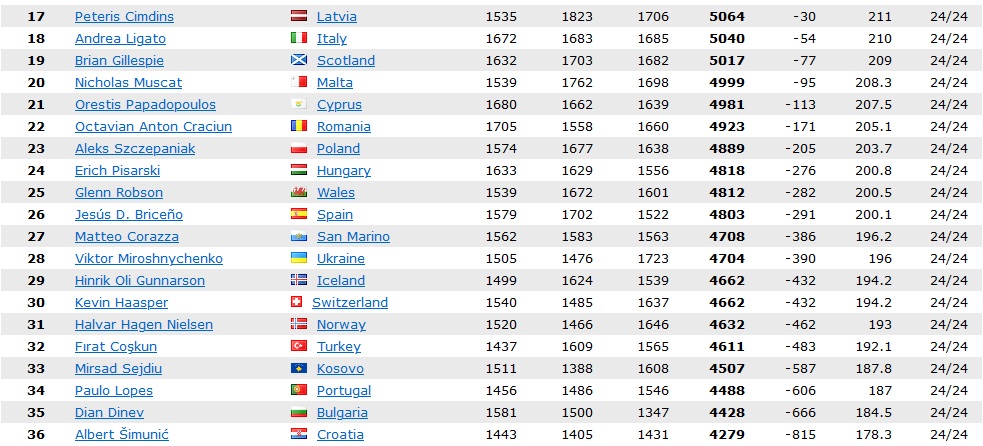 Women's Block 3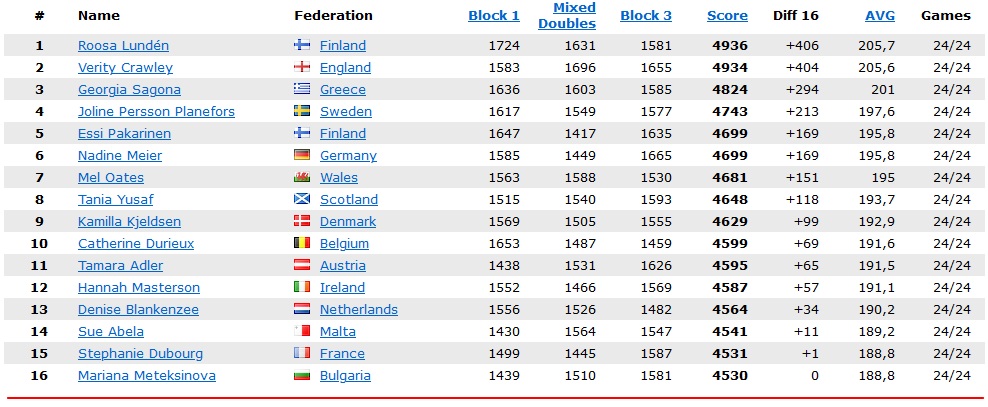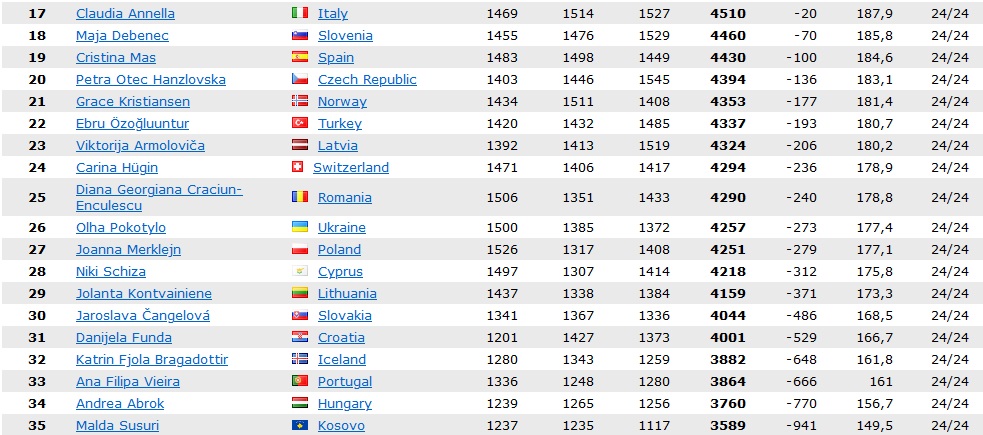 Mixed Doubles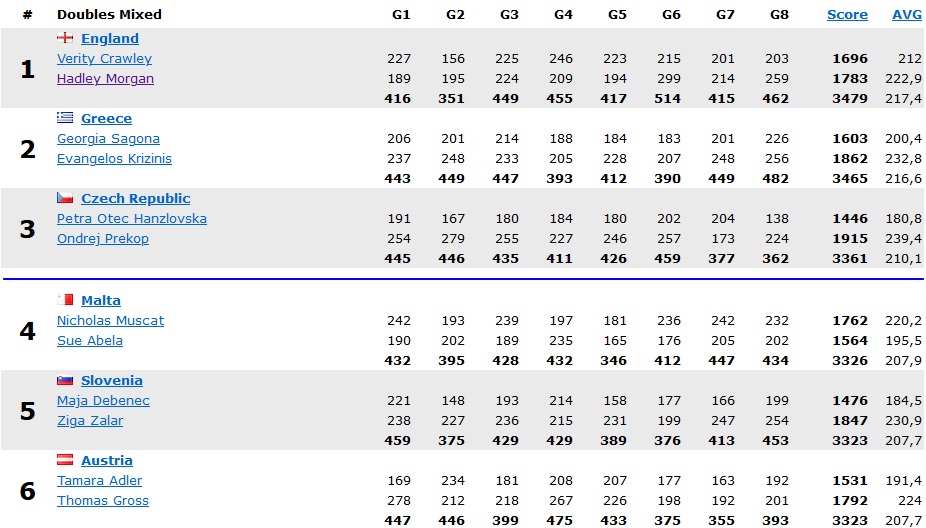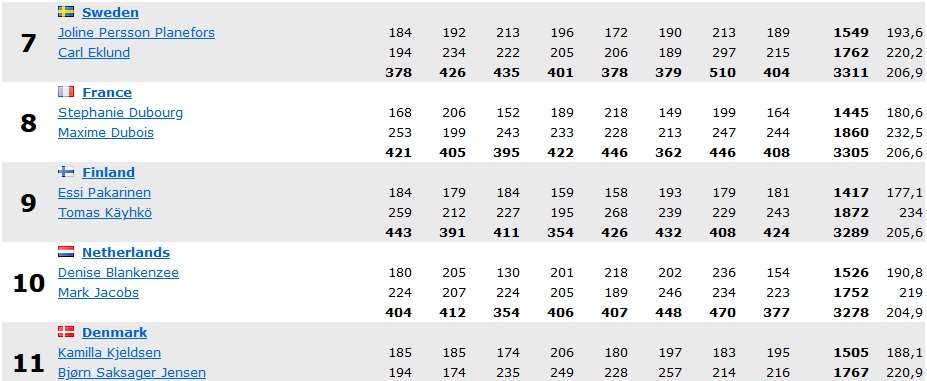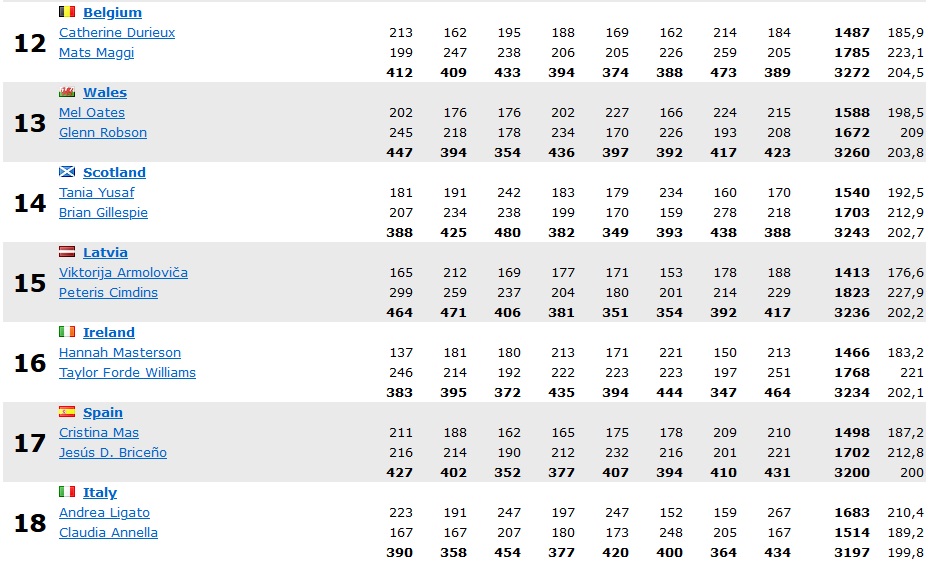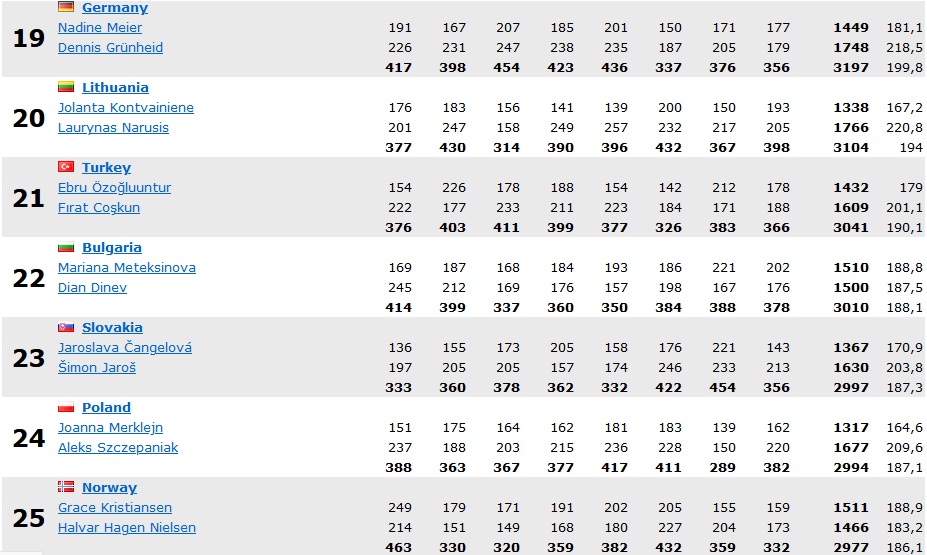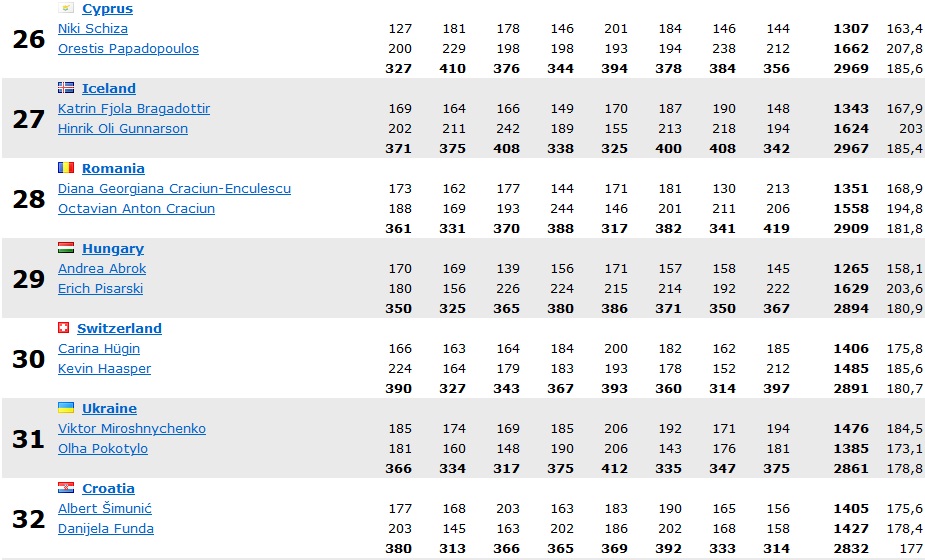 Women (After Block 1)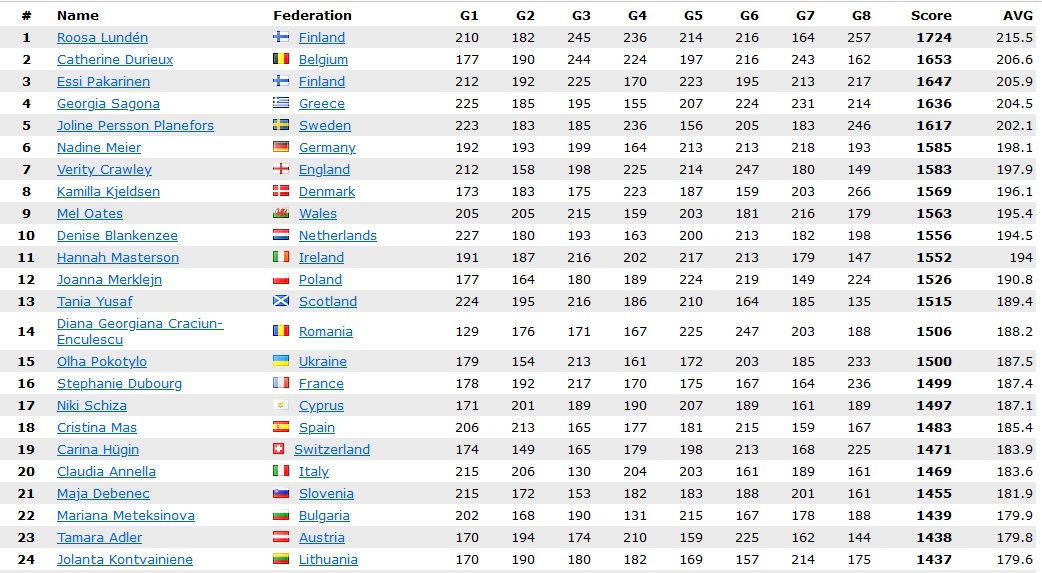 Men (After Block 1)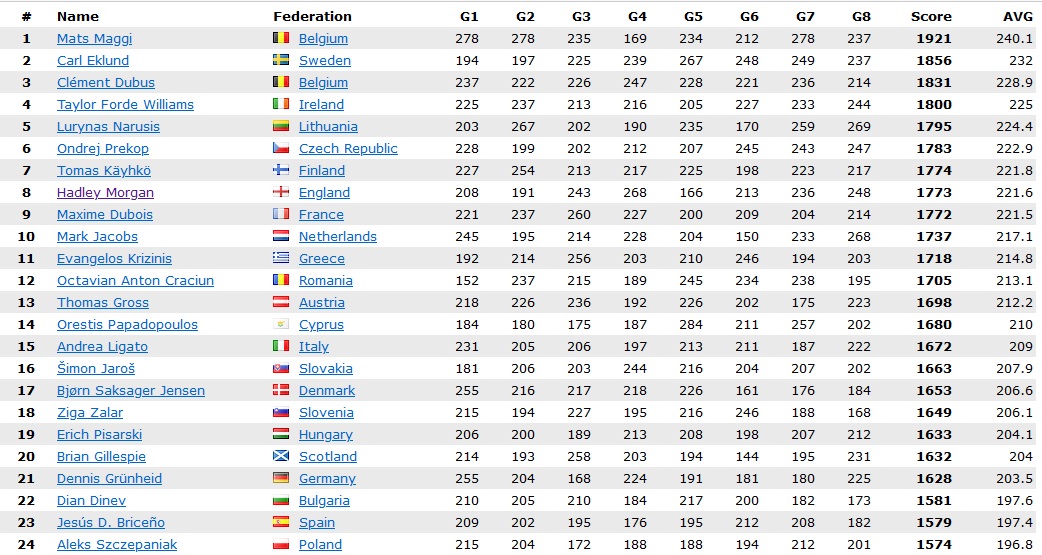 ---
History of Great Britain and Home Nations at ECC
Great Britain
The European Champions Cup started in 1979 in s'Hertogenbosch, The Netherlands with 14 men and 12 women and no Great Britain. By the 80's this changed and we had a few players make attempts but no success. That was until UK Hall of Famer Shelagh Leonard took Gold in Boraas, Sweden in 1982 then returned in 85 and 88 to claim two Bronze with Del Delany winning our first mens medal with Bronze. Pauline Buck was next up for Gold in 1993 Silver in 94 and completing the set with Bronze in 95. As Great Britain then became separate Home Nations teams..
Team England
England started a run of successes in the event over the years with medals of all colours and Golds from Lisa John, Wayne Greenall who took our first male ECC medal as England on 1996, Zara Glover, Nick Froggatt and Kirsten Penny. To date we have Seven Gold, Six Silver and Twelve Bronze with the last medals won by Adam Cairns with Silver and Laura Marcham with Bronze in 2019 in Ankara, Turkey.
Scotland
2002 in Schiedam, The Netherlands, Mhairi Shaw took Scotland's first ECC medal and a fantastic Silver. Then some years later in 2022 it's Steven Gill who captures an amazing Bronze medal.