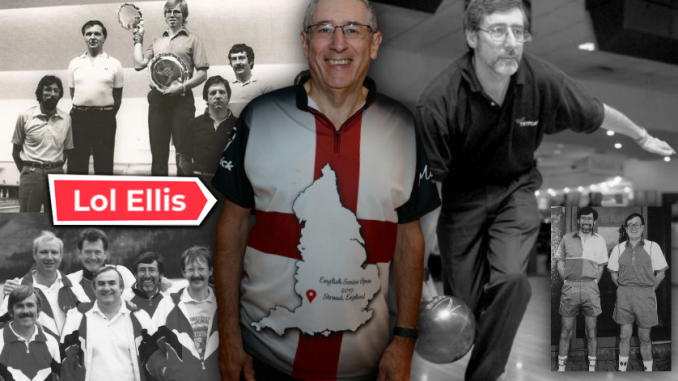 Cannot lie, as kids he was known as Lollypop Ellis and known too for being a great bowler. Always there and there abouts in events in a career that has gone from juniors through to seniors. Still winning and challenging himself to become better, Lol Ellis is a good role model for bowlers of all ages. Enjoy bowling and strive for better.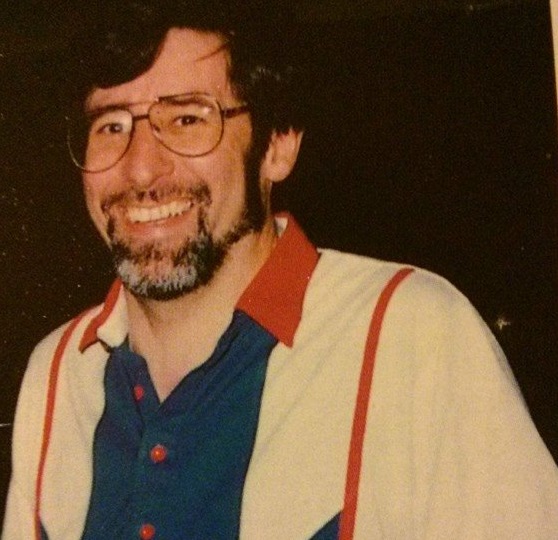 Let's start right at the beginning. Where was this and why did you take it up as a hobby?
I started at Wylde green bowl, Sutton Coldfield Birmingham in 1961. My dad took us bowling and I had an instant love for it. I was pretty good at most sports at school Athletics, football, cricket, tennis, but bowling really gripped me. I joined the junior league and was soon bowling in tournaments.
I played a big national tournament sponsored by Pepsi Cola I had to qualify in the Area round at Forum bowl Coventry which I won and then on to Manchester for the Northern final and again I qualified for the National final at the Airport bowl. It unfortunately clashed with our holiday in the IOW, but my dad said no problem we can travel back earlier but we had to catch a small boat back to the mainland because we couldn't get a ferry. My mom was terrified. Played the final but never won any prizes. There were bikes and all sorts to win. I think Brian Michael played in that final. That's how hooked I was to Tenpin bowling.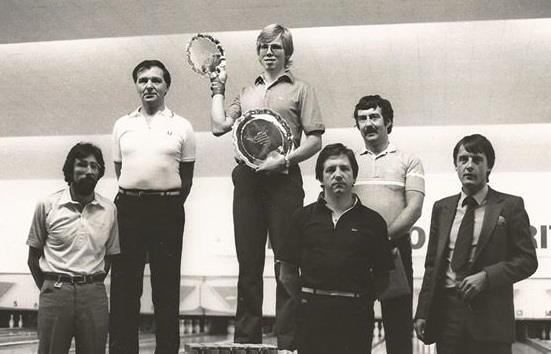 Who helped you improve and which bowlers did you admire in those very early days?
I started to play a lot of the national tournaments on the SBC (scratch bowlers club) tour. There were a lot of great players on the tour. Geoff and Chris Buck, Cass Edwards, Brian Michaels, Bernie Caterer. We also had some great players in the midlands who I tried to aspire to. Gill Hunt ( Holt ) was a great lady bowler who I loved to watch play. I was playing in adult leagues at 14 so I got to play with some really good adult players. Doc Prince, Jim Walters to name a few and later with Roy Bowers who for me will always be the greatest left hander I have ever seen. He was bowling 700 most weeks when most bowlers were struggling to make 500.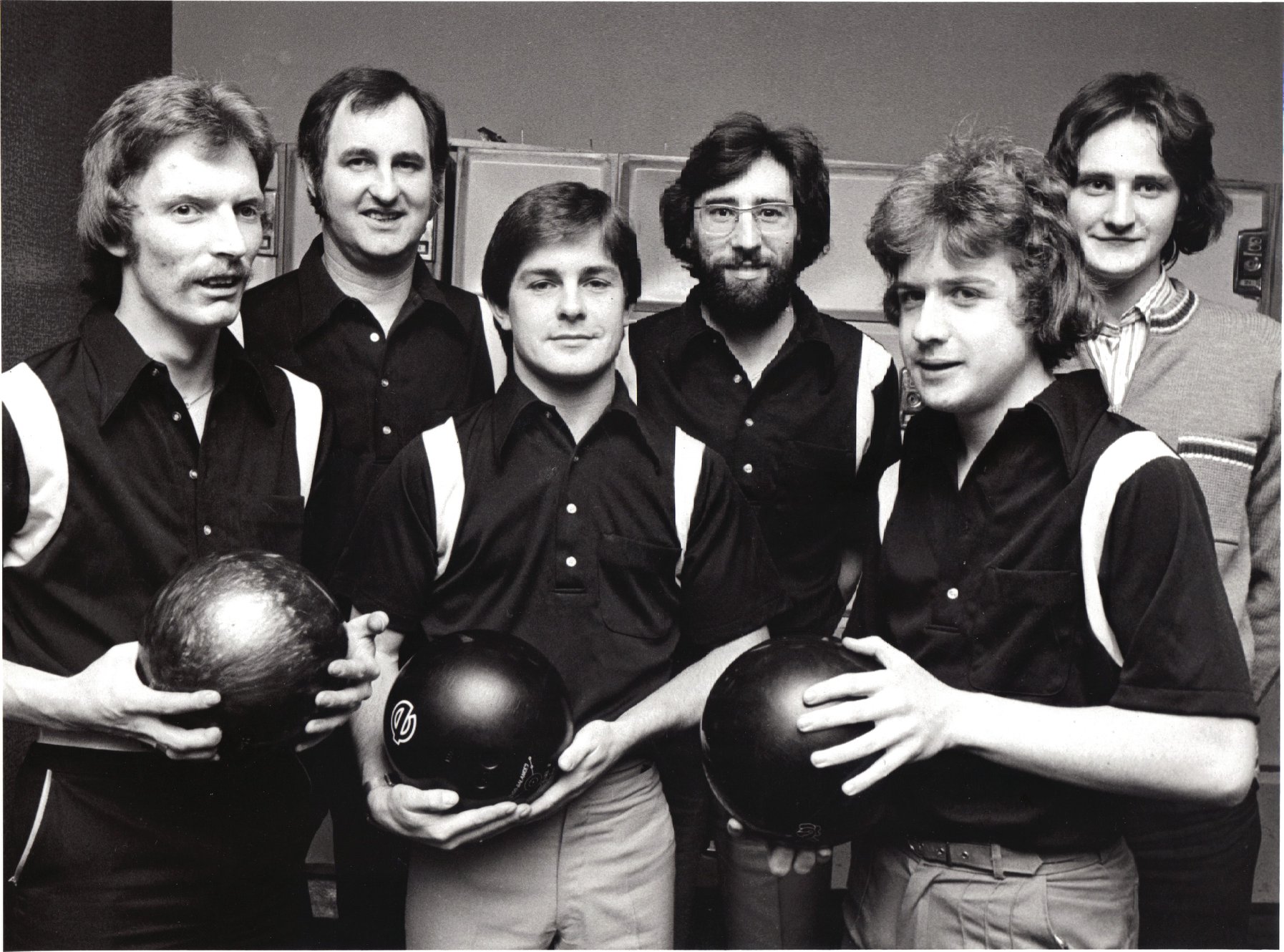 By 1979 you record your first entry in the Hall of Fame winning a PTBC at Harrow. What was it like bowling with so many top class players in that era?
It was super tough to even make a cut let alone win. I used to travel with a few players to compete in the tournaments, but they stopped going saying you can't win, I replied you can't win if you don't enter, I persevered and eventually won as you say at North Harrow. I averaged over 200 for the day which was no mean feat in those early years, but I had arrived and gained the respect from those players I had admired when I first started out on the national tour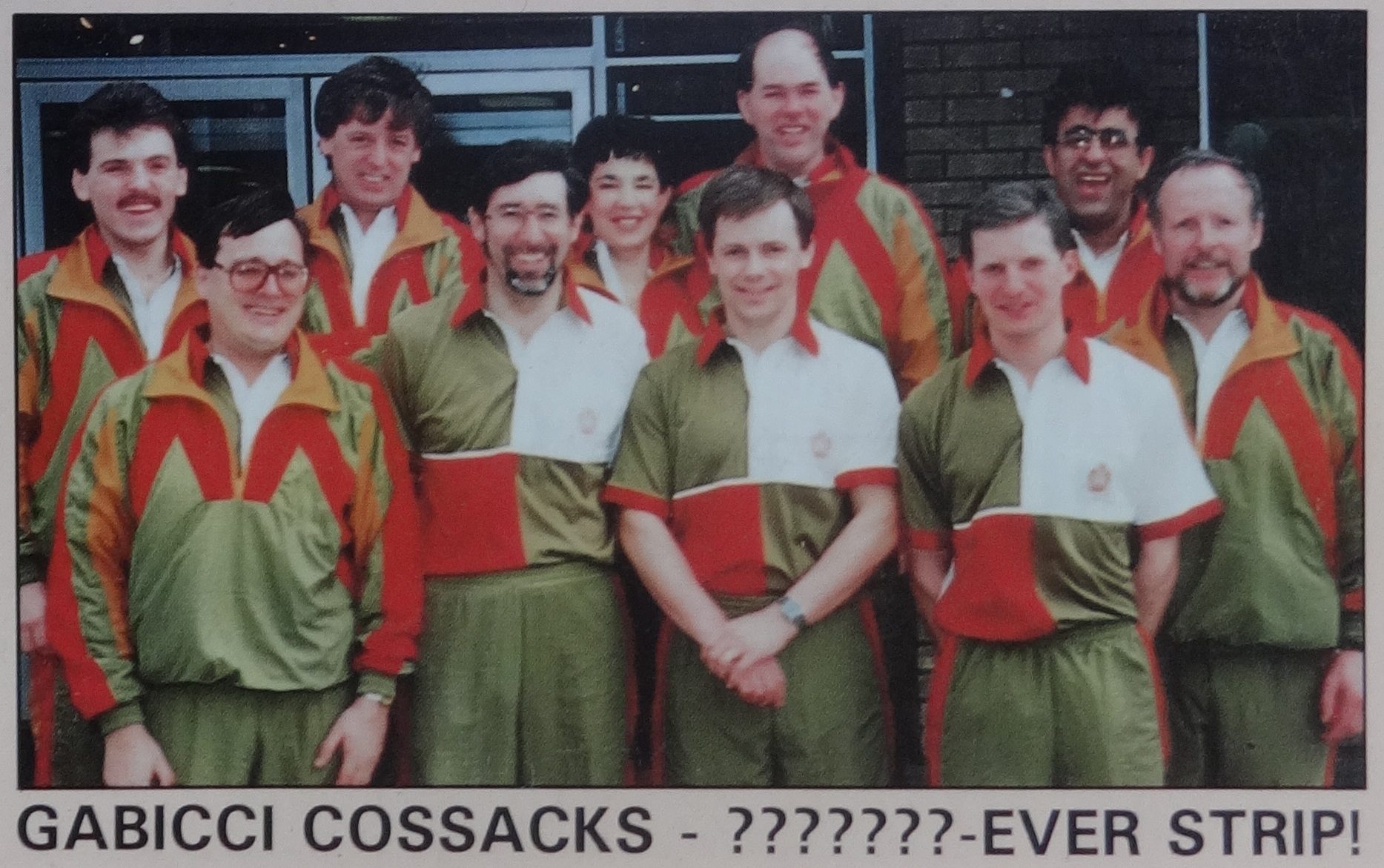 Singles you are good at but you also shine in team events and part of the UK famous Cossacks team. Tell us a little about the Cossacks days?
Martin Webster with Geoff Brown started that team from his playing days in Weston Super Mare and invited the likes of me, Dave Huxtable and Keith Hodge. Martin actually arranged a 12 hour marathon for 4 five man teams. The team of Martin, Keith, Dave Huxtable, John Jones and myself set a European record of 19,694 pins and was entered as such in the Guinness Book of Records. This achievement helped Martin to secure a sponsorship deal with Cossack Vodka.
We were not the greatest bowlers around but we bowled as a team and won several National league titles and many events both home and abroad. We were always fierce competitors on the lanes and hard to beat. Much to the annoyance of the "so called" better teams of that era.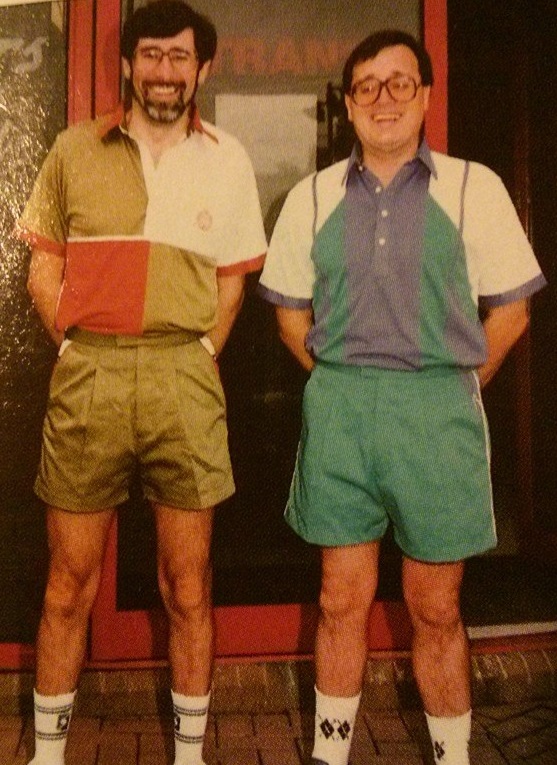 Wins at SHAPE in Belgium in the 80's, Northern Scratch tour wins and a big one, taking the 1988 BTBA Nationals All events title. Of all the 80's wins which ones meant the most to you?
Winning a title abroad was always a great achievement and winning both the team event and the singles in SHAPE was a big one for me at the time. Although winning the all events in the Nationals meant you were the top player in England for that event.
Rounding out the 80's were an international win in Scheidam and another SHAPE win. The records show wins but you had many runner up places in events and somewhat hidden in the history like other players. This consistency was recognised by the National team selectors and you wore the shirt many times. What was the feeling when you first laced up for your country?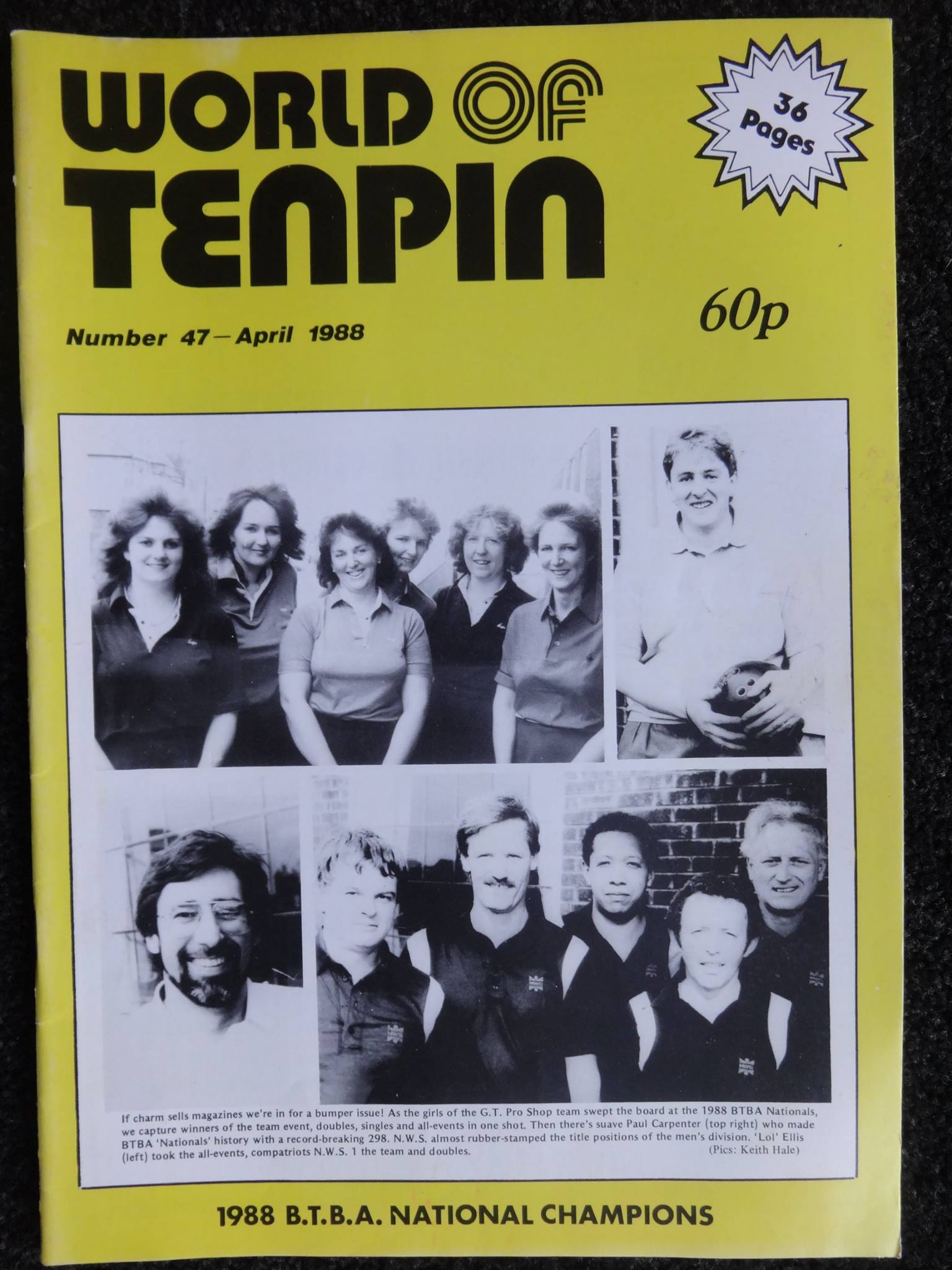 My first call up to the National team of Great Britain came in 1986. I recall it like it was yesterday. Bernie White called me at home and said what are you doing on the 13th June.
Nothing I said. Well you have been selected for the GB team to compete in the European Team Cup in Frankfurt. I was speechless. He had been set the task of getting 6 players together who were good team players after the previous squad's had been disbanded. The team was Ian Nicolle, Graham Botting, Syd Symonds, Dave Huxtable, Ron Oldfield and myself.
I was so nervous but so proud to wear the national team shirt which I would go on to wear many many times.
We finished 7th out of the 18 teams on points but 3rd on team average (194.66) behind Finland with Teemu Raatikainen and Sweden who had Tony Rosenquist and Raymond Jansson in their teams. We even beat Norway who had Arne Strom and Tore Torgersen. Not a bad performance from a made up team from scratch.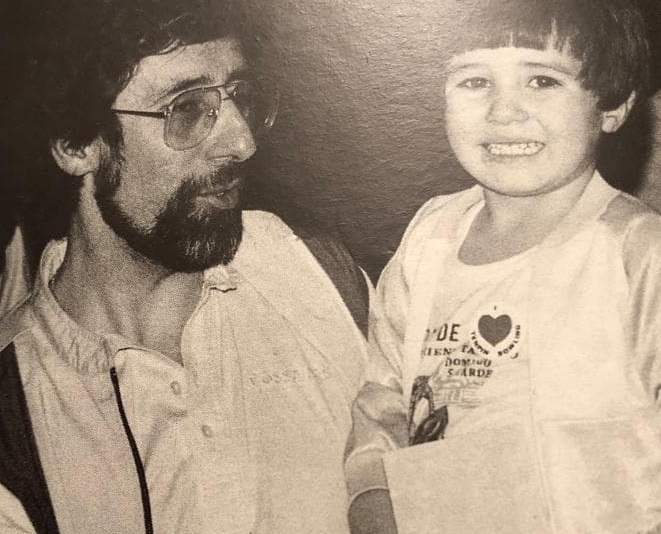 Into the 1990's and we would have to start with the Brunswick World Open Qualifier win at Enfield and a trip out to the World Open, How was this experience?
OMG, winning that event was a dream come true. I used a Burgundy Hammer and beat Geoff Buck in to 2nd place. I fly alone to Chicago to compete in a full blown PBA tournament with the likes of Pete Weber, Walter ray Williams, David Ozio, Jason Couch who had just won the previous stop, but it only gets better because I am partnered with Mr 300 Bob Learn Jnr for all 24 games of qualifying. Not only a great bowler but genuinely, a really nice guy.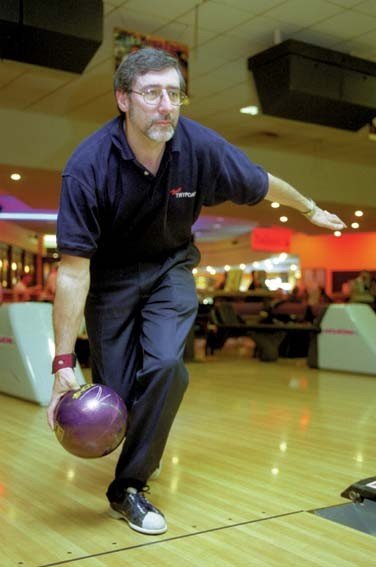 They dress the Lanes in the morning for A squad and that's it. B squad is the burn and C is the double burn. A squad was so tough I actually used my Xcalibur which I had shot 847 with earlier that year it went dead straight but I managed to average 185, then 200 on B and 215 on C squad. That was the first time I had had ever seen players standing in front of the ball return on the right hand lane and that was David Ozio who was relatively a straighter player. So I managed 200 average nowhere near for the 24 man round robin cut, This tournament I also got to witness for the first time Robert Smith the Team USA representative, Amazingly he made the 24 man round robin and everyone knows his story as a PBA player years later.
A funny story from here, I was given a free bowling ball from Brunswick from the ball rep, A Rhino pro Steel, the guys in the truck take measurements from my ball. When I get it back nothing fits, that's the way they do it, drilled holes, no bevelling. You have to finish it yourself in the paddock. All the tools are there but I have never done it before I made such a mess I was too embarrassed to use it. Who would know that 6 months later I would me running my own Pro shop at Bushbury in Wolverhampton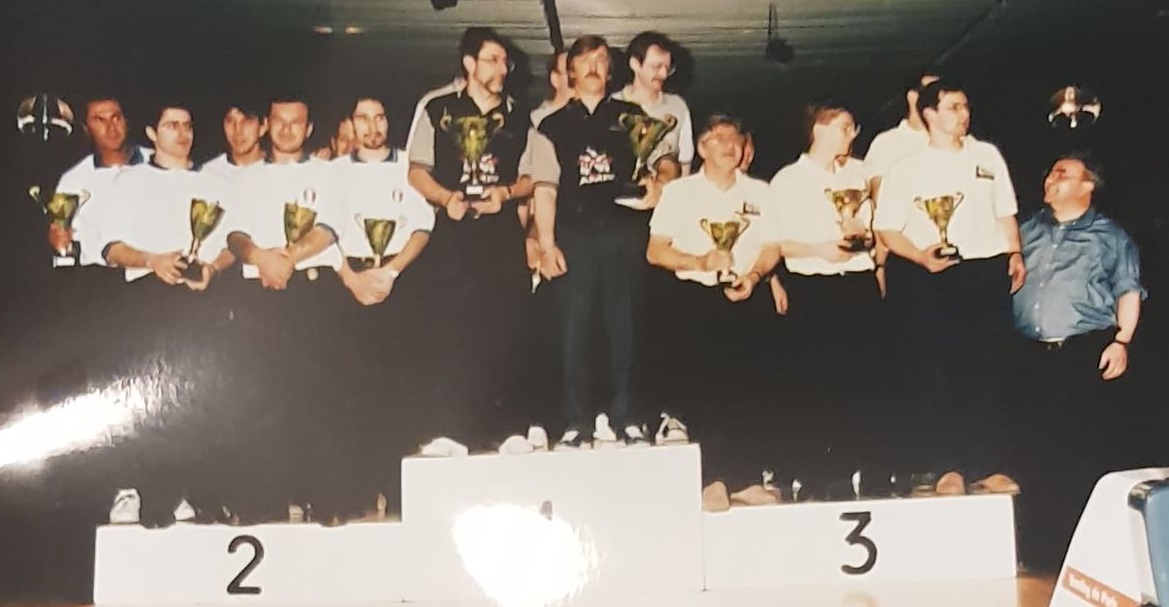 More PTBC wins, Welsh Open winner, Paris fives winner, Lets talk about the Paris win as this was an event that European teams all tried to win over the years. How did you win?
Let's talk about the Welsh Open win first. In that, I came pretty close to having two 300's in the event, in the block I had 299, 186, 299 leaving stone flush 8 pin and then a 10 pin in the second attempt. Also originally they thought Phil Patrick had won but an error in the totals meant I was the eventual winner. Still got the gold medal in a presentation box.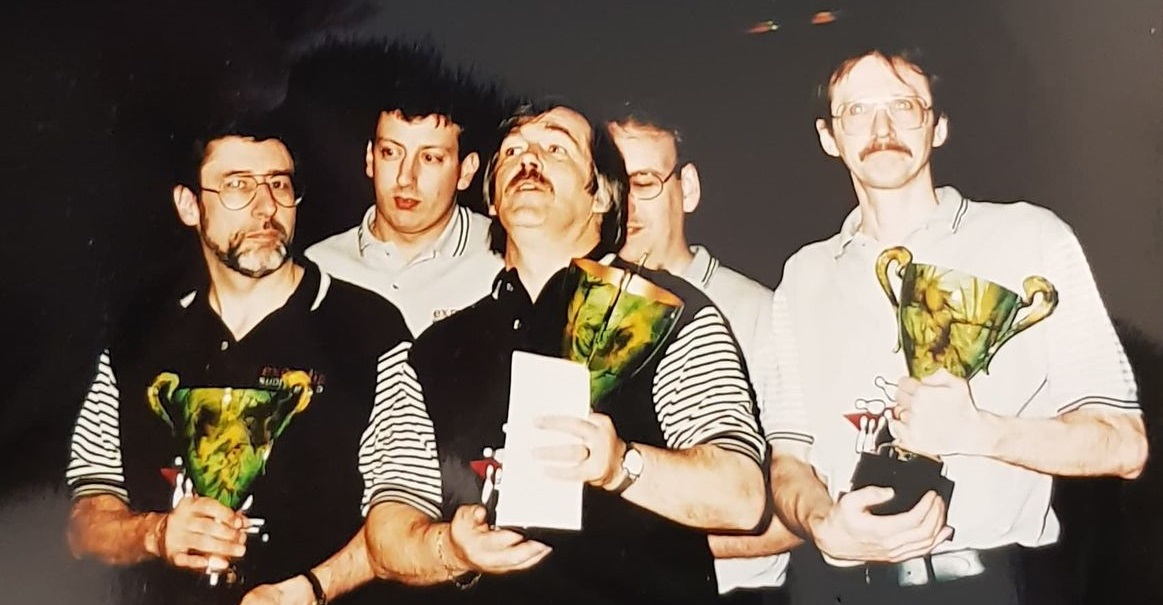 The First Paris fives win was in 1987.Wayne Greenall called me and asked me to play, I said what's the team. It's Wayne, Paul Boyle, Geoff Buck and Richard Hood and you if you fancy it. That will be a yes then, because we ain't going for a weekend away. This is a serious contender. It was, we never lost a game in the Round Robin and stood proud on the Rostrum. I used a Navy Quantum and finished 3rd highest average in the tournament.
The next time in 2004 the team was arranged by Mickey Ross and includes Wayne again, Danny Stride, Paul Evans Jnr and myself. We made the final easily in qualifying and once again went on to win. It would be the last time that event would be held and so we remain the holders of the title for ever.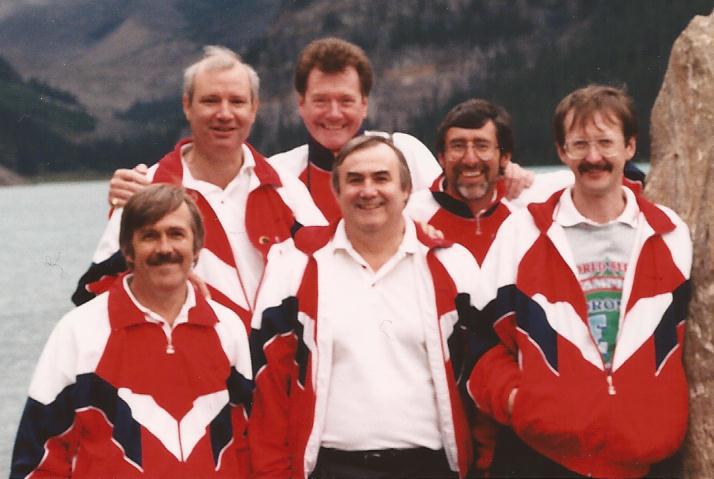 90's into the Millenium you were always near the top in events and picked up Triple Crown medals, Euro fives, AMF tour and BTBA Masters champion in 2001. You played with some amazing bowlers from the 80's to 00's.
Who was the best? As previously mentioned Roy Bowers and also Wayne Greenall, but I was also lucky enough to play with Phil Scammell several times in the Scott banks Trios. Phil was a great player winning numerous events including the British open after several runners up places. He is still a great friend of mine and we chat still about bowling but unfortunately I can't talk him back to bowling.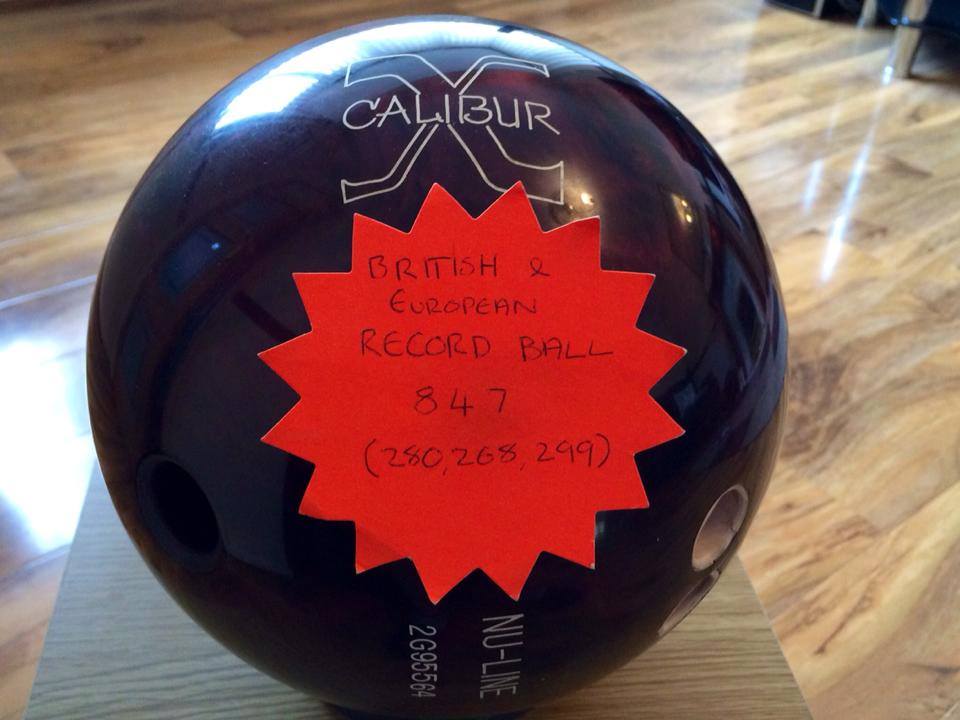 Our story continues through the 2000's with multiple Team Britain ranking wins and the second Paris Fives win. The game had changed by now and you with it. Reactive arrived and you suddenly shooting even bigger scores than before. You were a good player before reactive, do you agree the technology made you able to score a lot more?
I really hate when this subject comes up. Xcalibur first became known to us when we were playing in the National Team in Denmark. There were only a couple of players in the event who had them. The scoring was tough trying to get the ball to hook even for the best European players, but the players with Xcalibur made it look easy. We all knew when we got back that we all needed them. Everyone knows my experience with Xcalibur at the Skol Matchplay Airport bowl, 847 (280,268,299) straight out the box and a British and European record, It fulfilled two ambitions for me, bowling an 800 series which I never thought would happen and also getting my name in the Guinness Book of records for a second time but this time as an individual.
The ball did indeed enhance the scoring pace for a lot of players, but in context Graphite shafted golf clubs also enhanced the distances for many golfers and also tennis racquet development meant that speeds up to 157mph have been achieved. I never see any adverse comments about these sports, All I will say is the balls aren't magic and players still require skill to get the best performance from them, and today there are still millions of players who are still waiting for their first perfect game.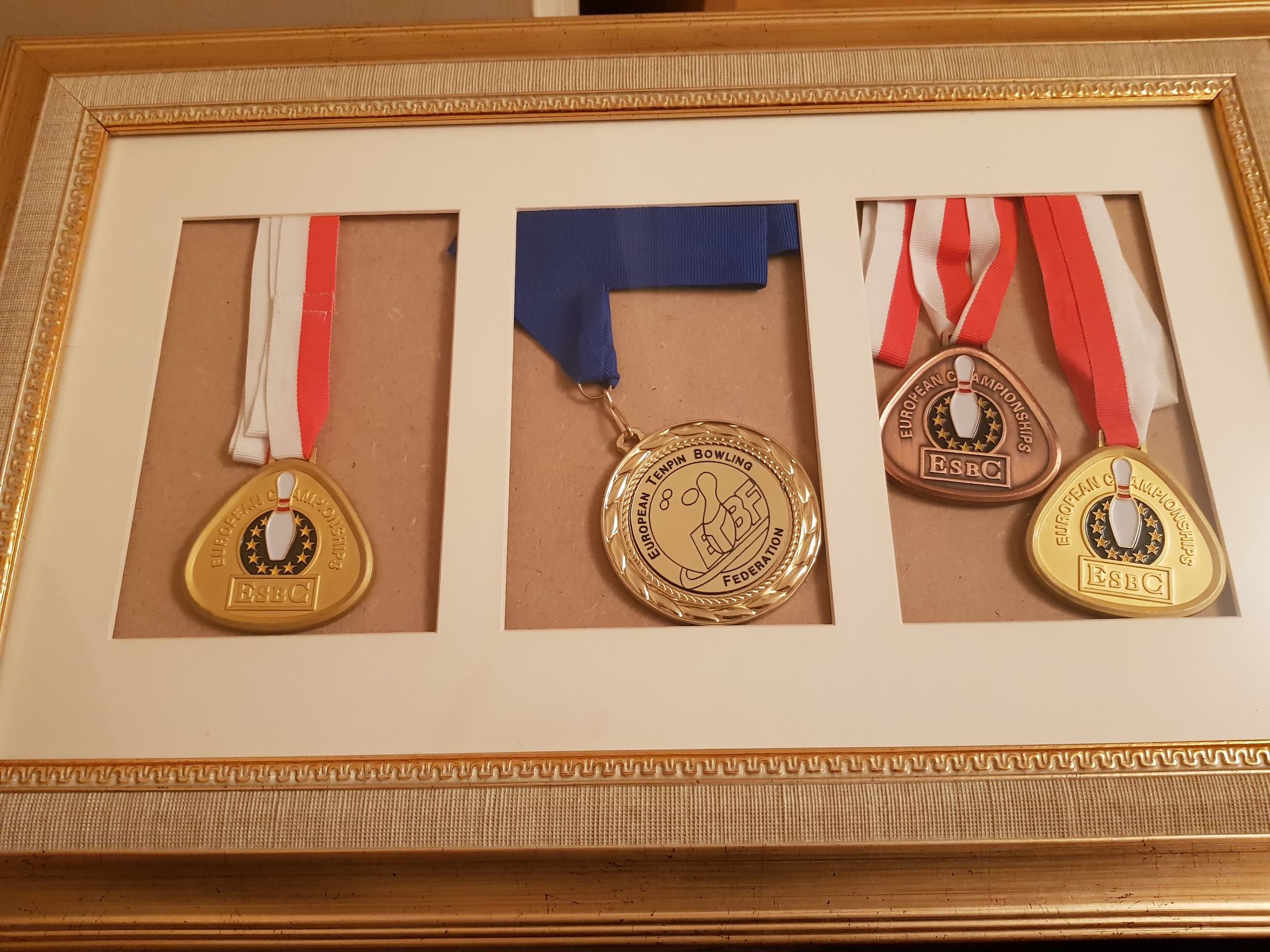 Getting on a little now and into the seniors and the stellar career continues with wins in Europe on the ISBT tour then hitting three Golds and a Bronze in the European Senior Championships in Copenhagen. Does these medals rank as some of your greatest achievements?
Those medals in Copenhagen rank as my greatest ever up to date. I had been striving for thirty years to get my hands on an ETBF medal and it finally came for winning the Senior masters for which the ETBF awarded Gold Medals for that event only. So I got two Golds for that title.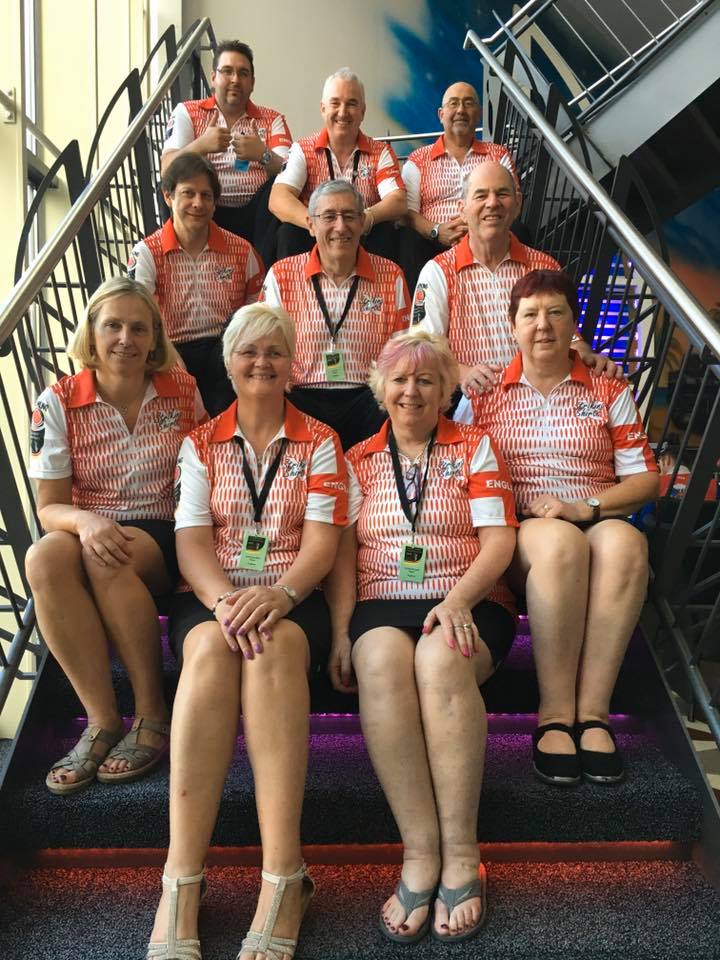 Obviously loving the Senior division and picking up wins still, what keeps you motivated and how did you cope with that motivation being hit during the pandemic?
I have been playing this game for 60 years now and I still get that buzz from playing. I am still striving to improve my game with a much improved fit to my equipment thanks to Robert Bruce at RBS pro shop and coaching from as many top level coaches whenever possible. I thank coaches such as Dick Ritger, Tim Mack, Bob Learn and Amleto Monacelli.
When I am bowling I still feel in my head that I am 25 even though my body afterwards reminds me I am not. I don't think I will ever lose the love of the game.
The pandemic was so frustrating not being able to play, but I still managed to get to Europe for 4 events last year despite all the restrictions we had to adhere to.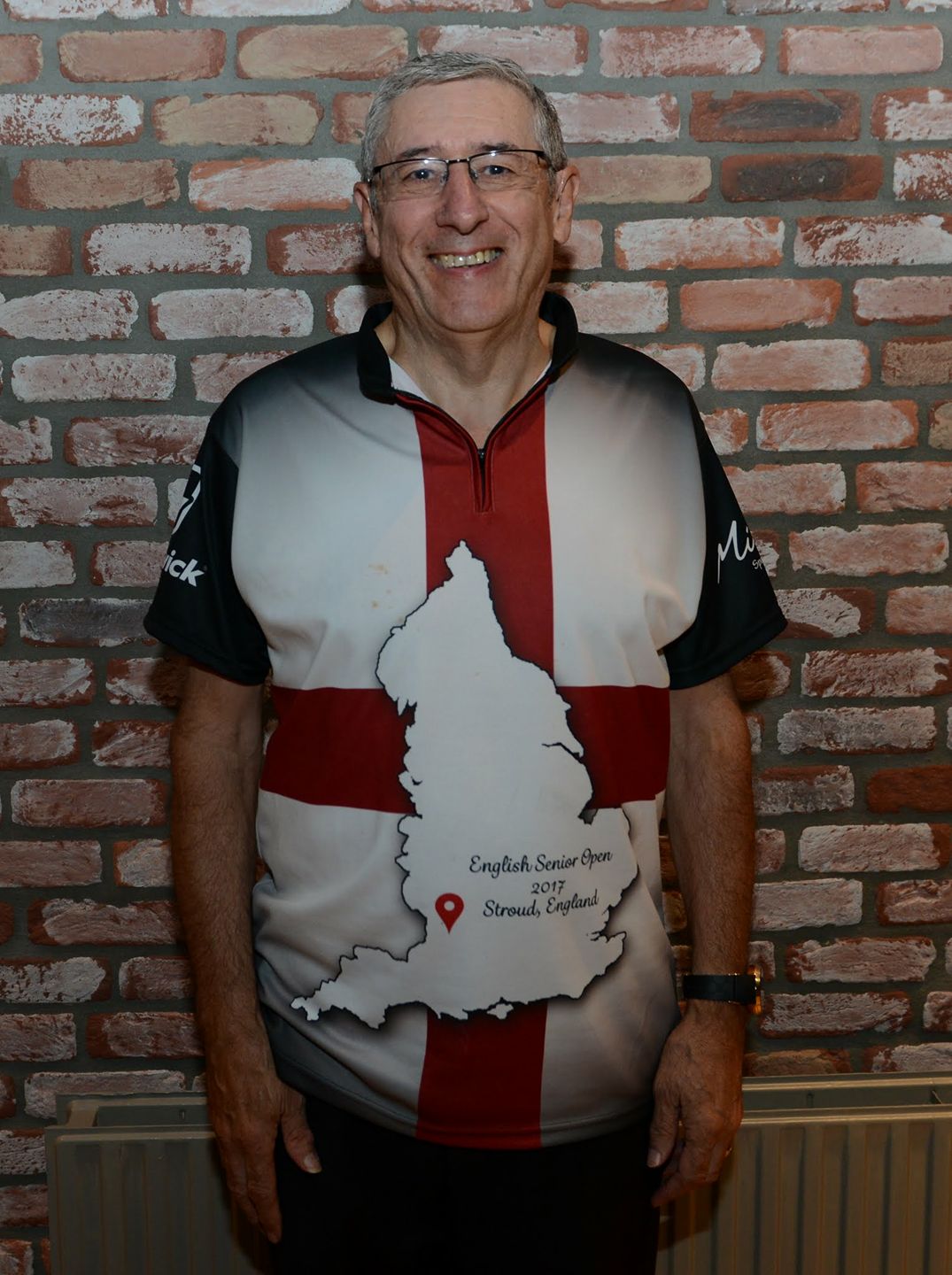 Things open up and its back to the old routine of winning and a singles at Stroud and a good showing in the Senior Team England Trials and it is out to Ireland for the Triple Crown. What goals do you still have for yourself in the sport?
I am travelling to las Vegas in March to play in the USBC Championships with the RBS team and I really want to play at least 2 PBA 50 events this year and hopefully get to one final senior worlds to compete as super senior. That illusive world medal is still one that I want.
You bowled the first ball at the first World Tenpin Masters, travelled the World, and met all the big names over the years. What would you say are your top three memories of your time in our sport?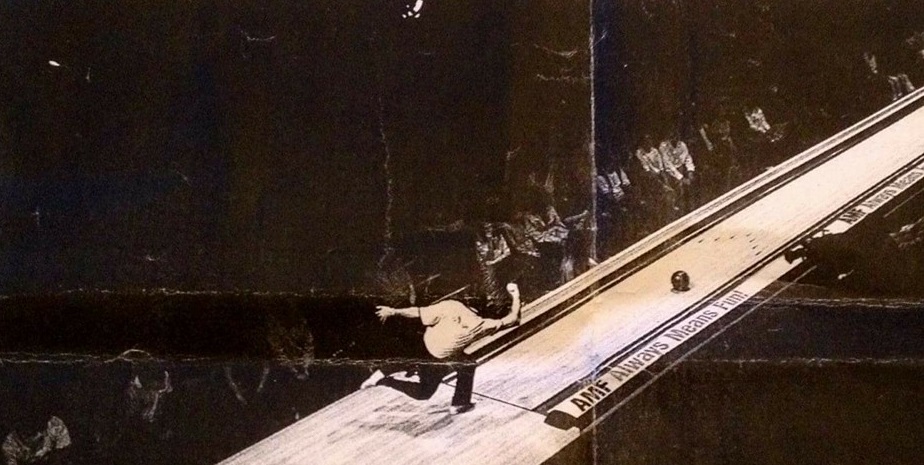 The World Tenpin masters was an amazing event to be invited to and compete in. I got to meet Paeng and Tim Mack for the first time, and bowl on sky TV. I also got a half page action photo of me in the Guardian newspaper,
I have already mentioned getting in the Guinness book of records and the one year the edition had individual sportsman's names in the index at the back. My name was included there with likes of Seb Coe, Steve Ovett to name just two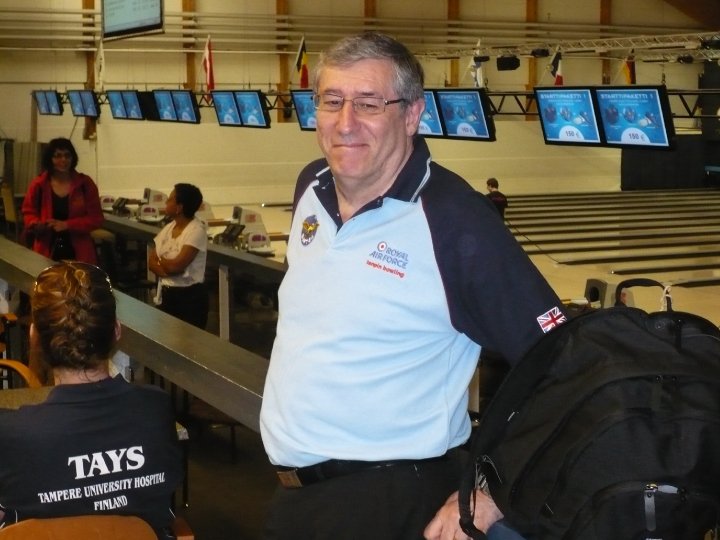 Finally my greatest memory was being selected to take part in the Pregames acclimatization trip to Penang for the Commonwealth Games in 1998. We were treated as a proper sport. Travelling with Track and field athletes, swimmers, cyclists, boxers and shooters to name just a few. A well organised and official trip with Doctors, Nutrionists, physio's etc. All sponsored by Nike who supplied all our sports gear. Myself and Carol Callow were the only players to be invited.
We trained every day while we were there and a daily record kept of our training routine. We completed the trip with a friendly tournament in which I finished 2nd in the Masters and Carol and I finished 3rd in the mixed doubles.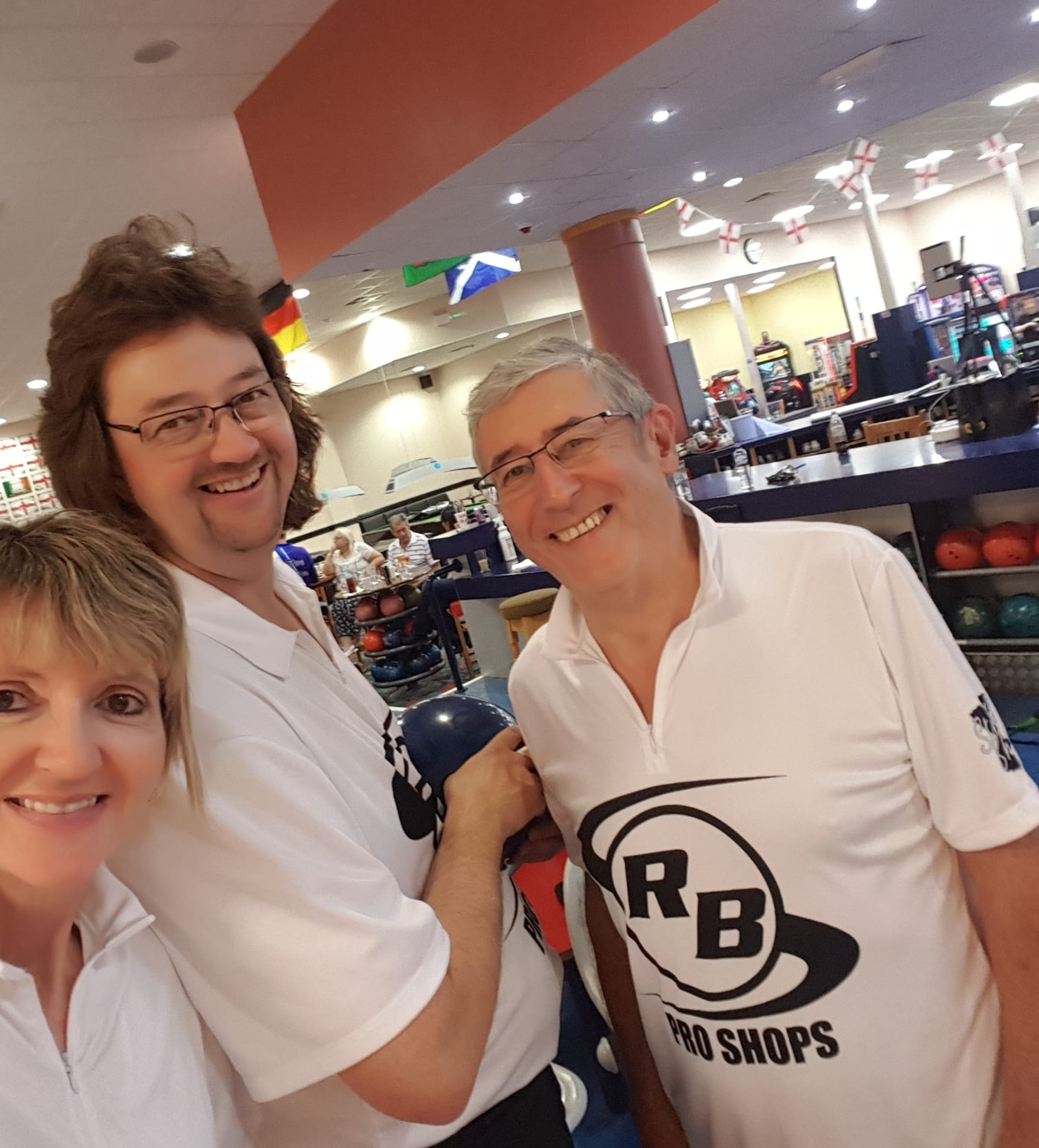 Finally Lol, After all these years in the sport, what still excites you about it?
The constant battle now with the tougher sports patterns which are used in the major championships. This has made scoring a lot harder but also made me a better player. I have been playing on these patterns every week now in a sports league I run at Acocks green bowl.
My task is to get to a 200 average for the season. I am up to 196 so far this year.
So still work to be done on my game. The battle against those pins is never ending for me and I love that challenge.