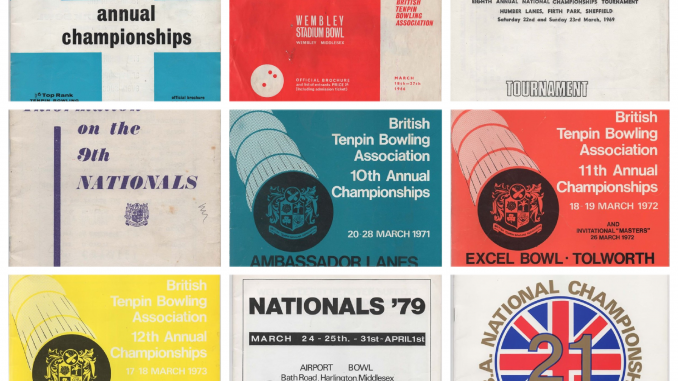 A history of the BTBA Nationals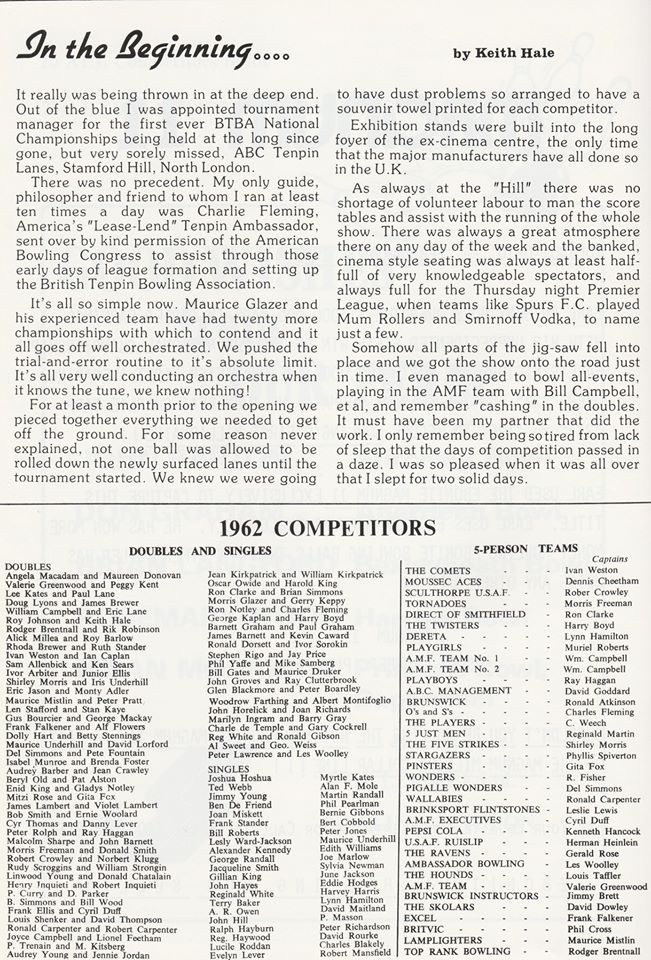 The 'Nationals' had continued non stop for 59 years until this year and a postponement due to a Covid19 outbreak. Here we start to recover ALL the past magazines from an event that will celebrate it's 60th birthday in 2021.
We will be making available every magazine we can recover and request bowlers help to complete.
Past Magazines (Italic red denotes we have and are scanned or being scanned)
1962 1st National Championships Stamford Hill
1963 2nd National Championships Airport
1964 3rd National Championships Wylde Green
1965 4th National Championships Manchester
1966 5th National Championships Wembley
1967 6th National Championships Hounslow
1968 7th National Championships Manchester
1969 8th National Championships Sheffield
1970 9th National Championships Crawley
1971 10th National Championships Worthing
1972 11th National Championships Tolworth
1973 12th National Championships North Harrow
1974 13th National Championships Hounslow
1975 14th National Championships Leeds
1976 15th National Championships Lewisham
1977 16th National Championships Poole
1978 17th National Championships Airport
1979 18th National Championships Airport
1980 19th National Championships Airport
1981 20th National Championships Stevenage
1982 21st National Championships Airport
1983 22nd National Championships Sunderland
1984 23rd National Championships Sunderland
1985 24th National Championships Stevenage
1986 25th National Championships Poole
1996 35th National Championships Swindon
1997 36th National Championships Nottingham
1998 37th National Championships Sunderland
1999 38th National Championships Plymouth
2000 39th National Championships Enfield
2001 40th National Championships Chelmsford
2002 41st National Championships Chester
2003 42nd National Championships Nottingham
2004 43rd National Championships Harlington
2005 44th National Championships Coventry
2006 45th National Championships Norwich
2007 46th National Championships Bradford
2008 47th National Championships Tolworth
2009 48th National Championships Romford
2010 49th National Championships Coventry
2011 50th National Championships Romford
2012 51st National Championships Coventry
2013 52nd National Championships Norwich
2014 53rd National Championships Romford
2015 54th National Championships Nottingham
2016 55th National Championships Nottingham
2017 56th National Championships Nottingham
2018 57th National Championships Stroud
2019 58th National Championships Stroud
2020 59th National Championships Stroud