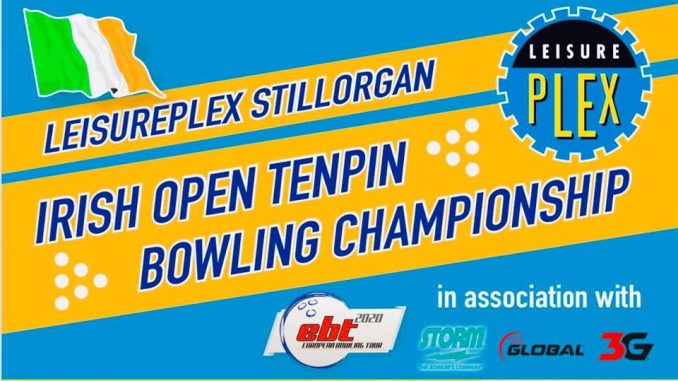 The Irish Open Tenpin Bowling Championships, in association with Storm Bowling, 900 Global & 3G Shoes, kicks off from January 12th to 19th 2020 in Leisureplex Stillorgan with total Prizes of €20,000. The tournament, which is part of the European Bowling Tour is now in it's 32nd year.
Livestreaming will be available here during the event by Rick Vogelesang
Reports (Photos by Michael Roe)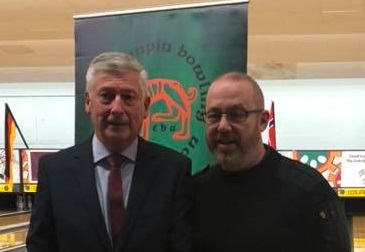 Seniors start us off in 2020
Play got underway on Sunday with squad one and full of Senior bowlers and taking the squad and a cool 100 Euros was Sean McDonnell with 1295 and a high of 257. Second was Tom Byrne with 1228 and third went to Haulie Storan with 1219.
Squad two and a new leader as Irish international Alan Bride took to the Stillorgan lanes clearing the 1300 bar with 1316. Second was Paul Chandler with 1302 and third going to Sean Dempsey with 1289.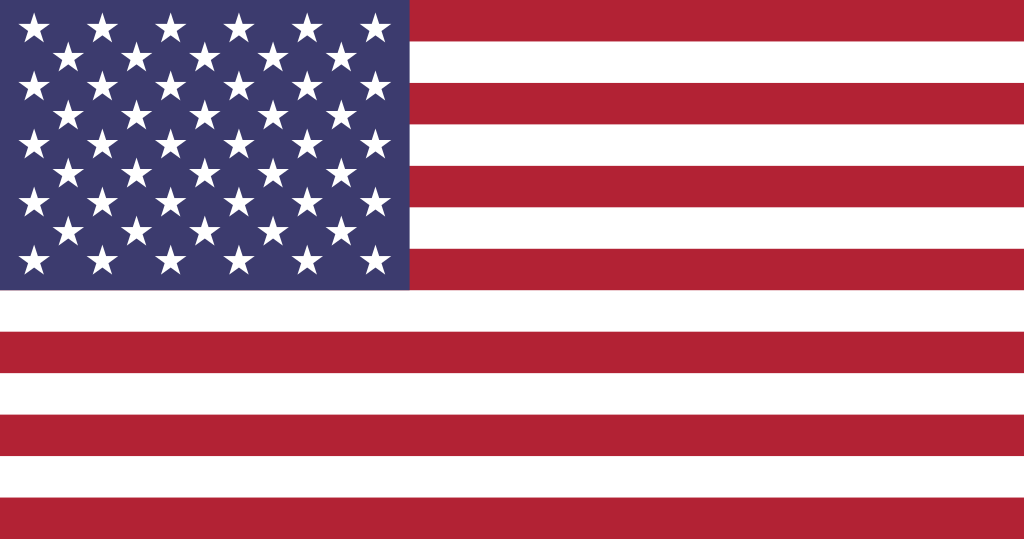 Wednesday – McNiel Steel
Fresh from second place in the 50th Ballmaster Open we saw American Matt McNeil take to the Stillorgan lanes for the very first time and show his steel. Seems he liked the lanes by blasting 229,247,194,215,228 and 222 for 1335 and into the overall lead.
Second was Ireland's Carol Catchpole with a fine 1284 scratch and 1332 with ladies bonus going second in the standings and top in the senior standings. Third going to Finland's Tomas Kayhko with 1328 and into third overall.
Thursday – McDonnell takes first two squads of the day but Thurlby takes over

Ireland's Alan McDonnell took the first squad of Thursday with 1306 and a high game of 247. second was Scotsman James Guthrie with 1192 and third was Ireland's Paddy Dunne with 1186.
View Livestream squad here

McDonnell was back in the next squad and improved. He opened with a fine 280 game and ended with 1369 ahead of Northern Ireland's Ryan Press with 1315 and Kuwait's Abdulla Khalid third with 1312.
View Livestream squad here

All change to the leadership in the next block as England's Rob Thurlby blasted 201,279,248,221,266,246 for a championship leading 1461. Some way back in second was former champion Tore Torgersen with 1308 and Finland's Lauri Sipila in third with 1302.
View Livestream squad here

The final squad of the day and what a squad it was as Finland's Kaaron Salomaa smashed in a 1459 to join the leaders including a 298 as Scotland's Steven Gill hit 1421 and Finland's Teemo Putkisto in third with 1404. A first run out for Ireland's Chris Sloan saw him in fourth with 1347.
View Livestream squad here
Friday – Spil and Gill join the race

A top three for Norway in the first squad of Friday was no shock considering all the players in the block were from the Scandinavian country. Taking the squad was John Stubsve Bang with 1335 and someway ahead of a second placed Martin D Olavsbraten on 1148 and Raymond Garborg on 1144 in third.
View Livestream Squad here
Tore Torgersen from Norway has won many things. not least this event a few times. Today he was as good as ever hitting 1417 to take squad 10 ahead of England's 2019 best bowler Issy Allen on 1342 scratch and 1390 with ladies bonus. Third went to Norway's Jonas Dammen with 1386. High game in the block was Kuwait's Muhammad Salem with 289.
View Livestream Squad here

Finland took squad 11 as Pyry Puharinen hit 243,247 and 259 before dropping with 202 and back up to 264 and but for a last game of 189 would have been higher than his squad winning 1404. Second was The Netherland's Scott Warmsley with 1389 and third was Norway's Jeanette Johansen with 1312 (1360).
View Livestream squad here

The final squad of Friday saw more fireworks as Dutchman Johnny Spil shot games of 245,259,259,278,236 and 226 for a massive 1503 and straight into the overall lead. Joining him at the top was Scotsman Steven Gill who fired a final game of 279 to post 1489 and into second place. Third in the block was Italy's Nicola Pongolini with 1418.
View Livestream Squad here
Saturday – Hi ho Kayhko


Some like the later squads and some like the early ones. Finland's Tomas Kayhko certainly a morning man as he blasted 1480 to break into the top 5 as Ireland's Aiden Byrne hit 1418 and England's Ben Harvey with 1409.
View Livestream squad here

Dutchman Johnny Spil was on the lanes again in squad 14 and despite being the current leader his 1390 took the squad and will have given him more confidence on the Irish lanes. Second was Scotland's Tania Yusaf with 1359 and third going to Rob Thurlby with 1352.
View Livestream squad here

The final squad of qualifying and other than the Desperado squad to come it was a last chance saloon for some. Taking advantage and topping the squad was an in form Lee Cocker with 1339 followed by Norway's Roger Lindstad in second with 1321 and Catalonia's Lluis Montfort third with 1311.
Final Step 1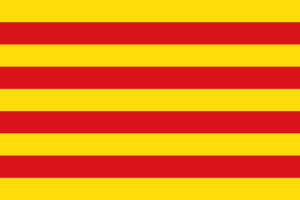 Played over two blocks on Saturday night we found our top 24 to advance to the final step 2. Taking pole position was Catalonia's Lluis Montfort with 948 over the four games including a 279 to finish with. Second was Northern Ireland's Ryan Press with 942 and third going to Iceland's Hafthor Hardarson with 929.
Failing to qualify included Issy Allen, Haulie Storan, Keira Reay, Lee Cocker and shock to see Ireland's Chris Sloan going out.
Final Step 2

Only twelve places were up for grabs in the final step 2 and booking his place at the very top was Ireland's Alan Bride with 963 followed by Kuwait's Saleen Faisal in second with 953 and Ashkanini Ali third with 939.
Making it through included Callum Simons, Pyry Puharinen, Teemu Putkisto, Mark Patrick, Alessandro Santu, Jonas Dammen, Joe Clancy and Carol Catchpole.
Final Step 3
Matchplay time and total pinfall over two games saw wins for Dutchman Johnny Spil, Scotland's Steven Gill who shot a 300 in game one and Italy's Nicola Pongolini. Others through included Norway's Jonas Dammen, Italy's Alessando Santu, England's Mark Patrick, Finland's Teemu Putkisto and Finland's Pyry Puharinen.
Final Step 4
More matchplay in the final step 4 and wins this time for Nicola Pongolini taking out Johnny Spil, Jonas Dammen defeating Steven Gill, Alessandro Santu beating Pyry Puharinen and Teemu Putkisto taking out Mark Patrick.
Final Step 5
Semi final time and Italy's Nicola Pongolini hit 246 and 226 to beat Finland's Teemu Putkisto 472-450 and joining him in the final was Norway's Jonas Dammen who defeated Italy's Alessandro Santu 448-423.
Final Step 6 – Nicola Pongolini wins the 32nd Irish Open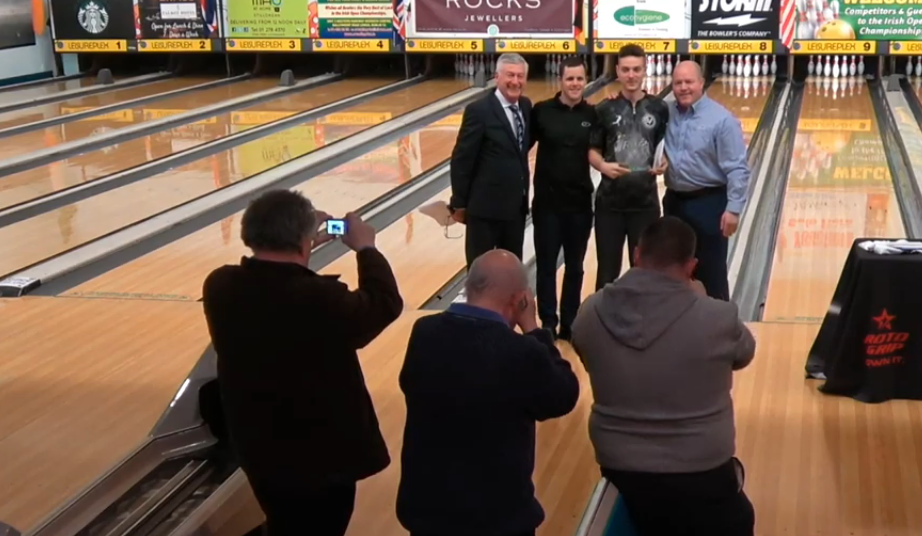 The young Italian star Pongo as he is known left himself a lot to do after the first game against another young star in Norway's Jonas Dammen who hit 231 to Pongo's 184. With it being two games total pinfall that meant the striking shoes needed to come on quick and that is exactly what happened as the Italian hit 247 as Dammen faltered with 169 and Nicola Pongolini taking his first EBT title and the 32nd Irish Open.
Final Step 6 – Haulie Storan wins the senior Irish Open title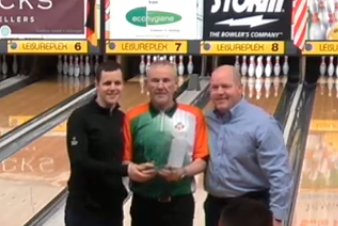 In the Senior Irish Open we were down to our last two and a match between Ireland's Haulie Storan who had earlier defeated Carol Catchpole in the semi final and Tore Torgersen the defending senior champion and had just taken out Selwyn Morgan in the other semi final.
Haulie sent irish hearts racing as he took the first game 189-177 and then in a low scoring second game won again with 170-154 to take the tie and the championship 359-331.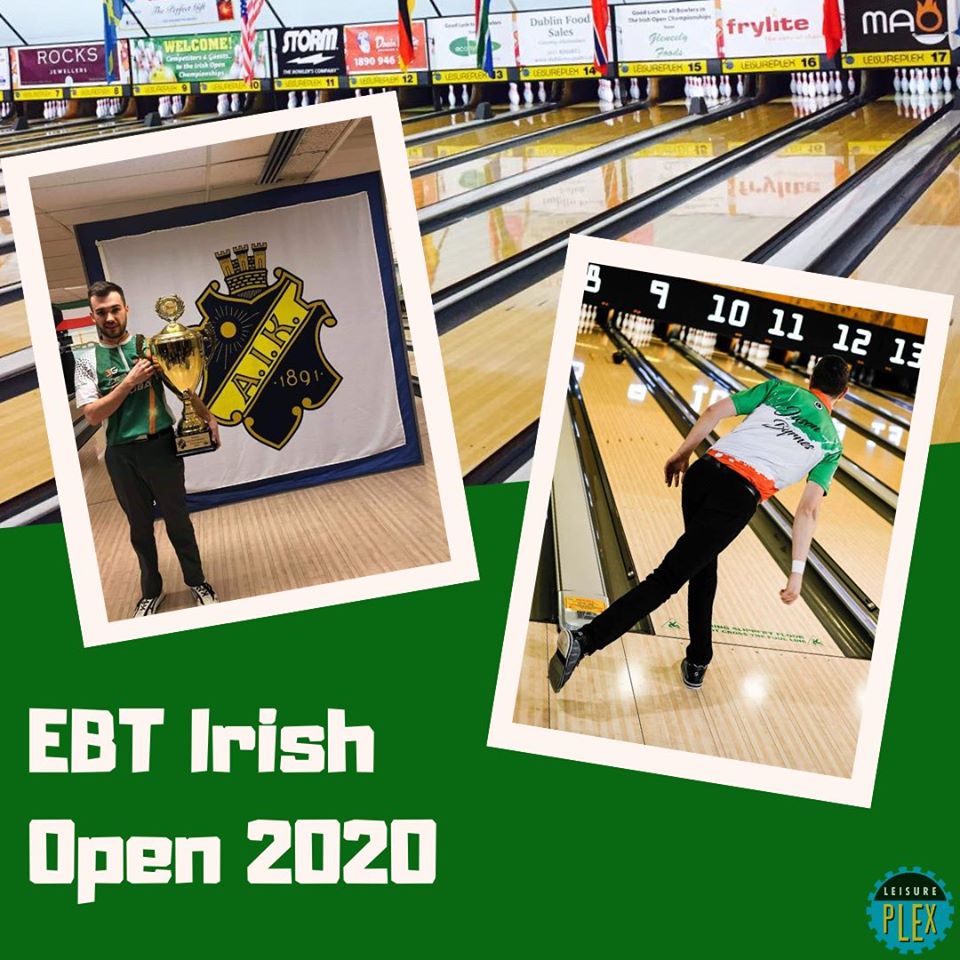 Results
View the very latest results first on the official website here
Irish Open Scoring – Standings After – Squad 15
Livestreaming will be available here during the event by Rick Vogelesang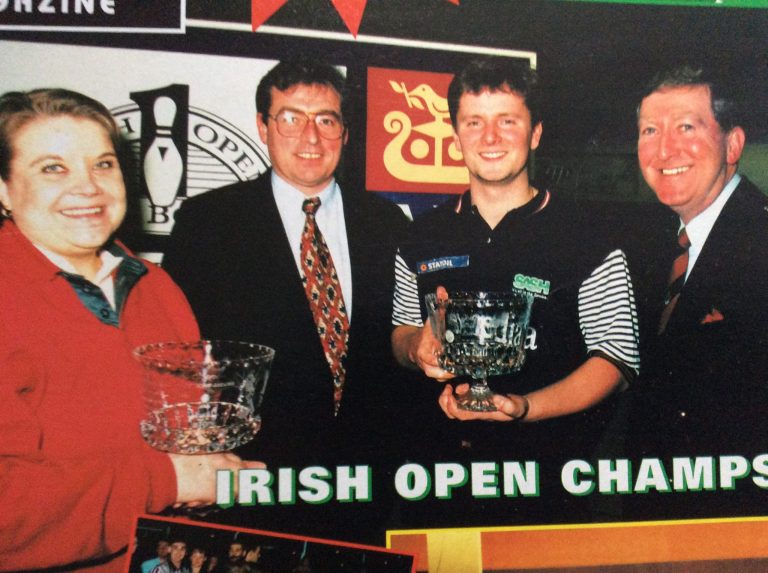 History of the Irish Open
Over the thirty two years, the winners list has become a who's who of top bowling talent. It all started in 1989 with England's Chris Buck became the first champion. The centre was still undergoing construction work at the time, taking it from 24 to 36 lanes.
Read more here