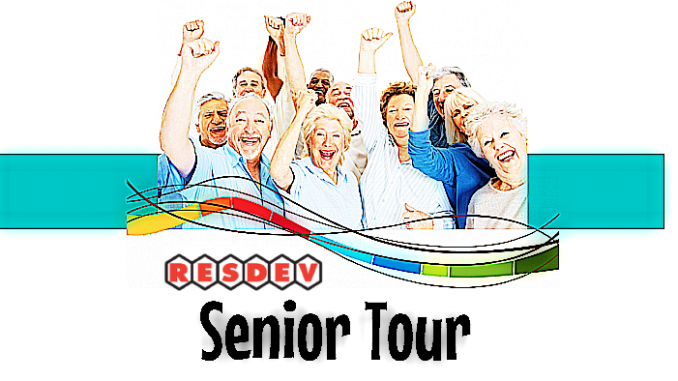 Report by Alan Turner
The 2nd  stop on the RES DEV Senior Tour 2019 was held at Shipley Bowl in Yorkshire on Sunday 23rd June 2019.
There was an entry of  only 11 teams of trios for this innovative format that The RES DEV tournament manager, Jack Smith had introduced into this year's tournament scene.
Even though there was a small entry due to the excellent backing from the sponsor, Jack was able to have a prize fund of £2130.
Jack's original plan was to hold the tournament over 3 days on a bank holiday weekend earlier in the year, with a similar format to the "Scott Banks" Trios which was held for many years in memory of Scott at Merrion Centre, Leeds.
Unfortunately the BTBA would not give a sanction for this event as it clashed with the BTBA Senior Nationals, even though Jack had been planning this from way back in October 2018 or maybe earlier. So Jack altered the format to make it fit into a one day event.
The qualifying round was a 2 x 4 game block on 2 different lane conditions.
The first 4 games were played on the 42' "Gateway Arch" pattern followed by a Lunch/Lane Dressing break.
The next 4 games were on the 44' Shamshir pattern, with the top 8 teams with Senior bonuses going forward to a 4 game final on the 44' Big Ben pattern.
Almost from the start the "Frankies Boys" team of Frank Lindsay, Andy Clough and Mike "Frosty" Halliwell we're out to show their intention to win this tournament and dominated the qualifying round on both lane patterns.
They were closely followed by the 2nd placed team, "Krown Print" consisting of Nev Robinson, Trevor Green and Ron Oldfield.
In 3rd place were "Scunny Crew", Mark Loughborough, Gary Christopher & Dave Rawding
4th place were my own team of 3 left handers aptly named "Lefies Rule OK", Dave Birdsall,Al Turner & Ray Lay.
The 5th placed team were Delta, Les Grant, Al Jenkins & Gary Barlow.
THE FINAL
As in the qualifying round there was going to be only one winning team.
Frankies  Boys led the way from game one with an excellent 727 scratch first game.
Scunny Crew were the closest with a 650 scratch game.
Other games over par were Delta 621, Lefties Rule OK 608 and Krown Print 603.
In game 2 Frankies Boys extended their lead with another big game, 713 as Scunny Crew fell away with a 490 game, the lowest in the final.
Krown Print took advantage of this slip to move into second place with a 650 game.
Lefties Rule OK were steadily climbing the leader board with 605 as Delta's 556 dropped them down to fifth place.
The RAF VETS Hurricane team's 631 took them to 4th.
In game 3 Frankies Boys had 626 to maintain their domination of the day as Lefties Rule Ok were still steady with 597 and moved into second spot.
Close behind we're Krown Print 585 and Delta stepping up a gear with 657.
At this stage going into the last game the leaders with bonuses were Frankies Boys with the next three teams over 200 pins behind.
However there were only 21 pins between 2nd, 3rd & 4th.
In the last game Frankies Boys' 647 completed an excellent days bowling and Lefties Rule OK had a 622 to cement their 2nd place.
It was all change in positions 3rd, 4th, 5th as Krown Print's disastrous 532 dropped them to 5th place and Scunny Crew remained in 6th.
Delta bowled 613 to take 3rd place and VETS Hurricane were the big movers from 6th to snatch their highest position of the day, 4th.
All 8 Teams in the Final cashed thanks to a very generous sponsorship from RES DEV (Resin Development Ltd) and  the first prizes 3 places were :-
1st.   £510
2nd. £330
3rd.  £300
A special mention for Mike "Frosty" Halliwell who averaged a magnificent 260 over the Final 4 games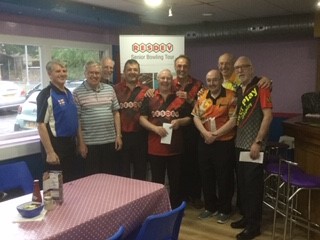 Finals
Pattern Name:Big Ben 44′
Finals
Enter Team Game Scratch Only
pos
Team Name
Team Bonus
Game 1
Game 2
Game 3
Game 4
scratch series
Series inc Bonus
1
Frankies Boys
30
727
713
626
647
2713
2833
2
Lefties Rule Ok
45
608
605
597
622
2432
2612
3
Delta
30
621
556
657
613
2447
2567
4
VETS HURRICANE
35
567
631
593
597
2388
2528
5
Krown Print
30
603
650
585
532
2370
2490
6
Scunny Crew
10
650
490
668
575
2383
2423
7
VETS MOSQUITO
40
596
513
585
534
2228
2388
8
Worsley Originals
20
574
543
530
645
2292
2372
Finals Totals
4946
4701
4841
4765
19253
Finals game Averages
206.08
195.88
201.71
198.54
200.6
Qualifying
Team Qualifying
Enter Team Game Scratch Only
pos
Team Name
Team Bonus
g1
g2
g3
g4
g5
g6
g7
g8
Scratch series
Series inc bonus
Gate Way Arch 42′
Shamshir 44′
1
Frankies Boys
30
610
666
604
549
657
556
525
635
4802
5042
2
Krown Print
30
525
604
625
652
594
620
582
575
4777
5017
3
Scunny Crew
10
631
695
702
505
547
612
606
625
4923
5003
4
Lefties Rule Ok
45
486
636
591
539
616
555
606
611
4640
5000
5
Delta
30
573
617
570
526
630
580
607
563
4666
4906
6
Worsley Originals
20
635
637
541
613
542
531
587
536
4622
4782
7
VETS MOSQUITO
40
533
618
559
552
544
606
537
470
4419
4739
8
DPL
55
595
565
509
577
552
517
496
467
4278
4718
9
VETS HURRICANE
35
596
607
522
554
476
565
576
542
4438
4718
10
VETS SPITFIRE
30
437
490
651
526
687
580
542
557
4470
4710
11
Resdev / STBL
20
489
549
556
509
565
596
598
537
4399
4559
Qualifying Totals
6110
6684
6430
6102
6410
6318
6262
6118
50434
Game Averages
170
186
179
170
178
176
174
170
Individual Scores
Individual qualifying
Enter Scratch Games Only
Player Name
Bonus
G 1
G 2
G 3
G 4
G 5
G 6
G 7
G 8
Scr
Series inc Bonus
Pat 1 ave
Pat 2 ave
ave
1
David Birdsall
15
161
208
223
212
232
224
227
223
1710
1830
201.0
226.5
213.8
2
Trevor Lamprell
10
224
204
201
224
192
201
255
214
1715
1795
213.3
215.5
214.4
3
Mark Loughborough
0
190
256
243
152
200
245
255
222
1763
1763
210.3
230.5
220.4
4
Ronnie Oldfield
10
216
244
219
233
206
191
204
168
1681
1761
228.0
192.3
210.1
5
Frank Lindsay
10
223
222
236
184
198
203
200
204
1670
1750
216.3
201.3
208.8
6
Mike Halliwell
10
216
215
205
203
181
203
157
249
1629
1709
209.8
197.5
203.6
7
Gary Barlow
5
206
191
182
179
245
237
210
214
1664
1704
189.5
226.5
208.0
8
Martyn Beck
20
167
236
194
190
185
211
202
146
1531
1691
196.8
186.0
191.4
9
AL Jenkins
10
191
234
205
189
199
182
225
180
1605
1685
204.8
196.5
200.6
10
Trevor Green
10
153
161
210
201
203
253
188
212
1581
1661
181.3
214.0
197.6
11
Gary Christopher
0
238
215
244
176
175
160
189
247
1644
1644
218.3
192.8
205.5
12
Les Taylor
20
218
158
136
211
192
180
191
195
1481
1641
180.8
189.5
185.1
13
Dave North
10
220
202
156
211
156
223
185
202
1555
1635
197.3
191.5
194.4
14
Mick Fisher
10
149
167
247
179
245
180
188
194
1549
1629
185.5
201.8
193.6
15
Al Turner
15
149
207
191
200
169
146
216
206
1484
1604
186.8
184.3
185.5
16
Steve Coates
10
180
194
212
150
225
190
168
200
1519
1599
184.0
195.8
189.9
17
Dave Rawding
10
203
224
215
177
172
207
162
156
1516
1596
204.8
174.3
189.5
18
Neville Robinson
10
156
199
196
218
185
176
190
195
1515
1595
192.3
186.5
189.4
19
Andy Clough
10
171
229
163
162
278
150
168
182
1503
1583
181.3
194.5
187.9
20
Ray Lay
15
176
221
177
127
215
191
163
182
1452
1572
175.3
187.8
181.5
21
Derek Wintrip
10
141
159
191
194
230
215
147
193
1470
1550
171.3
196.3
183.8
22
Dave Broomfield
5
222
238
158
188
156
179
201
163
1505
1545
201.5
174.8
188.1
23
Doug Sinclair
20
218
202
158
177
168
162
170
126
1381
1541
188.8
156.5
172.6
24
Philip Ives
15
159
205
215
189
192
175
135
146
1416
1536
192.0
162.0
177.0
25
Andy Sinclair
10
147
164
213
153
212
185
207
170
1451
1531
169.3
193.5
181.4
26
Gary Fraser
10
209
195
193
183
190
180
148
151
1449
1529
195.0
167.3
181.1
27
Eddie Broom
10
157
187
172
179
169
215
187
173
1439
1519
173.8
186.0
179.9
28
Les Grant
15
176
192
183
158
186
161
172
169
1397
1517
177.3
172.0
174.6
29
Clem Clements
5
200
204
177
189
170
162
210
160
1472
1512
192.5
175.5
184.0
30
Jeff Taylor
5
145
161
180
226
163
208
211
169
1463
1503
178.0
187.8
182.9
31
Paul Maddock
10
176
201
189
154
150
180
181
180
1411
1491
180.0
172.8
176.4
32
Nick Wright
5
164
194
164
133
177
198
219
168
1417
1457
163.8
190.5
177.1
33
Carl Taylor
5
189
195
182
201
194
151
131
159
1402
1442
191.8
158.8
175.3
Total pinfall
50434