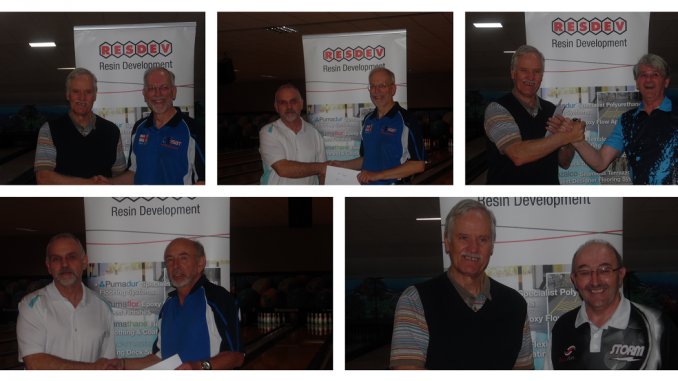 Report will be posted on Wednesday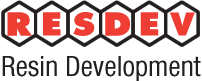 Winner Gary Barlow
2nd          Les Grant
3rd          Ray Lay
4th          Geoff Brown.
---
As always with the masters the top 24 from the rankings who have played at least 3 events would be invited to play, with some unable to attend due to holiday, injury and other commitments, invites were given to bowlers next on the rankings list to give us our 24 who attended on 1st October.
The 6 game qualifying would take place to determine the top 16 to progress to round 2, although due to sponsorship from Resdev and money from each stop towards the Masters all bowlers would cash. On a tricky pattern with the added hurdle of new pins high scoring proved very hard.
But making a good fist of it early would be Gary Barlow and Brian Sempers with opening 230+ games and Mo Singleton 225 and quite a few 200+ games from other bowlers, but maintaining this proved to be hard with no bowler able to master it for all 6 games, coming out on top would be Gary, a 256scr in game 4 helping him to a 1344 inc bonus total just ahead of Yorkshire senior team member Al Jenkins 1329 these 2 quite a way in front of Trevor Green 1286, Mike Halliwell 1264, Frank Lindsay 1226 Les Grant 1220, Brian Sempers 1205 and Ron Oldfield recovering from a 149 1st game to post 1202 in 8th place.
Mo Singleton, Ray Lay and AL Turner all on 1198, Geoff Brown 1188 Alan Bennett 1183, Ken Burton 1180, Trevor Lamprell 1161 and final place to Dave Broomfield 1131 going through as the higher scratch bowler in a tie with Nev Robinson also on 1131.
These 16 would carry their scores forward to try for a place in the last 8. A further 3 games would decide those to progress. Slipping out of the original top 8 would be Frank Lindsay and Brian Sempers as neither bowler could get going in this round, taking their places would be Geoff Brown with 627scr inc 258 and Ray Lay with a 232 last game to place 6th. Round 3 would be a seeded 2 game matchplay where position 1 v 8, 2 v 7, 3 v 6 and 4 v 5 with the winners of these matches going to the elimination final. Only one real tight match emerged from these and that would be Ray Lay just overcoming Al Jenkins 410-406, other results were Gary Barlow 423-399 over Ron Oldfield, Geoff Brown 422-384 over Trevor Green and Les Grant 444-363 over Mike Halliwell.
So the 4 winners would now play the final where a bowler would be eliminated after each game but with the added incentive that scores would be carried forward from each game for those remaining. The first to be eliminated would be Geoff who struggled to a 157 next would be Les 211, Ray 242 and Gary 249. In game 2 could Les overhaul eith of the other 2?. Yes he could as both Gary and Ray struggled with Les passing them both after game 2 with 430, Gary just holding off with 416 to Ray's 401.
The final game would now decide this years Masters champion and it was nip and tuck all the way but a late burst of 5 strikes from Gary saw him take the title and the £400 first prize. So well done to Gary carrying on from his recent win in the Senior English Open at Stroud. As this is the end of yet another Resdev Senior Tour, I would like to mention some notable things from this season, our first under 50 stop winner Carl Taylor, our first winner with zero bonus Alan Keddie, our first 50 bowler entry at the Chesterfield stop, also we had 5 different winners and 4 first time winners, so I hope that inspires people to believe it could be you.
Now the thanks, firstly I must thank Nick Wright of Resdev Resin Developments for his continued sponsorship, which I am happy to confirm will continue for next year. My thanks to the management and staff at all the centres we have been to for the way we are looked after, a special personal thank you Wendy Grant and Maureen Oldfield for all their help.
The dates for next year are close to being finalised and I will publish these asap. At this moment the first stop for next year should be on April 29th at Bromborough. This year has been momentous for so many reasons and hopefully I will see you all next year and hopefully some new players giving it a go, Last but not least the main thanks goes to all the bowlers who have supported the tour this year, without you there would not be one.
I hope you have all enjoyed yourselves. Have a great Xmas and New Year,
Jack G Smith
---
Final
| | | | | | | | |
| --- | --- | --- | --- | --- | --- | --- | --- |
| POS | NAME | BONUS | 1+BONUS | 2+BONUS | 3+BONUS | TOTAL |   |
| | GARY BARLOW | 5 | 249 | 416 | 665 | 665 | 1st |
| | RAY LAY | 10 | 242 | 401 | | 401 | 3RD |
| | GEOFF BROWN | 5 | 157 | | | 157 | 4TH |
| | LES GRANT | 15 | 211 | 430 | 626 | 626 | 2ND |
Round 3
| | | | | | | |
| --- | --- | --- | --- | --- | --- | --- |
| POS | NAME | 1 | 2 | SCR | BONUS X 2 | TOTAL |
| 1 | GARY BARLOW | 214 | 199 | | 10 | 423 |
| 8 | RON OLDFIELD | 211 | 168 | | 20 | 399 |
| | | | | | | 0 |
| 2 | TREVOR GREEN | 170 | 194 | | 20 | 384 |
| 7 | GEOFF BROWN | 209 | 203 | | 10 | 422 |
| | | | | | | 0 |
| 3 | AL JENKINS | 173 | 203 | | 30 | 406 |
| 6 | RAY LAY | 213 | 177 | | 20 | 410 |
| | | | | | | 0 |
| 4 | MIKE HALLIWELL | 161 | 182 | | 20 | 363 |
| 5 | LES GRANT | 233 | 181 | | 30 | 444 |
Round 2
| | | | | | | | | | |
| --- | --- | --- | --- | --- | --- | --- | --- | --- | --- |
|   | NAME | C/FWD | BONUS | 1 | 2 | 3 | SCR | BONUS X 3 | TOTAL |
| 1 | GARY BARLOW | 1344 | 5 | 202 | 211 | 190 | | 15 | 1962 |
| 2 | TREVOR GREEN | 1286 | 10 | 189 | 243 | 213 | | 30 | 1961 |
| 3 | AL JENKINS | 1329 | 15 | 204 | 194 | 188 | | 45 | 1960 |
| 4 | MIKE HALLIWELL | 1264 | 10 | 140 | 215 | 217 | | 30 | 1866 |
| 5 | LES GRANT | 1220 | 15 | 236 | 179 | 180 | | 45 | 1860 |
| 6 | RAY LAY | 1198 | 10 | 193 | 181 | 232 | | 30 | 1834 |
| 7 | GEOFF BROWN | 1188 | 5 | 184 | 258 | 185 | | 15 | 1830 |
| 8 | RON OLDFIELD | 1202 | 10 | 185 | 188 | 206 | | 30 | 1811 |
| | | | | | | | | | |
| 9 | ALAN BENNETT | 1183 | 15 | 182 | 204 | 180 | | 45 | 1794 |
| 10 | FRANK LINDSAY | 1226 | 10 | 181 | 178 | 172 | | 30 | 1787 |
| 11 | MO SINGLETON | 1198 | 10 | 177 | 187 | 180 | | 30 | 1772 |
| 12 | KEN BURTON | 1180 | 15 | 155 | 184 | 201 | | 45 | 1765 |
| 13 | BRIAN SEMPERS | 1205 | 10 | 157 | 156 | 200 | | 30 | 1748 |
| 14 | AL TURNER | 1198 | 15 | 167 | 154 | 176 | | 45 | 1740 |
| 15 | TREVOR LAMPRELL | 1161 | 10 | 156 | 160 | 203 | | 30 | 1710 |
| 16 | DAVE BROOMFIELD | 1131 | 5 | 176 | 164 | 179 | | 15 | 1665 |
Qualifying
| | | | | | | | | | | | |
| --- | --- | --- | --- | --- | --- | --- | --- | --- | --- | --- | --- |
|   | NAME | BONUS | 1 | 2 | 3 | 4 | 5 | 6 | SCR | BONUS X 6 | TOTAL |
| 1 | GARY BARLOW | 5 | 234 | 195 | 232 | 256 | 202 | 195 | | 30 | 1344 |
| 2 | AL JENKINS | 15 | 213 | 202 | 232 | 190 | 198 | 204 | | 90 | 1329 |
| 3 | TREVOR GREEN | 10 | 213 | 206 | 190 | 201 | 196 | 220 | | 60 | 1286 |
| 4 | MIKE HALLIWELL | 10 | 195 | 236 | 228 | 185 | 190 | 170 | | 60 | 1264 |
| 5 | FRANK LINDSAY | 10 | 215 | 186 | 147 | 212 | 188 | 218 | | 60 | 1226 |
| 6 | LES GRANT | 15 | 191 | 224 | 170 | 189 | 197 | 159 | | 90 | 1220 |
| 7 | BRIAN SEMPERS | 10 | 235 | 216 | 153 | 146 | 177 | 218 | | 60 | 1205 |
| 8 | RON OLDFIELD | 10 | 149 | 202 | 226 | 188 | 177 | 200 | | 60 | 1202 |
| 9 | AL TURNER | 15 | 214 | 182 | 162 | 237 | 168 | 145 | | 90 | 1198 |
| 10 | MO SINGLETON | 10 | 225 | 159 | 199 | 182 | 206 | 167 | | 60 | 1198 |
| 11 | RAY LAY | 10 | 169 | 192 | 211 | 158 | 193 | 215 | | 60 | 1198 |
| 12 | GEOFF BROWN | 5 | 178 | 198 | 215 | 223 | 192 | 152 | | 30 | 1188 |
| 13 | ALAN BENNETT | 15 | 209 | 177 | 169 | 202 | 145 | 191 | | 90 | 1183 |
| 14 | KEN BURTON | 15 | 182 | 210 | 164 | 177 | 179 | 178 | | 90 | 1180 |
| 15 | TREVOR LAMPRELL | 10 | 211 | 161 | 207 | 188 | 174 | 160 | | 60 | 1161 |
| 16 | DAVE BROOMFIELD | 5 | 182 | 164 | 159 | 221 | 190 | 185 | | 30 | 1131 |
| | | | | | | | | | | | |
| 17 | NEV ROBINSON | 10 | 184 | 223 | 181 | 171 | 166 | 146 | | 60 | 1131 |
| 18 | DOUG SINCLAIR | 15 | 128 | 182 | 180 | 212 | 136 | 184 | | 90 | 1112 |
| 19 | JEFF TAYLOR | 5 | 158 | 204 | 160 | 170 | 205 | 149 | | 30 | 1076 |
| 20 | ALAN KEDDIE | 0 | 167 | 234 | 174 | 164 | 155 | 178 | | 0 | 1072 |
| 21 | MICK INCE | 15 | 160 | 136 | 171 | 199 | 160 | 127 | | 90 | 1043 |
| 22 | CARL TAYLOR | 0 | 191 | 170 | 171 | 199 | 165 | 127 | | 0 | 1023 |
| 23 | NICK WRIGHT | 10 | 157 | 190 | 151 | 183 | 165 | 0 | | 60 | 906 |
| 24 | ANDY CLOUGH | 10 | 165 | 159 | 170 | 155 | 0 | 0 | | 60 | 709 |
Mystery Doubles
| | | | | | | | | | | | |
| --- | --- | --- | --- | --- | --- | --- | --- | --- | --- | --- | --- |
|   | NAME | BONUS | 1 | 2 | 3 | 4 | 5 | 6 | SCR | BONUS X6 | TOTAL |
| 1 | ALAN KEDDIE | 0 | 212 | 225 | 205 | 236 | 206 | 203 | 1287 | 0 | 1287 |
| 2 | MARK FULLBROOK | 0 | 158 | 217 | 126 | 226 | 179 | 179 | 1085 | 0 | 1085 |
| | | | | | | | | | 2372 | 0 | 2372 |
| | | | | | | | | | | | |
| 1 | BRIAN GREENBECK | 10 | 213 | 215 | 205 | 182 | 186 | 196 | 1197 | 60 | 1257 |
| 2 | ANDY CLOUGH | 10 | 246 | 245 | 224 | 201 | 186 | 209 | 1311 | 60 | 1371 |
| | | | | | | | | | 2508 | 120 | 2628 |
| | | | | | | | | | | | |
| 1 | KEN WRAY | 15 | 166 | 183 | 202 | 181 | 159 | 197 | 1088 | 90 | 1178 |
| 2 | TREVOR LAMPRELL | 10 | 248 | 223 | 267 | 237 | 232 | 246 | 1453 | 60 | 1513 |
| | | | | | | | | | 2541 | 150 | 2691 |
| | | | | | | | | | | | |
| 1 | DAVE RAWDING | 10 | 188 | 182 | 228 | 203 | 183 | 179 | 1163 | 60 | 1223 |
| 2 | STEVE LAYCOCK | 10 | 171 | 175 | 197 | 171 | 146 | 203 | 1063 | 60 | 1123 |
| | | | | | | | | | 2226 | 120 | 2346 |
| | | | | | | | | | | | |
| 1 | BRIAN SEMPERS | 10 | 165 | 236 | 194 | 192 | 218 | 195 | 1200 | 60 | 1260 |
| 2 | LES GRANT | 15 | 158 | 182 | 139 | 246 | 231 | 192 | 1148 | 90 | 1238 |
| | | | | | | | | | 2348 | 150 | 2498 |
| | | | | | | | | | | | |
| 1 | MIKE HALLIWELL | 10 | 190 | 204 | 230 | 213 | 193 | 218 | 1248 | 60 | 1308 |
| 2 | NICK WRIGHT | 10 | 191 | 201 | 226 | 212 | 143 | 143 | 1116 | 60 | 1176 |
| | | | | | | | | | 2364 | 120 | 2484 |
| | | | | | | | | | | | |
| 1 | AL JENKINS | 10 | 213 | 205 | 171 | 238 | 214 | 204 | 1245 | 60 | 1305 |
| 2 | RAY LAY | 10 | 180 | 243 | 187 | 254 | 211 | 245 | 1320 | 60 | 1380 |
| | | | | | | | | | 2565 | 120 | 2685 |
| | | | | | | | | | | | |
| 1 | AL TURNER | 15 | 137 | 224 | 231 | 186 | 157 | 232 | 1167 | 90 | 1257 |
| 2 | JEFF PLATTEN | 10 | 214 | 214 | 172 | 179 | 199 | 145 | 1123 | 60 | 1183 |
| | | | | | | | | | 2290 | 150 | 2440 |
| | | | | | | | | | | | |
| 1 | MO SINGLETON | 10 | 157 | 242 | 172 | 168 | 205 | 173 | 1117 | 60 | 1177 |
| 2 | TREVOR GREEN | 5 | 213 | 183 | 237 | 245 | 236 | 182 | 1296 | 30 | 1326 |
| | | | | | | | | | 2413 | 90 | 2503 |
| | | | | | | | | | | | |
| 1 | RON OLDFIELD | 10 | 235 | 193 | 224 | 182 | 224 | 213 | 1271 | 60 | 1331 |
| 2 | FRANK LINDSAY | 10 | 215 | 203 | 244 | 223 | 189 | 196 | 1270 | 60 | 1330 |
| | | | | | | | | | 2541 | 120 | 2661 |
| | | | | | | | | | | | |
| 1 | NEV ROBINSON | 10 | 215 | 181 | 233 | 237 | 229 | 214 | 1309 | 60 | 1369 |
| 2 | IAN BUCKLAND | 5 | 180 | 164 | 180 | 230 | 194 | 268 | 1216 | 30 | 1246 |
| | | | | | | | | | 2525 | 90 | 2615 |
| | | | | | | | | | | | |
| 1 | LES TAYLOR | 10 | 180 | 156 | 151 | 194 | 210 | 182 | 1073 | 60 | 1133 |
| 2 | SUREN JOHANNSEN | 5 | 172 | 170 | 207 | 221 | 210 | 181 | 1161 | 30 | 1191 |
| | | | | | | | | | 2234 | 90 | 2324 |