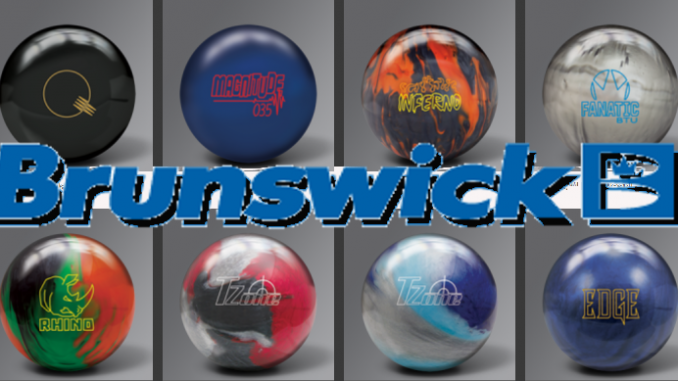 Whatever you skill level or tastes, Brunswick have a ball for you..
Quantum Classic Black
The new Quantum Classic Black has been designed with 3.5 times more coverstock increasing durability and performance longevity with an amazing pin impact you not only see but hear! Why does more coverstock improve the pin action so much? More coverstock enhances the Coefficient of Restitution which is the ratio of the differences in velocity between two objects before and after a collision. The higher the restitution, the faster the pins will move after being struck by the ball, transferring that increased kinetic energy to the surrounding pins producing greater pin action!
Learn more here

Magnitude 035
The Magnitude 035 combines our Relativity Flip Solid coverstock with our new Magnitude Low Diff symmetrical core that unleashes power and control all in one ball. The Magnitude 035 will be valued by league bowlers / tournament players with its control front to back on tough demanding lane conditions and exceptional bite on the backend. The Magnitude 035 will produce easy length, mid lane control and outstanding pin carry on medium to oily lane conditions.
Learn more here
Vintage Inferno
The new Activator 2.0 coverstock is Brunswick's modern version of original Activator. Activator 2.0 combines our re-engineered "Activator" base coverstock with a chemical supplement package for today's conditions. Combined with the Vintage Inferno low RG core the Inferno will provide the same look and ball motion that you had years ago but on today's slicker oil conditions!
Learn more here
Fanatic BTU Pearl
The new BTU Pearl coverstock is Brunswick's newest innovation in our performance enhancing coverstock technology. The new "Better Than Urethane" coverstock offers an old-school Pearl urethane ball motion with improved consistency. Combined with our I – Block low differential symmetrical core, the Fanatic BTU Pearl offers even more length along with a smoother ball motion so that you can control the pocket with enhanced hitting power on high friction lane conditions.
Learn more here
Visit the Brunswick Website to see the full range of bowling balls