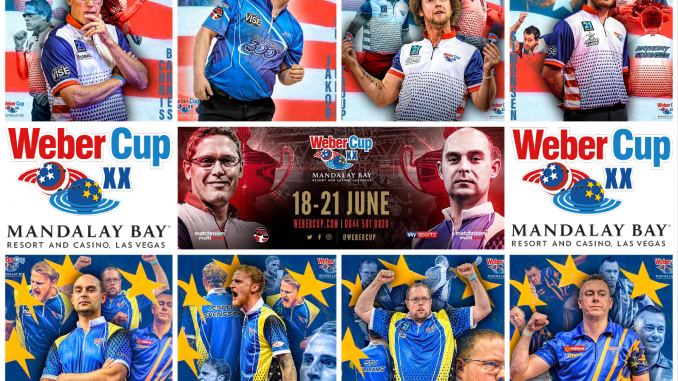 USA Defend Weber Cup Title
Troup/Barnes 246-289 Williams/Palermaa
Kyle Troup 267-245 Stuart Williams
Simonsen/Butturff 256–267 Barrett/Svensson
Chris Barnes 288-244 Osku Palermaa
Troup/Simonsen 256-267 Svensson/Williams
Anthony Simonsen 267-232 Jesper Svensson
Chris Barnes 223-255 Osku Palermaa
Jakob Butturff 213–247 Dominic Barrett
Anthony Simonsen 287–278 Stuart Williams
USA successfully defended their Weber Cup title, beating Europe 18-14 at the Mandalay Bay Resort and Casino Convention Center, Las Vegas, the first time the event had been held on American soil.
Anthony Simonsen was the MVP and fittingly bowled the winning match, a 287 to beat Stuart Williams' 278 in one of the best matches of the tournament. The win means USA, captained by Chris Barnes, have now won ten Weber Cups – the same number as Europe.
After Tuesday's first session was tied, America opened up a four-point lead on day two and though Europe made them wait on the final day, the hosts collected the final four wins they needed to lift the trophy again.
"The team bowled fantastic," said USA captain Barnes. "These guys strike more than anybody on the planet and once again Anthony Simonsen showed what it is all about when it matters the most.
"The crowd was great this week. We didn't know what to expect and I think the crowd had a lot to do with some of the momentum we carried during the first couple of days, we couldn't have done it without them."
USA brought a five-point lead into the final day, but Europe pulled one back immediately as Stuart Williams and Osku Palermaa bowled 289 to defeat Kyle Troup and Chris Barnes.
Troup and Williams stayed at the lane for singles and in a gripping, high-quality match USA edged a point closer to glory. Williams had been perfect in the preceding doubles match but left the sixth frame open and didn't get the luck he may have hoped for with messengers on more than one occasion. Troup had tuned into his game since the first fixture and a four-pack at the end of the match saw him take the match 267-245.
Dominic Barrett and Jesper Svensson then took another point for Europe after a doubles clash with Anthony Simonsen and Jakob Butturff, but the American captain Barnes responded with a fantastic 288 to beat Palermaa in match four. He opened with an eight spare but was faultless from there on in to record the highest individual score of the week.
The visitors responded with a fine doubles display from Svensson and Williams, who saw off Troup and Simonsen. But Svensson couldn't carry his momentum into his singles match against Simonsen, and once again the Texan had the Swede's number – a theme in this Weber Cup and the last – and USA needed just one more point for the Cup.
The oil was then changed, with the 39ft Sabre pattern drawn at random to replace the longer Shamshir. The next match saw Barnes against Palermaa, with the Finn still looking for his first singles win of the week. The American captain struggled to adapt to the new, short pattern, while Palermaa found his look early and kept Europe alive with a 255.
The captain was next out for the challengers, against American rookie Jakob Butturff. Before the match Barrett reminded his opponent of their US Open final match at the end of last year, when the Englishman took home the major title. The result was the same this time and USA were made to wait a bit longer.
The wait, though, lasted just one more match as Simonsen stepped up and bowled an incredible match, a seven spare in the ninth denying him a perfect match. To his credit, Williams kept up with the pace despite opening with a spare. A second spare for the Englishman came in the seventh and needing a strike for victory, Simonsen held his nerve to the delight of his team-mates and the fans in attendance at Mandalay Bay.
"I don't know if I have had a more exciting match that I have been a part of,"said Simonsen. "I knew going against Stu that he would be trying to get the crowd going and if we didn't win then the crowd would be hyped up and who knows what would have happened."
European captain Barrett reflected: "We fight all the way, try our best, show heart and character and that is what we did. But hats off to the American team, as individuals they came together as a team and bowled way better than we did. We bowled well today but we didn't bring our best on the first couple of days and that was the difference. They thoroughly deserve it, so congratulations to Team USA."
The Weber Cup is sponsored by Storm, Official Bowling Partner of the Weber Cup. The 2020 Weber Cup will take place at Morningside Arena, Leicester from Friday, June 5 until Sunday, June 7. Full ticket details will be announced soon and fans can sign up to receive ticket alerts at www.webercup.com.
Day 3 USA Close In On Weber Cup Glory

USA 14–9 EUROPE
Chris Barnes 234–188 Dominic Barrett
Anthony Simonsen 242-267 Stuart Williams
Jakob Butturff 212-243 Jesper Svensson
Chris Barnes 246-176 Stuart Williams
Kyle Troup 278-235 Dominic Barrett
Anthony Simonsen 254-220 Osku Palermaa
Jakob Butturff 229–241 Dominic Barrett
USA took a huge stride towards defending their Weber Cup title as they extended their tournament lead over Europe to 14-9 at the end of day three at Mandalay Bay Resort and Casino Convention Center, Las Vegas.
The hosts need just four more points to lift the famous trophy for a tenth time, and viewers tuning in on Sky Sports, DAZN and networks around the world were treated to another session of intense transatlantic tenpin action.
Europe have it all to do and showed fight early on day three, but ultimately it was the hosts who thrived in front of their vocal home support in Vegas.
The team captains met for a third time in the tournament at the start of the session, but Dominic Barrett struggled to find the pocket for Europe and made just three strikes as he laboured to 188. Chris Barnes, however, was straight out of the blocks and four strikes to open the match meant USA had made 20 consecutive strikes. He bowled a 234 to assert America's authority on the tournament.
Stuart Williams wasn't going to allow Europe to go down without a fight, however, and the Englishman who has been so synonymous with his continent's success on this lane stepped up with a dominating performance just when his team needed it most. His opponent Anthony Simonsen struggled to find his look, but Beef Stu had no such issues. Two nine spares in the later half of the match reduced his score but 267 beat 242 to take Europe to seven points.
"One point isn't going to turn this around, but it is building blocks and that was the first one," said Williams. "I had to take a deep breath before that match because Anthony is a great bowler. I was super comfortable there and he was super uncomfortable, and he still managed to make it close, which shows how good he is.
"Simonsen has been great this week but a lot of his wins have been against Jesper Svensson and when he plays a leftie, he has one side of the lane to himself. We wanted to see if having him against a right hander would change things for us."
Svensson then followed his team-mate's lead and won his first singles match of the week, a 243-212 over Jakob Butturff. Williams returned to the lane next for Europe but couldn't bring his form from earlier in the day as he faced Barnes.
The American captain wanted to stem Europe's momentum and did just that, bowling a 246 as Williams struggled. The Englishman tried a number of different balls but couldn't get comfortable at the lane and ended on 176.
Europe's struggles continued as Williams' compatriot Barrett, though better than in the session opener, couldn't keep up with the unrelenting pace of Kyle Troup. The 'Fro spared in the first frame but from there made eight strikes for a 278. As USA moved 13-8 ahead, Troup turned to rally the crowd and it was a performance that also rallied his team.
Simonsen was next up for the hosts and this time American fans saw the version of Simonsen who has been so good on the Weber Cup lane since his debut last summer. Some unfortunate spares kept his score to 254, but it was enough for the point as Palermaa bowled a 220.
The European captain ended the day on a positive note for his team, giving them hope ahead of the final day. Barrett's 241-229 victory over Butturff means USA still need to win four matches to lift the Weber Cup, and Europe have experience of overturning such deficits in this arena.
"We couldn't lose that match," said Barrett. "At the moment I have a good record against Jakob from the US Open until now, I know he will break that eventually, but it was nice to keep him there for now. We have come back like this before. Tomorrow we need to bowl really well and see what happens."
American captain Barnes said: "History would say it is possible that they can catch us but we are well aware of that history and there won't be any letting up or lack of focus. We know what has to be done and we will be trying to get there as early as possible."
Weber Cup XX concludes at Mandalay Bay Resort, Las Vegas tomorrow with play commencing at 11am. The Weber Cup is sponsored by Storm, the Official Bowling Partner of the Weber Cup.
Tickets are on sale now at www.webercup.com. The Weber Cup is broadcast live globally, including on Sky Sports in the UK, DAZN in America, Canada, Brazil, Germany, Austria, Switzerland, Italy, Spain and Japan and Viasat in Scandinavia.
Day 2 – Perfect USA Take Commanding Weber Cup Lead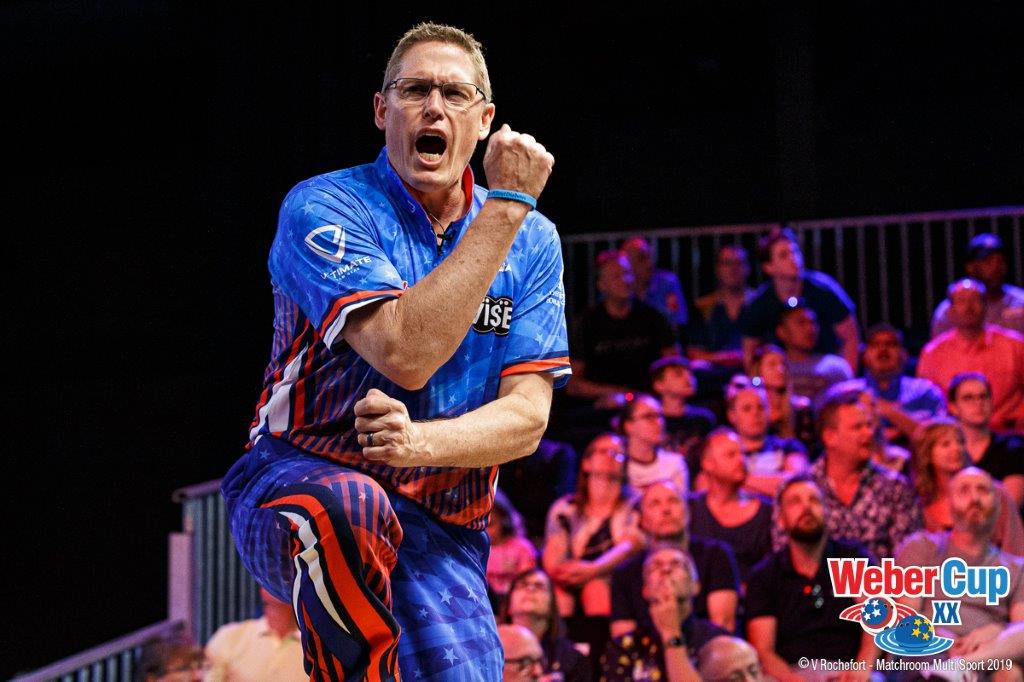 Team USA bowled the first ever Weber Cup baker 300 as they took a 10-6 lead over Europe at the Mandalay Bay Resort and Casino Convention Center, Las Vegas on Wednesday.
America dominated the second day of play, winning six of the eight matches and they completed a memorable session in style with the first perfect team game in the tournament's history.
The session began with last year's MVP Kyle Troup in action against Osku Palermaa, who is making his first Weber Cup appearance since 2015. The Finnish star looked to have found his groove early with a nine spare and three turkeys, but then struggled for the rest of the match with a strike in the seventh his only maximum. Two open frames contributed to a score of 201, while Troup excited the crowd with a great performance as he scored 278 to get USA's fifth point on the board.
Palermaa, though, was able to find some confidence in the second match and converted a match-winning spare to draw Europe level again.
The day's third clash was a repeat of Tuesday's Fans' Choice fixture; a meeting of the two captains. Yesterday it was Dominic Barrett who prevailed but on this occasion, despite a strong start for the European, it was Chris Barnes who took the point.
"I didn't expect to have the greatest ball reaction so didn't set myself up to bowl a whole lot today but I had pretty good luck there," said Barnes. "It was time for some redemption because I had given away two points."
Europe again hit back immediately, the pairing of Palermaa and Jesper Svensson benefitting from a Jakob Butturff blip as the rookie failed to strike in frames four and five while partnering Troup. Despite his doubles win, Svensson continued to struggle to get to grips with the lane and in the following singles match fell victim to Butturff, who picked up his first point of the tournament with a 278 to beat Svensson's 235.
A gripping doubles match followed, as Barnes and Anthony Simonsen for USA and Barrett and Stuart Williams for Europe went to the wire, and then some. Having clawed back from behind, the European pair entered the tenth frame level. Barnes made a strike and Barrett responded with the same to force the roll-off. USA were perfect with two strikes, but Europe's spare in their first roll-off bowl meant the point went to the hosts, who received a huge roar of approval from their home crowd.
A repeat of the day's opening match was next up, but two wins since the earlier loss had clearly done a lot for Palermaa's confidence, while Troup had to wait until the fifth frame to find a strike. The American found his groove from there, while Palermaa faulted, sending the match down to the tenth frame. A strike would win it for the Finn, but he left one pin standing and could only spare. Troup stepped up and he made the strike to win, prompting a chorus of 'USA! USA!' from the stands.
"That is definitely a top-five match in my career," said Troup. "It was a big momentum swing for the team. Going up two, we let it slip away yesterday and the goal for today was to get a winning session, which we have done. It was a very big game. I was stuck between balls; the first frame was the wrong choice but then there were some big shots that I made."
The session concluded with a team baker match, which looked to be one of huge significance – if USA could lead 10-6 overnight, Europe would have a lot to do. America were perfect. After nine bowls they'd made nine strikes. Butturff stepped up and Weber Cup history was made; the first ever team 300 in the tournament's 20-year existence.
"A lot of things were going through my mind making that shot," said Butturff. "The team had a lot of faith in me and knew I was in the pressure situation, but I wanted to give them every strike I could. Being here for the Weber Cup for the first time, representing USA, I am speechless, it is an amazing feeling."
Captain Barnes added: "The great thing about that game was all the communication going on in the background. Kyle made a blind ball change in the first frame, Jakob had a pretty good look, I had to move three or four all based off the moves the other guys were talking about. There was a lot of movement going on and that we got out of the first four frames with strikes was testament to how we have gelled together and work off each other."
Weber Cup XX is taking place at Mandalay Bay Resort, Las Vegas with play daily from 11am until Friday, June 21 and is sponsored by Storm, the Official Bowling Partner of the Weber Cup.
Tickets are on sale now at www.webercup.com. The Weber Cup is broadcast live globally, including on Sky Sports in the UK, DAZN in America, Canada, Brazil, Germany, Austria, Switzerland, Italy, Spain and Japan and Viasat in Scandinavia.
Day 1 – All Square At Weber Cup XX

USA 4-4 EUROPE
Team USA 218-232 Team Europe
Anthony Simonsen 279-246 Jesper Svensson
Jakob Butturff 244-255 Dominic Barrett
Chris Barnes 263-222 Stuart Williams
Kyle Troup 232-223 Osku Palermaa
Anthony Simonsen 257-223 Jesper Svensson
Jakob Butturff 243-276 Stuart Williams
Chris Barnes 210-230 Dominic Barrett
The Weber Cup is tied at 4-4 after the opening day of play in the USA vs. Europe tenpin battle at Mandalay Bay Resort and Casino Convention Center, Las Vegas, live on Sky Sports and DAZN.
America, the defending champions, led 4-2 before Europe hit back with English pair Stuart Williams and Dominic Barrett earning key points at the end of the session to leave the tournament locked at four each. The winner will be the first team to reach 18 points.
As is tradition, the tournament opened with a team 'baker' match and it was challengers Europe who drew first blood. The first singles match saw Anthony Simonsen up against Jesper Svensson. The pair met four times in singles and twice in doubles at the 2018 Weber Cup, with Simonsen taking five wins from the Swede, which ultimately played a major part in USA's success.
Already this year they have faced one another twice. Simonsen took the first of their meetings 279-246 to draw America level after the baker match and the Texan again had his opponent's number in match six, when a 257 bettered Svensson's 223.
In match three, US rookie Jakob Butturff had the chance to give his side the lead against European captain Barrett. Despite not bowling at his best, the Englishman had led until an eight-spare in the ninth frame and then spared again in the tenth. A strike would have given Butturff the point but he left an open frame to shoot 244 to Barrett's 255.
"I got away with that," said Barrett after the match. "I was getting used to the lane and didn't really deal with the amount of hook I was getting, but I got away with it."
Barrett's counterpart Chris Barnes then led from the front and struck back with a 263 to take down Williams, who bowled a 222 after leaving two frames open. America took the tournament lead for the first time this year when Kyle Troup saw off Osku Palermaa 232-223, the experienced Finnish bowler struggling on his return to the Weber Cup lane.
Simonsen's second win over Svensson was followed by European success for Williams, who was locked in and shot his team's best score of the day, a 276 to defeat Butturff's 243. His strike in the ninth was named Storm Shot of the Day by Weber Cup legend Tim Mack.
The final match was the Fans' Choice fixture, and the online vote matched the captains Barnes and Barrett. The US skipper started strongly with three strikes in his first four frames, while Barrett had three spares and an open frame. But the tables turned in the second half of the match after Barrett swapped balls and Barnes left frames eight and nine open, allowing his Euro counterpart to strike twice to level the Weber Cup at 4-4 after day one.
"I'm pretty irritated," said Barnes. "I had a pretty big lead there, Dom saw the hook early in the game and I saw it all in the back half. We certainly had an opportunity and I didn't do a very good job there. We were both fooled for a little bit but he made the right moves and I was slow.
"It's nice to be the crowd favourite for a change. The louder these guys get, the better we are going to bowl."
Barrett said: "Chris put it on me early and it was a pretty poor start for me. But as Chris said, I saw the lane being quite tricky early and managed to make some moves off of that and that was the difference.
"It was a key point for us. We have a long time now until we bowl again tomorrow, so we will go and get some dinner, sit down and really think about what happened today so we come back tomorrow fresh."
Weber Cup XX is taking place at Mandalay Bay Resort, Las Vegas with play daily until Friday, June 21 and is sponsored by Storm, the Official Bowling Partner of the Weber Cup.
Tickets are on sale now at www.webercup.com. The Weber Cup is broadcast live globally, including on Sky Sports in the UK, DAZN in America, Canada, Brazil, Germany, Austria, Switzerland, Italy, Spain and Japan and Viasat in Scandinavia.