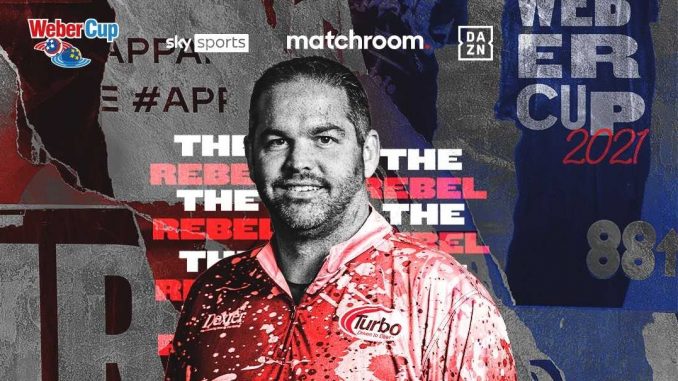 Tom Daugherty will make his Weber Cup debut at the Morningside Arena, Leicester this October 14-16 as Chris Barnes confirmed his next selection for Team USA.
Daugherty has been a regular face on the PBA Tour and won his first major the PBA World Series of Bowling XII PBA World Championship in Tampa in March this year.
He becomes the fourth name on the USA side with Barnes, Kyle Troup and Chris Via already announced with only one more name to be announced later this week.
"Making this team is an incredible honor. I have watched this event for many years and always wondered how intense it would feel to compete in such a setting as the Weber Cup. I am beyond excited to finally get this opportunity." said Daugherty.
"The fans can definitely expect a lot of emotions from me. They will have no doubt how I am feeling while on the lanes. I enjoy the pressure of these types of situations and when I succeed in them, everyone will feel my excitement."
Barnes added: "Tom is an experienced player that seems to just get better with age. His two-finger – one-hand release is somewhat unique amongst today's two-handed world, but the power he creates is awesome. Known as the "Rebel", I look for him to be at home in front of an energetic crowd and embrace the match play nature of the event. As a teammate of mine within the PBA league as well, he brings great camaraderie and toughness to his inaugural Weber Cup appearance."
The Weber Cup will be broadcast live on Sky Sports, DAZN, and Matchroom.Live with full broadcast details at www.webercup.com.
TICKETS
Ticket news is coming soon with exciting plans to give fans the best access ever seen at a Weber Cup. Register for ticket alerts here.
Make sure you are following the Weber Cup on Facebook, Instagram, and Twitter to keep up to date with all the team announcements.
Established in 2000, the Weber Cup is the annual USA v Europe tenpin bowling challenge. Named after American bowling legend Dick Weber, the man who helped shape modern bowling, the event features two five-man teams competing over three days in a series of singles and doubles matches.