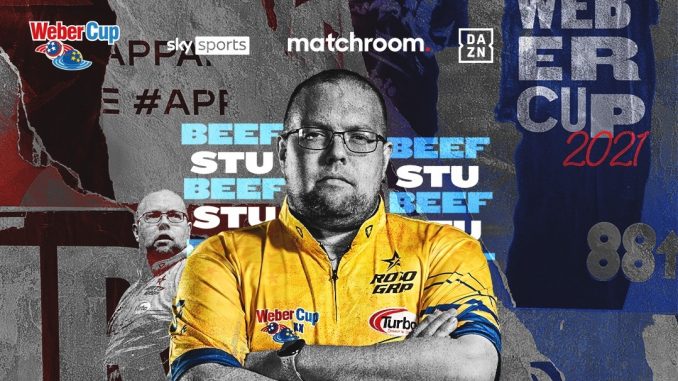 Stuart Williams will return to the Team Europe side for the 11th time at the upcoming 2021 Weber Cup, which will take place at Morningside Arena, Leicester this October 14-16.
The veteran bowler has been a mainstay of European success winning 51% of singles and double matches in that time bowling over 75 matches and has become the next name on captain Dominic Barrett's team.
Williams is out to avenge the last three years of hurt: "Living in USA makes the Weber Cup a little more personal for me because if I lose, I get to hear about it all the time. The cool part about representing Europe is knowing how many people from different countries are rooting for you, and knowing that is always an extra piece of motivation."
Europe won nine matches on the final day last year, but it wasn't enough after losing the opening day 10-3: "The fans being back is huge for us. Last year was a strange experience. If you get off to a bad start as we did, the crowd is huge in trying to get you back on track. Also on the last day, when we were making the comeback, I'm sure the crowd would have made it a lot more uncomfortable for the American team. I'm really excited to see fans back in the stands, I thrive on the energy that they bring to our team"
"Both sides have now gained a decent amount of experience. I'm not sure it is the advantage it has been in the past. But obviously, Dom and I have seen pretty much everything on the Weber Cup lane and we will draw on that to help Richie (Teece) being the rookie this year." Williams added.
Captain Barrett reaffirmed just how valuable Williams is to Europe: "Stu is like our Ian Poulter. He wears his heart on his sleeve and is a real force when he starts striking. Our team has a lot of experience, and no one has more than Stu. Our team conversations are quite open, planning our strategies as a team and Stu is a big part of that."
The Weber Cup will be broadcast live on Sky Sports, DAZN, and Matchroom.Live with full broadcast details at www.webercup.com.
TICKETS
Ticket news is coming soon with exciting plans to give fans the best access ever seen at a Weber Cup. Register for ticket alerts here.
Make sure you are following the Weber Cup on Facebook, Instagram, and Twitter to keep up to date with all the team announcements.
Established in 2000, the Weber Cup is the annual USA v Europe tenpin bowling challenge. Named after American bowling legend Dick Weber, the man who helped shape modern bowling, the event features two five-man teams competing over three days in a series of singles and doubles matches.