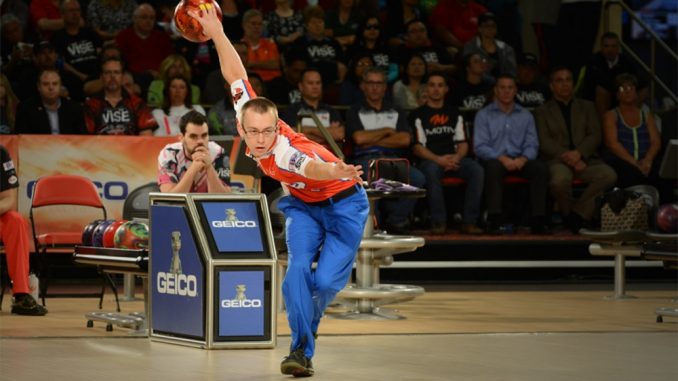 "The question I probably get asked the most now is about the win at the World Championship and having that embrace with my father. Which was one of the greatest moments of my life."
He is the hottest player on the planet in the last year. One of a growing number of new generation young talent in the USA.
Thanks to Motiv's Scott Hewitt we got a chance to fire off some questions to EJ ahead of this years Weber Cup. With America on a losing streak could the call be coming to represent Uncle Sam in the UK?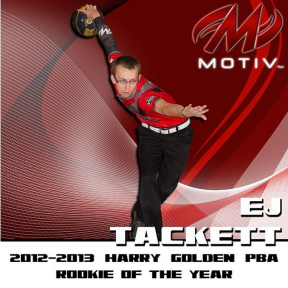 It's been a few months now, how have things been since winning that PBA major in December?
They have been absolutely amazing. I've won 2 more titles since the world championships including another major. So to say the least I'm still trying to ride the good wave I'm on right now.

Some people seem to think at 24 and early in your career this has happened quickly, Is it fair to say the few years you have now been on tour and that experience made the major win possible?
Absolutely. All the times that I had made TV shows and not won was fueling my drive to win that much more. Every time that I bowled on a telecast I learned something new about myself and how I reacted to things and how my bowling ball reacted to things and i was finally able to put everything together and get some wins.


Winners are getting younger it appears or maybe a changing of the guard so to speak, As a younger player how were those first few years on tour playing with bowling idols?
The first year or so on tour was awesome bowling with guys that you looked up to and watched on TV growing up so that part was pretty cool. But as time goes on you have to become immune to that and start creating your own legacy and I think that is what has happened with the younger generation, they aren't afraid to shoe it up and give everything they have to the previous generations.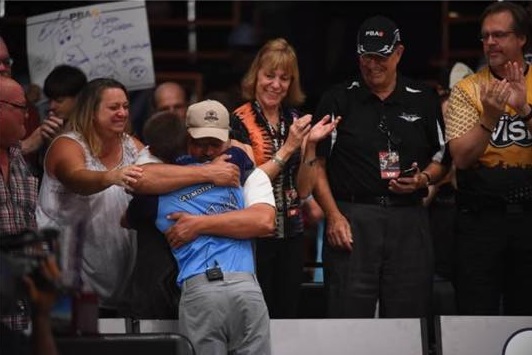 For the kids out there that dream of the position you are now in, what is the best piece of advice you can tell them when dreaming of PBA stardom?
To become a star in any sport you must be true to yourself, work hard and take your own path. A quote that Jason Belmonte goes by is something like this, "Be yourself because no one can do it better"

(not sure if thats the exact quote but i think they can get the jist of it)

Back to the very start now EJ, Age two you bowl for the first time and just because your Dad bowled, When did you actually decide bowling was something you wanted to do when you grew up?
I always knew that I was pretty good at bowling but as far as knowing that I wanted to bowl on tour didn't come until I was almost 20 and I was attending IPFW college on a golf scholarship. After 3 semester I found out that school was not for me and decided that I would give bowling on tour a try. Luckily that decision has worked out fantastic.

How did you first set about improving, Was father Ed your coach?
My dad has always been the only coach that I have ever had in my career. He is the only person I have complete trust in because he has watched me bowl my entire life and might know my game better than I do. As far as improving, I used to do just little drills with spare shooting and shot making. Such as not leaving the bowling center until I threw 50 shots in a row between 2 quarters on the lane at the arrows. So basically just tons of practice when I was growing up.

Improve you did though and made it right up to Team USA, What did it mean to you to represent your country and did it make you a local star?
Being on Team USA was an incredible experience. Getting to bowl in a tournament to represent your country is exhilarating. The is no way to describe that feeling.

Education is important of course and as you said, you took a place at Indiana – Purdue on a Golf Scholarship but a year and a half in you realized it was not for you, How did your family take it when you decided you wanted to try the PBA tour?
When I decided to quit school and go bowl on tour my family was in support of my decision 100%. Not because they thought I should quit school but because that's what I wanted to do. My support system I have with my family and friends at home is unsurpassed.

Now with brand support from Motiv Bowling, what has joining them given you that you did not have before?
Being with Motiv has given me the opportunity to express my opinions on what type of ball motion I like to see and helping test a ball and see that come to market and using it in competition gives me a lot of confidence because I know I played a small role in the development in that ball.
Of the current range, do all of them get an outing on the right conditions or do you favor one in particular?
I have a certain types of patterns that I favor. But I try very hard to be able to perform my best on any pattern that is put in front me.
The Weber Cup comes up soon and players selected. Having represented Team USA before what would it mean to you to go up against the Europeans in England if chosen?
Bowling the Weber Cup has always been a dream of mine and being able to bowl in that would definitely be a dream come true.
I am sure many out there could decide what questions to ask you in an interview, What is the question you get asked the most?
The question I probably get asked the most now is about the win at the World Championship and having that embrace with my father. Which was one of the greatest moments of my life.
If you had to be critical of yourself or your game, what would you like to improve?
My spare shooting isn't as good as I think it should be so that is definitely the thing I am most critical of. Other than that certain things and little hitches come and go. Just have to stay on top of everything and iron them out when they happen.
Is there a life outside of bowling? I guess I mean do you sometimes get to switch off from it all totally from time to time and what things take your mind off things?
My life outside of bowling involves me playing golf most of the time to get my mind off everything. But when the weather isn't so nice I try to find something to do with my hands like work on my truck or help my uncle in his garage, do things around my house just always have to be doing something hands on.
Finally EJ, I usually ask why should people bowl but let's try it this way, If someone asks you why they should bowl, what do you tell them?
When someone asks me why they should bowl i wouldn't have an answer to that question. Every one is different and why they bowl or do whatever they do in their life is done for different reasons. I bowl because i want to compete, win and be the best in the world. Others may bowl for the money or might bowl because they get to travel the world doing something they love. There are so many reasons why one would bowl, the person asking the question needs to figure out for themselves why they would want to bowl.