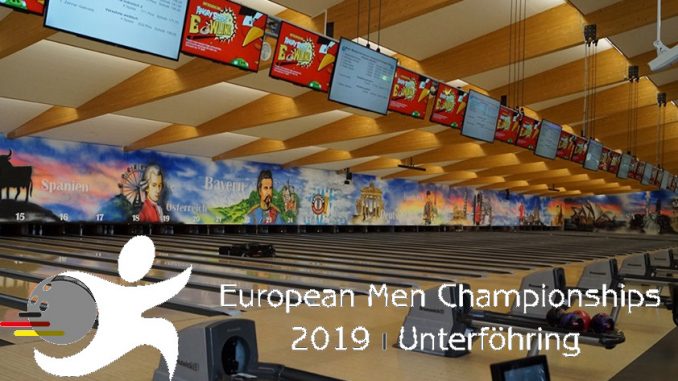 The German Bowling Federation welcomes 32 European nations to participate in the EMC2019 in the Dream-Bowl Palace in Unterföhring, Germany from the 10th to 21st of June 2019.
Live streaming available via the Official Website here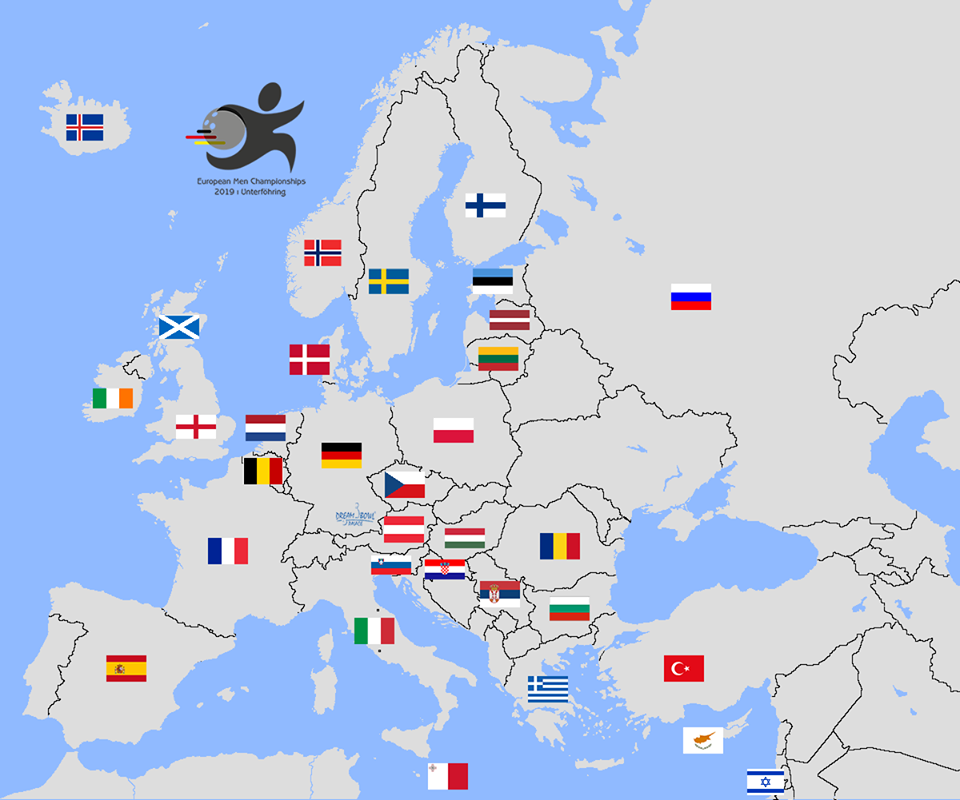 Reports
Runners and riders
Let's be honest and state some facts to start with. Finland have won a total of 68 EMC medals 30 of which are Gold. Sweden have 72 total medals and 26 Golds. Some way back are Denmark with 28 medals and Norway with 29. It would be fair to say we may see both Sweden and Finland among the medals again.  The Italian World team champions will be ones to watch out for in the team event and a host of European countries have some very talented bowlers this year including France, Latvia, The Netherlands, Germany and Denmark.
Home Nations are ready
A new look England side will have hopes for medals in the championships in Germany this year with a mix of youth with experience. Jason Agate, Glen Bailey, Adam Cairns, Matty Clayton, Lee Cocker and Daniel Penn the exciting lineup. For Scotland a returning Alex Russell joins Brian Gillespie, Kenny jamieson, Mark Kerr, Andrew McManus and leftie star Steven Gill. Ireland look set for a run on medals with Alan Bride, Jason Byrnes, Joe Clancy, Colm Cloake, Karl Dryer and Chris Sloan.
Singles – Dutch Delight on Day 1

Xander van Mazijk from the Netherlands made the early running in block one of the singles with 1344 followed by Romania's Romeo Gagenoiu with 1309 and Denmark's Jesper Agerbo third with 1298.
For the Home nations and Ireland the pick of the early birds was England's Adam Cairns in 13th with 1212. other placings included Daniel Penn (Eng) 16th, Steven Gill (Sco) 18th, Karl Dryer (Ire) 27th, Jason Byrnes (Ire) 32nd and Andrew McManus (Sco) 56th.
Squad 2 saw Denmark's Patrik Sorensen lead the field with 1272 but not enough to break the top four from squad 1. Second was Sweden's William Svensson with 1269 and third was Finland's Niko Oksanen with 1259.
Pick of the Home Nations and our Irish friends were Ireland's Chris Sloan in 8th with 1242. Other placing included Mark Kerr (Sco) 15th, Lee Cocker (Eng) 18th, Kenny Jamieson (Sco) 22nd, Glen Bailey (Eng) 37th and Colm Cloake (Ire) 39th.
Day 2 and the third block on Men in the single and it turned out to be saving the best till last as Frenchman Gaeton Mouveroux fired a 300 on the way to 1377 and top place for the finals. Joining him in second was Dutchman Xander van Mazijk from squad one in second with 1344 as England's Matty Clayton came from nowhere with 279 and 268 to grab third with 1340. Taking the last spot was Germany's Tobias Bording with 1331.
For the Home nations and with Clayton making the finals, England's Jason Agate shone with 1272 as Scotland's Alex Russell and Brian Gillespie both rolled 1112 and Irishmen Alan Bride with 1159 and Joe Clancy with 1118.
Singles Finals – Gold for England
Hopes were high for four different countries is the Singles semi finals but hopes dashed for two who would end up with the Bronze. Those players ended up being Frenchman Gaeton Mouveroux losing to Germany's  Tobias Börding 206-192 and Dutchman Xander van Mazijk defeated by England's Matty Clayton 197-178.
The final was a close affair with Matty taking an early lead and holding firm until splits opened up the tie and Tobias had a chance to close out the match with a turkey to win the Gold but failed to strike and England's Clayton became champion.
Doubles – French Perfection

Another day and another 300 for a Frenchman and this time Valentin Saulnier who fired 1394 and with Julien Sermand's 1154 topped squad 1 with 2548. Second was Finland's Kayhko and Oksanen with 2515 and third was Denmark's Stampe and Hansen with 2494.
Ireland topped the home nation scoring as Chris Sloan (1224) and Colm Cloake (1162) placed 6th with 2386 as Scotland's Russell and Kerr placed 7th with 2385. England were in 11th with 2350.
The first day of the doubles concluded with squad 2 and Sweden' William Svensson (1255) and Pontus Andersso (1230) shooting 2485 to grab fourth overall going into the final squad on Friday. Second in the block was Frenchmen Lefevre and Lanos with 2426.
Scotland were the pick of the Home Nations in this one as Steven Gill (1279) and Brian Gillespie (1143) placed 3rd with 2422, Elsewhere England's Pen and Bailey were 5th with 2412 and Ireland's Dryer and Byrnes 7th on 2371.
Doubles – Great Danes
The third and final squad of Doubles took to the Dream Bowl lanes on Saturday and only Denmark's Jesper Agerbo (1320) and Thomas Larsen (1334) made the grade in the end joining the finalists in 1st place. Second in the block was France and third was Germany bu the lucky four advancing were Two Danish Teams one French and one Finnish.
For the Home Nations this time Irelane topped th elist in 10th as Clacy and Bride hit 2379. England's Clayton and Agate placed 12th on 2368 and Scotland's McManus and Jamieson were 26th with 2092.
Doubles Final – Denmark take Gold
Whatever happened now, the Danes would have someone in the final as both teams faced off in the semi final with Stampe and Hansen just edging Agerbo and Larsen 377-362 to battle Finland's Kayhkp and Oksanen who defeated the French pair of Sermand and Saulnier 409-335.
A 215 from Kik Stampe and 257 from Carsten Warming Hansen took the Gold as Tomas Kayhko (201) and Nino Oksanen (217) hit 418 for Silver.
Trios – Dutch Drive into the lead
Two squads of trios on Sunday saw The Netherlands top the tree on 1954 from Mark Jacobs (645) Jord van Weeren (688) and Jeffery va de Wakker (621). Second was Finlands Kayhko, Ahokas and Oksanen with 1939 followed by Italy (Radi, Parapini, Davolio) in 3rd with 1924 and Denmark's Ostergaard-Poulsen, Sorensen and Hansen with 1899.
Work to do for the home nations as England placed 20th and 41st with Scotland 22nd and 44th and Ireland 23rd and 53rd going into the second day and further three games.
Trios – All change as Italy rise
A great second day in the Trios for Italy saw them grab two places in the finals. Leading were Tommaso Radi 1249, Marco Parapini 1286 ad Erik Davolio 1262 with 3797 followed by Denmark (Agerbo,Stampe,Larsen) with 3751 in secod, Sweden (Olsson, Andersson, Wetterberg) in third with 3736. Italy's Pongolini, Santu and Fiorentino taking fourth with 3712.
For the Home Nations, England placed 13th and 36th, Scotland 29th and 53rd with Ireland 21st and 40th.
Trios Finals – Italian Joy
Having taken the World Championships Team Gold the Italians had their eyes on Euro Gold and no matter what, they would have a team in the final as both trios team drew each other in Semis with Pongolini, Santu and Fiorentino beating Radi, Parapini and Davolio 625-559 as Denmark beat Sweden 615-563.  Come the final, both teams raised their game but it was the Italians claiming Gold 691-632 with Pongolino hitting 220, Santu with 255 and Fiorentino with 216.
Team – Forza Italia
Team time and the World Champs Italy meant business by leading after the first three games with 3161 and high from Antonino Fiorentino with 683. Second was The Czech Republic with 3095 and third going to Denmark with 3016.
Home Nation joy for Scotland in 4th place with 2998 and a high from Mrk Kerr with 634. England in 6th with 2989 and high from Lee Cocker with 634.  Ireland placed 25th with 2716 and high from Chris Sloan with 640.
Second block and no change at the very top as Italy continued to lead with 6198 followed by Denmark, Sweden and Germany for the finals.
England were the pick of the Home Nations in 6th and just dropping away in the last game despite a fine 702 from Lee Cocker. Joy though as Matty Clayton qualified in 5th for the Masters. Scotland sadly dropped from 4th overnight to 12th at the end with Ireland in 19th but happy that Chris Sloan made the masters.
Team Finals
A shock loss for Italy in the semi final by Germany who dominated with 1130 and high from Pascal Winternheimer with 242. Germany winning 1130-1038. Facing them in the final were Sweden with 1072 against Denmark's 1030 and a 256 from Pontus Andersson doing damage.
Sweden became European Champions yet again with a win over Germany in the final. 227 from captain Martin Larsen and all players over 200 gave the Swedes 1051 to Germany's 973.
Results
Results will appear of the Official Website here
Schedule