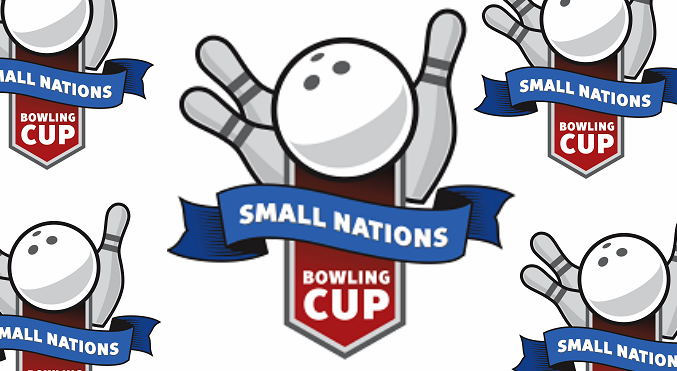 Starting in 2017 the European Tenpin Bowling Federation's Small Nations Cup will be conducted biennially. The inaugural SNC will be held from March 15-19, 2017 at the Rose'n'Bowl, an 18-laner in Serravalle in the Republic of San Marino.
Each participating country is represented by a team of two female and two male competitors.
Players from five countries, Cyprus, Iceland, Luxembourg, Malta and San Marino, compete for gold, silver and bronze medals in Mixed Doubles, men's and women's Doubles, Mixed Team and men's and women's Masters in the three-day event.
Results
Doubles Mixed
Semi Final 1

#
 
Score
1
Cyprus 2

Nandia Irodotou

211

Neoklis Erodotou

213

 

424
2
Malta 2

Sara Xuereb

181

Mauro Anastasi 

224

 

405
Semi Final 2
#
 
Score
1
Malta 1

Sue Abela 

213

Justin Caruana Scicluna

235

 

448
2
Iceland 1

Magna Yr Hjalmtysdottir

202

Arnar David Jónsson

226

 

428
Final
#
 
Score
1
Malta 1

Sue Abela 

192

Justin Caruana Scicluna

190

 

382
2
Cyprus 2

Nandia Irodotou

146

Neoklis Erodotou

149

 

295
#
Doubles Mixed
G1
G2
G3
G4
G5
G6
Score
AVG
Tie
1
Cyprus 2

Nandia Irodotou

212

214

183

200

171

180

1160

193,3

 

Neoklis Erodotou

200

243

248

277

232

202

1402

233,7

 

412
457
431
477
403
382
2562

213,5

 

2
Malta 1

Sue Abela 

210

182

205

179

204

248

1228

204,7

 

Justin Caruana Scicluna

214

209

186

209

234

266

1318

219,7

 

424
391
391
388
438
514
2546

212,2

 

3
Iceland 1

Magna Yr Hjalmtysdottir

176

186

221

234

214

189

1220

203,3

 

Arnar David Jónsson

220

249

160

201

227

222

1279

213,2

 

396
435
381
435
441
411
2499

208,2

 

4
Malta 2

Sara Xuereb

161

162

193

241

217

198

1172

195,3

 

Mauro Anastasi 

210

234

203

212

188

212

1259

209,8

 

371
396
396
453
405
410
2431

202,6

 

---

5
Iceland 2

Dagny Edda Þorisdottir

156

193

142

179

178

238

1086

181

 

Bjorn G. Sigurdsson

205

221

160

177

176

210

1149

191,5

 

361
414
302
356
354
448
2235

186,2

 

6
Luxemburg 1

Catherine Chesney

206

157

170

166

140

180

1019

169,8

 

David Manderscheid

173

245

154

237

178

227

1214

202,3

 

379
402
324
403
318
407
2233

186,1

 

7
Cyprus 1

Niki Schiza

179

161

200

140

164

169

1013

168,8

 

Ioannis Konstantinou

145

231

212

186

211

212

1197

199,5

 

324
392
412
326
375
381
2210

184,2

 

8
San Marino 1

Matteo Corazza 

220

162

177

172

211

223

1165

194,2

 

Morena Barbieri

176

176

177

167

171

165

1032

172

 

396
338
354
339
382
388
2197

183,1

 

9
San Marino 2

Milva Piva

137

143

154

148

167

179

928

154,7

 

Ettori Bacciocchi

177

169

221

180

203

172

1122

187

 

314
312
375
328
370
351
2050

170,8

 

10
Luxemburg 2

Nora Turci

143

135

191

172

145

123

909

151,5

 

Alain Lieners 

224

147

174

151

187

232

1115

185,8

 

367
282
365
323
332
355
2024

168,7

 
Mens
#
 
Score
1
Cyprus 1

Neoklis Erodotou

192

Ioannis Konstantinou

205

 

397
2
Malta 1

Mauro Anastasi 

177

Justin Caruana Scicluna

173

 

350
Semi Final 2
#
 
Score
1
Iceland 1

Bjorn G. Sigurdsson

158

Arnar David Jónsson

206

 

364
2
San Marino 1

Matteo Corazza 

191

Ettori Bacciocchi

168

 

359
Final
#
 
Score
1
Cyprus 1

Neoklis Erodotou

187

Ioannis Konstantinou

232

 

419
2
Iceland 1

Bjorn G. Sigurdsson

173

Arnar David Jónsson

236

 

409
#
Doubles
G1
G2
G3
G4
G5
G6
Score
AVG
Tie
1
Malta 1

Mauro Anastasi 

267

235

193

183

194

225

1297

216,2

 

Justin Caruana Scicluna

138

206

224

256

222

213

1259

209,8

 

405
441
417
439
416
438
2556

213

 

2
Iceland 1

Bjorn G. Sigurdsson

192

212

199

175

199

211

1188

198

 

Arnar David Jónsson

196

222

215

216

256

223

1328

221,3

 

388
434
414
391
455
434
2516

209,7

 

3
San Marino 1

Matteo Corazza 

174

210

193

148

210

180

1115

185,8

 

Ettori Bacciocchi

211

222

244

211

168

230

1286

214,3

 

385
432
437
359
378
410
2401

200,1

 

4
Cyprus 1

Neoklis Erodotou

197

193

205

220

177

221

1213

202,2

 

Ioannis Konstantinou

212

177

190

221

183

182

1165

194,2

 

409
370
395
441
360
403
2378

198,2

 

---

5
Luxemburg 1

Alain Lieners 

186

165

202

150

162

177

1042

173,7

 

David Manderscheid

194

185

188

200

233

220

1220

203,3

 

380
350
390
350
395
397
2262

188,5

 
Womens
Semi Final 1

#
 
Score
1
Luxemburg 1

Nora Turci

184

Catherine Chesney

157

 

341
2
Malta 1

Sara Xuereb

174

Sue Abela 

159

 

333
Semi Final 2
#
 
Score
1
Iceland 1

Magna Yr Hjalmtysdottir

186

Dagny Edda Þorisdottir

169

 

355
2
Cyprus 1

Nandia Irodotou

145

Niki Schiza

177

 

322
Final
#
 
Score
1
Iceland 1

Magna Yr Hjalmtysdottir

184

Dagny Edda Þorisdottir

222

 

406
2
Luxemburg 1

Nora Turci

170

Catherine Chesney

145

 

315
#
Doubles
G1
G2
G3
G4
G5
G6
Score
AVG
Tie
1
Malta 1

Sara Xuereb

181

216

213

173

200

194

1177

196,2

 

Sue Abela 

199

199

213

200

194

202

1207

201,2

 

380
415
426
373
394
396
2384

198,7

 

2
Iceland 1

Magna Yr Hjalmtysdottir

137

202

224

179

195

227

1164

194

 

Dagny Edda Þorisdottir

216

178

193

159

195

216

1157

192,8

 

353
380
417
338
390
443
2321

193,4

 

3
Cyprus 1

Nandia Irodotou

180

153

203

203

170

198

1107

184,5

 

Niki Schiza

139

141

164

212

183

201

1040

173,3

 

319
294
367
415
353
399
2147

178,9

 

4
Luxemburg 1

Nora Turci

170

204

185

167

177

204

1107

184,5

 

Catherine Chesney

137

142

154

176

244

187

1040

173,3

 

307
346
339
343
421
391
2147

178,9

 

---

5
San Marino 1

Milva Piva

178

137

128

141

123

146

853

142,2

 

Morena Barbieri

211

145

170

136

188

177

1027

171,2

 

389
282
298
277
311
323
1880

156,7

 
Mixed Team
#
Team Mixed
G1
G2
G3
G4
G5
G6
Score
AVG
Tie
1
Malta

Sue Abela 

153

171

244

205

208

227

1208

201,3

 

Sara Xuereb

181

147

197

135

217

200

1077

179,5

 

Mauro Anastasi 

225

184

257

255

144

244

1309

218,2

 

Justin Caruana Scicluna

221

221

190

192

244

202

1270

211,7

 

780
723
888
787
813
873
4864

202,7

 

2
Iceland

Magna Yr Hjalmtysdottir

180

178

221

194

141

195

1109

184,8

 

Dagny Edda Þorisdottir

149

195

167

163

191

198

1063

177,2

 

Bjorn G. Sigurdsson

198

215

202

191

210

163

1179

196,5

 

Arnar David Jónsson

210

163

195

204

243

212

1227

204,5

 

737
751
785
752
785
768
4578

190,8

 

3
Cyprus

Neoklis Erodotou

136

201

174

181

224

190

1106

184,3

 

Nandia Irodotou

192

168

154

125

204

202

1045

174,2

 

Niki Schiza

167

215

190

189

242

236

1239

206,5

 

Ioannis Konstantinou

214

201

195

192

179

201

1182

197

 

709
785
713
687
849
829
4572

190,5

 

4
Luxemburg

Catherine Chesney

176

137

163

138

182

151

947

157,8

 

Nora Turci

145

178

188

160

189

169

1029

171,5

 

Alain Lieners 

175

238

164

157

220

205

1159

193,2

 

David Manderscheid

172

165

246

167

217

232

1199

199,8

 

668
718
761
622
808
757
4334

180,6

 

---

5
San Marino

Morena Barbieri

173

157

201

160

204

158

1053

175,5

 

Matteo Corazza 

154

122

189

200

190

154

1009

168,2

 

Milva Piva

132

155

181

160

121

144

893

148,8

 

Ettori Bacciocchi

197

199

200

192

223

161

1172

195,3

 

656
633
771
712
738
617
4127

172

 
All Events
Men
#
Name
Federation
Doubles Mixed
Doubles
Team Mixed
Score
Diff 4
AVG
Games
 
1

Mauro Anastasi 

Malta

1259

1297

1309

3865

+144

214,7

18/18

 

2

Justin Caruana Scicluna

Malta

1318

1259

1270

3847

+126

213,7

18/18

 

3

Arnar David Jónsson

Iceland

1279

1328

1227

3834

+113

213

18/18

 

4

Neoklis Erodotou

Cyprus

1402

1213

1106

3721

0

206,7

18/18

 

---

5

David Manderscheid

Luxemburg

1214

1220

1199

3633

-88

201,8

18/18

 

6

Ettori Bacciocchi

San Marino

1122

1286

1172

3580

-141

198,9

18/18

 

7

Ioannis Konstantinou

Cyprus

1197

1165

1182

3544

-177

196,9

18/18

 

8

Bjorn G. Sigurdsson

Iceland

1149

1188

1179

3516

-205

195,3

18/18

 

9

Alain Lieners 

Luxemburg

1115

1042

1159

3316

-405

184,2

18/18

 

10

Matteo Corazza 

San Marino

1165

1115

1009

3289

-432

182,7

18/18

 
Women
#
Name
Federation
Doubles Mixed
Doubles
Team Mixed
Score
Diff 4
AVG
Games
 
1

Sue Abela 

Malta

1228

1207

1208

3643

+331

202,4

18/18

 

2

Magna Yr Hjalmtysdottir

Iceland

1220

1164

1109

3493

+181

194,1

18/18

 

3

Sara Xuereb

Malta

1172

1177

1077

3426

+114

190,3

18/18

 

4

Nandia Irodotou

Cyprus

1160

1107

1045

3312

0

184

18/18

 

---

5

Dagny Edda Þorisdottir

Iceland

1086

1157

1063

3306

-6

183,7

18/18

 

6

Niki Schiza

Cyprus

1013

1040

1239

3292

-20

182,9

18/18

 

7

Morena Barbieri

San Marino

1032

1027

1053

3112

-200

172,9

18/18

 

8

Nora Turci

Luxemburg

909

1107

1029

3045

-267

169,2

18/18

 

9

Catherine Chesney

Luxemburg

1019

1040

947

3006

-306

167

18/18

 

10

Milva Piva

San Marino

928

853

893

2674

-638

148,6

18/18

 
Masters
Men
Semi Final 1 | 1 vs. 4
| | | | |
| --- | --- | --- | --- |
| Pos  | Name | Federation | Score |
| 1  | Neoklis Erodotou | Cyprus | 215 |
| 2  | Mauro Anastasi  | Malta | 187 |
Semi Final 2 | 2 vs. 3
| | | | |
| --- | --- | --- | --- |
| Pos  | Name | Federation | Score |
| 1  | Arnar David Jónsson | Iceland | 205 |
| 2  | Justin Caruana Scicluna | Malta | 158 |
Final
| | | | |
| --- | --- | --- | --- |
| Pos  | Name | Federation | Score |
| 1  | Arnar David Jónsson | Iceland | 185 |
| 2  | Neoklis Erodotou | Cyprus | 167 |
Women
Semi Final 1 | 1 vs. 4

| | | | |
| --- | --- | --- | --- |
| Pos  | Name | Federation | Score |
| 1  | Nandia Irodotou | Cyprus | 179 |
| 2  | Sue Abela  | Malta | 168 |
Semi Final 2 | 2 vs. 3
| | | | |
| --- | --- | --- | --- |
| Pos  | Name | Federation | Score |
| 1  | Sara Xuereb | Malta | 192 |
| 2  | Magna Yr Hjalmtysdottir | Iceland | 190 |
Final
| | | | |
| --- | --- | --- | --- |
| Pos  | Name | Federation | Score |
| 1  | Sara Xuereb | Malta | 201 |
| 2  | Nandia Irodotou | Cyprus | 176 |