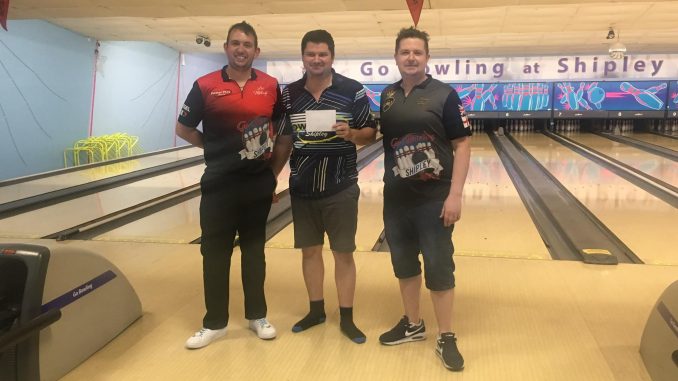 This event was held on 9th June 2019 at Go Bowling Shipley. This was a brand new event with a great format although as it was the first event it was a little tricky to work out some niggles along the way but we got through it. The Format was designed by Jimmy Neal and was based on the football world cup with group stages and knockout rounds.
We based it on 48 entries thinking we would easily smash that as it is a scratch event with a potential high payout. Unfortunately we only got 27 but it made it fun, enjoyable and anyone's game for the win. Due to the entry numbers we had to change the format slightly and do away with the Unlucky looser section and put in 5 blind games.
Qualifying
Everyone bowled 3 games over 2 squads – 13 in the first squad and 14 in the second squad. This part of the event was bowled on a 41' Recreational pattern that is used in many of Go Bowling's leagues. The average of qualifying was set at 195.8 with big sets from Fun time Franky (Frank Lindsay) 741, Josh 'I've not bowled competitively for 6 years' Dawson 721 and Josh I'm thinking of turning 2 handed' Neen 682. Katie Jowsey also won the High Game Lady Prize of £25.00 with her 1st game of 246.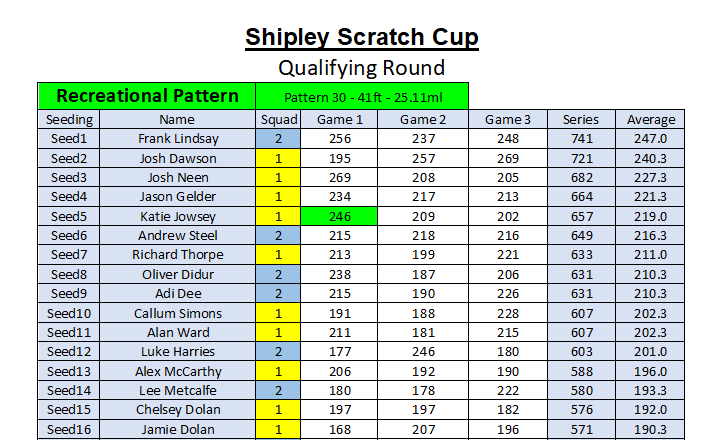 Group Stages
Due to the numbers everyone received a place in the group stages which was sorted by seed. The tournament committee decided the fairest way to bowl against the blinds was to bowl above the qualifying average of 195. Due to only using 8 lanes all day, the bowlers who seeds fell in to groups A-D bowled first on the 45' Challenge pattern Longsword. The competitors bowled 3 games match play to win points (3 for win, 1 for draw, 0 for a loss) against the other seeds in their group. After A-D finished the Lanes were redressed and then groups E-H played. Callum Simons also won the High Game Male Prize with an outstanding 289 game.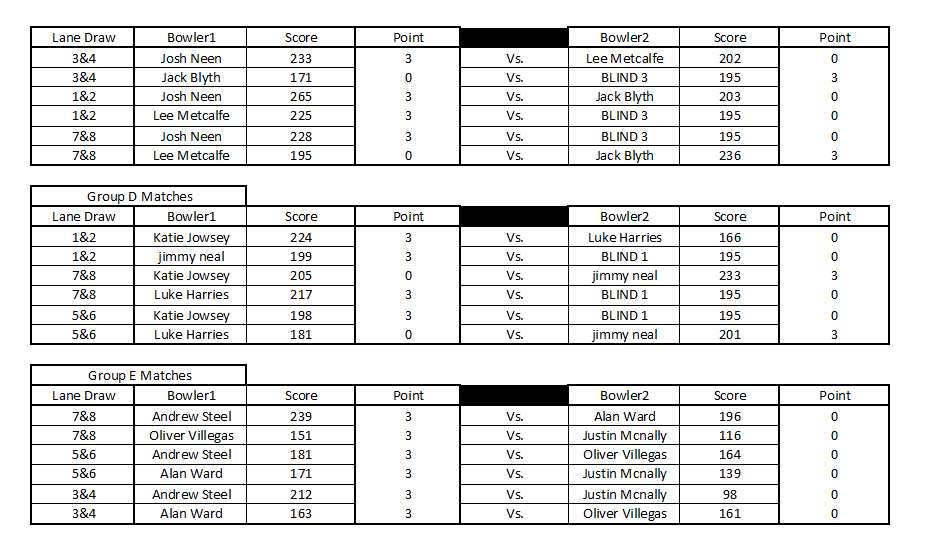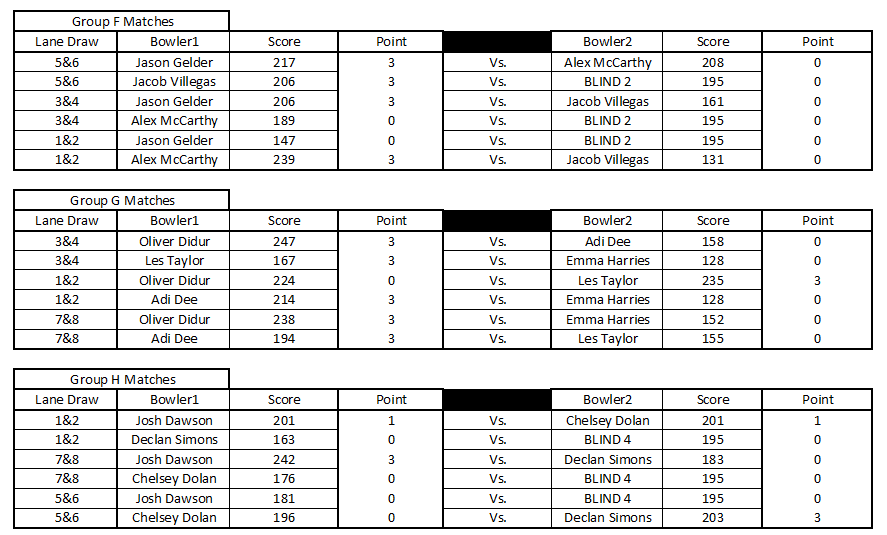 Knockout rounds
The top 2 bowlers from each group then moved in to the knockout rounds. The lanes got redressed with the Sport pattern 39' Winding road. The bowlers played 1 game knock outs. From the 16 came the top 8.
8th Katie Jowsey 7th Jeff Taylor, 6th Jimmy Neal, 5th Oliver Didur. The top 4 played a semi final to decide placing for the final. This saw Jamie Dolan beat Jason Gelder and Callum Simons beat Josh Neen. In the final game josh played Jason and scored 208-152 to secure 3rd place and Jamie played Callum 221-169 to become this year's scratch cup winner. A huge Congratulation goes out to Jamie for winning.