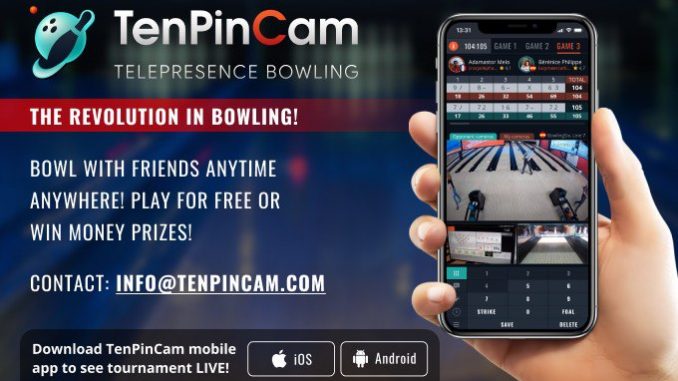 In 2019 we were alerted to a new product by Latvian two hander Daniel Vezis (Photo Left). TenpinCam complete with online app would see bowlers able to play "Battles" online, play for cash or competition and connect centres across Europe and the World.
We were able to see some of these early battles as centres in Europe began to install and test and although a cool new addition to bowling it was hard at the time to see if the industry would adopt the concept of cameras set up on a pair of lanes, one pointing at the pins, one at the approaches and one showing the scores on top of their exisiting capital equipment and see a value in offering a connected game.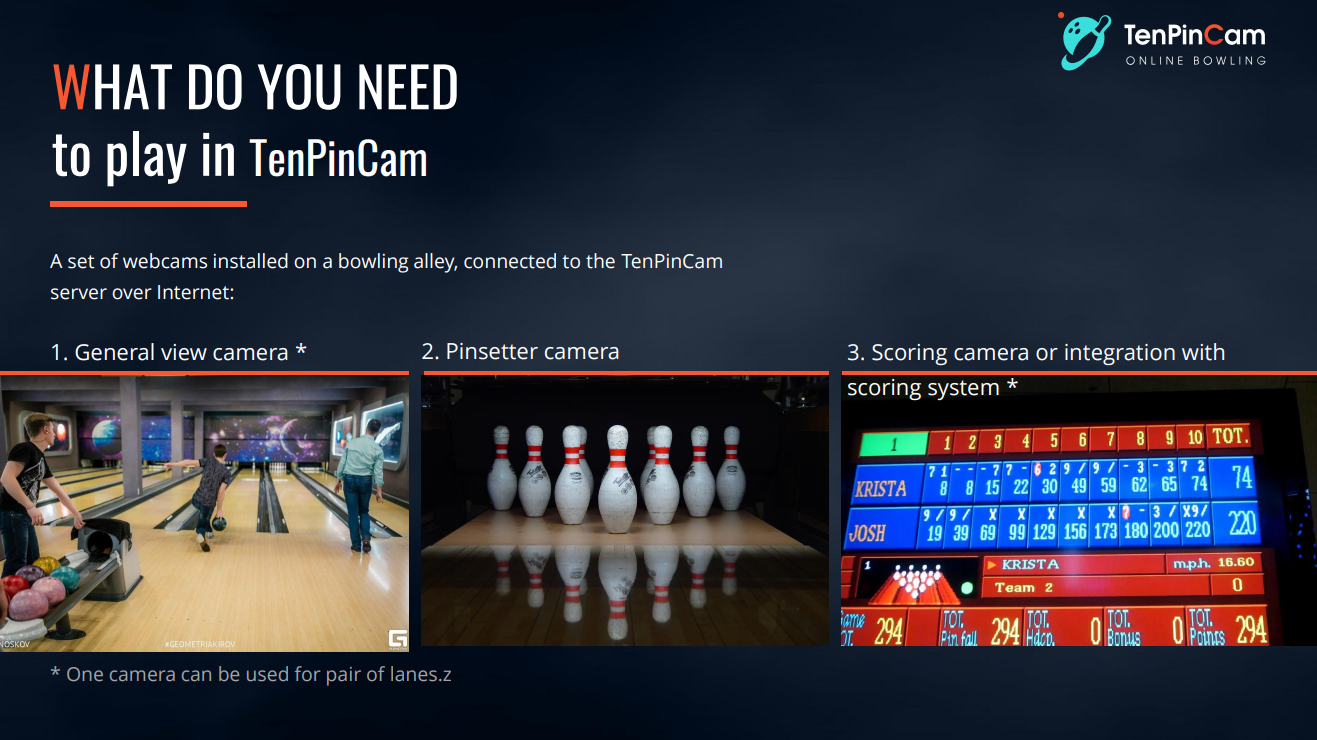 It is fair to say, this looked like it was geared more for the sport side at first but does have potential to link with leisure competitions but maybe more an add on to a business than a solution to drive traffic.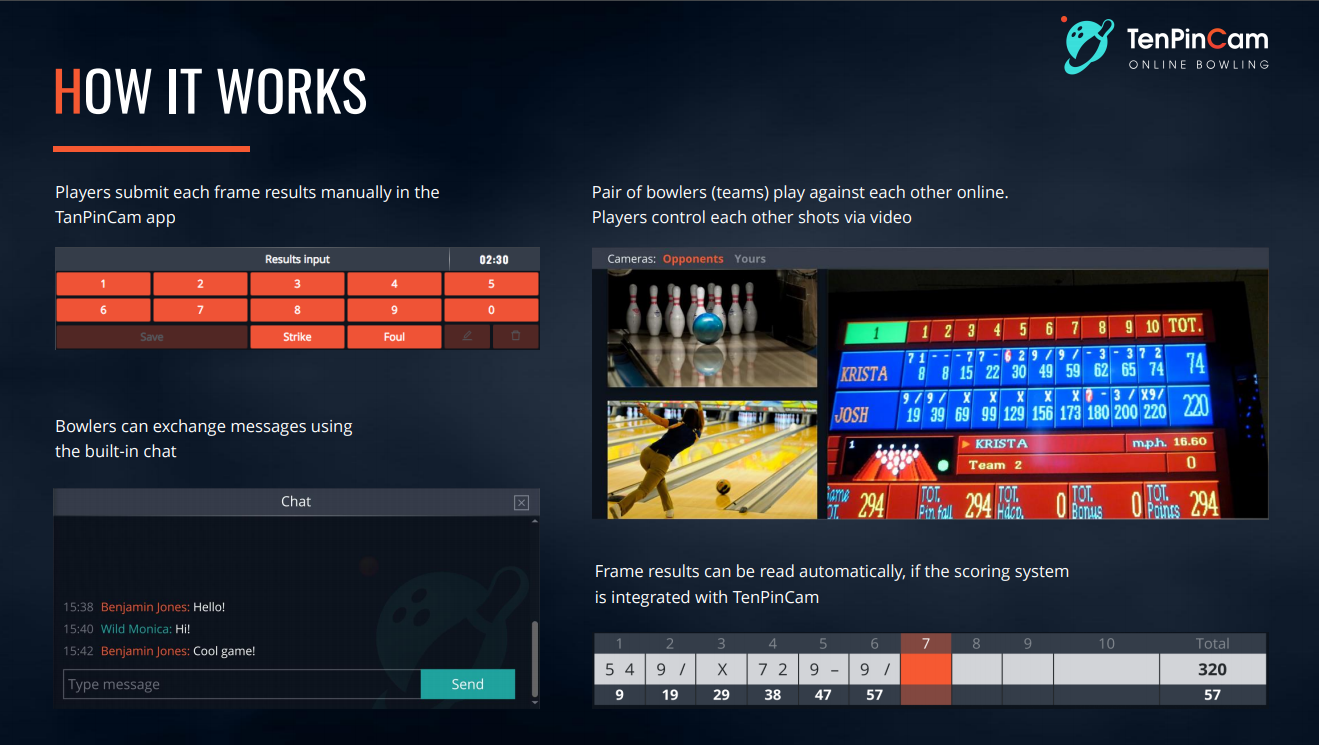 Then Covid 19 would sweep the World and changed everything.
Now we find ourselves unable in many places globally to play bowling competition or in some cases to bowl at all. Leagues and tournaments all postponed, cancelled and re-scheduled. In England the National Association has stated leagues and tournaments will not return for September and it is unclear when we might see any kind of Pre-Covid normality.
Safety first of course is the most important thing but what if centres that were looking like being allowed to open from August were able to offer competitions and something for bowlers to play for?
Well the good news is that in the downtime three UK Centres have received and installed the TenpinCam Cameras and the only competition being played in England for the foreseeable future could be in Shipley, Dunstable and Stroud.
That's right, in those three centres you will be able to book the lanes and connect to at present 15 centres in Europe including, Germany, Sweden, Latvia and even more in the UK in Ayr in Scotland and Belfast in Northern Ireland.
You can challenge other bowlers to matches and even have a bet with each other. Pot Games ring a bell for the older bowlers out there? As with all apps you can see your stats and leaderboards.
So for example we could go to Shipley and our match could be against someone in Sweden and we had no hours of travel and flights or hotels. That suddenly makes a difference when we are unable to travel as much in 2020. Matches we have viewed so far have mainly been singles but as restrictions lift this can go to teams. So in theory things like Club bowling become a thing and Shipley can challenge Dunstable, Stroud or any other centre and locals get some competition against another city or country. Bowling has been full of challenge matches in the past, at least this one is cheap on the pocket for travel and expenses.
To explain the full TenpinCam concept in more detail, click on the link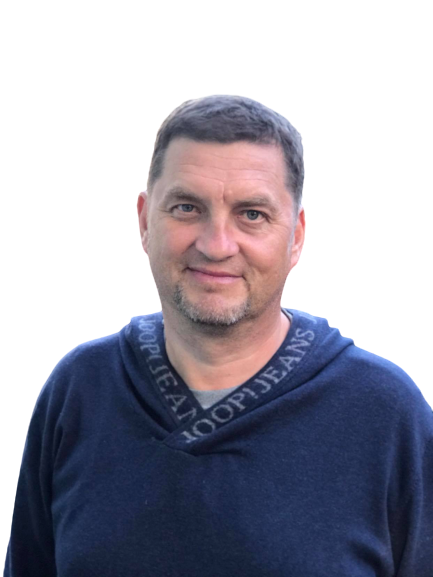 How do they police the patterns?

We had lots of questions to ask so over the Covid downtime we were able to speak with one of the TenpinCam team about the upcoming installations and things the product could do.
Kirill Hudjakov was the man to answer our questions, CEO and Founder and father of a talented two hander Artemy Hudjakov who is coached by Daniel Vezis and over the last few months has been the main bowler testing the systems with other bowlers around Europe.
Where did the idea come from to provide this service for bowlers?
The idea came from my wife Veronika, she had payed a couple of matches in similar way, just using the PC & all was manual. We decided that it would be a great idea to bring this to the higher level – use professional cameras & smartphones, connected card payments and so on. 
How do you police the lane conditions to keep it fair in two different centres?
Players are able to choose their favourite oil pattern – this was the only solution to level the conditions for everyone. Of course, if you compare this with the real tournament with sports conditions, you would expect much higher averages – nevertheless you would have to play really well, as your opponent will also have their scores high.
How easy is it for centres to install TenpinCam Cameras and get connected and what are the requirements?
Installation is quite easy – we just need to involve someone who is taking care of the IT in the center. We provide the kit, which contains of 4 cameras for pair of lanes, and our WiFi router. Very important requirement would be good Internet speed – we are steaming the video live, and we want our quality to be on a high level, so players would enjoy watching each other games. 
How do bowlers connect to the TenpinCams and how do you arrange matches?
Bowlers just need to install TenPinCam app & create their profile. You can easily find other bowlers using the app, connect with them & set a 1×1 game for the certain time it can be free game or involve money prizes. 
On the 9th we ran our 1st TenPinCam Summer Cup, having 6 countries play (unfortunately England were not able to play as re opening of alleys had been postponed again). The matches within the Cup were created by the tournament administrator, and the bowlers will saw them in the app, with scheduled time & opponent. 

The app has developed over time now with viewers now able to watch matches, what other things will we see with TenpinCam?
There are many features, that we have planned, the next cool thing will be Drop in tournaments. Bowlers would play on the TenPinCam lanes – can play anytime, just registering & paying his squad directly in the app. The system will record the video – the other players would be able either to watch the game live or in recording – any spectator can submit a protest, which then will be reviewed by the tournament referees.
We see great interest to this type of tournaments – they can be organised locally, just in one alley, we will be definitely doing International Drop where we expect a lot of players & high levels of competition.
There are levels of paid membership on TenpinCam, what are these and are people able to use the system at a free level?
The free version offers quite a lot of possibilities – you can play all type of games. We also offer extended plans, where bowlers can save their games in the archive & access extended stats on there games. We will be adding more services to the paid version in near future.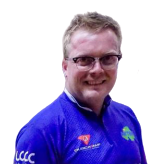 With Ayr and Belfast installed ahead of the English centres we were able to see matches and asked Northern Ireland's federation president Grant Dugan his thoughts on the concept.
"Tenpin Cam is a welcome revolution to add a new dimension to the game. I was delighted to be approached for the initial testing of the roll-out of the concept, the system has many capabilities and possibilities for both the recreational and competitive bowler."
The timing of the release couldn't be any better with the ongoing COVID-19 pandemic explained Grant.
Tenpin Cam offers the chance for players to compete against one another live from their own centres, with multiple cameras following the action, whether it be for fun or as part of an event for monetary prizes.
The app is simple to use, adding friends from other nations who have the facility installed to whom you can request a 'Battle'. Arrange your match in advance for the time and date that suits, head to your bowling centre, login to the app and commence your battle. It's as simple as that.
For recreational players it is the ideal way of playing a game of bowling against friends or family who live elsewhere.
With current travel restrictions in place, Tenpin Cam will be the perfect solution for a host of nations to compete against one another in a different form of tournament play that could be the 'norm' for the foreseeable.
Tenpin Cam will certainly be a valuable addition whilst the sport of tenpin bowling evolves under and after the current pandemic.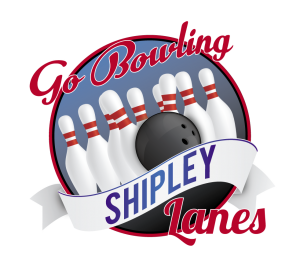 Our First Battle
So back to our story and the three new locations in England. Shipley was first to install with Dunstable and Stroud coming on later and testing done to check the systems.
Time for Talktenpin to get a closer look at the product and do some testing ourselves so it was a trip from North to West Yorkshire for TT's Dom Gall to see what it was all about.
We were all set to go on the Friday before the August 1st re-opening and then came the Boris announcement that Bowling would be delayed in opening for two more weeks. Luckily Shipley were able fill our place and do this in a covid safe way. They tested and played a few matches online to check the platform with Callum Simons bowling and defeating Latvian Daniel Vezis and then Artemy Hudjakov also from Latvia.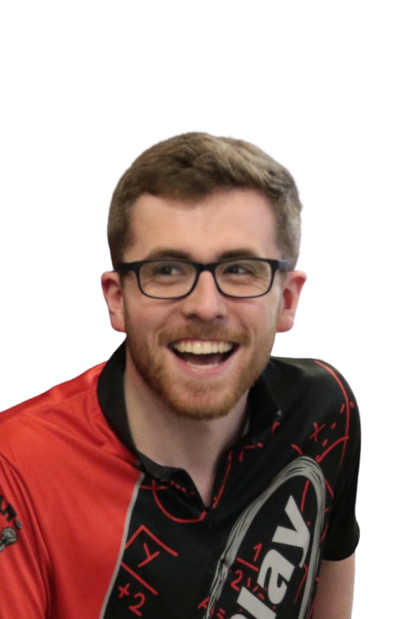 We asked Callum for his thoughts on TenPinCam after the matches.
"TenPinCam is a fantastic concept, and has been executed very well! A few more small refinements and it may be the future of day to day competition. Most tournaments don't pay out what it costs to play them after travel hotels etc.
This removes the cost without the loss of competition! It really has brought smaller competition level bowling to the masses! I'm very excited to see where this goes and I'll be there the whole way "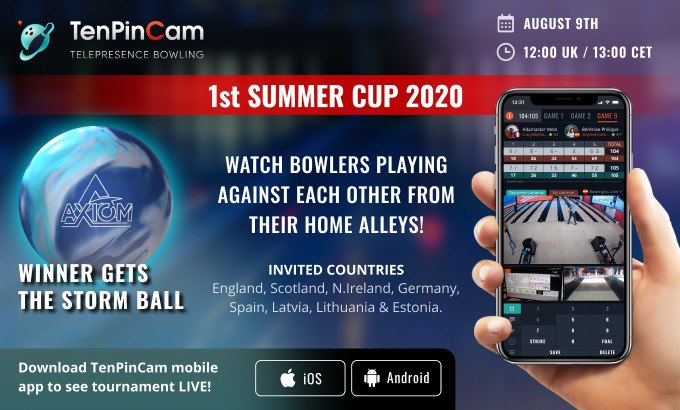 1st Summer Cup
Sunday the 9th of August saw the event Kirill mentioned being played in centres across Europe. Estonia, Lithuania and Latvia joined Germany, Scotland and Northern Ireland in a five game round robin then best of three final.
Qualifying saw Germany's Martina Schutz take an early lead but chased down by Scotland's James Guthrie and Estonia's Raul Beekman who passed the talented German in the race to the top two spots for the final.
We livestreamed the 1st round qualifying matches then returned with CEO Kirill to commentate on the final.
You can view the first round here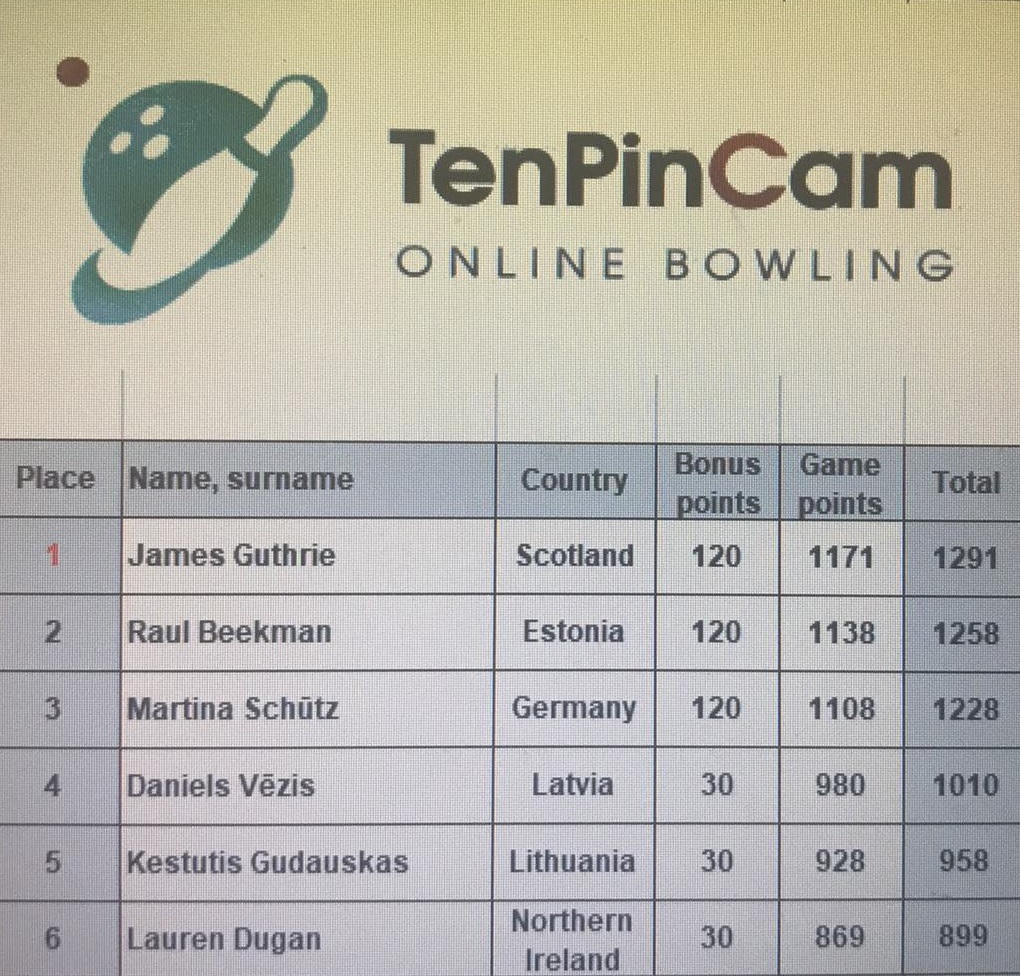 The final although ending after two games proved exciting with Scotland's James Guthrie taking the first game 222-185 as Estonian Raul Beekman began to strike late in the game and into the second game. Raul who had scored well all day looked like pushing James to the very end as he doubled in the 10th frame of the second game forcing James also to double to win the match and the first prize of a Storm Axiom bowling ball.
You can view the final here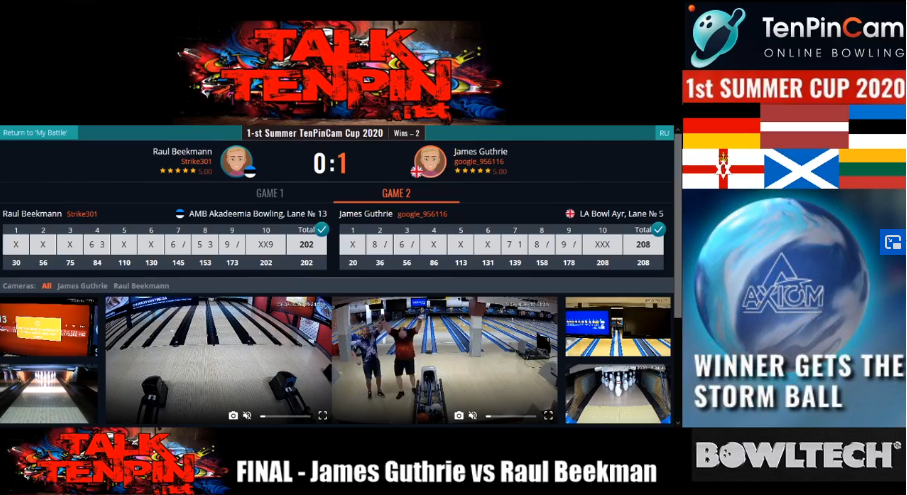 Verdict
As of today, it is hard to see when full competitive bowling will return in England and the rest of Europe or even the World. As of writing, we are in another postponement of centres opening in the UK and when they do we are unlikely to see leagues being sanctioned or tournaments cleared to operate. For that reason alone this product looks good to provide a sport option in the bowling industry marketplace. Being able to continue to provide a sport product to your guests and members when restricted through normal channels could be of interest not only to local centres but to National teams also. Currently you would be lucky to find an international tournament that will 100% run at the time listed. National teams could still have international competition and training on the Tenpin Cam platform in a safe environment and stay sharp for when full competition returns.
Drop in tournaments looks a great idea and can be done safely, you just rock up to your local connected centre and log your games, then you find out where you placed or get invited back for a final. This is just like the old days when larger chains ran things like "Match the Strikes", "No Tap" and "TripleX" and you paid for three games and entered the competition. Chain centre staff were even on bonuses to sell these kinds of products to not just sport bowlers but the general public also. This in some cases got leisure bowlers interested in the sport and also made them return more as individuals and also with family. This to me just looks like a 2020 version of 1985 and could help chains recover in conjunction with their other offers. Its also a great way to play against friends and family in other countries as Grant Dugan stated.
As things stand, I think bowlers will need to realize that the sport bowling side will take a back seat to the fight to keep centres open in the coming months. To expect leagues and tournaments at reduced rates looks far fetched. So with all that said, Tenpin Cam looks like it has hit at a perfect time to help save competition bowling until it can return in full and offers another way to enjoy the sport but without travel and expenses.
When they are allowed to officially open Shipley, Dunstable, Stroud, Ayr and Belfast will be the places to watch in the coming months in the UK for how they use TenpinCam and their thoughts on the platform for anyone interested in bringing it to their area. Try a battle yourself online or enter one of their tournaments and see for yourself what it's all about. A good product usually does well when others recommend it and if this is the only competition in town it could do well.
Two thumbs up and it will be interesting to watch how this story progresses.