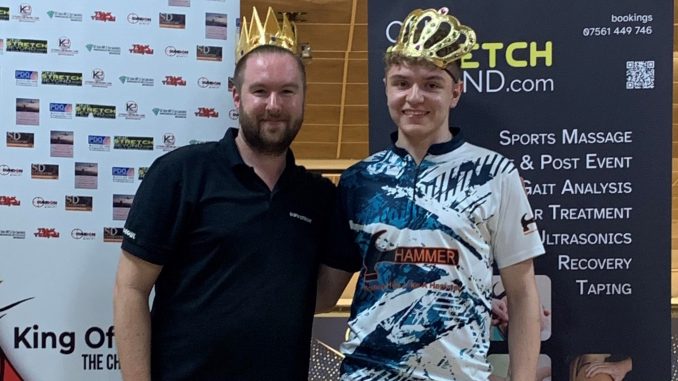 Augusts King of the hill – the 4th event out of 5 in the summer series. This year's theme is Landmarks. The first event was played on Big Ben, the 2nd on Chichen Itza, the 3rd was on Gateway Arch, and this tournament was played on Taj Mahal. What is the "Taj Mahal" – it's not, as Glen Richardson thought – a moody old curry house that will give you gut rot. It is in fact a great big white domed mausoleum built 400 years ago on the banks of some river. Some dude built it as a tomb for his favourite wife… meaning he had more than one wife – why would he want more than 1 wife… I mean even 1 is too many. Anyway, if they built it today it would have cost 1billion dollars… or to put another way it would have cost 1 Chelsea Team…
A bit about these events – The idea is a friendly tournament that will give the bowlers a chance to bowl in a local event on a Kegel "Landmark" pattern. I want to give bowlers a chance to bridge the gap between league/house pattern bowling and an elite "Sports Tournament". Thanks to our sponsors we are able to keep the price down so it will give you space to learn and grow as a Tournament bowler. I want bowlers to learn and test themselves but at the same time not feel too pressured by the bowling environment – And I hope this series of events will enable you to do that.
A nice friendly crowd played this event – everyone knew they had to beat Big Ben Robinson who was going for a hattrick of wins… the only person who has beaten him this year is…. ME – in the first event where I won and Bender came 2nd – but I don't like to talk about it.
The top 3 scores Scratch were
Daniel Davies on 1424 a 237 average
Ben Robinson a 1410 a 235 average
Daniel Chan 1310 a 218 average
Thanks to the tournament manager securing some sponsorship for the event it meant we had some extra prize money.
We had £10 high game for each of the high game
Game 1 – Daniel Davies 232
Game 2 – Ben Robinson 266
Game 3 – Ben Robinson 235
Game 4 – Daniel Davies 255
Game 5 – Daniel Chan 279
Game 6 – Ben Robinson 258
The top 3 in handicap section
1 – Stephen Draper 1443
2 – Glen Richardson 1440
3 – Ava Richardson 1389
(Special mention to Jessie Canham a Dunstable dragon for coming 4th and winning £30)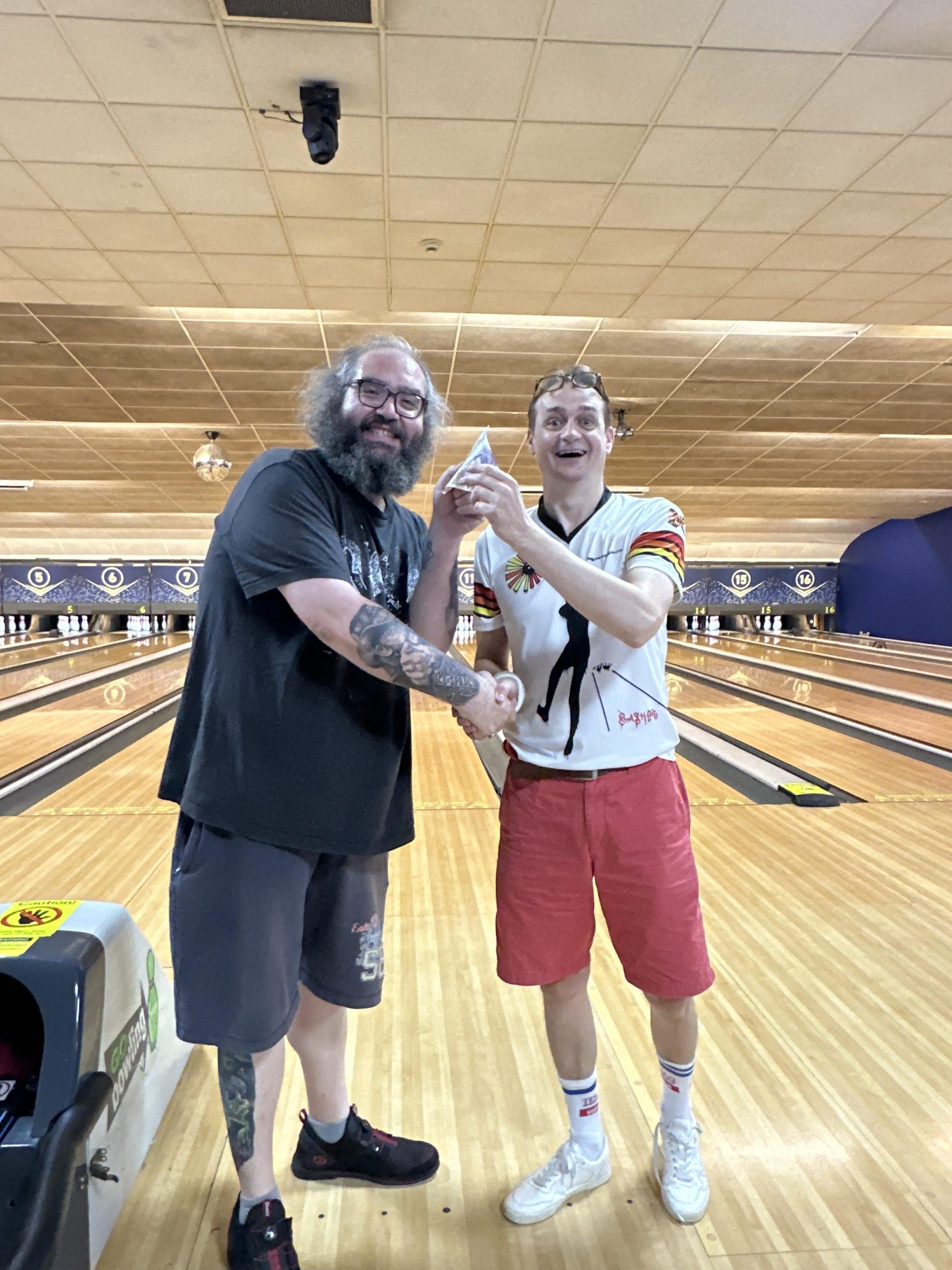 At this point I need to make it clear that despite having the same surname Ava is not related to Glen – even though she's only 10, Ava said there is no way anyone with a top knot on their bonce would be related to her ! harsh but fair I think.
So before we got into the finals we had the fun pot games… we started off with the money shot. A bowler randomly selected had 1 ball to get a strike, if they did they would win £30 …
First up was the big man… Bat Hulk Russ Snipper. He was feeling a bit groggy as he had just downed a litre of pink ball cleaner… but he stepped up and finessed a shot at 21mph straight through the beak and got himself a lucky strike and £30 in his sky rocket !
https://clips.twitch.tv/BlueKindArtichokePJSalt-Vq0Pr0J-pefHn2KT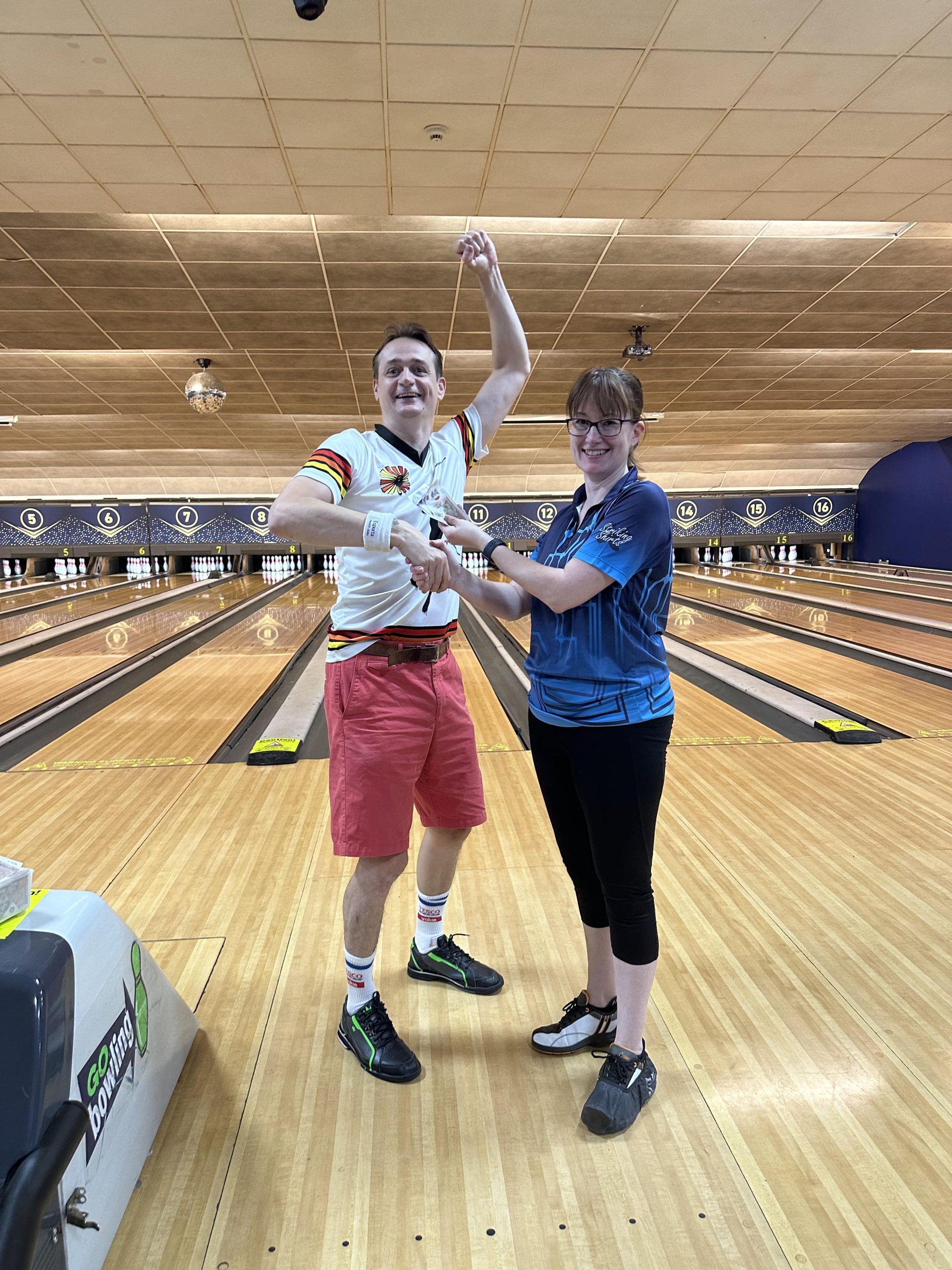 Next up was 'Basher on the 1 and 2s' – A bowler would have 1 ball to take out a corner pin clean out… which wins you a £10 – but then you can "risks it for a biscuit" and try for the other corner pin clean out and win a total of £70 – the reason it's £70 is because no one has ever done it !! and it's been carried over after each tournament.
First up was Little Ava – I asked if she understood what she need to do … she needed and gave me a look that suggested I should shut up… anyway it turned out she didn't know what she needed to do. She thought we were still playing the money shot and she smashed it in the pocket leaving a 7 pin.
So I gave her another go… I'm all heart me !
This time she took the 7 pin clean out… but would she go for £70 by taking the 10 pin clean out as well…
Nah – she aint got the minerals – she took her £10
So next up was Thomas Draper… who ditched it at 40 foot…
Next up was ME … now I'm good at this… really I am…
I had to run back put my bowling boots on dig out my spare balls…I took the 7 pin clean – of course I did…
I got king kong balls… not ping pong balls…. And boom the 10 pin went clean as well… £70 in my back burner – thank you very much.
https://clips.twitch.tv/TacitSolidGullOptimizePrime-US9NQ7YqITHWTXQP
Step ladder finals
Into Match 1
Handicap
Little Ava vs Glenda Richardson. Back story to Glen… Glen bowling right handed, but is in fact a lefty. But injury has meant he's had to switch. Plus he wanted to play on the side of the lane that gave him more area.
Glen opened up with the front 5, and despite an open and a gutter ball he had the game wrapped up and little Ava threw her lowest game of the day.. 200 with handicap and Ava was beaten by Glens 265
Scratch
Dan Chan vs Big Ben… it was quite a close game to be fair. But Ben progressed 249 vs 225 – Ben even spared a couple of single pins !
Title Matches
Handicap
Stephen draper vs Glenda – Stephen had some mid game turbulence with a string of opens, and a late rally never materialised and Glen cruised to an easy victory 224-173
Scratch
Big Ben he is truly the KING… 9 spare off the sheet for a 290. I mean Dan Davies hit a 243 and that was with an open in frame 6 – but Ben didn't look like missing. The purple hamster is a monster of a ball especially in the hands of a good two hander – it's forgiving when you pull it and recovers if you throw it wide…
Ben completes the hattrick of wins ! – a lovely young man and very good bowler who really is on top form at the moment.. and despite all the success he's having this year he still has a good sense of humility – just like me… and I'm great.
Unlucky for Dan… he may not of won the crown by he won the hearts of the ladies…. Oh and he stole a few hub caps to take back for the kids to play with… a stunner on the lanes but also a family man off of them.
Full Results
Thanks to all the bowlers
To Jo Green for doing the scores – at very late notice.. like Saturday night I think it was.
To Dan Chan for doing what he was told
To Andy Penny for ensuring the pattern was all loaded into the machine
To the Mechanics of gobowling.
And of course to our brilliant sponsors.. whose support allows us to have some fun, and offer a decent prize fund.
Sponsors were
SD Carpentry Ltd – https://www.facebook.com/sdcarpentryltd
Travel with the Smiths – https://www.facebook.com/travelwiththesmiths
S&T Autos – http://sandtautos.net/
Sundon Model Shop – https://www.facebook.com/sundonmodelshop
KPeach Floor and Wall Tilling – https://www.facebook.com/kpeach.wallandfloortiling
One Stretch Beyond – https://onestretchbeyond.com/
We also streamed the event and you can find the video on my twitch channel https://www.twitch.tv/basherback2back
The next event is September 10th… like the facebook group for these tournaments – https://www.facebook.com/groups/1123770395141402 and get all the tournament news first.