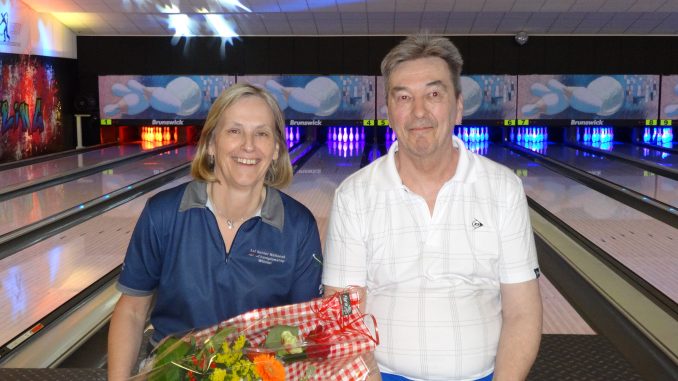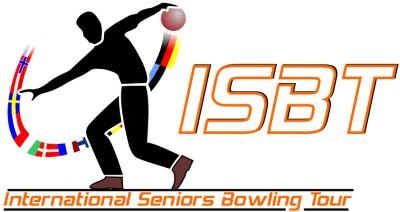 ISBT Tour 2018 Stop 3
Cristal Bowling, Wittelsheim, France
The third stop on the 2018 ISBT tour was in France, at Cristal Bowling in Wittelsheim. 112 men and 28 women took part this year, the format for the tournament was two blocks of 6 games qualifying, with re-entries being allowed.
For those not able to qualify through the main leaderboard, there were additional opportunities through Turbo games and a Desperado squad. Age bonus started at age 51 (1 pin per game), then increased a pin for every additional year of age with no limit. As with all ISBT events, there was a separate division for ladies.
The opening squad on Thursday saw defending champion Christer Danielsson from Sweden start well, with 1425 including bonus, ahead of Hermann Wimmer from Germany. Martina Beckel from Germany too the top ladies spot with 1217, just ahead of Nadine Robert from France. The second squad on Thursday was won by Valentin Fatu from Romana with 1389. In the ladies' section, Angie Brown from England led with 1226.
There were three squads on Friday, the first again went to Scandinavian bowlers, Petri Keituri from Finland was top with 1432, ahead of Ulf Lonngren from Sweden. English ladies led this squad, Kimberley Oakley had 1317, ahead of Angie Brown. In the fourth squad, there was more English success, with Ron Oldfield hitting 1424, ahead of Auke Brokehuizen from the Netherlands. Petra Duplois from Germany had a solid block of 1280 to secure the squad win.
The final Friday squad was won by Dominique de Nolf from Belgium with 1377, ahead of Jean-Pierre Paugnat from France. Pépita Jacques from France led the ladies with 1266.
Saturday had the final three squads, Helmut Ulber from Germany won the first with 1412, ahead of Hermann Wimmer, and Liliane Vintens from Belgium was top lady with 1254. Patrick Rolland from France took the second squad with 1479, ahead of English players Lol Ellis and Frank Stander. There were a number of good blocks in the ladies section, Brigitte Fievet from France had 1333, ahead of Martina Beckel, Marianne Pelz and Biance Völkl-Brandt, all from Germany.
One squad remained for players to make their moves for a place in the finals. Ron Oldfield had another big block of 1472, but pride of place went to Valentin Fatu's 300 in his fifth game, ensuring him of a place in the final. In the ladies' section, Angie Brown had another good block of 1323 to win the squad ahead of Pépita Jacques.
With qualification over, it was a clean sweep in the overall rankings for England, with Ron Oldfield first, and Frank Stander second, an amazing result for Frank Stander bowling a 194 average at the age of 87 years old. In third place in the men's qualification was Patrick Rolland. The top eight would get a bye into the second finals round, eighth place went to Valentin Fatu, with the final cut at 32 falling to Noël De Lazzer on 2638.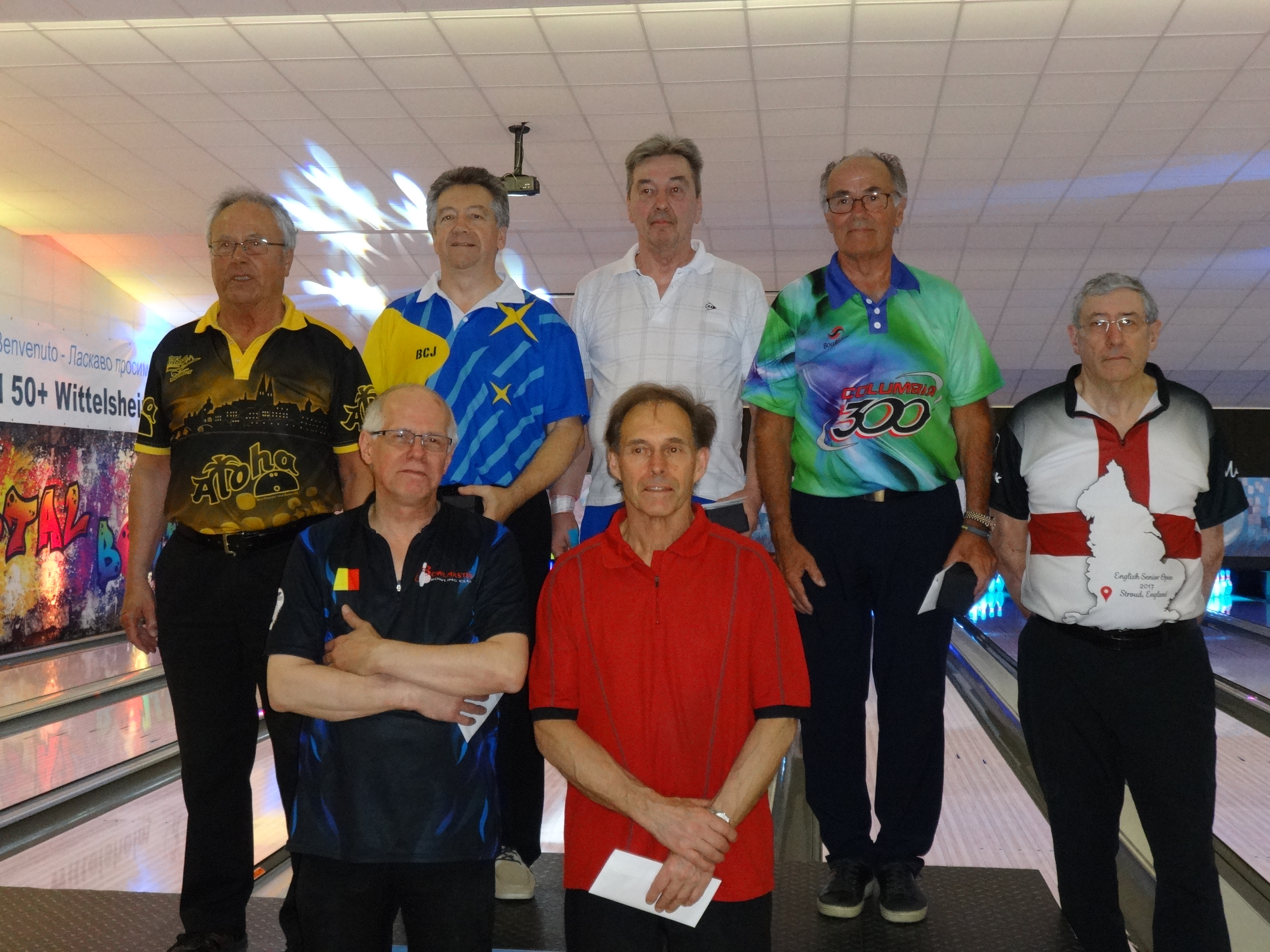 In the ladies division, Angie Brown finished top with 2583, ahead of Pépita Jacques and Martina Beckel. Last qualifier from the overall standings was Kimberly Oakley with 2495.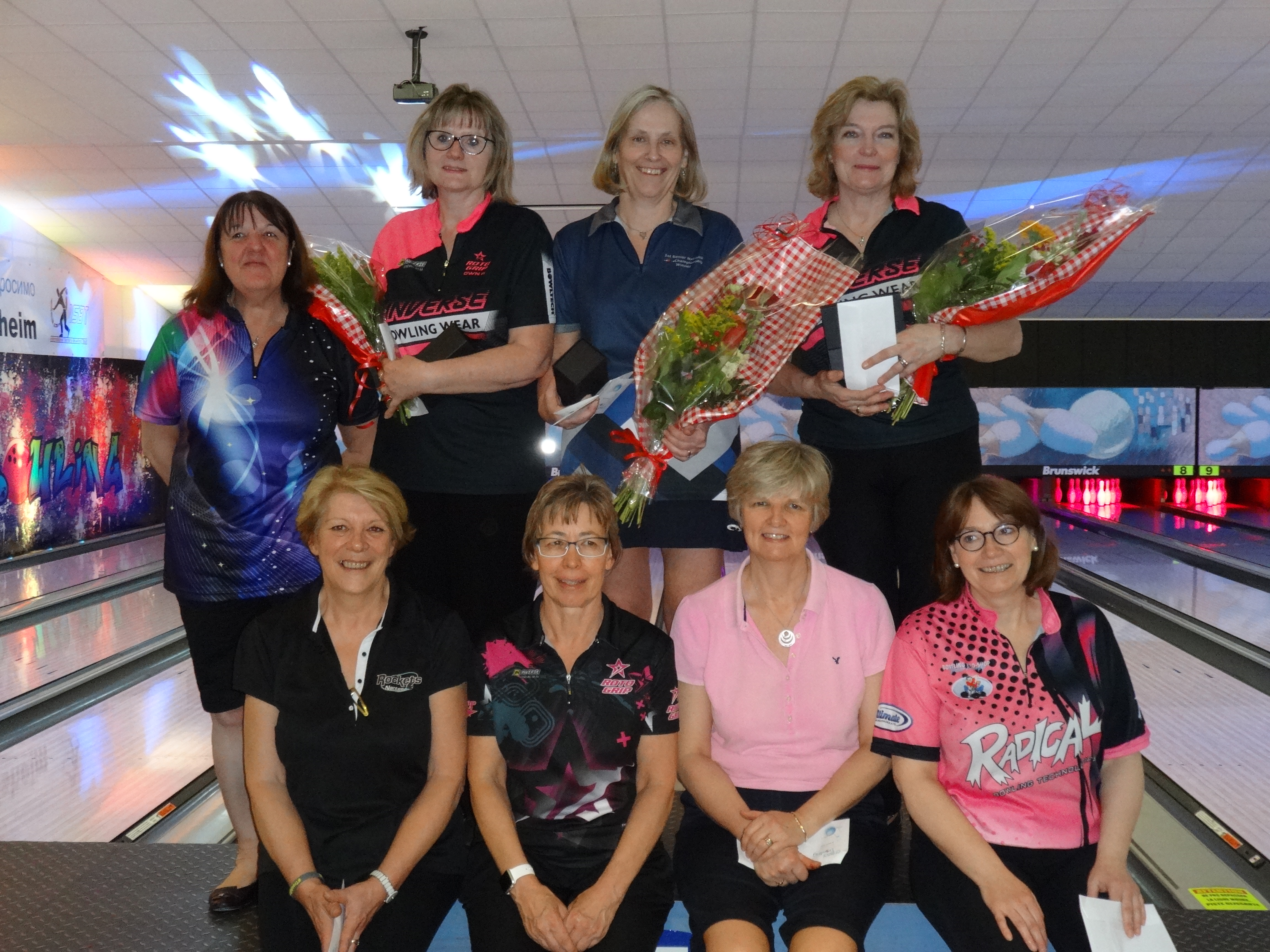 For those who had not qualified, the Desperado squad remained an option. Only 8 men and 4 women took part, the top two men and top lady would move forward to the finals. In the men's section, Patrick Mochon from France started with the first seven strikes, while Robert Bruce from England had the first six. Both players had now done the hard work and closed the games out to qualify for the final stages. The ladies Desperado was very close, with Lynne Walker from Wales having a solid closed game to finish with 198 with bonus. Françoise Augustine from France was also having a solid game, and although her scratch score was not as good, she became the Desperado qualifier by a single pin including age bonus.
The quarter final round was five games starting from scratch. Timo Makelä was the comfortable winner with 1228, ahead of Roger Pieters from Belgium and Christer Danielsson. Only the top 16 would go forward, in this place was Noël de Lazzer from France with 1071.
The quarter final round saw the 16 bowlers from the previous round joined by the top eight from qualification. This round was another Scandinavian victory, with Ulf Lonngren and Timo Makelä leading. Only eight players would make the round robin final, eighth place was Helmut Ulber from Germany with 1149.
After 3 games of the men's round-robin final, Lol Ellis had a slight lead over Patrick Rolland. In the next game they played each other, and a win for Rolland put him into the lead. However, Timo Makelä was now scoring strongly, and a 247 scratch average over the last four games gave him a comfortable victory over Patrick Rolland and Ulf Lönngren, the first ISBT podium finish for Timo Makelä.
In the women's final, Angie Brown started strongest with a 265 first game, but Liliane Vintens was slowly pegging back the lead, and by the end of game 3 they were level. However, Angie Brown continued to score well and win her matches, and by the start of the last game had a comfortable 65 pin lead over the rest of the field. The last game started well from Angie Brown, but the last five frames were opened through splits or washouts, leaving her with a disappointing 159 game. Only Brigitte Fievet looked like she might take advantage of this with a 233 game, but in the end, it was only enough to finish 10 pins behind in second place, with Liliane Vintens in third, leaving Angie Brown to collect her 17th ISBT tour title.
The next stop is the Italian Senior Open at Reno Bowling, Bologna, Italy. The tournament runs from the 2nd to 10th June 2018. Full details are available at the ISBT web site, http://www.isbtbowlingtour.eu/
Results
Ladies
Final
Pos
Name
 
Game 1
Game 2
Game 3
Game 4
Game 5
Game 6
Game 7
Scratch
Total
Age Bonus
Win Bonus
Total
Average

1

Angie Brown

UK

255

186

185

217

195

215

149

1402

70

100

1572

200.3

2

Brigitte Fievet

FR

199

170

191

185

197

195

221

1358

84

120

1562

194.0

3

Liliane Vintens

BE

204

186

233

214

179

206

176

1398

77

80

1555

199.7

4

Martina Beckel

DE

181

194

210

195

221

202

213

1416

63

50

1529

202.3

5

Kimberley Oakley

UK

182

181

197

221

235

207

190

1413

35

60

1508

201.9

6

Pépita Jacques

FR

181

195

168

178

180

237

208

1347

63

70

1480

192.4

7

Françoise Augustin

FR

158

210

177

174

168

210

179

1276

70

40

1386

182.3

8

Bianca Völkl-Brandt

DE

193

192

181

162

184

192

181

1285

21

40

1346

183.6
Qualifying
| | | | | | | | |
| --- | --- | --- | --- | --- | --- | --- | --- |
| Pos | Name |   | Age Bonus | First Series | Second Series | Total | Average |
| 1 | Angie Brown | UK | 10 | 1323 | 1260 | 2583 | 205.3 |
| 2 | Pépita Jacques | FR | 9 | 1266 | 1264 | 2530 | 201.8 |
| 3 | Martina Beckel | DE | 9 | 1293 | 1234 | 2527 | 201.6 |
| 4 | Bianca Völkl-Brandt | DE | 3 | 1263 | 1260 | 2523 | 207.3 |
| 5 | Brigitte Fievet | FR | 12 | 1333 | 1177 | 2510 | 197.2 |
| 6 | Kimberley Oakley | UK | 5 | 1317 | 1178 | 2495 | 202.9 |
| 7 | Liliane Vintens | BE | 11 | 1254 | 1226 | 2480 | 195.7 |
| 8 | Petra Duplois | DE | 12 | 1280 | 1180 | 2460 | 193.0 |
| 9 | Marianne Pelz | DE | 17 | 1285 | 1169 | 2454 | 187.5 |
| 10 | Jacqueline Faure | FR | 19 | 1219 | 1210 | 2429 | 183.4 |
| 11 | Karin Lischka | DE | 8 | 1234 | 1178 | 2412 | 193.0 |
| 12 | Nadine Robert | FR | 16 | 1206 | 1147 | 2353 | 180.1 |
| 13 | Marie-Noëlle Morand | FR | 8 | 1247 | 1102 | 2349 | 187.8 |
| 14 | Nadia Goron | FR | 10 | 1184 | 1159 | 2343 | 185.3 |
| 15 | Lynne Walker | UK | 1 | 1177 | 1165 | 2342 | 194.2 |
| 16 | Uschi Diekhoff | DE | 17 | 1164 | 1158 | 2322 | 176.5 |
| 17 | Françoise Augustin | FR | 10 | 1151 | 1143 | 2294 | 181.2 |
| 18 | Sabine Leutwiler | CH | 13 | 1128 | 1124 | 2252 | 174.7 |
| 19 | Danièle Guigon | FR | 11 | 1172 | 1071 | 2243 | 175.9 |
| 20 | Isabelle Chevet | FR | 4 | 1136 | 1106 | 2242 | 182.8 |
| 21 | Christiane Clerc | FR | 8 | 1140 | 1096 | 2236 | 178.3 |
| 22 | Linda Pray | UK | 16 | 1147 | 1083 | 2230 | 169.8 |
| 23 | Françoise Sustar | FR | 18 | 1097 | 1092 | 2189 | 164.4 |
| 24 | Claribel Muis | NL | 10 | 1126 | 1053 | 2179 | 171.6 |
| 25 | Catherine Perez | FR | 8 | 1086 | 1083 | 2169 | 172.8 |
| 26 | Ruth Stander | UK | 34 | 1076 | 1075 | 2151 | 145.3 |
| 27 | Isabelle Olry | FR | 0 | 1065 | 1040 | 2105 | 175.4 |
| 28 | Claudine Joguet | FR | 25 | 1086 | 1009 | 2095 | 149.6 |
Men
Final
Pos
Name
 
Game 1
Game 2
Game 3
Game 4
Game 5
Game 6
Game 7
Scratch
Total
Age Bonus
Win Bonus
Total
Average

1

Timo Makelä

FI

230

237

182

248

257

235

249

1638

84

120

1842

234.0

2

Patrick Rolland

FR

234

229

228

221

224

205

201

1542

98

120

1760

220.3

3

Ulf Lönngren

SE

187

262

173

228

218

179

215

1462

154

60

1676

208.9

4

Hermann Wimmer

DE

190

196

166

218

200

183

233

1386

175

60

1621

198.0

5

Lol Ellis

UK

224

212

267

205

141

176

207

1432

126

60

1618

204.6

6

Helmut Ulber

DE

213

191

224

201

169

193

234

1425

133

60

1618

203.6

7

Claude Escarguel

FR

175

165

214

266

188

173

257

1438

126

40

1604

205.4

8

Dominique De Nolf

BE

225

224

179

224

203

194

212

1461

84

40

1585

208.7
Round 2
Pos
Name
 
Age Bonus
Game 1
Game 2
Game 3
Game 4
Game 5
Scratch
Total
Bonus
Total
Average

1

Ulf Lönngren

SE

22

246

233

181

275

258

1193

110

1303

238.6

2

Timo Makelä

FI

12

257

209

244

235

217

1162

60

1222

232.4

3

Patrick Rolland

FR

14

234

188

231

258

223

1134

70

1204

226.8

4

Claude Escarguel

FR

18

199

220

214

256

203

1092

90

1182

218.4

5

Nolf Dominique De

FR

12

257

192

203

199

269

1120

60

1180

224.0

6

Lol Ellis

UK

18

183

204

214

245

234

1080

90

1170

216.0

7

Hermann Wimmer

DE

25

192

210

189

192

247

1030

125

1155

206.0

8

Helmut Ulber

DE

19

201

195

180

266

212

1054

95

1149

210.8

9

André Geelen

BE

22

215

189

234

202

194

1034

110

1144

206.8

10

Kent Sjöö

SE

14

226

213

227

183

223

1072

70

1142

214.4

11

Philippe Andre

FR

6

198

228

182

228

254

1090

30

1120

218.0

12

Christer Danielsson

SE

13

205

202

256

178

214

1055

65

1120

211.0

13

Jean-Louis Grolhier

CH

14

219

195

195

190

247

1046

70

1116

209.2

14

Yvan Augustin

FR

11

225

192

190

227

226

1060

55

1115

212.0

15

Valentin Fatu

RO

6

209

199

211

215

236

1070

30

1100

214.0

16

Mick Ince

UK

18

184

209

201

189

220

1003

90

1093

200.6

17

Ron Oldfield

UK

27

173

169

178

226

203

949

135

1084

189.8

18

Noël De Lazzer

FR

12

246

191

177

197

210

1021

60

1081

204.2

19

Roger Pieters

BE

19

202

190

213

186

182

973

95

1068

194.6

20

Eric Chambettaz

CH

6

182

211

177

233

203

1006

30

1036

201.2

21

Giorgio Desimio

BE

18

171

183

193

201

189

937

90

1027

187.4

22

Berny Stöckl

DE

14

157

202

171

217

196

943

70

1013

188.6

23

Frank Stander

UK

38

178

163

177

149

156

823

190

1013

164.6

24

Alan Keddie

UK

7

164

179

196

205

169

913

35

948

182.6
Round 1
Pos
Name
 
Age Bonus
Game 1
Game 2
Game 3
Game 4
Game 5
Scratch
Total
Bonus
Total
Average

1

Timo Makelä

FI

12

269

182

236

269

212

1168

60

1228

233.6

2

Roger Pieters

BE

19

279

183

267

204

178

1111

95

1206

222.2

3

Christer Danielsson

SE

13

198

247

176

237

259

1117

65

1182

223.4

4

Eric Chambettaz

CH

6

194

225

223

266

227

1135

30

1165

227.0

5

Kent Sjöö

SE

14

192

203

228

202

266

1091

70

1161

218.2

6

Giorgio Desimio

BE

18

202

202

236

219

203

1062

90

1152

212.4

7

Ulf Lönngren

SE

22

234

166

219

184

239

1042

110

1152

208.4

8

Alan Keddie

UK

7

267

173

223

186

244

1093

35

1128

218.6

9

Berny Stöckl

DE

14

220

234

176

200

228

1058

70

1128

211.6

10

Claude Escarguel

FR

18

224

186

210

234

178

1032

90

1122

206.4

11

André Geelen

BE

22

203

214

181

184

223

1005

110

1115

201.0

12

Mick Ince

UK

18

200

200

223

200

199

1022

90

1112

204.4

13

Yvan Augustin

FR

11

194

183

196

258

224

1055

55

1110

211.0

14

Jean-Louis Grolhier

CH

14

212

212

229

194

168

1015

70

1085

203.0

15

Dominique De Nolf

BE

12

181

197

277

191

178

1024

60

1084

204.8

16

Noël De Lazzer

FR

12

198

199

186

214

214

1011

60

1071

202.2

17

Pierre Luc Sanchez

FR

6

192

235

191

191

223

1032

30

1062

206.4

18

Patrick Mochon

FR

8

195

188

246

206

183

1018

40

1058

203.6

19

Norbert Trussardi

FR

4

190

235

166

253

190

1034

20

1054

206.8

20

Petri Keituri

FI

4

222

218

177

201

205

1023

20

1043

204.6

21

Klaus Lischka

DE

9

184

183

213

226

191

997

45

1042

199.4

22

Harald Punessen

DE

5

217

151

214

244

182

1008

25

1033

201.6

23

Patrick Delarue

FR

20

192

183

201

155

185

916

100

1016

183.2

24

Robert Bruce

UK

0

179

191

198

214

214

996

0

996

199.2

25

Jean-Pierre Paugnat

FR

5

185

192

197

197

187

958

25

983

191.6

26

Bruno Schmitt

FR

12

203

199

143

173

203

921

60

981

184.2

27

Ken Waters

US

6

204

183

187

204

169

947

30

977

189.4

28

Patrick Lefrancois

FR

17

193

149

213

158

175

888

85

973

177.6

29

Arthur Dahn

DE

17

197

156

163

192

172

880

85

965

176.0
Qualifying
| | | | | | | | |
| --- | --- | --- | --- | --- | --- | --- | --- |
| Pos | Name |   | Age Bonus | First Series | Second Series | Total | Average |
| 1 | Ron Oldfield | UK | 27 | 1472 | 1424 | 2896 | 214.3 |
| 2 | Frank Stander | UK | 38 | 1435 | 1359 | 2794 | 194.8 |
| 3 | Patrick Rolland | FR | 14 | 1479 | 1312 | 2791 | 218.6 |
| 4 | Philippe Andre | FR | 6 | 1399 | 1388 | 2787 | 226.3 |
| 5 | Lol Ellis | UK | 18 | 1442 | 1342 | 2784 | 214.0 |
| 6 | Hermann Wimmer | DE | 25 | 1399 | 1382 | 2781 | 206.8 |
| 7 | Helmut Ulber | DE | 19 | 1412 | 1366 | 2778 | 212.5 |
| 8 | Valentin Fatu | RO | 6 | 1389 | 1380 | 2769 | 224.8 |
| 9 | Petri Keituri | FI | 4 | 1432 | 1333 | 2765 | 226.4 |
| 10 | Christer Danielsson | SE | 13 | 1425 | 1334 | 2759 | 216.9 |
| 11 | Jean-Pierre Paugnat | FR | 5 | 1408 | 1341 | 2749 | 224.1 |
| 12 | Roger Pieters | BE | 19 | 1390 | 1346 | 2736 | 209.0 |
| 13 | Kent Sjöö | SE | 14 | 1387 | 1309 | 2696 | 210.7 |
| 14 | André Geelen | BE | 22 | 1379 | 1315 | 2694 | 202.5 |
| 15 | Alan Keddie | UK | 7 | 1366 | 1326 | 2692 | 217.3 |
| 16 | Jean-Louis Grolhier | CH | 14 | 1357 | 1331 | 2688 | 210.0 |
| 17 | Timo Makelä | FI | 12 | 1352 | 1329 | 2681 | 211.4 |
| 18 | Berny Stöckl | DE | 14 | 1349 | 1330 | 2679 | 209.3 |
| 19 | Ulf Lönngren | SE | 22 | 1359 | 1319 | 2678 | 201.2 |
| 20 | Giorgio Desimio | BE | 18 | 1353 | 1319 | 2672 | 204.7 |
| 21 | Eric Chambettaz | CH | 6 | 1351 | 1318 | 2669 | 216.4 |
| 22 | Dominique De Nolf | BE | 12 | 1377 | 1280 | 2657 | 209.4 |
| 23 | Harald Punessen | DE | 5 | 1344 | 1309 | 2653 | 216.1 |
| 24 | Mick Ince | UK | 18 | 1330 | 1320 | 2650 | 202.8 |
| 25 | Ken Waters | US | 6 | 1328 | 1320 | 2648 | 214.7 |
| 26 | Patrick Lefrancois | FR | 17 | 1368 | 1280 | 2648 | 203.7 |
| 27 | Patrick Delarue | FR | 20 | 1335 | 1313 | 2648 | 200.7 |
| 28 | Norbert Trussardi | FR | 4 | 1332 | 1311 | 2643 | 216.3 |
| 29 | Pierre Luc Sanchez | FR | 6 | 1339 | 1303 | 2642 | 214.2 |
| 30 | Yvan Augustin | FR | 11 | 1346 | 1296 | 2642 | 209.2 |
| 31 | Claude Escarguel | FR | 18 | 1321 | 1320 | 2641 | 202.1 |
| 32 | Noël De Lazzer | FR | 12 | 1319 | 1319 | 2638 | 207.8 |
| 33 | Gregor Ramsak | CH | 5 | 1330 | 1296 | 2626 | 213.8 |
| 34 | Willy Ebel | DE | 20 | 1354 | 1272 | 2626 | 198.8 |
| 35 | Dario Ancarani | CH | 13 | 1349 | 1275 | 2624 | 205.7 |
| 36 | Alan Jenkins | UK | 27 | 1332 | 1286 | 2618 | 191.2 |
| 37 | Uwe Tscharke | DE | 6 | 1309 | 1306 | 2615 | 211.9 |
| 38 | Francis Escaliere | FR | 20 | 1335 | 1268 | 2603 | 196.9 |
| 39 | Didier Marmion | FR | 17 | 1305 | 1293 | 2598 | 199.5 |
| 40 | Auke Broekhuizen | NL | 7 | 1373 | 1222 | 2595 | 209.3 |
| 41 | Christian Dorval | FR | 14 | 1303 | 1288 | 2591 | 201.9 |
| 42 | Joël Rost | FR | 10 | 1300 | 1284 | 2584 | 205.3 |
| 43 | Jean-Marc Marin | FR | 6 | 1315 | 1259 | 2574 | 208.5 |
| 44 | Michel Joguet | FR | 20 | 1313 | 1254 | 2567 | 193.9 |
| 45 | Patrick Mochon | FR | 8 | 1356 | 1209 | 2565 | 205.8 |
| 46 | Wolfgang Emmerich | DE | 20 | 1295 | 1263 | 2558 | 193.2 |
| 47 | Gérard Calonnec | FR | 18 | 1335 | 1221 | 2556 | 195.0 |
| 48 | Laya Djouad | FR | 19 | 1282 | 1272 | 2554 | 193.8 |
| 49 | Jürgen Preuss | DE | 22 | 1292 | 1260 | 2552 | 190.7 |
| 50 | Patrice Sustar | FR | 16 | 1273 | 1271 | 2544 | 196.0 |
| 51 | Dieter Rau | DE | 19 | 1306 | 1232 | 2538 | 192.5 |
| 52 | Joseph Ramon | FR | 11 | 1308 | 1229 | 2537 | 200.4 |
| 53 | Victoriano Arevalo | FR | 12 | 1288 | 1245 | 2533 | 199.1 |
| 54 | Serge Orengo | FR | 9 | 1266 | 1264 | 2530 | 201.8 |
| 55 | Werner Laun | DE | 17 | 1272 | 1258 | 2530 | 193.8 |
| 56 | Ralph Yves Genillard | FR | 9 | 1319 | 1202 | 2521 | 201.1 |
| 57 | Arthur Dahn | DE | 17 | 1350 | 1160 | 2510 | 192.2 |
| 58 | Jeff Taylor | UK | 10 | 1271 | 1234 | 2505 | 198.8 |
| 59 | Svend Wirz | CH | 4 | 1301 | 1197 | 2498 | 204.2 |
| 60 | Frank Lindsay | UK | 18 | 1251 | 1242 | 2493 | 189.8 |
| 61 | Michael Halliwell | UK | 11 | 1266 | 1226 | 2492 | 196.7 |
| 62 | Philippe Provensal | FR | 10 | 1252 | 1233 | 2485 | 197.1 |
| 63 | Bruno Perez | FR | 6 | 1305 | 1173 | 2478 | 200.5 |
| 64 | Jean-Philippe Rossire | CH | 16 | 1247 | 1227 | 2474 | 190.2 |
| 65 | Kiem Kho Sun | DE | 10 | 1238 | 1235 | 2473 | 196.1 |
| 66 | Robert Bruce | UK | 0 | 1256 | 1216 | 2472 | 206.0 |
| 67 | Patrick Berthomiere | FR | 4 | 1254 | 1217 | 2471 | 201.9 |
| 68 | Frédéric Berger | FR | 4 | 1273 | 1197 | 2470 | 201.8 |
| 69 | Klaus Lischka | DE | 9 | 1246 | 1224 | 2470 | 196.8 |
| 70 | Ekkehard Oette | DE | 23 | 1258 | 1208 | 2466 | 182.5 |
| 71 | Michel Ligier | FR | 13 | 1273 | 1187 | 2460 | 192.0 |
| 72 | Bill Goldsberry | US | 14 | 1232 | 1209 | 2441 | 189.4 |
| 73 | Alain Deledda | FR | 23 | 1222 | 1215 | 2437 | 180.1 |
| 74 | Reinhold Paitz | DE | 18 | 1270 | 1163 | 2433 | 184.8 |
| 75 | Denis Renard | FR | 4 | 1244 | 1188 | 2432 | 198.7 |
| 76 | Koob Joachim | DE | 1 | 1263 | 1161 | 2424 | 201.0 |
| 77 | Jean-Claude Cartoni | FR | 18 | 1229 | 1194 | 2423 | 183.9 |
| 78 | Vallons Robert | BE | 12 | 1241 | 1181 | 2422 | 189.8 |
| 79 | Pierre Prou | FR | 19 | 1205 | 1199 | 2404 | 181.3 |
| 80 | Michael Pray | UK | 19 | 1214 | 1186 | 2400 | 181.0 |
| 81 | Bruno Schmitt | FR | 12 | 1287 | 1110 | 2397 | 187.8 |
| 82 | Mannfred Kapp | DE | 31 | 1199 | 1194 | 2393 | 168.4 |
| 83 | Gianni Marchiori | IT | 13 | 1209 | 1181 | 2390 | 186.2 |
| 84 | Thierry Olry | FR | 1 | 1199 | 1185 | 2384 | 197.7 |
| 85 | Alain Marc Michali | FR | 20 | 1211 | 1166 | 2377 | 178.1 |
| 86 | Douglas Sinclair | UK | 23 | 1224 | 1153 | 2377 | 175.1 |
| 87 | Bernard Anselmier | FR | 7 | 1213 | 1157 | 2370 | 190.5 |
| 88 | Jochen Diekhoff | DE | 19 | 1197 | 1173 | 2370 | 178.5 |
| 89 | Les Grant | UK | 24 | 1232 | 1129 | 2361 | 172.8 |
| 90 | Thüry Peter | DE | 1 | 1258 | 1095 | 2353 | 195.1 |
| 91 | Pascal Ruellet | FR | 5 | 1201 | 1149 | 2350 | 190.8 |
| 92 | Rinaldo Ineichen | CH | 11 | 1197 | 1137 | 2334 | 183.5 |
| 93 | Jocelyn Le Marec | FR | 9 | 1216 | 1117 | 2333 | 185.4 |
| 94 | Gérard Dome | FR | 14 | 1167 | 1160 | 2327 | 179.9 |
| 95 | Grégoire Duchemin | FR | 3 | 1168 | 1146 | 2314 | 189.8 |
| 96 | Werner Kimmerle | DE | 31 | 1155 | 1147 | 2302 | 160.8 |
| 97 | Daniel Billebeau | FR | 13 | 1183 | 1116 | 2299 | 178.6 |
| 98 | Bernhard May | DE | 2 | 1188 | 1099 | 2287 | 188.6 |
| 99 | Jean-Charles Faure | FR | 18 | 1139 | 1137 | 2276 | 171.7 |
| 100 | Marc Ancelin | FR | 3 | 1204 | 1062 | 2266 | 185.8 |
| 101 | Jean-Mary Mathey | FR | 3 | 1145 | 1120 | 2265 | 185.8 |
| 102 | Jean Francois Vavon | FR | 8 | 1132 | 1127 | 2259 | 180.3 |
| 103 | Franck Richter | FR | 1 | 1161 | 1089 | 2250 | 186.5 |
| 104 | Thierry Deboissy | FR | 14 | 1134 | 1085 | 2219 | 170.9 |
| 105 | Gino Figliuzzi | FR | 5 | 1117 | 1089 | 2206 | 178.8 |
| 106 | Alex Schmitt | FR | 26 | 1354 | 839 | 2193 | 156.8 |
| 107 | Jean-Christian Bourgeaux | FR | 2 | 1106 | 992 | 2098 | 172.8 |
| 108 | Denis Pierandrei | FR | 8 | 1033 | 1025 | 2058 | 163.5 |
| 109 | Patrick Chretien | FR | 2 | 1027 | 1026 | 2053 | 169.1 |
| 110 | Ian Buckland | UK | 13 | 1282 | 619 | 1901 | 198.2 |
| 111 | Steven Coates | UK | 7 | 1189 | 374 | 1563 | 188.4 |
| 112 | Thorsten Brunke | DE | 2 | 939 | 282 | 1221 | 150.6 |