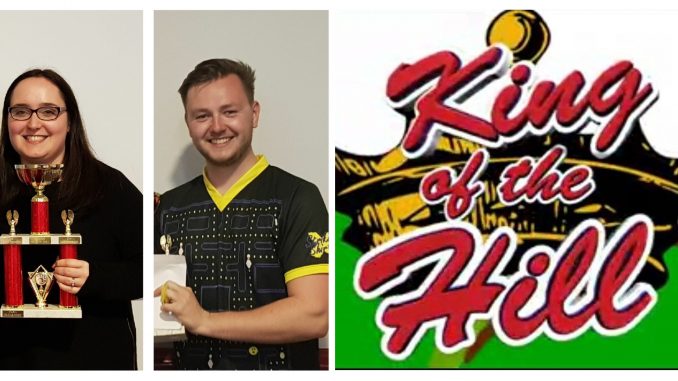 All hail the new King and Queen!!!!!!
Mansfield Superbowl again set the stage for this year's competition. 53 entrants played for over £1200 in prize money as well as the chance to win a ball for the 1st 300 game, generously supplied from Power Play Pro shop Shipley.
Remember kids, every pin counts……
The optional scratch pot entry was won by our 3rd place qualifier Liam Fitzpatrick, with an impressive 1401 (233 scratch ave), beating our 2017 KOTH champion Greg Marcus by 1 pin.
More single pin drama as Richard Annable clinched the 10th qualifying spot finishing equal with Jack Blyth but going through based on his scratch pinfall.
The 300 game prize would remain unclaimed for the 4th consecutive year with Greg Marcus getting the closest with a 289 in game 2.
Top 10 players would move on to the scrambler round, Iain Turnbull leading the way with 1464 (hdc) and previous Queen of the Hill title holder Cara Pleasance struggling to find last year's form and finishing in 50th place.
Desperado Round
New to this year's event was our desperado round, giving all players falling short of qualifying a second chance to make it through to the scramble round. 22 players battled to secure one of the 2 available spots in this round. This round produced  some of the days highest games with the end result of Wayne Greenall 275 (hdc) and Xander Penny 270 (hdc) taking the 2 top spots.
Scrambler round/final
The top ten were split into 2 groups for this round, odd and even finishing positions. Unfortunately no females made it into the next round leaving the title of this year's Queen of the Hill to be claimed by our highest placed female Terry-Anne Faulconbridge .
First to bow out Steven Kay with a 185 (hdc) after qualifying in 4th place, followed by Dave Coopland 193 (hdc).
Next fell Wayne Greenall and Richard Annable, followed by last years KOTH title holder Greg Marcus and Chris Gee.
Game4 would see Ash Longden and overall qualifying leader Iain Turnbull fall short of the pack.
Game 5 would decide our finalists, Xander Penny falling short followed by Ian Hollands even after throwing a decent last game
The final between Liam Fitzpatrick and Chris Herbert started off evenly but Liam soon started to string some strikes mid game and ran away with the lead with Chris struggling to maintain the pocket.
Liam Fitzpatrick takes this years title with 266 (scr) with Chris Herbert finishing a respectable 2nd with 214 (hdc)
Qualifying, Desperado, Scramble round and the final can all be viewed again from the days live stream feed on our facebook page. https://www.facebook.com/Kingofthehillatfpb/
Thank you to all this year's competitors we hope you enjoyed the weekend as much as we enjoyed running it.
Thank you also to Dan the centre manager, James, Bill and the rest of the technicians, Warren and Louise for help with the scores, Jack Smith for the use of his voice and all the centre's staff for looking after all of us during the weekend.
Finally well done to this year's King and Queen Liam Fitzpatrick and Terry-Anne Faulconbridge, looking forward to seeing you defend your titles next year.
Thank you
Nath & Rob
Watch the Final
Scramble Round
Final
Results
Scrambler Round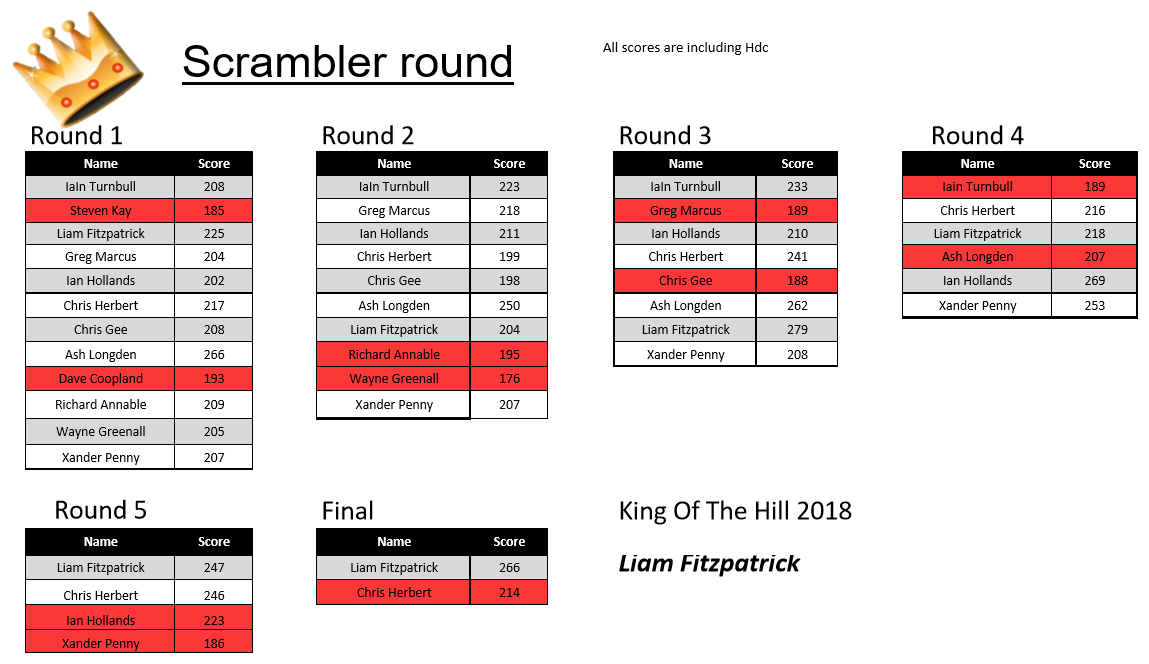 Qualifying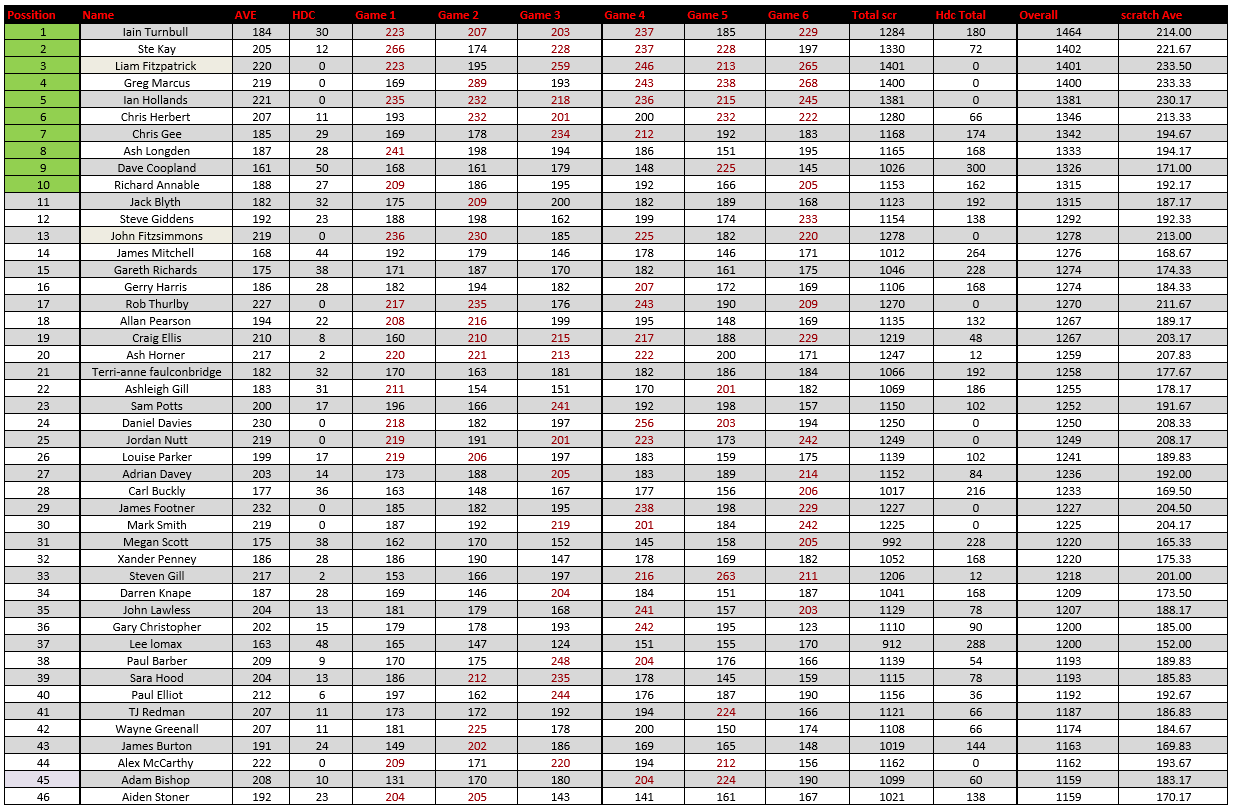 Download Results
King of the hill 2018 Qualifying