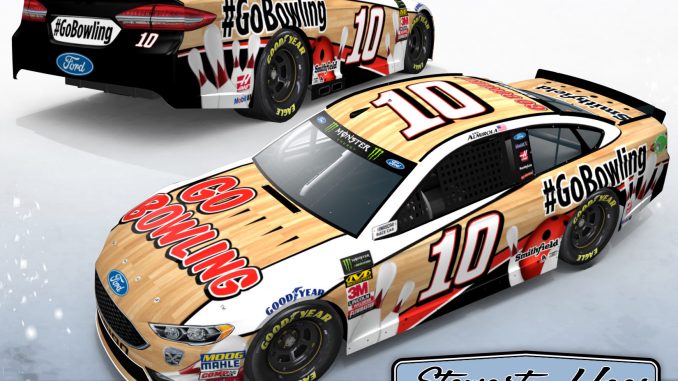 KANNAPOLIS, N.C. (March 28, 2018) – Go Bowling, the consumer-facing brand of the bowling industry, has partnered with Stewart-Haas Racing (SHR), the championship-winning NASCAR team. Go Bowling will leverage SHR's presence in the Monster Energy NASCAR Cup Series and NASCAR Xfinity Series to promote the sport of bowling.
Go Bowling will serve as the primary sponsor of SHR's No. 10 Ford Fusion and driver Aric Almirola during the Aug. 4-5 Go Bowling at The Glen Monster Energy NASCAR Cup Series race weekend at Watkins Glen (N.Y.) International. Then on Sept. 21, Go Bowling will be the primary sponsor of SHR's No. 00 Ford Mustang and driver Cole Custer in the Go Bowling 250 NASCAR Xfinity Series race at Richmond (Va.) Raceway.
"Our racing partnerships have proven to be very effective at reinforcing the bowling brand among consumers," said John Harbuck, president of Strike Ten Entertainment, the marketing arm of the bowling industry. "This new endeavor with Stewart-Haas Racing and primary sponsorships of its teams during our two NASCAR race weekends at Watkins Glen and Richmond allows us to drive tremendous top-of-mind awareness for bowling by reaching a huge audience with similar demographics."
Go Bowling is an associate sponsor of the No. 10 team and Almirola throughout the 2018 season, with signage on the B-post of the No. 10 Smithfield Ford Fusion and on the team's transporter, pit equipment and uniforms.
"Bowling and racing line up well together," said Almirola, who has represented Go Bowling and its initiatives since 2013. "It's a great team-building sport. Whenever we have some free time during the racing season, me and the crew will get together and go bowling. It's a sport that brings your family and friends together too. My kids love it. We always have a great time when we go bowling."
Go Bowling's partnership with Custer and the No. 00 team at Richmond coincides with the Professional Women's Bowling Association (PWBA) Tour Championship. The PWBA's pinnacle event is Sept. 16-19 in the historic Old Dominion Building at Richmond, giving bowling exposure throughout the race week.
"Like racing, bowling is a great sport, but it's one everyone can play," Custer said. "We're proud to be associated with the bowling industry and we look forward to a great weekend on the track and on the lanes."
GoBowling.com is the go-to site for consumers to learn more about the sport of bowling, including information about the more than 1,700 bowling centers around the country. The site helps fans find local bowling centers, promotional offers, bowling video tips, and other bowling information. To learn more about Go Bowling, visit GoBowling.com.
About GoBowling.com
GoBowling.com is the destination for bowling fans and enthusiasts seeking news and information about one of America's favorite pastimes and the nation's No. 1 participatory sport. With more than 67 million people taking to the lanes every year, GoBowling.com is a one-stop location where people of all ages can go to satisfy their love of bowling. Consumers turn to GoBowling.com every day to find bowling fun – discovering new bowling centers, tips and tricks to use on the lanes, event news, and great deals at more than 1,700 family-friendly bowling centers across the country.
About the PWBA
The Professional Women's Bowling Association (PWBA) was originally formed in 1960. The PWBA Tour has events throughout the country, offering high-level competition and top prize money for women bowlers. The PWBA is supported by the Bowling Proprietors' Association of America (BPAA) and the United States Bowling Congress. Visit PWBA.com for more information.
About Strike Ten Entertainment
Headquartered in Arlington, Texas, Strike Ten Entertainment (STE) is the centralized sponsor-activation arm of the bowling industry. STE serves all of the organizations of bowling by coordinating the industry's sales and marketing efforts. Its mission is to increase national awareness of bowling and to assist the bowling industry in developing new bowlers and increasing the frequency of existing bowlers each year through promotions, publicity and industry-wide marketing initiatives. For more information, visit www.stemarketing.com.
About Stewart-Haas Racing
Stewart-Haas Racing is the title-winning NASCAR team co-owned by three-time Monster Energy NASCAR Cup Series champion Tony Stewart and Gene Haas, founder of Haas Automation – the largest CNC machine tool builder in North America. The organization fields four entries in the Monster Energy NASCAR Cup Series – the No. 4 Ford Fusion for Kevin Harvick, the No. 10 Ford Fusion for Aric Almirola, the No. 14 Ford Fusion for Clint Bowyer and the No. 41 Ford Fusion for Kurt Busch. The team also competes in the NASCAR Xfinity Series by fielding a full-time entry – the No. 00 Ford Mustang for Cole Custer – and one part-time entry – the No. 98 Ford Mustang. Based in Kannapolis, North Carolina, Stewart-Haas Racing operates out of a 200,000-square-foot facility with approximately 380 employees. For more information, please visit us online at www.StewartHaasRacing.com, on Facebook at www.Facebook.com/StewartHaasRacing, on Twitter @StewartHaasRcng and on Instagram @StewartHaasRacing.