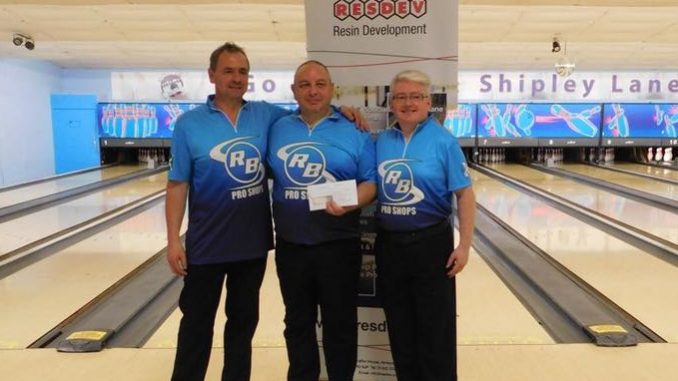 Saturday 11th & Sunday 12th August 2018
First of all I want to thank everyone who made the trip up to a very warm and muggy Shipley Lanes. We had some Interesting scoring in the event; we used our Kegel Flex to put down 3 different patterns. The first pattern that the bowlers bowled on was the 42' KATANA pattern with the ICE conditioner, the second pattern was 45' LONG SWORD with the FIRE conditioner and the pattern that was used in the finals was 44' SHAMSHIR with ICE forward and FIRE in reverse.
A huge thank you needs to go to RESDEV, Shipley Tenpin Bowling Ltd and the Shipley Bowlers Club for sponsoring the event in their own ways and to Jack Smith for helping me out with everything.
I would like to congratulate the winners of this year's event, TEAM RBS PROSHOP from Scotland. The team consisted of Bernie Matthews, Andy Gillespie and Alan Keddie. During qualifying as a team they averaged 199.2 and qualified in 3rd place. In the final they shot a very respectable 2527 scratch which was a 210.5 average.
This year's final was a very close call and went down to the 10th frame of the last game, where RBS Pro Shop just snuck into 1st place ahead of this year's 2nd place who were the LAW MEN. This team consisted of John Lawless, Mick Bloore & Eddie Rowe.
The Tournament averages were as follows:
Qualifying:
(45 bowlers x 8 games) – 181.72
42' KATANA (45 bowlers x 4 games) – 181.3
45' LONGSWORD (45 bowlers x 4 games) – 182.1
Finals:
44' SHAMSHIR (24 bowlers x 4 games) – 186.8
Total Tournament (456 games) – 182.8
Prize Payouts
1 RBS Proshop £ 600.00
2 The Law Men £ 450.00
3 Team Resdev £ 300.00
4 Scuni Crew £ 270.00
5 StormTroopers £ 240.00
6 Krown Print £ 210.00
7 Delta £ 210.00 8 MGM £ 210.00
Even though we only had 15 teams, with the extra money I received from our sponsors we were able to pay out the 16 team published payout and had £50.00 left over so we made up 2 more prizes. These went to high lady with bonus who didn't qualify and high male with bonus who didn't qualify; these were Gloria Carney with 1619 inc bonus and Trevor Lamprell 1687 inc bonus.
Thank you once again for bowling this event and if you would like to know anything about tournaments that we host down at Go Bowling Shipley please check us out on facebook @Go Bowling – Shipley lanes, Shipley Bowlers Club & Power Play Pro shop – Shipley. Hope to see you all again very soon.
Yours in bowling
Lee Metcalfe
Results
Finals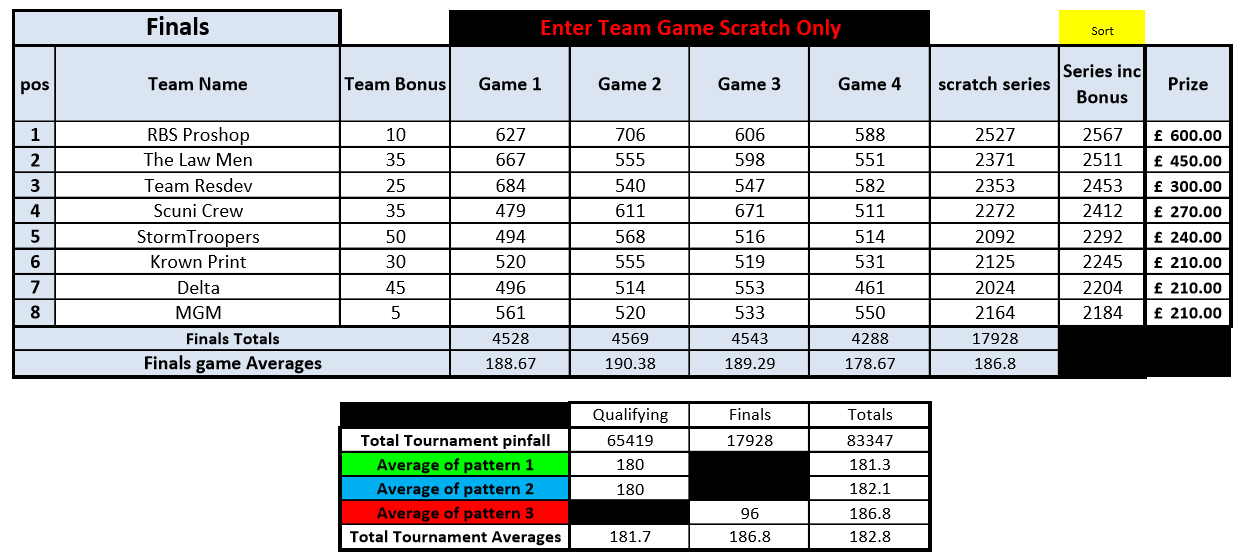 Qualifying