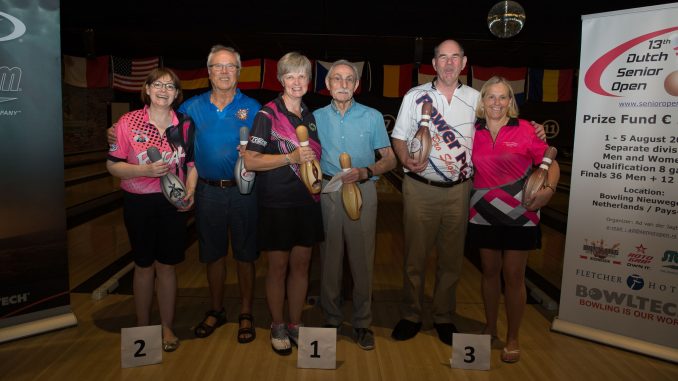 Bowling Nieuwegein, Netherlands
1st to 5th August 2018
The sixth stop on the 2018 ISBT tour was a return to Nieuwegein, Netherlands, for the Dutch Senior Open. The Dutch Senior Open always attracts a large number of entries and is always well supported by local bowlers. With 121 men and 33 women taking part, this was the best supported tournament so far on the 2018 tour.
The format for the tournament was a single qualifying block of 8 games, with unlimited re-entries. For those not able to qualify through the main leaderboard, there were additional opportunities through Turbo games and Scratch scores. Age bonus started at age 51 (1 pin per game), then increased a pin for every additional year of age with no limit. As with all ISBT events, there was a separate division for ladies.
The first two squads on Wednesday were led by Giorgio Desimio from Belgium with a good 1810 block with bonus, some way ahead of Dirk-Jan Vosselman from Netherlands with 1718. Farida Pascoal-Blom, also from the Netherlands was top lady with 1578. An unfortunate failure of the air-conditioning system made the bowl even hotter than usual.
The scoring on Thursday stepped down a notch, with no bowler managing to score over 1700 with bonus, nearest were Netherlands bowlers John Bosch with 1675 and Jelle Ijlst with 1637. The ladies were also struggling to score, Angie Brown from England being the only female over 1500 for the day, scoring 1537. Although the air-conditioning system was now repaired, many bowlers were struggling to find a consistent line to the pocket on what looked on paper to be a not too difficult pattern. Coupled with new Twister pins which didn't want to fall over, achieving a good score was proving to be very difficult.
There three qualifying squads on Friday were all lead by English bowlers. In this first, Jan Hodge scored 1671 in the ladies' section to finish eight pins higher than husband Keith. The second squad was taken by Frank Stander with 1684, with Kimberly Oakley top lady with 1577. The final squad of the day went to Lol Ellis with 1740, Bianca Völkl-Brandt from Germany was top lady, preventing a total English domination.
Saturday provided three last chances for players to gain qualification places. In the men's division, the top four bowlers would miss the early final round on Sunday, providing an added incentive to improve scores. The top three places in the first squad all went to English bowlers, Jeff Taylor with 1699, Steven Jeeves with 1680, and Steve Carnell with 1650. In the ladies' section, Germany led the way with Bianca Völkl-Brandt hitting 1617, ahead of Martina Beckel's 1522.
In the second squad, nationalities were reversed, with German Hermann Wimmer leading the men's section, and English bowlers Jan Hodge and Angie Brown leading the women's division, although neither improved their earlier scores.
The final qualification squad was again led by English bowlers, with 87 year old Frank Stander posting 1822 with bonus, to win not only the squad, but also the qualification standings. Ron Oldfield was some distance behind with 1735. In the ladies' section, Liliane Vintens from Belgium was top with 1511, while Lynne Walker from Wales just squeaked into the scratch qualification place shooting 1408.
After completion of qualifying, Frank Stander was top with 1822, ahead of Georgio Desimio, Lol Ellis and Ron Oldfield. These four would all miss the first finals round on Sunday. The cut for the top 32 fell at 1615 for Guus Cramer from the Netherlands, this being the lowest ISBT first round cut for many years.
The ladies' qualification was led by Jan Hodge with 1671, ahead of Biance Völkl-Brandt and Farida Pascoal-Blom. Again, the cut for the final rounds at 1458 for Nel Tel-Kelder from the Netherlands was exceptionally low.
Very early on Sunday morning, men qualifiers 5 to 31, plus the three Turbo and two Scratch qualifiers bowled four games, with only the top 16 progressing to the semi-final. This was won by Germans Hermann Wimmer with 883, ahead of Berny Stockl.
The semi-finals for both the men and ladies followed on. In the men's division, Frank Stander again led the way with 921, almost 50 pins ahead of Keith Hodge. Only the top eight would make the round robin final, this place going to John Bosch with 807. Martina Beckel suddenly found scoring form, and won the round with 848, ahead of Nel Tel-Kelder. The cut for eighth place was very close, with Lynne Walker needing to spare in her final frame to advance to the final. The ball just failed to convert the spare, allowing Jan Hodge to qualify with 706.
Both finals were played in round-robin format, with 30 pins for a win, and 50% of the pinfall from the previous round being carried through. After three games, Frank Stander had opened his lead up to 125 pins, ahead of Robert Bruce from Wales. Although the remainder of the field tried to catch him, they couldn't, and Frank Stander had an easy victory, finishing 150 pins clear of the field to win his first ISBT title, and at the age of 87 also become the oldest ever winner. Second place went to Hermann Wimmer, with Keith Hodge finishing third.
In the ladies' final Kimberley Oakley took an early lead, but was pegged back by Angie Brown. After four games, Kimberley Oakley had a nine pin lead over Angie Brown, and in the next match they played each other in what looked like a decisive match. Kimberly Oakley won the match, and then cruised to the overall win, retaining her title from 2017. Bianca Völkl-Brand had a good finish to end up second, ahead of Angie Brown.
The next stop on the tour is the Paris Senior Open, which will be held at La Factory in Mossey le Neuf, France. The tournament runs from the 15th to 19th August 2018. Full details are available at the ISBT web site, http://www.isbtbowlingtour.eu/
Women
Final
Pos

Name

 

Age Bns

C

F

G1

G2

G3

G4

G5

G6

G7

Scr




Total

Bonus

Win Bns

Total

Average

1

Kimberley Oakley

UK

5

393

209

198

205

184

197

192

210

1395

35

180

2003

199.3

2

Bianca Volkl Brandt

DE

3

394

201

225

169

201

196

198

215

1405

21

120

1940

200.7

3

Angie Brown

UK

10

370

205

232

158

195

162

210

144

1306

70

120

1866

186.6

4

Jan Hodge

UK

13

353

180

182

175

182

228

171

172

1290

91

120

1854

184.3

5

Farida Pascoal-Blom

NL

23

392

176

160

160

175

217

122

175

1185

161

90

1828

169.3

6

Martina Beckel

DE

9

424

168

193

189

162

194

147

165

1218

63

120

1825

174.0

7

Nel Tel-Kelder

NL

24

409

143

170

213

161

144

145

172

1148

168

60

1785

164.0

8

Liliane Vintens

BE

11

362

171

154

141

193

159

173

176

1167

77

30

1636

166.7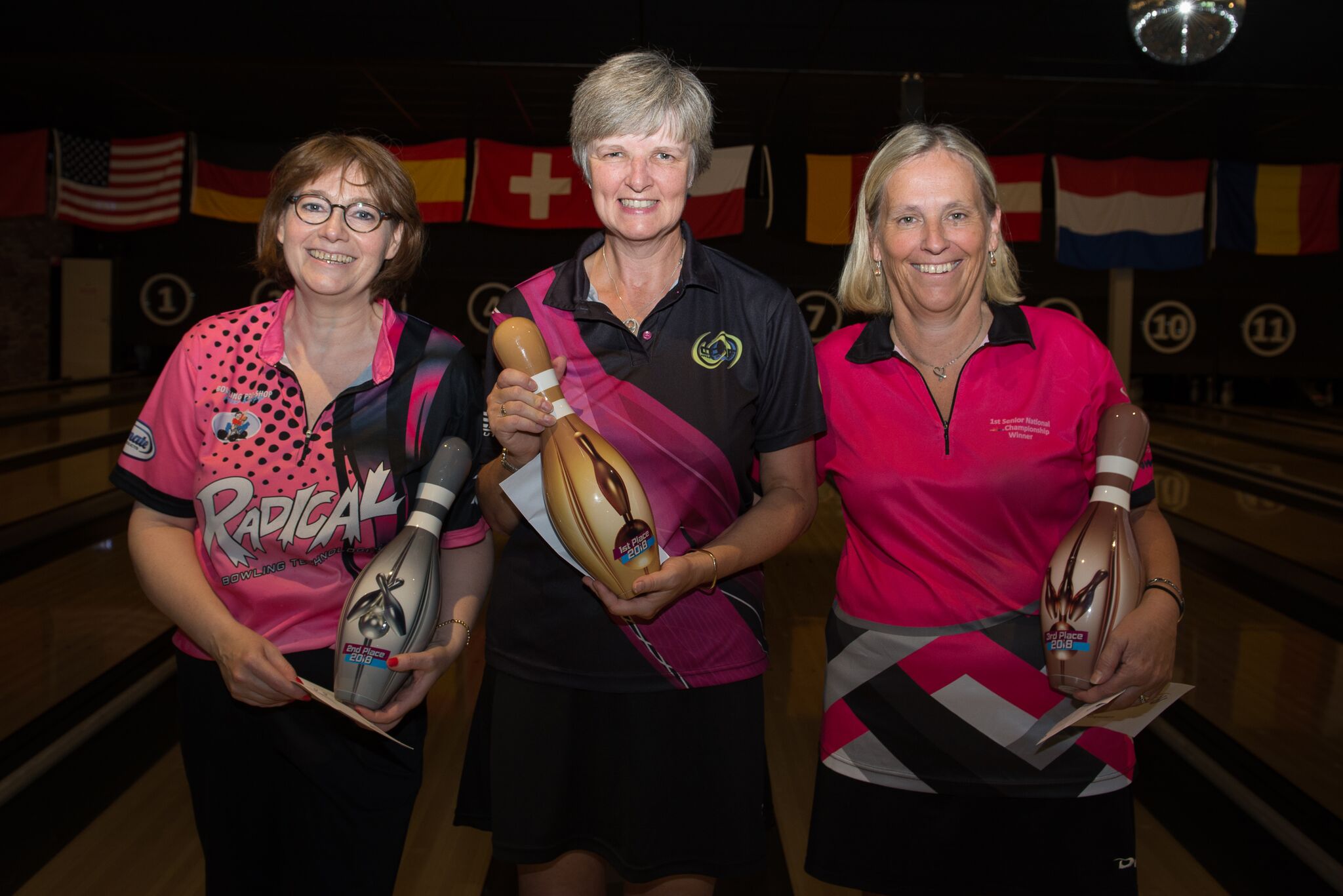 Semi Final
Pos

Name

 

Age Bns

G1

G2

G3

G4

Scr




Total

Total

Ave

1

Martina Beckel

DE

9

182

177

230

223

812

848

203.0

2

Nel Tel-Kelder

NL

24

170

182

192

178

722

818

180.5

3

Bianca Volkl Brandt

NL

3

256

183

177

160

776

788

194.0

4

Kimberley Oakley

UK

5

211

199

177

179

766

786

191.5

5

Farida Pascoal-Blom

NL

23

152

175

199

167

693

785

173.3

6

Angie Brown

UK

10

207

173

138

183

701

741

175.3

7

Liliane Vintens

BE

11

156

171

181

173

681

725

170.3

8

Jan Hodge

UK

13

202

146

136

170

654

706

163.5

9

Petra Duplois

DE

12

135

179

160

181

655

703

163.8

10

Lynne Walker

UK

1

162

176

181

179

698

702

174.5

11

Marja van Dijk

NL

7

145

184

177

159

665

693

166.3

12

Else Skovgaard

DK

19

136

153

169

143

601

677

150.3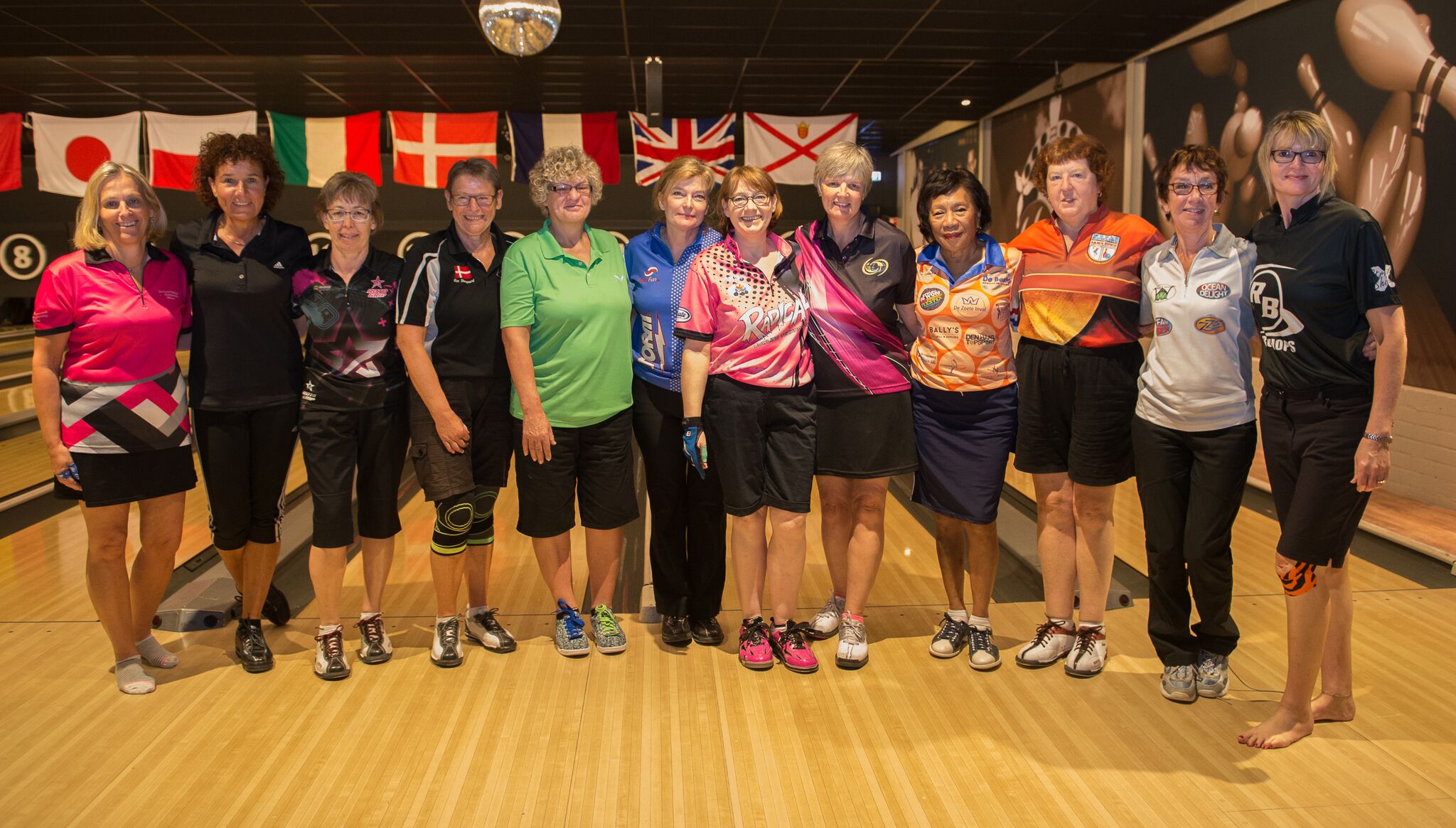 Qualifying
Pos

Name

 

Age Bns

G1

G2

G3

G4

G5

G6

G7

G8

Scr




Total

Total

Ave

1

Jan Hodge

UK

13

171

222

193

158

195

209

246

173

1567

1671

195.9

2

Bianca Völkl Brandt

DE

3

190

190

202

201

227

203

193

187

1593

1617

199.1

3

Farida Pascoal-Blom

NL

23

150

190

158

194

171

185

172

174

1394

1578

174.3

4

Kimberley Oakley

UK

5

180

182

178

194

233

185

205

180

1537

1577

192.1

5

Angie Brown

UK

10

178

234

167

169

160

148

191

210

1457

1537

182.1

6

Petra Duplois

DE

12

199

182

128

179

192

147

210

197

1434

1530

179.3

7

Martina Beckel

DE

9

194

138

187

179

181

172

213

186

1450

1522

181.3

8

Liliane Vintens

BE

11

167

197

201

200

148

205

137

168

1423

1511

177.9

9

Nel Tel-Kelder

NL

24

178

177

159

126

144

169

153

160

1266

1458

158.3

10

Else Skovgaard

DK

19

155

120

141

214

149

165

174

177

1295

1447

161.9

11

Gisela Insinger

DE

25

192

144

166

142

137

149

126

188

1244

1444

155.5

12

Sabine Sonnenschein

DE

4

166

156

188

209

160

179

152

194

1404

1436

175.5

13

Marian Verhoef

NL

13

158

173

143

197

151

181

163

151

1317

1421

164.6

14

Inge Hazeleger

NL

4

147

181

163

166

185

181

171

194

1388

1420

173.5

15

Ross Aarsen-Griener

NL

6

123

159

202

151

186

189

192

168

1370

1418

171.3

16

Lynne Walker

UK

1

234

168

165

170

163

202

170

136

1408

1416

176.0

17

Linda Pray

UK

16

178

197

143

150

161

142

141

174

1286

1414

160.8

18

Sara van de Rhee

NL

12

170

124

137

166

175

216

156

172

1316

1412

164.5

19

Bea Cramer

NL

12

141

180

141

202

160

154

142

169

1289

1385

161.1

20

Marja van Dijk

NL

7

168

151

122

175

170

215

155

171

1327

1383

165.9

21

Paula Visser

NL

2

178

167

164

187

164

158

184

164

1366

1382

170.8

22

Gabi Brandes

DE

3

148

201

155

198

135

198

145

176

1356

1380

169.5

23

Ruth Stander

UK

34

131

137

126

144

130

154

149

132

1103

1375

137.9

24

Uschi Diekhoff

DE

17

123

163

150

187

153

153

139

157

1225

1361

153.1

25

Julie Johanssen

UK

9

148

159

211

181

158

114

193

123

1287

1359

160.9

26

Kirsten van der Kooij

NL

3

136

166

167

174

165

160

168

190

1326

1350

165.8

27

Daniele Guigon

FR

11

159

171

138

164

131

157

159

160

1239

1327

154.9

28

Wilma di Giorno-Buijs

NL

7

159

133

187

134

134

159

180

183

1269

1325

158.6

29

Petra Westerhof

NL

9

168

170

171

137

164

167

158

113

1248

1320

156.0

30

Claribel Muis

NL

10

161

152

156

164

152

119

143

156

1203

1283

150.4

31

Maxxi Bartz

DE

4

134

130

157

157

156

181

162

117

1194

1226

149.3

32

Ada Middag

NL

4

138

156

189

132

144

142

146

141

1188

1220

148.5

33

Anna Yang

NL

9

157

129

147

108

158

136

152

139

1126

1198

140.8
Men
Final
Pos

Name

 

Age Bns

C

F

G1

G2

G3

G4

G5

G6

G7

Scr




Total

Bns

Win Bns

Total

Ave

1

Frank Stander

UK

38

460

196

175

189

194

160

177

187

1278

266

210

2214

182.6

2

Hermann Wimmer

DE

25

412

171

183

151

201

207

172

200

1285

175

120

1992

183.6

3

Keith Hodge

UK

20

437

176

179

207

197

176

219

170

1324

140

90

1991

189.1

4

Robert Bruce

UK

0

422

199

202

186

197

202

200

214

1400

0

120

1942

200.0

5

Giorgio Desimio

BE

18

425

176

168

181

197

164

214

161

1261

126

90

1902

180.1

6

John Bosch

NL

14

403

157

206

177

201

153

183

194

1271

98

105

1877

181.6

7

Ben Penninkhof

BNL

21

406

134

152

180

150

197

200

161

1174

147

60

1787

167.7

8

Philippe van Vaerenbe

NL

5

405

193

203

174

163

171

186

203

1293

35

45

1778

184.7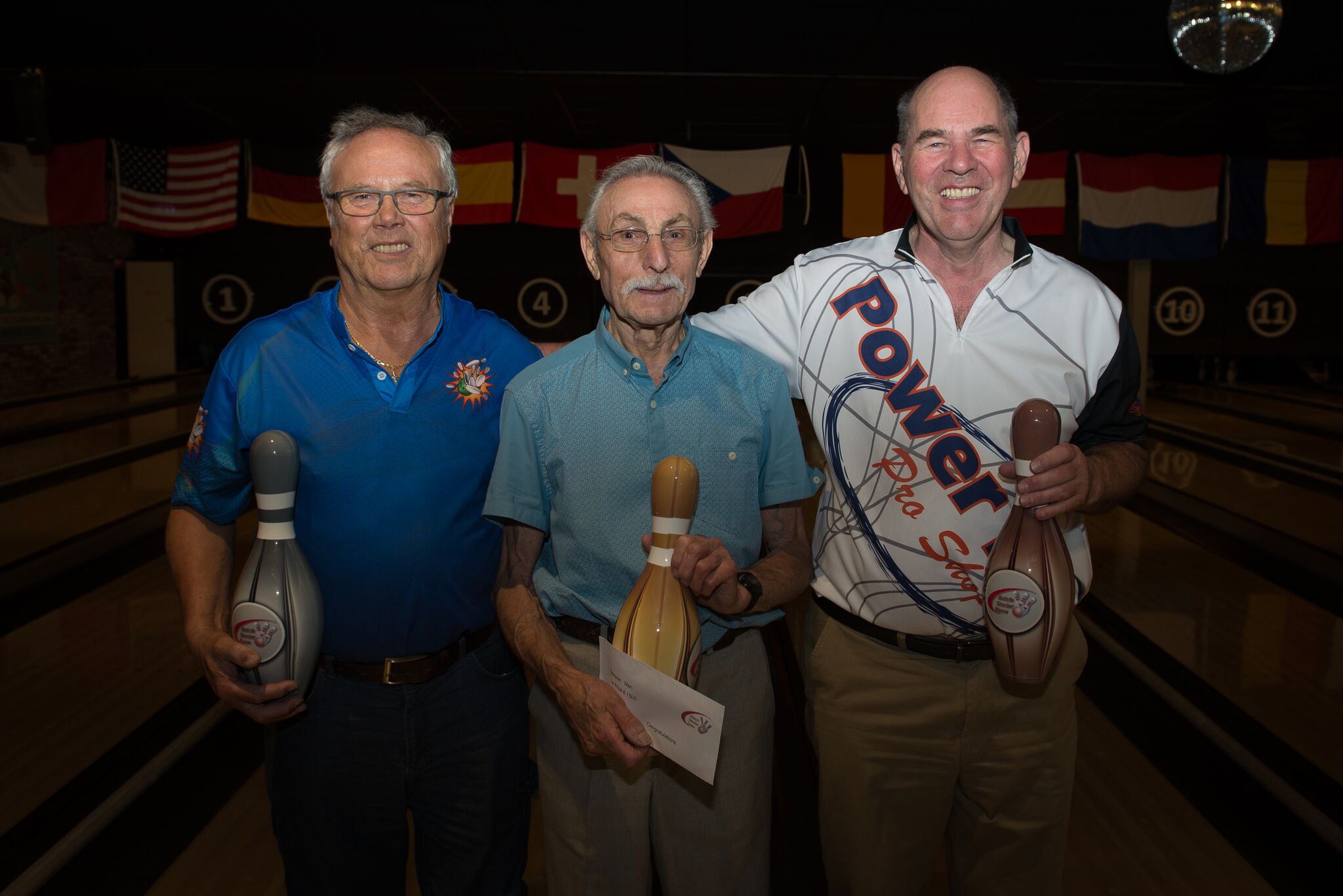 Semi Final
Pos

Name

 

Age Bns

G1

G2

G3

G4

Scr




Total

Total

Ave

1

Frank Stander

UK

38

225

205

170

169

769

921

192.3

2

Keith Hodge

UK

20

225

180

185

204

794

874

198.5

3

Giorgio Desimio

BE

18

176

182

196

224

778

850

194.5

4

Robert Bruce

UK

0

267

194

186

198

845

845

211.3

5

Hermann Wimmer

DE

25

206

134

189

196

725

825

181.3

6

Ben Penninkhof

NL

21

190

150

174

214

728

812

182.0

7

Philippe van Vaerenbe

NL

5

212

171

227

180

790

810

197.5

8

John Bosch

NL

14

172

226

160

193

751

807

187.8

9

Andre Geelen

BE

22

145

175

207

188

715

803

178.8

10

Berny stockl

DE

14

214

193

168

169

744

800

186.0

11

Steve Carnall

UK

12

181

194

204

167

746

794

186.5

12

Gary Barlow

UK

13

167

188

215

169

739

791

184.8

13

Alfred Metz

DE

10

202

195

166

186

749

789

187.3

14

Jan de Bruin

NL

17

202

204

147

166

719

787

179.8

15

Jurgen Preuss

DE

22

168

178

205

148

699

787

174.8

16

Ron Oldfield

UK

27

171

127

174

205

677

785

169.3

17

Alan Keddie

UK

7

204

171

191

182

748

776

187.0

18

Lol Ellis

UK

18

138

210

153

202

703

775

175.8

19

Zdenek Havlicek

CZ

22

213

137

155

156

661

749

165.3

20

Helmut Ulber

DE

19

162

167

150

148

627

703

156.8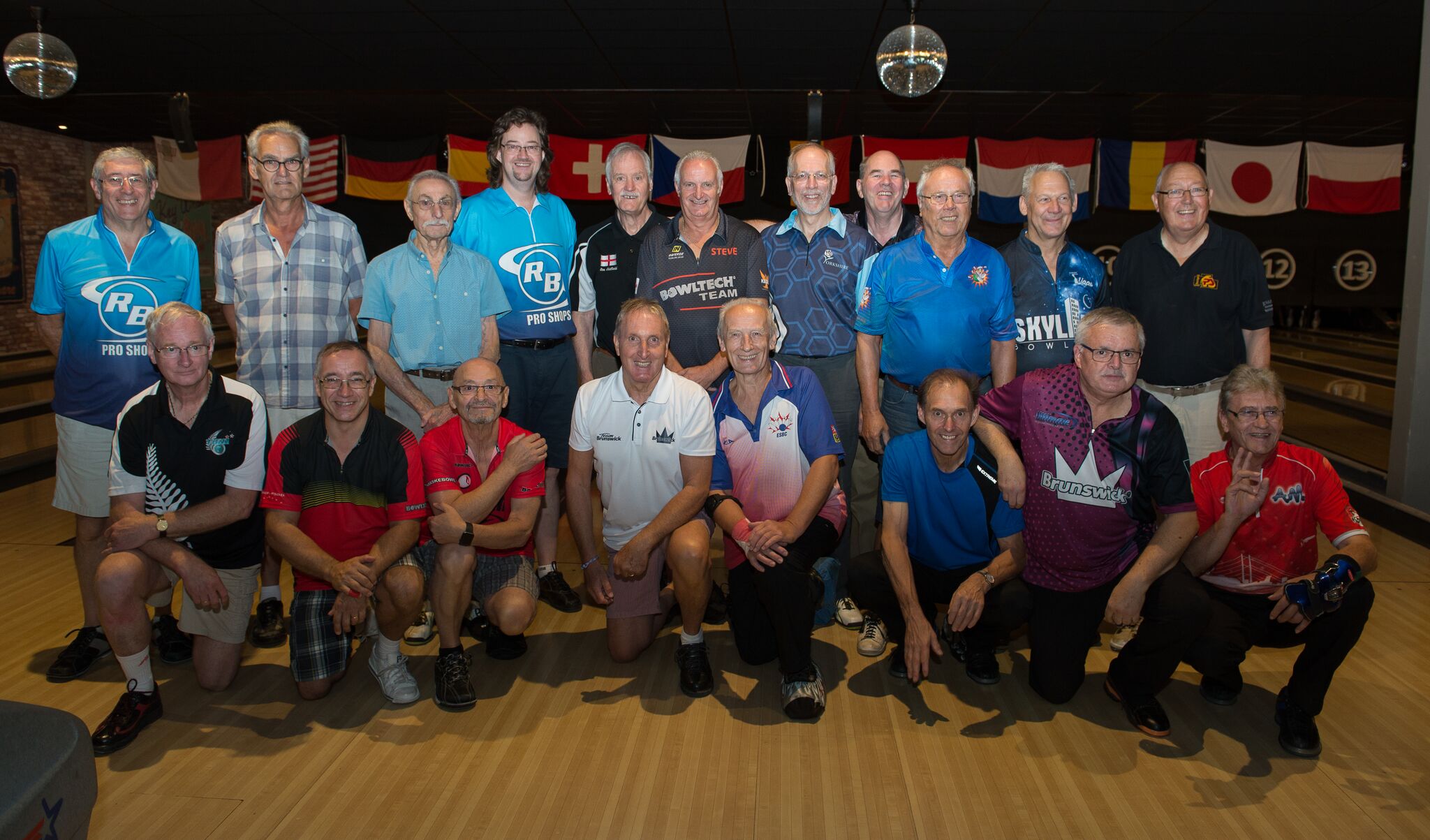 Quarterfinal
Pos

Name

 

Age Bns

G1

G2

G3

G4

Scr




Total

Total

Ave

1

Hermann Wimmer

DE

25

202

199

188

194

783

883

195.8

2

Berny Stockl

DE

14

169

212

238

192

811

867

202.8

3

John Bosch

NL

14

177

212

157

255

801

857

200.3

4

Gary Barlow

UK

13

210

201

191

192

794

846

198.5

5

Alan Keddie

UK

7

180

166

227

242

815

843

203.8

6

Keith Hodge

UK

20

170

190

202

184

746

826

186.5

7

Ben Penninkhof

NL

21

170

175

199

187

731

815

182.8

8

Jan de Bruin

NL

17

185

184

180

190

739

807

184.8

9

Robert Bruce

UK

0

199

202

213

183

797

797

199.3

10

Steve Carnall

UK

12

158

174

181

234

747

795

186.8

11

Zdenek Havlicek

CZ

22

147

184

181

193

705

793

176.3

12

Jurgen Preuss

DE

22

163

190

168

183

704

792

176.0

13

Alfred Metz

DE

10

159

208

168

213

748

788

187.0

14

Helmut Ulber

DE

19

163

179

160

210

712

788

178.0

15

Andre Geelen

BE

22

187

177

165

166

695

783

173.8

16

Philippe van Vaerenbe

NL

5

184

188

172

217

761

781

190.3

17

Arthur Dahn

IT

17

160

189

175

188

712

780

178.0

18

Luciano Casagrande

IT

3

132

180

211

227

750

762

187.5

19

Maarten in 't Veld

NL

20

161

173

194

151

679

759

169.8

20

Ben van Denzel

NL

10

153

175

171

217

716

756

179.0

21

Steven Jeeves

UK

5

173

189

183

190

735

755

183.8

22

Frank Oeing

DE

2

181

182

190

192

745

753

186.3

23

Harold Punessen

DE

5

179

162

185

202

728

748

182.0

24

Kalle Gaiser

DE

24

142

154

172

179

647

743

161.8

25

Jan Boelens

NL

35

145

116

183

145

589

729

147.3

26

Louis Hendriks

NL

3

146

188

174

205

713

725

178.3

27

Paul Cosgrove

UK

1

198

162

151

206

717

721

179.3

28

Etienne Couvent

BE

12

191

186

148

144

669

717

167.3

29

Jeff Taylor

UK

10

189

167

151

169

676

716

169.0

30

Dirk-Jan Vosselman

NL

21

160

126

162

154

602

686

150.5

31

Vincent Wuylens

BE

4

151

161

168

158

638

654

159.5
Qualifying
Pos

Name

 

Age Bns

G1


G2

G3

G4

G5

G6

G7

G8

Scr




Total

Total

Ave

1

Frank Stander

UK

38

165

212

148

186

223

200

210

174

1518

1822

189.8

2

Giorgio Desimio

BE

18

270

221

188

199

188

218

158

224

1666

1810

208.3

3

Lol Ellis

UK

18

225

213

190

173

185

192

224

194

1596

1740

199.5

4

Ron Oldfield

UK

27

210

220

207

148

171

202

158

203

1519

1735

189.9

5

Vincent Wuylens

BE

4

195

154

184

278

237

215

204

225

1692

1724

211.5

6

Dirk-Jan Vosselman

NL

21

191

162

201

140

177

198

235

246

1550

1718

193.8

7

Jan de Bruijn

NL

17

241

175

155

198

180

189

226

209

1573

1709

196.6

8

Harold Punessen

DE

5

176

215

191

217

198

257

180

229

1663

1703

207.9

9

Jeff Taylor

UK

10

190

181

210

236

202

250

182

168

1619

1699

202.4

10

Hermann Wimmer

DE

25

179

198

163

148

201

233

169

206

1497

1697

187.1

10

Robert Bruce

UK

0

215

225

202

216

212

207

184

236

1697

1697

212.1

12

Steven Jeeves

UK

5

182

226

240

177

180

219

224

192

1640

1680

205.0

13

Zdenek Havlicek

CZ

22

244

176

156

208

234

204

143

138

1503

1679

187.9

14

John Bosch

NL

14

201

172

182

192

159

200

213

244

1563

1675

195.4

15

Jan Boelens

NL

35

181

181

165

187

184

211

138

144

1391

1671

173.9

16

Gary Barlow

UK

13

209

185

199

187

158

203

202

216

1559

1663

194.9

16

Keith Hodge

UK

20

148

182

165

194

173

233

188

220

1503

1663

187.9

18

Alan Keddie

UK

7

192

182

205

193

174

222

217

221

1606

1662

200.8

19

Helmut Ulber

DE

19

200

212

187

183

181

181

176

187

1507

1659

188.4

20

Maarten in 't Veld

NL

20

192

167

232

178

161

167

174

222

1493

1653

186.6

21

Andre Geelen

BE

22

208

183

210

181

184

210

141

157

1474

1650

184.3

21

Steve Carnall

UK

12

195

206

212

190

189

197

194

171

1554

1650

194.3

23

Arthur Dähn

DE

17

212

186

192

134

187

221

212

166

1510

1646

188.8

24

Ben Penninkhof

NL

21

154

185

203

229

188

151

191

173

1474

1642

184.3

25

Berny Stockl

DE

14

183

203

176

198

199

191

212

159

1521

1633

190.1

26

Paul Cosgrove

UK

1

224

173

170

165

227

238

182

244

1623

1631

202.9

27

Alfred Metz

DE

10

156

189

226

225

182

190

146

235

1549

1629

193.6

28

Ben van Denzel

NL

10

200

206

187

188

175

203

197

186

1542

1622

192.8

29

Henk Wijker

NL

17

226

213

205

177

175

158

172

159

1485

1621

185.6

30

Jurgen Preuss

DE

22

231

151

166

178

179

186

200

151

1442

1618

180.3

31

Guus Cramer

NL

10

200

235

216

184

155

179

200

166

1535

1615

191.9

31

Kalle Gaiser

DE

24

149

169

220

147

182

204

191

161

1423

1615

177.9

33

Frank Oeing

DE

2

211

213

188

199

237

185

166

191

1590

1606

198.8

33

Mo Singleton

UK

24

177

169

168

178

168

192

193

169

1414

1606

176.8

35

Les Grant

UK

24

170

166

156

158

170

213

171

206

1410

1602

176.3

36

Gerrie de Graaf

NL

10

165

178

194

199

180

215

189

201

1521

1601

190.1

36

Jelle IJlst

NL

14

197

181

198

194

161

170

187

201

1489

1601

186.1

38

Philippe van Vaerenbergh

BE

5

224

194

158

174

169

226

232

180

1557

1597

194.6

39

Jack Smith

UK

15

181

181

151

191

191

212

188

179

1474

1594

184.3

40

Gino di Giorno

NL

14

225

209

188

158

198

160

174

165

1477

1589

184.6

41

Ron van den Bogaard

NL

6

192

202

182

176

210

184

188

202

1536

1584

192.0

41

Wilfried Riesmeier

DE

24

156

202

178

156

184

165

162

189

1392

1584

174.0

43

Douglas Sinclair

UK

23

202

219

193

168

143

139

179

156

1399

1583

174.9

44

Dominique De Nolf

BE

12

168

193

189

174

168

189

199

204

1484

1580

185.5

44

Mike Halliwell

UK

11

212

168

188

213

183

151

217

160

1492

1580

186.5

44

Raimund Pattermann

AT

17

180

195

203

165

171

156

162

212

1444

1580

180.5

47

Ivan Burian

CZ

6

186

201

161

204

175

189

236

178

1530

1578

191.3

48

Ronald Chandra

NL

23

180

148

207

154

173

161

181

188

1392

1576

174.0

49

Tini van Dorst

NL

17

210

156

141

188

211

169

173

190

1438

1574

179.8

50

Luciano Casagrande

IT

3

197

172

224

168

266

169

171

182

1549

1573

193.6

50

Peter van den Oever

NL

7

192

161

171

222

170

182

217

202

1517

1573

189.6

52

Fred Tel

NL

29

142

153

177

207

147

167

165

172

1330

1562

166.3

53

Auke Broekhuizen

NL

7

151

194

207

186

196

184

193

189

1500

1556

187.5

53

Jean-Philippe Rossire

CH

16

164

205

178

145

178

157

173

228

1428

1556

178.5

55

Jochen Diekhoff

DE

19

189

184

163

207

132

159

191

173

1398

1550

174.8

55

Paul Gray

MA

8

175

201

201

159

178

190

196

186

1486

1550

185.8

57

Bruno Schmitt

FR

12

174

142

145

154

217

191

193

236

1452

1548

181.5

58

Jos Dircks

NL

18

183

154

155

173

189

191

158

193

1396

1540

174.5

59

Rene Gooyers

NL

14

166

233

157

191

144

173

159

194

1417

1529

177.1

60

Ekkehard Oette

DE

23

139

156

168

152

168

172

207

168

1330

1514

166.3

60

Paul Lamon

BE

14

203

170

161

162

135

192

206

173

1402

1514

175.3

62

Miroslav Chylo

DE

23

156

162

160

134

157

128

223

207

1327

1511

165.9

63

Etienne Couvent

BE

12

255

147

170

169

200

124

176

172

1413

1509

176.6

64

Frans Middag

NL

3

179

223

193

179

164

200

167

176

1481

1505

185.1

64

Norbert Rondelez

BE

10

174

168

143

174

192

202

181

191

1425

1505

178.1

66

Jan de Jong

NL

9

200

186

177

211

153

150

191

163

1431

1503

178.9

67

Koos Cramer

NL

13

189

179

195

145

179

206

156

149

1398

1502

174.8

68

Rinaldo Ineichen

CH

11

184

173

212

190

159

165

159

171

1413

1501

176.6

69

Jan Passies

NL

12

204

147

161

199

176

161

184

171

1403

1499

175.4

70

Ehsan Alizade

NL

7

186

143

151

201

195

207

168

191

1442

1498

180.3

70

Jack Edelaar

NL

4

182

184

161

210

164

170

206

189

1466

1498

183.3

72

Robert Vallons

BE

12

136

232

165

204

213

145

136

169

1400

1496

175.0

73

Kevin Reed

UK

9

155

183

190

185

143

214

181

172

1423

1495

177.9

74

Shigefumi Goto

JP

8

174

156

165

209

172

160

213

180

1429

1493

178.6

75

Mick Ince

UK

18

134

169

200

199

177

180

137

152

1348

1492

168.5

75

Paul Le Louarn

JE

17

180

165

154

171

193

149

180

164

1356

1492

169.5

77

Henry van Steenis

NL

11

181

152

161

212

198

193

157

146

1400

1488

175.0

78

Frank Lindsay

UK

18

173

141

168

190

166

154

175

176

1343

1487

167.9

79

Michael Pray

UK

19

190

150

164

157

173

180

175

145

1334

1486

166.8

80

Ken Wray

UK

22

153

189

192

162

135

152

177

149

1309

1485

163.6

81

Leen van Haaften

NL

15

149

145

195

187

198

167

179

144

1364

1484

170.5

81

Pierre Prou

FR

19

157

213

163

172

206

127

145

149

1332

1484

166.5

83

Michel Ligier

FR

13

154

201

170

197

171

211

102

173

1379

1483

172.4

83

Paul Newton

UK

21

177

145

163

172

158

149

198

153

1315

1483

164.4

85

Vincent Yamashita

US

3

191

189

193

192

167

143

171

212

1458

1482

182.3

86

Greg Jerome

UK

12

175

139

192

182

171

200

138

182

1379

1475

172.4

87

Antonio Del Rosario

NL

30

147

143

152

141

137

193

172

149

1234

1474

154.3

88

Louis Hendriks

NL

3

201

136

164

155

161

278

169

185

1449

1473

181.1

89

Thomas Buskowiak

DE

13

196

147

184

170

163

183

182

142

1367

1471

170.9

90

Martin den Blanken

NL

17

126

182

160

143

147

194

184

192

1328

1464

166.0

91

Stephan Verheijen

NL

7

182

159

167

153

158

213

197

172

1401

1457

175.1

92

Yves de la Fontaine

BE

4

144

176

205

221

162

147

190

176

1421

1453

177.6

93

Klaus Hoffmann

DE

25

157

155

199

149

164

129

149

148

1250

1450

156.3

94

Suren Johanssen

UK

5

186

186

156

156

154

185

172

213

1408

1448

176.0

95

Jim Allan

UK

14

192

196

168

186

148

133

155

152

1330

1442

166.3

96

Peter van Koningshoven

NL

27

152

184

180

158

100

168

132

145

1219

1435

152.4

97

Dave Goodwin

UK

18

186

165

148

146

174

156

153

151

1279

1423

159.9

98

Hans Bakker

NL

19

158

167

158

141

184

155

143

161

1267

1419

158.4

98

Wim van den Herik

NL

21

138

150

146

150

178

180

157

152

1251

1419

156.4

100

Ruud Stauttener

NL

21

148

169

123

149

161

146

182

170

1248

1416

156.0

101

Pieter de Bruijn

NL

15

109

164

193

168

220

128

136

175

1293

1413

161.6

102

Herbert Thebelt

NL

16

137

187

144

143

175

174

182

139

1281

1409

160.1

103

Bill Obispo

NL

8

216

116

182

166

130

190

173

171

1344

1408

168.0

104

Karel Strijker

NL

7

202

167

156

200

143

143

194

146

1351

1407

168.9

105

Rob Gorter

NL

11

141

172

159

177

165

190

150

153

1307

1395

163.4

106

Ron Grootegoed

NL

10

194

170

157

176

155

143

127

181

1303

1383

162.9

107

Ben Wiekeraad

NL

6

179

164

174

159

153

162

149

193

1333

1381

166.6

108

Karel van Dijk

NL

15

175

176

161

165

145

158

142

138

1260

1380

157.5

109

Cor Brouwer

NL

4

168

166

150

147

152

175

176

201

1335

1367

166.9

110

Ben Statia

NL

18

178

165

166

114

110

171

160

156

1220

1364

152.5

111

José Rey Pita

ES

30

153

145

122

148

143

130

98

172

1111

1351

138.9

112

Ralph Hughes

UK

9

167

169

106

167

168

179

139

173

1268

1340

158.5

113

John Skovgaard

DK

16

134

126

114

149

183

193

143

163

1205

1333

150.6

114

Henk Faasse

NL

11

160

172

193

138

139

172

132

137

1243

1331

155.4

115

Andre Beers

NL

9

167

175

155

159

170

127

126

169

1248

1320

156.0

116

Jos van Es

NL

6

146

167

151

136

154

148

152

179

1233

1281

154.1

117

Lex Beauchampet

NL

17

189

161

113

124

163

158

115

120

1143

1279

142.9

118

Roel Mol

NL

2

139

177

147

144

152

160

164

161

1244

1260

155.5

119

Henk Westerhof

NL

13

121

169

101

161

162

148

118

146

1126

1230

140.8

120

Steven Wright

UK

9

176

138

186

123

0

0

0

0

623

695

155.8

121

Antonio Macchia

IT

5

146

150

166

165

0

0

0

0

627

667

156.8
Report by Tony Brown
All Photos thanks to Bettina Lund