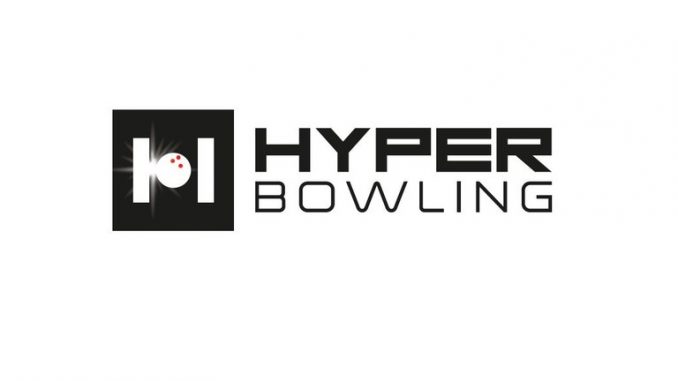 QubicaAMF Previews HyperBowling During IAAPA Attractions Expo
HyperBowling is a revolutionary product that has the power to expand the reach of bowling and unleash its full potential—to enable bowling and entertainment centers to attract and
entertain more people, more often.
November 9, 2017 (Mechanicsville, VA) – After nearly three years of research, development and planned testing, HyperBowling will leave a mark on the history of Bowling. QubicaAMF Worldwide (QubicaAMF), the world's leader and largest manufacturer of bowling and mini bowling products, is previewing HyperBowling, a revolutionary new product for the bowling and entertainment industry at the IAAPA Attractions Expo in Orlando this week. HyperBowling is a high-tech blend of software, advanced physical materials and mechanical design, futuristic user interfaces and all-new electronics and sensors—an unprecedented blend of technological sophistication for the industry—and fully integrated with BES X, the world's only Bowler Entertainment System.
An all new product, HyperBowling has the power to enable bowling and entertainment centers unleash the full potential of bowling to truly expand the reach of bowling beyond everyone's imagination. With HyperBowling you don't need to be a bowler to win. HyperBowling is like a physical video game on a bowling lane. It features four different games and provides a 'wow' visual experience designed to draw attention and drive traffic.
"We truly believe that bowling has so much more potential to attract and entertain even more people, more often," says Emanuele Govoni, CEO of QubicaAMF. "The sophisticated technologies behind this product are truly amazing. Throughout my entire career, I have never been as excited about a new product as I am today about HyperBowling. The product is so smart and so compelling for both consumers and proprietors."
"HyperBowling is the first of our planned new products to unleash the future of bowling. It is a testament to our commitment to continue to develop major products to drive the success of bowling-based entertainment," states Pat Ciniello, Chairman of the Board of QubicaAMF and owner of seven bowling and entertainment centers in southwest Florida. "I truly believe proprietors and new center investors will be as impressed and excited about this product and its potential as I am as a proprietor. HyperBowling has the potential to be a gamer changer for our industry."
"We are incredibly excited to share a preview of HyperBowling at IAAPA," says Kelly Wilbar, Director, Scoring and Technology Solutions for QubicaAMF. "HyperBowling goes above and beyond to extend the bowling population, to reach the younger generations, to increase their spending, frequency of visits and ultimately center revenue. There's nothing else like it in the market."
We invite you to stop by our booths, 406 and 606, during the IAAPA expo to see and try HyperBowling first-hand.
Join the HyperBowling revolution at Bowl Expo in Las Vegas, June 17 – 21, 2018.
Note: HyperBowling is a registered trademark of QubicaAMF in the U.S. and in other countries. HyperBowling, its features and technologies are patent pending in the U.S. and in other countries.
About QubicaAMF Worldwide
QubicaAMF Worldwide is the world's largest and leading manufacturer of bowling and mini bowling products. With U.S. headquarters near Richmond, Virginia and European headquarters in Bologna, Italy, the company offers a complete line of high-quality, innovative solutions for new and existing bowling and entertainment centers.
QubicaAMF has over 75 years of experience, an installed base of more than 10,000 centers worldwide and can provide the perfect combination of bowling equipment, products and services to build and modernize a bowling entertainment center, an FEC or entertainment facility to suit any budget. The company has sales offices in 10 countries, a distributor network with worldwide reach and maintains the largest R&D team for electro-mechanical products, software, electronics and entertainment systems in the industry.
QubicaAMF is the organizer of the QubicaAMF Bowling World Cup, the largest annual sporting event in terms of the number of participating countries, which promotes bowling on a global level. The company celebrated the historical 50th anniversary of the tournament in 2014.
Additional information about QubicaAMF is available at www.qubicaamf.com.