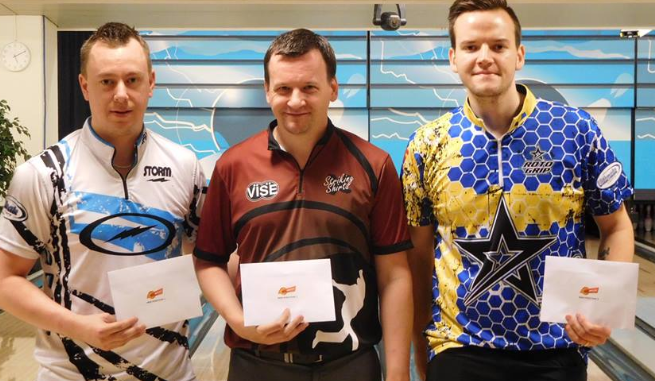 Paul Moor from England won the EBT Masters for the third time in his career, when he succeeded at the EBT Masters 2017 in Aalborg. The first two EBT Masters titles for Moor came in 2009 in Aalborg and again in 2015 in Madrid.
Joline Persson-Planefors from Sweden took her first EBT Masters title in the Women's Division.
The EBT Masters 2017 is the 10th final of a European Bowling Tour. The competition was held in Lovvang Bowling Centre in Aalborg, Denmark on 29 May.
The format of the event included 12 qualification games, divided over 2 blocks of 6 games, followed by a 3 person's stepladder final in each division.
The outcome of the matches became as follows:
Women Match 1
213: Bernice Lim, Singapore
247: Joline-Persson Planefors, Sweden
Women Match 2
185: Jenny Wegner, Sweden
188: Joline-Persson Planefors, Sweden
Men Match 1
167: Daniel Fransson, Sweden
198: Paul Moor, England
Men Match 2
204: Osku Palermaa, Finland
213: Paul Moor, England
Final standing women
1. Joline Persson-Planefors, Sweden
2. Jenny Wegner, Sweden
3. Bernice Lim, Singapore
4. Ida Andersson, Sweden
5. Birgit Pöppler, Germany
6. Laura Beuthner, Germany
7. Britt Bröndsted, Denmark
8. Maxime de Rooij, Netherlands
9. Jasmine Yeong Nathan, Singapore
10. Martina Schütz, Germany
11. Mika Guldbäk, Denmark
12. Vanessa Timter, Germany
Final standing men
1. Paul Moor, England
2. Osku Palermaa, Finland
3. Daniel Fransson, Sweden
4. Parker Bohn III, USA
5. Christopher Sloan, Ireland
6. Markus Jansson, Sweden
7. Martin Larsen, Sweden
8. Thomas Larsen, Denmark
9. Pontus Andersson, Sweden
10. Richard Teece, England
11. Jesper Svensson, Sweden
12. Mik Stampe, Denmark
Click here to see a completed list of results for the EBT Masters 2017