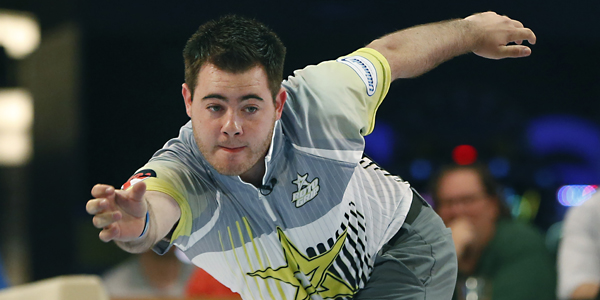 Twenty-year-old Texas two-hander wins third career PBA Tour title
WILMINGTON, N.C. (May 29, 2017) 
– Texas two-hander Anthony Simonsen defeated top qualifier Rhino Page of Orlando, Fla., 224-177, to win the Professional Bowlers Association's Xtra Frame Wilmington Open at Ten Pin Alley Family Fun Center Sunday.
Simonsen, now 20, claimed his third career title and first since becoming the youngest player in PBA history to win a major title when he won the 2016 USBC Masters at age 19.
"I figured out the difference between the two lanes, and that was my advantage," Simonsen said. "When it's your day, it's your day. I've been getting frustrated making TV shows and not winning, but you have to keep opening the door."
Simonsen and Page both ran into early trouble in the title match, leaving four-count splits which neither converted. But Simonsen followed his third-frame split with a string of five strikes to take command of the match while Page struggled to carry strikes. A second unconverted split in the eighth frame ended Page's hope for his first singles title since since early in 2009.
In a semifinal match duel between two of the PBA's bright young stars, Simonsen ended EJ Tackett's bid for an eighth career title, and fourth in PBA Xtra Frame events, 258-223. Simonsen struck on eight of his first nine shots, but the 24-year-old Tackett was right behind until back-to-back solid 10 pins in the eighth and ninth frames ended his rally.
In the opening match of the four-player stepladder, Tackett left the 3-4-10 split and opened in the first frame, but responded with a string of five strikes. Jason Sterner of Rockledge, Fla., struck on his first shot, but left splits and opened in two of the next three frames to dig a hole he couldn't escape. Tackett won handily, 242-199.
Next up on the PBA Xtra Frame Tour is the third tournament in the seven-event Xtra Frame Storm Cup points series, the Xtra Frame Greater Jonesboro Open at Jonesboro Bowling Center in Jonesboro, Ark., next Saturday and Sunday. Both days of competition will be live streamed on PBA's online bowling channel, Xtra Frame. For Xtra Frame subscription information, visit xtraframe.tv.
PBA XTRA FRAME WILMINGTON OPEN
Ten Pin Family Fun Center, Wilmington, N.C., Monday
Final Standings:
1, Anthony Simonsen, Austin, Texas, $10,000.
2, Rhino Page, Orlando, Fla., $5,500.
3, EJ Tackett, Huntington, Ind., $3,000.
4, Jason Sterner, Rockledge, Fla., $2,500.
Stepladder Results:
Match One: Tackett def. Sterner, 242-199.
Semifinal Match: Simonsen def. Tackett, 258-223.
Championship: Simonsen def. Page, 224-177.
Final Match Play Standings (after 24 games, including match play bonus pins):
1, Page, 10-2, 5,898.

2, Simonsen, 8-4, 5,811.

3, Tackett, 8-4, 5,799.

4, Sterner, 8-4, 5,732.

5, Dom Barrett, England, 8-4, 5,665, $1,800.

6, Kyle Troup, Taylorsville, N.C., 6-6, 5,602, $1,500.

7, Tom Daugherty, Riverview, Fla., 4-7-1, 5,407, $1,300.

8, BJ Moore III, Greensburg, Pa., 6-5-1, 5,381, $1,250.

9, Tommy Jones, Simpsonville, S.C., 5-7, 5,361, $1,200.

10, Shota Kawazoe, Japan, 5-7, 5,328, $1,175.

11, Ildemaro Ruiz, Venezuela, 4-8, 5,288, $1,150.

12, Bill O'Neill, Langhorne, Pa., 6-6, 5,271, $1,100.

13, Josh Blanchard, Mesa, Ariz, 5-7, 5,265, $1,075.

14, Jeff Evans, Supply, N.C., 6-6, 5,222, $1,050.

15, Marshall Kent, Yakima, Wash., 3-9, 5,158, $1,025.

16, Isaac Kim, Lebanon, Pa., 3-9, 4,992, $1,000.