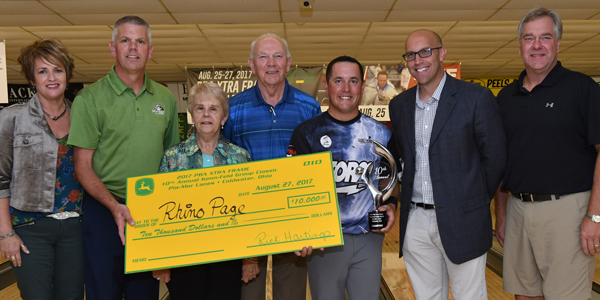 Rhino Page Ends Title Slump with PBA Xtra Frame Kenn-Feld Classic Victory;
EJ Tackett Captures PBA Xtra Frame Storm Cup
COLDWATER, Ohio (Aug. 27, 2017)
– Rhino Page of Orlando, Fla., defeated rookie Chris Via of Springfield, Ohio, 190-173, to win his first Professional Bowlers Association singles title in seven years Sunday in the PBA Xtra Frame Kenn-Feld Group Classic at Pla-Mor Lanes.
Earlier in the event, EJ Tackett of Huntington, Ind., clinched the PBA Xtra Frame Storm Cup title in a finale without much drama.
The Kenn-Feld Classic championship match reflected the challenging scoring environment, where strings of strikes were rare and spares were at a premium. Via, the tournament leader coming into the title match, left a 2-10 split and opened in the first frame. Page returned the favor, leaving a 3-7-9 split and opening in the sixth frame.
After a ball change that resulted in a cross-over strike, Page tacked on another for the only double of match, taking a six-pin lead. Via then left a 4-9 split in the ninth and opened again. Needing a double in the 10th to force Page to mark in his final frame, the former Notre Dame College two-handed player got the first strike but not the second.
All Page needed was seven pins to end his title slump, and he threw a strike to lock up his fifth career title.
"I can't even catch my breath," Page said. "It feels so wonderful, I can't even describe it. I can't thank the guys who helped me keep my head up the past seven years.
"I think (Pla-Mor Lanes) is a place that shows it's not always about the (lane conditioning) pattern, but the playing surface as well. It's not like there were a lot of strikes to be had, so I relied on my spare game, and that was the key."
In the opening match, Jason Sterner of Rockledge, Fla., struck on five of his first six shots and held a 36-pin lead, but lost his momentum when he left a 4-7-10 split and opened in the seventh frame. Given an opening, Joe Bailey, a 35-year-old veteran of PBA Central Region competition with one title, responded with a double, but needing another double in the 10th frame, he left the 3-4-6-7 split and opened. Sterner won, 209-179, but Bailey recorded his highest finish (fourth place) in 39 national tour events.
Sterner quickly became a victim of the challenging scoring environment in the semifinal match, dropping a 214-168 decision to Page, who started with a spare and three strikes, and stayed out of trouble the rest of the game to earn his shot at the title.
The Xtra Frame Kenn-Feld Classic was the final tournament in the seven-event PBA Xtra Frame Storm Cup series that awarded $50,000 in bonus prizes to the five points leaders, including $20,000 to Tackett as the points champion. Tackett came into Coldwater with a nine-point lead in the Storm Cup race, and picked up two more points with his 19th place finish.
As a testament to the difficulty of the event, Tackett had the highest finish among the four players who had a mathematical chance to win the Cup, but the other three failed to gain any ground. Because only the top 20 finishers in each tournament earn Storm Cup points, England's Dom Barrett, who finished 65th; Marshall Kent of Yakima, Wash., who finished 58th, and Dick Allen of Columbia, S.C., who finished 76th in Coldwater, failed to win a point. Regardless, Barrett held on to second place for a $10,000 bonus, Kent wound up in a tie with Sean Rash of Montgomery, Ill., who finished sixth in Coldwater, for third place ($7,500 each) and Allen earned $5,000 for fifth place in the points race.
The entire Xtra Frame Tour and Storm Cup series was live streamed on PBA's online bowling channel, Xtra Frame.
PBA XTRA FRAME KENN-FELD CLASSIC
Pla-Mor Lanes, Coldwater, Ohio  Sunday
Final Standings:
1, Rhino Page, Orlando, Fla., $10,000.
2, Chris Via, Springfield, Ohio, $6,000.
3, Jason Sterner, Rockledge, Fla., $3,500.
4, Joe Bailey, Wooster, Ohio, $2,000.
Stepladder Results:
Match One – Sterner def. Bailey, 209-179.
Semifinal Match – Page def. Sterner, 214-168.
Championship – Page def. Via, 190-173.
Round of 8 Cashers (after 17 games):
1, Via, 3,660.

2, Page, 3,520.

3, Sterner, 3,478.

4, Bailey, 3,476.

5, Mason Brantley, Detroit, 3,463, $1,800.

6, Sean Rash, Montgomery, Ill., 3,456, $1,500.

7, Tom Smallwood, Saginaw, Mich., 3,441, $1,400.

8, Andrew Anderson, Holly, Mich., 3,423, $1,300.
Round of 16 Cashers (did not advance, after 15 games):
9, AJ Johnson, Oswego, Ill., 3,024, $1,250.

10, Brad Angelo, Lockport, N.Y., 3,023, $1,200.

11, Chris Loschetter, Avon, Ohio, 2,997, $1,150.

12, Matthew Staninger, Highland, Ind., 2,992, $1,100.

13, Jake Peters, Henderson, Nev., 2,973, $1,075.

14, Anthony Kennard, Wapakoneta, Ohio, 2,964, $1,050.

15, Frank Snodgrass, Center Line, Mich., 2,927, $1,025.

16, Michael Davidson, Versailles, Ohio, 2,900, $1,000.
Cashers Round Cashers (did not advance, after 12 games):
17, Carleton Chambers, Detroit, 2,381, $675.

18, Patrick Dombrowski, Parma, Ohio, 2,367, $675.

19, EJ Tackett, Huntington, Ind., 2,366, $675.

20, Chris Arcaro, Carolina Beach, N.C., 2,347, $675.

21, Anthony LaCaze, Melrose Park, Ill., 2,341, $650.

22, Darren Tang, San Francisco, 2,338, $650.

23, Bo Goergen, Sanford, Mich., 2,330, $650.

24, Michael Clark Jr, Cleveland, Ohio, 2,321, $650.

25, Michael Tang, San Francisco, Calif., 2,316, $625.

26, Dave Wodka, Beavercreek, Ohio, 2,312, $625.

27, Graham Fach, Canada, 2,291, $625.

28, James Hennessey, Adrian, Mich, 2,286, $625.

29, J.R. Raymond, Clinton Twp., Mich., 2,275, $600.

30, Parker Bohn III, Jackson, N.J., 2,272, $600.

31, Josh Blanchard, Mesa, Ariz, 2,265, $600.

32, CJ Kirchner, Herrin, Ill., 2,231, $600.
PBA XTRA FRAME STORM CUP FINAL STANDINGS
1, EJ Tackett, Huntington, Ind., 85 points, $20,000.
2, Dom Barrett, England, 74, $10,000.
3 (tie) Marshall Kent, Yakima, Wash., and Sean Rash, Montgomery, Ill., 69, $7,500.
5, Dick Allen, Columbia, S.C., 68, $5,000
6, Rhino Page, Orlando, Fla., 52.
7 (tie), Tom Daugherty, Riverview, Fla., and AJ Johnson, Oswego, Ill., 49.
9, Josh Blanchard, Mesa, Ariz., 47.
10, Ryan Ciminelli, Cheektowaga, N.Y., 45