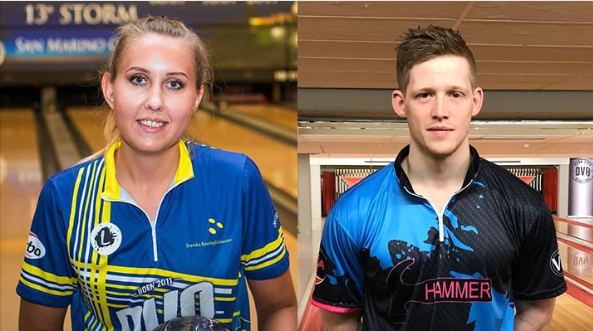 The top of the women's division in the European Bowling Tour 2017 became an all-Swedish affair, with the Wegner sisters (Jenny and Cajsa) atop of the tour before the conduction of the last stop of the season in Oslo.
None of the Wegner's attended the tournament, but Jenny Wegner's had already collected so many points, that she was unreachable for anybody in Oslo. Jenny Wegner claimed therefore the second tour victory of her career (the first came in 2015) with a total of 587 points.
Ida Andersson, who was awarded 80 points in Oslo for her 2nd position among the women, became second with 528 points, while Cajsa Wegner became third with 453 points
In the men's division, it was a given fact that the EBT 2017 would get a first time tour winner, namely either Denmark's Carsten W. Hansen or Sweden's Pontus Andersson.
The final battle in Oslo between the two was set with a preliminary lead of only 29 points in favour of Carsten W. Hansen before the stop took off in Oslo.
Both were qualified for the final steps, Pontus Andersson directly qualified for the final step 3, Carsten W. Hansen directly qualified for the final step 2.
Carsten Hansen won the final step 3 with 763 pins over 3 games, where after the opportunities for both athletes were equalized before the final step 3.
The excitement of the tour win disappeared, however, already at the end of the final step 3, which Carsten W. Hansen won with 712 pins over the 3 games, while the step became the end station for Pontus Andersson, who became no. 9 in the step with a score of 642 pins, precisely 6 pins away from access to the next final step and a continued chance to win the tour.
Carsten W. Hansen claimed his first tour win with 630 points; Pontus Andersson became 2nd with 581 points and Dominic Barrett from England 3rd with 505 points.
We are congratulating the two tour winners, who each will be awarded 1.000 € for their high performances in the European Bowling Tour 2017.