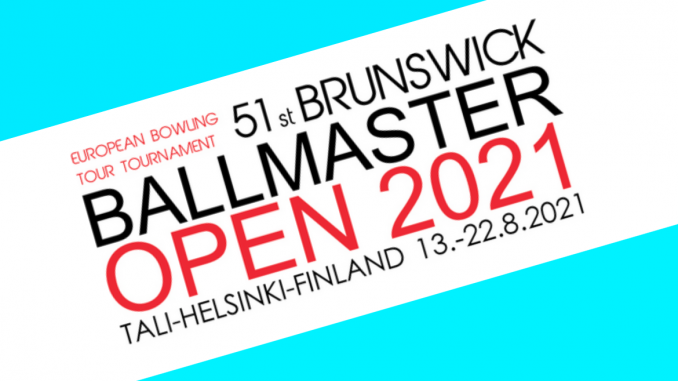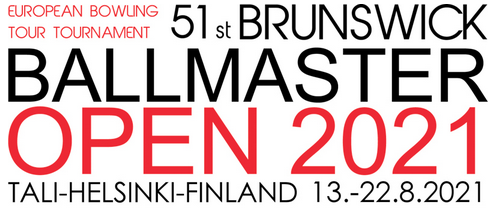 14-22 August 2021 in Helsinki, Finland
EBT Stop 2 Silver event
---
Finally after what seems like forever the famous 36 lane Tali Bowl in Helsinki, Finland hosts the 51st Brunswick Ballmaster Open.  Over 300 entries in this European Bowling Tour stop and with a prizefund of 56.700 Euros and top prize of 8.000 Euros.

Qualifying
Finland's Thomas Käyhkö made the early running in squad 1 with 1474 before Finnish legend Pasi Uotila slotted into second place in squad 9 with 1474 then Swede Edvall rocked up in squad 11 starting with 300 and ending leader with 1483 as Czech Jan Macek moving into fourth with 1456. 300 games also early on for Sweden's Marcus Jansson also in squad 11 and England's Callum Simons in squad 12. The top 38 in the general standings going into Saturaday saw Finland's Juhani Tonteri on the cut line with 1357.

Finals
Final step 1 we almost saw 1500 as Finn Saku Konttila shot 1496 as Swede Markus Jansson placed second with 1431 and opened with his second 300 of the tournament.
Finland's Santu Tahvanainen set the pace in the final step 2 with 2008 and a 251 average ahead of Sweden's Jesper Svensson with 1972 and Finland's Pyry Puharinen with 1957.
We then had two groups of eight rolling a seven game round robin. Group A saw Sweden's William Svensson roll a final game 298 to lead with 1696 and Finland's Samu Valaranta second with 1687. Group B saw Czech Lukas Jelinek roll 300 on the way to a top placed 1648 ahead of Sweden's Jesper Svensson with 1658.
Semi final time and Samu Valaranta eased passed Jesper Svensson 210-207 as brother William Svensson also lost out to Lukas Jelinek 185 vs 192.
The final was equally as close as the semi finals and it was Finland's Samu Valaranta winning his first EBT event and on home soil too. Samu taking the match 215-204.
Results
All results can be found first on the official website here
Final Step 1 Online Results  Final Step 1 Final Results
Final Step 2 Online Results  Final Step 2 Final Results
Round Robin Online Results Group A
Round Robin Online Results Group B
Round Robin Final Results Group A
Round Robin Final Results Group B
Semi Final 1:
Samu Valaranta 210 – Jesper Svensson 207
Semi Final 2:
William Svensson 185 – Lukas Jelinek 192
Final:
Samu Valaranta 215 – Lukas Jelinek 204
Final results:
1. Samu Valaranta
2. Lukas Jelinek
3. Jesper Svensson
4. William Svensson