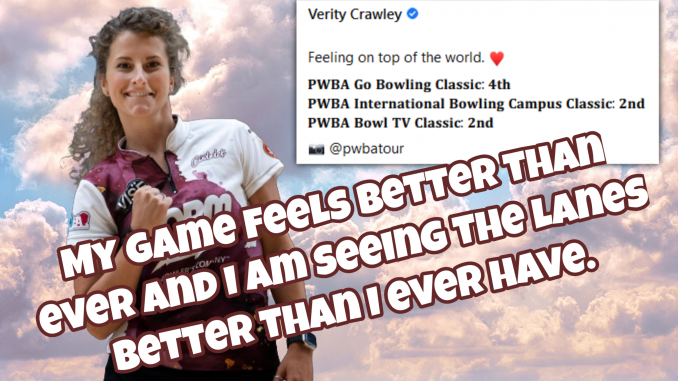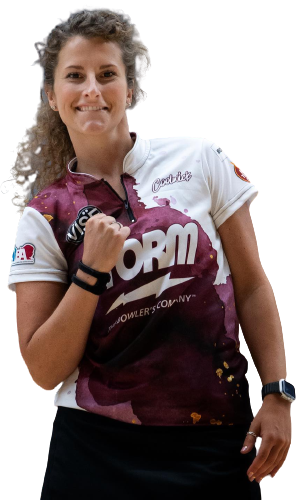 The sun faded and the clouds formed on a promising career for Verity Crawley during the pandemic. We all now know that she fought through it all to regain her place on the PWBA tour and then went and won her first title. You could maybe understand then that a lifelong ambition had been gained and the pressure was off to win something.
Did she relax and take the foot off the gas? Nope. She has zoned in to a rich vein of form that has taken her to three TV stepladder shows in the last three events. Verity looks like she is in a great place in her career now and it all looks like things may have happened for a reason for her. We wanted to find out more and England's number one is always welcoming to ask.
Three TV shows in a row and six championship round appearances this season already. You got to be happy with your current form?
100%. My game feels better than ever before and I am seeing the lanes better than I ever have. It feels like everything is coming together and I couldn't be happier.
Given the extraordinary start to the season is it fair to say the Pandemic may have been a blessing for you in some ways in that it gave you a chance to fully evaluate your career and time to work on your mental outlook on the PWBA?
I think so, a true blessing in disguise. I believe everything happens for a reason. In the moment, it was upsetting and scary, however looking back, I am so grateful for everything that happened. I think it allowed me to put my life in a different perspective, learn to love myself and decide what path I wanted to take.
Disappointing? to be runner up in the last two events but does each show give you more confidence?
It's not disappointing at all, it's not about winning. That's totally out of my control. I have raised my own level of excellence and I get to do something I love and share it with others. That gives me a lot of confidence and motivates to keep working.
Three events to go and one of them is the US Women's Open. This has already been your breakthrough season but would a win and a second title now be the icing on the cake?
If you had asked me that question a few years ago, I would have said yes. I feel a little differently now. Most people want to succeed so badly because they feel it will enhance their lives. However, winnings not going to do that for me. Do I want to win? Of course! However that's not the reason I play. I am out there competing so that I can learn and grow, because being out there with the best in the world makes me feel alive. More alive than holding a trophy ever will.
Not only are you hot on the lanes at the moment, you are doing stellar numbers on your social media platforms and inspiring others on how to improve and believe in their talents. Despite being a well known bowler now in America is it still slightly disappointing that the UK public are still not fully aware of you and your exploits?
Bowling is not seen by many as a sport, not just in the UK but around the world. Social media has allowed me to share my journey with people that I would never have been able to reach otherwise. I think if I was in the UK for longer periods, it would make things a little easier however, the coverage that I had at the beginning of the year, despite it being about a bad situation, helped get bowling to be talked about. I would like to find a way to come back to the UK more often, not only for family reason, but so that I can be a face for the sport of bowling in the UK.
You have of course done some fantastic self promotion in the UK and gained some national coverage. How difficult is it to get the wider sporting media interested in bowling in England?
I actually don't think it is that difficult, people love bowling, people love sports. There just needs to be more events and more people bowling so that the sport can gain more coverage.
All that hard work, the tears of 2020 and 2021 and you are now living the dream of many young bowlers. How does it really feel to be Verity Crawley right now?
It actually feels phenomenal. I am truly the happiest I have ever been, all because I am following my passion and embracing every moment.
It was not just you though that has made all of this happen. (Although it was mostly you haha) Who gets a shout out and thank you for rebuilding you and launching Verity 2.0 to the World?
Where to start?
I am so thankful to have many amazing people around me. Of course, none of this would have been possible without my parents. They're the reason I'm in this world after all!
From a bowling standpoint, my biggest thank you goes to John Janawicz. The amount of time he has given up to mentor me is amazing. He has spent so much time with me on the lanes, sharing his knowledge. His willingness to help and true passion for the sport of bowling is inspiring. I genuinely wouldn't be the bowler I am right now, without his constant support and guidance.
Finally Verity, Good luck for the remaining events and go get that bowler of the year award and more titles.
Thank you. I appreciate the support from the whole of the UK and just want to remind any bowlers out there, that is is possible. If you have a dream, if you are passionate about something, follow your heart and commit.