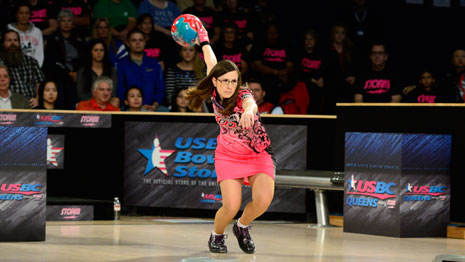 FOUNTAIN VALLEY, Calif. – Since its return in 2015, the Professional Women's Bowling Association Tour has provided one amazing storyline after another, and the young 2017 season is continuing the trend.
This week, the PWBA Tour heads to Fountain Bowl, where the top female bowlers in the world last hit the lanes 25 years ago for the 1992 U.S. Women's Open.
Fountain Bowl is just a few minutes from the beautiful California coastline and approximately 25 miles from the childhood home of current PWBA star Missy Parkin, who now resides in nearby Laguna Hills, California. Parkin, along with her husband, Drew, operates five pro shops in California, three of which are within 20 minutes of Fountain Bowl.
While she is ecstatic about the opportunity to compete in front of her friends and family during the 2017 PWBA Fountain Valley Open (May 12-13), Parkin also unselfishly noted what the return of the PWBA Tour means to the local bowling community.
"I know a lot of my friends, family members and many of the bowlers I give lessons to are planning to come out to watch, and I've encouraged them to also bowl in the pro-am," Parkin said. "I think there will be a nice fan base, especially since we haven't had an event like this in a long time. It will be a great experience for the fans and pro-am bowlers, and it will be huge for the bowling center."
Parkin has enjoyed countless successes at the youth level, collegiately, internationally and professionally at the regional level. She claimed a major championship at the 2011 United States Bowling Congress Queens, but she's still searching for her first official PWBA Tour title.
The 35-year-old right-hander worked hard in the offseason to prepare for this year's coast-to-coast PWBA journey, and she's off to a great start, advancing to match play in the first two events of the 2017 season, which is her initial goal each time she takes the lanes. She just missed making the televised portion of the season-opening QubicaAMF PWBA Sonoma County Open.
"My focus right now is to make match play, since you can't make TV without making match play first," said Parkin, an eight-time member of Team USA. "I don't watch the scores. I just concentrate on my own game. I try not to put any extra pressure on myself, and if I do my part and execute, the scores will come."
Though Parkin has been a regular face on women's bowling telecasts over the last dozen years, she failed to advance to the championship round of any events in 2016. She did make two finals appearances in 2015, when the PWBA events were broadcast start to finish on Xtra Frame.
For now, she will take things one round at a time and looks forward to showcasing the PWBA atmosphere to the local bowlers, Parkin's Bowling Supply customers and folks who know her on a personal level but haven't had a chance to see her in her element.
"I think there's no greater feeling than getting to do what you love in front of your friends and family, and I've bowled well at other events where family members came to watch, so there's no added pressure," Parkin said. "It's also special because people who know me on a personal or professional level can see what I actually do and what the events are like."
The PWBA Fountain Valley Open is the third of 14 events on this year's PWBA Tour schedule, and nearly two dozen of the 80 players signed up for the Fountain Valley Open are from California.
Also competing will be the red-hot Rocio Restrepo, a native of Colombia now residing in Louisville, Ohio, who advanced to the championship round of the first two events of the season.
The 29-year-old right-hander picked up her first two PWBA Tour wins last year and was the runner-up to USBC Hall of Famer Liz Johnson of Cheektowaga, New York, for PWBA Player of the Year honors.
Restrepo again has proven her versatility through two events in 2017, but despite the quick success this year, she knows she can't think too far ahead.
"I am just trying to take every tournament one at a time," Restrepo said. "I am looking for great ball reaction every week. If I can't find that, I just personally want to be able to throw the ball well and leave every day like I gave it my all. I feel like I'm in a different state of mind. I am just trying to perform week in and week out."
CBS Sports Network will televise the stepladder finals of 13 of the 14 PWBA Tour events starting May 23 with the USBC Queens, the first major event of the season (May 17-23), from the Raising Cane's River Center in Baton Rouge, Louisiana.
The stepladder finals of the PWBA Fountain Valley Open will be taped for broadcast at the River Center May 23 and will air Tuesday, June 20, at 8 p.m. Eastern on CBS Sports Network.
All qualifying and match play rounds of PWBA Tour events will be carried on Xtra Frame, the exclusive online bowling channel for the Professional Bowlers Association. Go to XtraFrame.TV for more information.
Go to PWBA.com for more information about the PWBA Tour.
About the PWBA
The Professional Women's Bowling Association (PWBA) originally was formed in 1960. The PWBA Tour has events throughout the country, offering high-level competition and top prize money for women bowlers. The PWBA is supported by the Bowling Proprietors' Association of America (BPAA) and the United States Bowling Congress (USBC).