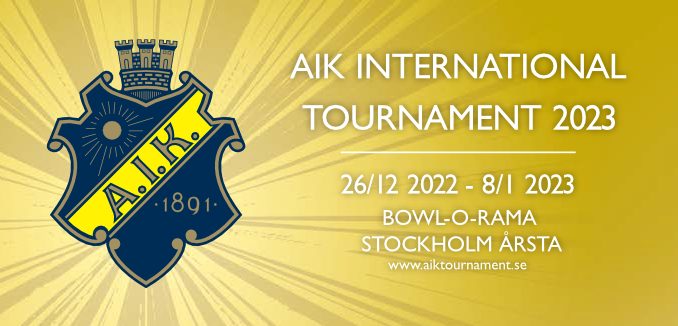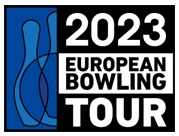 The popular AIK International Tournament is the first stop of the 2023 European Bowling Tour and a bronze ranked event. Held from the 26th December to 8th of January at Bowl-O-Rama in Stockholm, Sweden.
Competition is streamed via Bowlorama TV on Youtube
---
Visit the official Website
Follow on Facebook – Here
---

Reports – Blomgren blows into the lead
Squad one was won by the super tall and super talented James Blomgren from Sweden with 1331 then he was back in the next squad to add another 100 pins to that score and 1431 to lead into friday's play as a few had a go but only Peter Hellström came close with 1400.

Teece makes a move

As we closed in on the end of qualifying England's PBA star Richard Teece was up into second place with 1422 with a host of top names hovering near the leaders including Kim Bolleby, Jesper Svensson, the Euro legend Tore Torgerson and England's PWBA star Verity Crawley.

Kallio wins qualifying

Later in the day a new leader as Finland's Jessie Kallio fired a fine 1469 to jump into the overall lead and Lukas Jelinek into third with 1425 as Martin Larsen moved into fifth with 1414.
As we ended qualifying on Saturday it was Jesse Kallio top with 1469 followed by Teodor Samuelsson into second with 1437 and James Blomgren third with 1431.

Tidbeck takes the round
A Saturday finals round saw Marcus Tidbeck lead the field into the next round with 1358 as Robin Noberg placed second with 1344 and Kaaron Salomaa third with 1337. Others through included Mattias Wtterberg, Eliisa Hiltunen, Karl Wahlgren and Rasmus Edvall.

Wetterberg rises to the top
Swedish International Mattias Wetterberg rolled  solid 1432 to take the finals round with Lukas Jelinek in second with 1424 and Richard Teece third with 1398. Safely through included Jessie Kallio, Verity Crawley, Kim Bolleby, Teodor Samuelsson, Jesper Svensson, Martin Larsen, Jenny Wegner and James Blomgren. the cut falling on Adam Andersson and Jerry Ekman-Wogel with 1268 and a tie needed.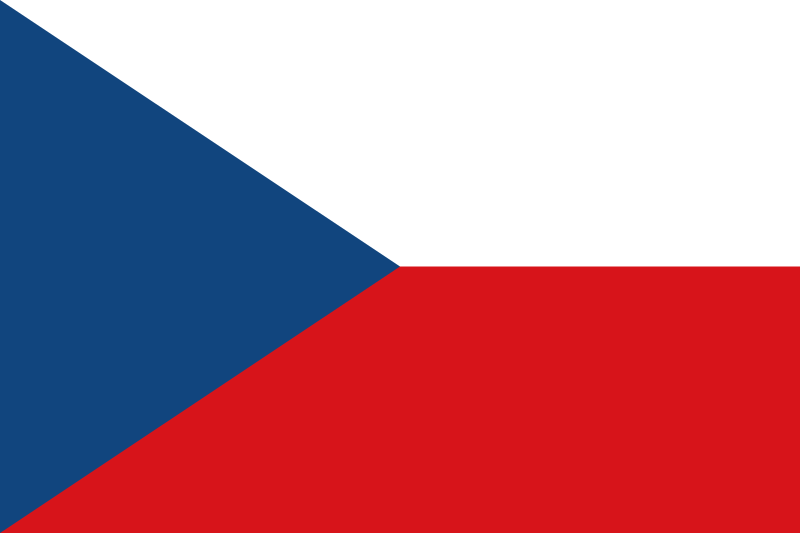 Czechmate in Final step 2
The final step 2 saw a few changes around the standings as some faltered and some found a next level of skill. The Czech Republic's Lukas Jelinek going well at the top with 2815 with Jesper Svensson second with 2780, Kim Bolleby on 2748 in third.  Another good block for Mattias Wetterberg with 2748 and Teodor Samuelsson 2745 were joined in the top 12 by James Blomgren, Anna Andersson, Martin Larsen, Carl Eklund, Jessie Kallio, Richard Teece, and Mathias Ankerdal.

B Final sees Johansson top
The joint B final of Women, Seniors, juniors and below 2000 saw Nora Johansson on top with games of 221,175,182,233 and 218 with 235 for 1264 ahead of Spader Dam team mate Sandra Andersson with 1263 and Pontus Svensson third with 1223.

1-2-3 for Sweden
Twelve down to just three and first past the post was Kim Bolleby with 3730 and joined by Mattias Wetterberg in second with 3675 and the final spot going to Anna Andersson with 3638 and a 1-2-3 for the home nation.

Bolleby bowls them over
Step ladder time at the 2023 AIK International and a fest of high scoring saw Mattias Wetterberg edge past Anna Andersson 259-254 to face the top seed KIm Bolleby in the final match. Then we saw a masterclass from Kim Bolleby with 279 giving Mattias little chance with 208 in reply.
---
Latest Results – Here
Stepladder Finals
Championship Match

 Stepladder Match 1

Final Step 3

Joint B Final
(Women, Juniors, Seniors and under 200)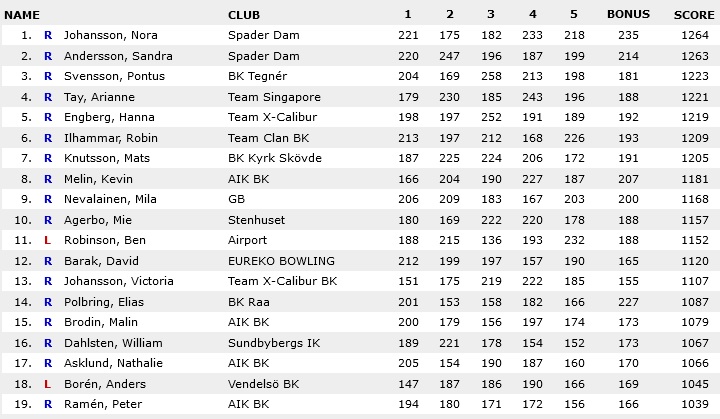 Final Step 2
Final Step 1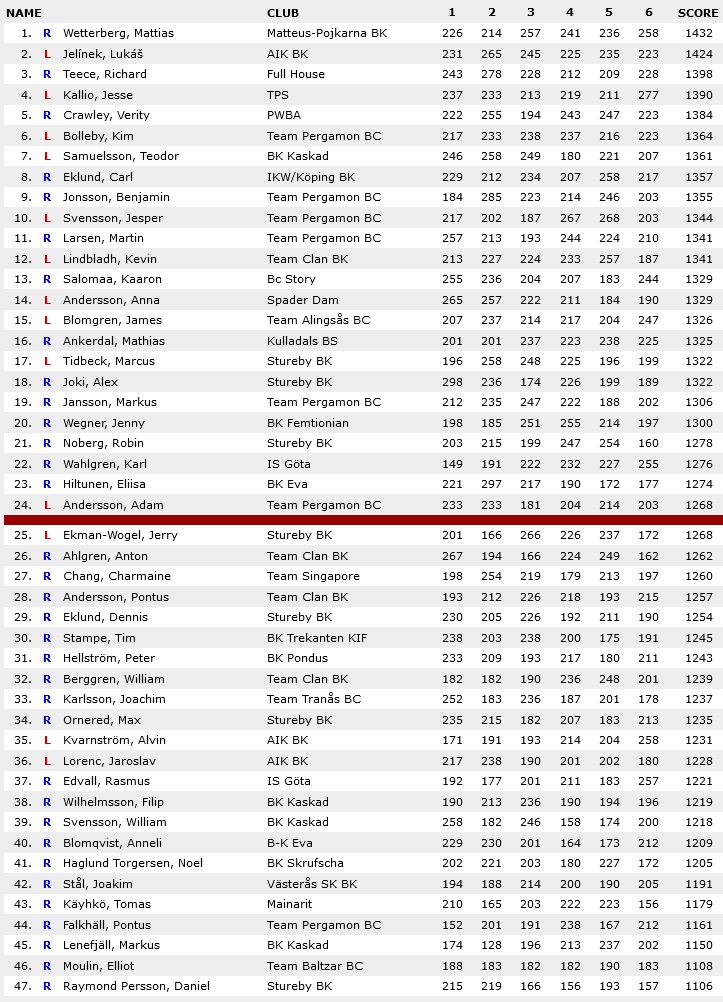 Semi Finals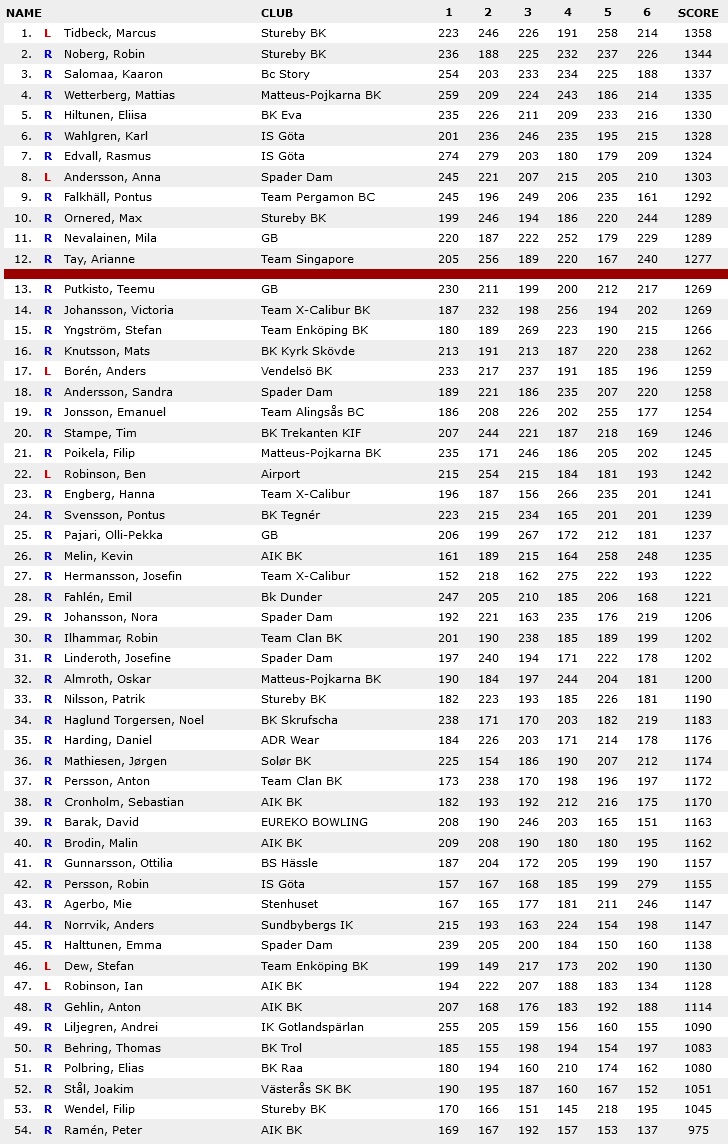 Qualifying