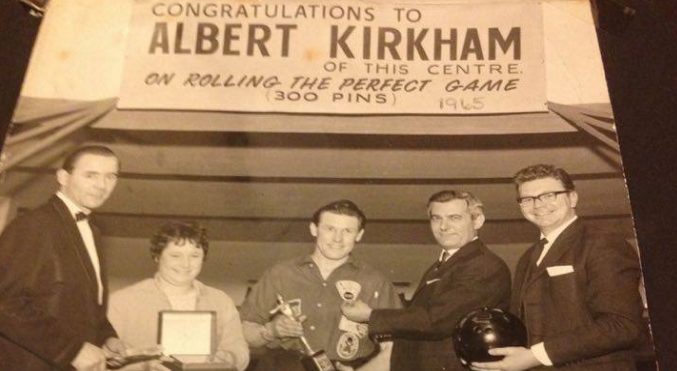 American gets the first BTBA 300
The first BTBA sanctioned 300 game to be rolled in the United Kingdom was actually rolled by American serviceman Sgt Jack Vickers, stationed at U.S.A.F, at Upper Heyford, Oxfordshire.
Rolling in the premier singles league at R.A.F Gaydon on Saturday 22nd May 1965, he scored the first ever BTBA sanctioned perfect game. And in doing so he repeated his last years feat in ABC sanctioned play and so became the first bowler to have 300's sanctioned by two different associations.
We did not have to wait too long for the first Englishman to book his place in the sport's history. Lefthander Albert had only been playing the game for two years after being an area championship class boxer. Twelve strikes and immortality gained Albert spoke to the press.
"I had done seven strikes successive once before, when I chalked up the eighth at Chester everyone stopped bowling to watch." adding "I rolled three more strikes and everyone knew I was within one shot of a record."
"I was so nervous when I came up for the 12th, I had to have two run ups, but when they all went down there was a tremendous uproar."
Albert meets Dick Weber in the USA
Albert got an all expences trip to America for his feat plus £100 cash plus more prizes.  The father of four was uncertain however to take the two week all expenses paid trip to the USA or the £1000 cash prize. It was a lot of money back in those days but to chance to compete in the USA was just too much to pass on.
Albert had never been outside of the country when he set off to the USA in March 1966. Wife May was thoughtful as he departed
"I must admit that the trip will be a bit of a jar to me – The first time we have been parted for more than a day or two in fifteen years marriage. But, natuarally, I want him to take it".
"I am consoling myself but thinking ahead to the summer when we will all be together at Minehead".
Albert and May married aged just 18 and 19
Daughter Sue Kirkham-Bourne told us, "I was 10 when dad was first man in Britain to score a 300 game, I can remember mum expecting her 5th child when it happened. I can remember the children had lots of goodies delivered, dad had a clock. A lovely tall trophy, a radiogram, some money can't remember how much."
"I can remember my dad telling us he had bodyguards when he went America, and what an amazing place it was. The people he met were lovely to him, I can remember dad bringing me a bride doll from there."
"We were so proud of what dad did it was fantastic, he was an amazing dad & husband, we used to go down to Hanley where they were building the new bowl.
Watching them build it, dad couldn't wait to start going there when it opened but it was not to be sadly, you would have liked my dad if you had met him very likeable person, hard working loved his family."
"We still are proud, does not go a day when I don't think or talk about him to his grand children and great grand children."
Just some of the items Albert was to receive for his achievement
Thanks to Albert's daughter Sue Kirkham-Bourne we have photos from the album given by AMF.
---
BTBA honour 50th Anniversary of Albert Kirkham's 300 game
Association marks the fiftieth anniversary of the first BTBA sanctioned 300 game rolled by an Englishman on December 5th 1965.
To mark the day, the British Tenpin Bowling Association sent out a special certificate to Albert Kirkham's family to honour 50 year's since Albert managed the golden 300.
Speaking about the the occasion BTBA Chairman Ron Griffin said ""I was delighted, recently, to be reminded of a time when bowling a 300 was almost unheard of. It seemed appropriate to go back and remember the first ever 300 bowled by an Englishman."
"This was by Albert Kirkham at the Top Rank Bowl in Chester on the 5th of December 1965. So it was with great pleasure that the BTBA have sent a special "50th Anniversary, Certificate of Achievement" to his family to mark the occasion."
33 year old Albert Kirkham, a 'Dustman' and a regular league bowler at the ABC Cine Bowl in Hanley, rolled his perfect game at the Top Rank Bowl in Chester on December 5th 1965.
Albert's local centre at Hanley, Stoke on Trent, was later the site of the first 300 to be bowled in a ABC bowl. This was rolled by John Broadhurst in February 1967 some 14 months after Albert's.
Hanley holds the unique distinction of being the first center to have a 'Perfect Pair' bowling in their leagues.
Albert sadly passed on the 11th April 1987 aged just 55.
---